A&M Album Discography, Part 12
SP 5200-5299 (1988-1990)
By Patrice Eyries, Dave Edwards, & Mike Callahan
Last update: February 6, 2007






Tracks on each album are listed in the order they appear on the album. An asterisk (*) before the record number indicates we do not have information on the correct playing sequence of the tracks, and consequently they are listed in alphabetical order for that album.

We would appreciate any additions or corrections to this discography. Just send them to us via e-mail. Both Sides Now Publications is an information web page. We are not a catalog, nor can we provide the records listed below. We have no association with A&M Records. Should you be interested in acquiring albums listed in this discography (which are all out of print), we suggest you see our Frequently Asked Questions page and follow the instructions found there. This story and discography are copyright 2001, 2007 by Mike Callahan.



A&M ALBUM DISCOGRAPHY, PART 12

Number - Title - Artist [Release Date] Contents

SP 5200 - Stout and High - Wagoneers [1988]

SP 5201 - Easy Pieces - Easy Pieces [1988] Whenever You're Ready/It's No Lie/Heart Of The Matter/(You're My) Heaven/Tuggin' At My Heartstrings//Trust One Another/Daddy's Girl/Walk That Walk/Don't Knock It/Separate Shores

SP 5202 - Lace Around The Wound - E.G. Daily [1989] Some People/Cry Just A Little/Bad Water/Just Can't Say Goodbye/Heart Don't Lie/Lace Around The Wound//This Time/Reach Out/Are You There/Little Trooper/What Do I Gotta Do/Please Send Me Someone To Love

*SP 5203 - Sound Alarm - Michael Anderson [1988] (8-88, #194) I Know That You Can Stand/I Need You/Little Bit O' Love/Memphis Radio/Sanctuary/Shine A Light/Sound Alarm/Soweto Soul/Time To Go Home/Until You Loved Me

SP 5204 - Transmissions - Gentlemen Without Weapons [1988] Buddha's Monkey/Eons Roll By/Earth Love/Islands Of The Future/Transmlssions//Rain Of Terror/Unconditional Love (Planet Earth)/Ucho O Mamoro (Instrumental)/Time (The Clock Song)/Earthling

*SP 5205 - One Love-One Dream - Jeffrey Osborne [1988] (8-88, #86) All Because Of You/Can't Go Back On A Promise/Cindy/La Cuenta, Por Favor/My Heart Can Wait Forever/One Love-One Dream/She's On The Left/The Family/True Believers/(You Can't Get) Love From A Stone

*SP 5206 - Slow Turning - John Hiatt [1988] (9-88, #98) Drive South/Feels Like Rain/Gerogia Rae/Icy Blue Heart/Is Anybody There?/It'll Come To You/Paper Thin/Ride Along/Slow Turning/Sometime Other Than Now/Tennessee Plates/Trudy And Dave

SP 5207 - Under The Sun - Paul Kelly & Messengers [1988] Dumb Things/Same Old Walk/Big Heart/Don't Stand So Close To The Window/Forty Miles To Saturday Night/Untouchable/Know Your Friends//To Her Door/Under The Sun/Darling It Hurts/Happy Slave/Crosstown/Little Decisions/Bicentennial

SP 5208 - Used Guitars - Marti Jones [1988] Tourist Town/Wind In The Trees/The Real One/Ruby/Back Of The Line//Twisted Vines/Keep Me In The Dark/You Can't Take Love For Granted/I Don't Want Him (Anymore)/Each Time/If I Can Love Somebody

SP 5209 - Under A Spanish Moon - Herb Alpert [1988] Fragile/Under A Spanish Moon (A Suite In Three Movements For Trumpet And Orchestra) (Rumba Flamenca-Lamento-Pachanga)/Ancient Source//I Need You/My Song/Zamba (Para La Nina Yolanda)/Hidden Angel

SP 5210 - A Murder Of Crows - Joe Henry [1988] Step Across The Mountain/Right About Linden/Here And Gone/Lose Me/Hidden Man/Falling Soon/She Is Sleeping/Vigilante/Siren/Six Feet Into The Country/Map Of Belium

SP 5211 - The Shouting Stage - Joan Armatrading [1988] (8-88, #100) The Devil I Know/Living For You/Did I Make You Up/Stronger Love/The Shouting Stage//Words/Straight Talk/Watch Your Step/All A Woman Needs/Dark Truths

*SP 5212 - The Vigilante - Raheem [1988] Dance Floor/Freak To Me/I'm Mackin'/Peace/Punks Gave Me Respect/Say No/Shotgun/The Vigilante/Venom/You're On Notice/You're The Greatest

SP 5213 - UB40 - UB40 [1988] (8-88, #44) Dance With The Devil/Come Out To Play/Breakfast In Bed/You're Always Pulling Me Down/I Would Do For You//'Cause It Isn't True/Where Did I Go Wrong/Contaminated Minds/Matter Of Time/Music So Nice/Dance With The Devil (Reprise)

*SP 5214 - Only Life - Feelies [1988] (11-88, #173) Away/Deep Fascination/Final Word/For Awhile/Higher Ground/It's Only Life/Too Far Gone/Too Much/The Undertow/What Goes On

SP 5215 -

*SP 5216 - Farther Along: The Best Of The Flying Burrito Brothers - Flying Burrito Brothers [1988] Break My Mind/Christine's Tune (Devil In Disguise)/Close Up The Honky Tonks/Cody Cody/Dim Lights/Do Right Woman/Do You Know How It Feels/Farther Along/God's Own Singer/Hot Burrito No. 1/Hot Burrito No. 2/I Shall Be Released/Juanita/Just Because/Sin City/Sing Me Back Home/Six Days On The Road/The Dark End Of The Street/To Love Somebody/Wheel/Wild Horses

*SP 5217 - Skeletons In The Closet: The Best Of Oingo Boingo - Oingo Boingo [1989] (2- 89, #150) Grey Matter/Insects/Little Girls/Nasty Habits/Nothing Bad Ever Happens/Nothing To Fear (But Fear Itself)/On The Outside/Only A Lad/Private Life/Wake Up (It's 1984)/Who Do You Want To Be/Whole Day Off

SP 5218 - Rock And Roll Strategy - .38 Special [1988] (10-88, #61) Rock And Roll Strategy/What's It To Ya?/Little Sheba/Comin' Down Tonight/Midnight Magic/Second Chance//Hot 'Lanta/Never Been Lonely/Chattahoochee/Innocent Eyes/Love Strikes

SP 5219 - Strange Bedfellows: Comedy and Politics - Strange Bedfellows [1988] Will Durst/Barry Crimmins//Jimmy Tingle/Randy Credico

SP 5220 -

SP 5221 - Out Of The Silence - Dare [1988] Abandon/Into The Fire/Nothing Is Stronger Than Love/Runaway/Under The Sun//The Raindance/King Of Spades/Heartbreaker/Return The Heart/Don't Let Go

SP 5222 - Comedy - Black [1988] The Big One/I Can Laugh About It Now/Whatever People Say You Are/You're A Big Girl Now/Let Me Watch You Make Love//Hey! I Was Right You Were Wrong/All We Need Is The Money/You Don't Always Do What's Best For You/Now You're Gone/No-One, None, Nothing

*SP 5223 - Vesta 4 U - Vesta Williams [1989] (9-89, #131) All On You/Best I Ever Had/Congratulations/4 U/Here-Say/How You Feel/Hunger/Running Into Memories/Sweet, Sweet Love

SP 5224 - Flying Colours - Chris De Burgh [1988] Sailing Away/Carry Me (Like A Fire In Your Heart)/Tender Hands/A Night On The River/Leather On My Shoes/Suddenly Love//Missing You/I'm Not Scared Anymore/Don't Look Back/Just A Word Away/The Risen Lord/The Last Time I Cried

SP 5225 - Diary Of A Hollow Horse - China Crisis [1989] St. Saviour Square/Stranger By Nature/Sweet Charity In Adoration/Day After Day/Diary Of A Hollow Horse//Red Letter Day/In Northern Skies/Singing The Praises Of Finer Things/All My Prayers/Age Old Need

SP 5226 - Truth In Disguise - Denise Lopez [1988] Sayin' Sorry (Doesn't Make It Right)/Tell Me What It Is/Stop The Fight/I Wanna Fall (In Love With You)/Truth In Disguise//If You Feel It/Causa' U/Too Much Too Late/Power Of Suggestion

*SP 5227 - Greatest Hits - Human League [1988] Being Boiled (Re-Boiled)/Don't You Want Me/Human/(Keep Feeling) Fascination/Life On Your Own/Louise/Love Action (I Believe In Love)/Love Is All That Matters/Mirror Man/Open Your Heart/The Lebanon/The Sound Of The Crowd/Together In Electric Dreams - Phil Oakey & Giorgio Moroder

SP 5228 - I Get Joy - Al Green [1989] You're Everything To Me/All My Praise/The End Is Near/Mighty Cloud Of Joy/I Get Joy//As Long As We're Together/Praise Him/Blessed/Tryin' To Do The Best I Can/Tryin' To Get Over You

SP 5229 - Johnson & Branson - Johnson & Branson [1989] Call Me Up/Find Me Another/Jockin' Me/Heaven Bound/Let's Get To Know Each Other Better//All My Heart/Still Lookin'/She Still Loves Him/So Much Emotion/Midnite Lady

SP 5230 - Cool'r - Cool'r [1989] Children's record.

SP 5231 -

SP 5232 - Oh Yes I Can - David Crosby [1989] Drive My Car/Melody/Monkey And The Underdog/In The Wide Ruin/Tracks In The Dust//Drop Down Mama/Lady Of The Harbor/Distances/Flying Man/Oh Yes I Can/My Country 'Tis Of Thee

SP 5233 - Earth - Matthew Sweet [1989] Easy/When I Feel Again/Wind And The Sun/Children Of Time (Forever)/Love//Vertigo/Underground/The Alcohol Taking/Vixen/How Cool/Having A Bad Dream

SP 5234 - Geared And Primed - Royal Court Of China [1989] Geared And Primed/Half The Truth/If Came Crashing Down The Staricase/Six Empty Bottles/Mr. Indecision//Tijuana Go!/Dragon Park/So, Yer Love Is True/This Time Around/Take Me Down

SP 5235 - Trouble In The Home - Thrashing Doves [1989] Reprobate's Hymn/Angel Visit/Sister Deals/Lorelei/Trouble In The Home//Another Deadly Sunset/Mary Mary/Like Heartbreak/Late Show/Candy Woman/Domestic Rainchild

*SP 5236 - Great Dictations: The Definitive Dickies Collection - Dickies [1989] Attack Of The Mole Men/Eve Of Destruction/Fan Mail/Gigantor/Give It Back/Got It At The Store/Hideous/I'm OK, You're OK/(I'm Stuck In A Pagoda With) Tricia Toyota/Manny, Moe And Jack/Nights In White Satin/Paranoid/Rondo (The Midget's Revenge)/Silent Night/The Banana Split (The Tra La La Song)/The Sound Of Silence/You Drive Me Ape (You Big Gorilla)

SP 5237 - Mirror - One 2 Many [1988] Another Man/Nearly There/Writing On The Wall/Man On The Run/Answer//Downtown/In My Heart/Hawk/You're The Reason/Mirror

SP 5238 - Extreme - Extreme [1989] (4-89, #80) Little Girls/Wind Me Up/Kid Ego/Watching, Waiting/Mutha (Don't Wanna Go To School Today)//Teacher's Pet/Big Boys Don't Cry/Smoke Signals/Flesh 'N' Blood/Rock A Bye Bye

SP 5239 - Western Blood - Sandmen [1989] Western Blood/I'm Accusing You/House In The Country/Say Yes/Heart Of Steel//500%/The Bell Man/Hello It's Me Again/It's All Right/Hate Your Ways/I Met A Girl

SP 5240 - Yellow Moon - Neville Brothers [1989] (4-89, #66) My Blood/Yellow Moon/Fire And Brimstone/A Change Is Gonna Come/Sister Rosa/With God On Our Side//Wake Up/Voo Doo/The Ballad Of Hollis Brown/Will The Circle Be Unbroken/Healing Chant/Wild Injuns

SP 5241 - Queen Elvis - Robyn Hitchcock & Egyptians [1989] (4-89, #139) Madonna Of The Wasps/The Devils Coachman/Wax Doll/Knife/Swirling//One Long Pair Of Eyes/Veins Of The Queen/Freeze/Autumn Sea/Superman

SP 5242 - Live At The Knitting Factory New York City, Volume 1 - Various Artists [1989]

SP 5243 -

SP 5244 -

SP 5245 - Good Fortune - Wagoneers [1989]

SP 5246 - The 28th Street Crew - 28th Street Crew [1989] I Need A Rhythm I Need A Rhythm/Inch By Inch/Steppin' Out/Get It Up//Where's The Party/It's In The Groove (No Games)/Pump It Up (Let's Groove)/Sex On The Dancefloor

SP 5247 -

SP 5248 -

SP 5249 - Blaze Of Glory - Joe Jackson [1989] (5-89, #61) Tomorrow's World/Me And You (Against The World)/Down To London/Sentimental Thing/Acropolis Now (Instrumental)/Blaze Of Glory//Rant And Rave/Nineteen Forever/The Best I Can Do/Evil Empire/Discipline/The Human Touch

SP 5250 - Arara - Sergio Mendes [1989]

SP 5251 -

SP 5252 - Louder Than Love - Soundgarden [1989] (1-90, #108) Ugly Truth/Hands All Over/Gun/Power Trip/Get On The Snake/Full On Kevin's Mom//Loud Love/I Awake/No Wrong No Right/Uncovered/Big Dumb Sex/Full On (Reprise)

SP 5253 -

SP 5254 -

SP 5255 - Michigan Rain - Greg Alexander [1989]

SP 5256 - The Man Is Back! - Barry White [1989] (5-90, #143) Responsible/Super Lover/L.A. My Kinda Place/Follow That And See (Where It Leads Y'all)/When Will I See You Again//I Wanna Do It Good To Ya/It's Getting Harder All The Time/Don't Let Go/Loves Interlude-Goodnight My Love

SP 5257 - Big Harvest - Indio [1989] The Grinding Wheel/Discovery/Save For The Money/Big Harvest/Hard Sun//This Golden Land/The Season Of The Lost/Stories/My Eyes/Ship On A Sea/Life Lies Down

*SP 5258 - Art Deco - Don Cherry [1989] Art Deco/Bemsha Swing/Body And Soul/Compute/Folk Medley/I've Grown Accustomed To Her Face/Maffy/Passing/The Blessing/When Will The Blues Leave'

SP 5259 -

SP 5260 - Blue Delight - Sun Ra [1989]

SP 5261 - Surprise Attack - Tora Tora [1989] (7-89, #47) Love's A Bitch/28 Days/Hard Times/Guilty/Phantom Rider//Walkin' Shoes/Riverside Drive/She's Good She's Bad/One For The Road/Being There

SP 5262 - Merge - Arthur Baker & Backbeat Disciples [1989] Talk It Over (Featuring John Warren)/Willin' To Be Chillin' (Featuring Tiny Valentine)/Last Thing On My Mind (Featuring John Warren)/Mythical Girl (Featuring Martin Fry)/I Believe In Love (Featuring Jimmy Sommerville)/The Message Is Love (Featuring Al Green)//Walk Away (Featuring Andy McCluskey)/It's Your Time (Featuring Shirley Lewis)/Count To Ten (Featuring John Warren)/2X1 (Featuring Tiny Valentine)/All I Ever Wanted (Featuring Mac Quayle)/Paris Sens Dintertet (Featuring Ettienne Daho)

SP 5263 - Homeland - Tish Hinojosa [1989] Joaquin/West Side Of Town/Donde Voy (Where I Go)/In The Night/Love Is On Our Side/All My Love//Till You Love Me Again/Voice Of The Big Guitar/Rancherita (Little Ranch Girl)/Who Showed You The Way To My Heart/Let Me Remember/Amenecer (Daybreak)

SP 5264 - Thunder And Fire - Jason & Scorchers [1989] When The Angels Cry/Now That You're Mine/You Gotta Way With Me/My Kingdom For A Car/Close Up The Road/Lights Out//Find You/Bible And A Gun/Six Feet Underground/No Turning Back/Away From You

SP 5265 - Perfect View - Graces [1989] (9-89, #147) Lay Down Your Arms/When The Sun Goes Down/Perfect View/Fear No Love/Time Waits For No One//50,000 Candles Burning/Should I Let You In/We Never Met/Tomorrow/Out In The Fields

SP 5266 - So Much Water So Close To Home - Paul Kelly & Messengers [1989] You Can't Take It With You/Sweet Guy/Most Wanted Man In The World/I Had Forgotten You/She's A Melody (Stupid Song)/South Of Germany//Careless/Moon In The Bed/No You/Everything's Turning To White/Pigeon-Jundamurra/Cities Of Texas

SP 5267 -

SP 5268 -

SP 5269 -

SP 5270 - Passion - Shirley Lewis [1989] Realistic/Love Somebody/Boy Meets Girl/Passion In The Heart/You Can't Hide//Heartbreaker/The Best In Me/Where Do We Go From Here/Life After Love/Save Me/Don't Burn Your Bridges

*SP 5271 - Kiss Me with the Wind - Brenda Russell [1990] All American/Dinner With Gershwin/Drive My Car (Till Sunset)/Good For Love/Justice In Truth/Kiss Me With The Wind/Night Train To Leningrad/On Your Side/Stop Running Away/Stupid Love/Waiting For You

SP 5272 - Last Of The Runaways - Giant [1989] (10-89, #80) I'm A Believer/Innocent Days/I Can't Get Close Enough/I'll See You In My Dreams/No Way Out//Shake Me Up/It Takes Two/Stranger To Me/Hold Back The Night/Love Welcome Home/The Big Pitch

SP 5273 - My Abstract Heart - Herb Alpert [1989] 3 O'Clock Jump/Romance Dance/My Abstract Heart/Wish You Were Here/Fun House//Legs/When The Lights Go Down Low/Just A Dream Away/Kalimba/Soho

SP 5274 - The Innocence Mission - Innocence Mission [1989] (3-90, #167) Paper Dolls/Black Sheep Walls/Surreal/Curious/Clear To You/Mercy/Broken Circle//I Remember Me/You Chase The Light/Notebook/Come Around And See Me/Wonder Of Birds/Medjugorje

SP 5275 - How Did You Find Me Here - David Wilcox [1989] Eye Of The Hurricane/Language Of The Heart/Rusty Old American Dream/How Did You Find Me Here/Leave It Like It Is//Saturday They'll All Be Back Again/Jamie's Secret/It's Almost Time/Just A Vehicle/Common As The Rain/The Kid

75021-7526-2 - Live At The Knitting Factory New York City Volume 2 - Various Artists [1989] Compact disc issue. Part Of The Family - Chunk/Ghosts - Gary Lucas/Foxy Lady - Odd Job/Orbital Inversion - Ikue Mori, Fred Frith & Mark Dresser/Some Kind Of Blues - Myra Melford/Dick Dogs - Sonny Sharrock/Silver Lining - Christian Marclay & Sam Bennett/Love Buds - Odd Job/Pause Of The Clock - Joey Baron/Ramana - Glen Velez, Lane Redmond & Steve Gorn/Drala - Glen Velez, Lane Redmond & Steve Gorn

SP 5277 - The Mekons Rock 'N' Roll - Mekons [1989] Memphis Egypt/Club Mekon/Only Darkness Has The Power/Ring O' Roses/Learning To Live On Your Own/Cocaine Lil/Empire Of The Senseless//Someone/Amnesia/I Am Crazy/Heaven And Back/Blow Your Tuneless Trumpet/Echo/When Darkness Falls

SP 5278 - Frank - Squeeze [1989] (10-89, #113) Frank/If It's Love/Peyton Place/Rose I Said/Slaughtered, Gutted And Heartbroken/(This Could Be) The Last Time/She Doesn't Have To Shave//Love Circles/Melody Motel/Can Of Worms/Dr. Jazz/Is It Too Late

SP 5279 -

SP 5280 - Nothing Matters Without Love - Seduction [1989] (10-89, #36) (You're My One And Only) True Love/Two To Make It Right/Could This Be Love/Breakdwon/One Mistake//Give My Love To You/Heartbeat (Extended Mix)/(Nothing Matters) Without Love/Seduction's Theme

SP 5281 -

SP 5282 -

SP 5283 - Wendy Maharry - Wendy Maharry [1989]

SP 5284 - Hats - Blue Nile [1989] (2-90, #108) Over The Hillside/The Downtown Lights/Let's Go Out Tonight//Headlights On The Parade/From A Late Night Train/Seven A.M./Saturday Night

SP 5285 - Taking On The World - Gun [1989] (3-90, #134) Better Days/The Feeling Within/Inside Out/Money (Everybody Loves Her)/Taking On The World//Shame On You/Can't Get Any Lover/Something To Believe In/Girls In Love/I Will Be Waiting

*SP 5286 - In Fluorescence - Cecil Taylor [1989] Anast In Crisis Mouthful Of Fresh Cut Flowers/Charles And Gee/El Mooving Track/El Sirens 1-3/Entity/Fen Shui/For Steve McCall/In Florescence/J/Leaf Taken Born/Morning Of Departure/Petero Visiting The Apice/Saita/Shall Suatrisue Gods Of Green

SP 5287 - Waking Hours - Del Amitri [1989] (4-90, #95) Kiss This Thing Goodbye/Opposite View/Move Away Jimmy Blue/Stone Cold Sober/You're Gone//When I Want You/This Side Of The Morning/Empty/Hatful Of Rain/Nothing Ever Happens

SP 5288 - Renegade Romantic - Paul Janz [1990]

SP 5289 - Bedtime Stories - David Baerwald [1990] CD issue only. All For You/Good Times/Dance/Hello Mary/The Best Inside You/Young Anymore/Sirens In The City/Liberty Lies/Walk Through Fire/Colette/In The Morning/Stranger

SP 5290 -

SP 5291 - Hearts And Minds - Hearts & Minds [1990] Tenderly/Speed Rack/Hearts And Minds/Five O'Clock Shadow/House Of Love/Road To Ruin//Which Way The Wind/N/Big As Dallas/Living In Sin/I Know Where I Belong

SP 5292 -

From this point, vinyl was being discontinued, and most issues were CD (and cassette) only. Vinyl issues were made for some numbers. The "SP-" prefix is replaced by the UPC (uniform product code) bar-code numbering system. For vinyl issues, the "-1" suffix was used; the "-2" suffix indicates CD, and "-4" indicates cassette.

*75021-5293-1 - Days Of Open Hand - Suzanne Vega [1990] (5-90, #50) Book Of Dreams/Fifty-Fifty Chance/Institution Green/Men In A War/Pilgrimage/Predictions/Room Off The Street/Rusted Pipe/Those Whole Girls (Run In The Grace)/Tired Of Sleeping

75021-5294-1 - Across The Universe - Trip Shakespeare [1990] Turtledove/Pearle/Snow Days/Drummer Like Me/Gone, Gone, Gone//The Slacks/Unlucky Lady/The Nail/The Crane/Late/Honey Tree

75021-5295-1 - Michael Anderson - Michael Anderson [1990]

75021-5296-1 - Brat Pack - Brat Pack [1990] Possibly issued on CD only.

75021-5297-1 - Apasionado - Stan Getz [1990] Apasionado/Coba/Waltz For Stan/Espanola//Madrugada/Amorous Cat/Midnight Ride/Lonely Lady

75021-5298-1 - Hearts And Flowers - Joan Armatrading [1990] (6-90, #161) More Than One Kind Of Love/Hearts And Flowers/Promise Land/Someone's In The Background/Can't Let Go//Free/Something In The Air Tonight/Always/Good Times/The Power Of Dreams

75021-5299-2 - Live At The Knitting Factory, Volume 3 - Various Artists [1990] Compact disc issue. Nothing You Can Do To Hurt Me - Doctor Nerve/Discuss It - No Safety/Bruxa - Gentle, Safe & Natural/Insomnia - Thomas Chapin Trio/You Must Choose - Negativland/The Ugly Waiter - Brandon Ross' The Overflow/The Wedding Dance - Don Byron/Notability - Marilyn Crispell & Andrew Cyrille/Rictus ' Slan/Z.O.G. - Slan/Oh No - No Safety/Kandinsky - Brandon Ross' The Overflow


Thanks to Darrin Ailes.




Back to the A&M Records Story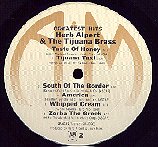 Back to the A&M Discography, Part 11 SP 5100-5199 (1985-88)



On to the A&M Discography, Part 13 SP 5300-5403 (1990-92)



Back to the Discography Listings Page



Back to the Both Sides Now Home Page