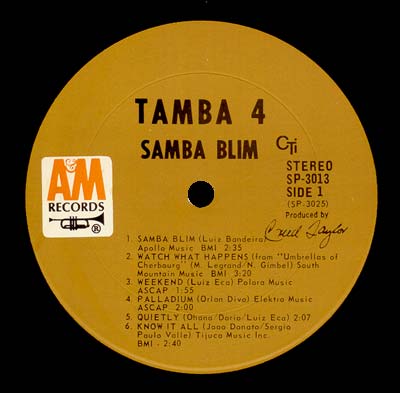 A&M Album Discography, Part 15
A&M/CTI Jazz SP 3000 Series (1967-1974)
By Patrice Eyries, Dave Edwards, & Mike Callahan
Last update: February 6, 2007






Tracks on each album are listed in the order they appear on the album. An asterisk (*) before the record number indicates we do not have information on the correct playing sequence of the tracks, and consequently they are listed in alphabetical order for that album.

We would appreciate any additions or corrections to this discography. Just send them to us via e-mail. Both Sides Now Publications is an information web page. We are not a catalog, nor can we provide the records listed below. We have no association with A&M Records. Should you be interested in acquiring albums listed in this discography (which are all out of print), we suggest you see our Frequently Asked Questions page and follow the instructions found there. This story and discography are copyright 2001, 2007 by Mike Callahan.



A&M ALBUM DISCOGRAPHY, PART 15

Number - Title - Artist [Release Date] Contents

LP 2000/SP 3000 - Audio Master Plus Series Sampler Volume 1 - Various Artists [1968] The Shape Of Things That Are And Were - George Benson/Lamento - Antonio Carlos Jobim/Autumn Leaves - Paul Desmond/Wind Song - Wes Montgomery/New Orleams - Nat Adderly/Killer Joe - Quincy Jones/Israel - K. & J.J./Jackie All - George Benson/California Nights - Wes Montgomery

LP 2001/SP 3001 - A Day In The Life - Wes Montgomery [1967] (10-67, #13) Audio Master + Series. A Day In The Life/Watch What Happens/When A Man Loves A Woman/California Nights/Angel//Eleanor Rigby/Willow Weep For Me/Windy/Trust In Me/The Joker

LP 2002/SP 3002 - Wave - Antonio Carlos Jobim [1967] (1-68, #114) Audio Master + Series. Wave/The Red House/Look To The Sky/Batidinha/Triste//Mojave/Dialogo/Lamento/Antigua/Captain Bacardi

LP 2003/SP 3003 - The Glory Of Love - Herbie Mann [1967] Audio Master + Series. No Use Crying/Hold On I'm Coming/Glory Of Love/Unchain My Heart/House Of The Rising Sun//The Letter/Upa Neguinho/Love Is Stronger Than We/Oh, How I Want To Love You/In And Out

LP 2004/SP 3004 - We and the Sea - Tamba 4 [1968] The Hill (O Morro)/Flower Girl (Moca Flor)/Iemanja//We And The Sea (Nos e ou Mar)/Chant Of Ossanha (Canto de Ossanha)/Dolphin/Consolation (Consolacao)

From this point, albums issued in stereo only.

SP 3005 - You Baby - Nat Adderley [1968] Audio Master + Series. You, Baby/By The Time I Get To Phoenix/Electric Eel/Early Chanson/Denise//Early Minor/My Son/New Orleans/Hang On In/Halftime

SP 3006 - Down Here On The Ground - Wes Montgomery [1968] (5-68, #38) Audio Master + Series. Wind Song/Georgia On My Mind/The Other Man's Grass Is Always Greener/Down Here On The Ground/Up And At It//Goin' On To Detroit/I Say A Little Prayer For You/When I Look Into Your Eyes/Know It All/Theme From "The Fox"

SP 3007 - Have You Met Miss Jones? - Artie Butler [1968] The Loop/The Whiffenpoof Song/A Trumpeter's Lullabye/April Showers/Max's Brazilian What/Have You Met Miss Jones?/Music For Night People/When I'm 64/Camelot/In The Heat Of The Night/Something Stupid

SP 3008 - Israel - Kai Winding & J.J. Johnson [1969] Audio Master + Series. My Funny Valentine/Israel/Catherine's Them/Am I Blue-Sonnyboy/Never My Love/Saturday Night Is The Lonliest Night Of The Week/St. James Infirmary/Django/Try To Remember

SP 3009 - Trust In Me - Soul Flutes [1969] Try A Little Tenderness/Trust In Me/In The Wee Small Hours/Scarborough Fair/Bachianas Brasilieras #5//Cigarettes & Coffee/Pu Po/Early Autumn/Day-O/Buckaroo

SP 3010 - Soul Machine - Richard Barbary [1968] Poor Side/What's Your Name?/Nature Boy/Call on Me/I Know Love/Teach Me/Please Stay/There Was Never Ever Anyone/Like You/Let the Music Play/Nothin' In This World

SP 3011 - I'll Be Anything For You - Tamiko Jones [1968] Goodnight My Love/Where Are They Now?/Cottage For Sale/Black Is Black/Try It/This Time Tomorrow/Please Return Your Love/Peace of Mind/I've Got My Eyes On You/Suddenly/Ya Ya

SP 3012 - Road Song - Wes Montgomery [1968] (11-68, #94) Audio Master + Series. Road Song/Greensleeves/Fly Me To The Moon/Yesterday/I'll Be Back/Scarborough Fair-Canticle/Green Leaves Of Summer/Serene/Where Have All The Flowers Gone

SP 3013 - Samba Blim - Tamba 4 [1969] Watch What Happens/Weekend/Palladium/Quietly/Know It All/Reza/Tristeza de Nos Dois/San Salvador/Slick/Baiano/Pregao

SP 3014 - Shape Of Things To Come - George Benson [1969] Audio Master + Series. Footin' It/Face It/Chattanooga Choo Choo/Don't Let Me Lose This Dream/Shape of Things That Are/Last Train to Clarksville

SP 3015 - Summertime - Paul Desmond [1969] Audio Master + Series. Samba With Some Barbecue/Olividar/Ob- La-Di/Emily/Someday My Prince Will Come/Autumn Leaves/Where Is Love?/Lady In Cement/North By Northeast

SP 3016 - Betwixt and Between - J.J. Johnson and Kai Winding [1968] Casa Forte/Little Drummer Boy/Don't Go/Mojave/Stormy/Smoky/Wichita Lineman/Just a Funky Old Vegetable Bin/Willie, Come Home

SP 3017 - Calling Out Loud - Nat Adderley [1969] Biafra/Haifa/St. M/Grey Moss/Nobody Knows/Comin' Out the Shadows/Ivan's Holiday

SP 3018 - Walter Wanderley Set - Walter Wanderley [1969] When It Was Done/Open Your Arms/Surfboard/Baiao Da Garoa/Reach Out/Ole, Ole/Pontelo/On My Mind/Just My Love/Capoetra/Truth In Peace

*SP 3019 - Courage - Milton Nascimento [1969] Audio Master + Series. Bridges (Travessia)/Can ao Do Sol (Saltworkers Song)/Catavento/Courage/Gira Girou (Round 'N' Round)/Morro Velho/Outubro (October)/Rio Vermelho/Tres Pontas/Vera Cruz

SP 3020 - Tell It Like It Is - George Benson [1969] (8-69, #145) Audio Master + Series. Soul Limbo/Are You Happy?/Tell It Like It Is/Land Of 1000 Dances/Jackie, All/Dontcha Hear Me Callin' To Ya/Water Brother/My Woman's Good To Me/Jama Joe/My Cherie Amour/Out In The Cold Again

SP 6-3021 - Audio Master Plus Series Audio Sampler, Vol. 2 - Various Artists [1984] Audio Master + Series. I Got A Woman - George Benson/Road Song - Wes Montgomery/Europa - Gato Barbieri/Circles - Paul Desmond/Tres Pontas - Milton Nascimento/I Want You - George Benson/Walkin' - Quincy Jones/Tema Jazz - Antonio Carlos Jobim/Love Is Stronger Than We - Herbie Mann

SP 3022 - Moondreams - Walter Wanderley [1969] Asa Branca/Amore Dice Ciao/Penha/One of the Nicer Things/Proton, Electron, Neutron/5:30 Plane/Soulful Strut/Jackie, All/Mirror of Love

SP 3023 - Walking In Space - Quincy Jones [1969] (11-69, #56) Audio Master + Series. Reissued in in 1974 in quadraphonic as A&M 53023. Dead End/Walking In Space//Killer Joe/Love & Peace/I Never Told You/Oh Happy Day

SP 3024 - From The Hot Afternoon - Paul Desmond [1969] October/Round N' Round/Faithful Brother/To Say Goodbye/From The Hot Afternoon//Circles/Martha & Romao/Catavento/Latin Chant/Crystal Illusions

SP 3025 - I Got a Woman and Some Blues - George Benson [1969] Audio Master + Series. I Got A Woman/Out Of The Blue/Bluesadelic/Durham's Turn/Good Morning Blues/I Worry 'Bout You/Without Her/She Went A Litttle Bit Farther/Goodbye, Columbus

SP 3026 - Crying Song - Hubert Laws [unissued] I've Gotta Get A Message To You/Listen To The Band/Feelin' Alright?/Let It Be/Love Is Blue/La Jean/Crying Song/How Long Will It Be?/Cymbaline

SP 3027 - Stonebone - J.J. Johnson & Kai Winding [unissued] Note: Stonebone was scheduled for American release as A&M SP-3027, but it was never issued in the United States using that number. The track data comes from Creed Taylor's recording logs and do not include the title "Musings," which is a title that appears on Japanese A&M 330 and is most certainly an alternate title for one of the unissued selections listed. Details courtesy of Arnaldo DeSouteiro, Eumir Deodato and Dan Skea. Taurus/Dontcha Hear Me Callin To Ya?/Mojo/Anticipation/Ballad In C Minor/Ding/Recollections/Musings

SP 3028 - The Other Side Of Abbey Road - George Benson [1970] (7-76, #125) Audio Master + Series. Reissued in 1976 after Benson became a top chart artist with "Breezin'." Golden Slumbers/You Never Give Me Your Money/Because-Come Together/Oh! Darling/Here Comes The Sun/I Want You (She's So Heavy)/Something-Octopus's Garden/The End

SP 3029 - Fire And Passion - Gato Barbieri [1970] Audio Master + Series.

SP 3030 - Gula Matari - Quincy Jones [1970] (9-70, #63) Audio Master + Series. Bridge Over Troubled Waters/Gula Matari/Walkin'/Hummin'

SP 3031 - Tide - Antonio Carlos Jobim [1970] Girl From Ipanema/Carinhoso/Tema Jazz/Sue Ann/Remember//Tide/Takatanga/Caribe/Rockanalia

SP 3032 - Bridge Over Troubled Water - Paul Desmond [1970] El Condor Pasa/So Long Frank Lloyd Wright/The 59th Street Bridge Song (Feelin' Groovy)/Mrs Robinson/Old Friends//America/For Emily Whenever I May Find Her/Scarborough Fair-Canticle/Cecilia/Bridge Over Troubled Water

SP 3033 - Seasons - Pete Jolly [1970] Leaves/Younger Than Springtime/Bees/Rainbows/Plummer Park/Springs//Seasons/Sand Storm/Autumn Festival/Prairie Road/The Indian's Summer/Pete Jolly

SP 3034 - The Roger Kellaway Cello Quartet - Roger Kellaway [1971] Come to the Meadow/Chant D'Amour/Ballade/Seventide/Time/Arcades 2 (Stravinsky In Memoriam)/Estero Beach Landscape/Mostly on A D String/Jorjana No. 7

SP 3035 - Sergio Mendes Presents Lobo - Lobo [1971] The artist here is Edu Lobo, not to be confused with pop singer Kent Lavoie, who later recorded using the name Lobo. Zanzibar/Ponteio/Even Now/Crystal Illusions/Casa Forte/Jangada/Sharp Tongue/To Say Goodbye/Hey Jude

SP 3036 - The Age Of Steam - Gerry Mulligan [1970] One To Ten In Ohio/K-4 Pacific/Grand Tour/Over The Hill And Out Of The Woods/Country Beaver/A Weed In Disneyland/Golden Notebooks/Maytag

SP 3037 - Smackwater Jack - Quincy Jones [1971] (10-71, #56) Smackwater Jack/Cast Your Fate To The Wind/Ironside/What's Going On?//Theme From "The Anderson Tapes"/Brown Ballad/Hikky-Burr (Cosby theme music)/Guitar Blues Odyssey: From Roots to Fruits

SP 3038 - Jack Daugherty and the Class of Nineteen Hundred and Seventy-One - Jack Daugherty [1971] Getting Up/Someone To Love/Feel So Good/(I Fell In Love With You) The Day We Met/Brothers And Sisters//Number Nine/The Strip/La Costa Drive/You Got It/Theme For Susan

SP 3039 - Tim Weisberg [aka For Those Who Never Dream] - Tim Weisberg [1971] Nights In White Satin/Long Ago And Far Away/Hard Way To Go/Because Of Rain/Sunshine In Her Hair//Fog And Spice/For Those Who Never Dream/Trinity Suite (Day At The Fair-Then-Now)

SP 3040 - The Center of the Circle - Roger Kellaway [1971] Our Gang Blues/La Cookeria/On Your Mark Get Set; Blues #1/Blujahn Boogie/On Your Mark Get Set; Blues #2/Lay Karma Lay//Center Of The Circle/Stereospecificautocatalytic/On Your Mark Get Set; Blues #3/Landscape/On Your Mark Get Set; Blues #4/Song Of The Earth

SP 3041 - You've Got It Bad Girl - Quincy Jones [1973] (6-73, #94) Also issued in quadraphonic as QU 53041. Summer In The City/Eyes Of Love/Daydreaming/First Time Ever I Saw Your Face/Love Theme From 'The Getaway'//You've Got It Bad Girl/Superstition/Manteca/'Sanford & Sone' Theme/Chump Change

SP 3042 -

*SP 3043 - Suite for Pops - Thad Jones & Mel Lewis [1973] A Good Time Was Had By All/Meetin' Place/Only For Now/The Farewell/The Great One/The Summary/Toledo By Candlelight

*SP 3044 - Waves - Charles Lloyd [1972] Harvest/Majorca/Pyramid/Rishikesha Medley: Hummingbird-Rishikesh Seagull/TM/Waves

*SP 3045 - Dreamspeaker - Tim Weisberg [1973] (12-73, #160) Bullfrog/Castille/Do Dah/Dreamspeaker/Killing Me Softly With His Song/Night For Crying/Night Watch/Scrabble X, Y, And Z/Six O'Clock In The Morning

SP 3046 - Geeta - Charles Lloyd [1973] Geeta suite/Dance of the Gopis/Stones Medley/Jungle Blues/Berries

SP 3047 - Love, Tenderness & Devotion - L.T.D. [1974] To The Bone/Elegant Love/Not On Your Life/Gestures Unfulfilled/What Goes Around//Success/Thank You Mother/How Could You Be So Cold?/I Told You I'd Be Back/Lucky Day


Thanks to Kai Seemann.




Back to the A&M Records Story



Back to the A&M Discography, Part 14 PolyGram Series (1992- )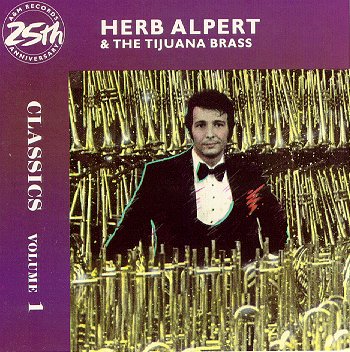 On to the A&M Discography, Part 16 CD 2500 A&M Classics 25th Anniversary Series (1987)



Back to the Discography Listings Page



Back to the Both Sides Now Home Page