A&M Album Discography, Part 20
SP 3900 Series (1986-1990)
By Patrice Eyries, Dave Edwards, & Mike Callahan
Last update: February 6, 2007






Tracks on each album are listed in the order they appear on the album. An asterisk (*) before the record number indicates we do not have information on the correct playing sequence of the tracks, and consequently they are listed in alphabetical order for that album.

We would appreciate any additions or corrections to this discography. Just send them to us via e-mail. Both Sides Now Publications is an information web page. We are not a catalog, nor can we provide the records listed below. We have no association with A&M Records. Should you be interested in acquiring albums listed in this discography (which are all out of print), we suggest you see our Frequently Asked Questions page and follow the instructions found there. This story and discography are copyright 2001, 2007 by Mike Callahan.



A&M ALBUM DISCOGRAPHY, PART 20

Number - Title - Artist [Release Date] Contents

*SP 3900 - Amy Grant: The Collection - Amy Grant [1986] (9-86, #66) Angels/El Shaddai/Emmanuel/Everywhere I Go/Father's Eyes/Find A Way/Love Can Do/Sing Your Praise To The Lord/Stay For Awhile/Thy World

SP 3901 - Pretty In Pink (Soundtrack) - Various Artists [1986] (3-86, #5) Reissue of A&M SP-5113. If You Leave - Orchestral Manoeuvres In The Dark/Left Of Center - Suzanne Vega Featuring Joe Jackson/Get To Know Ya - Jesse Johnson/Do Wot You Do - Inxs/Pretty In Pink - Psychedelic Furs//Shell-Shock - New Order/Round, Round - Belouis Some/Wouldn't It Be Good - Danny Hutton Hitters/Bring On The Dancing Horses - Echo & The Bunnymen/Please Please Please Let Me Get What I Want - Smiths

SP 3902 - Every Breath You Take: The Singles - Police [1986] (11-86, #7) Roxanne/Can't Stand Losing You/Message In A Bottle/Walking On The Moon/Don't Stand So Close To Me '86/De Do Do Do De Da Da Da/Every Little Thing She Does Is Magic/Invisible Sun/Spirits In The Material World/Every Breath You Take/King Of Pain/Wrapped Around Your Finger

SP 3903 - Soul Man (Soundtrack) - Various Artists [1986] (11-86, #138) Soul Man - Sam Moore & Lou Reed/Evolution - Models/Outside - Nu Shooz/Love And Affection - Martha Davis & Sly Stone/Eek-Ah-Bo-Static Automatic - Sly Stone//Bang Bang Bang (Who's On The Phone) - Ricky/Totally Academic - Brenda Russell/Suddenly It's Magic - Vesta Williams/Black Girls - Rae Dawn Chong/Sweet Sarah - Tom Scott

SP 3904 -

SP 3905 - Control - Janet Jackson [1987] Reissue of SP 5106. Control/What Have You Done For Me Lately/You Can Be Mine/The Pleasure Principle/When I Think Of You/He Doesn't Know I'm Alive/Let's Wait Awhile/Funny How Time Flies

SP 3906 - Wembley: The Prince's Trust Concert - Various Artists [1987] (6-87, #194) Money For Nothing - Dire Straits/Call Of The Wild - Midge Ure/Marlene On The Wall - Suzanne Vega/In The Air Tonight - Phil Collins/Fields Of Fire - Big Country/No One Is To Blame - Howard Jones//Something About You - Level 42/I'm Still Standing - Elton John/Reach Out - Joan Armatrading/Better Be Good To Me - Tina Turner/Sailing - Rod Stewart/Get Back - Paul McCartney

SP 3907 - Into The Fire - Bryan Adams [1987] (4-87, #7) Heat Of The Night/Into The Fire/Victim Of Love/Another Day/Native Son//Only The Strong Survive/Rebel/Remembrance Day/Hearts On Fire/Home Again

SP 3908 - Will Power - Joe Jackson [1987] (5-87, #131) No Pasaran/Solitude/Will Power//Nocturne/Symphony On One Movement

SP 3909 - The Untouchables (Soundtrack) - Ennio Morricone [1987] Untouchables (End Title)/Al Capone/Waiting At The Border/Death Theme/On The Rooftops/Victorious/The Man With The Matches//The Strength Of The Righteous (Main Title)/Ness And His Family/False Alarm/The Untouchables/Four Friends/Machine Gun Lullaby

SP 3910 - Flashback - .38 Special [1987] (8-87, #35) Back To Paradise (Theme From Revenge Of The Nerds II)/Hold On Loosely/If I'd Been The One/Caught Up In You/Fantasy Girl//Same Old Feeling/Back Where You Belong/Teacher, Teacher/Like No Other Night/Rockin' Into The Night/Rough- Housin'/Wild-Eyed Southern Boys//Stone Cold Believer/Twentieth Century Fox

SP 3911 - A Very Special Christmas - Various Artists [1987] (11-87, #20 Christmas chart; also charted 88-90)Santa Claus Is Coming To Town - Pointer Sisters/Winter Wonderland - Eurythmics/Do You Hear What I Hear? - Whitney Houston/Merry Christmas Baby - Bruce Springsteen & The E Street Band/Have Yourself A Merry Little Christmas - Pretenders/I Saw Mommy Kissing Santa Claus - John Cougar Mellencamp/Gabriel's Message - Sting//Christmas In Hollis - Run-D.M.C./Christmas (Baby Please Home - U2/Santa Baby - Madonna/The Little Drummer Boy - Bob Seger & The Silver Bullet Band/Run Rudolph Run - Bryan Adams/Back Door Santa - Bon Jovi/The Coventry Carol - Alison Moyet/Silent Night - Stevie Nicks

SP 3912 -

*SP 3913 - Good Morning, Vietnam (Soundtrack) - Various Artists [1988] Baby Please Don't Go - Them/California Sun - Rivieras/Danger Heartbreak Dead Ahead - Marvelettes/Five O'Clock World - Vogues/Game Of Love - Wayne Fontana & Mindbenders/I Get Around - Beach Boys/I Got You (I Feel Good - James Brown/Liar, Liar - Castaways/Nowhere To Run - Martha & Vandellas/Sugar And Spice - Searchers/Warmth Of The Sun - Beach Boys/What A Wonderful World - Louis Armstrong

SP 3914 -

SP 3915 - Bill And Ted's Excellent Adventure (Soundtrack) - Various Artists [1989] Play With Me - Extreme/The Boys And Girls Are Doing It - Vital Signs/Not So Far Away - Glen Burtnick/Dancing With A Gypsy - Tora Tora/Father Time - Shark Island//I Can't Break Away - Big Pig/Dangerous - Shark Island/Walk Away - Bricklin/In Time - Robbie Robb/Two Heads Are Better Than One - Power Tool

3916 - Arthur 2 (On the Rocks) (Soundtrack) - Various Artists [1988] Love Is My Decision - Chris DeBurgh/Gravity - Brenda Russell/Secret - OMD/Speed Of Light - Reimy/Boys Night Out - Tower Of Power/The Best Of Times - Burt Bacharach/The Loco-Motion - Kylie Monogue/Reflections - Steve Kahn/Devotion - Liz Story/Theme From "Arthur 2" - Burt Bacharach

SP 3917 - Tucker: The Man And His Dream (Soundtrack) - Joe Jackson [1988] Captain Of Industry (Overture)/The Car Of Tomorrow-Today!/No Chance Blues/(He's A) Shape In A Drape/Factory/Vera/It Pays To Advertise/Tiger Rag/Showtime In Chicago//Lone Bank Loan Blues/Speedway/Marilee/Hangin' In Howard Hughes' Hangar/Toast Of The Town/Abe's Blues/The Trial/Freedom Swing-Tucker Jingle/Rhythm Delivery

SP 3918 - Stay Awake: A Tribute to Walt Disney - Various Artists [1988] (11-88, #119) Opening Medley (I'm Getting Wet And I Don't Care At All): Hi Diddle Dee (An Actor's Life For Me) - Ken Nordine With Bill Frisell & Wayne Horwitz)-Little April Shower - Natalie Merchant, Michael Stipe, Mark Bingham & The Roches)-I Wan'na Be Like You (The Monkey Song) - Los Lobos/Baby Mine - Bonnie Raitt & Was (Not Was)/Heigh Ho (The Dwarfs Marching Song) - Tom Waits/Medley Two (The Darkness Sheds Its Veil): Stay Awake - Suzanne Vega-Little Wooden Head - Bill Frisell & Wayne Horwitz-Blue Shadows On The Trail - Syd Straw/Medley Three (Three Inches Is Such A Wretched Height): Castle In Spain - Buster Poindexter & The Banshees Of Blue-I Wonder - Yma Sumac/Mickey Mouse March - Aaron Neville)//Medley Four (All Innocent Children Had Better Beware): Feed The Birds - Garth Hudson-Whistle While You Work - NRBQ-I'm Wishing - Betty Carter-Cruella DeVille - Replacements/Someday My Prince Will Come - Sin'ad O'Connor/Medley Five (Technicolor Pachyderms): Pink Elephants On Parade - Sun Ra & His Arkestra-Zip-A-Dee-Doo-Dah - Harry Nilsson/Second Star To The Right - James Taylor/Pinocchio Medley (Do You See The Noses Growing?): Desolation Theme - Ken Nordine With Bill Frisell & Wayne Horwitz-When You Wish Upon A Star - Ringo Starr & Herb Alpert

SP 3919 -

SP 3920 - Rhythm Nation 1814 - Janet Jackson [1989] (10-89, #1) Interlude: Pledge/Rhythm Nation/State Of The World/The Knowledge/Miss You Much/Love Will Never Do (Without You)/Livin' In A World (They Didn't Make)//Alright/Escapade/Black Cat/Lonely/Come Back To Me/Someday Is Tonight/Interlude: Livin'... In Complete Darkness

SP 3921 - Scrooged (Soundtrack) - Various Artists [1988] (12-88, #93) Put A Little Love In Your Heart - Annie Lennox & Al Green/A Wonderful Life - Mark Lennon/Sweetest Thing - New Voices Of Freedom Featuring Adriane McDonald & George Pendergrass/The Love You Take - Dan Hartman & Denise Lopez/Get Up 'N' Dance - Kool Moe Dee//We Three Kings Of Orient Are - Miles Davis, Larry Carlton, David Sanborn & Paul Shaffer/Christmas Must Be Tonight - Robbie Robertson/Brown Eyed Girl - Buster Poindexter/The Christmas Song (Chesnuts Roasting On An Open Fire - Natalie Cole

SP 3922 -

SP 3923 - Live '88 - Supertramp [1988] You Started Laughing/It's Alright/Not The Moment/Breakfast In America/From Now On//Oh Darling/Just Another Nervous Wreck/The Logical Song/I'm Your Hoochie Cooche Man/Crime Of The Century

SP 3924 - The Mighty Quinn (Soundtrack) - Various Artists [1988] Send Fi Spanish Fly - Little Twitch/I Gotta Keep Moving On - UB40/Groove Master - Arrow/Guess Who's Coming To Dinner - Michael Rose/(I'm) Hurting Inside - Sheryl Lee Ralph/Giving - Half Pint/La Habanera - Yello/Yellow Moon - Neville Bros./Mary Jane - Seventeen Plus/Mighty Quinn - Sheryl Lee Ralph

SP 3925 -

SP 3926 - Lost Angels (Soundtrack) - Various Artists [1989] Let's Rock - Apollo Smile/Do It Better - Happy Mondays/Fascination Street - Cure/Get On The Snake - Soundgarden/Yeah Yeah Yeah Yeah Yeah - Pugues/Many Rivers To Cross - Toni Childs/Just Plain Evil - Soul Asylum/Self Preservation - Raheem/Love Long Gone - Royal Court Of China/Lost Angels Theme - John Williams & Wayne Shorter

SP 3927 - Street Fighting Years - Simple Minds [1989] (5-89, #70) Street Fighting Years/Soul Crying Out/Wall Of Love/This Is Your Land/Take A Step Back//Kick It In/Let It All Come Down/Mandela Day/Belfast Child/Biko

SP 3928 -

SP 3929 - The Young Einstein (Soundtrack) - Various Artists [1989] A Fist Full Of Scientists/At First Sight - Stems/Dumb Things - Paul Kelly/Great Big Brain/Great Southern Land - Icehouse/Hungry Town - Big Pig/I Hear Motion - The Models/Rock And Roll Music - Mental As Anything/Rock And Roll Music - Yahoo Serious/The Music Goes Round My Head - The Saints/The Tasmanian - Yahoo Serious)/Theory Of Relativity - Yahoo Serious)/Weirdo Libido - The Lime Spiders)/Who Can You Trust? - Yahoo & Lulu/Young Einstein Pacifist - Above The Law

SP 3930 -

SP 3931 - Lovelines - Carpenters [1989] Lovelines/Where Do I Go From Here?/The Uninvited Guest/If We Try/When I Fall In Love/Kiss Me The Way You Did Last Night//Remember When Lovin' Took All Night/You're The One/Honolulu City Lights/Slow Dance/If I Had You/Little Girl Blue

*SP 3932 - Blaze (Soundtrack) - Various Artists [1990] Sho-Bar To Pea Patch - Bennie Wallace/C.C. Rider - Bennie Wallace/When The Saints Go Marching In - Bonnie Sheridan/Next Time You See Me - Bonnie Sheridan/Jambalaya (On The Bayou) - Bonnie Sheridan/Fine Day For A Walk - Bonnie Sheridan/Heart Attack - Bonnie Sheridan/Open 'Em Up Boys - Bonnie Sheridan/To The Couch And Beyond - Bonnie Sheridan/Precious Lord - Bonnie Sheridan/Louisiana 1927 - Randy Newman/Main Title (The Great Pea Patch Waltz) - Randy Newman/One Night - Fats Domino/Harlem Nocturne - Fats Domino/Drive To The General Store - Fats Domino/Hey Good Lookin' - Hank Williams/Drive To The General Store - Hank Williams/Kidnap - Hank Williams/He Ain't Crazy (He's A Lover) - Hank Williams


Thanks to Rich Wong.




Back to the A&M Records Story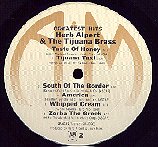 Back to the A&M Discography, Part 19 SP 3700 Series (1973-85)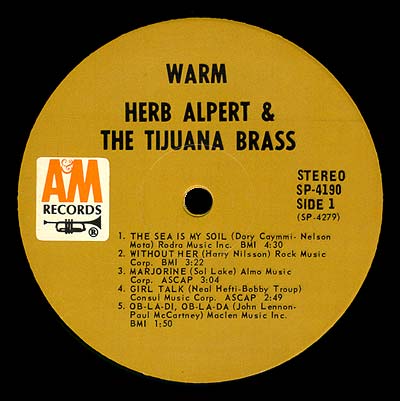 On to the A&M Discography, Part 21 SP 6000, 6400, 6500, 6600, 6700 Series (1969-91)



Back to the Discography Listings Page



Back to the Both Sides Now Home Page