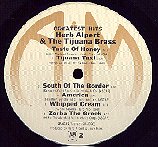 A&M Album Discography, Part 27
Word and Related Issues
By Mike Callahan, David Edwards, and Patrice Eyries
Last update: August 9, 2001




In early 1985, A&M struck a distribution deal with Word Records to distribute Word's Christian albums to the secular market. The agreement also included all the labels for which Word was distributor, including their subsidiaries Myrrh, Canaan, and DaySpring, and the labels they distributed, such as Reunion, Home Sweet Home, NewPax, and the like. The agreement ended in 1990, not long after A&M was sold to PolyGram. Some of the A&M/Word reissues were reissued by PolyGram using the new numbering system PolyGram put into place in 1990.

This particular series consisted of only the records A&M chose to reissue (or issue concurrently starting in 1986). In most cases, the logo of the original label also appears on the A&M reissue. The albums were for the most part issued on both vinyl and cassette. For a listing of albums on Word, Myrrh, DaySpring, Reunion, Star Song, Maranatha, and others, please see The Word Records Story. The A&M numbers will not be given here.




A&M Records Story



The Word Records Story Including related labels



Back to the Discography Listings Page



Back to the Both Sides Now Home Page