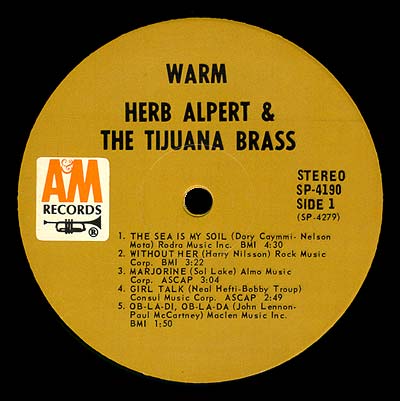 A&M Album Discography, Part 3
SP 4300-4426 (1971-1974)
By Patrice Eyries, Dave Edwards, & Mike Callahan
Last update: February 6, 2007






Tracks on each album are listed in the order they appear on the album. An asterisk (*) before the record number indicates we do not have information on the correct playing sequence of the tracks, and consequently they are listed in alphabetical order for that album.

We would appreciate any additions or corrections to this discography. Just send them to us via e-mail. Both Sides Now Publications is an information web page. We are not a catalog, nor can we provide the records listed below. We have no association with A&M Records. Should you be interested in acquiring albums listed in this discography (which are all out of print), we suggest you see our Frequently Asked Questions page and follow the instructions found there. This story and discography are copyright 2001, 2007 by Mike Callahan.



A&M ALBUM DISCOGRAPHY, PART 3

Number - Title - Artist [Release Date] Contents

SP 4300 - Spooky Tooth - Spooky Tooth [1971] (6-71, #152) Reissue of Bell 6019. It's All About A Roundabout/Tobacco Road/It Hurts You So/Forget It/I Got It/Bubbles//Society's Child/Love Really Changed Me/Here I Lived So Well/The Weight/Sunshine Help Me

SP 4301 - Rock On - Humble Pie [1971] (5-71, #118) Shine On/Sour Grain/79th And Sunset/Stone Cold Fever/Rolling Stone//A Song For Jenny/The Light/Big George/Strange Days/Red Neck Jump

SP 4302 - 5th - Lee Michaels [1971] (6-71, #16) Keep The Circle Turning/You Are What You Do/Willie And The Hand Jive/Didn't Have To Happen/Rock Me Baby//Do You Know What I Mean/Ya Ya/Can I Get A Witness/Oak Fire/I Don't Want Her

SP 4303 - Minnows - Marc Benno [1971] Franny/Put A Little Love In My Soul/Stone Cottage/Speak Your Mind/Back Down Home//Good Times/Baby I Love You/Baby Like You/Before I Go/Don't Let The Sun Go Down

SP 4304 - From The Witchwood - Strawbs [1971] A Glimpse Of Heaven/Witchwood/Thirty Days/Flight/The Hangman And The Papist//Sheep/Cannon Dale/The Shepherd's Song/In Amongst The Roses/I'll Carry On Beside You

*SP 4305 - England Dan & John Ford Coley - England Dan & John Ford Coley [1971] Ask The Rain/Elysian Fields/I'm Home/Lady Rose/Miss Me/Mud And Stone/New Jersey/Swamp River/Tell Her Hello/Winning Side

SP 4306 - Free Live! - Free [1971] (9-71, #89) All Right Now/I'm A Mover/Be My Friend/Fire And Water//Ride On Pony/Mr. Big/The Hunter/Get Where I Belong

*SP 4307 - Punch - Punch [1971] Blackbird/Fallin', Lady/(I Know It's) Your Life/Love Song/Mayflower/Medley: Abraham, Martin And John-I Shall Be Released/Open Highway/Piece Of My Mind/Travelin' Boy/While My Guitar Gently Weeps/Why Don't You Write Me

SP 4308 - Earth Quake - Earth Quake [1971] Tumbleweed/Distance Between/Summer Song/Things//Guarding You/Wind Keeps Blowing/Look Out Your Window/Blurry Eyes/Tickler

*SP 4309 - Son of America - Seemon & Marijke [1971] Everybody's Dancing/I Saw You/It Is All There/Keep On Keepin' On/Roselie/Room 44/Sitting On A Hilltop/Son Of America/Twinsouls/Vegetable Stew/White Watch

SP 4310 - Take Heart - Mimi Farina & Tom Jans [1971] Carolina/Charlotte/Kings And Queens/The Great White Horse/Reach Out//Madman/In The Quiet Morning/Letter To Jesus/After The Sugar Harvest (Instrumental)/No Need To Be Lonely

SP 4311 - Indelibly Stamped - Supertramp [1971] Your Poppa Don't Mind/Travelled/Rosie Had Everything Planned/Remember/Forever//Potter/Coming Home To See You/Times Have Changed/Friend In Need/Aries

SP 4312 - Mick Abrahams - Mick Abrahams [1971] Greyhound Bus/Awake/Winds Of Change/Why Do You Do Me This Way//Big Queen/Not To Rearrange/Seasons

SP 4313 - Teaser and the Firecat - Cat Stevens [1971] (10-71, #2) Reissued in 1972 in quadraphonic as QU 54313. The Wind/Rubylove/If I Laugh/Changes IV/How Can I Tell You//Tuesday's Dead/Morning Has Broken/Bitterblue/Moonshadow (Old Gaelic Melody)/Peace Train

SP 4314 - Summertime - Herb Alpert & Tijuana Brass [1971] (7-71, #111) Hurts So Bad/Jerusalem/Martha My Dear/If You Could Read My Mind/Darlin' /Summertime/The Nicest Things Happen/Montezuma's Revenge/Catch A Falling Star/Strike Up The Band

*SP 4315 - Pais Tropical - Sergio Mendes & Brasil '77 [1971] (10-71, #166) After Midnight/Asa Branca/Gone Forever/I Know You/Morro Velho/Pais Tropical (Tropical Land)/So Many People/Tonga/Zanzibar

SP 4316 - Hookfoot - Hookfoot [1971] Bluebird/Mystic Lady/Movies/Nature Changes//Wim-Wom/Don't Let It Bring You Down/Coombe Gallows/Crazy Fool/Golden Eagle

SP 4317 - The Northstar Grassman and The Ravens - Sandy Denny [1971] Late November/Blackwaterside/The Sea Captain/Down in the Flood/John the Gun//Next Time Around/The Optimist/Let's Jump the Broomstick/Wretched Wilbur/The Northstar Grassman and the Ravens/Crazy Lady Blues

SP 4318 -

SP 4319 - Angel Delight - Fairport Convention [1971] (12-71, #200) Issued in the UK as Island ILPS-9162. Lord Marlborough/Sir William Gower/Bridge over the River Ash/Wizard of the Worldly Game/The Journeyman's Grace//Angel Delight/Banks of the Sweet Primroses/Instrumental Medley: The Cuckoo's Nest - Hardiman the Fiddler - Papa Stoor/The Bonny Black Hare/Sickness & Diseases

SP 4320 -

SP 4321 - Kids Nowadays Ain't Got No Shame - Jim Price [1971] Sunshine/You Got The Power/Kids Nowadays/I Can't Help It/Food For My Soul//Safe To Smile/Under Control/You're My Lover/Train Of Clover/Mystery Shadow

*SP 4322 - Bless The Beasts And Children - Various Artists [1971] (11-71, #176) Bless The Beasts And Children - Carpenters/Bless The Beats And Children (Instrumental)/Cotton's Dream/Down The Line/Down The Line/Free/Journey's End/Lost - Renee Armand/Requiem/Stampede

SP 4323 - Jim Carroll - Jim Carroll [1971] Scratch Your Head/On & On/I Don't Know/Save Me/I'm In Love Again/Mean Mother Mary/My Own Movie/Man/Porch Song/I Got Plenty

SP 4324 - Collaboration - Shawn Phillips [1972] Us We Are/Burning Fingers/Moonshine/For Her/What's Happenin' Jim!/Armed/Spaceman/Times Of A Madman Trials Of A Thief/8500 Years/The Only Logical Conclusion/Coming Down Soft & Easy/Springwind

SP 4325 - Nice Feelin' - Rita Coolidge [1971] (12-71, #135) Family Full Of Soul/You Touched Me In The Morning/If You Were Mine/Nice Feelin'/Only You Know And I Know//I'll Be There/Better Days/Lay My Burden Down/Most Likely You Go Your Way (And I'll Go Mine)/Journey Thru The Past

SP 4326 - As Serious As A Heart Attack - Melvin Van Peebles [1971]

*SP 4327 - Just An Old Fashioned Love Song - Paul Williams [1971] (12-71, #141) Gone Forever/I Never Had It So Good/Let Me Be The One/My Love And I/Old Fashioned Love Song/Perfect Love/Simple Man/That's Enough For Me/Waking Up Alone/We've Only Just Begun/When I Was All Alone

SP 4328 - A Gift Of Song - Sandpipers [1971] A Gift Of Song/It's Too Late/Never My Love/Leland Loftis/I Think It's Going To Rain Today//Never Can Say Goodbye/How Can You Mend A Broken Heart/An Old Fashioned Love Song/Chotto Matte Kudasai (Never Say Goodbye)/If/A Gift Of Song (Reprise)

SP 4329 - Hope - Hope [1972] Where Do You Want To Go/One Man/Find Him/Deliverance/From Thy Father's Hand//Walkin' Over Hills And Valleys/One Of These/Little Things/Valley Of Hope/Cold Morning/Everyone Needs

SP 4330 - Great Scott - Tom Scott [1972] Lookin' Out For Number Seven/Woodstock/Mantra/Boss Walk//Liberation/Dahomey Dance/Visions Off The Highway/Malibu

SP 4331 -

*SP 4332 - State Farm - Jeffrey Shurtleff [1972] Angel Band/Ballad Of Honest Sam/Come To Me/Hello In There/It's A Long Way To Nashville/Lay It Down/Leave It There/Miner's Life/Prison's Trilogy/Sad Gypsy/Ten Degrees And Getting Colder

SP 4333 - Babbacombe Lee - Fairport Convention [1972] (3-72, #195) John Babbacombe Lee//John Babbacombe Lee

SP 4334 -

SP 4335 - Procol Harum In Concert With The Edmonton Symphony Orchestra - Procol Harum With The Edmonton Symphony Orchestra [1972] (5-72, #5) Conquistador/Whaling Stories/A Salty Dog/All This And More//In Held 'Twas In I (Comprising Glimpses Of Nirvana-'Twas Teatime At The Circus-In The Autumn Of My Madness-I Know If I'd Been Wiser-Grand Finale)

SP 4336 - Space And First Takes - Lee Michaels [1972] (5-72, #78) Own Special Way (As Long As)/First Names//Hold On To Freedom/Space And First Takes

SP 4337 - Why Don't You Try Me? - Earth Quake [1972] Bright Lights/Light Before The Blindman's Eyes/I Get The Sweetest Feeling/Trainride//See What My Love Can Do/Why Don't You Try Me/Riding High On Love/Live And Let Live

SP 4338 - Good Times A Comin' - Hookfoot [1972] Sweet Sweet Funky Music/Living In The City/If I Had The Words/Gunner Webb's Changes/The Painter//Flying In The U.S.A./Is Anyone There/Slick's Blues For Jumbo/Look To Your Churches/Good Times A'Comin'

SP 4339 - Come From The Shadows - Joan Baez [1972] (5-72, #48) Also issued in quadraphonic as QU 54339. Prison Trilogy (Billy Rose)/Rainbow Road/Love Song To A Stranger/Myths/In The Quiet Morning/All The Weary Mothers Of The Earth (People's Union #1)//To Bobby/Song Of Bangladesh/Stranger In My Place/Tumbleweed/The Partisan (La Complainte Du Partisan)/Imagine

*SP 4340 - Remembering You - Carroll O'Connor [1972] (6-72, #118) About A Quarter To Nine/Can't We Talk It Over/I Get Along Without You Very Well/I'll Never Be The Same/Just A Memory/Last Night When We Were Young/Love Is Here To Stay/Remembering You/So Rare/Sweet And Lovely/What Is There To Say/Would You Like To Take A Walk

SP 4341 - Solid Brass - Herb Alpert & Tijuana Brass [1972] 96-72, 135) The Work Song/This Guy's In Love With You/Slick/The Maltese Melody/So What's New?/Jerusalem/Flamingo/What Now My Love/Without Her/Casino Royale/A Banda/Summertime/Acapulco 1922/Wade In The Water

SP 4342 - Smokin' - Humble Pie [1972] (4-72, #6) Hot 'N' Nasty/The Fixer/You're So Good To Me/C'mon Everybody/Old Time Feelin'//30 Days In A Hole-Road Runner/Road Runners G Jam/I Wonder/Sweet Peace And Time

SP 4343 - Last Of The Red Hot Burritos - Flying Burrito Bros. [1972] (6-72, #171) Devil In Disguise/Six Days On The Road/My Uncle/Dixie Breakdown/Don't Let Your Deal Go Down/Orange Blossom Special//Ain't That A Lot Of Love/High Fashion Queen/Don't Fight It/Hot Burrito #2/Losing Game

*SP 4344 - Grave New World - Strawbs [1972] (7-72, #191) Ah Me, Ah My/Benedictus/The Flower And The Young Man/Heavy Disguise/Hey, Little Man... Thursday's Child/Hey, Little Man... Wednesdays' Child/Is It Today, Lord?/Journey's End/New World/On Growing Older/Queen Of Dreams/Tomorrow

SP 4345 - Live At The Olympia In Paris - Liza Minnelli [1972]

SP 4346 - Down At Rachel's Place - Mike D'Abo [1972] Rachel's Place/Belinda/Poor Man's Son/You Are The Singer/My Life (Is Starting From Today)//Little Miss Understood/Salvation Song/Battefield/Tomorrow On My Mind

SP 4347 -

SP 4348 - Wind of Change - Peter Frampton [1972] (10-72, #177) Fig Tree Bay/Wind Of Change/Lady Lieright/Jumping Jack Flash/It's A Plain Shame/Oh For Another Day//All I Want To Be (Is By Your Side)/The Lodger/Hard/Alright

SP 4349 - Free at Last - Free [1972] (5-72, #69) Catch A Train/Soldier Boy/Magic Ship/Sail On/Travelling Man//Little Bit Of Love/Guardian Of The Universe/Child/Goodbye

SP 4350 - Fables - England Dan & John Ford Coley [1972] Simone/Casey/Free The People/What I'm Doing//Carolina/Tomorrow/Candles Of Our Lives/Matthew/Stay By The River

SP 4351 - Home Grown - Booker T. & Priscilla Jones [1972] (7-72, #190) Save Us From Ourselves/Born Under A Bad Sign/Maggie's Farm/Muddy Road/Don't Think Twice, Its' All Right//Color Your Mama/The Sequence/Who Killed Cock Robin?

SP 4352 - Hurtwood Edge - Tim Weisberg [1972] Tibetan Silver/Burlington Skyway/Hurtwood Edge/Another Time/Tyme Cube/Cement City//Summers Past/Molly Mundane/Maat/Our Thing/Ojai/Song For Lisa

*SP 4353 - Primal Roots - Sergio Mendes & Brasil '77 [1972] (7-72, #164) After Sunrise/Canto De Ubiratan/Circle Game/Iemanja/Pomba Gira/Promise Of A Fisherman

SP 4354 - Rock On - The Bunch Featuring Gerry Conway [1972] Crazy Arms/That'll Be The Day/Don't Be Cruel/The Loco-Motion/My Girl In The Month Of May/Love's Made A Fool Of You//Willie And The Hand Jive/Jambalaya (On The Bayou)/When Will I Be Loved/Nadine/Sweet Little Rock 'N' Roller/Learning The Game

*SP 4355 - God Save the Queens - Sandy Baron [1972] Awe In The Family/Buy Gay!/Clockwork Pink/Counselor And The Hustler/Do You Take This Man'/Finale: Fairy Tale-The Queen That Came Out Of The Closet/It Happened One Night/Plot/Politician/That Was Your Life

*SP 4356 - Vindicator - Arthur Lee [1972] Busted Feet/Everybody's Gotta Live/Everytime I Look Up/Find Somebody/Hamburger Breath Stinkfinger/He Knows A Lot Of Good Women/He Said She Said/Love Jumped Through My Window/Ol' Morgue Mouth/Sad Song/You Can Save Up To 50%/You Want Change For You Re-Run

SP 4357 -

SP 4358 - Geronimo's Cadillac - Michael Murphey [1972] (9-72, #160) Geronimo's Cadillac/Natchez Trace/The Ballad Of Calico Silver/Harbor For My Soul/Rainbow Man/Waking Up//Crack Up In Las Cruces/Boy From The Country/What Am I Doin' Hangin' Around?/Song For Hogman (Michael Angelo's Blues)/Backslider's Wine/I See The Lights Of That City

*SP 4359 - Sundown Lady - Lani Hall [1972] Come Down In Time/How Can I Tell You/Love Song/Ocean Song/Sun Down/Tiny Dancer/Vincent/We Could Be Flying/Wherever I May Find Him/You

SP 4360 -

SP 4361 - The Six Wives Of Henry VIII - Rick Wakeman [1973] (7-73, #30) Also issued in quadraphonic as QU 54361. Catherine Of Aragon/Anne Of Cleves/Catherine Howard//Jane Seymour/Anne Boleyn (The Day Thou Gavest Lord Hath Ended)/Catherine Parr

SP 4362 - Ring Of Changes - Gary Wright & Wonderwheel [possibly unissued]

SP 4363 - Faces - Shawn Phillips [1972] (12-72, #57) Landscape/L Ballade/Hey Miss Lonely/Chorale//Parisien Plight II/We/Anello (Where Are You)/I Took A Walk

SP 4364 - Ambush - Marc Benno [1972] (9-72, #171) Poor Boy/Southern Woman/Jive Fade Jive (Instrumental)/Hall Street Jive//Share/Donut Man/Sunshine Feelin/Here To Stay Blues/Either Way It Happens

SP 4365 - Catch Bull At Four - Cat Stevens [1972] (10-72, #1) Also issued in quadraphonic as QU 54365. Sitting/Boy With A Moon And Star On His Head/Angelsea/Silent Sunlight/Can't Keep It In//18th Avenue (Kansas City Nightmare)/Freezing Steel/O Caritas/Sweet Scarlet/Ruins

SP 4366 - Good 'N' Cheap - Eggs Over Easy [1972] Party Party/Arkansas/Henry Morgan/The Factory/Face Down in the Meadow//Home to You/Song is Born of Riff and Tongue/Don't Let Nobody/Runnin' Down to Memphis/Pistol on a Shelf/Night Flight

SP 4367 - Life Goes On - Paul Williams [1972] (12-72, #159) The Lady Is Waiting/Out In The Country/Little Girl/Rose/Where Do I Go From Here//Life Goes On/Park Avenue/I Won't Last A Day Without You/Traveling Boy/That Lucky Old Sun

SP 4368 - Joe Cocker - Joe Cocker [1972] (12-72, #30) Pardon Me Sir/High Time We Went/She Don't Mind/Black-Eyed Blues/Something To Say//Midnight Rider/Do Right Woman/Woman To Woman/St. James Infirmary

SP 4369 - The Rain Book - Renee Armand [1972] England/Elizabeth Rain/I Think You're Letting Me Go/Does Anybody Love You/Friends//You and I/Falling Ladies/Raining in L.A./Guess I Never Knew You/I'm Going Away

SP 4370 - The Lady's Not For Sale - Rita Coolidge [1972] (11-72, #46) My Crew/Fever/Bird On The Wire/I'll Be Your Baby Tonight/A Woman Left Lonely//Whiskey Whiskey/Everybody Loves A Winner/Donut Man/Inside Of Me/The Lady's Not For Sale

SP 4371 - Sandy - Sandy Denny [1972] It'll Take A Long Time/Sweet Rosemary/For Nobody To Hear/Tomorrow Is A Long Time/Quiet Joys Of Brotherhood//Listen, Listen/The Lady/Bushes And Briars/It Suits Me Well/The Music Weaver

SP 4372 - Windmills - Rick Roberts [1972] Deliver Me/Davy McVie/In My Own Small Way/Sail Away//Two Lovely Women/In A Dream/Drunk And Dirty/Pick Me Up On Your Way Down/Jenny's Blues

*SP 4373 - A Whiter Shade Of Pale - Procol Harum [1972] A Chistmas Camel/A Whiter Shade Of Pale/Cerdes (Outside The Gates Of)/Conquistador/Good Captain Clack/Kaleidoscope-Salad Days (Are Here Again)/Mabel/Repent Walpurgis/She Wandered Through The Garden Fence/Something Following Me

SP 4374 -

SP 4375 - All Over You - Chilliwack [1972] Singin' The Blues (All Over You)/Ground Hog/CS Man/Hot Winds/Nothin' To Do//The Fields And The Sea/Rock N' Roll Music/Things Keep Changin'/Me And You/Hit Him With Another Egg/Goodnight

SP 4376 - Less Than the Song - Hoyt Axton [1973] Sweet Misery/Less Than The Song/Sweet Fantasy/Days Are Short/Mary Makes Magic/Peacemaker//Nothin' To Lose/Oklahoma Song/Mexico City Hangover/Hungry Man/Somebody Turned On The Light/Blue Prelude

SP 4377 - Stealers Wheel - Stealers Wheel [1972] (2-73, #50) Late Again/Stuck In The Middle With You/Another Meaning/I Get By/Outside Looking In//Johnny's Song/Next To Me/Jos'/Gets So Lonely/You Put Something Better Inside Of Me

SP 4378 -

*SP 4379 - Sonny And Brownie - Sonny Terry & Brownie Mcghee [1973] (4-73, #185) Battle Is Over (But The War Goes On)/Big Wind (Is A' Comin')/Bring It On Home To Me/God And Man/Jesus Gonna Make It Alright/On The Road Again/People Get Ready/Sail Away/Sonny's Thing/Walkin' My Blues Away/White Boy Lost In The Blues/You Bring Out The Boogie In Me

SP 4380 - Communication - Hookfoot [1973] Crazy Day Running Around/They'll Never Find Us Up There/To Stay Would Bring Me Down/Forty Winks/Oh Joanna//Here I Come/And Nothing Changes/Cruisin'/The Love That You Saved/Just A Little Communication

SP 4381 - Piledriver - Status Quo [1973] Don't Waste My Time/O Baby/A Year/Unspoken Words//Big Fat Mama/Paper Plane/All The Reasons/Roadhouse Blues

SP 4382 - Whatever's For Us - Joan Armatrading [1972] My Family/City Girl/Spend A Little Time/Whatever's For Us, For Us/Child Star/Visionary Mountains/It Could Have Been Better//Head Of The Table/Mister Remember Me/Gave It A Try/Alice/Conversation/Mean Old Man/All The Kings' Gardens

SP 4383 - Bursting At The Seams - Strawbs [1973] (4-73, #121) Flying/Lady Fuschia/Stormy Down/Down By The Sea/The River//Part Of The Union/Tears And Pavan (Tears- Pavan)/The Winter And The Summer/Lay Down/Thank You

SP 4384 - Willie And The Lapdog - Gallagher & Lyle [1973] Willie/Home/Give The Boy A Break/Sittin' Down Music/Dan/Among The Birks//Jesus Save Me/S.S. Man/Hotel Constantine/The Lapdog/Harmonium/Thoughts From A Station

SP 4385 - You Broke My Heart So... I Busted Your Jaw - Spooky Tooth [1973] (5-73, #84) Cotton Growing Man/Old As I Was Born/This Time Around/Holy Water//Wildfire/Self Seeking Man/Times Have Changed/Moriah

SP 4386 - Rosie - Fairport Convention [1973] Issued in the UK as Island ILPS-9208. Rosie/Matthew, Mark, Luke & John/Knights of the Road/Peggy's Pub/The Plainsman//Hungarian Rhapsody/My Girl/Me with You/The Hens March Through the Midden & the Four Poster Bed/Furs & Feathers

SP 4387 -

*SP 4388 - Cosmic Cowboy Souvenir - Michael Murphey [1973] (6-73, #196) Alleys Of Austin/Blessing In Disguise/Cosmic Cowboy (Part One)/Drunken Lady Of The Morning/Honolulu/Prometheus Busted/Rolling Hills/South Canadian River Song/Temperature Train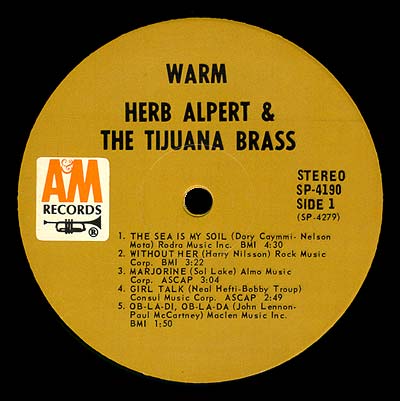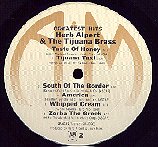 At this point, the label changes from the brown to the silver label.





SP 4389 - Frampton's Camel - Frampton's Camel [1973] (6-73, #110) I Got My Eyes On You/All Night Long/Lines On My Face/Which Way The Wind Blows/I Believe (When I Fall In Love It Will Be Forever)//White Sugar/Don't Fade Away/Just The Time Of The Year/Do You Feel Like We Do

*SP 4390 - Where Are You Now, My Son? - Joan Baez [1973] (5-73, #138) Best Of Friends/Less Than The Song/Mary Call/Only Heaven Knows (Ah, The Sad Wind Blows)/Rider, Pass By/Where Are You Now, My Son?/Windrose/Young Gypsy

SP 4391 - Foreigner - Cat Stevens [1973] (7-73, #3) Also issued in quadraphonic as QU 54391. Foreigner Suite//The Hurt/How Many Times/Later/100 I Dream

SP 4392 -

SP 4393 - Walkin' In The Sun - Jeff Barry [1973]

SP 4394 - Butterfly - Cheryl Dilcher [1973] Butterfly/Deep Down Inside/Sweet Mama/Rainbow Farm/So Sad/Can't Get Enough Of You//Irma/High/Good Morning World/Once Upon A Time/Chocolate Candy/All Woman

SP 4395 - Crazy Life - Gino Vannelli [1973] Crazy Life/Hollywood Holiday/There's No Time/Fling Of Mine/Granny Goodbye//Great Lake Canoe/Cherizar/One Woman Lover/Piano Song

SP 4396 - Razamanaz - Nazareth [1973] (8-73, #157) Razamanaz/Alcatraz/Vigilante Man/Woke Up This Morning//Night Woman/Bad, Bad Boy/Sold My Soul/Too Bad, Too Sad/Broken Down Angel

*SP 4397 - Mekanik Destruktiv Kommandoh - Magma [1973] Da Zuhl Wortz Mekanik/Hortz Fur Dehn Stekehn West/Ima Su Ri Dondai/Kobaia Is De Huendin/Kreuehn Kohrmahn Iss De Hundin/Mekanik Kommandoh/Nebehr Gudahht

SP 4398 -

SP 4399 - Esperanto Rock Orchestra - Esperanto [1973] On Down The Road/Never Again/Perhaps One Day/Statue Of Liberty//Gypsy/City/Roses/Move Away

*SP 4400 - U.F.O. - Ron Davies [1973] Can I Count On You/Flapjack/I Wonder/It Ain't Easy/It's A Lie/Lay Down Your Burden/Long Hard Climb/Misty Roses/Shadows

*SP 4401 - The Best Of Procol Harum - Procol Harum [1973] (10-73, #131) A Salty Dog/A Whiter Shade Of Pale/Conquistador/Homburg/(In The Wee Small Hours Of) Sixpence/Lime Street Blues/Long Gone Geek/Quite Rightly So/Shine On Brightly/Simple Sister/Whisky Train

SP 4402 - Bright White - Shawn Phillips [1973] (12-73, #72) Bright White/Salty Tears/All The Kings And Castles/Victoria Emmanuelle/Planned O//Lasting Peace Of Mind/Technotronic Lad/Dream Queen/It's A Beautiful Morning/Lady Of The Blue Rose

SP 4403 - Full Moon - Kris Kristofferson & Rita Coolidge [1973] (9-73, #26) Hard To Be Friends/It's All Over (All Over Again)/I Never Had It So Good/From The Bottle To The Bottom/Take Time To Love/Tennessee Blues//Part Of Your Life/I'm Down (But I Keep Falling)/I Heard The Bluebirds Sing/After The Fact/Loving Arms/A Song I'd Like To Sing

SP 4404 - She Is A Song - Rick Roberts [1973] Westwind/She Is A Song/Lights/Four Days Gone/Company//Sweet Maria/The Captain/She Made Me Lose My Blues/Old Songs/Glad To Be Goin'

*SP 4405 - Comedian - Franklyn Ajaye [1973] Black Power Movement/Disneyland/Graduation/High School Hoodlums/Monsters On Television/Weekend Parties

SP 4406 - High Rollers and Other Fine Ladies - Jambalaya [1973] High Roller/Lady Lightnin'/Lovin' You/Sweet Marie/She's A Driver//Sheriff Johnson/Backwater Children/Never The Wind/Angry Tiger

SP 4407 - Fairport Convention Nine - Fairport Convention [1973] The Hexhamshire Lass/Polly On The Shore/The Brilliancy Medley And Cherokee Shuffle/To Althea From Prison/Tokyo//Bring 'Em Down/Big William/Pleasure And Pain/Possibly Parsons Green

SP 4408 - Hello! - Status Quo [unissued] Issued as A&M SP 3615.

SP 4409 -

SP 4410 -

SP 4411 - The Ozark Mountain Daredevils - Ozark Mountain Daredevils [1973] (2-74, #26) Country Girl/Spaceship Orion/If You Wanna Get To Heaven/Chicken Train/Colorado Song//Standing On The Rock/Road To Glory/Black Sky/Within Without/Beauty In The River

SP 4412 - Meet Mississippi Charles Bevel - Charles Bevel [1973] Overheard/This Thing Happened To Me (Not In A Dream)/You've Got The Power/Keep On Stepping//Making A Decision/Sally B. White/Porcupine Meat/Don't Lie To Me/Trying To Break The Habit/Black Santa Claus

SP 4413 - Chronicles - Booker T. & Priscilla [1973] Fly/When Two People Are In Love/Rings Around the World/Wild Fox //Mendocino/The Crippled Crow/Cherokee River/Time/Wounded Knee

SP 4414 -

SP 4415 - Gone Crazy - Grin [1973] You're The Weight/Boy And Girl/What About Me/One More Time//True Thrill/Beggar's Day/Nightmare/Believe/Ain't For Free

SP 4416 - Henry Gross - Henry Gross [1973] Simone/Come On Say It/The Ever Lovin' Days/Let Your Love Song Down/Meet Me On The Corner//How I'm Gonna Love You/With The Sleep In My Eyes/Fly Away/Skin King/Sweet Sassafras

SP 4417 -

SP 4418 -

SP 4419 - Ferguslie Park - Stealers Wheel [1973] (4-74, #181) Good Businessman/Star/Wheelin'/Waltz (You Know It Makes Sense!)/What More Could You Want/Over My Head//Blind Faith/Nothing's Gonna Change My Mind/Steamboat Row/Back On My Feet Again/Who Cares/Everything Will Turn Out Fine

For the most part, the regular series switched here to the SP 3600 series, only to switch back to the SP 4500 series a few months later. A few items remaining in this catalog series were switched to numbers in the SP 3600 series.

SP 4420 -

SP 4421 -

SP 4422 - Life Machine - Hoyt Axton [1974] (10-74, #21 country) Reissued as A&M SP-3604 with a different cover. Also reissued in the 1980s as budget line A&M SP-3155. Maybelline/Life Machine/That's All Right/Geronimo's Cadillac/When The Morning Comes//Good Lookin' Child/I Dream Of Highways/Pet Parade/Telephone Booth/Boney Fingers/Billie's Theme

SP 4423 -

SP 4424 - Thunderbox - Humble Pie [unissued] Issued as A&M SP 3611.

SP 4425 - Seeds - Gallagher & Lyle [unissued] Issued as A&M 3605.


Thanks to Gert Nielsen, Carl Palm, Dick Rosemont, Franklin Chouinard, Matt Clark, Eamonn Keane, Tom Baker, and Claus Simonsen.




Back to the A&M Records Story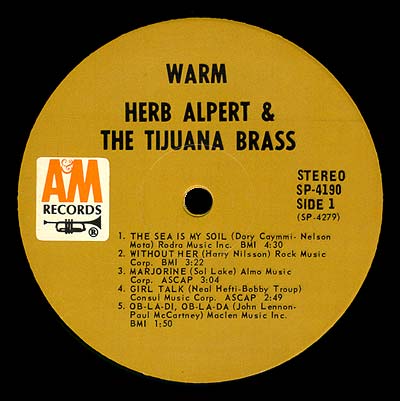 Back to the A&M Discography, Part 2 SP 4201-4299 (1963-69)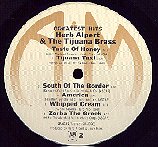 On to the A&M Discography, Part 4 SP 3601-3666 (1973-79)



Back to the Discography Listings Page



Back to the Both Sides Now Home Page