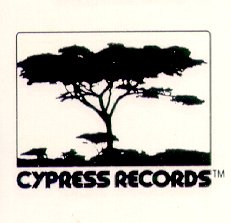 Cypress Album Discography
By Mike Callahan, Patrice Eyries, and David Edwards
Last update: October 9, 2006





The Cypress label was distributed by A&M. The original YL numbering system was changed to the 14166 0100-2 numbering system by PolyGram in 1990.

Tracks on each album are listed in the order they appear on the album. An asterisk (*) before the record number indicates we do not have information on the correct playing sequence of the tracks, and consequently they are listed in alphabetical order for that album.

We would appreciate any additions or corrections to this discography. Just send them to us via e-mail. Both Sides Now Publications is an information web page. We are not a catalog, nor can we provide the records listed below. We have no association with Cypress Records. Should you be interested in acquiring albums listed in this discography (which are all out of print), we suggest you see our Frequently Asked Questions page and follow the instructions found there. This story and discography are copyright 2001 by Mike Callahan.



CYPRESS ALBUM DISCOGRAPHY

Number - Title - Artist [Release Date] Contents

YL 0100 - Famous Blue Raincoat: The Songs of Leonard Cohen - Jennifer Warnes [1986] First We Take Manhattan/Bird On A Wire/Famous Blue Raincoat/Joan Of Arc/Ain't No Cure For Love/Coming Back To You/Song Of Bernadette/A Singer Must Die/Came So Far For Beauty

YL 0101 - High Risk - Tim Weisberg [1986] Passion/Hang Time/Take The Time/Kittyhawk/You've Got To Know/Rio Tropico/Naked Truth/High Risk/Heartchild/Say What/California Nights

YL 0102 - Letters Home - Wendy Waldman [1987] The Crossroads/Destined To Be Wild/Easy Way Out/Letter Home/Living In Hard Times/Longest Summer/Renegade Side/This Wall/Tonight/What Is The Price Of Love

YL 0103 - Highway Is for Heroes - Jesse Colin Young [1987] Before You Came/Do It Slow/Dreams Take Flight/Erica/Highway Is For Heroes/The Master/When You Dance/Young Girls

YL 0104 - Still Believe - Michael Tomlinson [1987] Dawning On A New Day/Highway Rain/Sunlight/Light Of Love/Still Believe/Run With Me/Don't Know When/Let Us Dream/So Long Garden Dream/Lover Of The World

YL 0105 - Punch the Big Guy - John Stewart [1987] Angels With Guns [with Rosanne Cash]/Strange Rivers/Hunters Of The Sun/Price Of The Fire [with Rosanne Cash]/Midnight Of The World/Night Of A Distant Star/Botswanna/Ticket To The Stars/Runaway Train/Children Of The New Frontier

YL 0106 - Power - Tower of Power [1988] Baby's Got The Power/Ball And Chain/Boys Night Out/Count On Me/Credit/On The One/Some Days Were Meant For Rain/Through Lovers' Eyes/Up Against Yourself

YL 0107 - Half a Book - Cheryl Wheeler [1988] Reissued on CD in 1991 on Northstar WS005. Emotional Response/I Don't Have The Time/I Don't Reach You Anymore/Tell Him Goodbye/In Your Heart/Rainin'//Half A Book/I See Your Eyes/Thinkin' Of Leavin'/Summer Fly/Piper

YL 0108 -

YL 0109 - In Full Swing - Full Swing [1988] September Rain/Last Port Of Call/Dance Of The Seven Veils/The Jungle/We're Rockin' In Rhythm/Anything Can Happen Here/Palacio Do Samba/Long Lost Lover/Busted For Boppin'/2 Good 2 Be 4 Gotten

YL 0110 - Taking Charge - Shirley Eikhard [1988] Roll That Rock/You're My Weakness/Something That Lasts/I Get So Jealous/Secrets/Night Of No Return/Someone Else/While We're Still Young/It's Understood/Pray For Rain

YL 0111 - Who Am I - Gary Wright [1988] Who Am I/Voices/Love Is On The Line/Take A Look/Blind Alley/Sad Eyes/Prey Of Your Love/(I Don't Wanna) Hold Back/It Ain't Right/Rose

YL 0112 -

YL 0113 -

YL 0114 - Hiding in Myself - Kenny Rankin [1988] Lovin' Side/Before The Fall/Delila/Hiding In Myself/Trouble Man/Keep The Candle Burnin'/Let's Get It On/She Knows Me Well/Down The Road/Velez/Muddy Creek/She Moves, Eyes Follow

YL 0115 - Slow Dance - Southside Johnny [1988] On The Air Tonight/Sirens Of The Night/Ain't That Peculiar/Little Calcutta/Act Of Love/Slow Dance/Your Precious Love/No Secret/When The Moment Is Right/Walking Through Midnight

YL 0116 - Run This Way Forever - Michael Tomlinson [1988] Asphaly Dream/Raining Away/Blue Eyes/No Bad Dreams/Yellow Windows/Waves/By A Friend/I Will Not Pass You By/Run Like The River Runs

YL 0117 -

YL 0118 -

YL 0119 -

YL 0120 - Lips Against the Steel - David Knopfler [1988] Heat Comes Down/What Then Must We Do/To Feel That Way Again/Someone To Believe In/Sculptress/Angie And Johnny/Whispers Of Gethsemane/Broken Wing

YL 0121 -

YL 0122 -

YL 0123 -

YL 0124 - French Laundry - Windows [1989] Lilac Blue/Spin Of Th' Wheel/Ships At Sea/New Sneakers/Top Of The Mountain/Night Whispers/Jamaican Basketball/Knockout Punch/Just Wondering/French Laundry

YL 0125 -

YL 0126 -

YL 0127 - Face Up in the Rain - Michael Tomlinson [1989] Gettin' Gone/Safe At Home/All Is Clear/I've Got Dreams/Rocks And Water/Always Alarming Me/Everything We Need/Light For Tomorrow/Such Good Friends/Everything I've Learned Is Going To Change/Years/The Way We're Going

YL 0128 - The End of the Sky - Full Swing [1989] Song For Everyman/The Last Thing I Should Say/The End Of The Sky/A Deeper Blue/Camel Island/Dear Diary/Local Hero/Another Life/A Footstep In The Snow/Like A Waterfall


Thanks to Tom R. Storo.




Back to the A&M Records Story



Back to the Discography Listings Page



Back to the Both Sides Now Home Page