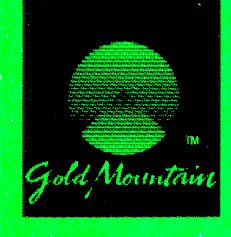 Gold Mountain Album Discography
By Patrice Eyries, Dave Edwards, & Mike Callahan
Last update: August 29, 2005






Gold Mountain was distributed by A&M from 1983-1985. In 1986, they switched to MCA for distribution. By 1989, Gold Mountain had metamorphosized into Gold Castle, a label distributed by Curb. Gold Mountain's biggest star was Bruce Cockburn (pronounced CO-burn), Canadian singer and commenter on life in general.

Another of the artists on Gold Mountain was the group HYTS, which included bassist Stan Miller, later of Earthquake, keyboardist/guitarist Tommy Thompson, Roland Little, and Roy Garcia. We received an e-mail from a bitter-sounding Tommy Thompson of the group, which explains some of the goings-on at the label, and certainly provided us with a smile or two. For obvious reasons, we have chosen to edit the note slightly, but we haven't changed the tone:

My name is Tommy Thompson. I played keyboards and guitar and sang background vocals on two albums recorded on the Gold Mountain label back in the early 80s. The name of the band was "HYTS", and our first album on Gold Mountain records was released in 1982 under the title of "HYTS". The second album came out in 1984 and was called "Looking from the Outside".

Both albums were produced by Matthew King Kaufman of Berserkley Records fame, and both were recorded at Fantasy Studios in Berkeley with Richie "Dr. Snooz" Corsello engineering. The first album in 1982 had a tune called "Backstabber" on it, the video for which appeared in "heavy rotation" on a then-up-and-coming cable TV station called MTV. The second album in 1984 had a song called "The American Way" which was picked by the Gavin Report on the week that it was released as a "4-star Red, White and Blue rocker that will probably excel this band over the top..."

Unfortunately for us, the folks at Gold Mountain Records had figured ahead of time [before the Gavin Report] that the album was gonna tank, and so they didn't have any more than about 5,000 copies pressed for release, and absolutely NO radio "push" at all. Oooops!! So they got caught with their pants down after the Gavin Report article...while we got the proverbial [shaft]...a classic "close, but no cigar".

Later on, in about 1992, Matthew Kaufman released a compilation CD in Europe of the best of both HYTS albums. This CD was entitled "Eleven Bloody Men". We, of course, never saw any money from that release....

Anyway, if y'all are interested and have got any spare time, you might want to verify this little addition to your Gold Mountain catalog. If not, then [expletive deleted] you too.... (signed), Tommy Thompson

What can we say, except it sounds like a story we've heard time and time again? As PPM sang, "it's a common tale but true...".

Tracks on each album are listed in the order they appear on the album. An asterisk (*) before the record number indicates we do not have information on the correct playing sequence of the tracks, and consequently they are listed in alphabetical order for that album.

We would appreciate any additions or corrections to this discography. Just send them to us via e-mail. Both Sides Now Publications is an information web page. We are not a catalog, nor can we provide the records listed below. We have no association with Gold Mountain Records. Should you be interested in acquiring albums listed in this discography (which are all out of print), we suggest you see our Frequently Asked Questions page and follow the instructions found there. This story and discography are copyright 2001 by Mike Callahan.



GOLD MOUNTAIN ALBUM DISCOGRAPHY

Number - Title - Artist [Release Date] Contents

80000 series (A&M distribution):

GM 80001 -

GM 80002 - HYTS - HYTS [1983] Lady of the Night/Loveblind/Backstabber/Better Watch Out/This Is Your Night//You're the One/Back on the Streets/Tears Will Flow/Love Taker/Hold You Through the Night

GM 80003 -

GM 80004 - Colour Radio - Colour Radio [1984] Adrianna Dreams/Johnny/Danger/Sheila/The Beast (In Us All)//The Hunter/Bound For Life/Kathleen/Straight From The Heart/Stand With You

GM 80005 -

GM 80006 - Gotta Give A Little Love (Ten Years After) - Timmy Thomas [1984] Love Is Never Too Late/Gotta Give A Little Love (Ten Years After)/Hard Hat /Same Ole Song//My Last Affair/Making Up With You/Tonite Tonite/Let It Flow/Freedom Is Within

GM 80007 -

GM 80008 -

GM 80009 -

GM 80010 -

GM 80011 -

GM 80012 - Stealing Fire - Bruce Cockburn [1984] (8-84, #74) Love In A Dangerous Time/Maybe The Poet/Sahara Gold/Making Contact/Peggy's Kitchen Wall//To Raise The Morning Star/Nicaragua/If I Had A Rocket Launcher/Dust And Diesel


GM 86000 Series (A&M Distribution):

GM 86010 - Midnight Mission - Textones [1984] Standing In The Line/Hands Of The Working Man/No Love In You/Running/Number One Is To Survive//Midnight Mission/Upset Me/Luck Don't Last Forever/Clean Cut Kid/See The Light


A&M main series:

GM 3276 - Dancing in the Dragon's Jaws - Bruce Cockburn [1984] Reissue of the 1980 album on Millennium 7747. Creation Dream/Hills Of Morning/Badlands Flashback/Northern Lights/After The Rain/Wondering Where The Lions Are/Incandescent Blue/No Footprints

GM 3283 - The Trouble with Normal - Bruce Cockburn [1985] The Trouble With Normal/Candy Man's Gone/Hoop Dancer/Waiting For The Moon//Tropic Moon/Going Up Against Chaos/Put Our Hearts Together/Civilization And Its Discontents/Planet Of The Clowns

GM 6-5041 - The Right To Rock - Keel [1985] (3-85, #99) Produced by Gene Simmons (of Kiss). The Right To Rock/Back To The City/Let 's Spend The Night Together/Easier Said Than Done/So Many Girls, So Little Time//Electric Love/Speed Demon/Get Down/You're The Victim (I'm The Crime)

GM 5089 - Looking from the Outside - HYTS [1985] Better Than Me/The American Way/Looking from the Outside/The Show Must Go On/You're My Girl/Sorry For You/Come Back/Loverboy/Up With the Night


MCA 5000-6000 consolidated series:

MCA 5727 - The Final Frontier - Keel [1986] (4-86, #53) Produced by Gene Simmons (of Kiss). The Final Frontier/Rock And Roll Animal/Because The Night/Here Today, Gone Tomorrow/Arm And A Leg//Raised On Rock/Just Another Girl/Tears Of Fire/Nightfall/No Pain No Gain

MCA 5763 - Somebody Up There Likes Me... - Michael Des Barres [1986] Money Don't Come Easy/Do You Belong?/Is There Someone Else?/Everything Reminds Me Of You/I Can See Clearly Now//Somebody Up There Likes Me/Too Good To Be Bad/Locked In The Cage Of Love/Camera Eyes/Thinking With Your Body

*MCA 5772 - World Of Wonders - Bruce Cockburn [1986] (7-86, #143) Berlin Tonight/Call It Democracy/Dancing In Paradise/Down Here Tonight/Lily Of The Midnight Sky/People See Through You/Santiago Dawn/See How I Miss You/World Of Wonders


MCA 42000 consolidated series:

*MCA 42005 - Keel - Keel [1986] (6-87, #79) Calm Before The Storm/Cherry Lane/Don't Say You Love Me/4th Of July/I Said The Wrong Thing To The Right Girl/If Love Is A Crime (I Wanna Be Convicted)/It's A Jungle Out There/King Of The Rock/Somebody's Waiting/United Nations

MCA 42006 - Mercy - Steve Jones [1987] Mercy/Give It Up/That's Enough/Raining In My Heart/With You Or Without You//Pleasure And Pain/Pretty Baby/Drugs Suck/Through The Night/Love Letters


Thanks to Tommy Thompson.




Back to the A&M Records Story



Back to the Discography Listings Page



Back to the Both Sides Now Home Page