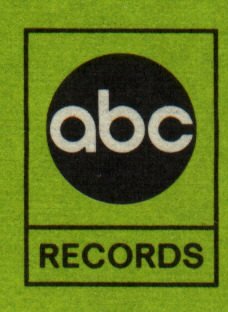 ABC-Paramount Album Discography, Part 7
ABCS 700-799 (1969-1974)
By David Edwards, Patrice Eyries, and Mike Callahan
Last update: November 5, 2005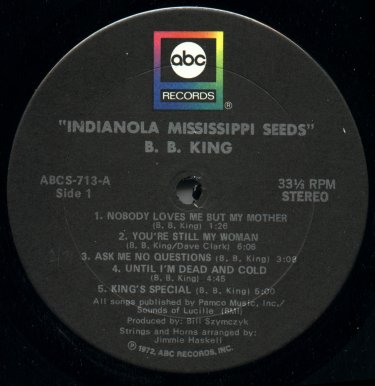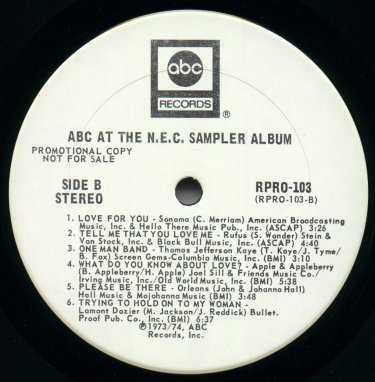 The label used for the ABCS-700s was black with silver printing. Directly above the center hole was a black ABC logo in a white circle. A color spectrum box surrounded the logo. This label was used from mid-1966 to the third quarter of 1974, approximately ABC 565 to ABC 830. At the bottom of the label is "ABC RECORDS INC., NEW YORK, N.Y. 10019 - MADE IN USA" The promotional label was white with black printing. The graphics were the same.

We would appreciate any additions or corrections to this discography. Just send them to us via e-mail. Both Sides Now Publications is an information web page. We are not a catalog, nor can we provide the records listed below. We have no association with ABC-Paramount, ABC, or MCA Records. Should you be interested in acquiring albums listed in this discography (all of which are out of print), we suggest you see our Frequently Asked Questions page and follow the instructions found there. This story and discography are copyright 2002 by Mike Callahan.



ABC-PARAMOUNT LABEL ALBUM DISCOGRAPHY, Part 7

Number - Title - Artist - [Release Date] (Chart) Contents

ABCS 700 - 12 In A Roe: A Collection of Tommy Roe's Greatest Hits - Tommy Roe [1969] (12-69, #21) Sheila/Everybody/The Folk Singer/Party Girl/Carol/Sweet Pea//Hooray For Hazel/It's Now Winter's Day/Dizzy/Heather Honey/Jack And Jill/Jam Up And Jelly Tight

ABCS 701 - I Love You - Eddie Holman [1969] (2-70, #75) I Love You/It's All In The Game/Since My Love Has Gone/I Cried/I'll Be Forever Loving You/Since I Don't Have You//Hey There Lonely Girl/Let Me Into Your Life/Four Walls/Don't Stop Now/Am I A Loser

ABCS 702 - Goliath - Goliath [1969] Yesterday's Children/Can't Stop Feeling Lonely/Man's Temptation/Time And Time Again/If Johnny Comes Marching Home//Eleanor Rigby/Come With Me (To My World)/Loving You Too Long/Are You Lonely For Me, Baby?/Jacksonville Express

ABCS 703 - Phoenix - Phoenix [5/70] Julia's Face/Music On My Mind/I Can't Lose You Now/Hello Nashville/Thanks For Nothing/Too Many Words//Do Something To Make Somebody Happy/In Leaving, You Arrived/Postmark N.Y.C./Words I Have To Say/Baby I'm Sorry (What Else Can I Say)

ABCD 704 - Blues Is King - B.B. King [1970] Reissue Of Bluesway BLS 6001. Waitin' On You/Gamblers' Blues/Tired Of Your Jive/Night Life/Buzz Me//Don't Answer The Door/Blind Love/I Know What You're Puttin' Down/Baby Get Lost/Gonna Keep On Loving You

ABCS 705 - Bold - Bold [1970] Lullaby Opus Four/All I Really Want To Do/Friendly Smile/Changing Seasons/Factory (Version 3)/Crystal Chambers//Free Fugue/Child Of Love/For What It's Worth/It's All Over Now, Baby Blue/Words Don't Make It

ABCS 706 - Natural Four - Natural Four [5/70]

* ABC-Tangerine ABCS 707 - Love Country Style - Ray Charles [1970] (8-70, #192) Don't Change On Me/Good Morning Dear/I Keep It Hid/If You Were Mine/Ring Of Fire/Show Me The Sunshine/Sweet Memories/Till I Can't Take It Anymore/You've Still Got A Place In My Heart/Your Love Is So Doggone Good

ABCS 708 - Freedom - Freedom [1970] Nobody/In Search Of Something/Dusty Track/Man Made Laws//Ain't No Chance To Score/Pretty Woman/Freedom/Frustrated Woman

* ABCD 709 - Blues On Top Of Blues - B.B. King [1970] Reissue Of Bluesway BLS 6011. Dance With Me/Having My Say/Heartbreaker/I'm Gonna Do What They Do To Me/I'm Not Wanted Anymore/Losing Faith In You/Now That You've Lost Me/Paying The Cost To Be The Boss/Raining In My Heart/That's Wrong Little Mama/Until I Found You/Worried Dream

ABCS 710 - Gulf Coast Bound - Blues Magoos [1970] Gulf Coast Bound/Slow Down Sundown/Can't Get Enough Of You//Magoo's Blues/Tonight The Sky's About To Cry/Sea Breeze Express

ABCS 711 - James Gang Rides Again - James Gang [1970] (7-70, #20) "The Bomber", the last track on Side 1, was originally released containing three segments: "Closet Queen," "Bolero," and "Cast Your Fate to the Wind." After threatened lawsuits against ABC and the band by Maurice Ravel's heirs, the track was edited to remove the "Bolero" section. Subsequent pressings of the album contained this shorter version until sometime in the late 70s, when "Bolero" was reinstated. Funk #49/Asshtonpark/Woman/The Bomber (Closet Queen-Bolero-Cast Your Fate To The Wind)//Tend My Garden/Garden Gate/There I Go Again/Thanks/Ashes The Rain And I

* ABCD 712 - Lucille - B.B. King [1970] Reissue Of Bluesway BLS 6016. Country Girl/I'm With You/I Need Your Love/Lucille/No Money No Luck/Rainin' All The Time/Stop Putting The Hurt On Me/Watch Yourself/You Move Me So

ABCS 713 - Indianola Mississippi Blues - B.B. King [1970] (10-70, #26) Nobody Loves Me But My Mother/You're Still My Woman/Ask Me No Questions/Until I'm Dead And Cold/King's Special//Ain't Gonna Worry My Life Anymore/Chains And Things/Go Underground/Hummingbird

ABCS 714 - We Can Make Music - Tommy Roe [1970] (10-70, #134) We Can Make Music/The Greatest Love/Firefly/Evergreen/Traffic Jam/Pearl//Brush A Little Sunshine And Love/King Of Fools/No Sad Songs/(They Long To Be) Close To You/Stir It Up And Serve It/Reprise: We Can Make Music

ABCS 715 - Lancelot Link & The Evolution Revolution - Lancelot Link & The Evolution Revolution [1970]

ABCS 716 - As Your Mind Flies By - Rare Bird [1970] Released in the UK as Charisma CAS 1011. What You Want To Know/Down On The Floor/Hammerhead/I'm Thinking//Flight (As Your Mind Flies By)/Flight (Vacuum)/Flight (New York-Central Park (Medley)

ABCS 717 - Handbags And Gladrags - Jimmy Witherspoon [1970] Handbags And Gladrags/Evil Man Blues/Stay With Me Baby/Testifying//Redneck/Spoon's Beep Beep Blues/It's Time To Live/Elmira/Don't Get Flakey With Me

ABCS 718 - Demian - Demian [1970] Race The Crowd/Kindy City/Love People/Coming//Jodd's June/No More Tenderness/Are You With Me, Baby/Only A Lover

ABCS 719 - Cherokee - Cherokee [1970] Cherokee was the Robbs recording under a different name. Produced by Steve Barri. Rosianna/Something To Believe In/Funky Business/Lady On My Mind/It Doesn't Matter Anymore/Strange Ways//All The Way Home/Changin' Winds/Chattanooga/Feel Us Love/Catch The Velvet Evening

ABCD 720 - Endless Boogie - John Lee Hooker [1970] (3-71, #126) Two record set. (I Got) A Good 'Un/House Rent Boogie/Kick Hit 4 Hit Kix U (Blues For Jimi And Janis)//Standin' At The Crossroads/Pots On, Gas On High//We Might As Well Call It Through (I Didn't Get Married To Your Two- Timing Mother)/Doin' The Shout/A Sheep Out On The Foam//I Didn't Need No Steam Heat/Sittin' In My Dark Room/Endless Boogie (Parts 27 & 28)

ABCX 721 - Thirds - James Gang [1971] (4-71, #27) Walk Away/Yadig?/Things I Could Be/Dreamin' In The Country/It's All The Same//Midnight Man/Again/White Man-Black Man/Live My Life Again

ABCS 722 - For All We Know - Frank Porretta [3/71] Fill The World With Love/The Age Of Reason/The Prince Of Peace/I Do Not Know A Day/I Did Not Love You (From The Broadway Musical "Two By Two"/Mary In The Morning/For All We Know (From the ABC Motion Picture "Lovers And Other Strangers)"/Deidre/In The Eyes Of A Child/What's Good About Goodbye/I've Got To Be Someone

ABCS 723 - B.B. King Live In Cook County Jail - B.B. King [1971] (2-71, #25) Introduction/Every Day I Have The Blues/How Blue Can You Get/Worry, Worry, Worry//Medley: 3 O'clock Blues-Darlin' You Know I Love You/Sweet Sixteen/The Thrill Is Gone/Please Accept My Love

ABCS 724 - Live At The Regal - B.B. King [1971] (9-71, #78) Reissue Of ABC/ABCS 509. Introduction by Pervis Spann. Everyday I Have the Blues/Sweet Little Angel/It's My Own Fault/How Blue Can You Get/Please Love Me //Introduction by E. Rodney Jones. You Upset Me Baby/Worry, Worry/Woke Up This Mornin'/You Done Lost Your Good Thing Now/Help the Poor

725 -

* ABC-Tangerine ABCS 726 - Volcanic Action Of My Soul - Ray Charles [1971] (5-71, #52) All I Ever Need Is You/Feel So Bad/I May Be Wrong (But I Think You're Wonderful)/See You Then/Something/The Long And Winding Road/Three Bells/What Am I Living For/Wichita Lineman

* ABCS 727 - 16 Greatest Hits - Impressions [1971] (3-71, #180) Amen/Grow Closer Together/Gypsy Woman/I'm So Proud/I'm The One Who Loves You/It's All Right/Keep On Pushing/Never Let Me Go/People Get Ready/Ridin' High/Sad, Sad Girl And Boy/Talking About My Baby/We're A Winner/We're Rolling Now (Part 1)/Woman's Got Soul/You Must Believe Me

ABCX 728 - California '99 - Jimmie Haskell [1971]

ABCS 729 - Camaraderie - Cottonwood [1971] Cottonwood/Thank You Mr. Man/Passing Through/In My Life/Red//50 Lbs Of Smile/Now Is The Time/Holdin' On/Pacoy/Mother Earth (I Love You)

ABCD 730 - B.B. King In London - B.B. King [1971] (10-71, #57) Caldonia/Blue Shadows/Alexis' Boogie/We Can't Agree//Ghetto Woman/Wet Hayshark/Part-Time Love/The Power Of The Blues/Ain't Nobody Home

ABCH 731 - A 25th Anniversary In Show Business Salute To Ray Charles - Ray Charles [1971] (11-71, #152) Two record set. It Should Have Been Me/Mess Around/Don't You Know Baby/I've Got A Woman/A Fool For You/Hallelujah I Love Her So/Drowne In My Own Tears/Rock House/Lonely Avenue//Ain't That Love/Swanee River Rock/Night Time Is The Right Time/Mary Ann/I Believe To My Soul/What'd I Say/Just For A Thrill/Yes Indeed/Don't Let The Sun Catch You Crying//Georgia On My Mind/Unchain My Heart/Hit The Road Jack/One Mint Julep/Ruby/I Can't Stop Lovin' You/You Are My Sunshine/Born To Lose/Busted//Crying Time/Let's Go Get Stoned/Yesterday/Understanding/Eleanor Rigby/If You Were Mine/Don't Change On Me/Booty Butt/Feel So Bad

ABCS 732 - Beginnings - Tommy Roe [1971] Beginnings/Lawdy Miss Clawdy/Why Can't It Be Me/The Way Things Are/Brown Eyed Handsome Man/Snowman//Indulge My Love/Back Streets And Alleys/Hide Daddy's Whiskey/Your Touch Is The Best Thing In Life/Beginnings/Stagger Lee

ABCX 733 - Live In Concert - James Gang [1971] (9-71, #24) Stop/You're Gonna Need Me/Take A Look Around/Tend My Garden/Ashes, The Rain And I//Walk Away/Lost Woman

ABCS 734 - The Immortal Hawaiian - Alfred Apaka [1972]

ABCS 735 - Sixteen Immortal Performances - Sabicas [1972]

* ABCX/ABCXQ 736 - Never Get Out Of These Blues Alive - John Lee Hooker [1972] (3- 72, #130) Boogie With The Hook/Bumblebee, Bumblebee/Country Boy/Hit The Road/Letter To My Baby/Lonesome Road/Never Get Out Of These Blues Alive/T.B. Sheets

ABCS 737 - Sixteen Great Performances - Doc Severinsen [1972] St. Louis Blues/Tennessee Waltz/When the Saints Go Marching In/Strangers In the Night/Theme From Black Orpheus/others

ABCS 738 - Sixteen Great Performances - Tony Mottola [1972] Brasilia/Vaya Con Dios/Yesterday/Mexican Hat Dance/Tenderly/Tijuana Taxi/Volare/(I Can't Get No) Satisfaction/others

ABCS 739 - Sixteen Great Performances - Montoya [1972]

ABCS 740 - Sixteen Knockout Performances - Knuckles O'Toole [1972]

ABCX 741 - Straight Shooter - James Gang [1972] (3-72, #58) Madness/Kick Back Man/Get Her Back Again/Looking For My Lady/Getting Old//I'll Tell You Why/Hairy Hypochondriac/Let Me Come Home/My Door Is Open

ABCX 742 - Reunion - John Henry Kurtz [1972] Drift Away/Songbird/Rock And Roll Love Song For Rosie/Danny's Song/Light Shine//Get On The Right Road/Brand New Tennesse Waltz/It Never Hurts To Be Nice To Somebody/You Give Me Something Good To Think About/Everything Has Got To Be Free

ABCX/ABCXQ 743 - L.A. Midnight - B.B. King [1972] (2-72, #53) I Got Some Help I Don't Need/Help The Poor/Can't You Hear Me Talking To You?/Midnight//Sweet Sixteen/(I Believe) I've Been Blue Too Long/Lucille's Granny

ABCS 744 - Sixteen Great Country Performances - Elton Britt [1971] Unknown Soldier/My Grandfather's Clock/Red Wings/Sioux City Sue/Red River Valley/Blue Bird Yodel/Don't Make Me Go To Bed And I'll Be Good/Cattle Call//New Freight Train Blues/Kentucky Waltz/Chime Bells/Born To Lose/Lost Highway/That's Why The Yodel Was Born/There's A Star Spangled Banner Waving Somewhere/Crawdad Song

ABCS 745 - Find The Sun - Crowfoot [1971] Travel In Time/Hollywood/Sailing Girl/Run For Cover/Find The Sun//Got To Fly/Summer's Gone/Sometimes Lovin' You/We're Doin' It Wrong/Feel The Flow

ABCS 746 - The Roaring 20's-16 Greatest Hits - Enoch Light & The Charleston City All- Stars [1972]

ABCX 747 - Henry Gross - Henry Gross [1971]

748 -

* ABCX 749 - And Gordon - Gordon Waller [1971] At The End Of The Day/Be Careful There's A Baby In The House/Before You Go To Sleep/Collection Box/I Won't Be Your Ruin/Rocky Roads To Clear/Saddest Song/Stranger With A Black Dove/When This Whole Thing Began

* ABCX 750 - 16 Greatest Hits - George Hamilton IV [1972] Carolina Moon/Cold Cold Heart/Even Tho/Half As Much/I Can't Help It/I Heard That Lonesome Whistle/I Know Where I'm Going/I'm So Lonesome I Could Cry/Loneliness All Around Me/One Heart/Rose And Baby Ruth/Take These Chains/Tremble/Walk On The Wild Side/You Win Again/Your Cheatin' Heart

ABCX 751 - ...From Down Home In Tyler, Texas U.S.A. - Gladstone [1971] Marietta Station/A Piece Of Paper/Red Bird/Fade Away/Can't Seem To Find My Way Home/Lady Eyes//Peace In The Valley/Love Me If You Dare/You Got To Me/Livin' In The Country/Don't You Think I Can Love You/Darlarna

ABCX 752 - Cabaret (Sountrack) - Various Artists [1972] (3-72, #25) Willkommen/Mein Herr/Two Ladies/Maybe This Time/Sitting Pretty//Tiller Girls/Money, Money/Heiraten (Married)/If You Could See Her/Tomorrow Belongs To Me/Cabaret/Finale

ABCS 753 - Iphigenia - Original Broadway Cast [4/72]

ABCX 754 - Louisiana - Mike Kennedy [1972] Look In My Eyes Pretty Woman/Naked In The Cradle/Georgia (Didn't Give Me No Good Night Kissin')/Everything I Touch Turns To Tears/The Livin' I'm Doin' (Ain't Worth The Lovin' I'm Gettin')/More Than Just A Woman//Forgive And Forget/I Can't Hold On/Yesterday's Hero/Look Up In The Sky/Louisiana

ABC-Tangerine ABCX 755 - A Message From The People - Ray Charles [1972] (4-72, #52) Lift Every Voice And Sing/Seems Like I Gotta Do Wrong/Heaven Help Us All/There'll Be No Peace Without All Men As One/Hey Mister//What Have They Done To My Song, Ma/Abraham, Martin And John/Take Me Home, Country Roads/Every Saturday Night/America The Beautiful

ABCX 756 - You Don't Mess Around With Jim - Jim Croce [1972] (7-72, #1) You Don't Mess Around With Jim/Tomorrow's Gonna Be A Brighter Day/New York's Not My Home/Hard Time Losin' Man/Photographs And Memories/Walkin' Back To Georgia//Operator (That's Not The Way It Feels)/Time In A Bottle/Rapid Boy (The Stock Car Boy)/Box #10/A Long Time Ago/Hey Tomorrow

ABCX 757 - Rootin' - Navasota [1972] Western Boots/2$ Bill/Ballad Of A Young Man/That's How It Is (Playing In A Rock And Roll Band)/Canyon Ladies//One Slew-Foot/I'm Leavin'/P. Farm/Heat Of The Night/Spring Creek

ABCX 758 - Can't Buy A Thrill - Steely Dan [1972] (12-72, #17) Do It Again/Dirty Work/Kings/Midnite Cruiser/Only A Fool Would Say That//Reeling In The Years/Fire In The Hole/Brooklyn (Owes The Charmer Under Me)/Change Of The Guard/Turn That Heartbeat Over Again

ABCX/ABCXQ 759 - Guess Who - B.B. KIng [1972] (9-72, #65) Summer In The City/Just Can't Please You/Any Other Way/You Don't Know Nothin' About Love/Found What I Need/Neighborhood Affair//It Takes A Young Girl/Better Lovin' Man/Guess Who/Shouldn't Have Left Me/Five Long Years

ABCX 760 - Passin' Thru - James Gang [1972] (10-72, #72) Ain't Seen Nothing Yet/One- Way Street/Had Enough/Up To Yourself/Everybody Needs A Hero//Run, Run, Run/Things I Want To Say To You/Out Of Control/Drifting Girl

* ABCX/ABCXQ 761 - Live At Soledad Prison - John Lee Hooker [1972] Bang Bang Bang Bang/Boogie Everywhere I Go/I'm Your Crosscut Saw/Serve Me Right To Suffer/Super Lover/What's The Matter Baby Lucille

* ABCX 762 - 16 Greatest Hits - Tommy Roe [1972] Brown-Eyed Handsome Man/Cinnamon/Dizzy/Everybody/Heather Honey/It's Now Winter's Day/Jack And Jill/Jam Up And Jelly Tight/Party Girl/Pearl/Sheila/Stagger Lee/Stir It Up And Serve It/Sweet Pea/The Folk Singer/We Can Make Music

ABCS 763 - 16 Greatest Hits - Lloyd Price [1972] Personality (E)/Three Little Pigs (M)/Where Were You (On Our Wedding Day)? (M)/Come Into My Heart (M)/Never Let Me Go (E)/Lady Luck (M)/Have You Ever Had The Blues? (M)/Is It Really Love? (M)//I'm Gonna Get Married (E)/You Need Love (M)/Won'tcha Come Home (M)/Just Because (M)/Lawdy Miss Clawdy (M)/Why (M)/Stagger Lee (M, re-recording)/I Want You To Know (S)

ABCX 764-2 - 20 Golden Performances - Steve Lawrence & Eydie Gorme [1972] Two record set. Disc 1 contains sides A&D; disc 2 contains sides B&C. Tracks are listed in sides A-D order. This Could Be The Start Of Something Big - Steve & Eydie (S)/Pretty Blue Eyes - Steve Lawrence (S)/Cheek To Cheek - Steve Lawrence (S)/I'm Old Fashioned - Steve Lawrence (S)/Side By Side - Steve & Eydie (S)//Bei Mir Bist Du Schön - Steve & Eydie (S)/(I'll Be With You In) Apple Blossom Time - Eydie Gorme (S)/(I've Got A Gal In) Kalamazoo - Eydie Gorme (S)/I Cain't Say No - Eydie Gorme (S)/Sentimental Journey - Steve & Eydie (S)//Green Eyes - Steve & Eydie (S)/Footsteps - Steve Lawrence (S)/I've Heard That Song Before - Steve Lawrence (S)/You're Nobody 'Til Somebody Loves You - Steve Lawrence (S)/Who Wouldn't Love You? - Steve & Eydie (S)//Baby, It's Cold Outside - Steve & Eydie (S)/I Don't Care - Eydie Gorme (S)/No Two People - Eydie Gorme (S)/September Song - Eydie Gorme (S)/Together - Steve & Eydie (S)

ABC-Tangerine ABCX 765 - Through The Eyes Of Love - Ray Charles [1972] (11-72, #186) My First Night Alone Without You/I Can Make It Thru The Day (But Ho Those Lonely Nights)/Someone To Watch Over Me/A Perfect Love//If You Wouldn't Be My Lady/You Leave Me Breathless/Never Ending Song Of Love/Rainy Night In Georgia

ABCX 766 - Nolan - Nolan [1972] Nolan is Nolan Porter. Oh Baby/Crazy Love/Keep On Keepin' On/I Like What You Give/Burn Down The Cornfield//Singer Man/Somebody's Gone/Groovin' Out On Life/If I Could Only Be Sure/Work It Out In The Morning

ABCX/ABCXQ 767 - The Best Of B.B. King - B.B. King [1973] (2-73, #101) Hummingbird/Cook County Jail Introduction/How Blue Can You Get/Caldonia/Sweet Sixteen//Ain't Nobody Home/Why I Sing The Blues/The Thrill Is Gone/Nobody Loves Me But My Mother

ABCX/ABCXQ 768 - Born In Mississippi, Raised Up In Tennessee - John Lee Hooker [1973] Born In Mississippi, Raised Up In Tennessee/How Many More You Gonna Dog Me 'Round/Going Down //Younger Stud/King Of The World/Tell Me You Love Me

ABCX 769 - Life And Times - Jim Croce [1973] (2-73, #7) One Less Set Of Footsteps/Roller Derby Queen/Dreamin' Again/Careful Man/Alabama Rain/A Good Time Man Like Me Ain't Got No Business (Singin' The Blues)//Next Time, This Time/Bad, Bad Leroy Brown/These Dreams/Speedball Tucker/It Doesn't Have To Be That Way

ABCX 770 - Mister Guitar - Tony Mottola [1973] Two record set. Espana Cani/Boulevard Of Broken Dreams/Cuando Caliente El Sol/Guadalajara/Carnival Of Venice/Cauaquinho/Fly Me To The Moon/C'est Si Bon/Girl From Ipanema/Let's Fall In Love/Mimi/He's Gone Away/On Top Of Old Smokey/La Vien Rose/Guaglione/Under Paris Skies/Lullaby De Espana/Baile De Venezuela/Aneme E Core/Mexican Medley

ABCX 771 - Trumpets, Crumpets - Doc Severinsen [1973] Two Record Set. Trumpets & Crumpets/Going Out Of My Head/It Must Be Him/It Ain't Necessarily So/In A Little Spanish Town/Fever/I'm Confessin' That I Love You/It's Not Unusual/People Power/If I Had A Hammer/Poor Butterfly/He's Got The Whole World In His Hands/Monday Monday/Walk Right In/The Lady In Red/You're My Soul And Inspiration/Up Up And Away/Tenderly/Love

ABCX 772 - Moods Of Love - Ray Charles Singers [1973]

ABCX 773 - From Broadway To Paris - Count Basie [1973]

ABCX 774 - The Best Of The James Gang Featuring Joe Walsh - James Gang [1973] (2-73, #79) Walk Away/Funk #49/Midnight Man/The Bomber (Closet Queen-Cast Your Fate To The Wind)/Yadig?/Take A Look Around (live version)//Funk #48/Woman/Ashes, The Rain And I/Stop

ABCX 775 - The Mark of Time - Lefty Frizzell [1/73] Note: This album was recorded December 14-19, 1972, and rushed to market, but then deleted shortly after release. All tracks were reissued on the next two Lefty Frizzell albums. If I Had Half The Sense/Somebody's Words/Lucky Arms/If She Just Helps Me Get Over You/I Buy The Wine/Let Me Give Her The Flowers/Railroad Lady/Falling/Down By The Railroad Track/My House Is Your Honky Tonk

ABCX 776 - True True Lovin' - Ferlin Husky & the Hush Puppies [1/73] True True Lovin'/Right Or Wrong (I'll Be With You)/(I'd Be A) Legend In My Time/My Special Angel/Neon Rose/She Cheats On Me/Too Soon To Know/It Keeps Right On A Hurtin'/One/Sensuous Woman

ABCX 777 - Afraid I'll Want to Love Her One More Time - Billy "Crash" Craddock [1973] Reissued as Two Sides Of Crash. I'm A White Boy/I'm Gonna Knock On Your Door/Come A Little Bit Closer/You Can't Judge A Book By The Cover/Ain't Nothin' Shakin'//Afraid I'll Want To Love Her One More Time/What Does A Loser Say/Another Cup Of Memories/Don't Be Angry/Living Example

ABCX 778 - Lookin' For A Smile - Gladstone [1973] Natural Inclination/Texas Sparrow/Let Someone's Smile Get Away/Long Way Home/Dixie Woman//Got To Be You, Got To Be Me/Songbird/Love, Love, Love/Lookin' For A Smile/Here Comes That Feelin'

ABCX 779 - Countdown To Ecstasy - Steely Dan [1973] (7-73, #35) Bodhisattva/Razor Boy/The Boston Rag/Your Gold Teeth//Show Biz Kids/My Old School/Pearl Of The Quarter/King Of The World

ABCD 780 - Curtis Mayfield/His Early Years With The Impressions - Impressions [1973] Two record set. Record 1 Side A Gypsy Woman/Amen/It's All Right/Woman's Got Soul/We're Rolling On Side D People Get Ready/Can't work No Longer/Sometimes I Wonder/Get Up and Move/We're a Winner Record 2 Side B Keep on PushingNever Let Me Go/Grow Closer Together/You Must Believe Me/Sad, Sad Girl and Boy Side C I'm So Proud/Talking About My Baby/I'm the One Who Loves You/Ridin' High/Emotions

ABC-Tangerine ABCX 781 - All The Great Country And Western Hits - Ray Charles [1973] Two record set.

ABCD 782 - Mode - Quincy Jones [1973] Two record set.

ABCX 783 - Rufus - Rufus [1973] (8-73, #175) Slip N' Slide/Keep It Coming/There's No Tellin'/Maybe Your Baby/I Finally Found You//Feel Good/Satisfied/Haulin' Coal/Whoever's Thrilling You (Is Killing Me)/Love The One You're With-Sit Yourself Down (Medley)

ABCX 784 - 14 Golden Recordings From The Vaults Of Duke/Peacock Records - Various Artists [1973] All tracks mono. Ain't Nothing You Can Do - Bobby Bland/So Tough - The Casuals/Pledging My Love - Johnny Ace/Hound Dog - Willie Mae Thorton/Next Time You See Me - Junior Parker/Dance With Me - The El Torros/Just Before Dawn - Clarence "Gatemouth" Brown //Ace of Spades - O.V. Wright/Tell Me Why - The Rob Roys/Annie, Get Your Yo-Yo - Junior Parker/Further Up the Road - Bobby Bland/Treat Her Right - Roy Head/Never Let Me Go - Johnny Ace/Funny - Joe Hinton

ABCX 785 - 14 Golden Recordings From The Vaults Of Vee Jay Records - Various Artists [1973]

ABCX 786 - Say You Love Me Too - Charles Mann [1973] It's All Over/Together We Make/Do It Again/You Came Out Of Nowhere/Be Real Black For Me//Say You Love Me Too/I Can Feel It/Very Lonely/If You Could See Me Now/Stop

ABCX 787 - Piece of the Action - Bobby Hutton [1973]

ABCX 788 - Mr. Country Rock - Billy Crash Craddock [1973] ''Till The Water Stops Runnin'/Honey Love/She's Mine/I'm In Love Again/Everybody Likes It//Slippin' And Slidin'/Holy Cow/Sweet Magnolia Blossom/Peggy Sue/Whole Lot Of Shakin' Goin' On

ABCX 789 - From The Historic Vaults Of Duke-Peacock - Various Artists [1973] Jelly, Jelly, Jelly - Bobby Bland/Anymore - Johnny Ace/Jivin' Woman - Jr. Parker/Sockin' 1-2-3-4 - John Roberts/Today Will Be Yesterday, Tomorrow - Lamp Sisters/Until the Real Thing Comes Along - Ernie Kdoe/Driving Wheel - Paulette Parker //St. James Infirmary - Bobby Bland/I Like It - Clarence and Calvin/You Gonna Make Me Cry - O.V. Wright/Stuff - Jeanette Williams/A Good Man Is Hard To Find - Roy Head/Stop Hopping On Me - Willie Mae Thorton/Love and Peace of Mind - The Insights

ABCX 790 - Twenty Incredible - Frankie Laine [1973] Two record set.

791 -

ABCX 792 - Tie A Yellow Ribbon Around the Old Oak Tree - Johnny Carver [5/73] Yellow Ribbon/You Really Haven't Changed/You're Gonna Have Your Hands Full/Sunday Afternoon Boat Ride On The Lake In The Park/I Just Want Your Love//Tonight Someone's Falling In Love/My Heart's Not In It Anymore/Beautiful Sunday/Treat A Lady Like A Tramp (And A Tramp Like A Lady)/Since My Baby Left Me

ABCX 793 - Shaft In Africa (Soundtrack) - Johnny Pate [1973] You Can't Even Walk In The Park (Opening Theme)/Are You Man Enough (Main Title) - Four Tops/Aleme Finds Shaft/Shaft In Africa (Addis)/Headman/El Jardia//Are You Man Enough - Four Tops/Jazar's Theme/Truck Stop/Aleme's Theme/El Jardia (Reprise)/Are You Man Enough (End Title) - Four Tops

ABCX 794 - To Know You Is To Love You - B.B. King [1973] (9-73, #71) I Like To Live The Love/Respect Yourself/Who Are You/Love/I Can't Leave//To Know You Is To Love You/Oh To Me/Thank You For Loving The Blues

ABCX 795 - Orleans - Orleans [1973] Please Be There/If/Two-Faced World/Turn Out The Light/Tongue-Tied//Half Moon (Seven Song)/Mountain/Wanderlust/Ticonderoga Moon/Stoned/It All Comes Back Again

796 -

ABCX 797 - I Got A Name - Jim Croce [1973] (12-73, #2) I Got A Name/Lover's Cross/Five Short Minutes/Age/Workin' At The Car Wash Blues//I'll Have To Say I Love You In A Song/Salon And Saloon/Thursday/Top Hat Bar And Grille/Recently/The Hard Way Every Time

ABCX 798 - Through All Times - Chuck Jackson [1973] I Can't Break Away (Ah-Mi-Nah, Do-Ki-Do, Ah-Mah-Neh-La)/Put A Little Love Away/Talk A Little Less/Roller Coaster/Slowly But Surely/I Only Get This Feeling//Through All Times/Just A Little Tear/Maybe This Will Be The Morning/If That's The Way You Want It/If Only You Believe

ABCX 799 - Lefty - Lefty Frizzell [11/73] Reissued as The Legendary Lefty Frizzell. I Can't Get Over You To Save My Life/I Never Go Around The Mirrors/If I Had Half The Sense/Somebody's Words/Lucky Arms//That's The Way Love Goes/If She Just Helps Me Get Over You/I Buy The Wine/Let Me Give Her The Flowers/Railroad Lady


Thanks to Thomas Engelmann, Frank Frantik, Peter Preuss, Randy Price, Bill Puig, and Bill Cullnane.




Back to the ABC Records Story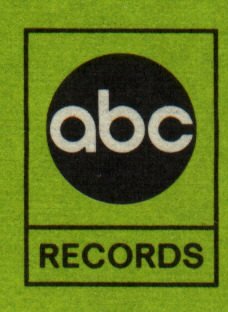 Back to the ABC-Paramount Discography, Part 6 600-699 (1967-1969)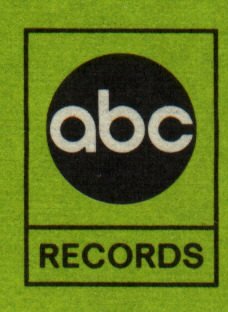 On to the ABC-Paramount Discography, Part 8 800-899 (1973-1975)



Back to the Discography Listings Page



Back to the Both Sides Now Home Page