Following the lead of Modern Records, who had introduced a successful line of budget albums on the Crown label, the Mesner brothers, owners of Aladdin Records, started a budget line of LPs in 1957 using their old subsidiary name, Score. All of the Score albums were $1.98 and most of the Aladdin, Jazz:West, Orfeo and Intro albums were reissued on Score. The establishment of the Score label may account for the scarcity of the Aladdin and Intro 12-inch albums, as they were only in print for a short time before being deleted and reissued on Score. In fact, several intended Aladdin releases may not have been issued at all before being transferred to Score. While the Crown label flourished, the Score line of LPs seemed to die a slow death.

Some truly great music was made available on Score which had never appeared on albums before such as "Go Blow Your Horn" by Louis Jordan and his Tympany 5, Score 4007 and "Milky White Way" by the Trumpeteers, Score 4021. Of special note is "Lightnin' Hopkins Strums the Blues" Score 4022, these cuts are some of the earliest recorded by this blues legend. Recorded in 1946 and 1947 they included his piano-playing partner at the time "Thunder" Smith. Today, the Score albums are almost in as much demand as their big brother Aladdin.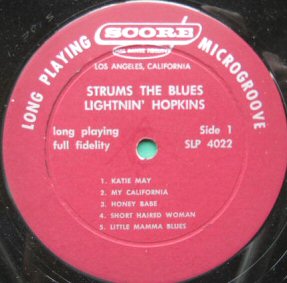 All Score LPs have a dark maroon label with "SCORE" in an oval at the top, under the logo is "FULL RANGE FIDELITY". On one side of the "Score" is "LONG PLAYING" on the other side is "MICROGROOVE".

We would appreciate any additions or corrections to this discography. Just send them to us via e-mail. Both Sides Now Publications is an information web page, and we have no association with Aladdin or Score Records. Aladdin/Score Records is currently owned by the EMI Records Group. Should you be interested in acquiring albums listed in this discography (which are all out of print), we suggest you see our "Frequently Asked Questions" page and follow the instructions found there. This story and discography are copyright 1997, 1999, 2007, 2010 by Mike Callahan.
| | |
| --- | --- |
| Cover | Number - Title - Artist - [Release Date] Contents |
| | Score SLP-4000 Series: |
| | SLP-4001 - Chopin: Fourteen Etudes - Leah Effenbach [1957] Label is maroon with silver print. Reissue of Orfeo 11. Orfeo number "OR-LP-11" is in trailoff wax area in addition to "Score 4001." Opus 10: Nos. 1, 2, 3, 4, 5, 6, 7//Opus 25: No. 11/Opus 10: No. 12/Opus 25: Nos. 6, 7, 8, 9/Opus 10: No. 8 |
| | SLP-4002 - I Dig Rock and Roll - Various Artists [1957] Reissue of Aladdin LP-710. Label is maroon with silver print. Aladdin number "LP-710 is in trailoff wax area in addition to "SLP- 4002." The cover art is changed between the Aladdin and the Score issue. One Scotch One Bourbon One Beer - Amos Milburn/I'm Gone - Shirley & Lee/Blow Lynn Blow - Lynn Hope/I Got Loaded - "Peppermint" Harris/Be-Baba-Leba - Helen Humes/My Saddest Hour - Five Keys//Bad Bad Whiskey - Amos Milburn/Let's Walk - Charles Brown/He May Be Your Man - Helen Humes/Hey Little Girl - Richard Lewis/Ko-Ko-Mo - Gene & Eunice/This is My Story - Gene & Eunice |
| | SLP-4003 - Five Keys on the Town - Five Keys [1957] Label is maroon with silver print. Reissue of Aladdin LP-806. Aladdin number "LP-806" is in trail off wax in addition to "SLP-4003." The cover art is changed between the Aladdin and the Score issue. Glory Of Love/Oh Baby/My Saddest Hour/Hucklebuck With Jimmy/These Foolish Things/Christmas Time//Red Sails In The Sunset/Too Late Baby/Teardrops/Be Mine/Love My Loving/Serve Another Round |
| | SLP-4004 - Gypsy In My Soul - Murray Korda [1957] Reissue of Orfeo OR-LP-12. Although this album is a 12-inch record, it contains exactly the same material as the 10-inch Orfeo OR- LP-12 album. Label is maroon with silver print. The Singing Bird/The Sunrise/The Shepherd's Song//Fly My Love/The Little Gate/Gypsy Dance |
| | SLP-4005 - Tribute To Henry Busse - Henry Busse Orchestra under the direction of Will Lockridge [1957] Label is maroon with silver print. The cover says "recorded stereophonically at the world famous Hollywood Palladium", although the album itself is mono. Hot Lips/Charmaine/The Continental/Cole Porter Medley: I've Got You Under My Skin-I Get A Kick Out Of You/It's Delightful It's Delovely/Chicago/At Sundown//You're The Top/Anitra's Dance/Walkin' My Baby Back Home/In The Persian Market/You're The Cream In My Coffee/When Day Is Done |
| | SLP-4006 - Piano Stylings - Lloyd Glenn [1957] Reissue of Aladdin LP-808. Label is maroon with silver print. Aladdin number "LP-808" is in trailoff wax area in addition to "SLP- 4006." The cover art is changed between the Aladdin and the Score issue. Chica-Boo/Tiddly- Winks/Footloose/Sunrise/Still Waters/Nite-Flite//Old Time Shuffle/Southbound Special/Blue Ivories/Glenn's Glide/Shadow Land/Chocolate Drop |
| | SLP-4007 - Go Blow Your Horn - Louis Jordan [1957] Label is maroon with silver print. Yeah Yeah Baby/Louis Blues/I've Seen What You've Done/Fat Back And Corn Likker/Put Some Money In The Pot/Gotta Go//The Dipper/Times A Passin' Whiskey Do Your Stuff/Gal You Need A Whippin'/It's Hard To Be Good/Dollar Down |
| | SLP-4008 - Schubert Symphony No. 4 in C Minor, "Tragic" - Mozarteum Orchestra of Salzburg, Wolfgang Freilassing Conducting [1957] Label is maroon with silver print. Reissue of Orfeo OR-LP-10. "OR-LP-10" is in the runout wax area along with "4008." First Movement: Adagio Molta; Allegro Vivace/Second Movement: Andante//Third Movement: Menuetto; Allegro Vivace/Forth Movement: Finale Allegro |
| | SLP-4009 - The Arthur Murray Way - Bobby Ramos [1957] Label is maroon with silver print. Reissue of Intro LP-951 with the addition of the last 2 songs on side 2. Dormillion Rhumba/Bongo Bongocero - Rhumba/Walter Winchell - Rhumba/Carioca - Samba/Maxixe Lundu - Samba//Sin Timbal - Rhumba/The Arthur Murray Way - Rhumba/Noche de Amor - Rhumba/Tres Palabras/La Rueda |
| | SLP-4010 - Lights Out - Ike Carpenter [1957] Label is maroon with silver printing. "Reissue" of the planned but unreleased Aladdin LP-811. Aladdin number "LP-811" is not in the trailoff wax area indicating that Aladdin LP-811 was probably not released. This is actually a reissue of Intro LP-950 with the addition of four songs. Twilight Time/Two Sleepy People/Sleepy Serenade/Sleepy Head/Sleepy Time Gal//When It's Sleepy Time Down South/Lights Out/Pachuko Hop/It Simply Can Be Done/Fiddle Faddle/Miss Little Bit |
| | SLP-4011 - Drifting Blues - Charles Brown [1957] Label is maroon with silver printing. "Reissue" of the planned but unreleased Aladdin LP- 809. Aladdin number "LP-809" is not in the trailoff wax area, indicating that Aladdin LP-809 was not released. Drifting Blues/Seven Kisses Mambo/Fools Paradise/Please Don't Drive Me Away/By the Bend of the River/I'm Saving My Love For You//Nite After Nite/Rising Sun/My Heart is Mended/Rolling Like a Pebble in the Sand/Evening Shadows/Honeysipper |
| | SLP-4012 - Let's Have A Party - Amos Milburn [1957] Label is maroon with silver printing. "Reissue" of Aladdin LP-810. Aladdin number "LP-810" is not in the trailoff wax area, indicating that Aladdin LP-810 was not released. Let's Have A Party/One Scotch/I'm Still A Fool For You/That's What I've Been Thru/Rocky Mountain/Baby Baby//Chicken Shack/Good Good Whiskey/My Happiness Depends On You/All is Well/I Know You Love Me/Trouble In Mind |
| | SLP-4013 - I Surrender Dear - Al Hibbler, Ernie Andrews and Jesse Watson [1957] Label is maroon with silver printing. I Surrender Dear - Al Hibbler/I Got It Bad And That Ain't Good - Al Hibbler/Don't Take Your Love From Me - Al Hibbler/How Long - Al Hibbler/S'posin' - Al Hibbler/Fat And Forty - Al Hibbler//Be Nice - Ernie Andrews/How It Feels To Be Glad - Ernie Andrews/You Chased The Goody Goody Out Of My Eyes - Ernie Andrews/So Easy To Say Forgive Me - Ernie Andrews/Watch That Woman - Jesse Watson/Have I Got You - Jesse Watson |
| | SLP-4014 - Billie Holiday Sings the Blues - Various Artists [1957] Label is maroon with silver print. Only four Billie Holiday cuts, with added filler. Be Fair to Me - Billie Holiday/Rocky Mountain Blues - Billie Holiday/Blue Turning Grey Over You - Billie Holiday/Detour Ahead - Billie Holiday/What Have You Got - Mickey Champion/Don't Say You Love Me - Mickey Champion//Two Faced Daddy - Mickey Champion/I'm Not Crying Anymore - Mickey Champion/Nite After Nite - Delores Gibson/Wish You Love - Delores Gibson/My, But I'm a Fool - Delores Gibson/Call Me, Call Me, Call Me - Delores Gibson/Hey Little Baby - Dolores Gibson |
| | SLP-4015 - Tenderly - Lynn Hope [1957] Reissue of Aladdin LP-805. Label is maroon with silver printing. Aladdin number "LP-805" is in the trailoff wax area in addition to "SLP-4015." The cover art is changed between the Aladdin and the Score issue. Tenderly/Driftin'/Hop Skip And Jump/Blue Moon/Blues For Anna Bacoa/Eleven Til Two//Blow Lynn Blow/Move It/Don't Worry About Me/South Of The Border/September Song/Summertime |
| | SLP-4016 - Blue Tango - Maxwell Davis [1957] Label is maroon with silver printing. Reissue of Aladdin LP-804. Aladdin number "LP-804" is in the trailoff wax area in addition to "SLP-4016." The cover art is changed between the Aladdin and the Score issue. Blue Tango/Popsicle/Blue Shuffle/Glory Of Love/Hey Good Lookin'/Joe Louis Story Theme//Hey Boy/C'est Si Bon/Look Sharp/Strange Sensation/Kiss Me Again |
| | SLP-4017 - Calypso - Calypso MacNiles [1957] Label is maroon with silver printing. Go Girl Go/Stew Pig Knuckles/Darlin' Girls/Rum And Coca Cola/Out De Fire/Tobago Joe//Polka De Tropicale/Good As Gold/Mary Ann/Neighbor Neighbor/Run Joe/Let's Go Calypso |
| | SLP-4018 - Rock N' Roll Sock Hop - Various Artists [1/58] Label is maroon with silver printing. Rockin' With The Clock - Shirley & Lee/Hootchy-Kootchy - Gene & Eunice/The One I Love - Little Wilbur & Pleasers/Yak Yak - Marvin & Johnny/Swing Low Sweet Cadillac, Part 1 - Aggie Dukes/Swing Low Sweet Cadillac, Part 2 - Aggie Dukes//Let's Get Together And Rock And Roll - Gene & Eunice/The Flirt - Shirley & Lee/Pretty Eyes - Marvin & Johnny/P.B. Baby - Little Wilbur & Pleasers/Midnight Moover Groover - Crawford Brothers/Midnight Happenins - Crawford Brothers |
| | SLP-4019 - King Cole Trio/Lester Young - Nat "King" Cole Trio & Lester Young [1958] This is a reissue of the 10-inch Aladdin LP 705 with the addition of the last three songs on side 2. Body And Soul/Tea For Two/Indiana//I Can't Get Started/Jumpin' At Mesner's/S.M. Blues/Jammin' With Lester |
| | SLP-4020 - After Hours - Lloyd Glenn [1958] Label is maroon with silver printing. After Hours, Part 1/After Hours, Part 2/Strollin'/Tipsy/Hyde Park//Love For Sale/Rompin'/Vamp/Ballroom Shuffle/Wildfire |
| | SLP-4021 - Milky White Way - Trumpeteers [1958] Label is maroon with silver printing. Milky White Way/Got A Home In The Clouds/Call Me/Job-Satan/Noah/Just A Little Talk With Jesus//Live The Life I Sing About/Saints Go Marching In/Lord Ease My Troublin' Mind/Run On/My Life Is In His Hands/Handwriting On The Wall |
| | SLP-4022 - Lightnin' Hopkins Strums the Blues - Lightnin' Hopkins [1958] Label is maroon with silver printing. Katie May/My California/Honey Babe/Short Haired Woman/Little Mamma Blues//Shotgun/Rollin' And Rollin'/See See Rider/So Long/Mistreated |
| | SLP-4023 - Let The Good Times Roll - Shirley And Lee [1958] Reissue of Aladdin LP-807. Label is maroon with silver print. Aladdin number "LP-807" in the trailoff wax area in addition to "SLP-4023." The cover art is changed between the Aladdin and the Score issue. Let The Good Times Roll/I'm Gone/Sweethearts/Keep On/Takes Money/Confessin'//Lee's Dream/I'll Do It/Tryin' To Fool Me/Comin' Over/So In Love/Why Did I |
| | SLP-4024 - Big Name Dixie - Lizzy Miles, Kid Ory, George Lewis, Matty Matlock and Jess Stacey [1958] Label is maroon with silver printing. Dippermouth Blues/Savoy/Ballin' the Jack/Ace in the Hole/Lazy River/Lazy River/Hindustan/Careless Love //Basin Street Blues/Glory of Love/Lou- easyania/Good Morning Blues/'Till We Meet Again/Basin street Blues (Creole) |
| | SLP-4025 - Easy Living - Jeri Jorden with Red Callender [1958] Label is maroon with silver printing. Easy Living/I Didn't Know What Time It Was/Riding High/Sometimes I'm Happy/Pastel (Please Let Me Forget)/Cocktails For Two//Do It Again/You're Part Of Me/Baby I'm Gone/Is That Bad/Dreaming is Everything/Crying Towels |
| | SLP-4026 - Swinging Flute in Hi-Fi - Strollers [1958] Label is maroon with silver printing. Little Bitty Pretty One/Flute Cha-lypso/Twilight Time/Honey Dripper/Swinging Yellow Rose of Texas//Jumpin' With Symphony Sid/See See Rider/Steel Guitar Rag/Hi-Falutin'/Let The Good Times Roll |
| | SLP-4027 - Jungle Rhythms - Chaino [1958] Label is maroon with silver printing. Bongo Maze-African/Simba-African/Dance of the Wind-African/Dance to Princess Ti-ee-ka-African/The Devil Dance/Spirit of the Witch Doctor-African //Talking Drums-African/Holiday in Trinidad/Toomba Roa- African/Jungle Maze-African/Gua-African/Bwana Bwana-African |
| | SLP-4028 - Swinging Lester Young - Lester Young [1958] Label is maroon with silver printing. Reissue of Aladdin LP-801 and Intro LP-602. Aladdin number "LP-801" and Intro "LP-702" (in error, should be 602) are in the trailoff wax area in addition to "SLP-4028." D.B. Blues/Lester Blows Again/These Foolish Things/Jumpin' At Mesners/It's Only A Paper Moon/After You've Gone/Lover Come Back To Me//Jammin' With Lester/You're Drivin' Me Crazy/Lester Leaps In/She's Funny That Way/Lester's Be-Bop Boogie/S.M.'s Blues |
| | SLP-4029 - The Great Lester Young - Lester Young [1958] Label is maroon with silver printing. Reissue of Aladdin LP-802 and Intro LP-603. Aladdin number "LP-802" and Intro "LP-703" (in error, should be 603) are in the trailoff wax area in addition to "SLP-4029." Sunday/Jumpin' With Symphony Sid/Sax-O-Be-Bop/No Eyes Blues/On The Sunny Side Of The Street/Jumpin' At The Woodside/One O'clock Jump//Easy Does It/I'm Confessin'/East Of The Sun/Sheik Of Araby/Something To Remember You By/Just Coolin' |
| | SLP-4030 - Modern Art - Art Pepper [1958] Label is maroon with silver printing. Reissue of Intro LP-606. Intro number "LP-606" is not in the trailoff wax area. Blues In/Bewitched/When You're Smiling/Cool Bunny//Dianne's Dilemma/Stompin' At The Savoy/What Is This Thing Called Love/Blues Out |
| | SLP-4031 - Collections - Red Norvo/Art Pepper/Joe Morello/Gerry Wiggins [1958] Label is maroon with silver printing. Reissue of Intro LP-608. Tenor Blooz/You're Driving Me Crazy/Sweet Georgia Brown/Little Girl/Pepper Steak//Have You Meet Miss Jones/Yardbird Suite/I Don't Stand A Ghost Of A Chance/I've Got The World On A String/Straight Life |
| | SLP-4032 - Return of Art Pepper - Art Pepper [1958] Label is maroon with silver printing. Reissue of Jazz: West JWLP-10. Pepper Returns/Broadway/You Go To My Head/Angel Wings/Funny Blues//Five More/Minority/Patricia/Mambo De La Pinta/Walkin' Out Blues |
| | SLP-4033 - A Jazz Delegation from the East - Paul Chambers & John Coltrane [1958] Label is maroon with silver print. Reissue of Jazz: West JWLP-7. Dexterity/Stablemates/Easy To Love//Visitation/John Paul Jones/Eastbound |
| | SLP-4034 - Porgy and Bess in Jazz - Billy Brooks & His Sounds [1959] Label is maroon with silver printing. The album cover is the first Score LP to be designated "Monaural", leaving the (unwarranted?) impression that there could be stereo copies. Summertime/My Man Is Gone Now/I Got Plenty Of Nuthin'//It Ain't Necessarily So/A Woman Is A Some Time Thing/Bess You Is My Woman Now |
| | SLP-4035 - Amos Milburn Sings the Blues - Amos Milburn [unreleased?] This album is listed in the Score discography on the back of the Billy Brooks album. If this album and the next four albums exist, they would be five of the most collectible albums in the world. |
| | SLP-4036 - More Blues - Charles Brown [unreleased?] This album is listed in the Score discography on the back of the Billy Brooks album. |
| | SLP-4037 - Battle of the Blues - Wynonie Harris & Joe Turner [unreleased?] This album is listed in the Score discography on the back of the Billy Brooks album. |
| | SLP-4038 - Little Bitty Pretty One - Thurston Harris [unreleased?] This album is listed in the Score discography on the back of the Billy Brooks album. |
| | SLP-4039 - The Blues - Louis Jordan & Jay McShann [unreleased?] This album is listed in the Score discography on the back of the Billy Brooks album. |