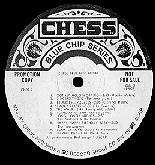 Chess Album Discography, Part 6 (Promos, Associated Labels, & Related LPs)
Last update: November 4, 2005







We have not found a large number of special promotional LPs from Chess. We have also included the albums issued on Heads, Tuff, and Neptune Records, which were distributed (but not owned) by Chess. The Co & Ce label of Pittsburgh also had an unknown link to Chess, as their LPs seem to have been either pressed or distributed by Chess.

We would appreciate any additions or corrections to this discography. Just send them to us via e-mail. This discography is copyright 1997, 1999, 2005 by Mike Callahan.



CHESS PROMO ALBUM DISCOGRAPHY

Number - Title - Artist [Release Date] (Chart) Contents

ALPS-1 - The Best Of Argo Jazz - Various Artists [1963] Issued in monaural and stereo. Artists: Jamal, Jazztet, Alexandria, Grey, Buckner, Rich, Golson, Lewis, Moody, Farmer, and Kirk. Excerpt From the Blues/5 Spot After Dark/Trouble In Mind/Rompin'/Don't Let the Sun Catch You Crying/Making Whoopee/Time/I'll Wait For Your Love/I Remember Clifford/That Ole Devil Called Love/Call Me

The Chess Story Volume 1 - Various Artists [1965] Rollin' Stone - Muddy Waters/Rocket 88 - Jackie Brenston/Reconsider Baby - Lowell Fulson/Sincerely - Moonglows/Suzie Q - Dale Hawkins/All I Could Do Was Cry - Etta James/Mama Didn't Lie -Jan Bradley/Nadine (Is It You?) - Chuck Berry/Moanin' In The Moonlight [Moanin' at Midnight] - Howlin' Wolf/Over the Mountain Across The Sea - Johnnie & Joe/Book of Love - Monotones

The Chess Story Volume 2 - Various Artists [1965]

CHDJ-2 - Chess Blue Chip Series, Volume 2 - Various Artists [1971] All tracks mono. The "In" Crowd - Ramsey Lewis Trio/Grits Ain't Groceries - Little Milton/Summertime - Billy Stewart/Rescue Me - Fontella Bass/The Stroke - Andre Williams/There Is - Dells/At Last - Etta James/Precious Lord, Part 1 - Aretha Franklin/Music Music Music - Sensations/Roll Over Beethoven - Chuck Berry//Got My Mojo Working - Muddy Waters/Sincerely - Moonglows/Troubles Troubles - Clarence Henry/Smoky Places - Corsairs/The Walk - Jimmy McCracklin/Poinciana - Ahmad Jamal/Long Lonely Nights - Lee Andrews & Hearts/Happy Happy Birthday Baby - Tuneweavers/Book Of Love - Monotones/Maybellene - Chuck Berry

Chess-Checker Cadet LP Sampler: June 1970 Release - Various Artists [1970] Summertime - Billy Stewart/Depend On Me - Joann Garrett/Tulane - Chuck Berry/I've Got A Feeling - Bo Diddley/A Mother's Love - Little Milton with Harold Smith Majestic Singers//You Don't Have To Know - Phil Upchurch/Dust - Dorothy Ashby/Pack Time - Lou Donaldson/Garbage Man - Shades Of Brown/Want You To Know - Rotary Connection

ASSOCIATED LABELS:

Co&Ce LABEL ALBUM DISCOGRAPHY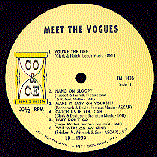 LP-1229 - Meet The Vogues [You're the One] - Vogues [1965] You're The One/Hang On Sloopy/Make It Easy On Yourself/Catch Us If You Can/Baby Don't Go/You Were On My Mind//1-2-3/Ain't That Just Like Me/My Girl/It's Not Unusual/Nothing To Offer You/Lover's Concerto

LP-1230 - Five O'Clock World - Vogues [1966] Five O'Clock World/Goodnight My Love/Sunday And Me/Everyone's Gone To The Moon/Let's Hang On/A Thousand Miles Away//One More Sunrise/Over And Over Again/Make The World Go Away/Run Baby Run/My Troubles Are Not At End/Humpty Dumpty

LP-1231 - Lou Christie Strikes Back - Lou Christie [1966] Apparently issued in mono only. Later reissued as Lou Christie Strikes Again on Roulette SR-25332. The stereo information is from the Roulette reissue. Outside The Gates Of Heaven (E)/Mr. Tenor Man (S)/Tears On My Pillow (S)/There They Go (E)/The Gypsy Cried (E)/Have I Sinned (S)//Two Faces Have I (E)/Maybe You'll Be There (E)/How Many Teardrops (S)/You May Be Holding My Baby (E)/All That Glitters Is Not Gold (E)/You And I (Have A Right To Cry) (S)


HEAD LABEL DISCOGRAPHY
The Head label was pink and green; a man's head with a green face and pink hair on a pink background. The label name "HEAD" was on the neck. There was a notation on the bottom that read: "Distributed by Chess Producing Co. A Division Of GRT Corporation."

LPS-025 - Mighty Baby - Mighty Baby [1969] Jug Of Love/Happiest Man In The Carnival/Keep On Juggin'//Virgin Spring/Tasting The Life/Slipstreams

LPS-026 - War Between Fats and Thins - Harvey Matusow's Jew's Harp Band [1969] Wetsocks/War Between Fats And Thins/Clootch Hunt/Eighteen Nuns/Velvet Tooth Paste/Carroll//Afghan Red/Poo Child On Mountain/Scat Rat/The Officials/Motherhood Is No Accident/Margie Swiss Cheese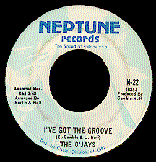 NEPTUNE LABEL DISCOGRAPHY
Neptune was a label owned by Kenny Gamble and Leon Huff. Neptune was distributed by Chess. The Neptune label was light blue and white with "NEPTUNE RECORDS, THE LAND OF GIANTS and THE SOUND OF PHILADELPHIA" in dark blue. Above the logo are crossed forks with a bearded King Neptune.

NLPS-200 - New Direction - New Direction [1969] Spinning Wheel/Didn't We/If You Show Me The Way/Tribute To Burt Bacharach And Hal David: I Say A Little Prayer-Walk On By-Always Something There To Remind Me-Never Get To Heaven-What The World Needs Now-Windows Of The World-Trains And Boats And Planes-Do You Know The Way to San Jose?-Alfie//Feeling Good/Teardrops And Heartaches/Ride My Carousel/Dream Medley: You Stepped Out Of A Dream-Don't Let Me Lose This Dream-Dream-Close Your Eyes-I Have Dreamed

NLPS-201 - Ebony Woman - Billy Paul [1969] Ebony Woman/Mrs. Robinson/Windmills of Your Mind/Everyday People //Let's Fall In Love All Over/Windy/Psychedelic Sally/Traces/Proud Mary

NLPS-202 - O'Jays In Philadelphia - O'Jays [1969] One Night Affair/You're The Best Thing Since Candy/Branded Bad/I Should Be Your Lover/Looky Looky (Look At Me Girl)//Deeper (In Love With You)/Let Me In Your World/Just Can't Get Enough/I've Got The Groove/Medley: Little Green Apples-Something/It's Too Strong

NLPS-203 - Assorted Soul - Various Artists


TUFF LABEL DISCOGRAPHY:
The Tuff album label is yellow with brown printing, above the center hole is a circle with a boxing glove, above the glove is "TUFF;" below it is "record" in script. The album label is not like any of the 45 labels (shown below), but it is more like the first design.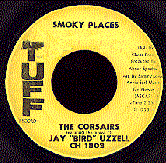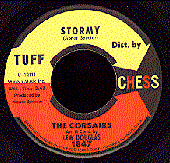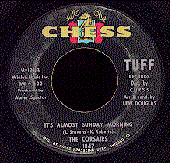 13 - Sally Go Round The Roses - Jaynetts [1963] The Jaynettes were originally the Hearts. Sally Go 'Round The Roses/Seesaw/One Track Mind/I Wanna Know/No Love At All/Bongo Bobby//Keep An Eye On Her/School Days/Pick Up My Marbles/Dear Abby [Hearts]/Sally Go 'Round The Roses (instrumental)

RELATED RECORDS

ARGO (BOOTLEG?)
1450 - My Babe - Dale Hawkins [197?] My Babe/Liza Jane/Lonely Nights/Every Little Girl/La-Do-Dada/Lulu/Worried About You Baby//Gooblie Booblie/Yea-Yea (Class Cutter)/Ain't That Lovin' You Baby/Lifeguard Man/Back To School Blues/Crossties/Stay At Home Lulu

CHECKER (England)
6467 301 - Best of Dale Hawkins Volume 1 - Dale Hawkins [1972] High quality vinyl pressing. Suzie Q/Don't Treat Me This Way/Juanita/Tornado/Little Pig/Heaven/Ain't That Lovin' You Baby//My Babe/Liza Jane/Lonely Nights/Every Little Girl/Grandma's House/La-Do-Dada

GRT
2103-705 - Basic Black - Various Artists [1975] (2-LP set) Disc 1: Rescue Me - Fontella Bass (S)/Searchin' For My Love - Bobby Moore & Rhythm Aces (E)/The "In" Crowd - Ramsey Lewis Trio (S)/Let Me In - Sensations (M)/Something's Got A Hold On Me - Etta James (M)/Summertime - Billy Stewart (S)//You Always Hurt The One You Love - Clarence Henry (M)/Here Comes The Judge - Pigmeat Markham (M)/Tell Mama - Etta James (M)/Oh What A Night - Dells (S, 1969 version)/Dirty Man - Laura Lee (S)/Turn On Your Love Light - Bobby Bland (S); Disc 2: The Entertainer - Tony Clarke (S)/Selfish One - Jackie Ross (S)/The Watusi - Vibrations (M)/Wade In The Water - Ramsey Lewis Trio (S)/It's All Right - Impressions (S)/Say Man - Bo Diddley (M)//The Thrill Is Gone - B.B. King (S)/Stay In My Corner - Dells (S, LP length)/Stagger Lee - Lloyd Price (E, alternate "censored" version)/Rinky Dink - Dave "Baby" Cortez (M)/I Fooled You This Time - Gene Chandler (M)/Hey There Lonely Girl - Eddie Holman (S)/But I Do - Clarence Henry (M)

TRIP
TOP-16-55 - Chuck Berry's 16 Greatest Hits - Chuck Berry [1978] Surprisingly, this may be the first appearance of "Nadine" in true stereo. Maybellene (M)/Roll Over Beethoven (M)/Sweet Little Sixteen (M)/School Days (M)/Reelin' And Rockin' (E, original version)/Back In The USA (M)/Too Pooped To Pop (M)/Almost Grown (E)//My Ding-A-Ling (M)/Johnny B. Goode (M)/Rock And Roll Music (M)/No Particular Place To Go (S)/Nadine (S)/Sweet Little Rock And Roller (E)/Carol (M)/You Never Can Tell (S)

VOGUE/CHESS (France)
515025 - House Of The Blues - John Lee Hooker [?] Reissue of Chess 1438. Walkin' the Boogie/Love Blues/Union Station Blues/It's My Own Fault/Leave My Wife Alone/Ramblin' By Myself//Sugar Mama/Down At the Landing/Louise/Ground Hog Blues/High Priced Woman/Women and Money

515026 - Howlin' Wolf - Howlin' Wolf [?] Reissue of Chess 1469. Shake For Me/The Red Rooster/You'll Be Mine/Who's Been Talkin'/Wang-Dang-Doodle/Little Baby//Spoonful/Going Down Slow/Down in the Bottom/.Back Door Man/Howlin' For My Baby/Tell Me

Thanks to Dennis Dioguardi.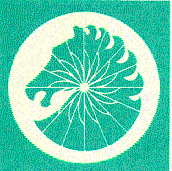 Back to the Chess Story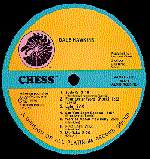 Back to Chess Album Discography, Part 5 Chess/MCA issues



Back to the Discography Listings Page



Back to the Both Sides Now Home Page