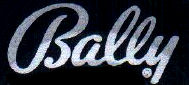 Bally Album Discography
By Stormy Hunter, Mike Callahan, Randy Watts, Dave Edwards, Patrice Eyries and Tim Neely
Last update: December 7, 2011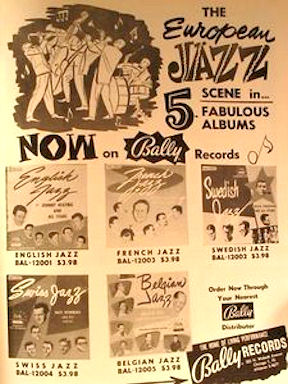 Bally Records was an independent record label formed in Chicago in December, 1955. It was active during 1956 and 1957. It was a subsidiary of Bally Manufacturing Company and was headquartered at 203 N. Wabash Avenue in Chicago. The parent company, Bally Manufacturing Company, made pinball and slot machines, and is still in business today as Bally Technologies.

Bally Records' president, Jimmy Hilliard, was formerly an executive with the RCA subsidiary "X" Records, and took over operations at Bally on January 1, 1956. The label began issuing records in March of 1956, using RCA pressing plants. Singles leaned toward pop music while the albums had a definite jazz bent. Their first five albums were a collection of European jazz, as indicated by the advertisement at right. In fact, nearly half of their albums were recorded outside the United States. Although Bally had quite a few singles make the charts (doing especially well in hometown Chicago), these hits rarely showed up on their albums (in fact, the only chart hit to make it to a long player was Lew Douglas' "Levi Lullaby.")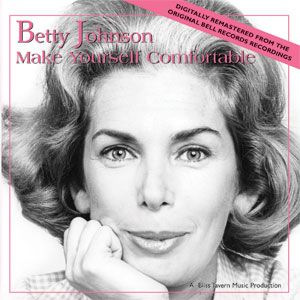 Many, if not most, of the artists signed to the label had some connection with Chicago. Singles artists included Betty Johnson (who in 1954 had had a hit with "I Want Eddie Fisher for Christmas" [New Disc 10013]), Lou Breese, Lew Douglas, the Gayden Sisters, Bob Davie, Bob Carroll, label president Jimmy Hilliard, Thurl Ravenscroft (longtime Disney voiceover man most famous as the voice of "Tony the Tiger," the cartoon character who hawked Kelloggs' Sugar Frosted Flakes for decades), Ted Weems, Bob Kames, Bob Anderson, the Highlights, the Turks, pianist Caesar Giovannini, Bobby Christian, the Loreleis, Carol Jarvis, the Argyles, Jimmy Isle, Nathan Russell, Teddy Phillips, Jeri Jordan, Jovan Dell, Billy Leach, Frank Pizani, Frank Deaton & The Mad Lads, Lola Dee, and Ike Cole (Nat "King" Cole's brother, who had the distinction of having both the last single and the last album on the label).

Bally's first chart hit was their first release, Betty Johnson's "I'll Wait" [Bally 1000], which scraped the bottom of the Billboard charts at #94 the week of March 3, 1956. Johnson followed that with "Clay Idol" [Bally 1013, 7/56], which reached #20 on Chicago's big Top-40 station WJJD, while scoring a modest #72 nationally. ("I'll Wait" didn't make the WJJD chart because that chart started in June, 1956.) Next was "City of Angels" [Bally 1016], by the Chicago-based vocal group the Highlights, which reached #5 in Chicago and #19 nationally after its release in September, 1956. This was followed the next month by Caesar Giovannini's "Petticoats of Portugal" [Bally 1018], which reached #19 in Chicago and #29 on the Cashbox charts, although it missed the Billboard chart.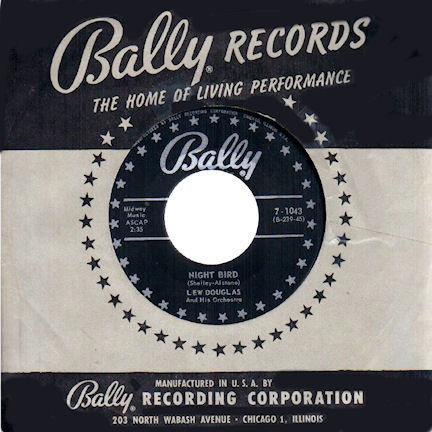 Bally's biggest hit, Betty Johnson's "I Dreamed" [Bally 1020] in November, 1956, was helped to a national #9 slot (#17 locally) by a tie-in with a daily television show, Modern Romances, where it was heard every day for a week. Lew Douglas and His Orchestra had a local hit with "Levi Lullaby" [Bally 1025], which hit the WJJD chart in January, 1957, eventually reaching #21, followed in February by the Highlights' followup single, "To Be With You" [Bally 1027], which reached #16 locally and #84 nationally. Betty Johnson was back in April, 1957, with "Little White Lies" [Bally 1033, #19 WJJD, #25 Billboard; the flip side, "1492" also reached #70 on Billboard]. Her final Bally single, "The Song You Heard When You Fell In Love" [Bally 1041], didn't chart in the U.S. but did chart in Canada. Although Betty Johnson was the label's biggest star, oddly, none of her several hits were on her sole Bally album, The Touch of Betty Johnson [Bally BAL 12011].

Betty Johnson, by the way, is still doing well-received appearances with her daughters and granddaughters, and has made all her Bally (and Atlantic) hits available on CD through her web site. She sent us a note on July 30, 2011, concerning this discography: "So happy that you are doing this. The Bally years were great for me and I remember every single recording session and the selection of material. All good, I think. Thanks again for keeping the music alive. — Betty."

During the summer of 1957, Billy Leach scored with "The Song of the Barefoot Mailman" [Bally 1039, 7/57, #16 WJJD, #86 Billboard] and finally, Frank Pizani, who was the lead singer of the Highlights, made #14 locally and #70 nationally with "Angry" [Bally 1040, 8/57].

Bally issued seven more singles after "Angry", released in August, September and early October, but nothing charted, either locally or nationally. Bally was sold for its catalogue to Gene and Harry Goodman in November, 1957, and ceased operations. Betty Johnson signed with Atlantic, and had several more hits, including "The Little Blue Man" [Atlantic 1169, 2/58], which reached #8 on the WJJD-Chicago chart and #17 on Billboard. Reg Owen and His Orchestra later had a hit with "Manhattan Spiritual" [Palette 5005, 12/58, #12 WJJD/#10 Billboard], as well as several other hits in his native England. Bob Kames put out many additional albums of organ music, including several children's records. Carol Jarvis had a minor hit in 1957 with "Rebel" [Dot 15586, 9/57, #48 Billboard]. For a small independent label, Bally signed a lot of talented artists and had quite a bit of chart success.



| | | |
| --- | --- | --- |
| | | Bally's singles, both on 78 rpm (far left) and 45 rpm (near left) had a black label with a series of stars around the edge. The Bally name was in a cursive logo at the top of the label inside the edge ring of stars. Most singles fell within the normal 1000-1047 numering system, but Bally released at least some promo-only singles (see below). |
| | | Promotional singles (far left) were issued on a white label with black print using the same design as the commercial label. This particular Janis Paige 45 was not issued as a commercial single; it falls somewhere betwewen 1021 and 1022 chronologically. Janis Paige, of course, was a well-known Broadway and Hollywood actress. Another known promo-only single,"Have You Heard"/"Dansero" by Lew Douglas, fell between Bally 1039 and 1040. All albums used a blue label (near left) with similar stars around the edge, but with the Bally logo interrupting the ring of stars at the top of the label. |
| | | Bally also released a special 7" 45 rpm EP in a color cardboard sleeve (far left) numbered BAX-7001, produced for Quigley Preparatory Seminary in Chicago. It was a spoken word release called The Mass: Serving and Responses, containing Latin prayers and responses for the Catholic mass, which at that time was still held in Latin. The EP label (near left) was similar to the regular 45 label. |



We would appreciate any additions or corrections to this discography. Just send them to us via e-mail. Both Sides Now Publications is an information web page. We are not a catalog, nor can we provide the records listed below. We have no association with Bally Records or their parent company. Should you be interested in acquiring albums listed in this discography (which are all out of print), we suggest you see our Frequently Asked Questions page and follow the instructions found there. This story and discography are copyright 2011 by Mike Callahan.

BALLY ALBUM DISCOGRAPHY
| | |
| --- | --- |
| Cover | Number - Title - Artist - [Release Date] Contents |
| | Bally BAL 12000 Series (12" LPs): |
| | BAL 12001 - English Jazz - Johnny Keating and All Stars [1956] With: Ronnie Chamberlain, Don Rendell, Tommy Whittle, Bob Eford, Danny Moss, Ien Sanders, Henry Mackenzie, Eddie Blair, Bobby Pratt, George Chisolm, Maurice Pratt, Don Lusher, Keith Christie, Jimmy Wilson, Ian Powell, Bill Lesage, Douggie Robinson, Johnny Hawkesworth, Ronnie Verrell, and Dizzie Reece. Strictly for Kyx/Fair Diana/Quads Talk/Impromptu/Ultraviolet/Gibraltar Rocks//Good Life/Snowface/Last Resort/Lazy/Eddie Blair's Picnic/Piccadilly Jumps |
| | BAL 12002 - Swedish Jazz - Gösta Theselius [1956] Kreta/Laugh or Cry/Chips/Havana Horn/Brewin'/Sabbath Blues//Just Like That/Just Lonely/Bugs/Strollin'/The Swingin' Thirds/Cool and Cosy |
| | BAL 12003 - French Jazz - Claude Bolling and All Stars [1956] Show Me A Rose/Lorraine Blues/The Most/In The Sun/Trinette/When I Was Young//Nuances/Gee Lee/Playera/The Jockey/In Extremis/French Beat |
| | BAL 12004 - Swiss Jazz - Hazy Osterwald and His Sextet [1956] Line Up/Lovely Thoughts/Royal Flush/The Trailer/Quatre Mains Vibes/Butch//Swiss Air/Riding Boots/Take Two/Tired Cats/Marmaduke/Trout In Blue |
| | BAL 12005 - Belgian Jazz - David Bee and His Orchestra [1956] Black Heaven/Petite Waltz/Pork And Beans/Parisian Rag/Empty Bottle Blues//I Wonder Why You Made Me Cry/The Charming Mademoiselle From Paris France/Jazz In The Rain/Dixie Souvenir/Bring 'Em Back Alive/High Tension/Ragtime Is Money |
| | BAL 12006 - Swing Me High - Reg Owen and His Orchestra [9/56] Swing Me High/Soho Blues/Slow Train Blues/Pushin'/Sweepin' The Floor/Scotch On The Rocks//Sinbad/Babylone Blues/Madwalk/Sunset Strip/Easy Now/Harlem Swing |
| | BAL 12007 - The Man from the South - Ted Weems & His Orchestra [1956] The Man From The South/I Wonder Who's Kissing Her Now/Deep In The Heart of Texas/Heartaches/Egyptian Ella/My Gal Sal//Oh Monah/Mickey/Somebody Stole My Gal/That Old Gang Of Mine/The Martins and the Coys/Out of the Night |
| | BAL 12008 - Let's Fall in Love - Janis Paige [1956] I Hadn't Anyone Till You/Am I In Love?/My Baby Just Cares For Me/My Romance/Why Can't I?/Why Fight The Feeling//Why Shouldn't I?/I'm Yours/I Feel Like A Feather In The Breeze/Rain On The Roof/Let's Fall In Love/Better Luck Next Time |
| | BAL 12009 - Piano Portraits - Caesar Giovannini [11/56] Early Autumn/Where Or When/I Cover The Waterfront/I'm Through With Love/My Romance/Fools Rush In//Autumn In New York/Stars Fell On Alabama/I See Your Face Before Me/I Didn't Know What Time It Was/The Nearness Of You/Why Shouldn't I? |
| | BAL 12010 - For Sweethearts Only - Dorian Dor [1956] I Love You More Every Day/See It My Way/I Can't Put My Arms Around A Memory/No One But You/Without A Word Of Warning/A Love Like Ours//Flame of Love/Desire/Is It Wrong - Is It Right/My Love Song/But Not My Love/My Love |
| | BAL 12011 - The Touch of Betty Johnson - Betty Johnson [1957] The Touch/There Will Never Be Another You/I Gave My Love A Cherry/Don't You Remember Me/Suddenly/Please Tell Me Why//I Get The Blues When It Rains/For Sentimental Reasons/Grandfather's Clock/I'm Beginning To Wonder/My Jack O' Diamonds/I'll Hold You In My Heart |
| | BAL 12012 - Music for Meditation - Gerald Mertens [1957] Meditation/The Old Refrain/Traumerei/Evening Star/La Estrellita/Hymn To The Sun//None But The Lonely Heart/Serenade/The Swan/Barcarolle/Claire De Lune/Kamennoi-Ostrow |
| | BAL 12013 - Americana - Win Stracke, with guitar accompaniment by Richard Pick [3/57] Paul Bunyan's Manistee/Single Girl/No Irish Need Apply/Duncan and Brady/Wanderin'/Debate - Cold Water Versus Rye Whiskey//Big Rock Candy Mountain/Dink's Song/Acres of Clams/Venezuela/The Colorado Trail/Ladies' Man |
| | BAL-12014 - High Life in Hi-Fi - Bob Kames [1957] You Can't Be True Dear/Coo Coo Waltz/Lili Marlene/The Village Band/My Hat Has Three Corners/High Life Polka//The Blonde Sailor/You Are In My Heart/Every Little Movement/My Dear Augustine/Tell Me You're My True Love/Just Another Drop |
| | BAL 12015 - Be Frank with Fay - Frank Fay [1957] Tea For Two/Stairway To The Stars/You Took Advantage Of Me/This Love Of Mine//Blue Room/Everything I Have Is Yours/They Can't Take That Away From Me/How About You? |
| | BAL 12016 - Calypso in Hi-Fi - Nathan Russell (with Orchestra Directed by Mel Tax) [1957] Scratch Scratch Me Back/Most Unpredictable/Oh Polly O/You Can Go (But You'll Return)/I'm Gonna Leave The Island/Big Joe Hammer//Similau/Sing Dance/Lobogola/Skinny Winnie From Trinidad/Something Wrong With The Man/Yeah Yeah Yeah |
| | BAL 12017 - Hymns My Mother Taught Me - Eddie Hubbard [10/57] Hubbard was a popular radio deejay on WIND-Chicago. Rock Of Ages/Saviour, Like A Shepherd Lead Us/Just As I Am Without One Plea/My Jesus I Love Thee/Blessed Be The Tie That Binds/I Love To Tell The Story//Nearer My God To Thee/O' Jesus, Thou Art Standing/I Would Be True/Brightly Beams Our Father's Mercy/Have Thine Own Way/Jesus Calls Us O'er The Tumult |
| | BAL 12018 - Voila Paris - Caesar Giovannini [1957] Voila Paris/C'est Si Bon/Under Paris Skies/If You Go/Pigalle/The Touch/Domino/Danse Avec Moi//Petite Waltz/On The Avenue/At Last! At Last!/If You Love Me Really Love Me/Le Gamin De Paris/Comme Ci Comme Ca/Padam Padam/To You My Love |
| | BAL 12019 - Have You Heard - Lew Douglas & His Orchestra [1957] Have You Heard/Levi Lullaby/Carmelia/Day Dreaming/Kiss Bubbles/Bombolero//Why Don't You Believe Me?/Fiddle Dee Dee/Pretend/Dansero/Tumbling Tumbleweeds/High Society |
| | BAL-12020 - Get a Load o' Cole - Ike Cole Quartet [1957] The Moon Was Yellow/Like The Fella Once Said/Fools Rush In/And The Angels Sing/I'd Know You Anywhere/My Baby Just Cares For Me//I'm Travelin' Light/You're Drivin' Me Crazy/Darn That Dream/One Way Street/I Had The Craziest Dream/Getting Some Fun Out Of Life |
Back to the Discography Listings Page



Back to the Both Sides Now Home Page