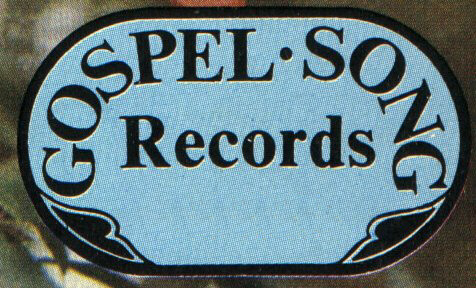 Gospel Song Album Discography
By Mike Callahan
Last update: March 24, 2002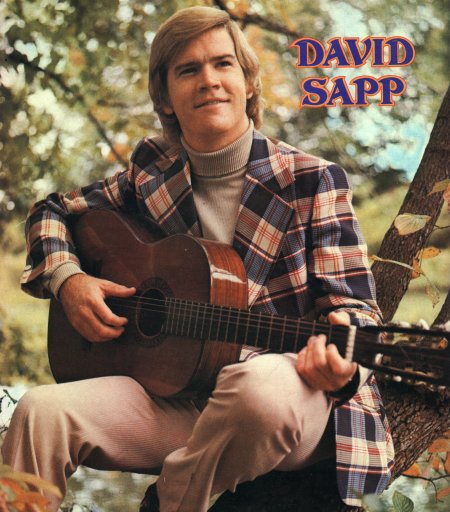 Gospel Song was the label of David Sapp of Orange, Texas. Sapp is a songwriter, singer, and evangelist. His best-known song is "There Is a River," which has been recorded by many artists including the Gaithers. He recorded at Benson Sound Studio in Oklahoma City. Today Sapp heads David Sapp Ministries, located in Irving, Texas. He also has a web site where he can be reached by e-mail; the web site also has his address and phone.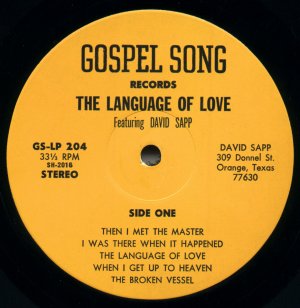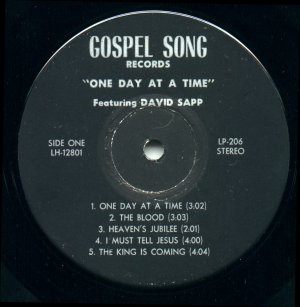 The albums were issued on both vinyl and 8-track, except for LP-201, which was vinyl only. The label design was minimal, with no graphics, although they seemed to change color for each new album they issued. LP-202 was red with black print, LP-204 was yellow with black print, and LP-206 was black with silver print. The albums were issued in "compatible stereo."

We would appreciate any additions or corrections to this discography. Just send them to us via e-mail. Both Sides Now Publications is an information web page. We are not a catalog, nor can we provide the records listed below. We have no association with Gospel Song Records. Should you be interested in acquiring albums listed in this discography (all of which are out of print), we suggest you see our Frequently Asked Questions page and follow the instructions found there. This story and discography are copyright 2002 by Mike Callahan.



GOSPEL SONG ALBUM DISCOGRAPHY

Number - Title - Artist [Release Date] Contents

LP-201 - David Sapp Sings - David Sapp [1968?] Keep Walking/Jesus Use Me/I'm Building A Bridge/He Knows Just What I Need/When I Prayed Through/Jesus//He Touched Me/I'm Bound For The Kingdom/The Old Rugged Cross/Somebody Loves Me/Wasted Years/The Unclouded Day

LP-202 - A Thing Called Faith - David Sapp [1969?] His Hand In Mine/How Long Has It Been/A Thing Called Faith/Great Homecoming Week/Known Only To Him/One More River//The Rest Of My Life/There Is A River/Happiness/Had It Not Been/If Jesus Said It/I'll Meet You In The Morning

LP-203 - I've Got Confidence - David Sapp [1969?] Sheltered In The Arms Of God/Our Lord's Return To Earth/For God So Loved/I've Got Confidence/Amazing Grace//Heaven/Until You've Known/Faith/Thank God I'm Free/Jesus Take A Hold/Jesus Is Coming Soon

LP-204 - Language of Love - David Sapp [1970?] Then I Met The Master/I Was There When It Happened/The Language Of Love/When I Get To Heaven/The Broken Vessel//This Is Just What Heaven Means To Me/Just A Closer Walk/Turn Around Look At Him/Put Your Hand In The Hand/Let Me Touch Him

LP-205 - The Dawning of That Day - David Sapp [197?] It Won't Be Long/Well It's All Right/Medley: I Could Never Outlove The Lord-Parade Of Miracles-All God's Children-Get All Excited/Through It All//The Dawning Of That Day/Greater Is He/My Christian Story/He Hideth My Soul/I'm Happy And Free

LP-206 - One Day at a Time - David Sapp [197?] One Day At A Time/The Blood Will Never Lose Its Power/Heaven's Jubilee/I Must Tell Jesus/The King Is Coming//He Touched Me/Welcome Back Jesus/Medley: Holy Holy-His Banner Over Me Is Love-I Came To Praise The Lord/All My Sins Are Gone




Back to the Christian Album Discography Index



Back to the Discography Listings Page



Back to the Both Sides Now Home Page