Columbia's niche in the market had always been primarily "pop" and "easy listening" music including classical and show tunes. 1950s A&R Chief Mitch Miller was a well-known hater of rock and roll, so Columbia fobbed off all that low-brow stuff on their subsidiary labels, Epic and Okeh. By the end of 1963, Columbia had all kinds of pop artists, classical artists, jazz artists, some country artists, a few R&B artists like Aretha Franklin (it is widely acknowledged they had no clue how to record or promote her as a monster R&B talent - that would come later with Atlantic), and folk artists including Bob Dylan, whom they signed almost accidentally (he was playing harmonica on Carolyn Hester's first album and they signed him as a harmonica player!).

When the British Invasion hit in January, 1964, they looked around and found almost nothing in their rock and roll cupboard. They had signed Dion in 1962 when he went solo, but he had little Columbia company on the charts, and Columbia viewed him in the scat/crooner mode anyway. They missed signing the big British acts initially, although their subsidiary Epic was on the ball and landed the Dave Clark Five, among several others. Columbia's answer to the British Invasion in February, 1964, was predictable: cobble together a few leftovers into a "Merseybeat" album, The Exciting New Liverpool Sound (Columbia CL-2172, issued in mono only). Predictable, yes, and predictably weak for an answer to the British Invasion. Columbia also saw their profits had been dwindling for the past few years, and they needed to do something.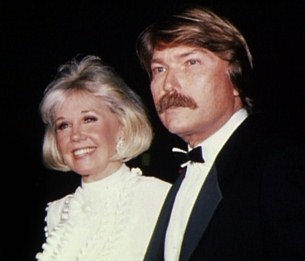 They did however, have Terry Melcher — son of long-time Columbia artist Doris Day (shown at right with Melcher) — on board, who was decidedly rock and roll oriented, particularly in the surf/car song genre. Columbia recognized early on that Melcher had some talent as a producer. As the old saying goes, if you're a hammer, everything looks like a nail, and I guess if you're Columbia in 1963, everything looks like a pop record. They put Melcher together with Frankie Laine, a singer who had lots of pop hits dating back to the 1940s, but no hits at all for the previous six years. The result was the hard driving "Don't Make My Baby Blue," replete with heavy bass and fuzz guitars, and arguably the best Laine had sounded in many, many years. The song made #51 on the pop charts and #17 on the easy listening charts. But it sounded so different from Laine's usual style that Columbia never reissued it on a Frankie Laine collection or even a various artists compilation (so it's never been available in stereo). [Another lost rock-and-roll single was Bob Dylan's first single, "Mixed Up Confusion" in 1962, which met a similar fate as one of the Great Lost Columbia Singles of the Early 1960s.] If it was edgy and sounded like rock and roll in the early 1960s, Columbia just didn't do it, and if they did, they didn't want anyone to know about it.

In early 1963, a couple of months before working with Frankie Laine, Melcher and Bruce Johnston brought Columbia a studio group calling themselves the Rip Chords, whom Melcher and Johnston found as a vocal duo of Ernie Bringas and Phil Stewart, and worked up into a legitimate rock and roll act through studio production and vocal augmentation, adding themselves as members. The group hit with "Here I Stand," a remake of the old Wade Flemons song, then registered a #4 smash with "Hey Little Cobra," just as the British Invasion was starting. For Columbia, It was a start to getting into rock and roll, belatedly but definitely. Melcher and Johnston recorded several additional singles for Columbia in 1964 as "Bruce & Terry" and later as "The Rogues." Melcher would become a force with Columbia, producing the Byrds initial efforts the next year, and then producing Paul Revere and the Raiders. Johnston would join the Beach Boys for rival label Capitol.



| | |
| --- | --- |
| Cover | Number - Title - Artist - [Release Date] Contents |
| | CL-2100/CS-8900 - The Kooky World of the Geezinslaw Brothers - Geezinslaw Brothers [11-63] Cotton Fields/Sally Was A Good Old Girl/He's Been Workin' On The Banjo/Billy Sol Estes/Till There Was You/They're Rioting In Africa/The Bicycle Wreck//Unchained Melody/Glory, Glory, New York Mets/Puff (The Magic Dragon) (Parody)/Pvt. John Q./Night And Day/Sweet Sweet Home/Charming Betsy |
| | CL-2101/CS-8901 - We Shall Overcome - Pete Seeger [11-63] (12-63, #42) If You Miss Me At The Back Of The Bus/Keep Your Eyes On The Prize/I Ain't Scared Of Your Jail/Oh, Freedom!/What Did You Learn In School Today?/Little Boxes/Who Killed Norma Jean?/Who Killed Davey Moore?//A Hard Rain's A-Gonna Fall/Mail Myself To You/Guantanamera/Tshotsholosa/We Shall Overcome |
| | Note: CL-2102 through CL-2104 are included in the mono-only three-record box set Jazz Odyssey, Volume I (Columbia C3L-30). |
| | CL-2102 (C3L-30) - Jazz Odyssey, Volume I: The Sound of New Orleans (1917-1947), Record 1 - Various Artists [2-64] Record one in three-record set C3L-30, issued in mono only. At The Darktown Strutters' Ball - Original Dixieland Jazz Band/I Ain't Got-en No Time To Have The Blues - Louisiana Five/Bouncing Around - Piron's New Orleans Orchestra/West Indies Blues - Piron's New Orleans Orchestra/Texas Moaner Blues - Clarence Williams Blue Five/Livin' High - Clarence Williams Blue Five/You Need Some Lovin' - Johnny Dunn & His Band/Mahogany Hall Stomp Louis Armstrong & His Orchestra//Dallas Blues - Louis Armstrong & His Orchestra/Louisiana Swing - Luis Russell & His Orchestra/I'm Alone With You - Wingy Manone & His Orchestra/Royal Garden Blues - Wingy Manone & His Orchestra/Zero (I Never Knew) Wingy Manone & His Orchestra/High Society - Sharkey (Bonano) & His Sharks/Dear Old Southland - Noble Sissle Orchestra/The Entertainer - Bunk Johnson & His Orchestra |
| | CL-2103 (C3L-30) - Jazz Odyssey, Volume 1: The Sound of New Orleans (1917-1947), Record 2 - Various Artists [2-64] Record two in three-record set C3L-30, issued in mono only. London Blues - Jelly Roll Morton's Jazz Band/Jazzin' Babies Blues - King Oliver's Creole Jazz Band/New Orleans Shags Richard M. Jones Three Jazz Wizards/Come Back Sweet Papa - Louis Armstrong & His Hot Five/Here Comes The Hot Tamale Man - Cookie's Gingersnaps/Trouble In Mind - Bertha "Chippie" Hill/Brush Stomp - Chicago Footwarmers/Delta Bound - Jimmie Noone Apex Club Orchestra//Number Two Blues - Johnny De Droit's New Orleans Jazz Orchestra/Frankie And Johnnie - Fate Marable's Society Syncopaters/Waffle Man's Call - Johnny Bayersdorffer & His Jazzola Novelty Orchestra/Barataria - Halfway House Dance Orchestra/Cross Word Mama (You're Puzzling Me) - Russ Papalia & His Orchestra/Peculiar - Brownlee's Orchestra of New Orleans/I Never Knew What A Gal Could Do - New Orleans Rhythm Kings/She's Crying For Me - New Orleans Rhythm Kings |
| | CL-2104 (C3L-30) - Jazz Odyssey, Volume 1: The Sound of New Orleans (1917-1947), Record 3 - Various Artists [2-64] Record three in three-record set C3L-30, issued in mono only. Milenberg Joys (Golden Leaf Strut) - New Orleans Rhythm Kings/Original Tuxedo Rag - Celestin's Original Tuxedo Orchestra/Tampeekoe - New Orleans Owls/Up The Country Blues - Joe Mannone's Harmony Kings/It's Jam Up - Celestin's Original Tuxedo Jazz Orchestra/Panama - Johnny Miller's New Orleans Frolickers/Dippermouth Blues - Johnny Miller's New Orleans Frolickers/Oh, Didn't He Ramble - Bunk's Brass Band//Steppin' On The Gas - Sam Morgan's Jazz Band/Everybody's Talkin' 'Bout Sammy - Sam Morgan's Jazz Band/Mobile Stomp - Sam Morgan's Jazz Band/Sing On - Sam Morgan's Jazz Band/Short Dress Gal - Sam Morgan's Jazz Band/Bogalusa Strut - Sam Morgan's Jazz Band/Down By The Riverside - Sam Morgan's Jazz Band/Over In The Gloryland - Sam Morgan's Jazz Band |
| | CL-2105/CS-8905 - The Times They Are a-Changin' - Bob Dylan [1-13-64] (3-64, #20) The Times They Are A-Changin'/Ballad Of Hollis Brown/With God On Our Side/One Too Many Mornings/North Country Blues//Only A Pawn In Their Game/Boots Of Spanish Leather/When The Ship Comes In/The Lonesome Death Of Hattie Carroll/Restless Farewell |
| | CL-2106/CS-8906 - Quiet Nights - Miles Davis [1-64] (4-64, #93) Gil Evans, arranger/conductor. Song #2/Once Upon A Summertime/Aos P's Da Cruz/Song #1//Wait Till You See Her/Corcovado/Summer Night |
| | CL-2107/CS-8907 - Donna the Prima Donna - Dion DiMuci [9-63] Robert Mersey, arranger/conductor. Donna The Prima Donna/Can't We Be Sweethearts/Sweet, Sweet Baby/This Little Girl Of Mine/Flim Flam/Troubled Mind//This Little Girl/Oh Happy Days/You're Mine/Donna/I Can't Believe (That You Don't Love Me Anymore)/Be Careful Of Stones That You Throw |
| | CL-2108/CS-8908 - Great Folk Themes - Percy Faith & His Orchestra [1-64] (2-64, #103) Darlin' Corey/Five Hundred Miles/The Lemon Tree/This Land Is Your Land/Kisses Sweeter Than Wine/Greenback Dollar//This Train/Greenfields/Sloop John B./The Hammer Song/Michael Row The Boat/Blowin' In The Wind |
| | Note: CL-2110/CS-8910 and CL-2111/CS-8911 are included in the two-record box set Outstanding Jazz Compositions of the 20th Century (Columbia C3L-31/C2S-831). |
| | CL-2109/CS-8909 (C2L-31/C2S-831) - Outstanding Jazz Compositions of the 20th Century, Record 1 - Various Artists [12-63] Record one in two-record set C2L-31/C2S-831. The stereo version is electronically rechanneled. Jazz Suite For Brass - J.J. Johnson/Three Little Feelings - John Lewis/Pharaoh - Jimmy Giuffre//All About Rosie - George Russell/Sounds Of May - Ted Macero/Avakianas Brasileiras - Bob Prince/Swinging Goatsherd Blues - Teddy Charles |
| | CL-2110/CS-8910 (C2L-31/C2S-831) - Outstanding Jazz Compositions of the 20th Century, Record 2 - Various Artists [12-63] Record two in two-record set C2L-31/C2S-831. The stereo version is electronically rechanneled. Revelations: 1st Movement - Charlie Mingus/Suspensions - Jimmy Giuffre/On Green Mountain - Harold Shapero//Idiom '59: Part 1 - Duke Ellington/Idiom '59: Part 2 - Duke Ellington/Idiom '59: Part 3 - Duke Ellington/All Set - Milton Babbitt/Transformation Gunther Schuller |
| | CL-2111/CS-8911 - Tender Lovin' Care - George Morgan [1-64] (2-64 #17-CW) Tender Lovin' Care/Would You Believe/All Right (I'll Sign The Papers)/We Could/Whose Memory Are You/One Dozen Roses (And Our Love)//Back Again/Almost All The Time/In Your Eyes/Your Lonely Nights Are Over/Just Like A Fool/You're Not Home Yet |
| | CL-2112/CS-8912 - Big Band Hootenanny - Les & Larry Elgart [10-63] Walk Right In/Where Have All The Flowers Gone/Washington Square/Greensleeves/If I Had A Hammer/The Green Leaves Of Summer//Santy Anno/Blowin' In The Wind/Green, Green/Four Strong Winds/A Worried Man/Kisses Sweeter Than Wine |
| | CL-2113/CS-8913 - Music from Hollywood: Hollywood's Greatest Composers Conducting Their Own Works - Various Artists [10-63] Each work is conducted by its composer, except "Theme from 'A Summer Place'." Prelude To How The West Was Won Alfred Newman/Laura - David Raksin/Cleopatra's Entrance Into Rome (From "Cleopatra") Alex North/Music From "A Place In The Sun" - Franz Waxman//Prelude From "Ben Hur" Miklos Rozsa/Theme From "A Summer Place" - Percy Faith/Raintree County: Three Themes For Symphony Orchestra - John Green/Memory Waltz (From "The Snows Of Kilimanjaro") Bernard Herrman/The Green Leaves Of Summer (From "The Alamo") - Dimitri Tiomkin with vocal by Mahalia Jackson |
| | CL-2114/CS-8914 - Soft and Swinging: The Music of Jimmy McHugh - André Previn, His Trio & Orchestra [1-64] A Lovely Way To Spend An Evening/I'm In The Mood For Love/I Can't Give You Anything But Love/Don't Blame Me/I Must Have That Man/Too Late My Love/Lose Me Now//When My Sugar Walks Down The Street/Diga Diga Doo/I'm Shooting High/I Can't Believe That You're In Love With Me/It's A Most Unusual Day/Exactly Like You/On The Sunny Side Of The Street |
| | CL-2115/CS-8915 - This Is Gene Stridel - Gene Stridel [1-64] Marty Manning, arranger/conductor. After You've Gone/Every Time Is The First Time/The Sweetest Sounds/One More Mountain (One More River)/My Romance/It's You Or No One//Solitude/How Blue The Night/My Life Before You/Song Of The Gypsies/True Love/Hearts Were Never Meant To Be Broken |
| | CL-2116/CS-8916 - Till the End of Time: Jerry Vale Sings Great Love Themes - Jerry Vale [1-64] (2-64, #28) Glenn Osser, arranger/conductor. Till The End Of Time/My Reverie/Full Moon And Empty Arms/This Day Of Days/The Things I Love/Moon Love//Don't You Know?/The Story Of A Starry Night/To Love Again/So Near--Yet So Far/My Heart Reminds Me/On And On |
| | CL-2117/CS-8917 - The Christmas Spirit - Johnny Cash [10-63] The Christmas Spirit/I Heard The Bells On Christmas Day/Blue Christmas/The Gifts They Gave/Here Was A Man/Christmas As I Knew It//Silent Night/The Little Drummer Boy/Ringing The Bells For Jim/We Are The Shepherds/Who Kept The Sheep/The Ballad Of The Harp Weaver |
| | CL-2118/CS-8918 - You Make Me Feel So Young - Ray Conniff, His Orchestra & Chorus [1-64] (2-64, #73) You Make Me Feel So Young/My Old Flame/Patricia, It's Patricia/An Affair To Remember/Lullaby Of The Leaves/In The Cool, Cool, Cool Of The Evening//Caravan/Solitude/Third Man Theme/What Kind Of Fool Am I?/With My Eyes Wide Open, I'm Dreaming/Frenesi |
| | CL-2119/CS-8919 - The Young Beat - Les Brown & His Band of Renown [11-63] Zip-A-Dee-Doo-Dah/On Broadway/Cotton Fields/Tower Of Strength/Washington Square/Frankie And Johnny//Sally, Go Round The Roses/Bring It On Home To Me/Silver Threads And Golden Needles/Alley Cat/Mack The Knife/La Bomba |
| | CL-2120/CS-8920 - Gorme Country Style - Eydie Gorme [1-64] (2-64, #143) With Don Costa Orchestra; Joe Guerico, conductor. Don Costa, arranger. I Really Don't Want To Know/I Can't Help It (If I'm Still In Love With You)/You Don't Know Me/I'm Sorry/The End Of The World/No One To Cry To//I Walk The Line/Oh Lonesome Me/Someday (You'll Want Me To Want You)/Crazy/Make The World Go Away/I Can't Stop Loving You |
| | CL-2121/CS-8921 - Academy Award Losers - Steve Lawrence [1-64] (2-64, #135) With Billy May Orchestra; Joe Guerico, conductor. Billy May, arranger. I've Got You Under My Skin/Change Partners/Love Letters/You'd Be So Nice To Come Home To/Long Ago (And Far Away)/They Can't Take That Away From Me//I'll Remember April/Cheek To Cheek/My Foolish Heart/How About You/That Old Feeling/Chattanooga Choo Choo |
| | CL-2122/CS-8922 - All-Star Hootenanny - Various Artists [11-63] This Land Is Your Land New Christy Minstrels/Down By The Glenside Kearney - Orriel Smith/John Henry - Pete Seeger/Worried Man Blues - Lester Flatt & Earl Scruggs with Mother Maybelle Carter/John Hardy - Leon Bibb/The Whistling Gypsy - Clancy Brothers & Tommy Makem//Nine Pound Hammer - Johnny Cash/This Train - Brothers Four/Where Have All The Flowers Gone - Pete Seeger/Brennan On The Moor - Clancy Brothers & Tommy Makem/Swing And Turn Jubilee Carolyn Hester/Blowin' In The Wind - Bob Dylan |
| | CL-2123/CS-8923 - East Side, West Side (Television Soundtrack) - Kenyon Hopkins [11-63] East Side, West Side/Holland Tunnel/Central Park West/Stick Ball/Neil's Night Out/Traffic Jam/Sutton Lights/Theme From "Who Do You Kill?"//Sweet Juke/Triboro Drive/Blue Harlem/Times Square/Layna's Theme/The Recluse/Society Girl/Midnight Walk |
| | CL-2124/CS-8924 - A Voice in the Wind - Orriel Smith [1-64] Walter Raim, arranger/conductor. The Deceived Girl/Down By The Glenside/When I Was Single/Over The Hills/Been On This Train/White Curtains//Black Is The Color/Chilly Winds/Take My Mother Home/Geordie/The First Time Ever I Saw Your Face/Red Rosy Bush |
| | CL-2125/CS-8925 - Loving Arms - Carl Butler & Pearl [2-64] (3-64 #10-CW) Loving Arms/Half A Heart/Just Thought I'd Let You Know/Sing Me A Blue, Blue Song/It's My Sin/Dreaming Of A Little Cabin//A Satisfied Mind/I Know Now/Kentucky/Don't Let Me Fall/Who Knows Right From Wrong/Angel Band |
| | CL-2126/CS-8926 - Jazz Critics' Choice: Great Jazz Critics Choose Historic Performances - Various Artists [1-13-64] Stereo version, if issued at all, is probably electronically rechanneled. Portrait Of A Guinea Farm - Claude Thornhill/Happy Reunion - Duke Ellington/So What? - Miles Davis/Oh, Lady Be Good - Lester Young/Baby, Won't You Please Come Home - Jimmie Lunceford/Baby Doll - Bessie Smith//International Blues - Martial Solal/Lord, You Made The Night Too Long - Louis Armstrong & His Orchestra/Blues In C-Sharp Minor - Teddy Wilson/Benny Rides Again - Benny Goodman/Blue Light - Duke Ellington/Downtown Uproar - Cootie Williams & His Rug Cutters |
| | CL-2127/CS-8927 - Time Changes - Dave Brubeck Quartet [2-64] (4-64, #81) With orchestra conducted by Ray Wright on "Elementals." Iberia/Unisphere/Shim Wa/World's Fair/Cable Car//Elementals |
| | CL-2128/CS-8928 - Sing of Our Times - Brothers Four [3-64] Reissued in abridged form as Harmony HS-11341. Milt Okun, arranger/conductor. Long Ago, Far Away/Seven Daffodils/The Monkey And The Engineer/Tomorrow Is A Long Time/Spring Hill Mine Disaster/Dance Me A Jig//Take This Hammer/Four Strong Winds/Beans Taste Fine/Ballad Of Moreton Bay/Plane Wreck At Los Gatos (Deportee)/Daddy Roll 'Em |
| | CL-2129/CS-8929 |
| | CL-2130/CS-8930 - Let's Pray Together - Mahalia Jackson [2-64] Marty Paich, arranger/conductor. With Harpo Marx, harp, on "Guardian Angels." Altar Of Peace/One God/Let's Pray Together/Without A Song/Take God By The Hand/Guardian Angels//We Shall Overcome/Song For My Brother/Deep River/No Night There/If I Can Help Somebody |
| | CL-2131/CS-8931 - Love Him! - Doris Day [2-64] (3-64, #102) Tommy Oliver, arranger/conductor. More/Can't Help Falling In Love/Since I Fell For You/Losing You/(Now And Then There's) A Fool Such As I/As Long As He Needs Me//Night Life/Funny/Softly, As I Leave You/Lollipops And Roses/Love Him |
| | CL-2132/CS-8932 - Love After Midnight - Patti Page [3-64] Robert Mersey, arranger/conductor. Love After Midnight/A Faded Summer Love/The Lamp Is Low/Stranger On The Shore/I Wonder, I Wonder, I Wonder/All The Way//I Adore You/Foolishly Yours/Born To Lose/Oh! What It Seemed To Be/September Song/The Sweetest Sounds |
| | CL-2133/CS-8933 - Gershwin Wonderland - Andre Kostelanetz & His Orchestra [1-64] Girl Crazy Overture: I Got Rhythm-But Not For Me-Embraceable You-Gay Caballero Dance (Hat Dance)/Promenade/Wintergreen For President/The Man I Love/Fascinatin' Rhythm//Excerpts From "Catfish Row" (Porgy And Bess): Jazzbo Brown-Before Dawn (Act II, Scene 3)-Good Mornin' Sistuh-Oh Lawd, I'm On My Way/Oh Bess, Oh Where's My Bess |
| | CL-2134/CS-8934 - Flatt and Scruggs Recorded Live at Vandebilt University - Lester Flatt & Earl Scruggs [3-64] (4-64 #10-CW) Lost All My Money/Maggie Blues/Steamboat Whistle Blues/Paul And Silas/Cannonball Blues/You Are My Flower//Old Leather Britches/Across The Blue Ridge Mountains/Old Folks/Going Back To Harlan/Poor Rebel Soldier/No Hiding Place Down Here/Going Up Cripple Creek |
| | CL-2135/CS-8935 - It's a Folk, Folk, Folk, Folk World - Banjo Barons [2-64] Ted Macero, arranger/conductor. Michael, Row The Boat Ashore/Ballad Of The Alamo/Where Have All The Flowers Gone?/The Green Leaves Of Summer/Yellow Rose Of Texas-Ring Ding De Banjo/Greenfields/Goodnight Irene//Roving Gambler/Bleeker Street Coffee House/Green, Green/The Country Store/Hammer Song/Blowin' In The Wind/El Paso |
| | CL-2136/CS-8936 - Flute Fever - Jeremy Steig Quartet [1-64] Oleo/Lover Man (Oh, Where Can You Be?)/What Is This Thing Called Love?/So What//Well, You Needn't/Willow Weep For Me/Blue Seven |
| | CL-2137/CS-8937 - The Wonderful World of Andy Williams - Andy Williams [12-63] (1-64, #9) Robert Mersey, arranger/conductor. Canadian Sunset [with Williams Brothers]/Sing A Rainbow [with Williams Family Children]/Dream [with Williams Brothers]/This Is All I Ask/Wives And Lovers/First Born [with Entire Williams Family]//A Fool Never Learns/Noelle/Pennies From Heaven [with Williams Brothers]/September Song/Let It Be Me [with Claudine Williams]/Softly, As I Leave You |
| | CL-2138/CS-8938 - New York Wonderland: A Musical Tour of the World's Greatest City - Andre Kostelanetz & His Orchestra [4-64] (5-64, #68) Street Scene/Lullaby Of Broadway/Manhattan Serenade/Medley: Give My Regards To Broadway-The Bowery/I Cover The Waterfront/New York, New York//Spanish Harlem/Autumn In New York/Washington Square/Lullaby Of Birdland/She's A Latin From Manhattan/Manhattan |
| | CL-2139/CS-8939 |
| | CL-2140/CS-8940 - Great Smash Hits - Bobby Martin & His Orchestra [1-64] Unchained Melody/Dominique/Red Sails In The Sunset/Maria Elena/I Could Have Danced All Night/Fools Rush In (Where Angels Fear To Tread)//Deep Purple/I Wonder, I Wonder, I Wonder/That Sunday (That Summer)/Blue Velvet/Misty/In The Valley Of The Moon |
| | CL-2141/CS-8941 - The Many Moods of Tony - Tony Bennett [1-64] (2-64, #20) With Ralph Sharon Trio. Featuring Bobby Hackett on cornet. The Little Boy/When Joanna Loved Me/A Taste Of Honey/Soon It's Gonna Rain/The Kid's A Dreamer (The Kid From Fool's Paradise)/So Long, Big Time!//Don't Wait Too Long/Caravan/Spring In Manhattan/I'll Be Around/You've Changed/Limehouse Blues |
| | CL-2142/CS-8942 |
| | CL-2143/CS-8943 - I'll Search My Heart and Other Great Hits - Johnny Mathis [3-64] (5-64, #35) Starbright/Every Step Of The Way/Wherever You Are It's Spring/The Joy Of Loving You/Each Time We Kiss/A Clock Without Hands//I'll Search My Heart/Sooner Or Later/My Favorite Dream/The Best Of Everything/What To Do About Love/All The Sad Young Men |
| | Note: CL-2144 through CL-2146 are included in the mono-only three-record box set Jazz Odyssey, Volume II (Columbia C3L-32). |
| | CL-2144 (C3L-32) - Jazz Odyssey, Volume II: The Sound of Chicago (1923-1940), Record 1 - Various Artists [5-64] Record one in three-record set C3L-32, issued in mono only. New Orleans Stomp - King Oliver's Creole Jazz Band/Where Did You Stay Last Night? - King Oliver's Creole Jazz Band/Tears - King Oliver's Creole Jazz Band/House Of David Blues - Chicago Blues Dance Orchestra/Someday Sweetheart - Jelly Roll Morton's Jazz Band/Sugar Foot Stomp - Merritt Brunies' Friar's Inn Orchestra/Old Folks' Shuffle - Joe Jordan's Sharps & Flats/How Do You Like It Blues - Art Sims Creole Roof Orchestra//Droppin' Shucks - Louis Armstrong & His Hot Five/Messin' Around - Cookie's Gingersnaps/That Creole Band - Al Wynn & His Gut Bucket Five/Plantation Joys - Luis Russell & His Heebie Jeebie Stompers/Dusty Bottom Blues Richard M. Jones & His Jazz Wizards/Get 'Em Again Blues - Chicago Footwarmers/Savoyageur's Stomp - Carroll Dickerson Orchestra/Symphonic Raps - Carroll Dickerson Orchestra |
| | CL-2145 (C3L-32) - Jazz Odyssey, Volume II: The Sound of Chicago (1923-1940), Record 2 - Various Artists [5-64] Record two in three-record set C3L-32, issued in mono only. Liza - McKenzie & Condon's Chicagoans/China Boy - McKenzie & Condon's Chicagoans/Nobody's Sweetheart - McKenzie & Condon's Orchestra/Oh, Baby! - Eddie Condon Quartet/Indiana - Eddie Condon Quartet/Craze-o-logy - Bud Freeman & His Orchestra/Can't Help Lovin' Dat Man - Bud Freeman & His Orchestra/Smiling Skies - Benny Meroff Orchestra//Gambler's Dream - Hociel Thomas/Suitcase Blues - Hersal Thomas/Jack O'Diamonds Blues - Sippie Wallace/Pratt City Blues - Bertha "Chippie" Hill/You Can't Get That Stuff No More - Tampa Red & Georgia Tom/Strut That Thing - Cripple Clarence Lofton/Louise, Louise Blues - Big Bill Broonzy/Bear Trap Blues - Jimmy Yancey |
| | CL-2146 (C3L-32) - Jazz Odyssey, Volume II: The Sound of Chicago (1923-1940), Record 3 - Various Artists [5-64] Record three in three-record set C3L-32, issued in mono only. Fifteen Cents - Frankie HalfPint Jaxon & His Hot Shots/Dirty Dozen's Cousins - Alabama Rascals/Zuddan - Reuben Reeves & His River Boys/I Would Do Anything For You - Jimmie Noone & His Orchestra/Liza (All The Clouds'll Roll Away) - Jimmie Noone & His Orchestra/Reincarnation - Paul Mares & His Friar's Society Orchestra/The Land Of Dreams - Paul Mares Friar's Society Orchestra/Ubangi Man - Charles LaVere & His Orchestra//A Monday Date - Earl Hines/Sensational Mood - Earl Hines & His Orchestra/Take It Easy - Earl Hines & His Orchestra/After You've Gone - Roy Eldridge & His Orchestra/Florida Stomp - Roy Eldridge & His Orchestra/Heckler's Hop - Roy Eldridge & His Orchestra/Chloe - Horace Henderson & His Orchestra/Swingin' And Jumpin' - Horace Henderson & His Orchestra |
| | CL-2147/CS-8947 - Hot Rod Jazz: Tuff Saxes and Twangy Guitars - Larry Wilcox & His Orchestra [1-64] Big Deuce/Theme From "Who Do You Kill?"/Magda's Song/Little Red Rod/Loddy Lo/The Nitty Gritty//Jet Propelled/Dominique/Draggin' Lady/Hobo Flats/Tunga/Organ Grinder's Swing |
| | CL-2148/CS-8948 |
| | CL-2149/CS-8949 - The Remarkable J's with Jamie - J's with Jamie [3-64] Ya Turned Me On, Baby/My Cigarette And I/Love Come Take Me Again/Like Someone In Love/This Ole House/The Sound Of Money//Let There Be Love/Bewitched/Baby, Won't You Please Come Home/Little Boy Blue/Here's Love/Laugh It Up |
| | CL-2150/CS-8950 - Speak to Me of Love - Ray Conniff Singers [4-64] (5-64, #50) Lover, Come Back To Me/Beyond The Sea/Don't Blame Me/Speak To Me Of Love/The Sweetest Sounds/This Nearly Was Mine//(When Your Heart's On Fire) Smoke Gets In Your Eyes/Love Has No Rules/You'll Never Walk Alone/Under Paris Skies/Slow Poke/Who's Sorry Now? |
| | CL-2151/CS-8951 - Hey Little Cobra and Other Hot Rod Hits - Rip Chords [1-64] (2-64, #56) Hey Little Cobra/Here I Stand/The Queen/409/Trophy Machine/Gone//Little Deuce Coupe/'40 Ford Time/She Thinks I Still Care/Shut Down/Drag City/Ding Dong |
| | CL-2152/CS-8952 - Keep on the Sunny Side - Carter Family & Johnny Cash [3-64] Keep On The Sunny Side/The Banks Of The Ohio/My Clinch Mountain Home/Lonesome Valley/Worried Man Blues/Will The Circle Be Unbroken//The Wabash Cannon Ball/BrokenHearted Lover/Brown Eyes/I'm Working On A Building/Gathering Flowers From The Hillside/When The Roses Bloom Again |
| | CL-2153/CS-8953 - Ain't Nothin' but the Blues - Judy Roderick [3-64] Bobby Scott, organ and piano. Wild Women Don't Sing The Blues/Come Back, Baby/Brother, Can You Spare A Dime?/Mamma Goes Where Papa Goes (Or Papa Don't Go Out Tonight)/Baltimore Oriole/Miss Brown To You//He Was A Friend Of Mine/Blues On My Ceiling/I'm Going To Live The Life I Sing About In My Song/Things About Going My Way/Don't Let The Sun Catch You Crying/Moanin' |
| | CL-2154/CS-8954 - The Third Album - Barbra Streisand [1-64] (2-64, #5) My Melancholy Baby/Just In Time/Taking A Chance On Love/Bewitched (Bothered And Bewildered)/Never Will I Marry//As Time Goes By/Draw Me A Circle/It Had To Be You/Make Believe/I Had Myself A True Love |
| | CL-2155/CS-8955 - Jazz Meets the Pop Song - Paul Winter Sextet [3-64] Blue Mountain/Scarlet Ribbons (For Her Hair)/Guantanamera/Greenwood Side/Lass From The Low Countrie/Aruanda//Repeat/Waltzing Matilda/The Legend Of Lord Thomas/John Henry/We Shall Overcome/Gotta Travel On |
| | CL-2156/CS-8956 |
| | CL-2157/CS-8957 - Of Love, of War, of Many Things: The Last Great Troubadour - Seraffyn [3-64] With Carolyn Wilmshurst. The War-Song Of Dinas Fawr (Men Of Harleach)/Will Ye No Come Back Again?/The Bonnie Earl O'Mowray/The Song Of Wandering Aengus/Try To Remember/Early One Morning//The Road To The Isles/Little Tiny Boy/The Cowboy's Lament/The Owl And The Pussycat/Cock Robin |
| | CL-2158/CS-8958 - Sound Stage! - André Previn [4-64] With Johnny Williams, big band director. You Oughta Be In Pictures/The Way You Look Tonight/Zip-A-Dee-DooDah/Swinging On A Star/I Only Have Eyes For You/Around The World//Someday My Prince Will Come/There Will Never Be Another You/When You Wish Upon A Star/Stella By Starlight/Summertime/That Old Black Magic |
| | CL-2159/CS-8959 - Today - New Christy Minstrels [3-64] (4-64, #9) Company Of Cowards/This Ol' Riverboat/Love Theme/Whistlin' Dixie/Anything Love Can Buy/Ladies//Charleston Town/Company Q Whistle March/Way Down In Arkansas/Brackenby's Music Box/Riverboat Theme/Today |
| | Note: CL-2160 through CL-2162 are included in the mono-only three-record box set Jazz Odyssey, Volume III (Columbia C3L-33). |
| | CL-2160 (C3L-33) - Jazz Odyssey, Volume III: The Sound of Harlem, Record 1 - Various Artists [8-64] Record one in three-record set C3L-33, issued in mono only. Crazy Blues - Mamie Smith & Her Jazz Hounds/Sounds Of Africa - Eubie Blake/I'm Craving For That Kind Of Love - Gertrude Saunders with Tim Brymn & His Black Devil Orchestra/Keep Off The Grass - James P. Johnson/What Do You Care? - Edith Wilson with Johnny Dunn's Jazz Hounds/Satisfied Blues Lemuel Fowler/Original Charleston Strut - Thomas Morris & His Past Jazz Masters/Down In The Mouth Blues - Texas Blues Destroyers//In Harlem's Araby - Get Happy Band/Take It Easy - Monette Moore/Keep Your Temper - Gulf Coast Seven/Make Me Know It - Fess Williams & His Royal Flush Savoy Orchestra/Lindbergh Hop - Roy Williams & His Orchestra/Livery Stable Blues - Fletcher Henderson & His Orchestra/Standing In The Rain Blues - Bessie Smith/One O'Clock Blues - Leroy Tibbs & His Connie's Inn Orchestra |
| | CL-2161 (C3L-33) - Jazz Odyssey, Volume III: The Sound of Harlem, Record 2 - Various Artists [8-64] Record two in three-record set C3L-33, issued in mono only. Sgt. Dunn's Bugle Call Blues - Johnny Dunn & His Band/Do What You Did Last Night - Ethel Waters/Ain't Misbehavin' - Louis Armstrong & His Orchestra/Funny Feathers - Victoria Spivey/New Call Of The Freaks - Luis Russell & His Orchestra/Red Beans And Rice - Gladys Bentley/My Particular Man - Alberta Hunter/He Wouldn't Stop Doing It - Hokum Trio//Double Check Stomp - Mills Ten Blackberries/Oh, Mr. Mitchell - Clara Smith/Texas Twist - Mattie Hite/Hot Lovin' - Clarence Williams & His Orchestra/Draggin' My Poor Heart Around - Thomas "Fats" Waller & His Hot Piano/Horse Feathers - Cliff Jackson & His Crazy Kats/My Man O'War - Lena Wilson/Keep Your Hand Off My Mojo - Grant & Wilson |
| | CL-2162 (C3L-33) - Jazz Odyssey, Volume III: The Sound of Harlem, Record 3 - Various Artists [8-64] Record three in three-record set C3L-33, issued in mono only. Corrine, Corrina - Cab Calloway & His Orchestra/Chant Of The Weed - Harlan Lattimore & His Connie's Inn Orchestra/Memories Of You - Garland Wilson/Oh, Lady Be Good! - Buck & Bubbles/Baby, Ain't You Satisfied - Dicky Wells's Shim Shammers/Mush Mouth - Claude Hopkins & His Orchestra/Wild Waves - Baron Lee & His Blue Rhythm Orchestra/Let's Get Together - Chick Webb's Savoy Orchestra//Uproar Shout - Erskine Hawkins & His 'Bama State Collegians/Blue Rhythm Fantasy - Teddy Hill & His Orchestra/Brittwood Stomp - Frankie Newton & His Uptown Serenaders/You Can't Be Mine - Billie Holiday & Her Orchestra/When Lights Are Low - Benny Carter & His Orchestra/Sweet Lorraine - Teddy Wilson & His Orchestra/It's Time To Jump And Shout - Jimmie Lunceford & His Orchestra/Epistrophy - Cootie Williams & His Orchestra |
| | CL-2163/CS-8963 - Unforgettable: A Tribute to Dinah Washington - Aretha Franklin [1964] Robert Mersey, arranger/conductor. Unforgettable/Cold, Cold Heart/What A Diff'rence A Day Made/Drinking Again/Nobody Knows The Way I Feel This Morning//Evil Gal Blues/Don't Say You're Sorry Again/This Bitter Earth/If I Should Lose You/Soulville |
| | CL-2164/CS-8964 - Big Band and Quartet in Concert - Monk [3-64] "Monk," of course, is Thelonius Monk. I Mean You/Evidence/When It's Darkness On The Delta//Oska T./Played Twice/Four In One/Epistrophy |
| | CL-2165/CS-8965 - The First Hurrah! - Clancy Brothers & Tommy Makem [2-64] (5-64, #91) The Leaving Of Liverpool/The Mermaid/Rocky Road To Dublin/Johnny Todd/Rosin The Bow/The West's Awake//Row, Bullies, Row/Gallant Forty-Twa/An Poc Ar Buille (The Mad Goat)/Carrickfergus/Bonny Charlie/Kelly, The Boy From Killann |
| | CL-2166/CS-8966 - The Love Song of Tom Jones and Other Motion Picture Music - Jerry Murad's Harmonicats [3-64] Seven Days In May/The Cardinal (Stay With Me)/Theme From "The Prize"/Charade/Antony And Cleopatra Theme/The Love Song Of Tom Jones//The Pink Panther Theme/Theme From "The Victors" (My Special Dream)/Wives And Lovers/Love With The Proper Stranger/It's A Mad, Mad, Mad, Mad World/Theme From "Lawrence Of Arabia" |
| | CL-2167/CS-8967 - More Themes for Young Lovers - Percy Faith & His Orchestra [4-64] (5-64, #110) You Don't Own Me/Forget Him/Anyone Who Had A Heart/Sugar Shack/I'll Take You Home/Judy//Wives And Lovers/Blue On Blues/See The Funny Little Clown/Popsicles And Icicles/Since I Fell For You/Um, Um, Um, Um, Um, Um |
| | CL-2168/CS-8968 - Cool Sax, Warm Heart - Eddie Harris [4-64] Chicago Serenade/Since I Fell For You/Stum Stang/Django's Castle/More Soul, Than Soulful//Everything Happens To Me/But Not For Me/Brother Ed/Hip Hoppin' |
| | CL-2169/CS-8969 - Saginaw, Michigan - Lefty Frizzell [3-64] (4-64 #2-CW) Saginaw, Michigan/Stranger/What Good Did You Get (Out Of Breaking My Heart)/There's No Food In This House/When It Rains The Blues/Hello To Him (Goodbye To Me)//James River/I'm Not The Man I'm Supposed To Be/Through The Eyes Of A Fool/I Was Coming Home To You/Don't Let Her See Me Cry/Lonely Heart |
| | CL-2170/CS-8970 - Call Me Skeets! - Skeets McDonald [3-64] Call Me Mr. Brown/Dear John (I've Sent Your Saddle Home)/You Warned Me/Everglades/What A Fool I Was/Fast Company//Chin Up--Chest Out/I'd Hate To Be Him/Same Old Town/I've Gotta Show You/This Old Broken Heart/He'll Let You Live A Little |
| | CL-2171/CS-8971 - The Academy Award Winning "Call Me Irresponsible" and Other Hit Songs from the Movies - Andy Williams [4-64] (5-64, #5) Robert Mersey, conductor. Charade/Mona Lisa/Call Me Irresponsible/I'll Never Stop Loving You/Madrigal/Be My Love//More/Laura/Anniversary Song/Gigi/The Song From Moulin Rouge (Where Is Your Heart)/Love Letters |
| | CL-2172 - The Exciting New Liverpool Sound: The Authentic Mersey Beat - Various Artists [2-64] Issued in mono only. Introduction To The Liverpool Sound/Let's Stomp - Faron's Flamingos/You've Got Everything - Sonny Webb & Cascades/Let's Turkey Trot - Ian & Zodiacs/Talkin' 'Bout You - Faron's Flamingos/Sigh, Cry, Almost Die - Del Renas/Someday (When I'm Gone From You) - Mark Peters & Silhouettes//I Can Tell - Rory Storm & Hurricanes/Who Shot Sam Sonny Webb & Cascades/When Will I Be Loved - Del Renas/It Ain't Necessarily So - Ian & Zodiacs/Border Of The Blues - Sonny Webb & Cascades/All Around The World - Earl Presto & T.T.'s |
| | CL-2173/CS-8973 - There Stands the Glass - Carl Smith [5-64] (6-64 #9-CW) Slowly/Wondering/Love, Love, Love/Back Street Affair/So Used To Lovin' You/I'm Tired//There Stands The Glass/More And More/How Do You Talk To A Baby/Yes I Know Why/That Heart Belongs To Me/I Don't Care |
| | CL-2174/CS-8974 - Wild Orchids: The Exotic Sounds of Rex Kona and His Mandarins - Rex Kona & His Mandarins [5-64] Kisses Sweeter Than Wine/Moonlight In Vermont/Ginza Girl/Sushi/Halavah/Trolley Song//Patricia/Will He Like Me?/Bushi, Bushi/Peg O' My Heart/Bird Train/Wild Orchids |
| | CL-2175/CS-8975 - When Lights Are Low - Tony Bennett [4-64] (5-64, #79) With Ralph Sharon Trio. Nobody Else But Me/When Lights Are Low/On Green Dolphin Street/Ain't Misbehavin'/It's A Sin To Tell A Lie/I've Got Just About Everything//Judy/Oh! You Crazy Moon/Speak Low/It Had To Be You/It Could Happen To You/The Rules Of The Road |
| | CL-2176/CS-8976 - Island Woman - Marty Robbins [4-64] The Mango Song/Girl From Spanish Town/Blue Sea/Calypso Vacation/Calypso Girl/Native Girl//Bahama Mama/Tahitian Boy/Kingston Girl/Back To Montego Bay/A Woman Gets Her Way/Sweet Bird Of Paradise |
| | CL-2177/CS-8977 |
| | CL-2178/CS-8978 - Miles & Monk at Newport - Miles Davis Sextet featuring John Coltrane & "Cannonball" Adderley (side one)/Thelonious Monk Quartet & Pee Wee Russell (side two) [5-64] Ah-Leu-Cha/Straight, No Chaser/Fran-Dance/Two Bass Hit - Miles Davis Sextet//Nutty/Blue Monk - Thelonious Monk Quartet |
| | CL-2179/CS-8979 - That Newport Jazz - Newport Jazz Festival "House" Band (side one)/Newport All-Stars (side two) [5-64] Undecided - Newport Jazz Festival "House" Band/These Foolish Things (Remind Me Of You) - Coleman Hawkins/Sweet Georgia Brown Newport Jazz Festival "House" Band/Stardust - Clark Terry/Chasin' at Newport - Clark Terry and Howard McGhee//Rosetta/Just You, Just Me/When Your Lover Has Gone/Lester Leaps In Newport All-Stars |
| | CL-2180/CS-8980 - Shakespeare's Greatest Hits - Earl Wrightson [5-64] Music by Dick Hyman. Take, O Take Those Lips Away/When Daffodils Begin To Peer/Under The Greenwood Tree/Lawn As White As Driven Snow/Sigh No More, Ladies, Sigh No More/Winter And Spring: When Icicles Hang By The Wall-When Daisies Pied//It Was A Lover And His Lass/O, Mistress Mine/Will You Buy Any Tape/When That I Was And A Little Tiny Boy/Come Away, Come Away, Death/Blow, Blow, Thou Winter Wind/Who Is Silvia |
| | CL-2181/CS-8981 - Be My Love - Jerry Vale [7-64] (8-64, #26) Glenn Osser, arranger/conductor. Love Is A Many-Splendored Thing/Because Of You/Unchained Melody/Because/Mona Lisa/Because You're Mine//Be My Love/Why Don't You Believe Me/All The Way/Too Young/Secret Love/Vaya Con Dios |
| | CL-2182/CS-8982 - Cathexis - Denny Zeitlin [4-64] Repeat/I-Thou/Stonehenge/Soon/Nica's Tempo//Cathexis/'Round Midnight/Little Children, Don't Go Near That House/Blue Phoenix |
| | CL-2183/CS-8983 - Miles Davis in Europe - Miles Davis [8-64] (9-64, #116) Introduction/Autumn Leaves/Milestones/Joshua//All Of You/Walkin' |
| | CL-2184/CS-8984 - It's Monk's Time - Thelonious Monk [7-64] Lulu's Back In Town/Memories Of You/Stuffy Turkey//Brake's Sake/Nice Work If You Can Get It/Shuffle Boil |
| | CL-2185/CS-8985 - I Wish You Love - Andre Kostelanetz & His Orchestra [7-64] Fools Rush In (Where Angels Fear To Tread)/Maria Elena/Hello, Dolly!/Deep Purple/I Will Follow Him/Blue Velvet//I Wish You Love/Java/Shangri-La/Bluesette/Ebb Tide/The Fall Of Love |
| | CL-2186/CS-8986 - The Greatness of Joe Mooney - Joe Mooney [5-64] Mundell Lowe, arranger/conductor. Wait Till You See Her/But Beautiful/The Second Time Around/I Wish You Love/Call Me Irresponsible/Nobody Else But Me//Once Upon A Summertime/Lollipops And Roses/This Is All I Ask/What Kind Of Fool Am I?/Days Of Wine And Roses/The Good Life |
| | CL-2187/CS-8987 - Land of Giants - New Christy Minstrels [7-64] (8-64, #48) Land Of Giants (Theme)/Joe Magarac/John Henry And The Steam Drill/Paul Bunyan/Casey Jones/Stormy/Mighty Big Ways//Mount Rushmore/Blacksmith Of Brandywine/Natural Man/Appleseed John/El Camino Real/My Name Is Liberty |
| | CL-2188/CS-8988 - The Songs We All Love Best - Jimmy Dean [4-64] With Chuck Cassey Singers. Peter Matz, arranger/conductor. Introduction-Wait For The Wagon/Aura Lee/Blues Stay Away From Me/Shenandoah/White Silver Sands/Let The Rest Of The World Go By//Moonlight Mississippi/Cimarron/When Your Old Wedding Ring Was New/Fort Worth Jail/Home On The Range/Carolina Moon |
| | CL-2189/CS-8989 - Love Life - Ray Price [8-64] (9-64 #3-CW) This Cold War With You/Take Me As I Am (Or Let Me Go)/All Right (I'll Sign The Papers)/I Fall To Pieces/I Don't Know Why (I Keep Loving You)/How Long Is Forever//Please Talk To My Heart/A Way To Free Myself/You're Stronger Than Me/Same Old Memories/Still/Cold, Cold Heart |
| | CL-2190/CS-8990 - I Walk the Line - Johnny Cash [6-64] (7-64, #53 & #1-CW) This album features Columbia remakes of his Sun Records hits of the 1950s. I Walk The Line/Bad News/Folsom Prison Blues/Give My Love To Rose/Hey Porter/I Still Miss Someone//Understand Your Man/Wreck Of The Old 97/Still In Town/Big River/Good Bye, Little Darlin' Goodbye/Troublesome Waters |
| | CL-2191/CS-8991 - By Special Request: The Trio Los Panchos Sing Great Love Songs in English - Trio Los Panchos [7-64] Love Is A Many-Splendored Thing/My Foolish Heart/April In Portugal/Three Coins In The Fountain/Non Dimenticar (Don't Forget)/Always//You Belong To My Heart/Stranger In Paradise/Till/Orchids In The Moonlight/Mona Lisa/Vaya Con Dios |
| | CL-2192/CS-8992 - Septet: The New Sound of Art Van Damme - Art Van Damme [6-64] Sweet Georgia Brown/Things Ain't What They Used To Be/Mit Fluegel/Cry Me A River/Planaria/Get Me To The Church On Time//Jing A Jing/Bluesette/Once Upon An Island/It's A Wonderful World/Smoke Rings/I Hear Music |
| | CL-2193/CS-8993 - Another Side of Bob Dylan - Bob Dylan [8-8-64] (9-64, #43) All I Really Want To Do/Black Crow Blues/Spanish Harlem Incident/Chimes Of Freedom/I Shall Be Free No. 10/To Ramona//Motorpsycho Nightmare/My Back Pages/I Don't Believe You/Ballad In Plain D/It Ain't Me Babe |
| | CL-2194/CS-8994 - Struttin' at the World's Fair - Dukes of Dixieland [5-64] The Big Parade/Fair Is Fair (Official Song Of The New York World's Fair, 1964-65)/Sweethearts On Parade/Swingin' Sousa/Caravan//Colonel Bogey March/Caboose On The Loose/Louisiana/The Dukes Come Marching Home/Paducah Parade |
| | CL-2195/CS-8995 - My Fair Lady - André Previn & His Quartet [9-64] (12-64, #147) You Did It/The Rain In Spain/Without You/I Could Have Danced All Night/On The Street Where You Live//With A Little Bit Of Luck/I've Grown Accustomed To Your Face/I'm An Ordinary Man/Wouldn't It Be Loverly/Get Me To The Church On Time |
| | CL-2196/CS-8996 |
| | CL-2197/CS-8997 - Slippin' Around - George Morgan & Marion Worth [6-64] (9-64 #12-CW) Slipping Around/Please Help Me I'm Falling/I Love You So Much It Hurts/How Can We Plan The Future/Too Busy Saying Goodbye/Sin And Silver//I'm Thinking Tonight Of My Blue Eyes/Slowly/(Stolen Love Is) The Beginning Of The End/The Eyes Of The World/I'll Call You Charlie (You Call Me Joan)/Just Your Conscience |
| | CL-2198/CS-8998 |
| | CL-2199/CS-8999 - Johnny Carson's Introduction to New York and the World's Fair - Johnny Carson [6-64] With Rosemary Rice, Jo Ann Pflug, Bob Dryden, and Bob McFadden. Introduction And Where To Stay/Getting To The Fair/What To Wear/Money Matters/Dining/The International Area//The Federal And States Area/The Transportation Area/The Lake Amusement Area/The Industrial Area (I)/The Industrial Area (II) |