On January 1, 1966, Simon & Garfunkel's single "The Sounds of Silence" hit #1 on the Billboard Hot 100 chart, and Columbia put together an album of the same name to be released sixteen days later. Just another "overnight success for the chart newcomers? Hardly.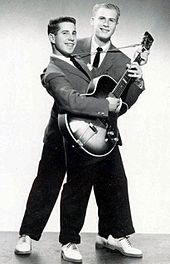 Paul Simon and Art Garfunkel had been schoolmates in elementary and high school in New York City, where they recorded a self-penned song, "Hey Schoolgirl," at a local studio. They were overheard by an independent record label owner, who signed them and released the record as by "Tom & Jerry," the name of a cartoon strip. Simon billed himself as Jerry Landis and Garfunkel was Tom Graph (shown at right, 1957). The record was promoted extensively and eventually made #51 nationally, but followup singles failed and soon the record label, Big Records, went out of business.

Tom & Jerry broke up as a group, but both continued recording separately under a variety of names while attending college. After Simon graduated in 1963, he and Garfunkel rejoined to sing folk music in New York while Garfunkel was still attending Columbia. Billed as "Kane & Garr," they sang three new songs at an open-microphone night in late 1963, including "He Was My Brother" and "The Sound of Silence." Columbia producer Tom Wilson, who worked with Bob Dylan, wanted to use "He Was My Brother" for a new folk group he was working with called the Pilgrims. [Indeed, the song was included on the Pilgrims' September, 1964, debut album Just Arrived!, Columbia CL-2233/CS-9033.] Simon, not content to be just a songwriter, asked for a studio audition, and the duo, after singing "The Sound of Silence" at the audition, were signed under their own names as Simon & Garfunkel.

Columbia recorded S&G on enough tracks for an album in March, 1964. At that time, even though the British Invasion was in full swing, folk music was still strong in the US. The songs were straight ahead folk music, with the two voices on separate tracks in stereo, backed by Simon's guitar and some others, but precious little else. "The Sound of Silence" was included on the album, mistitled "The Sounds of Silence" — a mistake that would carry on for decades — buried at the end of side one. The album was released in October as Wednesday Morning, 3 A.M. It sold rather poorly, reportedly only moving some 3,000 copies after release. Simon and Garfunkel were disappointed and split up again, figuring that this was not going to be their path to success. Simon moved to England to try to further his solo career, and Garfunkel went back to school.

While in England in 1964, Simon signed a recording contract with Lorna Music and recorded a single ("He Was My Brother") as well as a series of demos that included many of the songs that would eventually be included on The Sounds of Silence album. They were released in early 1965 on CBS-UK as The Paul Simon Songbook [CBS SBPG 62579]. And that's where it might have all ended...except...

In March, 1965, Bob Dylan released Bringing It All Back Home, the first Dylan offering with rock instrumentation since the long lost and suppressed single "Mixed Up Confusion" in 1962. Dylan going rock? This caused a furor among some fans, the folk purists. It also was welcomed with open arms by most of his fans. More importantly, it opened up a new avenue for the folk music genre, which was dying by that time in competition with the British Invasion and other rock hits. Within weeks, the Byrds had taken one of Dylan's tunes from the album, "Mr. Tambourine Man," which ironically, Dylan had done more- or-less as a straight folk tune, and turned it into a #1 folk-rock monster. This new development was not lost on Tom Wilson, who had produced Bringing It All Back Home. He thought of another folk group from the year before...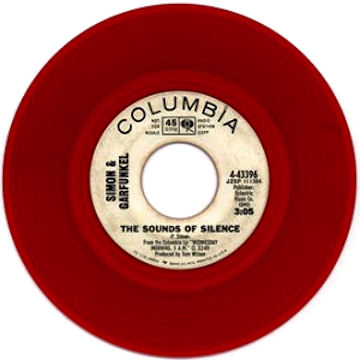 A few stations on the East Coast had started picking up "The Sounds of Silence" off the Wednesday Morning, 3 A.M. album, and it was starting to click with the college crowd. Wilson decided to see what "The Sound of Silence" would sound like with rock instrumentation, so on June 15, 1965, he brought in the same musicians used for the Dylan sessions to add electric guitar, bass, and drums to "The Sound of Silence." The separated vocals were folded down into the middle and the instruments added to give it a new, hard-driving rock sound. Wilson liked the result, and released it as a single in September. By mid- November, it entered the Hot 100 and gathered airplay all over the country. Simon, still in England, didn't hear it, but Garfunkel, in New York, certainly did, and called Simon to tell him to come home, they had a hit. Simon was horrified that his folk tune had been converted to a rock song without so much as a "by your leave" from Tom Wilson. By the time it had reached #1 however, he was learning to like it.

Simon & Garfunkel rejoined, and the rest is history. By 1990, they were in the Rock & Roll Hall of Fame. Oh, yes. And it wasn't until the 1990s that Bob Irwin asked Paul Simon, "just what the heck the name of that song was?" Was it Sound or Sounds? Paul Simon stated definitively that it was originally copyrighted as "The Sound of Silence," all the decades of misprints notwithstanding.



| | |
| --- | --- |
| Cover | Number - Title - Artist - [Release Date] Contents |
| | CL-2400/CS-9200 - Stille Nacht - Kinderchor des volschores Offenbach (Children's Choir of the Offenbach Chorus) [9-65] Stille Nacht, Heilige Nacht (Silent Night, Holy Night)/Morgen Kommt Der Weihnachtsmann (Santa Claus Will Come Tomorrow)/Leise Rieselt Der Schnee (Quietly Falls The Snow)/Still, Still, Weil's Kindlein Schlafen Will (Hush, Hush, Hush, For The Little Baby Sleeps)/Heilige Nacht (Holy Night)/Ihr Kinderlein Kommet (O Come, Little Children)/Auf, Auf, Ihr Hirten (Ye Shepherds Awake)/Süsser Die Glocken Nie Klingen (Never Have Bells Rung So Sweetly)//O Du Fröhliche (O Thou Joyful Day)/Kling, Glöckchen, Klingelingeling (Ring, Little Bells, Ting-A-Ling-A-Ling)/O Tannenbaum (O Christmas Tree)/Kommet, Ihr Hirten (Come, All Ye Shepherds)/Aber Heidschibumbeidschi (Lullaby)/Alle Jahre Wieder (Every Year Again)/Als Ich Bei Meinen Schafen Wacht (While By My Sheep I Watched At Night)/Stille Nacht, Heilige Nacht (Silent Night, Holy Night) |
| | CL-2401/CS-9201 - The First Thing Ev'ry Morning - Jimmy Dean [8-65] (10-65 #1-CW) The First Thing Ev'ry Morning (And The Last Thing Ev'ry Night)/Under The Sun/Dear Heart/Too Many Times/Someday (You'll Want Me To Want You)/Shutters And Boards//Anytime/'Til Tomorrow/Where Were You When I Needed You/All By Myself/Put On Your Old Grey Bonnet/Harvest Of Sunshine |
| | CL-2402/CS-9202 - The Beverly Hillbillies - TV Cast [10-65] Reissued as Harmony HL-7469/HS-11269. The Ballad Of Jed Clampett - Lester Flatt & Earl Scruggs/Beverly Hills - Entire Cast/Vittles - Granny (Irene Ryan) & Cast/A Long Talk With That Boy - Jed (Buddy Ebsen) & Jethro (Max Baer)/Jethro's A Powerful Man - Jed (Buddy Ebsen) & Jethro (Max Baer)/Elly's Spring Song - Elly (Donna Douglas) & Cast/Back Home U.S.A. - Jed (Buddy Ebsen) & Cast//Critters - Entire Cast/Doctor Granny - Entire Cast/Lady Lessons - Elly (Donna Douglas), Jane (Nancy Kulp) & Cast/Birds An' Bees - Elly (Donna Douglas) & Cast/Love Of Money - Jane (Nancy Kulp) & Mr. Drysdale (Raymond Bailey)/The Ballad Of Jed Clampett - Lester Flatt & Earl Scruggs |
| | CL-2403/CS-9203 - Down in the Boondocks - Billy Joe Royal [8-65] (9-65, #96) Pollyanna/Leaning On You/Heartaches And Teardrops/Funny How Time Slips Away/My Fondest Memories/Down In The Boondocks//I Knew You When/Those Railroad Tracks In Between/Steal Away/Oh, What A Night/King Of Fools/I've Got To Be Somebody |
| | CL-2404/CS-9204 - Jimmy Dean's Christmas Card - Jimmy Dean [9-65] Blue Christmas/Jingle Bells - Robert Dean & Friend/Silver Bells/Have Yourself A Merry Little Christmas/My Christmas Room/White Christmas//Yes, Patricia, There Is A Santa Claus/Medley: O Little Town Of Bethlehem; God Rest Ye Merry, Gentlemen; The First Noel; Joy To The World; We Wish You A Merry Christmas/The Cowboy's Prayer (Poem)/It Came Upon The Midnight Clear/Silent Night, Holy Night/Jimmy's Christmas Card |
| | CL-2405/CS-9205 - Music of Christmas, Volume 2 - Percy Faith [9-65] Reissue of Hallelujah!, CL-1187/CS-8033. Hallelujah Chorus/Away In A Manger/We Three Kings Of Orient Are/Gesu Bambino (The Infant Jesus)/Angels We Have Heard On High/Bring A Torch, Jeanette, Isabella/Good Christian Men, Rejoice//Carol Of The Bells/I Wonder As I Wander/I Saw Three Ships/What Child Is This (Greensleeves)/Angels, From The Realms Of Glory/O, Tannenbaum/Christians, Awake! |
| | CL-2406/CS-9206 - Here We Come A-Caroling: Ray Conniff's Christmas Album - Ray Conniff [9-65] First cover. Later repackaged with CS-9300 as two-record set GP-3. Here We Come A-Caroling/Silent Night, Holy Night/God Rest Ye Merry, Gentlemen/Away In A Manger/Joy To The World/Adoramus Te//The Real Meaning Of Christmas/Go Tell It On The Mountain/What Child Is This?/O Tannenbaum/It Came Upon The Midnight Clear/O Little Town Of Bethlehem |
| | CL-2406/CS-9206 - Here We Come A-Caroling: Ray Conniff's Christmas Album - Ray Conniff [1967?] Second cover. Later repackaged with CS-9300 as two-record set GP-3. Here We Come A-Caroling/Silent Night, Holy Night/God Rest Ye Merry, Gentlemen/Away In A Manger/Joy To The World/Adoramus Te//The Real Meaning Of Christmas/Go Tell It On The Mountain/What Child Is This?/O Tannenbaum/It Came Upon The Midnight Clear/O Little Town Of Bethlehem |
| | CL-2407/CS-9207 - Scottish Heritage - Pipes & Drums of the 48th Highlanders of Canada [11-65] MacLeod Of Mull; Rab's Wedding; Captain Craig Brown/Lord Alexander Kennedy; Bogan Lochan; Pretty Marion/The Heroes Of Caen; The Heroes Of Dunkirk/Pipe Major Willie Gray's Farewell To The Glasgow Police; The Australian Ladies; Men Of Argyll//By Loch Etive's Side; The Banks Of The Aora; Leaving Lismore/Dugald MacColl's Farewell To France; Inverary Castle; Bessie MacIntyre/Morag Of Dunvegan; Clydeside; Lord Dunsmore; The Stool Of Repentance; The Tenpenny Bit/The Royal Scots; Liberton Boys |
| | CL-2408/CS-9208 - The Man Called Shenandoah - Robert Horton [10-65] High Noon (Do Not Forsake Me)/Riders In The Sky (A Cowboy Legend)/King Of The Road/Wand'rin' Star/They Came To Cordura/Sail Ho! (The Mirage Song)//Shenandoah/Julie/They Call The Wind Maria/Houston/El Paso |
| | CL-2409/CS-9209 - My Name Is Barbra, Two . . . - Barbra Streisand [9-65] (11- 65, #2) He Touched Me/The Shadow Of Your Smile/Quiet Night/I Got Plenty Of Nothin'/How Much Of The Dream Comes True/Second Hand Rose//The Kind Of Man A Woman Needs/All That I Want/Where's That Rainbow?/No More Songs For Me/Medley: Second Hand Rose; Give Me The Simple Life; I Got Plenty Of Nothin'; Brother Can You Spare A Dime?; Nobody Knows You When You're Down And Out; Second Hand Rose; The Best Things In Life Are Free |
| | CL-2410/CS-9210 - The Hullabaloo Show - Hullabaloo Singers and Orchestra, Arranged & Conducted by Peter Matz [9-65] Hullabaloo Theme/I Can't Help Myself/I Can't Get No Satisfaction/What The World Needs Now Is Love/Help!/The In Crowd//Hullago/Yeh, Yeh/I'm Telling You Now/Mr. Tambourine Man/You've Lost That Lovin' Feelin' |
| | CL-2411/CS-9211 - El Bravo! - Mongo Santamaria [10-65] El Bravo (The Brave One)/Casabe (Cassava)/Miedo (Fear)/Black Stockings/Monica/Lucky Mambo//Cinderella/La Justicia (Justice)/Ol' Guajira/Estrada Do Sol (Street Of The Sun)/Mantquero (Ice Cream Vendor) |
| | CL-2412/CS-9212 - Of Course/Of Course - Charles Lloyd Quartet [10-65] Of Course, Of Course/The Song My Lady Sings/The Best Thing For You/The Things We Did Last Summer/Apex//One For Joan/Goin' To Memphis/Voice In The Night/Third Floor Richard |
| | CL-2413/CS-9213 - Music for the Late Hours: The Tony Bennett Song Book - Ralph Sharon Trio [10-65] Just In Time/I Wanna Be Around/Who Can I Turn To (When Nobody Needs Me)/One For My Baby (And One More For The Road)/The Kid's A Dreamer (The Kid From Fool's Paradise)/Blues For A Rainy Day//The Good Life/You Came A Long Way From St. Louis/Born To Be Blue/(I Left My Heart) In San Francisco/Stranger In Town/Blues For Mr. T |
| | CL-2414/CS-9214 - Christmas with Patti Page - Patti Page [9-65] Rudolph, The Red-Nosed Reindeer/Silver Bells/Santa Claus Is Comin' To Town/Jingle Bells/'Twas The Night Before Christmas//Little Drummer Boy/Happy Birthday, Jesus (A Child's Prayer)/Pretty Snow Flakes/Christmas Bells/Santo Natale/We Wish You A Merry Christmas |
| | CL-2415/CS-9215 - Tiger Woman - Claude King [9-65] Tiger Woman/Catch A Little Raindrop/Anna/That's The Way The Wind Blows/Ancient History/I Won't Be Long In Your Town//Hold That Tiger (Tiger Rag)/It's Good To Have My Baby Home/Little Buddy/Come On Home/Great Big Tears/There Ain't Gonna Be No More |
| | CL-2416/CS-9216 - Misterioso - Thelonious Monk [10-65] Well, You Needn't/Misterioso/Light Blue/I'm Getting' Sentimental Over You//All The Things You Are/Honeysuckle Rose/Bemsha Swing/Evidence |
| | CL-2417/CS-9217 - Father of the Folk Blues - Son House [10-65] Death Letter/Pearline/Louise McGhee/John The Revelator/Empire State Express//Preachin' Blues/Grinning In Your Face/Sundown/Levee Camp Moan |
| | CL-2418/CS-9218 - Robert Goulet on Broadway - Robert Goulet [10-65] (12-65, #33) On A Clear Day You Can See Forever/Hello, Dolly!/Sunrise, Sunset/Look For Small Pleasures/Dear Love/Who Can I Turn To (When Nobody Needs Me)//She Touched Me/Night Song/People/Long Ago/If I Ruled The World/Come Back To Me |
| | CL-2419/CS-9219 - The Steve Lawrence Show - Steve Lawrence [9-65] (12-65, #133) Once In A Lifetime/Love Theme From "The Sandpiper" (The Shadow Of Your Smile)/Where Can I Go/The Sweetheart Tree/The Warm Hours/What's New Pussycat?//Millions Of Roses/A Room Without Windows/Remember/What Now My Love/You'll Never Know/The Time Has Come To Say Goodnight |
| | CL-2420/CS-9220 - Merry Christmas - Andy Williams [10-65] Sleigh Ride/Have Yourself A Merry Little Christmas/Winter Wonderland/My Favorite Things/Let It Snow! Let It Snow! Let It Snow!/Christmas Holiday//Some Children See Him/Do You Hear What I Hear?/Little Altar Boy/Silver Bells/Mary's Little Boy Child/The Bells Of St. Mary's |
| | CL-2421/CS-9221 - A Remembered Love: The Romantic Piano of Bill Pursell - Bill Pursell [11-65] Remembered Love/People/Who Can I Turn To (When Nobody Needs Me)/When I Fall In Love/Once I Loved (O Morro)//Brasilia/You've Lost The Lovin' Feelin'/Autumn/Blues For Julie/Quiet Nights Of Quiet Stars (Corcovado)/Madrilena |
| | CL-2422/CS-9222 |
| | CL-2423/CS-9223 - Polkas and Waltzes Just for Fun - Frankie Yankovic & His Yanks [11-65] In Heaven There Is No Beer/Billows' Polka/Smile, Sweetheart, Smile/Toy Accordion/When Banana Skins Are Falling (I'll Come Sliding Back To You)/Teach Me How To Yodel//The Last Time I Saw Henry/Barking Dog Polka (Ko Psi Zalajajo)/Dancing With Alice/Alpine Climbers' Ball/Peanuts/Broken Wine Glasss |
| | CL-2424/CS-9224 - The Beginning - Bobbe Norris [3-66] Ill Wind/Joey, Joey, Joey/Make The Man Love Me/How Insensitive/Mountain High, Valley Low/Put Your Little Foot Right Out//Lover Man (Oh, Where Can You Be?)/Show Me/Quiet Room/You're My Thrill/What's Wrong With Me?/Days Of Wine And Roses |
| | CL-2425/CS-9225 - What's New Harmonicats? - Jerry Murad's Harmonicats [1-66] Everybody Loves A Clown/Yesterday/Ring Dang Doo/Blowin' In The Wind/Like A Rolling Stone/Turn! Turn! Turn! (To Everything There Is A Season)//A Lover's Concerto/A Taste Of Honey/Get Off My Cloud/Where Have All The Flowers Gone/Mr. Tambourine Man/Positively 4th Street |
| | Note: CL-2426 through CL-2428 wwere issued as part of the mono-only Billie Holiday box set The Golden Years, Volume 2 (Columbia C3L-40). |
| | CL-2426 (C3L-40) - The Golden Years, Volume 2, Record 1 - Billie Holiday [3-66] Record one in three-record set C3L-40, issued in mono only. A Sunbonnet Blue (And A Yellow Straw Hat)/I'm Painting The Town Red/What A Night, What A Moon, What A Girl/You Let Me Down/It's Too Hot For Words/It's Like Reaching For The Moon/One Never Knows Does One?/I've Got My Love To Keep Me Warm//My Last Affair/You Showed Me The Way/Sentimental And Melancholy/Let's Call The Whole Thing Off/Moanin' Low/Carelessly/Where Is The Sun/How Could You |
| | CL-2427 (C3L-40) - The Golden Years, Volume 2, Record 2 - Billie Holiday [3-66] Record two in three-record set C3L-40, issued in mono only. Mean To Me/I'll Get By/Sun Showers/He's Funny That Way/My Man/Nice Work If You Can Get It/Can't Help Lovin' Dat Man/My First Impression Of You//I Can't Believe That You're In Love With Me/Now They Call It Swing/If I Were You/You Can't Be Mine (And Someone Else's Too)/I've Got A Date With A Dream/I'm Gonna Lock My Heart And Throw Away The Key/They Say/Say It With A Kiss |
| | CL-2428 (C3L-40) - The Golden Years, Volume 2, Record 3 - Billie Holiday [3-66] Record three in three-record set C3L-40, issued in mono only. Sugar/More Than You Know/Why Did I Always Depend On You/Night And Day/You're A Lucky Guy/Falling In Love Again/I'm All For You/I Hear Music//Practice Makes Perfect/It's The Same Old Story/St. Louis Blues/Solitude/I'm In A Lowdown Groove/Let's Do It/Mandy Is Two/It's A Sin To Tell A Lie |
| | CL-2429/CS-9229 - Dance to the Hits Heckscher Style - Ernie Heckscher & His Fairmont Orchestra [10-65] Cast Your Fate To The Wind/My Heart Is Still In Venice/A Taste Of Honey/Unchained Melody/Near You/What's New Pussycat?//Marie/A Walk In The Black Forest/Love Theme From "The Sandpiper" (The Shadow Of Your Smile)/Two Different Worlds/Theme From "A Summer Place"/The "In" Crowd |
| | CL-2430/CS-9230 - Since I Fell for You - Lenny Welch [10-65] (1-66, #147) Abridged reissue of Cadence CLP-3068/CLP-25068. Since I Fell For You/A Taste Of Honey/Ebb Tide/You Can Have Her/I Need Someone/Mama, Don't You Hit That Boy//You Don't Know Me/Stranger In Paradise/Are You Sincere?/It's Just Not That Easy/I'm In The Mood For Love |
| | CL-2431/CS-9231 - Joy Bells Ringing in My Soul - Chuck Wagon Gang [12-65] Moses (Was The Man)/I Thank You, Lord/Please, Sweet Jesus, Rescue Me/I Want To See My Jesus/Joy Bells Ringing In My Soul/Beyond The Setting Sun//You Can Depend On Him/I Want To See You Over Yonder/I'll Be There/I'll Never Doubt It/Without Him/I'll Keep On Walking |
| | CL-2432/CS-9232 - God Bless the Grass - Pete Seeger [1-66] The Power And The Glory/Pretty Saro/70 Miles/The Faucets Are Dripping/Cement Octopus/God Bless The Grass/The Quiet Joys Of Brotherhood/Coal Creek March//The Girl I Left Behind/I Have A Rabbit/The People Are Scratching/Coyote, My Little Brother/Preserven El Parque Elysian/My Dirty Stream (The Hudson River Song)/Johnny Riley/Barbara Allen/From Way Up There/My Land Is A Good Land |
| | CL-2433/CS-9233 - Soup and Onions/Soul Cookin' by the Roy Meriwether Trio - Roy Meriwether Trio [1-66] Soup And Onions/Little Lousy Jane/Cast Your Fate To The Wind/St. James Infirmary/Screwdriver//A Taste Of Honey/The Ripper/Georgia On My Mind/Satin Doll/Exodus |
| | CL-2434/CS-9234 |
| | CL-2435/CS-9235 - Travellin' Man - Charlie Byrd Trio [12-65] Mama I'll Be Home Someday/Medley: The Folks Who Live On The Hill; Yesterdays/Blues For Felix/U.M.M.G./I Hear A Rhapsody//In The Name Of Love/I Will Wait For You/Do I Hear A Waltz?/Travellin' Man/Nuages/Squeeze Me |
| | CL-2436/CS-9236 - Woody's Winners - Woody Herman [12-65] 23 Red/My Funny Valentine/Northwest Passage/Poor Butterfly/Greasy Sack Blues//Woody's Whistle/Red Roses For A Blue Lady/Opus De Funk And Theme (Blue Flame) |
| | CL-2437/CS-9237 - My Favorite Things - Dave Brubeck Quartet [1-66] (3-66, #133) My Favorite Things/Over And Over Again/Why Can't I/Little Girl Blue//This Can't Be Love/My Romance/Circus On Parade/The Most Beautiful Girl In The World |
| | CL-2438/CS-9238 |
| | CL-2439/CS-9239 - Great Song Hits, Vol. 1 - Kirby Griffin [5-66] For Me And My Gal/It Must Be True (You Are Mine, All Mine)/Serenade In The Night/Home/Red Roses For A Blue Lady/Does Your Heart Beat For Me//Paradise Isle/Stardust/The Blue Skirt Waltz/When Your Old Wedding Ring Was New/A Blues Serenade/I Let A Song Go Out Of My Heart |
| | CL-2440/CS-9240 |
| | CL-2441/CS-9241 - Themes for the "In" Crowd - Percy Faith [1-66] The "In" Crowd/Yesterday/Are You There (With Another Girl)/Let's Hang On/Make It Easy On Yourself/You've Got To Hide Your Love Away//1-2-3/A Lover's Concerto/Here It Comes Again/Thunderball/Everyone's Gone To The Moon/See You Around |
| | CL-2442/CS-9242 - May the Bird of Paradise Fly Up Your Nose - "Little" Jimmy Dickens [11-65] (12-65 #4-CW) I Can't Get Over Me (Not Gettin' Over You)/My Eyes Are Jealous/Honky Tonk Troubles/Collection Of Failures/Call Him Me/Twice The Fool//May The Bird Of Paradise Fly Up Your Nose/The Back Of My Hand/He Knocked Me Right Out Of The Box/Make Me An Offer/Half-Way Loved/A Rose From A Bride's Bouquet |
| | CL-2443/CS-9243 - Town and Country - Lester Flatt & Earl Scruggs [1-66] (2-66 #15-CW) Foggy Mountain Breakdown/Ten Miles From Natchez/Houston/Memphis/Kansas City/The Last Public Hanging In West Virginia//Jackson/The Boys From Tennessee/Nashville Blues/Take Me Back To Tulsa/Detroit City/Seattle Town |
| | CL-2444/CS-9244 - It's Magic - Jerry Vale [1-66] (2-66, #38) It's Magic/Tears (For Souvenirs)/Big Wide World/Be Anything (But Be Mine)/Is It Asking Too Much/My Melancholy Baby//For Me/Ashamed/My Prayer/Red Sails In The Sunset/If It Isn't In Your Heart/Solitude |
| | CL-2445/CS-9245 - The Swinging Electric Sounds of the Ten Tuff Guitars - Ten Tuff Guitars [12-65] Fly Me To The Moon (In Other Words)/Moon River/And I Love Her/Blue Moon/Shine On, Harvest Moon//Moonshot!/Downtown/Desafinado/Volare (Nel Blu Dipinto Di Blu)/Mr. Sandman/A Hard Day's Night |
| | CL-2446/CS-9246 - Mean as Hell! Ballads from the True West - Johnny Cash [3-66] (4-66 #4-CW) All selections originally issued on Columbia C2L-38/C2S-838. The Shifting, Whispering Sands, Part 1/I Ride An Old Paint/The Road To Kaintuck/A Letter From Home/Mean As Hell/25 Minutes To Go//Mister Garfield/The Blizzard/The Streets Of Laredo/Sweet Betsy From Pike/Stampede/Bury Me Not On The Lone Prairie |
| | CL-2447/CS-9247 - Feeling Good - Henry "Red" Allen [6-66] Cherry/Sweet Substitute/Trav'lin' All Alone/Yellow Dog Blues (Interpolation: How Long, How Long Blues)/You're Nobody 'Til Somebody Loves You/Siesta At The Fiesta//Feeling Good/Patrol Wagon Blues/I'm Coming Virginia/Gee Baby, Ain't I Good To You/Rag Mop |
| | CL-2448/CS-9248 - What God Has Done - Marty Robbins [2-66] (3-66 #26-CW) When The Roll Is Called Up Yonder/An Evening Prayer/A Little Spot In Heaven/What God Has Done/You Gotta Climb/Almost Persuaded//There's Power In The Blood/With His Hand On My Shoulder/The Great Speckled Bird/Will The Circle Be Unbroken?/Who At My Door Is Standing/Have Thine Own Way, Lord |
| | CL-2449/CS-9249 - Flowers on the Wall - Statler Brothers [1-66] (2-66, #125; #10-CW) Flowers On The Wall/My Darling Hildegard/King Of The Road/Memphis/I'm Not Quite Through Crying/My Reward//This Ole House/Billy Christian/The Doodlin' Song/Quite A Long, Long Time/The Whiffenpoof Song/I Still Miss Someone |
| | CL-2450/CS-9250 - More Skitch Tonight - Skitch Henderson & "Tonight Show" Orchestra [3-66] It's De-Lovely/You Turned The Tables On Me/Peace Bossa Nova/Trumpets Ole/Snowfall/Anything Goes//Oh, Yeah/Little White Lies/Close Up/Arriba!/Titter Pipes |
| | CL-2451/CS-9251 - Just Like Us - Paul Revere & Raiders [1-66] (2-66, #5) Steppin' Out/Doggone/Out Of Sight/Baby, Please Don't Go/I Know/Night Train//Just Like Me/Catch The Wind/I Can't Get No Satisfaction/I'm Crying/New Orleans/Action |
| | CL-2452/CS-9252 - Mahalia - Mahalia Jackson [1-66] Rusty Bells/Like The Breeze Blows/Somewhere Listening/Shall I Become A Castaway?/Jesus Is The Light/I Thought Of You And Said A Little Prayer//Sunrise, Sunset/Just A Closer Walk With Thee/He Is Here/God Speaks/This Old Building/The Velvet Rose |
| | CL-2453/CS-9253 - "Four" & More: Recorded Live in Concert - Miles Davis [6-66] So What/Walkin'/Joshua; Go-Go (Theme And Announcement)//Four/Seven Steps To Heaven/There Is No Greater Love; Go-Go (Theme And Announcement) |
| | CL-2454/CS-9254 - Turn! Turn! Turn! - Byrds [12-6-65] (1-66, #17) Turn! Turn! Turn! (To Everything There Is A Season)/It Won't Be Wrong/Set You Free This Time/Lay Down Your Weary Tune/He Was A Friend Of Mine//The World Turns All Around Her/Satisfied Mind/If You're Gone/The Times They Are A-Changin'/Wait And See/Oh! Susannah |
| | CL-2455/CS-9255 |
| | CL-2456/CS-9256 - Guitar for Lovers Only - Harold Bradley [2-66] Dream/Autumn Leaves/Dear Heart/Theme From "Picnic"/Love Letters/Moon Mist//Fly Me To The Moon (In Other Words)/Serenade In Blue/As Time Goes By/Days Of Wine And Roses/Moon River/Vibrations |
| | CL-2457/CS-9257 - Athena: The New Sound of Greece - Zoitsa Kouroukli & Thanos Samios [3-66] Zorba's Dance/Horismos (Separation)/Hathikes (You Have Been Lost)/Athina (White Rose Of Athens)/Ta Pedia Tou Pirea (Never On Sunday)/O Kyr' Andonis (Old Mr. Anthony)//Hassapiko Politiko (Instrumental)/San Sfiriksis Tris Phores (If You Whistled Three Times)/Sto Periyiali To Krife (On The Secret Seashore)/Ki' An S' Agapo Den S' Orizo (Even Though I Love You I Don't Own You)/T' Asteri Tou Veria (The Star Of The North)/Kato Sto Yialo (Down To The Shore) |
| | CL-2458/CS-9258 - The Big Country Hits - Jordanaires [3-66] Four Strong Winds/Once A Day/Unloved, Unwanted/Where Does A Little Tear Come From/When I Stop Dreaming/In Them Old Cottonfields Back Home//I Walk The Line/I Don't Love You Any More/I Can't Stop Loving You/I Miss You Already/I'm So Lonesome I Could Cry/Detroit City |
| | CL-2459/CS-9259 - To Be a Man: A Recording Debut - Len Chandler [3-66] To Be A Man/Feet First Baby/Nancy Rose/Bellevue/Missionary Stew #2/Keep On Keepin' On//Shadow Dream Chaser Of Rainbows/Hide Your Heart, Little Hippie/Roll, Turn, Spin/Time Of The Tiger/Takin' Me Away From You Train/Quittin' Time |
| | CL-2460/CS-9260 - Steelband Spectacular: The Sound of the Caribbean - Sunjet Serenaders Steelband [3-66] Summertime/A Taste Of Honey/Piel Canela/Polonaise/Maria/The Donkey Serenade//Sun Dance/Tonight/Poinciana/More/Main Theme From "Exodus"/Artist's Life |
| | CL-2461/CS-9261 - Happiness Is - Ray Conniff, His Singers, His Orchestra, His Sound [3-66] (4-66, #80) Happiness Is/Midnight Lace/Miss You/Popsy/Melodie D'Amour/You Stepped Out Of A Dream//Jamaica Farewell/Blue Moon/If I Knew Then/The Sheik Of Araby/All By Myself/Sweet Sue, Just You |
| | CL-2462/CS-9262 - Recorded Live at the Monterey Jazz Festival - John Handy [3-66] Spanish Lady//If Only We Knew |
| | CL-2463/CS-9263 - Shining Hour: Live at the Trident - Denny Zeitlin Trio [6-66] St Thomas/Carole's Waltz/Spur Of The Moment/Where Does It Lead/Lonely Woman//My Shining Hour/Quiet Now/At Sixes And Sevens/What Is This Thing Called Love |
| | CL-2464/CS-9264 - Il Silenzio - Nini Rosso [3-66] Nostalgia/Starlight Melody/Tr"umerei (Sogno)/The Terry Theme (Arlecchinata)/Solvejg's Song/Il Silenzio//Theme From Tchaikovsky's Piano Concerto No. 1 (Tema Dal Concerto)/Armen's Theme (Canto Armeno)/Serenade (Serenata)/Serenade (I Milioni di Arlecchino)/Nocturne (Noturrno) |
| | CL-2465/CS-9265 - Ray Edenton Plays Uptown Country Music - Ray Edenton [2-66] I Don't Love Nobody/Mississippi Sawyer/Eighth Of January/Lil' Liza Jane/Sally Goodwin/Sally Ann//Cincinnati Rag/Bad Times/Joe Clark/Liberty/Turkey In The Straw/Fire On The Mountain |
| | CL-2466/CS-9266 - Golden Piano Hits - Joe Harnell [3-66] Misirlou/Alley Cat/Sunrise Serenade/Near You/Cast Your Fate To The Winds/Take Five//Autumn Leaves/The "In" Crowd/Polonaise/Canadian Sunset/Snowfall/A Walk In The Black Forest |
| | CL-2467/CS-9267 - The Shadow of Your Smile and Other Great Movie Themes - Andre Kostelanetz [3-66] The Shadow Of Your Smile/Forget Domani/The Sweetheart Tree/The Cincinnati Kid/I Will Wait For You/Love Theme From "Madame X"//Moment To Moment/Juliet's Theme/Lara's Theme/What's New Pussycat?/Ship Of Fools |
| | CL-2468/CS-9268 |
| | CL-2469/CS-9269 - Sounds of Silence - Simon & Garfunkel [1-17-66] (2-66, #21) First cover, with no song titles listed on front cover. Back slick of stereo version shows "Tiger Beat" magazine in Garfunkel's hand in two places. Back slick and record label spell last track on side 1 "Angie" and give writer's credit to Bert Jansch. Later back slicks airbrush out the magazine and correct the spelling to "Anji" with writer's credit corrected to Davy Graham. The Sounds Of Silence/Leaves That Are Green/Blessed/Kathy's Song/Somewhere They Can't Find Me/Angie//Richard Cory/A Most Peculiar Man/April Come She Will/We've Got A Groovy Thing Goin'/I Am A Rock |
| | CL-2469/CS-9269 - Sounds of Silence - Simon & Garfunkel [2-66] (2-66, #21) Second cover, listing song titles on front cover, including "Angie," but without featuring "I Am a Rock" in large letters. The Sounds Of Silence/Leaves That Are Green/Blessed/Kathy's Song/Somewhere They Can't Find Me/Angie//Richard Cory/A Most Peculiar Man/April Come She Will/We've Got A Groovy Thing Goin'/I Am A Rock |
| | CL-2469/CS-9269 - Sounds of Silence - Simon & Garfunkel [5-66] (2-66, #21) Third cover, released at about the time "I Am a Rock" was being promoted as a single. Song "Angie" is corrected to "Anji" on front cover, label, and back slick. This is a nod to Davy Graham's spelling, who wrote it and released it in 1962, spelling it "Angi"; Bert Jansch heard it before it was released, then recorded it in 1965 and spelled it "Angie." The Sounds Of Silence/Leaves That Are Green/Blessed/Kathy's Song/Somewhere They Can't Find Me/Anji//Richard Cory/A Most Peculiar Man/April Come She Will/We've Got A Groovy Thing Goin'/I Am A Rock |
| | CL-2470/CS-9270 |
| | CL-2471/CS-9271 - Music from "Sweet Charity" - Skitch Henderson & His Orchestra [7-66] Sweet Charity Theme/Too Many Tomorrows/You Should See Yourself/Where Am I Going?/Baby Dream Your Dream/I'm A Brass Band//There's Gotta Be Something Better Than This/You Wanna Bet/When Did You Know/If My Friends Could See Me Now/Big Spender/I Love To Cry At Weddings |
| | CL-2472/CS-9272 - The Movie Song Album - Tony Bennett [2-66] (3-66, #18) Song From "The Oscar" (Maybe September)/Girl Talk/The Gentle Rain/Emily/The Pawnbroker/Samba De Orfeu//The Shadow Of Your Smile/Smile/The Second Time Around/Days Of Wine And Roses/Never Too Late/The Trolley Song |
| | CL-2473/CS-9273 - Hey! Let's Party - Mongo Santamaria [4-66] (6-66, #135; 7-66 #19-RB) Walk On By/I Got You (I Feel Good)/In The Mood/Baila Dance/Louie, Louie//(I Can't Get No) Satisfaction/Hey!/Call Me/El Bikini/Shotgun |
| | CL-2474/CS-9274 - Frank Sinatra's Greatest Hits: The Early Years - Frank Sinatra [3-66] The stereo version is rechanneled. I've Got A Crush On You/If You Are But A Dream/Nancy (With The Laughing Face)/The Girl That I Marry/The House I Live In (That's America To Me)/Dream//Saturday Night (Is The Loneliest Night In The Week)/Five Minutes More/The Coffee Song (They've Got An Awful Lot Of Coffee In Brazil)/Sunday, Monday Or Always/Put Your Dreams Away (For Another Day) |
| | CL-2475/CS-9275 - A Living Legend - Mother Maybelle Carter [3-66] I Told Them What You're Fighting For/Kitty Puss/Charlie Brooks/San Antonio Rose/We All Miss You Joe/Black Mountain Rag//A Letter From Home/Tom Cat's Kittens/Let's Be Lovers Again/Give Me Your Love And I'll Give You Mine/There's A Mother Always Waiting |
| | CL-2476/CS-9276 - Don't Go to Strangers - Eydie Gorme [4-66] (6-66. #22) How About Me/What's New/What Did I Have That I Don't Have?/I'll Be Around/If He Walked Into My Life//Don't Go To Strangers/I Wish You Love/How Did He Look/I Wanna Be Around/Tell Him I Said Hello/When He Leaves You |
| | CL-2477/CS-9277 - Isn't It Grand Boys - Clancy Brothers & Tommy Makem [3-66] Nancy Whisky/Galway Races/What Would You Do If You Married A Soldier/Eileen Aroon/Isn't It Grand Boys//Galway City/My Son Ted/Westering Ho/The Cobbler/Mingulay Boat Song/O'Donnell Abu |
| | CL-2478/CS-9278 - Color Me Barbra - Barbra Streisand [3-66] (4-66, #3) Stereo version was also released as a white label promo on red vinyl. Yesterdays/One Kiss/The Minute Waltz/Gotta Move/Non C'est Rien/Where Or When//Medley: Animal Crackers In My Soup; Funny Face; That Face; They Didn't Believe Me; Were Thine That Special Face; I've Grown Accustomed To Her Face; Let's Face The Music And Dance; Sam, You Made The Pants Too Long; What's New Pussycat?; Small World; I Love You; I Stayed Too Long At The Fair; Look At That Face/C'est Si Bon (It's So Good)/Where Am I Going?/Starting Here, Starting Now |
| | CL-2479/CS-9279 - The New Christy Minstrels' Greatest Hits - New Christy Minstrels [5-66] (6-66, #76) Green, Green/Today/A Little Bit Of Happiness/Everybody Loves Saturday Night/We'll Sing In The Sunshine/The Drinkin' Gourd (The Muddy Road To Freedom)//Chim Chim Cher-ee/Downtown/Cotton Fields/Ida Red/Mighty Mississippi |
| | CL-2480/CS-9280 - Movie-Time Polkas - Frankie Yankovic & His Yanks [3-66] Those Magnificent Men In Their Flying Machines/Forget Domani/Supercalifragilisticexpialidocious/Life Goes On/Get Me To The Church On Time//Do-Re-Mi/Pie In The Face Polka/A Spoonful Of Sugar/Lara's Theme/The Lonely Goatherd/With A Little Bit Of Luck |
| | CL-2481/CS-9281 |
| | CL-2482/CS-9282 - I Remember You - Robert Goulet [3-66] (4-66, #73) Gone With The Wind/Skylark/I Hadn't Anyone Till You/Young Only Yesterday/Call Me Irresponsible/I Remember You//Imagination/I'll Remember April/It's A Blue World/My Ideal/These Foolish Things (Remind Me Of You) |
| | CL-2483/CS-9283 - Benny Goodman's Greatest Hits - Benny Goodman [5-66] The stereo version of this album is electronically rechanneled. Let's Dance/Six Flats Unfurnished/Clarinet A La King/Don't Be That Way/Jersey Bounce/Sing, Sing, Sing (With A Swing) (Interpolation: Christopher Columbus)//Flying Home/Slipped Disc/Air Mail Special/Benny Rides Again/Goodbye |
| | CL-2484/CS-9284 - Dave Brubeck's Greatest Hits - Dave Brubeck [6-66] (7-66, #104) Take Five/I'm In A Dancing Mood/In Your Own Sweet Way/Camptown Races/The Duke//It's A Raggy Waltz/Bossa Nova U.S.A./Trolley Song/Unsquare Dance/Blue Rondo A La Turk/Theme From "Mr. Broadway" |
| | CL-2485/CS-9285 - Jimmy Dean's Greatest Hits - Jimmy Dean [5-66] (6-66 #22-CW) Big Bad John/The Cajun Queen/Harvest Of Sunshine/Little Black Book/Steel Men//The First Thing Ev'ry Morning (And The Last Thing Ev'ry Night)/Sam Hill/P.T. 109/To A Sleeping Beauty/The Farmer And The Lord/I Won't Go Huntin' With You Jake (But I'll Go Chasin' Wimmin) |
| | CL-2486/CS-9286 - A Taste of the Fantastic - Michele Lee [4-66] I Want To Be With You/What The World Needs Now Is Love/You've Got To Learn/Laugh, Clown, Laugh/Feeling Good//I'll Never Go There Anymore/Yesterday/I'm Old Fashioned/Sorry For Myself/Steady, Steady/You Were There |
| | CL-2487/CS-9287 - Frankie Yankovic and His Yanks' Greatest Hits - Frankie Yankovic & His Yanks [5-66] Blue Skirt Waltz/Who Stole The Keeshka?/Hoop- Dee-Do/Beer Barrel Polka/The Last Time I Saw Henry/Happy Time Polka//Milwaukee Polka/I've Got A Wife/Too Fat Polka/Just Because/Pennsylvania Polka |
| | CL-2488/CS-9288 - Lefty Frizzell's Greatest Hits - Lefty Frizzell [5-66] Stereo version is partly electronically rechanneled. Saginaw, Michigan/Mom And Dad's Waltz/Release Me/Always Late (With Your Kisses)/I Love You A Thousand Ways/She's Gone Gone Gone//If You've Got The Money, I've Got The Time/The Long Black Veil/I Want To Be With You Always/Shine, Shave, Shower (It's Saturday)/A Little Unfair |
| | CL-2489/CS-9289 - Great Moments on Broadway - Jerry Vale [4-66] (7-66, #111) What Kind Of Fool Am I/On A Clear Day (You Can See Forever)/Too Many Tomorrows/So In Love/If I Loved You/Maria//Camelot/Sunrise, Sunset/Stranger In Paradise/On The Street Where You Live/Some Enchanted Evening |
| | CL-2490/CS-9290 - The "Mods" Salute Herb Alpert and the Tijuana Brass - Modernaires with Paula Kelly [4-66] Tijuana Taxi/Spanish Flea/What Now My Love/My Buddy/A Walk In The Black Forest/All My Loving//A Taste Of Honey/Alley Cat/Mexican Shuffle/I'm Getting Sentimental Over You/And The Angels Sing |
| | CL-2491/CS-9291 - Woody Herman's Greatest Hits - Woody Herman [5-66] Stereo version is electronically rechanneled. Apple Honey/The Good Earth/Woodchopper's Ball/Your Father's Mustache/Blue Flame/Northwest Passage//Caldonia/Summer Sequence (Part IV)/Bijou (Rhumba A La Jazz)/Four Brothers/Wild Root |
| | CL-2492/CS-9292 - Everybody Loves a Nut - Johnny Cash [4-66] (7-66, #88; 6-66 #5-CW) Everybody Loves A Nut/The One On The Right Is On The Left/A Cup Of Coffee/The Bug That Tried To Crawl Around The World/The Singing Star's Queen//Austin Prison/Dirty Old Egg-Sucking Dog/Take Me Home/Please Don't Play Red River Valley/Boa Constrictor/Joe Bean |
| | CL-2493/CS-9293 - Great Movie Sounds of John Barry - John Barry [3-66] Thunderball/007/Goldfinger/Mr. Kiss Kiss Bang Bang/From Russia With Love/The James Bond Theme//The Chase/Theme From "King Rat"/The Knack/Seance On A Wet Afternoon/The Ipcress File/Theme From "Born Free" |
| | CL-2494/CS-9294 |
| | CL-2495/CS-9295 - Come Alive! - Joanie Sommers [4-66] You'd Better Love Me/The Shadow Of Your Smile (Love Theme From "The Sandpiper")/I'm All Smiles/Girl Talk/Sunday In New York/You Take What Comes Along//Call Me/Watch What Happens/Too Late Now/A Wonderful Day Like Today/It Had To Be You |
| | CL-2496/CS-9296 - The Sounds of India - Ravi Shankar [5-66] Stereo version is electronically rechanneled. Reissue of the 1958 mono-only LP Columbia WL-119. An Introduction To Indian Music/Dadra/Maru-Bihag//Bhimpalasi/Sindhi-Bhairavi |
| | CL-2497/CS-9297 - Night Time Is Lonely Time - Van McCoy [6-66] Night Time Is Lonely Time/My Reverie/You Were My First Love/How High The Moon/I Can Dream, Can't I?//The House That Love Built/Through A Long And Sleepless Night/A Young Fool In Love/I'll Close My Eyes/I Get Along Without You Very Well/Ev'rytime We Say Goodbye |
| | CL-2498/CS-9298 - Popcorn and Soul: Groovin' at the Movies - Roy Meriwether Trio [3-66] Zip-A-Dee-Doo-Dah/The Shadow Of Your Smile (Love Theme From "The Sandpiper")/When You Wish Upon A Star/Cincinnati Kid/Moon River/Never On Sunday//Help!/Call Me Irresponsible/Over The Rainbow/Secret Love/What's New Pussycat? |
| | CL-2499/CS-9299 - The Shadow of Your Smile - Andy Williams [4-66] (5-66, #6) The Shadow Of Your Smile (Love Theme From "The Sandpiper"/That Old Feeling/Meditation/Try To Remember/Michelle/Somewhere//The Summer Of Our Love/Peg O' My Heart/How Insensitive/Yesterday/Bye Bye Blues/A Taste Of Honey |