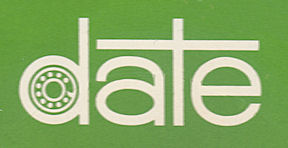 Date Album Discography
By Randy Watts, David Edwards, Mike Callahan and Patrice Eyries
Last update: March 25, 2010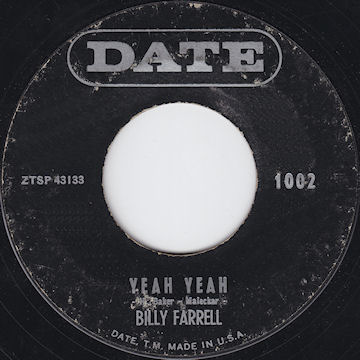 Date Records was a subsidiary of Columbia Records, and was set up by Tom Noonan, a well-known music industry executive. The Date label was "launched" (more accurately, re- launched) in February, 1966, with its first three singles. It was closely connected to Columbia, with many of the same people in charge of both labels. It was set up to accommodate master purchase and independent production, that is, music that was outside of Columbia's "in-house" recording and production. This discography covers the 1966-1970 incarnation of Date, as Columbia had earlier (1958) released eight rockabilly-oriented singles under the imprint, including "Lulu Lee"/"Ah, Poor Little Baby" [Date 1007, rel. 7/58] by Bill Craddock, who was later brought over to the Columbia parent label for a couple of chart records as "Crash" Craddock (and went on to become a country star as Billy "Crash" Craddock). Years later (2000s), Sony/Columbia resurrected the Date Records label for new releases.

In case you've ever wondered if "date" referred to the calendar or to a romantic appointment, the logo provides the answer, with a telephone dial inside the lower case "d."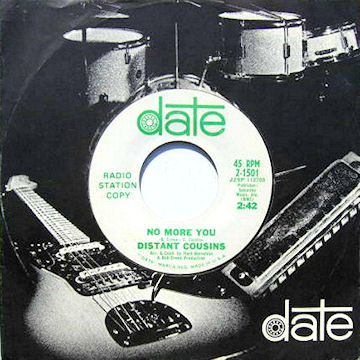 Tom Noonan was brought over from Billboard Magazine in October, 1965. He had been with Billboard since 1949 in the chart research area, and it was Noonan who in 1958 launched the "Hot 100" Chart so well known to record collectors. In early December, 1965, it was announced that he would run the Date label, reporting directly to William P. Gallagher, Columbia's Vice President. Noonan told Billboard (December 4, 1965, page 3) that "The sources of product will be primarily based on purchased masters, and will deal for the most part with independent producers. Date will handle varied repertoire, crossing all musical barriers. It will be a highly versatile label, one that will move ahead with the sounds of today."

The first three singles, none of which charted, were the Bob Crewe-produced "No More You"/"Gently Goodbye" by the Distant Cousins [Date 1501, shown at left as a promo copy with the early Date sleeve], London and the Bridges' "It Just Ain't Right"/"Leave Her Alone" [Date 1502, a Prime Records Production], and the Shirtails' "I Want You to Stay with Me"/"Something's Wrong with Our Love" [Date 1503]. The singles were released the week of February 5, 1966. Singles by the Sweet Things and Roberta Meshell followed, and were likewise ignored.


By May, Date finally got around to issuing a single that at least made the bottom of the Bubbling Under charts at #129: "You Don't Love Me" by Gary Walker [Date 1506], which cracked the Chicago top-40 at #23 on WLS. Gary Walker (Gary Leeds) was formerly of the Walker Brothers, who had charted a few hits on the Smash label the previous year. The song, with its infectious guitar riff, was a remake of the 1961 blues recording by Willie Cobbs (aka Willie Cobb) on Vee-Jay 411, which can be found on CD on The Very Best of Vee-Jay Blues, Volume 5 [Vee-Jay/Collectables COL-CD-7273].

The next single, Date 1507, was "You're Messing Up My Mind"/"From the Shadows to the Sun" by Herb Fame. It was not particularly noteworthy, and didn't chart, but it was the first sign of the hugely successful career of Herbert Feemster, who shortly thereafter teamed up with Francine Barker as a singing duo called Peaches and Herb. It was not long after Herb Fame's single that someone at the label suggested that Herb team up with a female singer they had signed as part of the singing group the Sweet Things (who had earlier issued a single on Date 1504). She was Francine Hurd Barker, whose nickname from childhood was "Peaches". Peaches and Herb were the most successful chart act that Date Records ever had. So much were they the face of the label ("The Sweethearts of Soul") that many today think of Date as an R&B label, although it was far from that, and in fact Peaches and Herb were a pop act as well as a soul duet.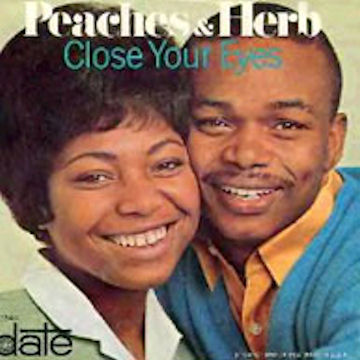 Their first single was "Let's Fall in Love" [Date 1523], released late in the summer, 1966. Unfortunately, the label chose to push "We're In This Thing Together," and deejays were showing considerable indifference to the side. Months later, a deejay flipped the record over and "Let's Fall in Love" jumped on both the pop charts and the R&B charts in early December, eventually reaching #21 pop and #11 R&B. Eleven more chart hits followed. During the entire 1966-70 lifetime of the label, Peaches & Herb were there charting hits. These included: "Close Your Eyes" [Date 1549, 3/67, #8 pop/#4 r&b], "For Your Love" [Date 1563, 6/67, #20 pop/#10 r&b], "Love Is Strange" [Date 1574, 9/67, #13 pop/#16 r&b], "Two Little Kids" [Date 1586, 12/67, #31 pop/#25 r&b], "The Ten Commandments of Love" [Date 1592, 2/68, #55 pop/#25 r&b], "United" [Date 1603, 5/68, #46 pop/#11 r&b], "Let's Make a Promise" [Date 1623, 11/68, #75 pop/#34 r&b], "So True" [Date 1633, 1/69, #126 pop], "When He Touches Me (Nothing Else Matters)" [Date 1637, 3/69, #49 pop/#10 r&b], "Let Me Be the One" [Date 1649, 8/69, #74 pop/#40 r&b], and "It's Just a Game, Love" [Date 1669, 5/70, #110 pop/#50 r&b]. So popular was the duo that only two of their singles didn't chart, one in late 1969 [Date 1655] and one in late 1970 [Date 1676].

Herb Fame's chart career as part of Peaches and Herb spanned 1966 to 1983, with a variety of singers filling in the "Peaches" end of the duo after they were with Date Records. "Peaches" on the Date Records recordings was always Francine "Peaches" Barker, although during 1968 and 1969, Marlene Mack filled in for her on the road appearances. The Peaches and Herb duo that was popular during the disco era ("Shake Your Groove Thing," etc.) featured Linda Green as "Peaches."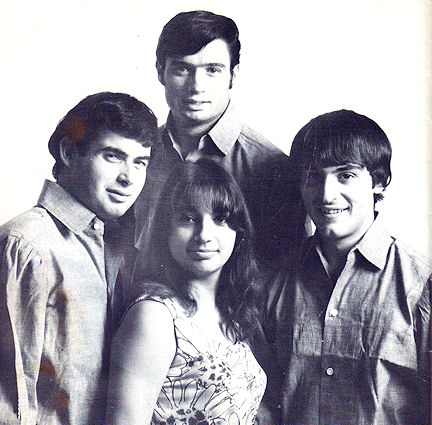 In the spring of 1966, one of the master acquisitions came through for Date with a Hot 100 chart record, their first. A Miami-based foursome made up of two sets of siblings called themselves Clefs of Lavender Hill. They had a record out on a local label [Thames 100] called "Stop! - Get a Ticket" which was showing some chart action in South Florida (#4 in Miami), and Date picked up the master and reissued it [Date 1510] on May 13. It made the Hot 100 in June, 1966, reaching #80. While doing research for the liner notes to the CD compilation Rock Artifacts, Volume 3 [Columbia/Legacy CK 46983], I had a chance to talk with two of the members of the group. The following is a slightly modified version of what was used in the liner notes, a story that probably would be recognized by many obscure rock groups of the time as paralleling their own.

The Clefs of Lavender Hill were a quartet from Miami made up of brother and sister Travis and Coventry Fairchild (Joseph and Lorraine Ximenes), and brothers Fred and Bill Moss. Joseph and Lorraine legally changed their names in the 1960s to Travis and Coventry.

"My sister and I started when we were ten and eight," Travis recalled. "My parents are from Italy, and when they came to this country they were star struck with show business, and put us in Vaudeville. We went up to New York every summer and toured; I had a straw hat and cane routine. By the time we were teenagers, it was no longer our parents' idea for us to be in show business, it was ours. We worked in Miami as a folk duo called Joey and Lorraine.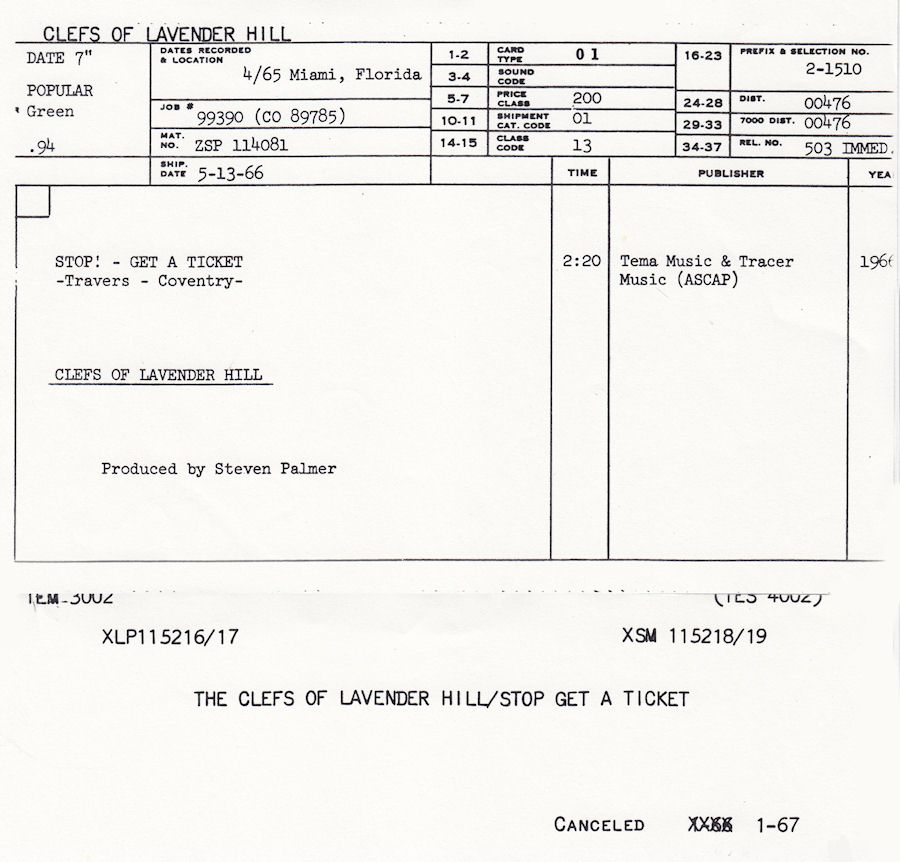 "I had never listened to rock and roll, in fact, I hated rock and roll, I was a real snob. But then when I heard the Beatles, their chord structures were so different that it got me. We became Beatle fanatics, started doing Beatle music, and went from a skiffle group — to use Beatle vernacular — to a rock and roll group. We were now using the names Travis and Coventry for our appearances. I had always liked Colonel Travis of the Alamo, so I picked Travis as a name." Coventry added, "I chose Coventry from the town in England."

Travis continued, "As soon as I would get home from school, I would turn on the radio, and they would play new songs just released by British groups, and I would tape them. Then immediately Coventry and I would sit down and learn them, and that Friday night at the North Miami Armory or wherever we were playing, we'd play them. As part of our act, we spoke with an English accent, claiming to be the Beatles' cousins. We were young and it was a game to us. But people started going crazy and saying, 'these really are the Beatles' cousins. These guys are for real because I just heard this song on the radio for the first time, and they're playing it and saying this is a song John just sent them saying it's fab gear, it should be out in your country pretty soon.' People started getting interested in managing us. And from there, this guy Steve Palmer picked us up, and he said, 'Let's add a bass and some drums and we'll make you guys a group.'"

Palmer formed the quartet with Travis on lead guitar (and piano in the studio), Coventry on 12-string and 6-string rhythm guitars, Bill Moss on bass, and Fred Moss on drums. The Moss brothers had previously been in a group called the Twilites." Palmer asked if we had a name in mind," Travis continued, "and I suggested the Clefs. The Beatles had 'beat' for part of their name, and 'clefs' was another part of music. But Steve said he liked the 'Lavender Hill Mob,' because that was his favorite movie. I didn't like that, so we compromised. I said, how about 'Clefs of Lavender Hill?' and he said, 'Okay, you got it.'"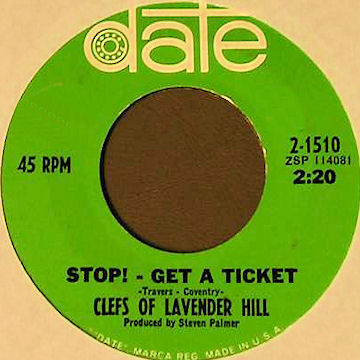 It was about this time, while they were appearing around Florida, that Travis and Coventry wrote "Stop! - Get A Ticket." Coventry recalled, "Our car broke down on I-95, and while we were waiting for the wrecker to come and tow the car away, we just started writing." Travis added, "We were bored. We were close to the toll booth, and on one sign it said 'Stop - Get a Ticket.' We just used that as a title. Steve Palmer recorded the group doing the song [in April, 1966], released it on his Thames Record label, promoted it himself, and it got real big in Florida. The Columbia rep in Atlanta heard the record and signed us." The record came out on Date 1510, with songwriter credit erroneously listed as "Travers-Coventry."

The group went on tours as opening acts for Bobby Goldsboro, Herman's Hermits, and the Animals. Coventry had mixed memories of the time. "It was hard. We slept very little, we were always busy. While we were flying from place to place, we would take our guitars out and play on the plane. It was really hectic, there was a lot to do in a very short time, but it was quite something."

Travis Ximenes recalled the group's demise: "The group started fragmenting when things started to go rough. The records stopped selling and the group wasn't making money on tour at all, because whatever we made went for all the hotel bills and plane fares and everything else. When there are money problems, everything else gets magnified. Finally, the group disbanded in early 1967.

"Then Coventry and I went to New York without the others and recorded the last 45 for Date ["Gimme One Good Reason"/"Oh, Say My Love", Date 1567]. I had got married earlier in the day. My bride and I really had an exciting honeymoon night: cheeseburgers and 24 hours in the studio. We were young and didn't know any better. John Simon was the producer and we used all excellent studio musicians who really knew what they were doing. It was a real polished sound, but it wasn't real gutsy. That 45 kind of bombed, and that was it."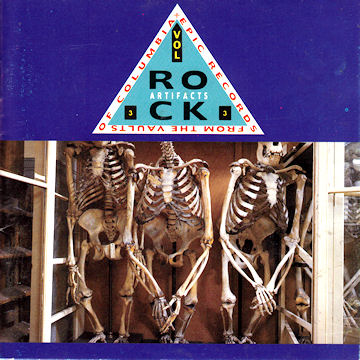 Bob Irwin notes: "The stereo tape we used for Rock Artifacts was from an unreleased LP master, the original 2-track un-EQ'd master. After signing, the group went to New York and recorded tracks for an album that was to have come out. The album was actually cut to lacquer on several occasions, but they couldn't cut the track "Stop! - Get A Ticket" to vinyl, the drumbeat kept throwing the cutting lathe off. You could see on the contract cards where they had attempted to cut the lacquer, probably went through at least three to five tries, but by that time, it was over for the record and the group, and they canceled the LP in January, 1967." With the problem of pressing to vinyl now a memory, perhaps the album will be released on CD someday.

In June, 1966, when "Stop! - Get a Ticket" was entering the charts, Tom Noonan was appointed as National Program Director for both Columbia and Date. Gene Weiss, who was assigned as A&R Product Manager for singles, was also in charge of master acquisition for Columbia and Date, and in charge of coordinating recordings of Date artists with independent producers. In September, 1967, Weiss added "Manager of Artist Relations" to his job description. By the fall of 1966, Eddie Matthews was the day-to-day manager for Date Records, and he moved up to be Manager of Independent Productions in September, 1967.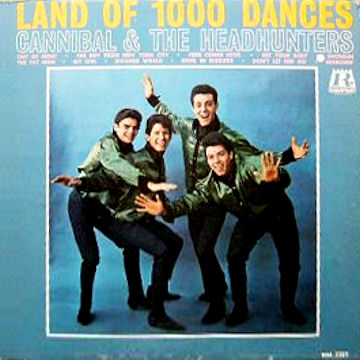 The Distant Cousins, who had previously had the honor of the first single on the label, came back in July, 1966, with "She Ain't Lovin' You" [Date 1514], which edged up to #102 in August. The group was the duo of Larry Russell Brown and Raymond Bloodworth, whom Bob Crewe signed when he had heard them playing in New York's folk scene. It was their only chart record, but they wrote a song some months later that Bob Crewe gave to the Four Seasons, "C'mon Marianne" [Philips 40460]. That one made #9.

At about the same time, Date made another master acquisition, getting the Cannibal and the Headhunters' album from Rampart Records (Faro Records) in Los Angeles. The group, from East L.A., had charted a #30 hit in early 1965 with their remake of Chris Kenner's "Land of 1000 Dances", but their followup had only reached #130. Date felt they could do better with the group, and issued two more sides in July from their Rampart album, "La Bamba"/"Zulu King" as Date 1516. That failed, so they reissued "Land of 1000 Dances," curiously retitled to spell out the number ("Land of a Thousand Dances") as Date 1525. That made it to #106 in September. Date reissued the Rampart album as Date TEM 3001/TES 4001, but that was it for the group on the Date label.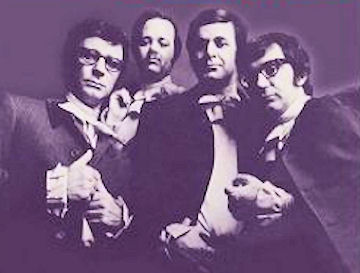 Like the Clefs of Lavender Hill, the Arbors were made up of two sets of siblings. Hailing from Ann Arbor, Michigan, the smooth vocal quartet consisted of Edward and Fred Farran, and Scott and Tom Herrick. Their first single, "A Symphony for Susan" [Date 1529], jumped on the charts in October, 1966, reaching #51 on the Hot 100, but #18 on the Easy Listening charts. This was to be the pattern for their records, to score high on the easy listening (now Adult Contemporary) charts, as the group sound (harmonic pop?) was very much related to the pop vocal quartet sound of the 1950s. Their followup single, "Just Let It Happen" [Date 1546] was somewhat of a stiff, reaching only #113 in February, 1967, but they followed that with four more hits: a resurrection of the Four Freshmen's 1956 hit "Graduation Day" [Date 1561, 6/67, #59/#19AC], "Valley of the Dolls" [Date 1581, 12/67, #26AC], "The Letter," an ever-so-slow remake of the Boxtops 1967 hit [Date 1638, 3/69, #20/#26AC], and "I Can't Quit Her," a pop treatment of the Blood, Sweat & Tears LP cut of a year before [Date 1645, 5/69, #67]. Date also released three albums by the group.

So for 1966, Date registered three Hot 100 singles (one of which also charted R&B and another of which also charted Easy Listening) and four additional "Bubbling Under" singles. They issued two albums and cancelled a third. Other artists with non-charting singles during 1966 included Layng Martine, Jr., New Bag, the Bootiques, the Will-O-Bees, the Charmaines, the Tornados, Null Set, The Legend, Inferno, Counts IV, Bobby Osborne, the Fraternity Bros., Strangers in Town, Woody Starr, Arnie Corrado, the Seagulls, the Washington D.C.'s, Chain Reaction (whose drummer, Steven Tallarico, was later better known as Steven Tyler, the lead singer for Aerosmith), Brian Poole, Singers, and "Little" Georgie Holiday.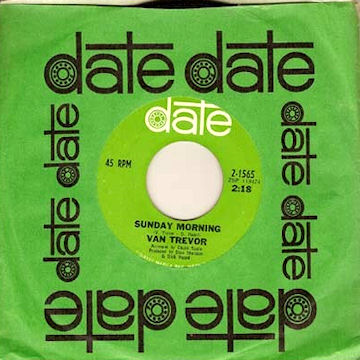 In 1967, in addition to their chartmakers Peaches & Herb and the Arbors, Date ventured into the country and western field with some success. Country singer Van Trevor had two country charting singles, as did Johnny Dollar. Trevor's hits were "You've Been So Good to Me" [Date 1565, 9/67, #26C&W] and "Take Me Along With You" [Date 1594, 4/68, #31C&W]. Johnny Dollar had "The Wheels Fell Off the Wagon Again" [Date 1566, 9/67], which reached #47 on the country charts, and "Everybody's Got to Be Somewhere" [Date 1585, 1/68, #42C&W]. Near the end of the year, Date issued albums for both, containing the hit songs, and both albums made the country LP charts.

Also charting for the first time was Bernard "Pretty" Purdie, a soul drummer who reached #87 (#48 R&B) in the fall of 1967 with the instrumental "Funky Donkey" [Date 1568]. The followup, "Modern Jive" [Date 1587], reached #45 on the R&B charts in the spring of 1968. Purdie eventually moved on to run Aretha Franklin's road band.

New non-charting artists for Date in 1967 included: the Pristines, the Moons, the Bluebeards, the Jetson Band, 'Twas Brillig, the Glories, the Spellbinders, the Derek Savage Foundation, Gary Williams, Johnny Moore, J.J. Lancaster, Plant Life, the Electrons, the New Hudson Exit, Dick Wagner & the Frosts, Jimmy Helms, the Coasters, Nick Noble, the Music Bachs, and Exile.

'Twas Brillig was an Ely, Minnesota band formerly known as the Electras. Date obtained the masters for two hits they had in the Minneapolis area, "This Week's Children" and "Dirty Ol' Man", both of which had been out in 1966 on the Scotty label, and put them back-to-back as Date 1550 in February, 1967. Their producer, Warren Kendrick, who owned Scotty, had to rename the group when they went to Date for national distribution after he found another group already had the name. He chose one that was vaguely psychedelic and would be unlikely to be already in use. The name comes from the first words of a poem called "Jabberwocky" in Lewis Carroll's Through the Looking Glass, and What Alice Found There, the 1872 sequel to Alice's Adventures in Wonderland. Obscure enough? Supposedly in this nonsense poem, "brillig" means "four in the afternoon." Both songs, by the way, can be found (as by the Electras) on CD on The Scotty Story [Arf Arf AA-043, rel. 1993].

Nick Noble, a pop crooner hugely popular in Chicago (21 chart hits from 1957-65 there) issued several 45s on Date, but couldn't regain his chart popularity. Exile, on the other hand, had their entire career ahead of them. The Kentucky group eventually had a #1 pop hit in 1978 with "Kiss You All Over" [Warner/Curb 8589], then moved into the country field where they put 21 songs on the country charts between 1983 and 1991, including ten #1 hits.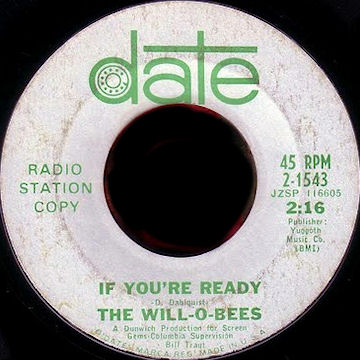 The Will-O-Bees were a New York-based pop trio (Janet Blossom, Steven Porter, Robert Merchanthouse). They had earlier had two singles on Date ("Why Can't They Accept Us"/"The World I Used to Know" [Date 1515] and "If You're Ready"/"Shades of Gray" [Date 1543]), neither of which charted. Near the end of 1967, Date issued their third single, "It's Not Easy" [Date 1583]. This one finally charted, making #95 in February, 1968, but it was to be their last single for Date. The group signed with SGC Records after their chart hit, and made three more unsuccessful singles for that label. The independent producer for the group was Bill Traut, famed owner of the Dunwich and Wooden Nickel labels and producer for the Shadows of Knight, among others.

In 1968 Date continued with their country efforts, signing an unknown singer/songwriter named Eddie Rabbitt, whose one single "The Bed"/"Holding On" [Date 1599] went nowhere. They also started to sign British groups like the Love Affair and the Zombies. In January, 1968, the Love Affair's cover of Robert Knight's "Everlasting Love" entered the UK charts. By March, it was #1. Since the group was signed to CBS, the UK affiliate of Columbia/Date, it was logical to try the record out over here. It was released as Date 1591 in February, 1968, but did nothing. The group's UK followup, "Rainbow Valley," made #5 in the UK but couldn't even crack the Bubbling Under charts here when issued as Date 1608. Same story with "A Day Without Love," a #6 UK hit that failed as Date 1627. "One Road" [#16UK, Date 1646] and "Bringing on Back the Good Times" [#9UK, Date 1652] met the same fate.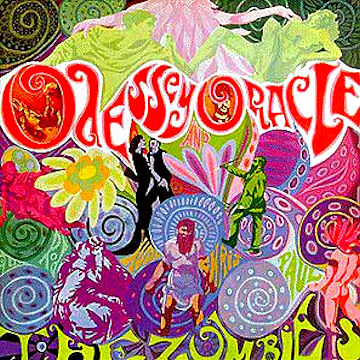 The Zombies looked for a long time like they wouldn't click, either. Three years earlier, they had been a hot "British Invasion" group with hits like "Tell Her No" and "She's Not There," but a more than two-year vacation from the charts had made everyone all but forget them. The group signed with CBS in England in 1967, and began work on a new (self-produced) album in June, finishing recording in November. The album was recorded on a four-track Studer recorder, partly at the Abbey Road Studios. All of the songs were written by the group's keyboardist Rod Argent and bassist Chris White, two strong songwriters who had penned the Zombies' hits of a couple of years earlier. Argent and White did the mixing, and decided to mix the album in mono, but after this was complete CBS demanded a stereo master. The group had used all their budget and were forced to complete the project out of their own pockets, including out of any future songwriting royalties. Colin Blunstone, the lead singer, had had a major argument with Rod Argent on one of the last songs to be recorded, "Time of the Season," and stormed out of the studio telling Argent he could sing it himself. Although he came back to finish the vocal, tempers were short. When the money trouble came up with the stereo mix, Blunstone and guitarist Paul Atkinson had had enough of the group and quit. With the group in disarray, drummer Hugh Grundy also left. By the time the stereo master was finished, on January 1, 1968, the group had already disbanded.

Clive Davis, the head of Columbia Records in the US, decided not to release the album. Eventually, though, he was persuaded by staff producer Al Kooper to allow Date Records to release it. Kooper ended up writing the liner notes for the US release, where he ironically noted that the Zombies "are very much alive." The album was released in April in the UK and in June in the US. It featured a psychedelic cover by Chris White's flatmate, Terry Quirk, who inadvertently misspelled "Odyssey." What was left of the band decided to leave it that way and claim it was misspelled intentionally. For all of 1968, almost nothing happened saleswise, either here or in the UK. In April, 1968, prior to the album release, Date released a single by the group, "Time of the Season"/"I'll Call Your Name" [Date 1604, same pairing as the UK single release], but it didn't chart and may not have gotten past the promo stage. They followed with Date 1612, "This Will Be Our Year"/"Butcher's Tale (Western Front 1914)", released about the time of the album release in June, but that sank without a trace. (On "This Will Be Our Year," live horns were added to the mono master after the multitrack recording, so for the stereo album master, the song was rechanneled. Later, a stereo version was mixed and released on CD, but it is missing the horn overdubs.) Around November, Date re-issued "Time of the Season" with a new flip side ("Friends of Mine") as Date 1628. Again, nothing happened — at least, nothing happened initially.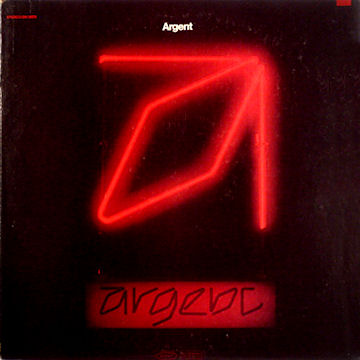 The album and its singles never did catch on in England, but slowly after its reissue in November, "Time of the Season" began gaining momentum in the United States. It entered the Hot 100 charts in early February, 1969, and eventually rose to #3 nationally. When it looked like the song would hit, Date quickly redesigned the album cover, leaving almost nothing of the original busy psychedelic design, and boldly featured "Time of the Season" on the new cover. The new cover was released in February, 1969, just as the single was taking off. By the time the song was in the top 5, it had been over a year since the group had disbanded, so no tours or live television performances of the hit were done. Without any group appearances, the followup single, "Imagine the Swan" [Date 1644], only reached a disappointing #109 in May, 1969, and the next single, "Don't Cry for Me"/"If It Don't Work Out" [Date 1648], released in the summer, failed to chart altogether. The Zombies, true to their name, were dead, and could at last be put to rest.

The band members moved on, and a few months later Rod Argent and Chris White introduced their new group, called Argent, with the single "Liar" [Date 1659], released in the fall. In fact, it was Argent rather than the Zombies who had recorded "Imagine the Swan" and the last Zombies' single, since these were post-Odessey & Oracle recordings and the Zombies were long gone. The new group was Rod Argent (keyboards), Chris White (bass), Russ Ballard (guitar), and Rob Henrit (drums). The Argent single "Liar" didn't chart either, but the song was so strong that a Three Dog Night remake in 1971 [Dunhill 4282] reached #7.

By late 1969, Columbia was losing interest in Date, and several scheduled albums were cancelled, some of which (like the Argent album, possibly scheduled for Date TES-4018 or 4019) were transferred to Columbia's other labels. Argent's album was shifted to Epic; later, of course, Argent had the multi-national hit "Hold Your Head Up" [Epic 10852, 6/72, #5].


New non-charting artists in 1968 included: Richard Fudoli, the Informations, Ritchie Luvworth, Scarecrow, Back Alley, the Escorts, Rev. Will Alberts, Robert Tamkin, Mr. Jim & the Rhythm Machine, Bobby Cole, Young Ideas, Arch of Triumph, Bill Robinson & the Quails, Lafayette, Francesco, Andre Gagnon, and the Popcorn Rebellion. Even though it didn't chart, the Coasters' original version of the Monkees hit "D.W. Washburn" (recorded in 1967 but released after the Monkees' version in July, 1968) was also issued as Date 1617. The Coasters Date singles were later reissued on the King label album The Coasters on Broadway.

Date was running out of new talent. One new chartmaker in 1969 was the Chicago-based vocal group called the Steelers, whose November single "Get It from the Bottom" [Date 1642] made #56 pop and #46 R&B. By 1970, it was just about over. With the pop hits gone, Columbia transferred some artists to Epic or Columbia and discontinued the label by the fall of 1970. Future reissues of Date masters tended to be on Epic. In all, it had issued about 175 singles and 15 albums.

Other non-charting artists, from 1969-70, include: the Boots, the Peter Solo Singers, John Tipton, the Tricks, Paul Varisco & the Milestones, Don Meehan, Silky & Sage, Common Ground, Free Ferry, Mike Kennedy, Christopher, Puppet, J. Vincent Edwards, the Shuffles, Magnet, Terry Rice-Melton, Lesley Duncan, and Pooh.

Tom Noonan, during his stay at Date, also helped a struggling Seymour Stein found Sire Records, both as a mentor and by helping to arrange some financing. Noonan continued as head of Date Records until October, 1968, when he left to become Assistant Vice President at Motown. He became President of Metromedia Records in 1971. After a brief period with Polydor as Vice President of Marketing starting in 1972, Noonan spent two years back at Motown as their VP for Marketing. In 1975, he returned to Billboard as associate publisher. In 1982, he returned to the charts department where he oversaw the Top Pop Albums chart until he retired in 1990. Noonan died October 29, 2006, in Los Angeles, at the age of 78.



| | | |
| --- | --- | --- |
| | | Date Records used the same label throughout its years of operation (far left). It was green with black print. The Date logo was at the top in white print. Promotional albums (near left) used the exact same label, without promotional notation, but the album covers usually had a large white sticker on the bottom which listed songs so that promo men could check those being pushed. Promotional singles used a white label with green print, as shown with Date 1501, in the story above. |



We would appreciate any additions or corrections to this discography. Just send them to us via e-mail. Both Sides Now Publications is an information web page. We are not a catalog, nor can we provide the records listed below. We have no association with Date Records or Columbia Records. Should you be interested in acquiring albums listed in this discography (which are all out of print), we suggest you see our Frequently Asked Questions page and follow the instructions found there. This story and discography are copyright 2010 by Mike Callahan.

DATE ALBUM DISCOGRAPHY
| | |
| --- | --- |
| Cover | Number - Title - Artist - [Release Date] (Chart) Contents |
| | Date TEM-3000 (Mono)/TES-4000 (Stereo) Series: |
| | TEM-3001/TES-4001 - Land of a 1000 Dances - Cannibal & Headhunters [1966] Reissue of Rampart RM/RS-3302 (label at right). Although both the Rampart and Date releases were reportedly also issued in stereo, we have never seen a stereo copy of either. Land Of A Thousand Dances/Boy From New York City/My Girl/Don't Let Her Go/Searchin'/Out Of Sight//La Bamba/Zulu King/Shotgun/Love Bird/Headhunters Dance Party |
| | TEM-3002/TES-4002 - Stop! Get a Ticket - Clefs of Lavender Hill [scheduled for release in 1966 but delayed then cancelled by Date in 1/67] Stop!-Get A Ticket/First Tell Me Why/One More Time/So I'll Try/(others) |
| | TEM-3003/TES-4003 - A Symphony for Susan - Arbors [1966] (2-67, #144) Just Let It Happen/When I Fall In Love/A Symphony For Susan/Mas Que Nada (Pow Pow Pow)/A Day In The Life Of A Fool (Manha De Carnaval)/You Are The Girl/Dreamer Girl/Open A New Window/My Foolish Heart/Love Is The Light/So Nice (Summer Samba) |
| | TEM-3004/TES-4004 - Let's Fall in Love - Peaches & Herb [1967] (3-67, #30/#4R&B) Let's Fall In Love/Just One Look/I'm In The Mood For Love/Because Of You/Time After Time/Will You Love Me Tomorrow/Close Your Eyes/True Love/We Belong Together/When I Fall In Love/I Will Watch Over You |
| | TEM-3005/TES-4005 - For Your Love - Peaches & Herb [1967] (9-67, #135/#12R&B) For Your Love/The Things I Want To Hear/I Love How You Love Me/Embraceable You/Everybody Loves A Lover/It's True I Love You/Answer Me My Love/The Door Is Still Open To My Heart/I Need Your Love So Desperately/My Life/Count On Me |
| | TEM-3006/TES-4006 - Soul Drums featuring Funky Donkey - Pretty Purdie [1967] Soul Drums/Bee 'N' Tee/Caravan/Soul Bossa Nova/Jimmy's Back/Funky Donkey/Bill's Groove/On The Outskirts Of Minitown/Testifyin'/Modern Jive/Blow Your Lid (But Watch Your Cool) |
| | TEM-3007/TES-4007 - Golden Duets - Peaches & Herb [1968] (2-68, #28R&B) Two Little Kids/Rockin' Good Way (To Mess Around And Fall In Love)/Let It Be Me/What's The Matter With You Baby/Something You Got/Somethin' Stupid/Love Is Strange/Baby (You've Got What It Takes)/Mockingbird/We Belong Together/I Want To Stay Here/I Do |
| | TEM-3008/TES-4008 - You've Been So Good to Me - Van Trevor [1967] (12-67, #44C&W) You've Been So Good To Me/Your Love Shines A Light/Who Ever Heard Of Such A Thing/Born To Be In Love With You/Time Is Running Out On Me/Until The Day I Die/Our Side/This Mountain is Growing/Guitar/Sunday Morning |
| | TEM-3009/TES-4009 - Johnny Dollar - Johnny Dollar [1967] (1-68, #41C&W) The Wheels Fell Off The Wagon Again/Watching Me Losing You/It's Good/Our House/Numbers Lil/Forever Is Over/Everybody's Got To Be Somewhere/Did You Talk To Him Today/Gonna Come In Like A Lion/Do-Die |
| | TEM-3010/TES-4010 - [Unissued] |
| | TEM-3011/TES-4011 - The Arbors Sing Valley of the Dolls - Arbors [1968] Valley Of The Dolls/A Love For All Seasons/Love Is A Groovy Game/Why Won't They Let A Big Boy Cry?/You Are The Music/That's The Way It Is/Graduation Day/I Win The Whole Wide World/With You Girl/Endless Summer |
| | From this point, albums are issued in stereo only. |
| | TES-4012 - Peaches and Herb's Greatest Hits - Peaches & Herb [1968] (9-68, #187/#48R&B) United/Let's Fall In Love/Two Little Kids/We've Got To Love One Another/For Your Love//Close Your Eyes/What A Lovely Way (To Say Goodnight)/Love Is Strange/I Need Your Love So Desperately/The Ten Commandments Of Love/It's Time I Love You |
| | TES-4013 - Odessey & Oracle - Zombies [6/68] Original psychedelic cover. Care Of Cell 44 (S)/A Rose For Emily (S)/Maybe After He's Gone (S)/Beechwood Park (S)/Brief Candles (S)/Hung Up On A Dream (S)//Changes (S)/I Want Her She Wants Me (S)/This Will Be Our Year (E)/Butchers Tale (Western Front 1914) (S)/Friends Of Mine (S)/Time Of The Season (S) |
| | TES-4013 - Odessey & Oracle - Zombies [2/69] (3-69, #95) Reissue of Date TES-4013 with a new cover design (a highly cropped fragment of the original cover) highlighting the hit "Time of the Season." Care Of Cell 44 (S)/A Rose For Emily (S)/Maybe After He's Gone (S)/Beechwood Park (S)/Brief Candles (S)/Hung Up On A Dream (S)//Changes (S)/I Want Her She Wants Me (S)/This Will Be Our Year (E)/Butchers Tale (Western Front 1914) (S)/Friends Of Mine (S)/Time Of The Season (S) |
| | TES-4014 - [Unissued] |
| | TES-4015 - [Unissued] |
| | TES-4016 - Wilkinson Tri-Cycle - Wilkinson Tri-Cycle [1968] What Of I/Leavin' Trunk/David's Rush/Pourscha Poe/Antique Locomotives/9-5, '59/I Like Your Company/Yellow Wall |
| | TES-4017 - The Arbors featuring I Can't Quit Her/The Letter - Arbors [1969] Motet-Overture/The Letter/Good Day Sunshine-Gotta Get You Into My Life/Lovin' Tonight (Maybe Tonight)/Like A Rolling Stone/I Can't Quit Her-For Emily, Whenever I May Find Her/Most Of All/Mr. Bus Driver/Touch Me/Hey Joe |
| | TES-4018 - [Unissued] |
| | TES-4019 - [Unissued] |
| | TES-4020 - Cupid's Inspiration - Cupid's Inspiration [1970] Yesterday Has Gone/Brown-Eyed Woman/Blue Zero/The Picture/Give A Little Love/Runaway Lover/Sweet Music/Green Green Trees/Never Trust In Tomorrow/The Riddle Song/My World |
| | TES-4021 - Funky - Spencer Davis Group [1970] Quickly deleted. I Met A Woman/Letters From Edith/Raintree River/What A Way To Die/Funky/Magical Day/I Guess I'm Wasting My Time/Poor Misguided Woman/And The Gods Came Down/New Jersey Turnpike |
Thanks to Barry Margolis, Peter Stoller Jeff Lemlich, and Matt Nicholls.
Back to the Discography Listings Page



Back to the Both Sides Now Home Page