The Four Corners of the World label was Kapp's subsidiary for "world" music, mostly European music, but some Latin American and faux-British music, also. The label was formed in 1964 and lasted until 1969. As an outlet for world music, it wasn't really expected to have a lot of hits, and it didn't.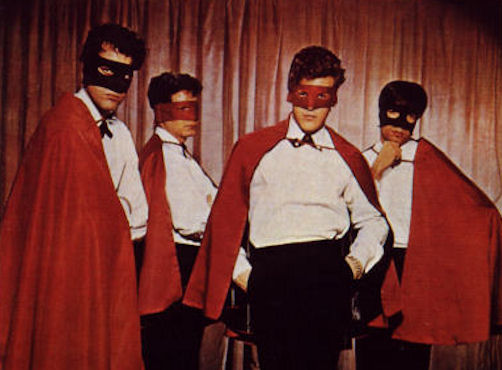 Their earliest chart record was a British-sounding single called "Roses Are Red My Love" by the "You Know Who" Group [4 Corners 113]. Released in November, 1964, this was a transparent attempt to cash in on the British Invasion, or more specifically, the Beatles, by making listeners unsure as to who the group really was. Well, it might be the Beatles, right? It almost made the top-40, topping out at #43, although it made top-10 in Miami, Buffalo, and several medium-sized cities. It also helped that identifying personnel in the group through any photos was obscured by the masks they always wore. Years went by with the actual identities of the members a well-guarded secret. Were they the Undertakers? Were they just a studio group producer Bob Gallo put together for the occasion? Were the people in the photos even the members of the group?

Almost 50 years later, one of the members of the group finally told the story. Yes, they were an actual group, and yes, it was they in the photos. No, they weren't The Undertakers or any other group, and no, they weren't studio musicians. In the photo at right, they are, from left to right, John Piemonte (bass), Vinny Pollimini (lead guitar), Bobby Esposito (vocals and drums), and Frank D'Avino (rhythm guitar). Frank's mother made the capes and masks. Bobby (Robert Esposito) wrote their hit. Some of the group members grew up "right down the block" from Bob Gallo, hence the connection. Piemonte, who has since moved to Florida, described the group as "four Italians from Brooklyn." Mystery solved. The group later put out an album on the International Allied label (see discography below).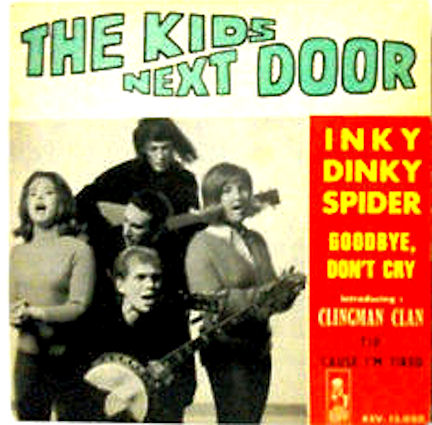 The next 4 Corners hit charted in October, 1965. Another oddball hit, this one took a children's sing-and-gesture staple, added "Oh, de dum dum silly oddy-eh, oh de dum dum rum de dum," a few sound effects, and made it into a pop song called "Inky Dinky Spider (The Spider Song)" [4 Corners 129]. It reached #84 on the pop charts and #23 on the Easy Listening charts. Again we have a "group" that no one can identify. The French EP at left has a photo of "The Kids Next Door," but the group is almost assuredly a studio group produced by Morris "Murray" Wecht and Pierre Maheu. Wecht, an ex-Brill Building songwriter, also wrote the hit and co-wrote the flip. So the five "Kids" pictured may or may not have anything to do with the group on the record. The voice on the record may be Mary Sinclair, longtime actress and former model. As with the "You Know Who" group, no followup record at all. The group just disappeared.

The next chart record was "Wish Me A Rainbow," a pop record by Gunter Kallman and his chorus [4 Corners 138]. It charted in November, 1966, and reached #2 on the Easy Listening charts but only #63 on the Hot 100. Kallman was a choir director from Berlin, Germany. His remake of "Chanson D'Amour" [4 Corners 139] entered the Easy Listening chart in March, 1967, reaching #28 there, but failing to chart on the pop charts overall.

Finally, there was French orchestra leader Raymond Lefevre, who had started his US career on the parent Kapp label, but was moved to 4 Corners when that label was established. He reached #37 (and #4 Easy Listening) with "Soul Coaxing (Ame Caline)" [4 Corners 147], which first charted in February, 1968. He followed that with "La La La (He Gives Me Love)" [4 Corners 149], which charted in May, 1968 and reached #23 on the Easy Listening chart, but only Bubbled Under at #110 on the pop charts.

And that was it for chart successes. Other artists with singles on the label included Lolita, Robertino, Kings Alley, Francoise Hardy (a French star who couldn't buy a hit here), the Ramblettes, Italian songstress Milva, Art Grayson, Siv Malmquist, Boulou, Gary Bryant, the Clingman Clan, Neil Darrow, Milton DeLugg, the Coronados, Tammy St. John, Viviana, the Calendar Girls, the Canadian rockers the Crew-Cuts (who redid "Earth Angel" and "Don't Be Angry"), Kalney Virtamen, Freddy Quinn, Philip Dante, Heinz Schachtner, Andre Brasseur, Helmut Zacharias, Teddy Mertens, Irving Bean, Sandy Williams, Claudio Villa, and Michael Polnareff (who incidentally wrote "Soul Coaxing.")



| | |
| --- | --- |
| Cover | Number - Title - Artist - [Release Date] Contents |
| | 4 Corners of the World FCL/FCS 4200 Series: |
| | FCL/FCS 4200 - Bravo! The Italian Singing Star - Claudio Villa [11/64] Amor, Mon Amour, My Love/Tutto Va Bene/Occhi Neri E Cielo Blu/Libero/Delizioso Inganno/Addio Addio //Piccola Butterfly/Suonata Per Roby/Fermate Il Mondo/Quando Ci Si Vuol Gene Come Noi/Strasera Pago Io/Resta Cu Mme |
| | FCL/FCS 4201 - mmmMilva: The Pantera of Di Goro (Italy's Exciting Singing Star) - Milva [11/64] Voglio Bene Al Mondo/Les Enfants Du Piree/Tutto Va Bene/Loneliness Of Autumn/Anche La Fine/Exodus/L'unica Ragione/Non Sapevo/Milord/I'll Set My Love To Music/Una Storia Cosi'/Arlecchino Gitano |
| | FCL/FCS 4202 - Lolita: Sings in German - Lolita [11/64] Where Have All The Flowers Gone/Dreaming Of Home/Waiting By The River/Dream Music/Addio, My Darling, Bye Bye/Silvery Seagull/For A Few Days/Then Came Johnny/Nostalgic For Samoa/A Song Rings Through The Valley/When We Shall Meet Again/Across The Seven Seas |
| | FCL/FCS 4203 - The All Stars Play the Exciting Music of My Fair Lady - All Stars [11/64] On the Street Where You Live/Wouldn't It be Loverly/I Could Have danced All Night/Show Me/Ascot Gavotte/With a Little Bit of Luck/You Did It/Just You Wait/Get Me to the Church on Time/Without You/The Rain in Spain/I've Grown Accustomed to Her Face |
| | FCL/FCS 4204 - England's Famous Band of the Life Guards - Band of the Life Guards [11/64] Milanollo/San Lorenzo/Tulsa/Trot And Canter Medley/El Abanico/Fame And Glory/The Thin Red Line/The Life Guards Regimental Slow Marches//Post Horn Galop/Punjab/Royal Windsor/With Sword And Lance/Sousa On Parade/Birdcage Walk |
| | FCL/FCS 4205 - Carnivals and Guitars - Jorge Renan and His Guitar Combo [11/64] Un Telegrama/Historia De Un Amor/Piel Canela/Sabor A Mi/Yomo's Pachanga/El Trompito/Brasilia/La Cumparsita/El Pajaro Chogui/Caminito/Reir Llorando/Gota De Lluvia |
| | FCL/FCS 4206 - The Miracle of Lourdes: A Live Recording of a Pilgrimage to Lourdes - Various Artists [11/64] Carillon: Ave Maria/Arrival Of The Pilgrims In The Grotto: In Our Homes, Be The Queen; Hail Mary, Full Of Grace; Gloria/In The Saint Pius X Basilica: Pontifical Mass Celebrated By His Emminence Cardinal Lefebvre, Archbishop Of Bourges : Mass Of The Apparition Of N.-D. De Lourdes/Procession Of The Holy Sacrament: Bells : Invitation To The Procession; O Salutaris; Lauda Sion; Lauda Jerusalem; Benedictus; Invocations; Parce Domine; Tantum Ergo; Laudate/Procession By Torchlights: Ave Maria; Credo; Benediction Of The Bishops; Salve Regina |
| | FCL/FCS 4207 - The Big Band Sound - Rusty Dedrick & The All Star Orchestra and Septet [11/64] It Had To Be You/You've Got Me Crying Again/The One I Love/If You Were Only Mine/Spain/On The Alamo/No Greater Love/The Wooden Soldier And The China Doll/Why Can't This Night Go On Forever/I'll Never Have To Dream Again/Swingin' Down The Lane/I'll See You In My Dreams |
| | FCL/FCS 4208 - The "Yeh-Yeh" Girl from Paris! - Francoise Hardy [4/65] Tous Les Garcons Et Les Filles (All The Boys And Girls)/Ca A Rate (It Failed)/La Fille Avec Toi (The Girl With You)/Oh Oh Cheri/Le Temps De L'Amour (The Time Of Love)/Il Est Tout Pour Moi (He's All For Me)/On Se Plait (As You Please)/Ton Meilleur Ami (Your Best Friend)/J'ai Jete Mon Coeur (It Threw Away My Heart)/Il Est Parti Un Jour (He Left One Day)/Je Suis D'accord (I Agree)/C'est A L'Amour Auquel Je Pense (I Think About Love) |
| | FCL/FCS 4209 - Serenade for Elisabeth (And Those Who Stay Young) - Gunter Kallmann German Chorus with Orchestra and Bells [4/65] (5-65, #97) Serenade For Elisabeth/Waltz Music (Bei Walzermusik)/Annabelle/Music For Falling In Love (Musik Zum Verlieben)/Bell Serenade (Glocken Serenade)/The Round Dance (Der Reigen)/Toselli Serenade/La Montanara/Bells Ring To The Stars (Glocken Klingen Zu Den Sternen)/Serenade From "The Millions Of Harlequins" (Serenade Aus "Die Millionen Des Harlekin")/O, Mein Papa/Dream Melody (Traum Melodie) |
| | FCL/FCS 4210 - Italian Style - Los Marcellos Ferial [4/65] Little Angel Of Anzio/You've Become Tan/Crazy/Tell Me/Now That You're Leaving/Small, Timid And Fragile/Vaja Con Dios/Maria Elena/Our Pledge/A Poncho And A Sombrero/Tonight And For Always/Something's Missing |
| | FCL/FCS 4211 - The 13 Year Old Jazz Sensation from France - Boulou with the Paris All Stars [1965] Mack The Knife/Groovin' High/Night And Day/Undecided/Blue 'N Boogie/Salt Peanuts/A Night In Tunisia/Bluesette/I'll Never Smile Again/Ow/The Girl From Ipanema/Ascot |
| | FCL/FCS 4212 - The Incomparable Coronados - Coronados [1964] The Luck Of Ginger Coffey (Watching The World Go By)/Who Can I Turn To (When Nobody Needs Me)/The Stolen Hours/I Wish You Love/Step By Step/Go On Crying/He Knew (And I Thank Him)/Love Is/Iris/Theme From "Black Orpheus"/I Left My Heart In San Francisco/Joanna's Theme |
| | FCL/FCS 4213 - You'll Love Jamaica - Keith & Ken with The Jamacian Steel Band [1965] Tear Up/Walk Like A Dragon/Joy Ride/I Don't Love You Anymore/Rough & Tough/You're The One I Love/The Hop/Say Bye Bye/I Won't Let You Go/Caray Go Bring Come/Dumplings/Beautiful Garden |
| | FCL/FCS 4214 - Softly...The Haunting, Sensuous Guitars of Los Mayas - Los Mayas [1965] Softly, As in a Morning Sunrise/Autumn Leaves/Pretty Little Girl/Stardust/Secret Garden/Jo/El Toro/Angel's Lullaby/A Rua Dos/La Playa (Aruba)/Primo/Deserted City |
| | FCL/FCS 4215 - Amore Amore: The Romantic Voice of Italy's Claudio Villa - Claudio Villa [1965] Ask Me (Io)/Great Things (Cosi Grande)/Neapolitan Heart (Core Napuletano)/Little Donkey ('O Ciucciariello)/Silent One (Silenzioso)/Anema E Coro/Maria La O/Like The Roses (Come Le Rose)/The Little Ladder (Scalinatella)/Step By Step (Passo Su Passo)/The Month Of Roses ('O Mese D'e Rose)/River (Sciummo) |
| | FCL/FCS 4216 - The Little Dancing Chicken and Other Prize Winning Songs of the Children's Gold Coin Festival - Little Singers of Milano with The Zecchino D'Oro Orchestra [1965] The Little Dancing Chicken/Il Prespi Di Stagnola (The Manger Of Tin Foil)/Da Grande Voglio Fare (When I Grow Up I Will Be)/La Piuma Rossa (The Red Feather)/Me L'Ha Detto Uccellino (A Little Bird Told Me)/La Mia Nave Fantastica (My Fantastic Ship)//Il Tiro All'orso (Throw The Ball At The Bear)/Il Torrone (The Candy)/Se Avessi (If I Had)/I Numeri (The Numbers)/Concertino In Cuccina (Concert In The Kitchen)/La Favola Della Gatta (The Story Of The Cat's "Miaow") |
| | FCL/FCS 4217 - Viva! - Digno Garcia and the Trio del Paraguay [1965] La Playa/Ella/Cuando Caliente El Sol/La Barca de Oro/Paraguay Distante/Amor Campesino//Mi Companera/Turna a Sorrento/Noche De Ronda/A Mi Pueblo Escobar/Sabeline/La Dos Puntas |
| | FCL/FCS 4218 - Serenade for a Lady in Love - Gunter Kallman German Chorus with Orchestra with Bells [9/65] Finkenwalzer/Standchen/Hor Mein Lied, Violetta/Mary Lou/Song Of India/Kerzenserenade/Liebe, Die Nie Vergeht/In Mir Klingt Ein Lied/Tiritomba/Hinter Den Blauen Bergen/Concerto D'amour/Guten Abend, Gute Nacht |
| | FCL/FCS 4219 - Maid in Paris - Francoise Hardy [9/65] All Over The World/Only You Can Do It/You Just Have To Say A Word/I Wish It Were Me/Another Place/How Ever Much/Pas Gentille/Nous Etions Amies/Mon Amie La Rose/Pourtant Tu Maimes/Pars/Je N'attends Plus Personne |
| | FCL/FCS 4220 - Great Themes from Foreign Films - Philip Dante & His Orchestra [9/65] Zorba the Greek/The Yellow Rolls-Royce/The Ipcress File/The Amorous Adventures of Moll Flanders/Topkapi/Summertime/The Umbrellas of Cherbourg/La Strada/Mondo Pazzo/Mondo cane/Black Orpheus/Divorce-Italian Style |
| | FCL/FCS 4221 - La Bella Italia - Sergio Franchi [9/65] Pricipessa D'un Di'/Se Due Sguardi S'incontrano/Piu' Nulla/Le Nacchere/Uscita Da Un Quadro (Di Modigliani)/Sulla Sabbia//Sapro' Che Sei Tu (I Wish It Were You)/Grand'mere/Non Ho Mai Amato/La Montagna/Lassu Nel Ciele/Splende L'arcobaleno |
| | FCL/FCS 4222 - Theme from Zorba the Greek and More Greek Dance Music - Kyriakos & His Orchestra [9/65] Theme From Zorba The Greek/Kymata/Mia Fora Monaha Ftani/Mikro Taxidi Sto Yalo/Monaxia/Otan Tin Nykta/Synnefa Platia/I Tapini/Tsifteteli/Efta Evodomades/Iliachtida/Erotiko |
| | FCL/FCS 4223 - Buon Natale: Christmas in Italy - Sergio Franchi and Favorite Italian Stars [9/65] Tu Scendi Dalle Stelle (O' Bambino) - Sergio Franchi With Chorus And Orchestra /Jingle Bells - The Radar Quartet/E' Natale (It Is Christmas) - Achille Togliani And The Comet Quartet/Adeste Fideles - The Padova Chorus/Babbo Natale - The Radar Quartet/Santa Notte - Sergio Franchi With Chorus And Orchestra/Bianco Natale (White Christmas) - Sergio Franchi With Chorus And Orchestra/Frosty L'Omino Di Neve (Frosty The Snowman) - The Radar Quartet/Buon Natale All'Italiana - Achille Togliani And The Comet Quartet/Canto Della Nativita (O Tannenbaum) - The Alpi Chorus/Sott L'Albero Di Natale - Tony DeVita and the Radar Quartet/Fra L'Orrido Rigor - Sergio Franchi With Chorus And Orchestra |
| | FCL/FCS 4224 - Paris Sings - Barclay Singers [1965] Under Paris Skies/April In Paris/La Mer/Mademoiselle De Paris/Paris Is At Her Best In May/Autumn Leaves/Poor People Of Paris/The Three Bells/La Vie En Rose/Song From The Moulin Rouge/Retour A Paris/I Love Paris |
| | FCL/FCS 4225 - Dance Music from the Old Country - Bert Dahlander and Friends [1965] Too Fat Polka/The Night Is Here/A Simple Tulip/Axel Ohman/Tjo Och Tjim/Kosterwaltz//Finnish Polka/Skriskoakarna (Skaters' Waltz)/Oh Boy Oh Boy/Skargardsflirt/Kan Du Vissla Johanna/Siste Man Pa Skansen |
| | FCL/FCS 4226 - Songs for My Love - Gunter Kallmann Chorus [1965] Sailor (Your Home Is The Sea)/Seagull, Fly To Your Home (Mowe, Du Fliegst In Die Heimat)/Fisherman Of Capri (Capri Fischer)/La Paloma/Beyond The Sea (La Mer)/The Setting Sun (Abendsonne)/Serenade/Moonlight Madonna (Poeme)/Glowworm (Gluhwurmchen)/The Windmill Is Turning (Alte Muhlen, Junge Herzen)/Lili Marleen/Auld Lang Syne (Wenn Wir Heut' Auseinander) |
| | FCL/FCS 4227 - Today's Top Hits from Italy: 16 Great Songs-Italy's Best Sellers - Philip Dante Orchestra and Chorus [1965] Amore Scusami/Amici Miei/Il Problema Piu Importante/L'Amore Ha I Tuoi Occhi/Medley: Quando Vedrai La Mia Ragazza, Cin Cin/Lui/Stasera Gli Angeli Non Volano//Non Ha Piu Luce Il Mondo/Cominciamo Ad Amarci/Inveci No/Medley: Non Son Degno Di Te, Una Lacrima Sul Viso, Amore Fermati/Le Colline Sono in e'Tore/Sabatosera |
| | FCL/FCS 4228 - Il Fantastico!: Sergio Sings in Italian - Sergio Franchi [1965] Lei/Amore Mio/Perderti/Pero' La Bocca/Perdoniamoci/Falsamoneta/Non So Dimenticare/Il Nostro Concerto/In Fondo All' Anima/Smarrimento/Gringo/I Tuoi Occhi Verdi |
| | FCL/FCS 4229 - Trumpet in the Night - Teddy Mertens & His Orchestra [1965] Trumpet In The Night/Farewell Waltz/This Is My Prayer (Non Ho L'eta)/My River Of Memories/Velvet Night (Moscow Skies)/Good Night, Johnny Boy/The Whistler And The Trumpet/Autumn Love/Try/A Lonesome Heart/Sunset Prayer/The Whistlin' Duck |
| | FCL/FCS 4230 - 12 Great International Hits Sung in Spanish - Jose Guardiola [1966] Tu No Tienes Corazon/Uno De Tantos/Mas/Dile/Paz/Sapore Di Sale/La Mamma/Hoy De Rodillas/Esta Noche Pago Yo/Corazon/Cae La Nieve/Dame La Mano Y Corro |
| | FCL/FCS 4231 - Francoise - Francoise Hardy [1966] Ce Petit Coeur/Il Se Fait Tard/Tout Ce Qu'On M'a Dit/L'Amitie/En T'Attendant/Je T'Aime//Non Ce N'est Pas Un Reve/Quel Mal Y A-T-IL A Ca/Tu Peux Bien/Le Temps Des Souvenirs |
| | FCL/FCS 4232 - Alpine Favorites in German - Lolita with Alpine Yodeling Duo & The Wiestaler Shoe Clappers & Folk Singers [1966] Die Holzknechtbaum /Erzherzog Johann Jodler/Komm Wieder/Wo Die Walder Heimlich Rauschen/Hirtengruss/Der Traurige Bua/Lustig Ist Das Zigeunerleben/Tief Im Bohmerwald/Wenn Unser Vater Glucklich Ist/Enzianjodler/'S Zeisele/Alpenfrieden |
| | FCL/FCS 4233 - Exciting Dance Music of Greece - Kyriakos & His Orchestra [1966] Limani/Oniro/Anatoli/Laterna/Extasis/Thalassino/Mandali/Melancolia/Taverna/Plaka/Kastella/Mykonos |
| | FCL/FCS 4234 - Jazz Left Bank - Boulou with The Paris All Stars [8/66] Moonlight In Vermont/Boulou's Theme/Asturias/Yesterdays//How High The Mon/Tenderly/Nuages (Clouds)/All The Things You Are |
| | FCL/FCS 4235 - Lara's Theme - Gunter Kallmann Chorus [9/66] Original issue. Strangers In The Night/The More I See You/Wish Me A Rainbow/Lollipops And Roses/The Day The Rains Came/The Impossible Dream//Somewhere, My Love (Lara's Theme)/You're Nobody 'Til Somebody Loves You/I'm Always Chasing Rainbows/Beyond The Sea/If You Are But A Dream/Romantica |
| | FCL/FCS 4235 - Wish Me a Rainbow - Gunter Kallmann Chorus [12/66] (12-66 #126) Originally titled Lara's Theme, the title was changed as "Wish Me a Rainbow" was becoming a hit. Strangers In The Night/The More I See You/Wish Me A Rainbow/Lollipops And Roses/The Day The Rains Came/The Impossible Dream//Somewhere, My Love (Lara's Theme)/You're Nobody 'Til Somebody Loves You/I'm Always Chasing Rainbows/Beyond The Sea/If You Are But A Dream/Romantica |
| | FCL/FCS 4236 - To Live-To Love-To Dance-To Sing: The Wonderful Songs of Israel - Alonim Singers [10/66] Stereo version is rechanneled. Kershoshana/Erev Shel Shoshanim/Va'yiven Uziahu/Zamar Noded/Kol Dodi/Hinei Ma Tov/Rad Halayla/Zot Haderech L'elat/Druzi/Hava Nagila/David Melech Yisrael/Hafindjan/Lamidbar/Hana'ava Babanot/Hevenu Shalom Aleichem |
| | FCL/FCS 4237 - With All My Heart - Gunter Kallmann Chorus [3/67] Chanson D'amour/Misty Blue/This World/Sailor/It's Magic/Born Free/Wednesday's Child/Tiny Bubbles/Day In The Life Of A Fool/Love Me With All Your Heart/Morning, Noon And Night/My Heart Cries For You |
| | FCL/FCS 4238 - Je Vous Aime - Francoise Hardy [4/67] La Nuit Est Sur La Ville/Et Meme/Qui Aime-T-Il Vraiment/Tun'as Qu'un Mot A Dire/Saurais-Je/Je Veux Qu'il Revienne/Dans Le Monde Entier/Tu Ne Dis Rien/Comme Tant D'autres/Je Pense A Lui/L'amour S'en Va/Bien Longtemps |
| | FCL/FCS 4239 - Love Me, Please Love Me - Raymond Lefevre & His Orchestra [4/67] When A Man Loves A Woman/A Man And A Woman/Black Is Black/Celine/La Plage Aux Romantiques/Little Man/Love Me, Please Love Me/Strangers In The Night/Eleanor Rigby/Angelique/Western Fingers/Diamant |
| | FCL/FCS 4240 - French Rock-Blues - Michel Polnareff [4/67] No, No, No, No, No/Heart Story/Beatnik/Chere Veronique/Love With You/Don't Step On My Toes//Love Me, Please Love Me/Ballad For You/Time Will Tell/Under What Star Was I Born?/Night Bird |
| | FCL/FCS 4241 - Claudio Villa Sings Non Pensare a Me: Winning Song of the San Remo Festival '67 and Other Great Italian Favorites - Claudio Villa [6/67] Non Pensara A Me/Ora Piu' Che Mai/La Canzone Dell'amore/Non Dirmi Addio/Tiempe Belle/La Novia/Una Casa In Cimo Al Mondo/'Na Fronna Gialla/Marechiare/Perche' Piango/Signora Fortuna/Roma, Roma |
| | FCL/FCS 4242 - Call It Love - Gunter Kallmann Chorus [1967] This is My Song/Somethin' Stupid/Portrait of My Love/Release Me/Now I Know/Love Me Forever//Paint Yourself a Rainbow/My Cup Runneth Over/Alfie/They Told Me/Edelweiss/Two for the Road |
| | FCL/FCS 4243 - Melina! Melina!: The Exciting Greek Sound - Kyriakos & His Orchestra [8/67] Kea/Nostalghia/Illya Darling/Kassandra/This Is My Song/Melina /Uska Dara/Love Zeimbekiko/Harem Dance/Tsamiko/Puppet On A String/Taxidi |
| | Note: Starting in March, 1968, albums were issued in stereo only. Albums below showing mono releases were issued before this time. |
| | FCS 4244 - Soul Coaxing (Ame Caline) - Raymond Lefevre & His Orchestra [3/68] (3-68, #117) Original issue. Issued in stereo only. Soul Coaxing (Ame Caline)/This Is My Song/Time Alone Will Tell/Adios Amor/Dommage, Dommage/If I Were A Carpenter//Groovin'/Release Me/A Whiter Shade Of Pale/L'important De La Rose/Quand On Revient/Puppet On A String |
| | FCS 4244 - A Whiter Shade of Pale - Raymond Lefevre & His Orchestra [5/68] Reissued with a new cover and title with "A Whiter Shade of Pale" and "Soul Coaxing" switched in their track order. Issued in stereo only. A Whiter Shade Of Pale/This Is My Song/Time Alone Will Tell/Adios Amour/Dommage, Dommage/If I Were A Carpenter//Groovin'/Release Me/Soul Coaxing (Ame Caline)/L'important C'est La Rose/Quand On Revient/Puppet On A String |
| | FCL 4245 - The Gunter Kallman Chorus Sings 28 Christmas Songs in German - Gunter Kallmann Chorus [12/67] (12-67 #26Xmas) Issued in monaural only. Ein Kleiner Weisser Schneemann (Jingle Bells), Eine Muh, Eine Mah Am Weihnachtsbaume Die Lichter Brennen (Christmas Tree Candles), Ihr Kinderlein Kommet (The Children Are Coming)/Kommet, Ihr Hirten (Come, Shepherds), Ihr Hirten Erwacht (Shepherds Awake), Tochter Zion Vom Himmel Hach (From Heaven)/Denn Est Ist Weihnachtszeit (Mary's Boy Child), Schlafe, Mein Prinzchen, Schlaf Ein (Sleep My Prince, Sleep), Ein Stern Ging Auf In Bethlehem (A Star Shone In Bethlehem)/Weihnachten Bin Ich Zu Hause (I'll Be Coming Home For Christmas), Minuit Chrefiens Horst Du Die Glocken Klingen (Do You Hear The Bells Ringing), Suss Klingt Der Engel Chor (White Christmas)/Kling Glockchen (Ring Bells), Liese Rieselt Der Schnee (The Falling Snow), Susser Die Glocken Nie Klingen (The Bells Never Rang Sweeter), Tu Dich Auf Himmelstar (Open Up Heaven's Door)/Lasst Uns Froh Und Munter Sein (Let's Be Happy And Gay), Morgen, Kinder Wird's Was Geben (Tomorrow The Children Get Presents), Alle Jahre Wieder (Every Year), O Tannenbaum (O Christmas Tree)/Es Ist Ein Ros' Entsprungen (A Rose Is Blooming), O Du Frohliche (Oh Happy Christmas Time), Heiligste Nacht (Holy Night)/Abends Will Ich Schlafen Gehn (In The Evening I Will Sleep), Lasst Uns Lauschen (Let Us Listen), Stille Nacht, Heilige Nacht (Silent Night) |
| | FCS 4246 |
| | FCL/FCS 4247 - From Brazil - Jorge Ben [1/68] Issued in both mono and stereo. Rosa Mas Que Nada/Cancao De uma Fa/Menna Gata Augusta/Amor De Carnaval/Nascimento De Um Principe Africano/A Jovem Samba/Frases Toda Colorida/Quanto mais Te Vejo/Vou Andando/Eu Sou Da Pesada/Si Manda (English Titles: Rosa Above All/Song For A Fan/Augusta The Kitten/Carnival Love/Birth Of An African Prince/The Young Samba/Phrases/Full Of Colors/As Often As I See You/Walking Along/I'm A Square/If You Command) |
| | FCS 4248 - Live for Love - Gunter Kallmann Chorus [1968] Live For Life/If Ever I Would Leave You/What Now My Love/Counting The Days/Tammy/More Than A Miracle/Up-Up And Away/Look To The Rainbow/Fly Me To The Moon/If/Our Day Will Come/Tonight We Love |
| | FCS 4249 - Jazz Loves Bach - Newton Wayland and the Wayland Quartet [1968] Flute Sonata, E Flat Major/Prelude, D Major/Prelude, C Minor/Invention, E Major (Transposed To E Flat)/Prelude, F Major/Flute Sonata, E Major (Transposed To E Flat)/Violin Sonata, No. 1, B Minor/Prelude, F Major/Fugue, F Major (Transposed To A Flat)/Prelude, C Major |
| | FCS 4250 - La La La: He Gives Me Love - Raymond Lefevre & His Orchestra [6/68] La La La (He Gives Me Love)/I'm Coming Home/San Francisco (Be Sure To Wear Some Flowers In Your Hair)/I'll Never Leave You/Angelica/Delilah/The World We Knew (Over And Over)/I Love You, You Love Me/The Days Of Pearly Spencer/If I Only Had Time/The Last Waltz |
| | FCS 4251 |
| | FCS 4252 - Seventh Veil - Artie Barsamian [1968] The Seventh Veil/Echoes From The Orient (Chifte Telli)/The Dance Of Van (Haleh)/My Sweetheart (Seeroor Yar)/Oriental Moods (Geozlarin)/Dance Rhythms (Yoru Yurvroom Yoru)//Procession Of The Sardar/The Candy Maker (Hulvage)/The Country Dance (Luz Bahr)/Oud Fantasy/Oriental Jump (Tamzara)/Sweet Girl (Seeroon Aghchig) |
| | 4253 |
| | FCS 4254 - The Gunter Kallmann Chorus in Hollywood - Gunter Kallmann Chorus [1968] The Look Of Love/The Eyes Of Love/Thoroughly Modern Millie/Call Me Irresponsible/When I Look In Your Eyes/In The Heat Of The Night/Talk To The Animals/Wait Until Dark/The Bare Necessities/Fascination/The Shadow Of Your Smile |
| | FCS 4255 - The Best of Francoise Hardy - Francoise Hardy [1968] Je Veux Qu'il Revienne (Only You Can Do It)/Ce Petit C ur/Dis Lui Non (Say It Now)/Tous Les Gar Cons Et Les Filles (All The Boys And Girls)/Je T'aime/Dans Le Monde Entier (All Over The World)/La Nuit Est Sur La Ville (Another Place)/J'ai Jet Mon C ur (I Threw Away My Heart)/Pas Gentille (Bad Boy)/Pourtant Tu M'aimes (I Still Love Him)/Et M me (How Ever Much) |
| | FCS 4256 - Love is Blue - Gunter Kallmann Chorus [8/68] Love Is Blue/Till/Lollipops And Roses/Be My Love/You Know What To Do/The Day The Rains Came//Love Me With All Your Heart/Full Moon And Empty Arms/The Legend Of The Bells/Sometimes/Lili Marlene |
| | FCS 4257 - Merry Christmas - Raymond Lefevre & His Orchestra [9/68] Silver Bells/White Christmas/Jingle Bells/Little Father Christmas/O Tannenbaum/Angels We Have Heard On High/Silent Night/O Holy Night/He Is Born The Child Of God/Three Angels Came That Night/O Come All Ye Faithful (Adeste Fideles) |
| | FCS 4258 - Mediterranean Holiday - Kyriakos & His Orchestra [1969] Passalimani/Kaiki/Izmir/Galata/Libanese Dance/Laila//Simha Hora/Ischia/Napolitana/Nykterino/Thalassa |
| | FCS 4259 - Love Moods - Romantic Guitars of Los Mayas [4/69] Concerto D'Aranjuez/El Testamento/Loveland/Berceuse/Adago Para Una Guitarra//Goyescas (From Granados)/Poeme/Aria (From the Suite No. 3 in D Major by Bach)/No Man's Land |
| | FCS 4260 - Beloved Melodies of Greece - Constantine Callinicos Orchestra [1969] Island Dance/The Kiss/To Erinaki/The Mother Of Kitso/Dances Of Thessalia/Dance Of Zalongou/Pandrevoun Tin Agapi Mu/Xipnixe/To Len/Pentozalis |
| | FCS 4261 - Dedicated to the One I Love - Los Mayas [1969] Stranger In Paradise/Scarborough Fair/Canticle/Tears For Love/La Noche Triste/Erotiko/Dedicated To The One I Love/Maria/Rosa Linda/When The World Was Mine/Pavane For The One I Loved/Plaisir D'amour |
| | 4 Corners of the World Samplers: |
| | FCD 1 |
| | FCD 2 |
| | FCD 3 - Music of the World on Four Corners of the World - Various Artists [1966] Serenade For Elisabeth - Gunter Kallmann/Milanollo - Band Of The Life Guards/All The Boys And Girls - Francoise Hardy/La Playa - Los Mayas/Maria La O - Claudio Villa/Cuando Caliente El Sol - Digno Garcia//Theme From Zorba The Greek - Kyriakos And His Orchestra/Theme From The Yellow Rolls Royce - Philip Dante/Principessa D'un Di - Sergio Franchi/Under Paris Skies - Barclay Singers/La Mamma - Jose Guardiola/Trumpet In The Night - Teddy Mertens |
| | Related LP: |
| | International Allied IA-420 - First Album - "You Know Who" Group [1965] Roses Are Red My Love/Hey You And The Wind And The Rain/It's A Funny Thing (That Money Can Do)/Autumn Leaves/It Was Only Yesterday/How Can She Live (Without Me)/Blue Is The Night/Reelin' And Rockin'/Red River Valley/This Day Love/Tell Me (How Do I Say Goodby?)/Alberta |