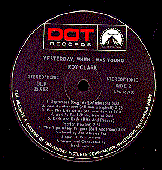 Dot Album Discography, Part 5
LPs 25852-26022
By David Edwards and Mike Callahan
Last update: November 16, 2003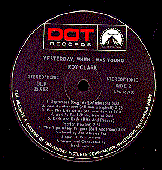 Gulf+Western, a conglomerate, bought Paramount Pictures in 1968, and when this took place, both the Dot record label and the jacket logos changed. This was not a smooth changeover, as the remaining old black Dot label blanks were used up. The new label was black with an orange logo in a box above the center hole, the Paramount mountain logo to the right of the Dot Records. At the bottom of the label in white is "DOT RECORDS, A DIVISION OF PARAMOUNT PICTURES CORPORATION, HOLLYWOOD, CALIFORNIA 90028". This label was used to the end of 1971.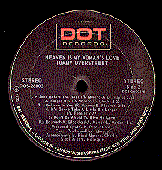 Near the end of 1971, another corporate change put Dot under Famous Music, which was Paramount Pictures' music publication arm before G+W took over. Now the two seemed to be different divisions under Gulf+Western. The jacket logo and the label logos were changed to eliminate the Paramount mountain, leaving just "DOT RECORDS." The label was the same black, with the "DOT RECORDS" orange logo above the center hole as before, but without the Paramount mountain logo. At the bottom of the label is "A DIVISION OF FAMOUS MUSIC CORPORATION, NEW YORK, NEW YORK 10023" This label was used from approximately the end of 1971 to the end of the 26000 series in 1973. At the time the logo changed, the series prefix changed from "DLP-" to "DOS-".

We would appreciate any additions or corrections to this discography. Just send them to us via e-mail. Both Sides Now Publications is an information web page. We are not a catalog, nor can we provide the records listed below. We have no association with Dot Records, which is currently owned by Universal Music Group. Should you want to contact Universal, or should you be interested in acquiring albums listed in this discography (which are all out of print), we suggest you see our Frequently Asked Questions page and follow the instructions found there. This story and discography are copyright 1999, 2003 by Mike Callahan.



DOT ALBUM DISCOGRAPHY, PART 5

Number - Title - Artist [Release Date] (Chart) Contents

DLP-3852/25852 - There's a Whole Lalo Schifrin Goin' On - Lalo Schifrin [1968]Secret Code/Dissolving/Machinations/Bride Of The Wind/Life Insurance/How To Open At Will The Most Beautiful Window//Vaccinated Mushrooms/Two Petals, A Flower And A Young Girl/Wheat Germ Landscapes/The Gentle Earthquake/Hawks Vs. Doves

DLP-3853

DLP-3854/25854 - Colours - Colours [1968] Bad Day At Black Rock/Love Heals/Helping You Out/Where Is She/Rather Be Me/I'm Leaving//Brother Lou's/Love Colony/I Think Of Her (She's On My Mind)/Lovin' Cataleptic/Don't You Realize

DLP-3855/25855 - Blue (Soundtrack) - Manos Hadjidakis [1968] Morning After Love/The Death Of Blue/Blue's Solitude/others

DLP-3856/25856 - Firewater! - Fireballs Featuring Jimmy Gilmer [1968] Our copy of this has the old Dot label, with the new Paramount G+W logo on the cover. Many of the stereo tracks on this album are basically rechanneled with added instrumentation to make them stereo. Your Turn To Cry (S)/Maybe Baby (S)/She Belongs To Me (S)/Not Upon My Door (S)/Almost Eighteen (S)/Red Cadillac And A Black Mustache (S)//Won't Be Long (S)/Let The Good Times Roll (S)/Lucille (S)/Think It Over (S)/Daisy Petal Pickin' (E)

From this point, most releases are stereo only, but some mono commercial and deejay issues are known.

DLP-25857 - Quietly Wild - Billy Vaughn [1968] Valley Of The Dolls/Soul Coaxing/Love is Blue/That Night/Let It Be Me/St. James Infirmary/Dawn of Our Love/Spanish Lights/Goodbye Is Not Forever/Gentle On My Mind

DLP-25858 - Love Album - Liberace [1968] Love/Love Is a Many Splendored Thing/Love Is Blue/Medley: Love For Salk, What Is This Thing Called Love/Falling In Love With Love/I Can't Give You Anything But Love/I Love a Piano/Dream of Love/I'm In the Mood For Love/You're Just In Love/Easy to Love

DLP-25859 - Gunsmoke's Festus Calls Out Ken Curtis - Ken Curtis [1968]

DLP-25860 - French Horns, Volume 2 - Jimmy Haskell [1968] Summer Scene/Owed to Bobbie Gentry/Fred/Cab Driver/Liebchen/Pretty/Only Love/Alcia/Valerie/Silly Song/Ode To Billy Joe

DLP-25861 - Mike Nesmith Presents/The Wichita Train Whistle Sings - Wichita Train Whistle [1968] (8-68, #144) Nine Times Blue/Carlisle Wheeling/Tapioca Tundra/Don't Call on Me/Don't Cry Now//While I Cried/Papa Gene's Blue/You Just May Be the One/Sweet Young Thing/You Told Me

DLP-25862 - The Odd Couple (Soundtrack) - Neal Hefti [1968] (7-68, #190) Down With The Lights/The Odd Couple Main Title/Man Chases Man/Clean Poker/Dirty Poker/The Curse Of The Cat People/Domestic Quarrel/Metropole/Oscar Blows Up/Tomatoes/The Odd Couple/End Title

DLP-25863 - Urban, Suburban - The Fantastic Guitar of Roy Clark [1968] (7-68, #43 C&W) Indiana/Perfidia/Maria Elena/Yesterday/Poor People of Paris/Black Sapphire/Goodbye My Bluebell/Twilight Time/Meet Mr. Callaghan/Malagueña

DLP-25864 - Hank Thompson Sings the Gold Standards - Hank Thompson [1968] Green Light/I'm Movin' On/He'll Have to Go/Slipping Around/Cold, cold Heart/Walking the Floor/Humpty Dumpty Heart/Together Again/Smoke, Smoke/She Thinks I Still Care 16 Tons/6 Days on the Road

DLP-25865 - I Believe In Love - Bonnie Guitar [1968] (7-68, #39 C&W) Honey/Maiden's Prayer/I Love You Joey/I'm Not Through/Sands of Rosa Rita/Gentle On My Mind/Faded Love/You Can't Stop My Heart/Cathedral To Jimmy/Lonely Wine

DLP-25866 - Eastside, West - Eddie Fukano [1968] If Tomorrow Could Be Yesterday/Columbus Stockade Blues/Crying Time/Shoes Goes On the Other Foot/I Really Don't Want to Know/I Gave a Party/It's Lonesome/I Didn't See the Sign/Soft Rain/Congratulations/You Took Her Off My Hands

DLP-25867 - Off The Top - Compton Brothers [1968] Honey/I Wanna Live/Los Angeles/Tender Lovin' care/Will You Visit Me/2 Little Hearts/Just For You/Poorest Side/Long Arm of Love/Turn On the Sunshine/Money

DLP-25868 - A Ray of Sunshine - Ray Griff [1968] (8-68, #42 C&W) Baby/Move a Little Farther/I Got You/One of the Chosen/Fgew/Your Lily White Hands/Sugar From My Candy/Something Special/Take My Hand/I Wanna Live/Till the Right One Comes.Lean Horse

DLP-25869 - Grammy Award Songs - Pete King [1968] Up, Up and Away/What Kind of Fool?/Hello, Dolly!/Days of Wine and Roses/Exodus Theme/Shadow of Your Smile/Volare/Michelle/Battle of New Orleans/Moon River

DLP-25870 - Villa Rides! (Soundtrack) - Maurice Jarre [1968] Main Title/Much More/Waltz In the Clouds/After the Marriage/Love Theme/Villistas/Attacking/Battle/Petit Caf'/After the Battle/Cantina Dance/Villa & Madero/End Title

DLP-3871/DLP-25871 - Paul Simon Interpreted - Sound Symposium [1968] Sound of Silence/For Emily/I Am a Rock/Mrs. Robinson/Bookends/59th Street Bridge/Scarborough Fair-Canticle/Cloudy/Most Peculiar Man/Dangling Conversiation/Interlude/Homeward Bound

DLP-25872 - My Shy Violet - Mills Brothers [1968] (8-68, #190) But For Love/Bring Me Sunshine/Am I That Easy To Forget/Flower Road/My Shy Violet/Ol' Race Track/Rose (A Ring To The Name Of Rose)/Straight Down The Middle/Sugar Boat/This Is The Last Time I'll Cry Over You

DLP-25873 - Uncle Bill Socks It to Ya - Uncle Bill [1968] Uncle Bill's Epilogue/Bottle of Wine/Ballad of Bonnie & Clyde/Bears/Mighty Quinn/Here Comes the Judge/Beaver Falls Open/With a Little Help/Bass Drum Henry/May I Take a Giant Step/Unicorn/Yummy, Yummy

DLP-25874 - Yankee Dollar - Yankee Dollar [1968] Sanctuary/Good Old Friends/Catch the Wind/If In Swimming/Follow Your Dream's Way/Live & Let Live/City Sidewalks/Let's Get together/Winter Boy/Times, They Are a Changin'/Johann Sebastian Cheetah

DLP-25875 - Rosemary's Baby (Soundtrack) - Christopher Komeda [1968] Lullaby, Part I - Mia Farrow/The Coven/Moment Musical/Dream/Christmas/Expectancy//Main Title - Mia Farrow/Panic/Rosemary's Party/Through The Closet/What Have You Done To Ist Eyes/Happy News

DLP-25876 - Look Ahead - Pat Boone [1968] Gonna Find Me a Bluebird/I Just Said Goodbye/Love of the Common People/Take These Chains/Day After Forever/Too Soon/Kaw- Liga/Defening Roar/More & More/Baby/I Feel Like cryin'/Help Me Love

DLP-25877 - Era: the 40's - Frankie Carle [1968] Boogie Woogie/Commando's Serenade/Air mail Special/Where or When/Bijou/American Patrol/Pompton Turnpike/It's So Peaceful/Summit Ridge Drive/Sentimental Journey/Beat Me Daddy

DLP-25878 - Great Jazz Men, Volume 1: Traditional - Various Artists [1968] At the Jazz Band Ball/That's a Plenty/Just the Blues/This Nearly Was Mine/Pee Wee's Blues/Gentlemen's Blues/Battle Hymn of the Republic/Livin' With the Blues/Oh, I Can't Sit Down/Bring on the Band/Clarinet Marmalade/High Society

DLP-25879 - Great Jazz Men, Volume 2: Contemporary - Various Artists [1968] Thruway/Little Eye Opener/Blues For an African Friend/Prisma/Down For Double/Dot Cats/Annabelle/Exuberance/Marianne/Levy's Leap

DLP-25880 - Classic Collection/Best of Word Jazz - Ken Nordine [1968] My Baby/Down the Drain/You're Getting Better/Outer Space/Miss Cone/What Time Is It?/Sound Museum/Reaching Into In/Mr. Big/Adult Kindergarten/Bury-It-Yourself/Faces In the Jazzamatazz

DLP-25881 - Bonfá - Luiz Bonfá [1968] Mrs. Robinson/Cold Point/The Good, The Bad and The Ugly/Love Is Blue/Afternoon's Wind/Zabumba/Amazonas/Do You Know The Way To San Jose/Aqua Marina/I Will Always Think About You/Santa Cruz

DLP-25882 - A Current Set of Standards - Billy Vaughn [1968] (9-68, #198) This Guy's In Love With You/The Look Of Love/Honey/Cross-Eyed Cyclops/I'll Catch The Sun/Indian Lake/Little Green Apples/Lonely Is The Name/Lullaby From Rosemary's Baby/A Man Without Love/Mrs. Robinson

DLP-25883 - The Way I Feel - Leonard Nimoy [1968] I'd Love Making Love To You/Please Don't Try to Change My Mind/Sunny/Where It's At/Both Sides Now/If I Had a Hammer/Here We Go/Billy Don't Play the Banjo/It's Getting Better/Consilium/Love Is Sweeter/Hich-Hiker

DLP-25884 - Voices In Paradise - Jack DeMello [1969]

DLP-25885 - Jack DeMello Remembers Kui Lee - Jack DeMello [1969] I'll Remember You/One Paddle, Two Paddle/All I Want To Do/The Days Of My Youth/Ain't No Big Thing/Go To Him//Lahainaluna/Rain, Rain Go Away/Kanaka Pete/She's Gone Again/Going Home/No Other Song

DLP-25886 - Wonderful World of Aloha - Jack DeMello [1969]

DLP-25887 - Visit Tijuana - Jack DeMello with the Wakiki Brass [1969]

DLP-25888 - The Board of Directors Annual Report - Mills Brothers and Count Basie [1968] Cherry/Glow Worm/Gentle on My Mind/Sunny/Blue and Sentimental/I'll Be Around/Cilento Lindo/Every Day/Sent For You Yesterday/You Never Miss the Water Till the Well Runs Dry

DLP-25889 - Just a Dream Ago - Rita Moss [1968] Hushabye Mountain/I Cried For You/Come To Me Slowly/You Are My Sunshine/For Love of Ivy/Measure of a Man/Sleep Safe/Gotta Say Goodbye/Lullaby of Birdland/I'm the Singer

DLP-25890 - The Names of My Sorrow - Dean Jones [1968] Sound of Silence/When Joanna Loved Me/Man, Without Love/Autumn of My Life/Name of My Sorrow/I Didn't Know The World Would Last/Didn't We?/Natural Sounds/Sweet Memories/Uh-Huh-Huh

DLP-25891

DLP-25892 - Leaves Are the Tears of Autumn - Bonnie Guitar [1968] Leaves Are The Tears Of Autumn/Poppa Says (Dawn Holds Another Day)/Happy State Of Mind/You Only Think Of Me (When You're Lonely)/Going, Going, Gone//Wake Up To Me Gentle/Almost Like Being With You/It Keeps Right On A-Hurtin'/The French Song/Sweet Child Of Sunshine

DLP-25893 - You've Come This Way Before - Nancy Priddy [1968] White label deejay copies in mono, numbered DLP-3893, were also issued. You've Comne This Way Before/Ebony Glass/Mystic Lady/Christina's World/We Could Have It All/My Friend/Frank/O Little Child/And Who Will You Be Then/On the Other Side/Epitaph

DLP-25894 - On Tap, In the Can, Or In the Bottle - Hank Thompson [1968] (11-68, #42 C&W) On Tap In The Can Or In The Bottle/He's Got A Way With Women/No. 1 On the Hurt Parade/Love Walked Out/I'll set My Teardrops to Music/Big One/Where Is the Circus/If I Lose You/I've Got a Date/Great Society/Let the 4 Winds Choose/Lend Me a Dollar

DLP-25895 - Do You Believe This Roy Clark - Roy Clark [1968] (12-68, #34 C&W) Do You Believe This Town/Way to Survive/A Place For Girls Like You/I'd Fight the World/Tomorrow Night/It Happened Just That Way/Love Wonderful Love/Make The World Go Away/Weakness In A Man/Only Daddy That'll Walk The Line/I Still Miss Someone/You Tried to Ruin My Name

DLP-25896 - Golden Hits of Mac Wiseman - Mac Wiseman [1968] Goin' Like Wildfire/Wabash Cannon Ball/Jimmy Brown/I Wonder How the Old Folks Are/Ballad of Davy Crockett/Tragic Romance/Love Letters/Each Ring/I'm Eatin' High/Baggage Coach/'Tis Sweet To Be Remembered/Letter Edged In Black

DLP-25897 - Alone With Today - Billy Vaughn Singers [1968] To Wait for Love/Where Are They Now?/Who is Gonna Love Me?/Over You/The Fool on the Hill/Harper Valley P.T.A./My Way of Life/Tip Toe Thru the Tulips With Me/The Jimtown Road/Turn Around Look at Me/Dream a Little Dream of Me

DLP-25898 - High on Mount Rushmore - Mount Rushmore [1968] Stone Free/Without No Smog/Ocean/I Don't Believe In Statues/Looking Back/She's So Good/Medley: Fannie Mae, Dope Song

DLP-25899 - Have Yourself A Merry, Merry Christmas - Billy Vaughn [1968] Have Yourself A Merry Little Christmas/The Christmas Song/Christmas Story/Rags/Silver Bells//It Came Upon A Midnight Clear/Nigh Bethlehem/Sleep Baby Mine (Carol Of The Mother)/Deck The Halls/The First Noel/Silent Night

DLP-25900 - Dutch Treat Polkas - Six Fat Dutchmen [1969]

DLP-25901 - The Sound of Love - Liberace [1969] Quando M'innamoro/The Look of Love/Honey/By The Time I Get To Phoenix/Tip Toe Thru The Tulips With Me/Sunny/My Man/Live For Life/I Left My Heart In San Francisco/Bye Bye Blackbird/Harp Etude

DLP-25902 - Straight Ahead - Count Basie [1969] It's Oh So Nice/Lonely Street/Fun Time/Magic Flea/Switch In Time/Hay Burner/That Warm Feeling/Queen Bee

DLP-25903 - The Greatest Roman of Them All - Lyn Roman [1969] The Look of Love/Didn't We/Natural Woman/Help Yourself/Knowing When to Leave/God Bless the Child/Little Green Apples/Unchained/Just a Little Lovin'/When I Was Five

DLP-25904 - Grey Life - Val Stöecklein [1969] Say It's Not Over/Now's The Time/I Can't Have Yesterday/Color Her Blue/French Girl Affair/Morning Child/Possiblity I Was Wrong/Seven Days Away From You/Sounds of Yesterday/I'll Make It Up To You/Second Ending

DLP-25905 - Help Yourself to the Brazilance - Djalma [1969] Help Yourself/Where Is Love?/Soul Limbo/Recado/Cabo Frio/Odd couple/Pulpa de Tamarindo/Zorba/Second Hand Rose/Lamento

DLP-25906 - The Anita Kerr Singers Reflect on the Hits of Burt Bacharach and Hal David - Anita Kerr Singers [1969] (3-69, #162) Alfie/Are You There With Another Girl/Do You Know The Way To San Jose/Don't Make Me Over/A House Is Not A Home/I Say A Little Prayer/In Between The Heartaches/The Look Of Love/Walk On By/What The World Needs Now Is Love/What's New Pussycat/Whoever You Are I Love You/The Windows Of The World

DLP-25907 - My Old Flame - Marion McPartland [1969] Day You Came/Just One More Chance/In the Middle of a Kiss/Je Vous Adore/Thanks/Sing You sinners/Beware My Heart/I'm In Love With the Honorable Mr./Little White Gardenia/Moon Song/Cocktails For Two/My Old Flame

DLP-25908 - Warm World - Jack Sheldon [1969] Look Of Love/More and More Amor/Forget/Odd Couple Theme/Holiday/Grazin' In the Grass/Emily/With a Little Help/In the Wee Small Hours/Nature Boy/Daydream/Sweet Talk

DLP-25909 - Contemporary Composers Interpreted - Sound Symposium [1969] You've Lost That Lovin' Feelin/Darling Be Home/Respect/Dock of the Bay/If I Were a Carpenter/Hey Jude/Don't Think Twice/Alfie/Look of Love/America/Honey/Little Green Apples/Mac Arthur Park

DLP-25910 - The Touch - Leonard Nimoy [1969] I Search/Malden Wine/Now's the Time/Cycles/I Think It's Gonna Rain/I just Can't Help Believin'/Nature Boy/Contact/Man I Would Like to Be/Trip to Nowhere/Peace of Hope

DLP-25911 - Nashville Saxophones - Billy Vaughn [1969] No One Will Ever Know/Lastr Date/Always Late/Mansion On the Hill/I Really Don't Want to Know/You Win/Nashville Sunday Morning/I've got You On My Mind/Mama Tried/Then You Can Tell Me Goodbye/Moon On My Pillow

DLP-25912 - Lush Life, Hawaiian Style - Jack DeMello [1969]

DLP-25913 - Rhythm and Brass - Young Brass [1969] Respect/Down In Memphis/In the Midnight Hour/Soul Man/Mr. Pitiful/Dock of the Bay/Soul Finger/Fa-Fa/I Thank You/Knock on Wood

DLP-25914

DLP-25915

DLP-25916 - Yestergroovin' - Tres Guitars [1969] Yestergroovin'/Nature Boy/Ol' Man River/I'll Never Smile Again/It's A Wonderful World/My Blue Heaven/What's New/Sabre Dance/Lulu's Back In Town/Honeysuckle Rose/I Don't Know Why/Temptation

DLP-25917 - Bugsy - Bugsy's Blues Band [1969] Let Me Fix Your Business/As We Travel/What About Love?/Cross-Cut Saw/I Love the Way You Love/Away/Have a Little Heart/It All Comes Back

DLP-25918 - Mint Tattoo - Mint Tattoo [1968] Vampire Smphony-Sister Bleu/Leper's Epitaph/Policeman's Ball/Littal Lieu Lieu's Revenge/Faces of Roses/I'm Talking about You/Scorpio Woman/Mark of the Beast/Moanin'/With Love/I Hear the Spirits

DLP-25919

DLP-25920 - Miss Country Soul - Diana Trask [1969] (3-69, #34 C&W) Show Me/I've Got to Do a Little Bit better/Build Your Love/Woman/I'll Never Do You Wrong/Keep the One/You Got What It Takes/Sweet Woman Like You/S.Y.S.L.J.F.M./Don't Make Your Children Pay/Hold What You've Got/I Want To

DLP-25921 - I Want One - Jack Reno [1969] It's Only Make Believe/Pull a String/Mysterious Mary/Waitin' Aroung/None of My Business/I've Heard That Song/Blue/Darling, Say It Again/I'll Have Another Cup/Somebody Who Cares/Asphalt Farmin'

DLP-25922 - Things I Remember Well - Justin Tubb [1969] Things I Still Remember Very Well/It Happened/Great River Road Mystery/Maw's Kids/Jody and the Kid/Love of the Common People/Big Blizzard/Family Way/Ballad of $40.00/Big Harlan Taylor/Home/Blackjack County Chain

DLP-25923 - Baby, Ain't That Love - Jack Barlow [1969]

DLP-25924

DLP-25925 - Brotherhood and Other Themes - Creative Crowd [1969] The Brotherhood Dance (The Dance We Didn't Dance) (From The Paramount Picture "The Brotherhood")/Love Theme From Romeo & Juliet (From The Paramount Picture "Romeo & Juliet")/Let's Get Together (Palla, Pallina)/You And Only You (Un Bacio Alla Volta)/Anyone Can Play (From The Paramount Picture "Anyone Can Play")/Mona Lisa (From The Paramount Picture "Captain Carey, USA)//The Taste Of Love (From The Paramount Picture "The Brotherhood")/You're My Life Now (Finalmente)/Innamorata (From The Paramount Picture "Artists And Models")/Help Yourself (Gli Occhi Miei)/That's Amore (From The Paramount Picture "The Caddy")

DLP-25926 - Tragedy/A Million To One - Brian Hyland [1969] (4-69, #160) Tragedy (S)/It Could All Begin Again (In You) (S)/When I Fall In Love (S)/You'd Better Stop And Think It Over (S)/Walk Right Back (S)/A Million To One (S)//See The Funny Little Clown (S)/So Sad (To Watch Good Love Go Bad) (S)/Be That Someone (S)/Lonesome Town (S)/You (S)/Will You Love Me Tomorrow (S)

DLP-25927 - Dream - Mills Brothers [1969] (5-69, #184) Baby Dream Your Dream/Didn't We/Dream/Flit Around/Guy On The Go/Happy Go Lucky Me/Jimtown Road/The Straight Life/What Have I Done For Her Lately/When When When

DLP-25928 - Era: The 50's - Frankie Carle [1969] Love For Sale/Nina Never Knew/Lullaby of Birdland/Dizzier & Dizzier/My Funny Valentine/Hot Toddy/Night Train/Man With a Horn/Rock Around the Clock/September Song/So Rare

DLP-25929 - Now's the Right Time - George Wright [1969] Time Is Tight/I've Gotta be Me/Aquarius/Light My Fire/Galveston/Mannix/Windmills of Your Mind/Goodbye Columbus/My Way/Romeo & Juliet Love Theme/Mission Impossible/Zazueira

DLP-25930 - For The Love of Pete - Peter Marshall [1969] The Way That I Live/Man Without His Pride/Little White Lies/Time/Walk An Autumn Day/Wanderers East/I'd Love Making Love/That's the Name/Skip a Rope/Silly Song/Goodnight My Love

DLP-25931

DLP-25932 - Smoky the Bar - Hank Thompson [1969] (5-69, #16 C&W) Ace In the Hole/Let's Get Drunk/New Records/My Rough and Rowdy Ways/Cocaine blues/I See Them Everywhere/Drunkard's Blues/What's Made Milwaukee Famous/Girl In the Night/Bright Lights Pop a Top

DLP-25933 - Womb - Womb [1969] Conceptions of Reality II/Mary Miles Ryan?/Morning Rises Early/Peace/My Baby Thinks About the Good Things/Hang On/Happy Egotist

DLP-25934 - '69 - Mount Rushmore [1969] It's Just the Way I Feel/10:09 Blues/Toe Jam/V-8 Ford Blues/Love Is the Reason/I'm Comin' Home/King of Earrings/Somebody Else's Games

DLP-25935 - Atmosphere - Colours [1969] Angie/God Please Take My Life/When Will You Be coming Home?/I Tried To Make You Love Me/Grey Day/Smilin' In Toronto/Hyannis Port Soul/Run Away/It's Time to Tell/Announcement/I'll be Your Friend/You're High

DLP-25936 - Look What I Found In The Attic - Billy Vaughn [1969] Dream Kisses/Tain't No Sin/It Made You Happy/Don't Bring Lulu/Tie Me To Your Apron Strings/Jubilee Joe/Get Out and Get Under/Broken Hearted/Let's Spend the Day/I'm Knee Deep/Loud Speakin' Papa/Those Were the Days

DLP-25937 - The Windmills of Your Mind - Billy Vaughn [1969] (5-69, #95) Help Yourself/Heaven/Glad She's A Woman/Promises Promises/Time Of The Season/Soulful Strut/Traces/Traci's Tracks/The Way That I Live/Wichita Lineman/You Gave Me A Mountain/The Windmills Of Your Mind

DLP-25938 - Standing Ovation - Count Basie [1969] Three Eras/Down For Double/Li'l Darlin'/Broadway/Jive at 5/Cherry Point/Jumpin' At the Woodside/One O'clock Jump/Shiny Stockings/Blue and Sentimental/Every Tub/Corner Pocket/Kid From Red Bank

DLP-25939 - Hamilton Streetcar - Hamilton Streetcar [1969] Overture-Streetcar/Where Do I Go/Brother Speed/I See I Am/Welcome Into Your World/Now I Taste the Tears/Entre Acte-Silver Wings/Wouldn't It Be Nice/Pleasant Street/Honey & Wine/Wasn't It You

DLP-25940 - Pipes of Blue - Kossie Gardner [1969] Spooky/Fire/Dock of the Bay/Dream Driftin'/Magic Carpet Ride/Who's Making Love/California Dreamin'/Soul Man/Sunshine of Your Love/See Saw/Foxy Lady

DLP-25941 - Color Her Classic, Color Her Jazz - Kellie Greene [1969] Color Her Jazz/Classical Blues/Swan Lake/Grieg Piano Concerto/Kellie's Theme/Liebestraum/Moonlight Sonata/Chopin Etude No. 3/Skater's Waltz/Barcarolle/Hungarian Dance No. 5

DLP-25942 - Fear Itself - Fear Itself [1969] Crawling Kingsnake/Underground River/Bow'd Up/For Suki/In My Time of Dying/Letter/Lazarus/Mossy Dream/Silly Gene/Born Under a Bad Sing

DLP-25943 - Picture This! - Ike Cole [1969] Windmills of Your Mind/Time For Us/That Night/I Will Wait/Way That I Live/Scarborough Fair-Canticle/For Love of Ivy/100 Years/If This Isn't Love/My Personal Property/Hushabye Mountain

DLP-25944 - Anita Kerr Presents Teresa - Anita Kerr Singers [1969] Spooky/Image/I'll Never Fall/Strange/Traces/Early Dawn/Merry Go Round/But You Know/She Went Away/I Started a Joke/On My Own/He Don't Love Me

DLP-25945 - Inside - Bugsy [1969] Rush Hour/Give Me Time/I Can Tell/I Thank Heaven/707 Main street/Shoeshine/In Limbo/I Can't Have Yesterday/It's Not That Far

DLP-25946 - I'm a Good Man in a Bad Frame of Mind - Jack Reno [1969] (8-69, #30 C&W) We All Go Crazy/Missing You/Loneliness/Won't You Come Home/Barroom Habits/Bigger Than Love/I've Gotta Get Home/Albuquerque/Simple Minded Man/Don't Water Down the Bad News

DLP-25947 - Affair! - Bonnie Guitar [1969] (8-69, #40 C&W)

DLP-25948 - A Little Bit of Peggy - Peggy Little [1969] (8-69, #22 C&W) Sweet Baby Girl/Come on Home/I'm Only a Woman/You Ain't Woman Enough/Make the World Go Away/Softly & Tenderly/Son of a Preacher Man/Today, I Started/One More Nightly Cry/Help Me Love You/Divorce/My Heart's Not In It

DLP-25949 - Summer Love - Belmonts [1969] Medley: Have You Heard, The Worst That Could Happen/Medley: Secret Love, Till, No One Knows, Runaround/Medley: Laughing on the Outsede (Crying on the Inside), Tears on My Pillow//Medley: Up Up and Away, Fly Me to the Moon (In Other Words), Chanson d'Amour/Medley: Love Me With All Your Heart (Cuando Calienta El Sol), Love Me Forever, Answer Me My Love

DLP-25950 - Cool World - Jack Sheldon [1969] Shangri-La/Medley: Happy Together, Honey Pie/Whiffenpoof Song/Boy's Got Soul/I Think He's Hiding/Detroit City/Don't Go Breakin' My Heart/I Think It's Going to Rain/Afterthoughts/Meet a Cheetah

DLP-25951 - Velvet Voices and Bold Brass - Anita Kerr Singers [1969] (9-69, #172) You've Made Me So Very Happy/You And I/When The World Was Young/My Way/Happy Heart/Lalena/God Bless The Child/Ob-la-di, Ob-la-da/The Windmills Of Your Mind/Goodbye/Suppose

DLP-25952 - Bob Dylan Interpreted - Sound Symposium [1969] Mighty Quinn/Mr. Tambourine/It Ain't Me Babe/Love Is Just a 4-Letter Word/Times they Are a-Changin'/Maggie's Farm/I'll Be Your Baby Tonight/Mama You Been On My Mind/I Threw It All Away/I Shall be Released/Blowin' In the Wind/Peggy Day

DLP-25953 - Up, Up and Away - Gene Russell [1968]

DLP-25953 - Yesterday, When I Was Young - Roy Clark [1969] (7-69, #50; #8 C&W) Yesterday When I Was Young (S)/The Days Of Sand And Shovels (S)/Raggedy Ann (S)/Love Is Just A State Of Mind (S)/When A Man Becomes A Man (S)/A Simple Thing As Love (S)//September Song (S)/Just Another Man (S)/For The Life Of Me (S)/April's Fool (S)/Odds And Ends (Bits And Pieces) (S)/The Tips Of My Fingers (S, rerecording of Capitol hit)

DLP-25654 - Stay and Love Me All Summer - Brian Hyland [1969] Just a Dream/Rainy April Morning/What You Give Me/Devil or Angel/You Mean Everything/I'm Gonna Make You/Don't Cry/Gonna Make a Woman Out of You/Baby, You Come Rollin' Across/You Put Me Down/Dreamy Eyes

DLP-25955 - Get It On - Fraternity of Man [1969] Boo Man/Don't Start Me/Pool of Tears/Throbber/Cat's Squirrel/Too High/Forget Her/Coco Lollipop/Trick Bag/Mellow Token

DLP-25956 - Catch - Catch [1969] Amber/Come Near/Storm/City Ditty/Dandelion/Live/I'm On the Road/Something Golden/Crash & Burn/Nine Roses/Just a Closer Walk

DLP-25957 - From the Heart - Diana Trask [1969] (9-69, #32 C&W) Heartbreak Hotel/I Fall to Pieces/My Elusive Dreams/Yours Love/Mucho Amnore/There Goes My Everything/Children/When Two Worlds Collide/When the Grass Grows Over/Here Comes My Baby Back/Staying Kind/Long Ago Is Gone

DLP-25958 - Son of The South - Jack Barlow [1969] Pauline/I'd Be Happy/Nobody Wants to Hear/Singing Country Soul/No Time For Roses/I Must Have Got Ahold of a Bad One/For Little Things/All I Need/Poortown/Living In a World of Make Believe

DLP-25959 - Overdub - Womb [1969] Taking a Long Walk/Flush/Two Levels/Love/Flying High/Evil People

DLP-25960 - Mills Brothers in Motion - Mills Brothers [1969] Dayton, Ohio/Nevertheless/Smile Away Each Rainy Day/Backfield In Motion/It Ain't No Big Thing/Up To Maggie Jones/I'll Never Forgive Myself/Everybody's Talkin'/Jean/Help Yourself To Some Tomorrow

DLP-25961 - Plastic Cow Goes Moooooog - Plastic Cow (Michael Melvin) [1969] Medicine Man/Spinning Wheel/Lady Jane/Ballad of John and Yoko/Tomorrow Tomorrow/Plastic Cow/Born to Be Wild/One Man/Brown Arms/Lay Lady Lay/One/Sunshine of Your Love

DLP-25962 - Spend This Holiday With Me - Anita Kerr Singers [1969] Spend This Holiday With Me/Jingle Bell Rock/Hurry Home For Christmas/The Gift Of Song/The Bell That Couldn't Jingle/Have Yourself A Merry Little Christmas//What Month Was Jesus Born In?/Bach Choral - Christmas Oratorium/Poor Little Jesus/The Little Drummer Boy/Do You Hear What I Hear?/Some Children See Him

DLP-25963 - The Detroit-Memphis Experiment - Mitch Ryder [1969] Liberty/Eenie Meenie/Boredom/Push Aroun'/Sugar Bee/I Get Hot/I Believe/Direct Me/Long Long Time/Raise Your Hand/Wear and Tear/Meat

DLP-25964 - Extremely Heavy - Underground Allstars [1969]Hunter/Cross-Cut Saw/Norwegian Wood/You Don't Know/Louie/Don't Fight It/Get Back/I'll Be Your Baby Tonight/Grab This Thing/Happy Meadow Trail Dance

DLP-25965 - See Your Way Clear - Buzz Clifford [1969] Procter and Gunther (S)/I Am the River (S)/Hollywood Joe (S)/Ocean Liner (S)/Hawg Frog (S)/Angeline (S)//We'll All Get By (S)/Children are Crying Aloud (S)/Echo Park (S)/(Baby I Could Be) So Good At Loving You (S)/I See I Am (S)

DLP-25966 - The New World of Leonard Nimoy - Leonard Nimoy [1969] Time to Get It/Ruby/Mayor of Ma's caf'/I Walk the Line/I Finally Saw the Two/Mary's Near/Abraham, Martin, and John/Proud Mary/Let It Be Me/Everybody's Talkin/Sun Will Rise/Put a Little Love In

DLP-25967 - A Down Home and I - A&I University Singers [1969] Son of a Preacher Man/Crazy/Walkin' In the Sunshine/Night Life/Busted/King of the Road/Green Green Grass/Funny How Time Slips Away/Don't Touch/Skip a Rope/Make the World Go Away/Forever

DLP-25968 - Patches - Browning Bryant [1969] Patches/You Mean All/Hey Little girl/Running Bear/Moods of Mary/What Is a Youth/Tower of Strength/Games That Grown Up Children Play/It's A Beautiful Day/Poppa Says/She Thinks I Still Care/As Usual

DLP-25969 - True Grit - Billy Vaughn [1969] Odds and Ends/Quentin's Theme/Love Me Tonight/Days of Sand/On Days Like These/Sweet Caroline/Put a Little Love In/Everybody's Talkin'/Without Her/Color It Cool/Dock of the Bay

DLP-25970 - Touchlove! - Anita Kerr Singers [1969] Ever Constant sea/Desire & Release/2 Moods/On the Road/Joy of Saying Goodbye/Happy Cat/Afternoon of a Lonely lover/Keep on Going/Who Has Touched the Sky/Popocatepeti/Night Beach

DLP-25971 - Hank Thompson Salutes Oklahoma - Hank Thompson [1969] (1-70, #38 C&W) With Harold Bradley and the Nashville Sounds. Issued with two different covers, one the usual artwork and the other pictures of scenes from Oklahoma. Oklahoma Hills/Dusty Skies/Dear Okie/Oklahoma Home Brew/Everlasting Hills/Take Me Back/Guthrie/Happy Oklahoma/O-k-l-a-h-o-m- a/Homesick, Lonesome/Big Boat/Oklahoma Stomp

DLP-25972 - The Everlovin' Soul of Roy Clark - Roy Clark [1969] (1-70, #129; 12-69, #11 C&W) All The way/For Once In My Life/I Need To Be Needed/Last Letter/Me And Bobby McGee/Morning Side Of The Mountain/Right Or Left At Oak Street/Say Amen/Then She's A Lover/Today/Unchained Melody/You Don't have Very far To Go

DLP-25973

DLP-25974 - Haunted House/Charlie Brown - Compton Brothers [1970] (2-70, #28 C&W)

DLP-25975 - Winter World of Love - Billy Vaughn [1970] (3-70, #188) Always Mademoiselle/Come Saturday Morning/Yester-Me Yester-You Yesterday/A Winter World Of Love/Raindrops Keep Fallin' On My Head/Make Your Own Kind Of Music/Early In The Morning/Fancy/Holly Holy/Theme From Hunger/Lady-O

DLP-25976 - Country - Anita Kerr Singers [1970]

DLP-25977 - The Other Side of Roy Clark - Roy Clark [1970]

DLP-25978 - The Instrumental Sound of Hank Thompson's Brazos Valley Boys - Hank Thompson's Brazos Valley Boys [1970]

DLP-25979 - Where Were You When? - Various Artists [1970] Come Go With Me - Dell- Vikings (E)/Young Love - Tab Hunter (E)/Wonderful Summer - Robin Ward (S)/The Green Door - Jim Lowe (E)/Ivory Tower - Gale Storm (E)/Letter From Sherry - Dale Ward (E)/Hearts Of Stone - Fontane Sisters (E)/You Better Move On - Arthur Alexander (S)//You Cheated - Shields (E)/All Nite Long - Rusty Bryant (E)/P.S. I Love You - Hilltoppers (E)/The Fool - Sanford Clark (E)/Pink Shoelaces - Dodie Stevens (E, Dot rerecording)/Susie Darlin' - Robin Luke (E)/Rebel - Carol Jarvis (E)/Confidential - Sonny Knight (E)

DLP-25980 - I Never Picked Cotton - Roy Clark [1970] (8-70, #176; #8 C&W) I Never Picked Cotton/Sunday Mornin' Comin' Down/Since December/You Gotta Love People/Lonesome Too Long/Is Anybody Goin' To San Antone/January April And Me/She Cries For Me/Thank God And Greyhound/Strangers/Middle Of The Road

DLP-25982 - More Than a Little - Peggy Little [1971] (12-71, #41 C&W)

DLP-25983

DLP-25984 - Reflections of My Life - George Wright [1970]

DLP-25985 - Everything is Beautiful - Billy Vaughn [1970]

DLP-25986 - The Best of Roy Clark - Roy Clark [1970] (4-71, #178; 3-71, #15 C&W) I never Picked Cotton/Do You Believe This Town/Love Is Just A State Of Mind/Malegueña/Right Or Left At Oak Street/September Song/Simple Thing As Love/Thank God And Greyhound/Then She's A Lover/Tips Of My Fingers/Yesterday When I Was Young

DLP-25987 - Mary Taylor's Very First Album - Mary Taylor [1971]

DLP-25988 - Here Comes Curtis Potter - Curtis Potter [1971]

DLP-25989 - Diana's Country - Diana Trask [1971]

DLP-25990 - The Incredible Roy Clark - Roy Clark [1971] (8-71, #197; 7-71, #14 C&W) As Far As I'm Concerned/Back In The Race/Don't Touch Me/For The Good Times/Hangin' On/I Remember Loving Someone/Mary Ann Regrets/My Goal For Today/Rocky Top/She Cried/That's All That Matters

DLP-25991 - Next Time I Fall In Love (I Won't) - Hank Thompson [1971] (7-71, #22 C&W)

DOS-25992 - Gwen (Congratulations) - Tommy Overstreet [1971] (7-71, #33 C&W)

DLP-25993 - The Magnificent Sanctuary Band - Roy Clark [1971] (12-71, #39 C&W)

DOS-25994 - This Is Tommy Overstreet - Tommy Overstreet [1971] (2-72, #22 C&W)

DLP-25995 - Catch the Wind - Jack Barlow [1971]

Note: Dot/Famous Music label starts approximately here; album prefix changes.

DOS-25996 - Cab Driver (A Salute to the Mills Brothers) - Hank Thompson [1972] (7-72, #10 C&W) Glow Worm/Lazy River/Paper Doll/Be My Life's Companion/Gloria/Across The Alley From The Alamo/Cab Driver/I'll Be Around/You're Nobody Till Somebody Loves You/Till Then/You Always Hurt The One You Love

DOS-25997 - Roy Clark Country! - Roy Clark [1972] (7-72, #112; #10 C&W) Ode To A Critter/Kiss An Angel Good Morning/Carolyn/Family Man/He'll Have To Go/She's All I Got/Darby's Castle/Lord Let It Rain/When The Wind Blows (In Chicago)/I'll Take The Time/A Dozen Pairs Of Boots

DOS-25998 - Yellow River - Compton Brothers [1972]

DOS-25999 - Diana Trask Sings About Loving - Diana Trask [1972]

DOS-26000 - The Happiest Girl In The Whole U.S.A. - Donna Fargo [1972] (7-72, #47; #1 C&W) The Happiest Girl In The Whole USA/Manhattan, Kansas/The Awareness of Nothing/Funny Face/A Little Somethin'/Daddy Dumplin'/How Close You Came/Society's Got Us/It Would Have Been Just Perfect/Johnny B. Goode

DOS-26001 - Two Divided by Love - Wayne Kemp [1972]

DOS-26002 - If You Touch Me (You've Got to Love Me) - Joe Stampley [1972] (10-72, #17 C&W)

DOS-26003 - Heaven Is My Woman's Love - Tommy Overstreet [1972] (11-72, #9 C&W) Heaven Is My Woman's Love (S)/To Get To You (S)/Your Love (Is Just Like Sugar) (S)/How Do I Tell You Goodbye (S)/Baby's Gone (S)/Love Don't Live Here Anymore (S)//A Seed Before The Rose (S)/Forget Him (S)/I Believe In You (S)/It's Gonna Take A Little Bit Longer (S)/Don't Be Afraid To Give Me Love (S)

DOS-26004 - Hank Thompson's Greatest Hits, Volume 1 - Hank Thompson [1972] (1- 73, #34 C&W)

DOS-26005 - Live! - Roy Clark [1972] (12-72, #4 C&W) Alabama Jubilee/Kansas City/Thank God And Greyhound/Under The Double Eagle/Foggy Mountain Breakdown/Orange Blossom Special/Yesterday When I Was Young/Green Green Grass Of Home/The Lawrence Welk-Hee Haw Counter-Revolution Polka/The Great Pretender Medley: The Great Pretender-High Noon (Do Not Forsake Me)-Loch Lomond-Turkey In The Straw-Somewhere My Love-Honky Tonk

DOS-26006 - My Second Album - Donna Fargo [1973] (3-73, #104; #1 C&W) A Song I Can Sing/You Don't Mess Around With Jim/Don't Be Angry/Have Yourself A Time/You Were Always There/Superman/How Would I/I'd Love You To Want Me/He Can Have All He Wants/Forever Is As Far As I Could Go/Hot Diggity Dog

DOS-26007 - Soul Song - Joe Stampley [1973] (3-73, #13 C&W)

DOS-26008 - Roy Clark/Superpicker - Roy Clark [1973] (5-73, #172; 4-73, #6 C&W) Riders In The Sky/True Love/Roy's Guitar Boogie/The Midnight Cowboy/Today I Started Loving You Again/Theme From "Love Story"/Somewhere My Love/Snowbird/Tara Theme/Aura Lee/Never On Sunday

DOS-26009 - Thank You for Touching My Life - Tony Douglas [1973] (7-73, #26 C&W)

DOS-26010 - Come Live With Me - Roy Clark [1973] (7-73, #4 C&W) I'll Paint You A Song/How Would I/A Daisy A Day/Why Me/Daddy Don't You Walk So Fast/Somewhere Between Love And Tomorrow/Come Live With Me/The Lonesomest Lonesome/Soul Song/Nobody Wins/Soft Rain

DOS-26011 - This is Pat Roberts - Pat Roberts [1973]

DOS-26012 - My Friends Call Me T.O. - Tommy Overstreet [1973] (11-73, #23 C&W)

DOS-26013 - Songs for Everyone - Ray Griff [1973] (12-73, #22 C&W)

DOS-26014 - Singer/Picker/Writer - Dave Kirby [1973]

DOS-26015 - Kindly Keep It Country - Hank Thompson [1973] (1-74, #22 C&W)

DOS-26016 - A Man's World - Diana Trask [1973] (12-73, #25 C&W)

DOS-26017 - This is Brian Collins - Brian Collins [1973]

DOS-26018 - Roy Clark's Family Album - Roy Clark [1973] (11-73, #2 C&W) Rollin' In My Sweet Baby's Arms/Sweet Bunch Of Daisies/Jesse James/Heel And Toe Polka/Lonesome Road Blues/Old Joe Clark/Log Cabin In The Lane/I'll Be All Smiles Tonight/Jimmy Brown The Newsboy/Rubber Dolly

DOP-26019 - All About A Feeling - Donna Fargo [1973] (12-73, #5 C&W) It Do Feel Good/I'll Try A Little Bit Harder/Puffy Eyes/Nothing Can Stay/All About A Feeling/Little Girl Gone/Just Call Me/Hot Diggety Dog/Does It Matter/Rotten Little Song/Just A Friend Of Mine

DOS-26020 - I'm Still Loving You - Joe Stampley [1973] (2-74, #7 C&W) I'm Still Loving You/How Lucky Can One Man Be/Too Far Gone/The Weatherman/I Live Just To Love You/All The Good Is Gone/Strong Comeback/Hello Charlie/A Night Of Loving/Can You Imagine How I Feel/Not Too Long Ago

DOS-26021 - Woman Your Name is My Song - Tommy Overstreet [1974] (6-74, #41 C&W)

DOS-26022 - Lean It All On Me - Diana Trask [1973] (6-74, #34 C&W)


DOS-2000 - 25th Anniversary Album - Hank Thompson [1971] (12-71, #24 C&W)Two record set.


Thanks to Tim Neely, Dave Plentus, Claus Simonsen, Ernie Mabrey, and Peter Preuss.






Back to the Dot Records Story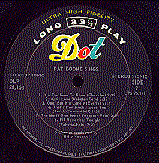 On to the Dot Album Discography, Part 4 LPs 25501-25851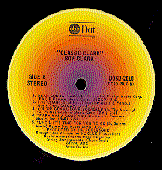 On to the Dot Album Discography, Part 6 ABC-Dot 2000 Series



Back to the Discography Listings Page



Back to the Both Sides Now Home Page