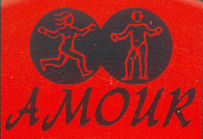 Amour Album Discography
By Mike Callahan, Patrice Eyries, David Edwards and Randy Watts
Last update: April 8, 2010






Amour was an Oakland-based label that was owned and run by Lee Variety. Before he moved to Oakland in the early 1970s, Variety had grown up in Florida, where he won an A.A.U. boxing championship as a young man. Variety was the producer, executive producer, and/or songwriter for most of the releases on the label. The label's offices were initially located at 1061 105th Avenue in Oakland, California 94603.

Samaki Bennett was born in San Francisco on March 14, 1950 (although some records give her birth year as 1958). After High School, she had studied psychology and social science at Fort Valley State University. By the time she was in her mid-twenties, she had joined a vocal/funk/disco group called the Variations. Apparently, Variety and the group crossed paths sometime around 1974 or 1975 and he signed them to his local label. This resulted in the group's (and the label's) first album, called A Woman's Blues [Amour 1001], released with an inexpensive black-and-white cover in 1975 with the group credited as "The Variations featuring Samaki Bennett." Variety, only a few months older than Bennett, also took a romantic interest in her.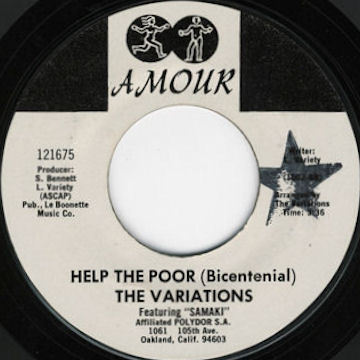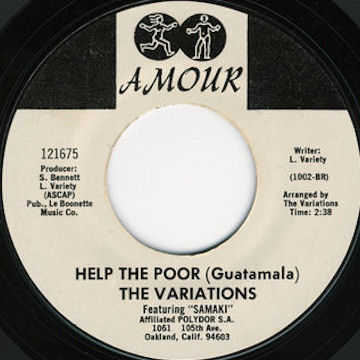 The album was a mixture of original songs and covers/reworkings of soul hits. One of the originals was a funky two-part social call-to-action written by Lee Variety that was released as a single, "Help the Poor (Bicentenial)"/"Help the Poor (Guatemala)" [Amour 121675], co-produced by Bennett and Variety and arranged by the Variations. Social calls-to-action would loom large in the later lives of both Samaki and Lee Variety.

Distribution of the single and album was probably done by Variety and the group themselves, and mostly limited to the Bay Area, although the single noted that they were "affiliated" with Polydor. The "numbering system" for the label was no system at all, seemingly a series of random numbers, making construction of a discography difficult. A second single from the first album was "Sayin' It, Doin' It"/"Papa Was A Rollin' Stone" [Amour 613], probably released in 1976.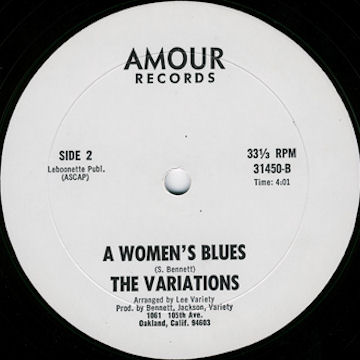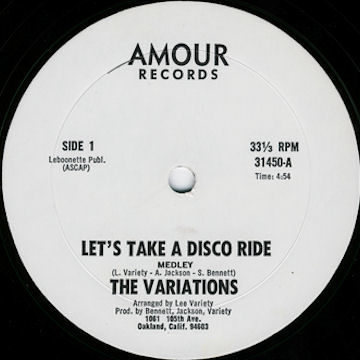 By 1977, the group had recorded some new material, and released a 33-1/3 rpm 12" disco single, "Let's Take a Disco Ride (Medley)" backed with a track from the first album, "A Woman's Blues" (misspelled as "A Women's Blues" on some labels). The number of this one was either 3-1450 or 31450, depending on whether the label was the usual label with the Amour logo (3-1450), or a plain white label with block print for the label name (31450). This was soon followed by the group's second album, simply called Variations by the "Variations featuring Samaki" [Amour A-7777], which featured a color photo of the group on the cover, with a generally blue background. A 7" single was issued from this album, "Put the Music on Funk, Part 1"/"Put the Music on Funk, Part 2", numbered A-1977.


1978 was probably the year Samaki Bennett and Lee Variety got married. It was also the year Samaki went into a second — albeit short-lived — career as an actress. Local radio personality Sal Watts was getting tired of the so-called "blaxploitation" movies, and decided he could do better by making a movie himself. The movie, originally titled Black Agent Lucky King but soon shortened to Solomon King, was shot in the Oakland and surrounding areas and starred Sal Watts himself as Solomon King. Watts also co-directed the movie and put out the soundtrack on his own Sal/Wa label. He drew in several local celebrities, including Samaki Bennett, who played Samaki Miller in the flick. Haven't heard of the movie? Hmmm.....

By 1979, the Variations had a new album ready. They called it Variations II [Amour A-121675], and used the same color photo of the group as with the previous album, but this time using a generally pink background. By this time, the new Mr. and Mrs. Variety had moved to Miami, and opened a Miami office for the Amour label, or at least a Miami telephone number. The label, now red with black print instead of the previous white with black print, listed the Oakland office address, but the Miami phone number as contact points. It would not be long before Variety ran into Henry Stone and Steve Alaimo in Miami. Stone and Alaimo ran the highly successful TK distribution, the hub of disco music in the South. After five years of operation, Amour Records was yet to have any kind of national hit. The fact it was still in business at all was a tribute to Variety refraining from the kind of reckless spending that sank other labels.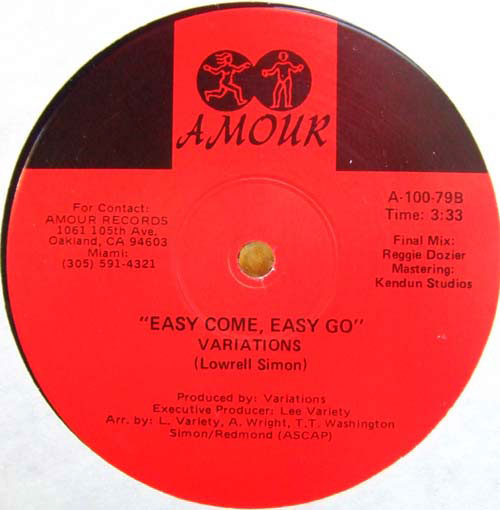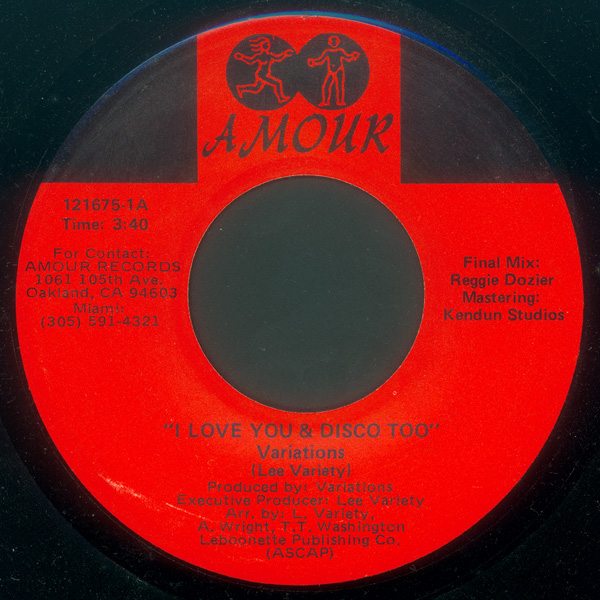 In addition to the 1979 album, Variety pulled several songs as singles. One of these, "Vibes Are Good"/"Easy Come Easy Go" [Amour 478], may have been issued in 1978, before the album was released. The others were another 7" single and a 12" single released in 1979. The 7" single had the same catalog number as the album (and the first single on the label), Amour 121675, "I Love You and Disco Too"/"Fun Fun". The 12" version paired "I Love You & Disco Too" with "Easy Come Easy Go" [Amour A100-79]. Strangely, now both the album and the singles derived from them no longer mentioned "featuring Samaki," although she was clearly still fronting the group.

By 1980, Variety had indeed signed a deal to have Amour Records distributed by TK. Unfortunately, this was probably the worst possible time to start up with TK. Disco records were generally waning in popularity on the national charts, although many of the dance clubs were still going strong — at least for the time being. Lee Variety, the ex-boxer, teamed with Drew Bundini Brown, Muhammad Ali's "corner man," to write a song based on Muhammad Ali's boast that he would "Float Like a Butterfly, Sting Like a Bee," and parlayed that into a new album for Variations called The People's Champ [Amour 8900]. The album included the already-released "I Like You and Disco Too" and "Fun-Fun," as well as a song TK decided to release as a single, "Get on Up" [Amour 4200]. But TK was starting the not-so-long slide that would put them into bankruptcy within another year, and it's not clear "Get on Up" ever reached past the promo stage.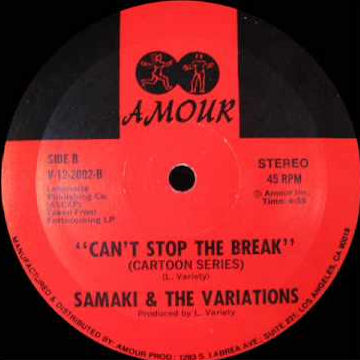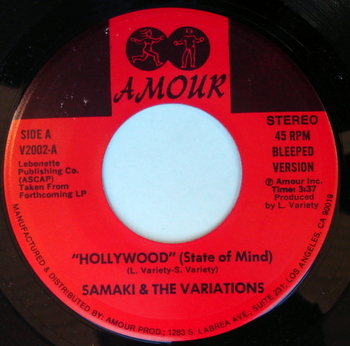 When TK went under, Amour was back on its own, and reverted to the red pre-TK label for their releases. They put out a couple of additional singles before 1984, including "I'm Here and I Like Love" [Amour 314] and "Street Player"/"Street Player (Instrumental)" [Amour 31-67]. By 1984, Samaki and Lee Variety were operating Amour Productions (and the Amour label) out of an office located at 1283 S. LaBrea Ave., Suite 231, in Los Angeles. They put out a single both on 7" and 12", "Hollywood (State of Mind)" [Bleeped Version]/"Can't Stop the Break" (Cartoon Series) [Amour V-12-2002 on 12", Amour V2002 on 7"]. By now, the band was going by "Samaki & the Variations." On the label it promised the single was taken from a "forthcoming LP," but the LP apparently never came out.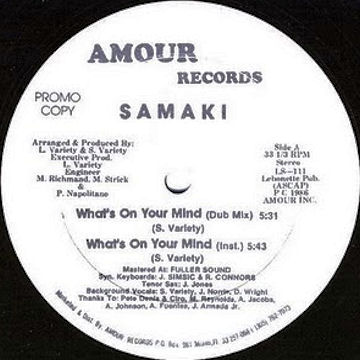 By 1986, the Varietys and Amour Records were back in Miami, and released a disco 12" single called "What's on Your Mind" [Amour LS-111]. Again, this, Amour's last single, may not have made it past the promo stage. It was reissued under their new label name, Boo-Key, as Boo-Key 10. Starting in the mid-1980s, Lee and Samaki ran Boo-Key Productions for years in the Miami area, booking and promoting acts.

Looking back over Amour Records' run from 1975 to 1986, one thing is unique: they lasted eleven years without even a sniff of a major hit, not even one "Bubbling Under" charter. Major disco labels like Casablanca and TK soared into millions in profit, only to crash and burn. Other small labels usually can't last through a year. Amour Records seems to have been run very differently. Although not making a fortune, their attention to even the small things kept the bankruptcy wolves from their door. Perhaps also, it was because Lee Variety and Samaki Bennett Variety were not the usual record industry moguls. Unlimited entertainment expense accounts, lavish parties, and handy corporate jets at their disposal were apparently not important to them. Performing and running the Amour label was not their primary goal in life, and they ran it with the principles they used for the "other" parts of their life. We can find a clue to what they were about by looking back at that first single, "Help the Poor."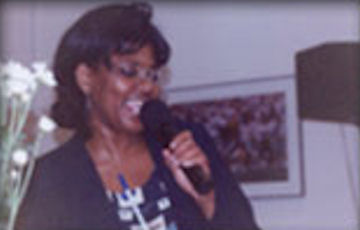 Once they got back to Miami in the mid-1980s, Lee and Samaki set about doing what they really wanted to do: help other people, especially the poor and disadvantaged. In the late 1980s, Samaki drew on her psychology background and, at her own expense, hosted a Saturday call-in radio show on the local gospel music station, WMBM, called "What's on Your Mind," taking calls from mostly teenagers and handling difficult issues such as pregnancy and child abuse. She worked with the community as an aide to Congresswoman Carrie Meek for five years, worked with County Commissioner Charles Dusseau in the Miami-Dade County School System, and in 2002, joined Miami Mayor Manny Diaz' staff in his Office of Faith-Based Initiatives and Community Outreach. There, among other things, she spearheaded several city-sponsored AIDS events to raise AIDS awareness, including the Youth March for Life, which was attended by thousands of school-age children in 2003.

Lee Variety also put his energy into helping the community. He became a minister and by 2009 was Bishop Lee Variety. He is well known in Miami as a "community activist," taking up causes for those who have no real voice to rectify injustices. He also spent considerable time working with people in Haiti, even before the recent earthquake. He is the President and Chief Executive Officer of the Community Economic Development Improvement Association, Inc. (CEDIA), which creates jobs, provides job training, and provides job development for low and moderate income residents that few other organizations are currently providing.

Lee and Samaki have two adult children. In October, 2004, Samaki left her job with the Mayor's Office to go to Atlanta to care for her mother. While there, she contracted pneumonia and sadly died just before Christmas, 2004, at the age of 54.

Lee Variety's Oakland/Miami-based Amour Records has no relationship with the Canadian disco label of the same name operating in the late 1970s.


| | | |
| --- | --- | --- |
| | | The first Amour label was white with black print, with the two overlapping circles at the top with figures of a woman and a man. This label was used for the first three Amour albums. The second album was distributed by Springboard, and noted at the bottom, "Manufactured and Distributed by Springboard Int'l Records, Inc." The Amour album label distributed by TK (near left) was blue with black lettering and "Amour" written in black and blue lettering on the top half of the label in a stylized font. The usual Armour two-circles logo was absent. Bending around the bottom of the label in small print is: "Distributed by T.K. Productions, 495 S.E. 10th Court, Hialeah, Florida 33010". |
| | | The Amour 45 label from pre-1978 (far left) was white with black print, with the two-circle Amour logo at the top. Starting in 1978, the label changed to red with black print (near left). |



We would appreciate any additions or corrections to this discography. Just send them to us via e-mail. Both Sides Now Publications is an information web page. We are not a catalog, nor can we provide the records listed below. We have no association with Amour or TK Records. Should you be interested in acquiring albums listed in this discography (which are all out of print), we suggest you see our Frequently Asked Questions page and follow the instructions found there. This story and discography are copyright 2010 by Mike Callahan.

AMOUR ALBUM DISCOGRAPHY
| | |
| --- | --- |
| Cover | Number - Title - Artist - [Release Date] Contents |
| | Amour 1000 Series (Distributed by Amour): |
| | 1001 - A Woman's Blues - Variations featuring Samaki Bennett [1975] Daddy Could Swear/I Remember/A Woman's Blues/Ticket On The Ark/I Got Stronger//Ain't No Sunshine/Help The Poor, Part 1/Help The Poor, Part 2/Sayin' It, Doin' It/Papa Was A Rolling Stone |
| | Amour A7000 Series (Distributed by Springboard): |
| | A7777 - Variations - Variations featuring Samaki [1977] Let's Take A Disco Ride (Medley: Get Down Tonight-You Should Be Dancing-Back Stabbers)/Summer Love/Sayin' It & Doin' It//Put The Music On Funk/(others) |
| | Amour A-12000 Series (Distributed by Amour): |
| | A-121675 - Variations II - Variations [1979] Fun-Fun/Tell Me/Night Cap/Easy Come Easy Go//I Love You And Disco Too/I Can Show You/Vibes Are Good |
| | Amour 8900 Series (Distributed by TK Productions): |
| | 8900 - The People's Champ featuring Muhammad Ali - Variations [1980] Float Like A Butterfly, Sting Like A Bee/International Boogie/I Can Show You//Get On Up/I Love You And Disco Too/Fun-Fun/Sexy Disco Dancer |
Back to the TK Records Story



Back to the Discography Listings Page



Back to the Both Sides Now Home Page