A.P.A. Album Discography
By Patrice Eyries, Mike Callahan, David Edwards and Randy Watts
Last update: April 9, 2010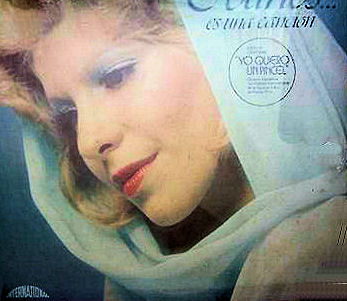 A.P.A. was a TK subsidiary established to showcase "world disco music", but ended up (almost) entirely dedicated to Celi Bee's latin disco music. "Celi Bee" was a female singer originally from Puerto Rico, born Celida Ines Camacho. She contracted her first two names to "Celines," and with Pepe Luis Soto, an artist whom she eventually married, recorded Spanish-language versions of big hits in the 1960s. One album title was translated "Psychedelic Hits", for example, featuring the two on duets such as "I'm a Believer" (?!). By 1972, she had a hit in Puerto Rico with "Yo Quiero Un Pincel." The song also won first place in the Festival De La Voz y La Cancion. By then, the slim and lithe Celines was also an accomplished dancer, and was often fronting uptempo latin dance numbers with other dancers and an orchestra. The Sotos moved to the U.S. mainland, and then to England by the mid-1970s. There, still going by the single name "Celines," she released her first album in the UK, from which came the single "Half a Love," which was a hit in Puerto Rico but not elsewhere. The couple moved back to Florida around 1976.

By 1977, Celines' singing and Pepe's work with writing and producing for Celines and his own disco band, the Rice and Beans Orchestra, had caught the attention of Henry Stone, who signed them and put them on his new A.P.A. Records subsidiary. Celines, now with close-cropped hair and billed as "Celi Bee," was backed by "the Buzzy Bunch," a five-member male latin disco band, all produced by Pepe Soto. Their six-track eponymous first album contained their only Hot 100 and R&B hit, "Superman" [A.P.A. 17001], which made #41 pop and #86 R&B after its release in May. The song was written by Herbie Mann, who charted higher with it himself when it was released about 18 months later.

But the Sotos (i.e., both Celi Bee and Pepe's Rice and Beans Orchestra) were primarily disco artists, and fared much better on the national Dance charts, and in fact, sold internationally on dance charts throughout Central and South America and Europe. Henry Stone chose to release their 12" disco singles here on the T.K. Disco label. The 12" single of Celi Bee and the Buzzy Bunch's "Superman"/"One Love" [T.K. Disco 37] was issued to clubs in March, 1977, and went to #3 on the dance charts. Pepe's Rice and Beans Orchestra reached #11 on the dance charts with "You've Got Magic" [T.K. Disco 56] in the fall of 1977. The next spring, "Macho (A Real, Real One)"/"Alternating Currents" by Celi Bee & the Buzzy Bunch [T.K. Disco 77] made #23 on the dance charts.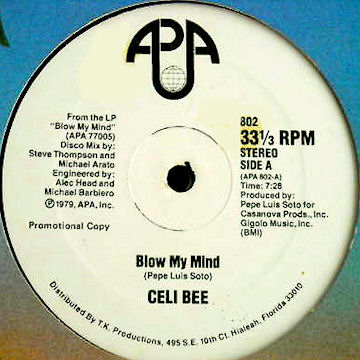 By January, 1979, Celi Bee had shed the Buzzy Bunch and reached #18 on the dance charts with "Fly Me on the Wings of Love" [T.K. Disco 126]. In December that year, Celi Bee came back at #29 with "Blow My Mind" [A.P.A. 802]. After T.K. went belly up in 1981, the Sotos went to other labels, and Celi Bee had two more dance chart records between 1983 and 1987.

Although a great majority of the releases on the A.P.A. label were by Celi Bee, with or without the Buzzy Bunch, there actually were a few other artists on the label. None of the others had more than one single. A.P.A. 17005 was "Give Me Your Love, Parts 1 & 2" by Phil Trim, formerly the lead singer for Los Pop Tops. There were also singles by Clay Carillon [A.P.A. 17009] and the Rhythm Sneakers [A.P.A. 17010]. The last single and last album issued on the label, in 1980, were both by an outfit called Hot Bush, whose single, "Rock Steady" [A.P.A. 17017] didn't go very far. The album cover of their self-named album [A.P.A. 77007] was probably a new low for TK albums in taste, with an exploding volcano superimposed over a woman's crotch. Really subtle.


| | | |
| --- | --- | --- |
| | | The A.P.A. album label (far left) was blue with black lettering and "A.P.A." written in red and blue interlocking lettering on the top half of the label. A small representation of a world globe is between the lettering, suggesting the "world music" focus of the label. Some labels randomly display the following text written in the form of an arc at the bottom of the label: "Dist. by T.K. PRODUCTIONS, INC. - 495 S.E. 10th Court, Hialeah, Fla. 33010". The 45 rpm single label (near left) was similar. |



We would appreciate any additions or corrections to this discography. Just send them to us via e-mail. Both Sides Now Publications is an information web page. We are not a catalog, nor can we provide the records listed below. We have no association with A.P.A. or TK Records. Should you be interested in acquiring albums listed in this discography (which are all out of print), we suggest you see our Frequently Asked Questions page and follow the instructions found there. This story and discography are copyright 2010 by Mike Callahan.

A.P.A. ALBUM DISCOGRAPHY
| | |
| --- | --- |
| Cover | Number - Title - Artist - [Release Date] (Chart) Contents |
| | A.P.A. 77000 Series: |
| | 77001 - Celi Bee & the Buzzy Bunch - Celi Bee & The Buzzy Bunch [1977] (7-77, #169) Superman/Smile/It's Sad//Hurt Me, Hurt Me/One Love/Closer, Closer |
| | 77002 - Alternating Currents - Celi Bee & The Buzzy Bunch [1978] Macho (A Real, Real, One)/Together/Hold Your Horses, Babe//Comin' Up Strong/Alternating Currents/Disposable Love/Lost In Love |
| | 77003 - Fly Me on the Wings of Love - Celi Bee [1978] Fly On The Wings Of Love (Act I- Higher, Higher-Act II-Love, Look What You've Done To Me-Act III-Midnite Passion- Epilog)//Boomerang/Can't Let You Go/For The Love Of My Man/You're The Best Thing (That Ever Happened To My Life) |
| | 77004 - Love Drops - Celi Bee [unreleased?] Although the disco 12" single of "Love Drops" (on T.K. Disco) says the song is from the album APA 77004, Love Drops, we have been unable to verify that this album actually exists. Since the song appeared on the next album, Blow My Mind, it is possible 77004 was scheduled but went unreleased. |
| | 77005 - Blow My Mind - Celi Bee [1979] Blow My Mind/It's Love/Give It To Me (Disco Mix)//Dancin' Nuts (Disco Mix)/Love Drops/Donkey, Donkey (Disco Mix) |
| | 77006 - [not issued] |
| | 77007 - Hot Bush - Hot Bush [1980] Vocals by Bobby Bushe. Produced by Oscar Llord. Get In The Groove/Flight "69"/Tell Me That You Will//L.O.V.E. F.U.S.E./Rock Steady/Get On Up |
Back to the TK Records Story



Back to the Discography Listings Page



Back to the Both Sides Now Home Page