Art Records started in the late 1940s as a transcription and recording service located in the Cadillac Hotel in Miami Beach, Florida. In fact, the name of the company, American Recording and Transcription Service (founded 1945), gave rise to the acronym ART, which became the name of the label itself. It was owned and operated by Harold E. Doane, who also served as A&R Director of the label. Doane (born October 17, 1904) was in his late forties when he established Art Records, and recorded some 900 reels of performances at clubs, lounges, and aboard cruise ships before finally calling it quits in the 1980s as an octogenarian. Doane trademarked the Art logo in July, 1957, under the name Art Records Manufacturing Company.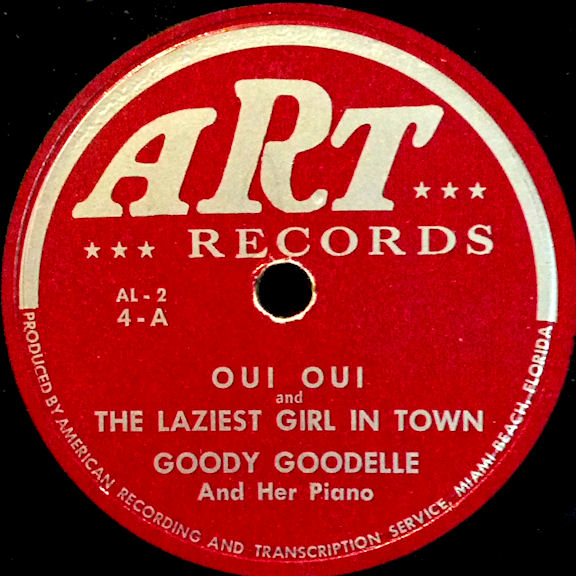 The ART Service was located in the Cadillac Hotel in Miami Beach as late as 1949. Their first albums were on 78 rpm with a red 78-rpm label (shown at left). Their address as of mid-1950 was 304 Lincoln Road in Miami Beach. By 1951, they had moved to Miami and located at 2185 NW 79th street there. By 1960, they had settled at 1224 NW 119th Street in Miami, and had changed their name to Art Records Manufacturing Co., Ltd. Sometime after the mid-1960s, they relocated to Fort Lauderdale, Florida. Art Records had a short-lived singles-only rockabilly subsidiary in 1957-58, AFS Records (American Federation of Songwriters), which was owned by Harold Doane and Mitch Lebow. About 1970, Doane established another subsidiary, Souvenir Records, for recordings made live aboard cruise ships.

The Art label specialized in recording the lounge and club acts that were appearing in South Florida hotels and clubs, clubs across the water in the Bahamas, and by 1955, artists in Panama. Much of the time, these recordings were "live" recordings of their lounge acts, manufactured to be sold by the artists themselves at their club appearances. Because of this, a much, much greater percentage of records on the label are autographed by the artists. In fact, most albums feature a small box on the back of the album with the notation "For Autographs".

The first two albums were issued in the late 1940s as 78-rpm albums. In 1951, Doane started issuing long playing vinyl LPs instead of 78-rpm. As was the custom of the time, the first 13 LP albums (to ALP-15 in 1955) were 10" LPs, but the demise of the 10" album in the mid-1950s led to a switch to 12" albums exclusively after 1955. By 1957, Doane had reissued his best selling 10-inch albums in 12-inch format, adding tracks not originally on the 10-inch versions. Starting about 1959, most of the albums were issued in stereo as well as mono, with the albums going to all "compatible stereo" in 1967 as the rest of the industry did so.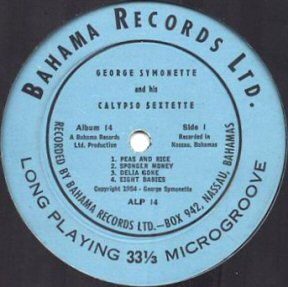 Many of the first 30 or so albums were of Calypso/Goombay music, usually recorded in the Bahamas. In addition to the Art label, albums were sold in the Bahamas under the "Bahamas Records Ltd." label, sometimes with the same catalog number as the mainland Art Records counterparts. This dual release system continued for several years. After recording an album in Panama by keyboardist Luis Azcarraga in 1955, Doane started another label, Panama, which also provided dual-releases with Art Records' new ALP-2000 series (Panama LA 2000 series). Each Art/Panama release had the address of Art Records in Miami and Panama Records in Panama, since the same jackets were used for both company's releases, although the label itself differed.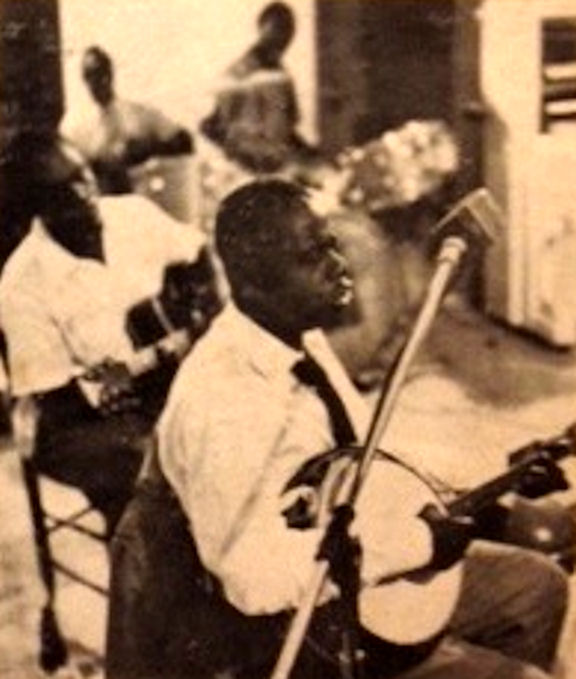 The first 30 or so albums concentrated on recording many of the artists of the Bahamas in their prime. Banjoist/vocalist "Blind" Blake (Blake Alphonso Higgs, shown at left in the studio), had an unusual style and was well known in Nassau and the surrounding islands. Blake's "Royal Victoria Hotel" backing group, known sometimes as an orchestra, sometimes as "calypos" or other variations, included Freddie Lewis on lead guitar, Dudley Butler on guitar and clappers, George Wilson on bass, and Chatfield Ward on maracas. Blake, Lewis, Butler, Ward and Wilson, the nucleus of the group, had been playing together for almost 20 years by the time these recordings were made. Occasional recording studio help included Stanley West on piano, Jack Roker on electric guitar, and Alfred Henderson on maracas. Blake went blind in 1934, and was usually accompanied by the unofficial sixth member of the group, his dog "Music." Higgs is not to be confused with American blues singer/guitarist Arthur "Blind" Blake, who recorded for Paramount Records from 1928 to 1932.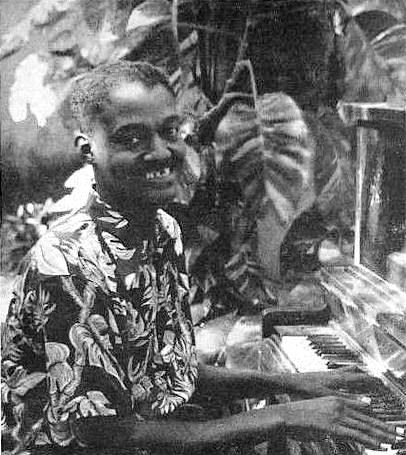 George Symonette (pictured at right) was a vocalist and pianist, and with his Sextette was also well- known in Nassau and environs. His group included noted bongo drummer/vocalist John Berkeley "Peanuts" Taylor, tap drummer Leonard Dillet, Richard Johnson on bass, Clayton Young on moraccas and claves, and Jack Roker on lead electric guitar.

Both Blake and Symonette had multiple albums released on Art Records. Other Bahamian artists featured on Art Records albums include the Percentie Brothers, Calypso Mama (Maureen Duvalier), The Mighty Panther (Vernon Joseph Roberts), Brownie (Irvin Brown), Delbon Johnson, Lord Composer (Omri Mundle), Lad Richards, Frankie Anderson, Harold "Digby" McNair, Colin Kelly, Leslie Scott & Irene Williams, Andre Toussaint, Pershing DeGraff, Calypso Eddie & His Carib Islanders, the Union Jack Trio, and Vincent Martin & His Bahamians. The latter was not the same "Vince Martin" who, backed by The Terriers, had a US hit with the Calypso-based "Cindy, Oh Cindy" in late 1956.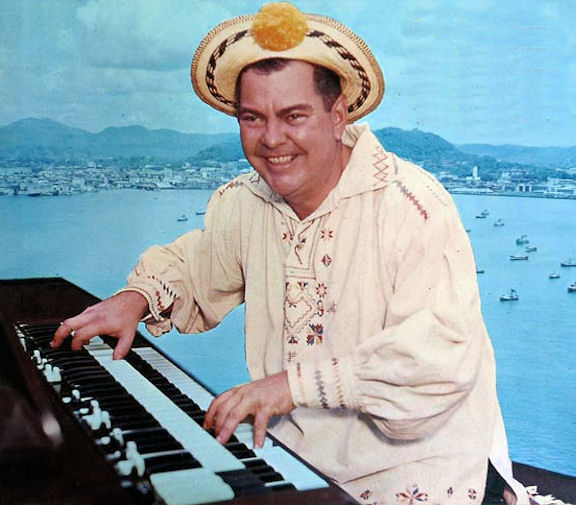 Harold Doane's foray into Panamanian music focused on Lucho Azcarraga (pictured at left), who played keyboards and fronted a group made up primarily of his sons and his cousin. Vocalist Margarita Escala also often appeared on his albums. Lucho's trademark was a Panama hat adorned with a gold carnation in front.

By the early 1960s, Daone spent more time at home and began focusing more on recording artists appearing in night clubs at nearby hotels (first Miami, then nearby Ft. Lauderdale). There was no shortage of artists appearing in these clubs. As noted before, these albums were primarily pressed a few hundred to perhaps as many as 1000 at a time for the artists themselves to sell at their appearances. Some artists, lacking the funds to contract Art Records to record their shows, engaged local businesses to take out ads on the back cover to make up the difference. As such, the Art Records albums from the 1960s and 1970s are generally of less interest to collectors than the 1950s albums.

As for the other artists on the label, one might expect to find people "on the way up" as well as those who never made it farther than the lounge circuit. Indeed, several of the artists are known to have recorded for other labels, usually after the days when they were hawking their own albums for a few extra bucks. Herbie Brock, for example, was a pianist who recorded a mid-1960s album on Art Records, then later recorded for Savoy and Criteria. Guitarist Alan Sandlin also recorded for other labels.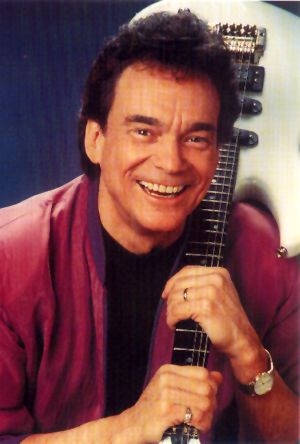 Perhaps the most noted of the non-Bahamian, non-Panamanian Art Records "alumni" is Ronnie Prophet. Ronnie was born Ronald Lawrence Victor in December, 1937, in Canada. He was raised in Quebec, and by the time he was a teen in the early 1950s, he was performing on radio in Ottawa's country music program called The Happy Wanderers. He moved to Montreal a couple of years later and appeared in clubs there from the mid-1950s to 1964. That year he moved to the Miami/Ft. Lauderdale area, where he performed as a comedian, guitarist, and country singer. He often performed as a "one-man show," doing skits and impersonations with various props as well as singing and playing. Some of his performances were also in the Bahamas. Naturally, he came to the attention of Art Records, and they recorded three albums of material for him to sell at his appearances. In 1969, he moved to Nashville and began a career as a country and western artist. Meanwhile, he continued his showmanship by appearing on Canadian TV, including his own Ronnie Prophet Show in the summer of 1974. After signing with RCA, he placed five sides on the US Country charts starting in 1975, the biggest hit being "Sanctuary," which reached #26. By 1977, he had slipped off the US charts, but he remained popular in Canada and had many hits there in the 1970s and 1980s. On some of these, he sang duets with his wife, Glory-Anne Carriere. He also had a TV show on the BBC in England. Today, he often performs in Branson, Missouri, one of the venerable country veterans who populate that country/easy listening music tourist mecca.

Harold Doane, just before his death at 94 on May 6, 1999, sold the back catalogue of tapes to Darryl Scott, a former publicist for Epic Records, and Drake Sutton-Shearer. The two had formed 2Tribes Entertainment in Miami. The new owners were able to save about half of the deteriorating masters.

Release dates are thought to be accurate to about one year plus or minus.



Cover



Number - Title - Artist - [Release Date] (Chart) Contents



The Art Records "AL" Series started in the late 1940s with 78-rpm albums.



AL 1 -



AL 2 - Goody Goodelle, Her Piano and Intimate Songs - Goody Goodelle & Her Piano [1949] 4-disc 78rpm album; red label. Recorded live. Disc 1: She's Not The Girl (She Used To Be Before)//Dear Diary; Disc 2: Murphy's Project//The Old Village Clock; Disc 3: Mr. Brown And Mrs. Brown//Back In The Saddle Again/I Hear You Knockin'; Disc 4: Oui Oui/The Laziest Girl In Town//It's Better Than Takin' In Washin'





Note: When Art Records switched to 10-inch LPs, at first they used the same AL prefix for AL 3, but subsequently changed the prefix to ALP for that record and the remainder of the issues.



AL 3 - A Group of Bahamian Songs - Blind Blake & His Royal Victoria Calypsos [1951] First issue with old AL prefix used for the 78-rpm albums. This is a 10-inch LP. J.P. Morgan/Jones! Oh Jones!/Yes! Yes! Yes!/Pretty Boy/Run-Come-See, Jerusalem//Love, Love Alone/Lord Got Tomatoes/Pigeon/Watermelon Spoilin' On The Vine/Never Interfere With A Man And Wife



ALP-3 - A Group of Bahamian Songs - Blind Blake & His Royal Victoria Calypsos [1951] Reissue of above with ALP prefix used subsequently for vinyl long play albums. This is a 10-inch LP. J.P. Morgan/Jones! Oh Jones!/Yes! Yes! Yes!/Pretty Boy/Run-Come-See, Jerusalem//Love, Love Alone/Lord Got Tomatoes/Pigeon/Watermelon Spoilin' On The Vine/Never Interfere With A Man And Wife



ALP-4 - A Second Album of Bahamian Songs - Blind Blake and His Royal Victoria Calypsos [6/52] This is a 10-inch LP. Peas And Rice-Little Nassau/Eighteen Hundred And Ninety-One/John B. Sail (Wreck Of The John B)/A Conch Ain't Got No Bone//Gin And Coconut Water/Sara Jane/Foolish Frog/Hold Em Joe-Wheel And Turn Me/Jump In The Line



ALP-4A - Blind Blake: Authentic Bahamian Calypso - Blind Blake and His Royal Victoria Calypsos [1957] This is a 12-inch reissue LP, with two songs added to the 10-inch version. Peas And Rice-Little Nassau/Bellamena/Eighteen Hundred And Ninety-One/John B. Sail (Wreck Of The John B)/A Conch Ain't Got No Bone//Gin And Coconut Water/The Cigar Song/Sara Jane/Foolish Frog/Hold Em Joe-Wheel And Turn Me/Jump In The Line



ALP-5 - Ray Haig Entertains with Piano-Intimate Songs-Comedy - Ray Haig [1951] This is a 10-inch album. I Can't Get Her Started/Yes, Yes, Yes!/How The Money Rolls In/She's Lazy And Lousy/Trip To Derby Town//The Hills Of West Virginia/I Used To Work In Chicago/When My Flivver Is A Wreck/In My Little Red Book/You've Got No Idea!



ALP-6 - A Third Album of Bahamian Songs - Blind Blake & The Royal Victoria Hotel "Calypso" Orchestra [1952] This is a 10-inch LP. Goombay Drum/Eight Babies To Mind/Noise By The Market/Boat Pull Out-Bahama Mama//Run Joe/Delia Gone/Curley Cay/Brown Skin Gal-Mary Ann



ALP-6A - Blind Blake: Authentic Bahamian Calypso - Blind Blake & The Royal Victoria Hotel "Calypso" Orchestra with the Goombay Four [1957] This is a 12-inch reissue LP with two added tracks not on the 10-inch version. Goombay Drum/Go Down Emanuel Road/Eight Babies To Mind/Noise By The Market/Boat Pull Out-Bahama Mama//Run Joe/Delia Gone/Sly Mongoose/Curley Cay/Brown Skin Gal-Mary Ann



ALP-7 - Calypso Party Featuring Outstanding Calypso Artists - Various Artists [1953] This is a 10-inch LP.



ALP-7A - Calypso Party Featuring Outstanding Calypso Artists - Various Artists [1957] This is a 12-inch reissue LP with two added tracks not on the 10-inch version. The Limbo Song - Frankie Anderson/Chinese Children - Mighty Panther/The Bedbug Song - Brownie/Let Me Go, Melda - Brownie/Ask Me Why I Run - Calypso Mama/The Little Fly - Lord Composer//The Saxophone Song - Brownie/Yes, Yes, Yes - Calypso Mama/The Big Bamboo - Pershing DeGraff/Muriel's Treasure - Calypso Mama/Calypso Cave Man - Brownie/Don't Touch Me Tomatoes - Calypso Mama



ALP-8 - Songs in Calypso by the Percentie Brothers - Percentie Brothers [1953] This is a 10-inch LP. Recorded live at the Pink Sands Hotel, Bahamas. Oh Liza See Me Here/The Briland Rumba/Royal Telephone/Linseed Market/Lord Got Tomatoes//Heaven Is So High/Bimini Gal/Foolish Frog/The Zelma Rose/Lita



ALP-9 - Dirty Dick's Famous Hotel Bar Presents: Delbon Johnson's Calypso Rhythms - Delbon Johnson's Calypso Rhythms [1953] This is a 10-inch LP. Smilin' Gal/Married Woman/Nassau Calling/Bullfrog Dressed In Soldier Clothes//Pigeon/Bing Ding/Bimini Gal/Little Nassau



ALP-9A - Dirty Dick's Famous Bar, Nassau, Bahamas Presents: Delbon Johnson's Calypso Rhythms - Delbon Johnson's Calypso Rhythms [1957] 12-inch reissue LP with a new cover and several added tracks to the 10-inch version. Pink label. Smilin' Gal/Bullfrog Dressed In Soldier Clothes/Nassau Calling/Bing Ding/Panama Lullaby/Mary Ann//Married Woman/Pigeon/Bimini Gal/Little Nassau/Sly Mongoose/It's Always Springtime In Nassau/Brown Skin Gal/Nassau Nights



ALP-10 - George Symonette, Bahamian Troubadour - George Symonette & His Goombay Sextette, Including Berkeley "Peanuts" Taylor [1955] This is a 10-inch LP. Recorded live at the Jungle Club in Nassau, Bahamas. The Crow/Uncle Lou-Lazy Man/Don't Touch Me Tomato/Man O War//Nassau Samba/My Lima Beans/Camilla/Can't Get No Sweetness Out Of Me



ALP-11 - Panama Festival - Lucho Azcarraga, His Organ & Orchestra (Vocals by Margarita Escala) [1955] This is a 10-inch LP. Recorded in Panama. Pimienta/Morena Tumba Hombre/Tambor de la Alegria/Tengo Uno Novia//Llano Abajo/Si Me Quereis/Guarare/Macaracas



ALP-12 - Lou Adams Plays Bahamania Calypso with vocals by Blind Blake, Jack Roker, Cyril Ferguson - Lou Adams [1954] This is a 10-inch LP. Also with Bruce Coakley, Eric Cash, Maurice Harvey, Leonard Perpall, and Fred Henfield. Barnyard Calypso/Over So/Bad Woman/Better Be Safe Than Sorry//Coconut Man/Oh Look Misery!/The Monkey Song/Tanneray



ALP-13 -



ALP-14 - Calypso and the Bahamian Rhythms: A Second Calypso Album by George Symonette, Bahamian Troubadour - George Symonette Sextette [1954] This is a 10" LP. The Sextette includes John Berkley "Peanuts" Taylor. Peas And Rice/Sponger Money/Delia Gone/Eight Babies//Love Alone/J.P. Morgan/Goombay/Boat Pull Out-Bahama Mama



ALP-14A - "Goombay": The Folk Songs of the Bahamas - George Symonette Sextette [1957] This is a 12-inch reissue LP. Label is Bahama Records Ltd. Issued with both brown and grey covers. The Sextette includes Berkley "Peanuts" Taylor. Peas And Rice/Sponger Money/Delia Gone/Eight Babies/Uncle Lou-Lazy Man/John B.//Maryanne/Love Alone/J.P. Morgan/Goombay/Dreams/Boat Pull Out-Bahama Mamma





ALP-15 - Songs from the Caribbean - Lord Composer with the Calypso Champions [1955] This is a 10-inch LP. Hard Times/Glamour Girl/Donkey Race/Come Down From America-Go For It-Millie, Millie//Daisy/Ugly Woman/Daphne Walking/The Banana Boat



ALP-15A - Songs from the Caribbean - Lord Composer with the Calypso Champions [1957] This is a 12-inch reissue LP with two additional songs added to the 10-inch version. Hard Times/Glamour Girl/Donkey Race/Come Down From America-Go For It-Millie, Millie/Holiday Rhumba//Daisy/Ugly Woman/Daphne Walking/The Banana Boat/The Little Fly





From this point, all albums are 12-inch.



ALP-16 - Nothing Personal: An Inaccurate Exposé of Life in Nassau - Harold Cannon & John Norman: Two Sardonics and a Piano [1957] Nothing Personal/Let's Do It/Dozey Little Nassau/We Want An Earl/Bahama Serenade/Mr. Norman & Mr. Cannon//There's Nothing New About Nassau/Cocktail Party Blues/The Sputnik Song/Hey Nonny No/Everyone's Waiting For BOAC/Before We Go



ALP-17 - A Calypso Mama Sings - Maureen Duvalier with the Lad Richards Calypso Orchestra [1957] Yes Yes Yes/Ask Me Why I Run/Court House Scandal/Come Down From America/Gin And Coconut Water//De Peas 'n' De Rice/Run Joe/Mary Had No Little Lamb/Don't Touch Me Tomatoes/Muriels Treasure



ALP-18 - West Indian Calypso Magic - The Mighty Panther & Lad Richards with His Orchestra [1/57] "The Mighty Panther" is vocalist/saxophonist Vernon Joseph Roberts. Chinese Children/Blood Thicker Than Water/Me Mama Tol' Me Don't Give/Barbados Carnival/Nora, Nora//The Big Bamboo/Mama Hol' De Light/Mary Ann/Zoop Zoop Zoop/Mister, Give Me De Rent



ALP-19 - Calypso Eddie - Calypso Eddie with His Carib Islanders [1957] Voodoo Drums/Matilda/Bad Woman/Fish And Grits/Television/'Tilda Hold De Light//Saturday Night/Island Samba/Mama Out De Light/Mambo Calypso/Small Island/Caribbean Moonlight



ALP-20 - A Fifth Album of Bahamian Songs - Blind Blake & The Royal Victoria Hotel "Calypso" Orchestra [1957] The Goombay Rock/Bahama Lullaby/Spirit Run/Loose Goat Tie Goat/A Woman's Love/Fisherman Bill//Oh! Liza/Moonlight Night In Nassau/At The Iron Bar/On A Tropical Isle/Oh Carolie/De Pig And Goat



ALP-21 - Echoes of the Bahamas - Union Jack Trio [1958] The trio was Bobby Smith, Garry Davis and Wilbert Fawkes. Recorded live at the Grand Bahama Hotel & Country Club, Grand Bahama Island.



ALP-22 - Island Women (Soundtrack) - Various Artists [1958] Island Woman/Crazy Like Mad/Goombay/Lizzy Carry Basket on Head/Don't Touch Me Tomato/Scratch My Back/Coconut Water/Rum and Gin/Digby/Calypso Kings/Hindu Calypso/Noise in the Market/Calypso Island



ALP-23 - Come to the Caribbean - Leslie Scott & Irene Williams [1958] Come To The Caribbean - Leslie Scott/Crazy Like Mad - Irene Williams/Ah Baby - Leslie Scott/Pretty Boy - Irene Williams/Honey Love - Irene Williams//Please Scratch Me Back - Leslie Scott/Bahama Lullaby - Irene Williams/Do Nothing All Day - Leslie Scott/All Suit No Man - Irene Williams/Life Can't Go On - Irene Williams



ALP-24 - Bahamian Ballads by Colin Kelly - Colin Kelly [1958] Little Beat/The Snorkel Song/Bougainvillea/Loose Goat-Tie Goat/Don't Believe It/Samba Calypso//Junkenoo Masquerade/Cinderella Lou/Calypso Kings/De Pig & Goat/Massie Massie



ALP-25 - The Junkanoo Club Presents Nassau's Star Entertainers Singing the Folk Songs You Like Best! - Various Artists [1959] Junkanoo - Frankie Anderson/Medley: Little Nassau-Let Me Go Walkin' Down The Road - Andre Toussaint/Zombie Jamboree (Back-To-Back And Belly-To-Belly) - Harold "Digby" McNair/The Hindu - Vincent Martin/Noise In The Market - Blind Blake Higgs//The Limbo Song (Limbo, Limbo, Limbo Like Me) - Frankie Anderson/Lizzie Carries Basket On De Hand - Berkeley "Peanuts" Taylor/The Snorkel Song - Colin Kelly/Digby - Harold "Digby" McNair/Medley: Watermelon Spoilin' On The Vine-Bahama Mama - Andre Toussaint



ALP-26 - Live at La Fin - Andre Toussaint [1959] Original cover. Bambino/Granada/Gondolier/Perfidia/C'est Si Bon/Malaguena Sala Rosa/Marina/Mi Yiddishe Mama/Esto Es Felicidad/Yellow Bird/All My Life/Cucurucucu Paloma



ALP-26S - Presenting Andre Toussaint: Blackbeard's Tavern, Nassau, Bahamas - Andre Toussaint [1963?] Second cover. Bambino/Granada/Gondolier/Perfidia/C'est Si Bon/Malaguena Sala Rosa/Marina/Mi Yiddishe Mama/Esto Es Felicidad/Yellow Bird/All My Life/Cucurucucu Paloma



ALP-27 - Coros del Tolima de Colombia - Various Artists [1962] Cumbia Colombiana/Tiplecito de mi Vida/Capricho/Antioquerita/No Se Si Tu Me Quieres/Cana/Guabina Chiquinquirena/Que Linda Que Esta La Tarde/Merecumbe/Guabina/Himno Nacional de Columbia



ALP-28 - Songs in Goombay by the Percentie Brothers - Percentie Brothers [1962] Recorded live at Pink Sands, Harbour Island, Bahamas. Goombay Medley/Rum Rum and Soda/J.P. Morgan/Bahama Moon/Run, Come, See Jerusalem/Kitch//Woman Sweeter Than Man/John B. Sail/Goombay Drum/When The Saints Go Marching In/Day O Miney/Great Day



ALP-29 -



ALP-30 - Best Loved Hymns - Ministers of Music [1962]



ALP-31 - Showtime with Four Bits - Four Bits [1962] Tracks run continuously. Bill Bailey/Television/School Days/Lover/Hill Billy Hoe Down//Get Out Of The Car/Let's Do It/Take Your Drum And Beat It/Sing-Sing-Sing



ALP-32 - The RUM HOUSE presents the "Personalities:" Musical Mayhem & Madness Recorded LIVE at the Galt Ocean Mile Hotel, Ft. Lauderdale, Florida - Personalities [1963] The Personalities were Blackie Nelson, Al Jain, Vic Beri, and Ron Campbell.



ALP-33 - Escape with Bob Bellows - Bob Bellows [1963]



ALP-34 - The Personalities, Volume 2: Caught In The Act - Personalities [1964] Hello Dolly/The Girl From Ipanema//Hey Lolly Lolly Lolly/This Is All I Ask/Oh Marie



ALP-35 - The "Punchy" Punchinellos - Ralph Michaels & Duke Stewart [1964] Recorded Live at the Wreck Bar, Yankee Clipper Hotel, Ft. Lauderdale, Florida. The Punchy Punchinellos, Part 1//The Punchy Punchinellos, Part 2



ALP-36 - The Unpredictable Bonnie Anderson Wrecks "The Wreck" - Bonnie Anderson [1964] Recorded live at the Wreck Bar, Yankee Clipper Hotel, Ft. Lauderdale, Florida.



ALP-37 - A Night with Fike - Al Fike with Ernie Kemm (Piano) [1964] Recorded live at the Sheraton Hotel & the Bonanza Room of the Escape Hotel in Ft. Lauderdale, Florida. Mighty Fine/Piano Roll Blues/(others)



ALP-38 - Bill Barner Laughs It Up - Bill Barner [1965] Recorded live at Jack Wood's Oceania Lounge, Ft. Lauderdale, Florida.



ALP-39 - An Interlude with the Interludes - Interludes [1965] Recorded at the Carioca Room of the Americana Hotel in Miami. Group includes Johnny Milanese, Billy Kay, Stan Hayman, and Mickey Milanese.



ALP-40 - The Singin' Swingin' Sandpipers - Sandpipers [1965] Recorded live in the Jules Verne Room of the Marlin Beach Hotel, Ft. Lauderdale, Florida. Not the more famous Sandpipers who recorded for A&M, this vocal trio pre-dated their more famous namesakes by quite a few years, dating back to 1959. This trio was Wally Pope, Art Williams, and Billy Stewart. Undecided/True/Yellow Bird/She Said I Could/Mood Indigo/Alley Cat//September In The Rain/Till/Medley: Ramona-Blue Moon/When My Sugar Walks Down The Street/Up A Lazy River/Did I Remember?/I Should Care/Sweet Georgia Brown



ALP-41 - Oceana - Andy Bartha's Deep South Dixieland Jazz Band [1965] Recorded live at Jack Wood's Oceania Lounge, Ft. Lauderdale, Florida. Muskrat Ramble/Beale Street Blues/The World Is Waiting For The Sunrise/Sobbin' Blues/Royal Garden Blues//Bill Bailey/Just A Closer Walk With Thee/St. James Infirmary Blues/When The Saints Come Marching In



ALP-42 - On Stage - Christi and Coats [1965] "Christi" is Bobbi Christi; "Coats" is Smoky Coats. Recorded live at the Wreck Bar at the Yankee Clipper Hotel, Ft. Lauderdale, Florida.



ALP-43 - Ronnie Prophet - Ronnie Prophet [1965] Recorded at the Jolly Roger Hotel in Ft. Lauderdale and the Jack Tar Grand Bahama Hotel. This album has no bands between songs. Intro from Jolly Roger/King Of The Road/I Left My Heart In San Francisco/The World Is Waiting For The Sunrise (instrumental)/Scotch And Soda/I Remember You//Dear Heart/The Third Man Theme (instrumental)/My Boomerang Won't Come Back/Yankee Doodle Dixie (instrumental)/Malegueña (instrumental)/They Call The Wind Maria



ALP-44 - Madeline at the Venetian Room - Madeline [1965?] Recorded live at the Venetian Room, Sheraton Hotel, Ft. Lauderdale, Florida.



ALP-45 - Rotsa Ruck - Arnie & Chisé [1965?] Recorded live in the Caesar Bar of the Sheraton Hotel, Ft. Lauderdale, Florida. The Arnie And Chisé Show, Side 1//The Arnie And Chisé Show, Side 2



ALP-46 - The Wild and Mild Sides of Woody Martens - Woody Martens [1965] Night Train/Moon River/Caravan/Tunes Of Glory/Ebb Tide/Stranger On The Shore//Oh!/Yellow Bird/Hawaiian Wedding Song/Steel Guitar Rag/The Lonely Bull/Baby Elephant Walk



ALP-47 -



ALP-48 - Something Old, Something New, Something Borrowed by Monte Bleu - Monte Bleu Quartet [1966] Recorded live at the Spanish Lounge, Boca Raton Hotel, Boca Raton, Florida. Medley: Moonlight Serenade-Sunrise Serenade-Indian Summer/Twisted Alto/Everything's Coming Up Roses/Medley: Harbour Lights-Alley Cat-Home/Cute/Can't Get Started With You//Bleu Merenge/Medley: Does Your Heart Beat For Me-Mood Indigo-Day Dreams/Du's Bleu's "66"



ALP-49 - Sincerely Yours - Ken Watkins [1966] Watkins is a vocalist/pianist. Recorded live in the Nassau Lounge of the Escape Hotel, Ft. Lauderdale, Florida. Sincerely Yours, Side 1//Sincerely Yours, Side 2



ALP-50 - Dancing By Moonlight with Abbey Albert - Abbey Albert Quartet with Jill Allen, Vocals [1966] Jill Allen is Mrs. Abbey Albert. Recorded in Ft. Lauderdale, Florida. The two sides are essentially long medleys. Give Me The Simple Life/Fly Me To The Moon/This Heart Of Mine/This Is All I Ask/Warsaw Concerto/San Francisco/Just In Time/Alley Cat/I Wish You Love//You Turned The Tables On Me/I'm Glad There Is You/Poor Butterfly/Stella My Starlight/Polonaise/You're Nobody Till Somebody Loves You/I Don't Know Why/My Heart Belongs To Daddy/'S Wonderful/If You Knew Susie/I Want A Girl/Bill Bailey/I'll See You In My Dreams/The Party's Over



ALP-51 - Ronnie Prophet Sings and Plays - Ronnie Prophet [1966] Recorded "live" at the Union Jack Pub of the Grand Bahama Hotel and Country Club, West End, Grand Bahama Island. Michele/Canadian Sunset/Ahab The Arab/Shame And Scandal/Old Cotton Fields/More/Kansas City Star//House Of The Rising Sun/Baby The Rain Must Fall/Yesterday/Blueberry Hill (Comedy)/Freight Train/Wings Of A Dove



ALP-52 - Bill Barner's Trolley Bar Party, Volume One - Bill Barner [1966] Comedy Monologues With Piano. (Trolley Bar Party, Volume II was released on Arrow Records ARC-1.) Trolley Bar Party, Part 1//Trolley Bar Party Part 2



ALP-53/54 - Blackie Nelson and the Personalities - Blackie Nelson & Personalities [1966] (2-LP set) Shad Smith replaced Vic Beri, so this version of the Personalities was Blackie Nelson, Al Jain, Shad Smith and Ron Campbell. Cotton Fields/Comedy/Strangers In The Night/Who Can I Turn To?/Comedy/Old Man Time/The Big Band Era/Mame/Girl Talk/Baby, Baby, All The Time/Shame And Scandal



ALP-55 - Doris: A Fourteen Minute Overview of the Old Testament - Doris Albrecht [1966] Doris is a Bethel Bible Series teacher at South Miami Lutheran Church. A Fourteen-Minute Overview of the Old Testament//From the New Testament: God So Loved The World (John 3:16)/Beautiful Savior (Matt 4:3; 16:13)/The Lord's Prayer (Matt 6:9-13)/The Hallelujah Chorus (Rev 19:6)



ALP-56 - Night Out at the Oceana - Bill Barner [1966] 2-LP set. Recorded "live" at Jack Wood's Oceania, Fort Lauderdale, Florida. Comedy interspersed with some songs. Record 1 includes L-O-V-E/Wheel Of Hurt/The Mermaid Song/Mack The Knife. Record 2 includes He'll Have To Go/Silver Dollar/Baby I Told You So



ALP-57 -



ALP-58 - Monte Bleu at the Sands - Monte Bleu [1967] It's A Blue World/Blue Prelude/Theme From The Sand Pebbles/Our Day Will Come; Michele; Blueberry Hill/I Got It Bad/The Shadow Of Your Smile/Hot Lips/Nite Cap Cha-Cha-Cha/Vivian Merengue/A Man And A Woman/Fools Rush In/Mack The Knife



ALP-59 -



ALP-60 - The Night and Herbie Brock at the 700 Club - Herbie Brock [1967] Orange label. Dr. Zhivago/Strangers In The Night/On A Clear Day/All The Things You Are//My Funny Valentine/Misty/September Song/Days Of Wine And Roses



ALP-61 - Fort Lauderdale- Our Kind of Town - Danny and the Tunesmen [1967] The Tunesmen were Chuck Miller and Charlie Hudson. My Kind Of Town/Lyda Rose/Trumpet Impressions/Melancholy Baby/Alley Cat/The Fashion Show//Caravan/So, What's New/I'll Take Care Of Your Cares/Dr. Zhivago Theme/Bye Bye/When The Saints Go Marching In



ALP-62 - Harbour Island Sings with the Percenties at Pink Sands - Percentie Brothers [1967] Recorded at the Pink Sands Hotel, Bahamas. Pink Sands-Bahama Mama/Mary Ann-Hold 'Im Joe/Wings Of A Dove/Love Alone/Chinese Children/Yellow Bird/Onward Christian Soldiers//Stone Cold Dead In The Market/Lay Down My Warring Tool/Dykes Albury Medley/Spiritual Medley/Bull Frog Dressed In Soldier Clothes/Shame And Scandal/When The Saints Go Marching In/Good Night Ladies- So Long



ALP-63 - A Fun Evening With Don Hayes At His Baldwin Organ & Piano - Don Hayes [1967] Recorded "live" at the "21" Lounge of the Mark 2100 Motel at Ft. Lauderdale Beach. Alley Cat/Calcutta/Tonight We Love/Autumn Leaves/Til The End Of Time/Tea For Two/September In The Rain/(others)



ALP-64 - Living It Up with Teddy Greaves - Teddy Greaves [1967] Recorded "live" in the Turtle Walk Supper Club at the Grand Bahama Hotel, West End, Grand Bahama Island. With Ossie Hall, Cedric Brook, Edner Gungard, and George McLeary. The album cover photo shows Greaves on a boat deck; back cover has a photo of Greaves water skiing. On A Wonderful Day/Granada/Aldela/Cucurucucu Paloma/32nd Of May/Swahili Song/Zombie Jamboree/Ma And Pa/Quando Caliente El Sol/Linstead Market Medley/Out Of Nowhere/Jamaica Farewell/Shame And Scandal/Closing



ALP-65 -



ALP-66 - The Livin' Dolls - Carol Padgett and Claudia Greco [1967] The Lady Is A Tramp/Cumana/Banjo Medley: Alabamy Bound-Toot, Toot, Tootsie-Bye Bye Blues/The World Is Waiting For The Sunrise/Girl Talk Medley/Too Long At The Fair//You Can't Sit Down/Little Girl From Little Rock/Rhapsody In Blue/Without You/Teamwork



ALP-67 - The Unpredictable Bonnie Anderson Wrecks "The Wreck" Again!, Volume 2 - Bonnie Anderson [1968] Recorded live at the Wreck Bar, Yankee Clipper Hotel, Ft. Lauderdale, Florida. Little Ol' Wine Drinker, Me/Alley Cat/The Dinghy Song/Second Hand Rose/(others)



ALP-68 - The Magic Spell of Bob Loiselle - Bob Loiselle [1968] Summer Wind/For Once In My Life/Chacounne (Yellow Bird)/C'est Si Bon/Meditation/Man Smart/Women Smarter/Lara's Theme From Dr. Zhivago/Satin Doll/The Impossible Dream/Liberace (Comedy)/Jamaica Farewell/Calypso Medley/Yesterday/King Of The Road



ALP-69 - Songs for Lonely Lovers - Society of Two: John Salerno & Ron Trudeau [1968] Guantanamera/Time After Time/Night In Tunisia/Beatles Medley/Noche De Ronda//Where Are You Now/Malagueña Salerosa/Cry Me A River/Capri C'Est Fin/(By The Time I Get To) Phoenix/Going Out Of My Head



ALP-70 - Woody's Mood - Woody Martens at the Hammond Organ [1968] Love is Blue/Cast Your Fate To The Wind/Medley: It Was A Very Good Yea-Yesterday-Michelle/A Walk In The Black Forrest/Medley: A Man And A Woman-Music To Watch Girls By//Echo Boogie/Zorba The Greek/Yakity Sax/Foot-Pedalling 'The Saints'/How High The Moon/Rambunctious/Mack The Knife/Woody's Mood (Green Onions)



ALP-71 - Ronnie - Ronnie Prophet [1968] Recorded live at the Bahama Hotel, Ft. Lauderdale, Florida. Gentle On My Mind/Rock And Roll Music/Music To Watch Girls By/Honey/Little Green Apples/The Shadow Of Your Smile/By The Time I Get To Phoenix//Yellow Bird/Rindercella/Island In The Sun/Windy And Warm (Instrumental)/Exodus/Ghost Riders (Psycho-Instrumental)



ALP-72 - From Hawaii to You: Songs from the Mainland - Biggie Kanae [1968] Henry P. "Biggie" Kanae (1909-1981). Beyond The Rainbow/Little Brown Gal/Hawaiian Wedding Song/Pearly Shells/Lahaina Luna/Cockeyed Mayor Of Kalakaikai/Medley: Huki Lau-Keep Your Eyes On Her Hands-Sweet Leilani/I'll Take Care Of Your Cares/Medley: Cab Driver-Paper Doll-You Always Hurt The One You Love-Make The World Go Away- Little Old Wine Drinker, Me-Aloha Oe



ALP-73 - The Crescendos - Crescendos [1968] This is a trio from Quebec, not the 1950s R&B group who sang "Oh Julie." Show Opener/Going Out Of My Head/I Believe/Lazy River/Lara's Theme From "Doctor Zhivago"/What Now My Love/The Impossible Dream/Sando (vibes solo)/Volare & Closing Theme//Somewhere/The Look Of Love/J'Avois Le Soleil/Dans Les Yeaux/Delilah/Sing Along Medley



ALP-74 - The Scott Thomson Trio at the Jolly Roger - Scott Thomson Trio [1968] Scott Thompson is in the middle with the shades. It's Never Too Late To Do Your Thing/(others)



ALP-75 - Danny and the Tunesmen and Their Fans, Volume 2 - Danny Bridges & The Tunesmen [1968] Step To The Rear/Tiny Bubbles/100 Years From Today/Edelweiss/Royal Garden Blues//Opus One/Young At Heart/By The Time I Get To Phoenix/Ebb Tide/When I Lost You/And The Angels Sing



ALP-76 - Here's Teddy Greaves and His Groovy Group - Teddy Greaves [1968] Recorded in the Turtle Walk Supper Club of the Grand Bahama Hotel. Delilah!/Winchester Cathedral/Island Woman/Hold Me Tight/Yellow Bird/These Are The Times/Harper Valley PTA/Michelle/Hold 'Im Joe/Bon Soir 'Dame/This Is My Song/Mary Poppins



ALP-77 - Dick Gold Does His Many Things - Dick Gold [1968] Recorded Live in the Chart Room of the Bahama Hotel, Ft. Lauderdale, Florida. Satin Doll/Matilda/Folk Rock/Twenty Quickie Parodies/Fiddler On The Roof Medley. To Life!-Matchmaker, Matchmaker-Sunrise, Sunset-If I Were A Rich Man



ALP-78 -



ALP-79 - Recorded "Live" in Miami - Four Bits [1968] Introduction/For Once In My Life/Airlines Comedy/Malegueña/Two Things To Worry About//Opening/Chicago/Homer Rice/Goofy Sax/Comedy Routine/The Snatch Song



ALP-80 - The "Live" Sound of the Ben Champion Trio - Ben Champion Trio [1969] This album features is a jazz trio with Lori Lee as a vocalist on some of the tracks. The trio featured Ben Champion on sax and flute, Ike Reeves on organ and Ben Christopher on drums and vocals. The album was recorded live at the 'Cotton Tail Lounge' in Ft. Lauderdale, Florida. By The Time I Get To Phoenix/Try A Little Tenderness/God Bless The Child/How Insensitive/Spinning Wheel/Little Darling/Comin' Home/Street Scene/Wack-Wack/Alfie



ALP-81 - Both Sides Now - Tunesmiths [1969] Recorded live in Palm Beach, Florida. Tijuana Brass Medley: A Taste Of Honey-The Little Spanish Flea-Mexican Shuffle-Tijuana Taxi/Monday, Monday/Fiddler On The Roof Medley: If I Were A Rich Man-Matchmaker, Matchmaker-Sunrise, Sunset- Fiddler On The Roof/Girl Talk/Close//Sweet Blindness/Going Out Of My Head/Dames/Both Sides Now/Aquarius/Live For Life/Close



ALP-82 - Two Happy People - Jolene & Bill Alexander [1969] Gentle On My Mind/More/I Gotta Be Me/Cabaret/My Buddy/Old Man Time//People/What's New-Just Because/Little Green Apples/Cab Driver/Lara's Theme/Softly



ALP-83 - The Personalities Live, Volume 5 - Personalities [1969] Recorded live at the Rum House of the Galt Ocean Mile Hotel, Ft. Lauderdale, Florida. By this album, Al Jain had left the group and the Personalities were down to a trio of Blackie Nelson, Shad Smith, and Ron Campbell. I Take Care Of Your Cares/Phoenix/Clarinet Polka/Dark Eyes/Windmills Of Your Mind/My Way//Time After Time/St. Louis Blues/Wave/Watch What Happens/Little Green Apples



ALP-84 -



ALP-85 - If I Were a Rich Man - Artie "Sax" Collier [1969] If I Were A Rich Man/Comedy/Men/Comedy/Bye, Bye Blues/The Impossible Dream/Island In The Sun/Watermelon Man//Opening And Comedy/Big Band Medley: Opus One-So Rare-Big Noise From Winnetka-One O'Clock Jump/Love Me With All Your Heart/Yellow Bird/Dominique



ALP-86 - Andy Bartha and His Deep South Dixieland Jazz Band - Andy Bartha & His Deep South Dixieland Jazz Band [1969] Take Me to The Land of Jazz/Blues My Naughty Sweetie Give to Me/Memphis Blues/Milneberg Joys//Careless Love/Bye Bye Blues/The Word Got Around/Melancholy Blues/Wolverine Blues



ALP-87 - All Sides Now: The Many Moods of Bobby Vernon - Bobby Vernon [1970] Both Sides Now/Sunny/Harper Valley P.T.A./Abergavenny/By The Time I Get To Phoenix/Sweet Caroline/John Henry//More/Lara's Theme (Dr. Zhivago)/Raindrops Keep Falling On My Head/Yellow Bird/Yesterday/Spinning Wheel/Leaves Are Falling



ALP-88 - Bill Barner Trucks In at Anderson House - Bill Barner [1970] Recorded live at Anderson House, Ft. Lauderdale, Florida.



ALP-89 - John Salerno & the Society of Sound - John Salerno & the Society of Sound [1970] Good Morning Starshine/Raindrops Keep Falling On My Head/Harpsichord Interlude/Agua De Beber/One Two Three/The Girl From Ipanema/Harpsichord Interlude/Spinning Wheel//Take A Letter, Maria/Harpsichord Interlude/Dindi/Love Is Blue/Guitar Interlude/I'll Never Fall In Love Again/Harpsichord Interlude/Brother Love's Travelling Salvation Show



ALP-90 -



ALP-91 - On the Road - Johnny Johnson [1970] Route 66/Raindrops Keep Falling On My Head/Without Love/A Woman's Way/Call Me/Tennessee Bird Walk//By The Time I Get To Phoenix/Everybody's Talkin'/My Elusive Dreams/Didn't We/Love's Been Good To Me



ALP-92 -



ALP-93 - Mervin at the Moonraker - Mervin Eugene [1970] Recorded at Warren Foster's Moonraker Restaurant, Ft. Lauderdale, Florida. MacArthur Park/Romeo & Juliet/Esta Tarde Vi Llover/Up, Up And Away/Aquarius/Norwegian Wood/Secret Love//Tonight (West Side Story)/The Look Of Love/Laura's Theme (Dr. Zhivago)/A Hard Day's Night/Didn't We/Warsaw Concerto



ALP-94 - Dennis Smith — Live! Sings Just for You - Dennis Smith [1970] Raindrops Keep Falling On My Head/Misty/Gentle On My Mind/Danny Boy/Day-O (Banana Boat Song)/Something//It's Impossible/Sunny/Release Me/Island In The Sun/Spring Will Be Here On Time/Make The World Go Away



ALP-95 -



ALP-96 -



ALP-97 -



ALP-98 - Ronnie Taylor, Esq. - Ronnie Taylor [1970] Three Blind Mice/You've Gonna Hear from Me/The Summer of 1942/The Jolly Irish Tinker/Alfie in the Pub/Peace in the Valley//Love Story Theme/Go Away Little Girl/It's a Great Big Shame/Haunting Me (Tango)/Place Your Hand in Mine/Snowbird/May You Always



ALP-99 -



ALP-100 -



ALP-101 - Nostalgia, Then & Now - Bob Bellows & Ronnie Kemper [1971] Night Life/My Way/San Diego I Love You/Make It Thru the Night/The Sound of Silence/Watch What Happens/Chippewa Town/Did I Ever Really Live



ALP-102 - A Second Album by Ronnie Taylor: Sir Cuss of Piccadilly Extemporizing at the Piano - Ronnie Taylor, Esq. [1973] McArthur Park/What Is This Thing Called Love?/A Time For Us (from "Romeo & Juliet")/Deep Purple/Spanish Moments Medley: Spanish Eyes-Lady Of Spain- Malagueña/Bridge Over Troubled Waters/I'll Never Be The Same/Stardust/Excerpt From Concerto No. 1 (Tchaikovsky)



ALP-103 - Happiness Is the Scotties - Scotties [1973] Medley: Day By Day-O Happy Day-Put Your Hand In The Hand/Danny Boy/Bye Bye Blues/To See You Smile/Return To Sorrento//Medley: It Only Takes A Moment-What The World Needs Now/If You Want To Love Me Forever/The World Is Waiting For The Sunrise/The Baby In The House/Medley: Granada- Malagueña



ALP-104 - Jammin' Jazzin' Relaxin' - Andy Bartha's Deep South Dixieland Jazz Band with Billy Butterfield [1973] Orange label. The band is: Andy Bartha (Cornet & Vocal), Billy Butterfield (Trumpet), Ed Hubble (Trombone, Baritone Horn), Larry Wilson (Clarinet), John Dengler (Bass Sax), Bob Warren (Piano), Chuck Karle (String Bass), Red Rassle (Guitar) and Chuck Damanti (Drums). Dese, Dem & Doze/Basin Street/That's A Plenty/Mama's Gone Goodbye/High Society//St. Louis Blues/Sugar Blues/Original Dixieland One-Step/St. James Infirmary Blues/Dixie



ALP-105 - Zanzibar - Zanzibar [1973] Zanzibar was Tim Boynton, Tony Castellanos and Rick Gritz. Pa Gozar/Out Of My Head/Man Without Love/Guajira/Tie A Yellow Ribbon/Sabor A Mi//Natural Man/Guantanamera/Behind Closed Doors/How I Think Of You/Mountains/Riding



ALP-106 - The Wonderful Wacky World of Bill Barner - Bill Barner [1973] Boogie Tonight/Big Bad Leroy Brown/To Get To You/Don't Touch Me/If You're Irish/Tie A Yellow Ribbon/Butter Beans/Glad There Is You, Babe/Watermelon Wine



ALP-107 -



ALP-108 -



ALP-109 - These Jokers are Wild - Lou Marsh & Tony Adams with the Johnny Varo Trio [1974] Comedy routine with occasional vocals in English and French on "It's Always You" and "All My Life." Impersonations of Jackie Gleason/Milton Berle/Alan King/Jerry Lewis/Sammy Davis Jr., and others.



ALP-110 - Hi Booger, Volume One - G. David Howard [1974] Yellow label. Stand-up comedy with occasional songs, including "I'm Glad To Be Here" and "I Hate". Side 1//Side 2



ALP-111 - This Is the Song of My Life - Dale Robertson [1974]



ALP-112 - Live from the Town Tavern - Casuals [1974] Carmen/Wasted Days/My Music/Danny Boy/Polk Salad Annie/Statue Of A Fool//When You Say Love/My Way/Bill Bailey/Feelings/Good-Hearted Woman



ALP-113 -



ALP-114 -



ALP-115 -



ALP-116 - The Swingin' Sicilian, Part 2 - Dick Catan [1974] Dick Catan was a multi- instrumentalist and comic with a long history by the time this record was issued (he was 60). ("Part 1" of The Swingin' Sicilian was issued on Ciro 1009). Born Casper M. Catanzaro, Dick died in January, 2000, at the age of 86. Johnny's Italian Restaurant/Frank Palumbo's/Holiday House/Vesuvio/Bruno's Silvan Beach/Ciro's/Sonkin's Gold Coast/Town And Country/Beverly Hills Country Club/Palm Shores/Italy My Place/Riccardo's/Rocking Horse/Little Copa/San Roc/Trapazzo's



ALP-117 -



ALP-118 - What Does a Son Mean to Lovers - Dick Clark Trio featuring Roberta [1974] What Does A Son Mean To Lovers (Vocal: Roberta)/Our Love Is Here To Stay/Agitate/Here's That Rainy Day/Satin Doll//Watch What Happens (Vocal: Roberta)/A House Is Not A Home/Feelings/Watermelon Man



ALP-119 -



ALP-120 -



ALP-121 - Fun with Charlie Farrell at the Hotel Balmoral - Charlie Farrell [1975]



ALP-122 - Square Dances - Frank Bedell [1975]



ALP-123 -



ALP-124 -



ALP-125 - I Make the "Rondos of the Condos" - Dick Catan [1975] Side One is about Condos. Side Two is live from cruise ships and night clubs.



ALP-126 - I Ain't Gonna Give Nobody None Of My Jelly Roll - Andy Bartha & His Deep South Dixieland Jazz Band [1976] Recorded at the Cotton Tail Lounge, Ft. Lauderdale, Florida. I Ain't Gonna Give Nobody None Of My Jelly Roll (with the Cutty Sark Singers)/Strange Blues/Cinderella/Avalon//I Ain't Gonna Give Nobody None Of My Jelly Roll/Up A Lazy River/Willie The Weeper/Bourbon Street Parade



ALP-127 - I Remember You - Alan Sandlin [1977] I Remember You/Smoke Gets In Your Eyes/My Prayer/Only You/Chatanooga Choo Choo/If You Know What I Mean/Send In The Clowns//They Call The Wind Maria/Cattle Call/The Last Farewell/Medley: I Remember Elvis (Blue Suede Shoes-Love Me Tender-Loving You-Suspicious Minds-You Don't Have To Say You Love Me-Can't Help Falling In Love)/My Way



ALP-128 -



ALP-129 -



ALP-130 -



ALP-131 - Live! - Richard Thomas [1979?]





ALP-2000 Panamanian Series:
Most of these albums were also issued on the Panama label with prefix LA- instead of ALP-, with the same catalog number and same album jacket. The Art labels for this series were generally red with silver print, but some labels used purple instead of red.



ALP-2000 - Bailando en Panama (Dancing in Panama) - Lucho Azcarraga y Su Conjunto [1959] Recorded in Panama. Purple label. Cachita/El Carate/La Tintorera/La Paloma/Cocaleca/Bresas Mesanas//Protect Me/Noche Azul/Volare/Begin The Beguine/Medley: Pretty Girl-Whispering-Smiles/Ventanita



ALP-2001 - Navidades en Panama (Christmas in Panama) - Lucho Azcarraga y Su Conjunto [1960] Venid Pastorcillos/Jingle Bells/Holy Night/Joy To The World/The Bells Of St. Mary's/O Christmas Tree/Hark The Herald Angels Sing/Canción De Cuna/White Christmas/A Belén/Christmas Morn Is Come Again/Noche De Paz/O Come All Ye Faithful/Away In A Manger/Ese Precioso Niño



ALP-2002 - Carnaval de Oro en Panama 1910-1960 - Lucho Azcarraga y Su Conjunto, Vocals by Margarita Escala [1960] Recorded in Panama. Red label; also issued with dark grey "Lucho Azcarraga" label. Melodias Carnavalezcas/El Chichemito/Viva Maritza/Tamboritos Panamenos/De Alla Donde Uno/Chicago Por Los Aires/Pescao//Cumbias Panamenas/Chesterfield/Diente De Oro/Tamboritos Panamenos/Melodias Carnavalezcas/Urraca/Griselda



ALP-2003 - Carnaval en Panama - Lucho Azcarraga y Su Conjunto [1961] Recorded in Panama. A Bailar Socabon/Tengo Una Novia/Sinceridad/Llano E Piedra/Tamboritos Panamenos/Carnavalito En Panama//Un Secreto/Marcela/Noche Tropical/Que Sea Verdad/Querube/Palo De Hembra



ALP-2004 - Mi Panama - Lucho Azcarraga y Su Conjunto, Vocals by Margarita Escala [1961] Recorded in Panama. Red label; also issued with Blue-grey label on one side, grey on the other. El Manuto/Dice Que Me Quiere/Alevantate Muchacho, Dime La Verdad/Panama Viejo/Marta/Chupando Caramelo//Silver Spray/Taboga/La Aparicion/Fello/Los Largueros/La Pimienta



ALP-2005 - Lindo Panama - Lucho Azcarraga y Su Conjunto [1962] Recorded in Panama. Released in mono and stereo. Blue-grey label. Echa La Mula Pa Alante/Fina/Panama Soberana/Toqueme El Trigemino/Llevame Al Rio Cholita/Melodias De Carnaval//Merengue/Tamales Calientes/Tita/La Botijuela/All American Medeley



ALP-2006 - Recuerde Panama (Remember Panama) - Lucho Azcarraga y Su Conjunto [1962] Recorded in Panama. Released in mono and stereo. Purple label. Panama/Hortencia/Marta/Patito/Que Viva Panama/Ensalada Panamena//Kit Kats/Mirando Una Estrella/Maria Luisa/Bajo El Palmar/Los Muiras/Cafe Duran



ALP-2007 - Noche En Panama (Night in Panama) - Lucho Azcarraga y Su Conjunto, Vocales por Margarita Escala [1963] Recorded in Panama. Discolandia/Chiricanita/Gerardino/Dolores/Seco Sombrero/Los Tigres//Caracoleando/Trapichito/Rogelio No Me Aprietes Mas/La Calentura/Bomberito/La Guaria Morada



ALP-2008 - Siesta En Panama - Lucho Azcarraga y Su Conjunto [1963] Recorded in Panama. Released in mono and stereo. Red label. Los Carnavales No Son En Barraza/Panama/Los Pongos/Tengo Un Consuelo/Once Upon A Love/El Cocorron//La Siesta/Noche De Mi Tierra/El Gran Paige De Paco/No Culpes A Tu Destino/Amor De Temporada/Santa Ana



ALP-2009 - Golden Anniversary: Panama Canal 1914-1964 - Lucho Azcarraga y Su Conjunto [1964] Recorded in Panama. Released in mono and stereo. Paso A La Reina-Tambor DE La Algeria-Cumbia/Mi Velero/Cumbia Carnavalezca/Ese Beso/Tamboritos: Paloma Blanca-Por Caridad- Llano Afuera/Panama-God Bless America//Potpourri De Boleros: Solamente Una Vez-Vereda Tropical- Amor De Mi Bohio-Diez Minutos Mas-Lamento Bornicano-Mi Finca-San Francisco-Sin Sufrimiento



ALP-2010 - Panama Presenta Lucho Azcarraga y Su Conjunto con Margarita Escala (contatriz) y Papito Baker (pianista) - Lucho Azcarraga [1965] Recorded Live at the Latin Fiesta in Tampa, Florida. Cocaleca/La Palizada/Cumbias Carnavalezcas/Alevantate Muchacho, Dime La Verdad/Accommodate Chichi/Tamboritos Panameños//Cumbias Panameñas/Morena Tumba Hombre/Punta Guanacasteco/Echa El Chingo Al Agua/Alma Llanera/Pescao



ALP-2011 - El Nuevo Panama Festival - Lucho Azcarraga y Su Conjunto con Margarita Escala, Contatrix [1966] Pimienta/Morena Tumba Hombre/Madrecita/Tambor De La Alegria/Cruel Idillo/Tengo Una Novia//Llano Abajo/Juana La Loca/Si Me Quereis/Gurarare/Un Viejo Amor/Macaracas



ALP-2012 - Panama Tipico - Lucho Azcarraga y Su Conjunto con Margarita Escala, Contatrix [1967] El Galope De Mi Caballo/Decimo XV Festival De Guarare/Loma Azul/Tamboritos Panameños/Si No Me Quieres No Me Enganes/La Bala//Chico Quiere A Deya/No Tengo Porque Sufrir/Mi Morena De Tonosi/Martes De Carnaval/Los Enamorados Gozan/Decimo Septimo Festival En Guarare



ALP-2013 - Panorama de Panama - Lucho Azcarraga [1968] Felices Y Juntitos/Antes Que Venga La Guerra/Suspiro De Una Fea/Los Cañaverales/Año Viejo/Medley: Hava Nagila-Havenu Shalom A'Leychem//Los Cumbancheros/Linda Ballesteros/Nunca Me Deprecies/Mama Eva/Tambor De La Alegria/Lara's Theme From Dr. Zhivago





Promotional LP:




CELP - Calypso - Various Artists [1959] Label gives the title as Cunard Eagle Airways Presents A Premium Album of Outstanding Calypso and Goombay Artists of the Bahama Islands. Songs include material from albums at least up to album ALP-26, which would date this album at about 1959. Red label. Ding Dong - Delbon Johnson/Island Woman - Leslie Scott/Lord Got Tomatoes-Peas & Rice Medley - Percentie Brothers/De Pig An' Goat - Blind Blake/Zombie Jamboree - "Digby" McNair/Little Boat - Colin Kelly//Matilda - Calypso Eddie/Yellow Bird - Andre Toussaint/Brown Skin Gal-Mary Ann Medley - Blind Blake/De Peas And De Rice - Calypso Mama/Little Nassau - Delbon Johnson/Calypso Island - "Peanuts" Taylor











SOUVENIR RECORDS
Souvenir was a subsidiary label of Art Records. These recordings were done primarily on cruise ships. The labels were either orange with black print, or much more often dark blue with silver print.



Souvenir SLP-301 - An Unforgettable Evening with the Calypso Playboys - Robert Roker & the Calypso Playboys [1973] Recorded live on the Norwegian Caribbean Lines cruise ship M/S Southward. Brown Skin Gal/Meditation/South Of The Border/Yellow Bird/Day-O!/Michael Row The Boat Ashore//Amen!/Island In The Sun/Mary Ann/It's All Right/Nassau Farewell



Souvenir SLP-302 - The Lord Saints Calypso Group Come Sailing In - Lord Saints Calypso Group [1973] First cover. Haiti Cherie/Shame And Scandal/January Girl/Sylvie/Blood Thicker Than Water/The Village Ram/Come Back To The Virgin Isles/Tattoed Lady/John B. Sail/Yellow Bird/A Woman's Figure/Mary Ann



Souvenir SLP-302 - The Lord Saints Calypso Group Come Sailing In - Lord Saints Calypso Group [1974] Second Cover. Haiti Cherie/Shame And Scandal/January Girl/Sylvie/Blood Thicker Than Water/The Village Ram/Come Back To The Virgin Isles/Tattoed Lady/John B. Sail/Yellow Bird/A Woman's Figure/Mary Ann



Souvenir SLP-303 - Neville Simmons Sings Caribbean Holiday Favorites - Neville Simmons [1973] Recorded live on the Norwegian Caribbean Lines cruise ship M/S Starward. Land Of The Sea And Sun/Jamaica Farewell/Come Back To The Island/Yellow Bird/Lemon Tree//Something/Raindrops Keep Falling On My Head/The Green Green Grass Of Home/What Now My Love/My Way



Souvenir SLP-304 -



Souvenir SLP-305 -



Souvenir SLP-306 -



Souvenir SLP-307 - Over-Seas - Franco Pucci Orchestra [1973] Guantanamera/Oye Como Va/Abrede Sesamo/Girl From Ipanema/La Banda/Cumana//Ananemo Veneziano/4-3-1943/Rose Garden/Raindrops Keep Falling On My Head/Donna Felicita/Closing



Souvenir SLP-308 - The But Eventually Steel Band - But Eventually Steel Band [1973]



Souvenir SLP-309 -



Souvenir SLP-310 -



Souvenir SLP-311 -



Souvenir SLP-312 -



Souvenir SLP-313 - Sailing and Singing with Hasse in the Trade Winds Lounge - Hasse [Sylwan] [1974] Recorded at the Trade Winds Lounge. Bye Bye Blackbird/Regnet Det Bara Oser Ner (Raindrops Keep Falling On My Head)/For Once In My Life/Sunrise, Sunset/I've Gotta Be Me//Yesterday/Can't Take My Eyes Off Of You/How Small We Are/Those Were The Days



Souvenir SLP-314 - Songs of the Sea and Sun - Neville Simmons [1974] Recorded live on the Norwegian Caribbean Lines cruise ship M/S Southward. Side 1 with Robert Roker and the Calypso Playboys; Side 2 with the Franco Pucci Orchestra. Island In The Sun/Island Woman/Come Back Liza/Shame And Scandal/Honeymoon Couple//It's Impossible/Delilah/Knock Three Times/Hello Young Lovers/Haveh Negila



Souvenir SLP-315 - The Many Moods of the Calypso Kings - Calypso Kings [1974] Recorded live on the Norwegian Caribbean Lines cruise ship M/S Starward. The Calypso Kings were Rudy Johnson (Leader), Irving Ellis (Steel Drum/Vocalist), Fitzroy Frank (Drums), Earl Jackson (Guitar), and Barbara Brown (Dancer). Yellow Bird/Pitter, Patter/Zombie Jamboree/Ain't No Sunshine/Silver Words/Never On Sunday//Island In The Sun/Jamaica Farewell/Shame And Scandal/Mary Ann/Fire! Fire!



Souvenir SLP-316 -



Souvenir SLP-317 - Phyllis on the High "C's" - Phyllis Arick [1974] Recorded live on the Norwegian cruise ship M/S Bolero. Hello, Young Lovers/Al Di La/Simple Melody/Laura's Theme (Dr. Zhivago)/Russian Medeley: Moscow Nights-Folk Song-Dark Eyes//If We Only Have Love/Italian Medley: Anema E Core-Arrivederci Roma-Funiculli Finiculla/Fiddler On The Roof Medley: Tradition-Matchmaker- Sunrise, Sunset-L'Chaim



Souvenir SLP-318 - This Is My Life - The Dynamic Mario Di Roma [1974] This Is My Life/Never, Never, Never/Green Green Grass Of Home/Sherry In The Morning/The Greatest Performance Of My Life//Sunday Father/After The Lights Go Down/If/My Way



Souvenir SLP-319 - Robert Roker and the Calypso Playboys - Robert Roker and the Calypso Playboys [1974] Recorded live on the Norwegian Caribbean Lines cruise ship M/S Southward. Mary Ann/Day-O/Lean On Me/Yellow Bird/Shame And Scandal/Syncopation//The Mail/Jamaica Farewell/Matilda/Rose/Obeah/Take Me Back



Souvenir SLP-320 - Sunrise-Sunset - Dick Carpenter [1975] If I Ruled The World/More/Love Story Theme/Killing Me Softly With His Song/I Believe//Being Alive/Sunrise, Sunset/Man From La Mancha Medley/My Way



Souvenir SLP-321 -



Souvenir SLP-322 - Sincerely Yours - Mike Harris Quintette [1975] Medley: If I Were A Rich Man-On The Roof/Rumanian Medley/Polka/Waltz Musette/Israeli Medley/Baubles Bangles & Beads//So What's New/Stars Fell On Alabama/My Lord/Tie A Yellow Ribbon Round The Ole Oak Tree/Alley Cat/T.V. Themes



Souvenir SLP-323 - Relax! With the Calypso Stars - Calypso Stars [1976] Iron Hand/My Way/The Harder They Come/Island In the Sun/Jamaica Farewell//Cream Puff/Yellow Bird/Julian/Island Woman/You Can Get It If You Really Want



Souvenir SLP-324 -



Souvenir SLP-325 - Live in the Clipper Lounge - Frank Pucci Orchestra [1976]