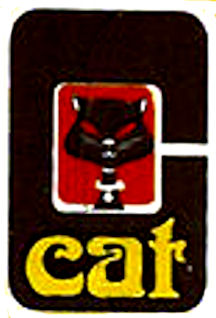 Cat Album Discography
By Patrice Eyries, Mike Callahan, David Edwards and Randy Watts
Last update: April 12, 2010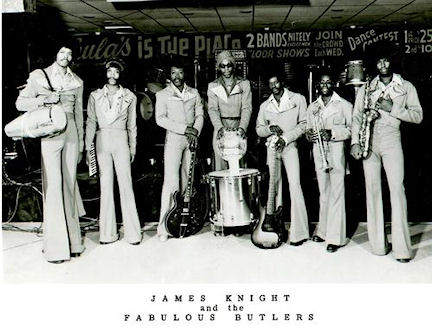 Cat was a TK R&B subsidiary started in 1969 (it had no connection to the Atlantic subsidiary of the 1950s). It was owned by Henry Stone and Steve Alaimo and run by Willie Clarke. One of the first acts signed was James Knight & the (Fabulous) Butlers, who had both the first single and the first album on the label. James Knight (nee Billy James Lewis) formed the band in Miami to back his lead vocals, guitar, and songwriting. Others in the band included: Ernest "Snuff" Stewart (keyboards), Napoleon "Cool" Williams (bass), Roscoe Rice (drums), and a horn section made up of Dwight "Hound" Jones (sax), Foster Newberry (trumpet), and Robert "Flea" Johnson (trombone). Their first single was "Save Me"/"El Chicken" [Cat 1970]. They would have three additional singles on the label in addition to the 1971 album Black Knight [Cat 711]. The singles were "Baby Please Pretty Please"/"Space Guitar" [Cat 1972], "Funky Cat"/"Nothin'" [Cat 1976], and "Get Funky, Parts 1 & 2" [Cat 1978].

The label's second and fourth singles were by the Ocean Liners, who had been working for Henry Stone for some time as Betty Wright's backing band on tours. A very solid vocal/instrumental band, they later became the Sunshine Band of "KC and the Sunshine Band" fame. Their singles were "It's Alright"/"Feel It" [Cat 1971] and "Spill the Wine" (vocal/instrumental) [Cat 1973].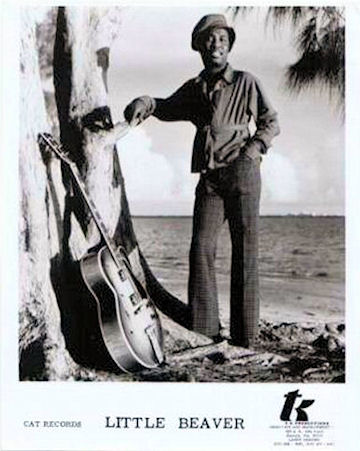 Willie Hale, vocalist, guitarist, songwriter, producer, and whatever else, was one of the mainstays of the Cat label. Hale picked up his nickname "Little Beaver" as a child, a reference to his large front teeth. Like the Ocean Liners, Hale had been working for Henry Stone for some time as a studio musician and songwriter/producer after being signed to the label by Willie Clarke in 1969 at the age 24. He was used for the most part as a studio musician at first, including being the guitarist on Betty Wright's "Clean Up Woman." When he started recording on his own, it was hard to stop him. Of the 48 singles released on Cat, Willie Hale had 17 of them; out of the 15 known albums, he had five, or about a third of the output of the entire label for both singles and albums.

Hale's first single, "I'm a Man Just Like You"/"Don't Let It End This Way" [Cat 1974] didn't chart, but his second single, "Joey" [Cat 1977], released in January, 1972, reached #48 on the R&B charts. He placed four more songs on the R&B charts: "Wish I Had a Girl Like You" [Cat 1991, 1/74, #72], his biggest hit "Party Down" [Cat 1993], which reached #2 on the charts in summer, 1974, "Let the Good Times Roll Everybody" [Cat 1995, 3/75, #34] and "Little Girl Blue" [Cat 2003, 6/76, #91]. Fittingly, he also had the last single released on the label, "Party Times"/"Groove On" [Cat 2017], in 1980 (also released as a 12" disco single as TDK 451).

Other artists with singles on the Cat label between 1972 and 1973 included Sam Early & the Rising Sun, the Kinfolks, Jimmy Ross, Purple Mundi, Rudy Robinson & the Hungry Five, Melvin Carter, and Antique.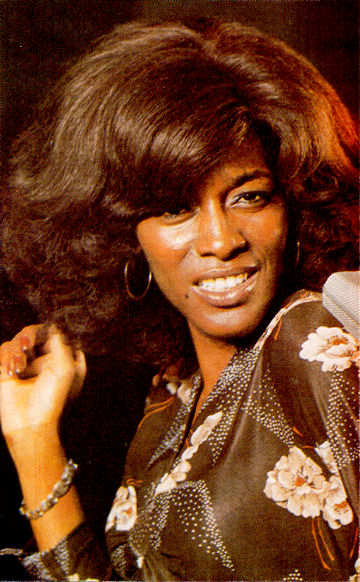 George and Gwen McCrae had been married and singing together since 1967. Gwen had scored a chart hit in 1970 with "Lead Me On" [Columbia 45214, #102 pop/#32 R&B], and they continued singing together when Henry Stone signed them in the early 1970s. The duo was asked if they wanted to record solo, and when they agreed, George was assigned to the TK label and Gwen to the Cat label. Her first chart hit for Cat was "For Your Love" [Cat 1989], which reached #17 on the R&B charts in the fall of 1973. She followed that up with "It's Worth the Hurt" [Cat 1992], which reached #66 in the spring of 1974. After a chart miss, Gwen came back with a huge hit, "Rockin' Chair" [Cat 1996], which reached #1 on the R&B charts and #9 on the pop charts. The song also included her husband, George, who had recently hit #1 with "Rock Your Baby," on background vocals. Gwen continued with four more R&B charters: "Love Insurance" [Cat 1999, 9/75, #16], "Cradle of Love" [Cat 2000, 3/76, #53], "Winners Together or Losers Apart" (a duet with George McCrae) [Cat 2002, 4/76, #44], and "Damn Right It's Good" [Cat 2005, 12/76, #72]. When Cat folded in 1981, Gwen signed with Atlantic.

From 1973 to mid-1976, there weren't many releases that weren't by either Little Beaver or Gwen McCrae. Cat 1998 was a single by William Howard in mid-1975, but that was about all. In 1976, a new group called the Raw Soul Express was signed, but although they released three singles and an album, they had no chart success. A black/white male duo known as Chocolate Clay recorded an album, but no singles were released. Likewise with a group called Trama, who featured vocalist Donna Allen, a onetime Tampa Bay Buccaneers cheerleader who would have four top-20 R&B hits in the 1980s. Other artists with singles, but no success, were Alibama and Candy Yams. The label wound down about 1980.


| | | |
| --- | --- | --- |
| | | The label on the first Cat album, Cat 711, is yellow with black lettering and "CAT" written on the top half of the label in stylized block letters. The first singles (far left) had a similar label. The Cat label on the 1600 series (near left) was green with black lettering and "cat" written in green lettering on the left half of the label, inside a black logo showing a cartoon of a cat's head. |
| | | For the 2600 series (far left), the label switched to yellow and white with black and yellow lettering and "cat" written in yellow lettering on the left half of the label, inside a red and black logo showing the same cat's head. Beginning with the 2600 series, some labels display the following text written in the form of an arc at the bottom of the label: "DISTRIBUTED BY T.K. PRODUCTIONS, INC. 495 S.E. 10th COURT, HIALEAH, FLORIDA 33010". Singles (near left) used a similar label. Promotional copies (as shown) had a small promotional overprint. |



We would appreciate any additions or corrections to this discography. Just send them to us via e-mail. Both Sides Now Publications is an information web page. We are not a catalog, nor can we provide the records listed below. We have no association with Cat or TK Records. Should you be interested in acquiring albums listed in this discography (which are all out of print), we suggest you see our Frequently Asked Questions page and follow the instructions found there. This story and discography are copyright 2010 by Mike Callahan.

CAT ALBUM DISCOGRAPHY
| | |
| --- | --- |
| Cover | Number - Title - Artist - [Release Date] (Chart) Contents |
| | Cat 700 Series: |
| | 711 - Black Knight - James Knight & the Butlers [1971] Funky Cat/Uncle Joe/Flyin' High/Cotton Candy//Fantasy World/I Love You/Save Me/Just My Love For You |
| | Cat 1600 Series: |
| | 1601 - Little Beaver - Little Beaver [1972] Joey/Give A Helping Hand/I'm Losin' The Feelin'/What The Blues Is/That's How It Is//Katie Pearl/Two Steps From The Blues |
| | 1602 - Black Rhapsody - Little Beaver [1974] A Tribute To Wes/Blues For Mama/Hit Me With Funky Music/Loosen Up/Summertime//Just My Imagination/Never Can Say Goodbye/Let's Stay Together |
| | 1603 - Gwen McCrae - Gwen McCrae [1974] Move Me Baby/Your Love Is Worse Than A Cold Love/He Keeps Something Groovy Goin' On/Let Them Talk//For Your Love/It's Worth The Hurt/90% Of Me Is You/It Keeps On Raining/He Don't Ever Lose His Groove |
| | Series shifts to 2600 series, with continuing last digit sequence: |
| | 2603 - Gwen McCrae - Gwen McCrae [1974] Cat 1603, renumbered and with a new cover. Move Me Baby/Your Love Is Worse Than A Cold Love/He Keeps Something Groovy Goin' On/Let Them Talk//For Your Love/It's Worth The Hurt/90% Of Me Is You/It Keeps On Raining/He Don't Ever Lose His Groove |
| | 2604 - Party Down - Little Beaver [1974] One track includes legendary bassist Jaco Pastorius. Party Down (Part One)/Party Down (Part Two)/Money Vibrations/Get Into The Party Life//I Can Dig It Baby/Let The Good Times Roll/Let's Stick Together |
| | 2605 - Rockin' Chair - Gwen McCrae [1975] This is essentially the same album as 1603/2603, except "Rockin' Chair" replaces "Your Love Is Worse Than A Cold Love" and the original cover photo is again used. Rockin' Chair/Move Me Baby/He Keeps Something Groovy Goin' On/Let Them Talk//For Your Love/It's Worth The Hurt/90% Of Me Is You/It Keeps On Raining/He Don't Ever Lose His Groove |
| | 2606 - Together - George & Gwen McCrae [1975] I'll Do The Rockin'/You And I Were Made For Each Other/Mechanical Body/I'm Comin' At You/Let's Dance, Dance, Dance//Winners Together Or Losers Apart/Home Sick, Love Sick/The Rub/Let Your Love Do The Talkin' |
| | 2607 - Raw Soul Express - Raw Soul Express [1976] R.S.E./Emergency/Dedicate All My Love/Burn The Candle//It's In You/All Alone/Right On/Music Meditation |
| | 2608 - Something So Right - Gwen McCrae [1976] Something So Right/Tears On My Pillow/Love Without Sex/Mr. Everything//Iron Woman/Damn Right It's Good/Let Nature Take It's Course/I've Got Nothing To Lose But The Blues |
| | 2609 - When Was the Last Time - Little Beaver [1976] Listen To My Heartbeat/We Three/I Like The Way You Do Your Thing/I Really Love You Babe//Concrete Jungle/Pretty Little Girl/When Was The Last Time |
| | 2610 - Chocolate Clay - Chocolate Clay [1977] My Uncle Funky/I Ain't Got Nuthin' To Say/I Ain't Mad At You/Free//Two Different Worlds/Sweet Mary/The Cream Is Rising To The Top/Please Say You'll Come Again |
| | 2611 - Trama - Trama [1977] Lead vocals by Donna Allen. Gimme Some Lovin'/I Know You Want It/It's Amazing/Captain Of The Ship//If I Ever Do Wrong/Straight Groove/You Should Be Dancing/Come With Me |
| | 2612 - |
| | 2613 - Let's Straighten It Out - Gwen McCrae [1978] Early Morning Love/Starting All Over Again/Tonight's The Night/Signed Sealed Delivered (I'm Yours)//Let's Straighten It Out/Love Insurance/Cradle Of Love/At Bedtime |
| | 2614 - Melody of Life - Gwen McCrae [1979] All This Love That I'm Givin'/I Can Only Think Of You/Maybe I'll Find Somebody New/I Found A Love//The Joy/Ease The Pain/The Melody Of Life |
| | 2615 - Beaver Fever - Willie "Beaver" Hale [1980] Thank You For My Life/Don't Get Tired Of Me/I Feel Like Crying//Party Times/Groove On/Katie Pearl |
Back to the TK Records Story



Back to the Discography Listings Page



Back to the Both Sides Now Home Page