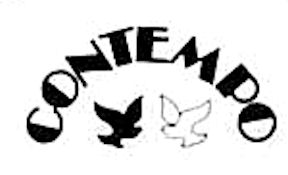 Contempo Album Discography
By Patrice Eyries, Mike Callahan, David Edwards and Randy Watts
Last update: April 12, 2010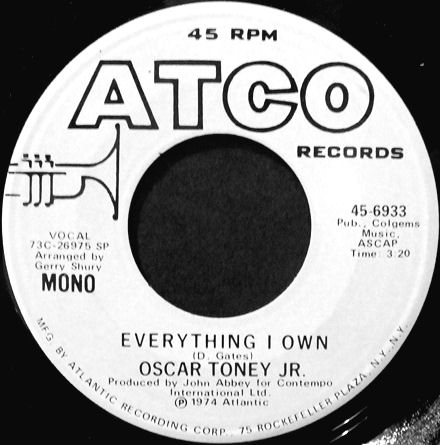 Contempo was a British label owned by John Abbey, founder of Blues and Soul magazine. Abbey, a fan of American blues and soul music, started the magazine as Home of the Blues in 1966, and by issue #12 had changed the title to Blues and Soul. The magazine has published over 1000 issues in over 40 years of publishing. From the humble beginnings of the magazine, Abbey started a record shop called Contempo Records, then started the record label itself in England in 1973. One of his first projects was recording Oscar Toney, Jr. in a cover of Bread's "Everything I Own," which was released on Atco 6933 here in 1974.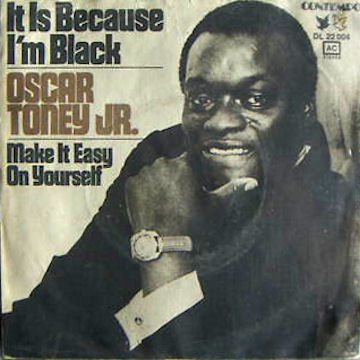 Some of Abbey's other artist signings included Ultrafunk, Bessie Banks, and Doris Duke. Contempo released quite a few singles in the UK, but in 1974 only four singles were released here in the U.S. on the Contempo label. These were distributed by Beta Records, and included "Kung Fu Man" (vocal/instrumental) by Ultrafunk, featuring Mr. Superbad, Freddie Mack [Contempo 7701], "Is It Because I'm Black"/"The Thrill Is Gone" by Oscar Toney, Jr. [Contempo 7702], "Grasshopper"/"Please Come Back" by Doris Duke [Contempo 7703, with rhythm by Ultrafunk featuring the Armada Orchestra], and "Mighty Love Man, Parts 1 & 2" by Black Stash [Contempo 7704].

In late 1975, John Abbey signed a distribution agreement with Scepter Records, and releases in the U.S. began being issued on the Scepter/Contempo label, generally retaining the Contempo label design, but using the Scepter catalog numbering system. There were three singles released on Scepter/Contempo: Ernie Bush's "Breakaway" (vocal and disco versions) [Scepter/Contempo 12414], the Armada Orchestra's "Tell Me What You Want" (vocal and disco versions) [Scepter/Contempo 12415], and in early 1976, the Armada Orchestra's "Band of Gold"/"It's the Same Old Song" [Scepter/Contempo 12418]. "Breakaway" was released in the U.K. as one of the first 12" singles. The Armada Orchestra was a collection of 37 members of the London Symphony Orchestra who backed Barry White on his European tour, as well as backed Ultrafunk and other groups.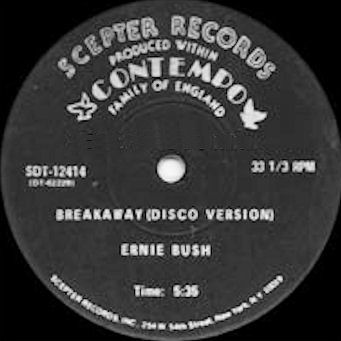 Contempo also issued two albums on Scepter in 1975, the eponymous Armada Orchestra [Scepter/Contempo SPS-5123] and an album by Doris Duke recorded in 1974 in the U.K. called Woman [Scepter/Contempo SPS-5124], which included the 1974 single "Grasshopper". Unfortunately, it was not long after these two albums were released that Florence Greenberg sold the label to Springboard and retired, in early 1976. The distribution agreement did not survive the sale, and John Abbey was shopping for a new U.S. distributor.

He found a new distributor almost immediately, T.K. Productions. T.K. issued the records on the Contempo label outright, with a total of one album and five singles. The album was the second album by the Armada Orchestra, called Philly Armada [Contempo CLP 1101], and featured disco treatments of many of the soul hits out of Philadelphia. The first single was "Let It Flow" (vocal and instrumental) by Tamiko Jones [Contempo 7001], followed by "Gotham City Boogie"/"Indigo Country" by Ultrafunk [Contempo 7002], "How Long"/"The Erroll Flynn" by J.J. Barnes [Contempo 7003], "We Can Work It Out"/"Why Did You Do It" by Sam & Dave [Contempo 7004], and "Philly Armada"/"For the Love of Money" by the Armada Orchestra [Contempo 7005, released in 1977]. The last one was also issued on a 12" disco single as T.K. Disco 20.

By 1978, Abbey had shut down Contempo Records, turned over the editorship of Blues and Soul magazine, and moved to Atlanta, Georgia, to found Ichiban Records.




| | | |
| --- | --- | --- |
| | | The original UK Contempo label (far left) was black with silver print. The corresponding Beta-distributed U.S. Contempo singles had a gold label with black print (near left). |
| | | Starting in 1975, the Contempo label was distributed by Scepter, who used their own numbering system for both the albums (far left) and the singles (near left), although they used a facsimile of the U.K. Contempo label, with Scepter's name also included. |
| | | In 1976, when T.K. took over distribution, the album label was black with silver print, with a condensed logo with the two birds. Singles labels were white with black print, with the condensed logo. Promotional copies had the same label with a small promotional overprint. |
| | | T.K. also issued "Philly Armada"/"For the Love of Money" on a 12" disco single (far left). Contempo U.K. also had an oldies series called Contempo-Raries (near left). |
| | | There were several other Contempo labels that were unrelated to John Abbey's label. These include a United Artist subsidiary (far left) whose main artist was Arthur Godfrey, and an independent label run by Porter Hooper out of Ft. Collins, Colorado. There have also been more recent Contempo labels, e.g., out of Italy. |



We would appreciate any additions or corrections to this discography. Just send them to us via e-mail. Both Sides Now Publications is an information web page. We are not a catalog, nor can we provide the records listed below. We have no association with Contempo, Scepter or TK Records. Should you be interested in acquiring albums listed in this discography (which are all out of print), we suggest you see our Frequently Asked Questions page and follow the instructions found there. This story and discography are copyright 2010 by Mike Callahan.

CONTEMPO ALBUM DISCOGRAPHY
| | |
| --- | --- |
| Cover | Number - Title - Artist - [Release Date] Contents |
| | Contempo/Scepter Records (Distributed by Scepter): |
| | SPS-5123 - The Armada Orchestra - Armada Orchestra [1975] (1-76, #196) A Tom Moulton Mix. Band Of Gold/The Hustle/Tell Me What You Want/Cochise//You Want It, You Got It/Same Old Song/Feel The Need In Me/The Drifter/Do Me Right |
| | SPS-5124 - Woman - Doris Duke [1975] Recorded 1974. Reissued on CD as Shout 42. Woman Of The Ghetto/Hey Lady/Love Is Here And Now You're Gone/Pick Up The Pieces/Please Come Back//Grasshopper/To Chicago With Love/A Little Bit Of Your Love/Full Time Woman |
| | Contempo CLP-1000 Series (Distributed by T.K.): |
| | CLP 1101 - Philly Armada - Armada Orchestra [1976] Philly Armada/I Love Music/You Make Me Feel Brand New/I'll Always Love My Mama//The Love I Lost/Let Me Make Love To You/For The Love Of Money/Philly Armada (Part 2/Reprise) |
Back to the TK Records Story



Back to the Discography Listings Page



Back to the Both Sides Now Home Page