Glades Album Discography
By Patrice Eyries, Mike Callahan, David Edwards and Randy Watts
Last update: April 6, 2010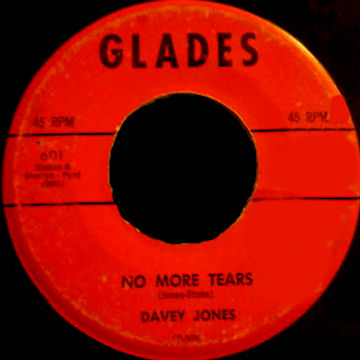 Glades in its heyday was a division of TK Productions, but it was a label that pre-dated the TK label by more than a decade. Founded in 1959 in Miami and named for the Everglades, it was owned by Henry Stone. Stone released singles sporadically over the years on Glade, starting with a vocal group fronted by Davey Jones (not to be confused with the later British singer Davy Jones, member of the Monkees), who also recorded for Stone's sister Dade label. Jones' "No More Tears" was a doo-wop ballad, backed with an uptempo tune "Tootsie Wootsie," released as Glades 601 in 1959. The next year, Davey Jones followed that with "I Was Blind"/"The Chase" [Glades 605, 1960]. Neither charted. Sandwiched between these discs was a Wilbert Harrison offering, "Gonna Tell You A Story"/"Letter Edged in Black" [Glades 603, 1959]. Harrison's "Kansas City" had been a huge hit on Bobby Robinson's Fury Records 1023, making #1 on both the pop charts and the R&B charts, but lawsuits prohibited Fury from issuing an effective followup record. The Glades recording was offered to stations as a followup, but either the stations or the public wasn't having any of it, as it flopped. To illustrate how sporadically singles were issued, by 1972, when Stone signed Archie Bell & the Drells, a Houston band who had a few hits in the 1960s for Atlantic, and issued "Ain't Nothin' for a Man in Love," Glades was still only at #615! At that point, Stone started over, revamping the label from a singles-only imprint, redesigning the labels, and starting a new singles (1700) and album (6500) series. He eventually reissued Glades 615 as Glades 1711.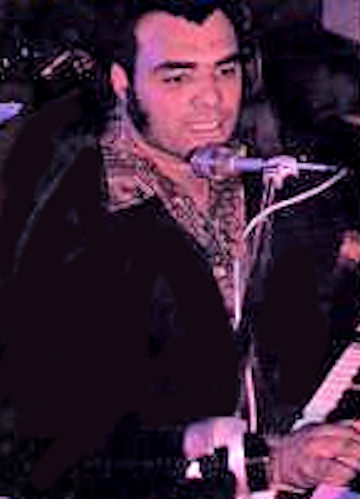 The 1970s Glades was almost exclusively a soul/r&b label, edging into disco music only occasionally in the later years. Like its TK Records sister label, Glades placed a large percentage of their releases on the charts somewhere, whether it be pop charts, R&B charts, or dance charts, but in this case, it was mostly the R&B/Soul charts. The first two singles in the 1700 series, however, did not chart. They featured two of Stone's stable of artists, Clarence Reid and George McCrae. The first single was "Why Baby Why, Parts 1 & 2" by Clarence and Gloria [Glades 1701], followed by George McCrae's "Love Who You Can"/"Back Dues" [Glades 1702].

On the third try, however, Glades struck gold. Timmy Thomas had been doing session work for years in Memphis and recording for Goldwax, but hadn't been able to make it into the hit circle on his own, so he moved to Miami. Although he could play several instruments very well, he chose a minimalist approach of just an organ and drum machine for a song he had written about racial harmony called "Why Can't We Live Together?" [Glades 1703, 11/72]. The song, with its unique sound, plaintive singing, and simple message hit the mood of the country exactly, racing to #1 on the R&B charts and #3 on the pop charts. Followups were not nearly as successful, but Thomas put together a 13-record chart career on the R&B charts, mostly with mid-charters. Of the twelve additional chart hits, four were R&B top-40: "People Are Changin'" [Glades 1709, 4/73, #23], "What Can I Tell Her" [Glades 1717, 11/73, #19], "I've Got to See You Tonight" [Glades 1723, 11/74, #31] and "Gotta Give a Little Love (Ten Years After)" [Gold Mountain 82004, 4/84, #29].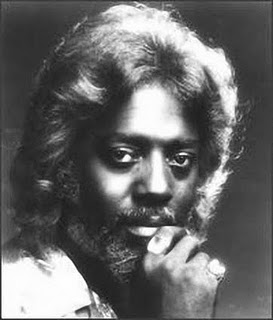 Soul artist [Benjamin] Latimore had an even more successful R&B career, chalking up 15 charters, including, "Let's Straighten It Out" [Glades 1722, 9/74, #31 pop/#1 R&B], "Keep the Home Fire Burnin'" [Glades 1726, 4/75, #5 R&B], "There's a Red-Neck in the Soul Band" [Glades 1729, 9/75, #36 R&B], "Somethin' Bout Cha" [Glades 1739, 12/76, #37 pop/#7 R&B], and "I Get Lifted" [Glades 1743, 6/77, #104 pop/#30 R&B].

Of the 57 known singles released by the 1970s version of Glades, Timmy Thomas and Latimore between them accounted for slightly over half (29). Other artists included Little Milton, Archie Bell & the Drells, Clarence Reid, George McCrae, Gwen McCrae, Vanessa Kindrick, the Courtships, Smokey 007, Ruby Wilson & the Blue Chips, Seven Seas, Urban Crisis, Otis Clay, Jerry Washington, Universal Love, the Blue Notes, the Stony Island Band, True Image, and Nate Calhoun. The Glades label lasted until about 1981, when TK Productions closed its doors.



| | | |
| --- | --- | --- |
| | | The first Glades album label (far left) was green with a black top, with "Glades" in green near the top of the label. This label was used from 1972-1975. The singles label (near left) was similar, with a relatively larger logo at the top of the label. |
| | | The second Glades album label (far left), introduced in 1975, was pale blue on top and green on the bottom, depicting a horizon with the tops of trees in a forest. It had black lettering and "GLADES" written in the form of an arc in brown lettering on the top half of the label. Bending around the bottom of the label was: "DISTRIBUTED BY T.K. PRODUCTIONS, INC. 495 S.E. 10th COURT, HIALEAH, FLORIDA 33010" or with some words abbreviated on some labels. (Similar legends were on the bottom of label #3, below.) The singles label used during 1975-1978 corresponded to the album graphics. Promotional copies of album label #2 had a small "Promotional Copy" overprint, although the positioning and wording may differ from album to album. |
| | | The third Glades album label (far left) was introduced in 1978. It featured a photo of the Everglades with blue sky above. The label name was in orange neon in the sky. Promo copies of this label were also known on white with black print. The corresponding 45 label is shown at near left. |



We would appreciate any additions or corrections to this discography. Just send them to us via e-mail. Both Sides Now Publications is an information web page. We are not a catalog, nor can we provide the records listed below. We have no association with Glades or TK Records. Should you be interested in acquiring albums listed in this discography (which are all out of print), we suggest you see our Frequently Asked Questions page and follow the instructions found there. This story and discography are copyright 2010 by Mike Callahan.

GLADES ALBUM DISCOGRAPHY
| | |
| --- | --- |
| Cover | Number - Title - Artist - [Release Date] Contents |
| | Glades 6500 Series (starts with label #1): |
| | 33-6501 - Why Can't We Live Together - Timmy Thomas [1973] (1-73, #53/#10 R&B) Mastered 12-30-72. This entire album is in electronic stereo, which is very odd for 1973. The cover gives the number as 33-6501, while the label has ST-6501. Most Glades covers only give the number with no prefix, but some labels after this one use an "LP-" prefix. Why Can't We Live Together (4:40 LP length; 45 edit ran 3:28)/Rainbow Power/Take Care Of Home/The First Time Ever I Saw Your Face/The Coldest Days Of My Life//In The Beginning/Cold Cold People/Opportunity/Dizzy Dizzy World/Funky Me |
| | 6502 - Latimore - Latimore [1973] Jolie/If You Were My Woman/Take Me To The Pilot/Willoughby Grove/Power And Glory//(Be Yourself) Be Real/So Much Love/For What It's Worth/(They Call It) Stormy Monday |
| | 6503 - More More More Latimore: Let's Straighten It Out - Latimore [1974] (8-74, #13 R&B) Ain't Nothing You Can Do/Snap Your Fingers/That's How It Is/Let's Straighten It Out//Ain't Nobody Gonna Make Me Change My Mind/I Don't Know/Put Pride Aside/Everyday |
| | 6504 - You're the Song I've Always Wanted to Sing - Timmy Thomas [1975] You're The Song I've Always Wanted To Sing/I've Got To See You Tonight/Sweet Brown Sugar/Spread Us Around//One Brief Moment/Deep In You/What Can I Tell Her/Ebony Affair/Let Me Be Your Eyes |
| | Series shifts to 7500 series, continuing the last digit numerical sequence (label changes to label #2, with forest horizon): |
| | 7505 - Latimore III - Latimore [1975] (6-75, #49 R&B) Keep The Home Fire Burnin'/Qualified Man/Are You Where You Wanna Be/There's A Red-Neck In The Soul Band//Ladies' Man/Leave Me Alone/Just One Step/She Don't Ever Lose Her Groove |
| | 7506 - Two of Us - Irene Reid [1976] Two Of Us/Treat Me Good/Don't Bury Your Head In The Sand/Sometime Wife/As Late As The Hour May Be//You Made Me Want To Dance/I Only Want Some/I'll Get You Over/No Yesterday/Brand New Me |
| | 7507 - The Miami Sound - Seven Seas [1976] What A Difference A Day Makes/Bad Luck/Do It ( Till You're Satisfied)/Fight The Power//Get Down Tonight / That's The Way (I Like It)/Swearin' To God/Super Jaws |
| | 7508 - Friend of Mine - Little Milton [1976] (10-76, #50 R&B) Friend Of Mine/You're Gonna Make Me Cry/Baby It Ain't No Way/Mis-Using My Love/Don't Turn Away//It's All Bad News/Bring It On Back/Sundown (Monologue)/Sundown/I'm In Love With My Best Friend's Wife |
| | 7509 - It Ain't Where You Been - Latimore [1976] (1-77, #181/#47 R&B) It Ain't Where You Been/Somethin' Bout Cha/All I Way Lover//Sweet Vibrations/Let's Do It In Slow Motion/Let Me Go/I Get Lifted |
| | 7510 - The Magician - Timmy Thomas [1976] The Magician/Say Love, Can You Chase Away My Blues?/Stone To The Bone/Show Me Tenderness//Watch It! Watch It! Watch It! For Dudley Dudley Morite/Make Peace With Myself/Let My People Go/Don't Put It Down/Running Out Of Time |
| | 7511 - Me for You, You for Me - Little Milton [1977] Me For You, You For Me/Sugar Dumpling/Angel Of Mercy/Loving You (Is The Best Thing To Happen To Me)//Just One Step/My Thing Is You/4:59 A.M./Somebody Done Change (The Lock On The Door) |
| | 7512 - The Truth Has Come to Light - The Blue Notes [1977] This Blue Notes group is a completely different group from Harold Melvin's more famous Blue Notes. The Truth Has Come To Light/People Are Running Around/Standing By Your Girl/Memories//The Girl Makes Me Wanna Sing/Here I Am/We Can Make It/It's Over |
| | 7513 - Touch to Touch - Timmy Thomas [1977] Touch To Touch/Africano/When A House Got Music/Game Of Life//Love For The People/Torrid Zone/Diane/Sweet Music |
| | 7514 - These Songs Will Last Forever - Funky Brown [1977] This Song Will Last Forever/Let's Make A Baby/Sharing The Night Together/You'll Never Find Another Love Like Mine/Nice And Slow (Vocal)//Don't Leave Me This Way/Feelings/Kiss And Say Goodbye/Nice And Slow (Inst.)/For The Love Of You |
| | 7515 - Dig a Little Deeper - Latimore [1978] (12-78, #51 R&B) Long Distance Love/Out To Get Cha/We Got To Hit It Off/Ain't Nothing Like A Sweet Woman's Love//Too Hot To Handle/Dig A Little Deeper/Tonight's The Night |
| | At this point, label changes to label #3, with everglades photo. |
| | 7516 - Stony Island - The Stony Island Band [1978] Stony Island Band/Song For Percy/Gangster City/Let's Get It/Chase The Train/Back To Business/High Speed Posters//Party Lights/Ride To Stony Island/Peace Of Mind/Percy Fired/Everything Must Change/Just A Closer Walk With Thee/Dream Ride |
| | 7517 - Live - Timmy Thomas [1979] Why Can't We Live Together/When A House Got Music/Rainbow Power/Sweet Brown Sugar//Drown In My Own Tears/Touch To Touch/Sipho Mazibuko (La La La)/Why Can't We Live Together (Finale) |
| | 7518 - Getting Down to Brass Tacks - Latimore [1980] Take It All/Ain't No Comin' Back/Life Of The Party/Take Me To The Mountain Top//Yes We Can/Joy/Do It Now/Discoed To Death |
Back to the TK Records Story



Back to the Discography Listings Page



Back to the Both Sides Now Home Page