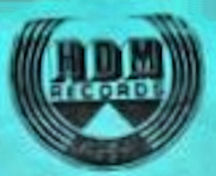 HDM Album Discography
By Patrice Eyries, Mike Callahan, David Edwards and Randy Watts
Last update: April 20, 2010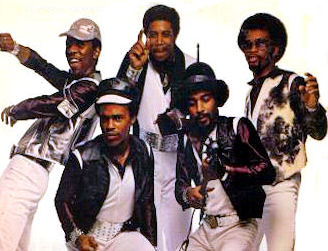 HDM was a small record label based in Hollywood, California, founded and owned by Hadley D. Murrell, whose initials it bore. It was in operation from 1977 to at least 1985, and concentrated on disco music. HDM was distributed first by Amherst and then by TK Productions. Murrell had been a deejay and producer in the Phoenix area from 1964-1972, and was a veteran producer. Singer/songwriter Eddie Horan was his right-hand man, doing much of the songwriting for the artists on the label making some recordings himself. Horan had been a recording artist on the Money and MGM labels in the 1960s, being produced some of that time by Murrell.

HDM had very few artists signed to the label. Their first single release was "Ain't That Just What You Want"/"Take It Anyway You Want To" [HDM 501] by Liquid Blue. This was followed by Eddie Horan's "Who's Slipping Who (Out The Back Door)"/"I Like What You're Doing" [HDM 502], and Black Ice's "Shakedown, Parts 1 & 2" [HDM 703], which made #85 on the R&B charts starting in November, 1977. This led to the label's first album, Black Ice [HDM 2001], released at the end of 1977. Black Ice was a disco combo from Los Angeles.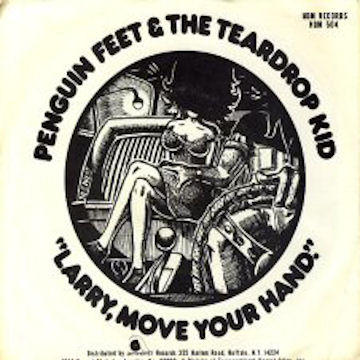 Next was a disco novelty record by "Penguin Feet & the Teardrop Kid", whose identities remain unadmitted but songwriting credits to Eddie Horan and Hadley Murrell give fuel for speculation. The song was "Larry, Move Your Hand" [HDM 504], with vocal and instrumental sides, the music being a slow disco number. The "story" of the record on the vocal side is one side of a conversation. A woman (actually a man's falsetto voice) starts by inviting herself for a ride in a guy's car. She demurely keeps telling her "date", "Larry, move your hand," as he tries all kinds of moves on her, but she's wise to him and as the record progresses, it becomes clear she's been in this situation before, perhaps many times before ("I don't care what the football team said").... By the end of the record, she's breathlessly screaming, "Larry, oh Larry..." The record didn't chart, but was popular in some disco clubs on the East Coast and is now, years later, sought by collectors of novelty records.

The 500 series had two more singles, one each by Eddie Horan and Black Ice. The Eddie Horan single, "Love the Way You Love Me" [HDM 506], released in August, 1978, made #91 on the R&B charts and was also the title of Eddie's only album on the label [HDM 2002] released in 1978. By the time HDM got around to releasing a second single from the album, "The Dancer" [HDM 7000/T.K. Disco 120], the distributor changed from Amherst to TK and the singles series shifted from the 500 series to the 7000 series. A last single by Black Ice, "Push"/"Fantasize" [HDM 7001] coincided with the release of their second, and the label's last, album, I Judge the Funk [HDM 2003].

A 12" disco single series was started in the mid-1980s after TK folded, and HDM was distributing their own records. The series at least included a single by Bird and MacDonald (1985), and one by Trish.



| | | |
| --- | --- | --- |
| | | The HDM label was blue with black lettering with the "HDM RECORDS" logo at the top of the label. Around the bottom of both the album and singles labels was a distribution statement. When distributed by Amherst, the statement said, "Mfg. By Amherst Records, Div. of Transcontinent Record Sales, Inc., 355 Harlem Road, Buffalo, N.Y." When distribution moved to T.K., it had the usual TK distribution statement: "Distributed by T.K. Productions, 495 S.E. 10th Ct., Hialeah, Florida 33010." |
| | | Mid-1980s HDM disco singles were issued with various color labels. At here are examples of grey and red. |


We would appreciate any additions or corrections to this discography. Just send them to us via e-mail. Both Sides Now Publications is an information web page. We are not a catalog, nor can we provide the records listed below. We have no association with HDM or TK Records. Should you be interested in acquiring albums listed in this discography (which are all out of print), we suggest you see our Frequently Asked Questions page and follow the instructions found there. This story and discography are copyright 2010 by Mike Callahan.

HDM ALBUM DISCOGRAPHY
| | |
| --- | --- |
| Cover | Number - Title - Artist - [Release Date] Contents |
| | HDM 2000 Series: |
| | 2001 - Black Ice - Black Ice [1977] Shakedown/Blind Over You/Girl, That's What I Call Love/I Feel The Weight (Over Losing You)//The Wine Is Bitter (But The Grapes Are Sweet)/Touch/Making Love In The Rain/I Want You Back/You Got Me Going In Circles |
| | 2002 - Love The Way You Love Me - Eddie Horan [1978] Love The Way You Love Me/When I Fly With You/Concert By The Sea/Man Without His Woman/Love So Easy//Turn My World Back Around/Can't Do Without You/The Dancer |
| | 2003 - I Judge The Funk - Black Ice [1979] My Fantasy/Postcard Love Affair/You're Always On My Mind/There You Go//Play More Latin Music/Push/Fantasize/I Judge The Funk |
Back to the TK Records Story



Back to the Discography Listings Page



Back to the Both Sides Now Home Page