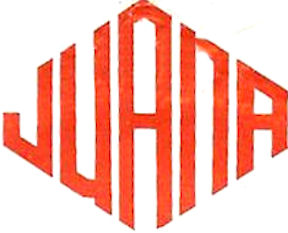 Juana Album Discography
By Patrice Eyries, Mike Callahan, David Edwards and Randy Watts
Last update: April 23, 2010






Juana was an independent disco and soul label founded in 1975 in Alabama by Frederick Knight and Clinton Harris. Frederick Knight ran the label, doing essentially all the production and some of the songwriting, as well as recording as an artist on the label. Juana's distribution was handled by TK until 1980, then for a time in 1981, when T.K. was going under, Juana was self-distributed. Later in 1981, H&L distributed the label, but by 1982 they were back to self-distribution. The label was dormant after 1982 for vinyl, but issued a few gospel CDs since 2000.

Their roster included only a few artists, but three artists had the majority of the singles and all of the albums. First was Frederick Knight himself, well known for "I've Been Lonely For So Long" [Stax 0117], which made #8 R&B and #27 pop in the spring of 1972. Knight produced all of the albums released on the label, and most if not all the singles. Knight was born in 1944 in Bessemer, Alabama. He graduated from Alabama A&M University in the late 1960s with a degree in music, and immediately headed for New York City to find fame and fortune.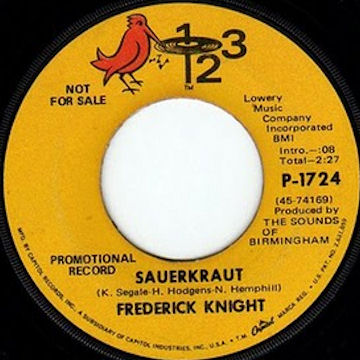 After recording a few songs, and seeing one single released ("Have a Little Mercy"/"Sauerkraut" on the 1-2-3 label [1724], a subsidiary of Capitol), he returned to Bessimer to start a publishing and production company. He recorded a song his wife wrote, "I've Been Lonely for So Long," in late 1971 in Birmingham, and sent the demo to Stax Records in Memphis. The song was a hit, but his follow up single, "Trouble" [Stax 0139] only reached #102 on the Bubbling Under charts. Two additional singles over the next two years on Stax failed, and Stax moved him to their Truth Records subsidiary, where he released three more singles in 1974 and 1975. The second of these, "I Betcha Didn't Know That" [Truth 3216] made #27 R&B in the spring of 1975. A few months later, he left Stax/Truth and started his own record company, Juana.

Knight released a dozen singles and three albums on Juana, but was hardly their star performer. In fact, only one of his singles charted, "The Old Songs" [Juana 3700], a remake of a Barry Manilow hit, which reached #74 on the R&B charts in late 1981.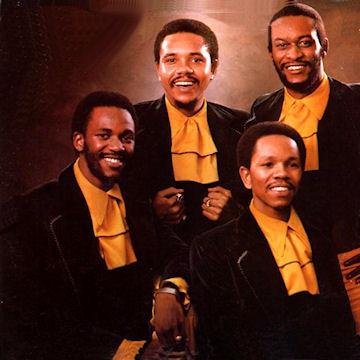 The Controllers, the first group signed to Juana (Clinton Harris had been their manager for some time), were far more consistently successful on the charts, with seven R&B hits on the Juana label between 1976 and 1982 (out of 13 singles released), and eight more hits between 1984 and 1989 on others labels. It was the Controllers who had the honor of the first Juana single, "Is That Long Enough for You"/"Pictures and Memories" [Juana 3401] in 1975. The group was from Fairfield, Alabama (a few miles from Birmingham), and consisted of brothers Reginald and Larry MacArthur along with Ricky Lewis and Lenard Brown. They had started in high school as a seven man group called the Soul Controllers, but after high school three of the members left, resulting in the four-man group, who shortened their name. Their second Juana single, "The People Want Music" [Juana 3406], was the label's first chart record, making # 82 on the R&B charts. Their fifth Juana single, "Somebody's Gotta Win, Somebody's Gotta Lose" [Juana 3414], released in October, 1977, made #8 on the R&B charts and #102 pop.

Other hits by the Controllers included "Heaven Is Only One Step Away" [Juana 3416, 2/78, #37 R&B], "If Somebody Cares" [Juana 3419, 12/78, #65 R&B], "I Can't Turn the Boogie Loose" [Juana 3424, 9/79, #90 R&B/#42 dance], "We Don't" [Juana 3426, 9/80, #43 R&B], and "My Love Is Real" [Juana 3701, 4/82, #76 R&B].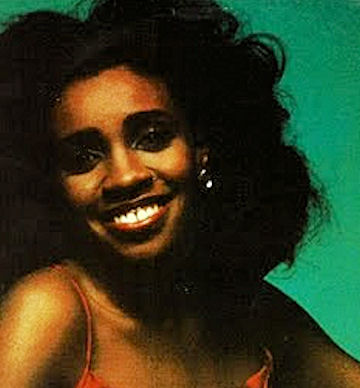 The third success for Juana was Anita Ward, whose intoxicating summer-1979 disco anthem "Ring My Bell" [Juana 3422/T.K. Disco 124, written by who else but Fred Knight] hit the #1 spot across the board, on the pop, R&B, and dance charts. It was a hit not only in the U.S., but in many countries all over the world as well. Knight had put out an earlier single on Juana, "Spoiled By Your Love"/"Make Believe Lovers" [Juana 3417] in early 1978, but it went nowhere. They had recorded an album's-worth of songs, but needed one more to complete the album. Knight brought out a song he had written for Stacy Lattislaw, one which had a disco groove but was about two teenyboppers chatting on the phone. He quickly rewrote the lyrics, but Ward was still unimpressed and reluctant. Knight talked her into recording it, and over the years she's grown to like the song, after all.

Unfortunately, her followup record, "Don't Drop My Love" [Juana 3425/T.K. Disco 420] took a precipitous drop in the charts, reaching #26 dance, #52 R&B, and #87 pop. After "Don't Drop My Love," Juana tried two more singles, neither of which charted. In 1981, Anita Ward was in a serious car accident near Tupelo, Mississippi. After recovering from the accident, she became a teacher. Prior to signing with the Juana label, Anita had graduated from Rust College in Mississippi with a psychology degree, so this was a natural. She has appeared occasionally over recent years at various events, singing her worldwide hit, among others.

Other artists with singles on Juana included Sam Frazier, C.L. Blast (Clarence Lewis, who had two singles for Juana and eventually placed two songs on the R&B charts for another label in the 1980s), True Image, and Tommy Tate.

From the beginning to 1980, Juana was distributed by T.K. Productions out of Miami. The singles series started with 3401 and ran to 3426. The albums started with the awkward 200,000 series, which ran to 200,006. In late summer 1980, Juana broke ties with T.K. and began distributing their own product. Knight re-started the singles series with his birth year, 1944, with the series running to 1954. He started a new album series with a reissue of the Controllers' Next in Line, which had been Juana 200,005 but was reissued as Juana 10001. Juana 10002 was probably scheduled as a reissue of an Anita Ward album, but was cancelled as far as we can tell. By the time the series got to the third item, the Tommy Tate album, in 1981, the numbering had been modified to JU-1003.

The self-distributed Juana did badly, as nothing among the singles or albums charted (with the exception of a track from the Controllers' Next in Line album, "Let Me Entertain You", which reached #84 on the dance charts in September, 1980, just as the distribution change from T.K. was happening). In 1981, Juana hired H&L to do their distribution, and this arrangement lasted for about a year. The singles series changed to the 3700 series, and the albums changed to the JU-4000 series. After a total of three singles, two albums, and a 12" disco single, Juana and H&L parted ways, with Juana going back to self-distribution in 1982 and later.



| | | |
| --- | --- | --- |
| | | For the first two albums (far left), and for the first singles (near left), the Juana label was an off-white with black and red lettering and "JUANA" written in red lettering on the top half of the label. The following text, written in red Olde English lettering, bends around the bottom of the label: "Div. Of Bessemer Mage Corp. - 546 Bessemer Hwy. - Midfield, Ala. 35228". There is a crest above crossed swords at the right of the label with "Produced By Frederick Knight" in Olde English lettering underneath. |
| | | At far left, a promotional copy of the first label, which is white with black print with the same label design without the red color. Near the top right there is a "PROMOTIONAL COPY NOT FOR SALE" notice. In 1977, after the second album was pressed, the company moved to Jackson, Mississippi, and discontinued using the labels with the Alabama address, although the label blanks seem to have been used until they were used up, as they appeared on singles as late as "Ring My Bell" in 1979. Interim labels were then used with yellow/green background with black print (near left) or red with black print (see below). |
| | | Second pressings of the second album (far left) and singles from the album (near left) were pressed on red labels with black print in 1977, pending the new label design shown below. The red label was used as late as 1979, for some copies of Anita Ward's "Ring My Bell" appear with the red label. In fact, "Ring My Bell" also appears with the third label, below. |
| | | From album #200,002 on in the T.K. Productions distributed series, the label used the third design. It was dark blue, orange and black, depicting a sunset over a pine tree landscape with black lettering and "JUANA", written in green and white lettering with yellow undershadow, at the top half of the label. For this label, the following text bends around the bottom edge of the label: "Distributed By T.K. Productions, 495 S.E. 10th Ct. Hialeah, Florida 33010". Singles (near left) used a label with the same design. |
| | | The JU-1000 album series was distributed by Juana itself as T.K. was going out of business. The label design (far left) was similar to the last T.K. label, beige with black print, with "JUANA" in brown and white 3-D lettering at the top of the label. Singles (near left) issued during this time, including second pressings, used the same design, but the label name was in red and white letters. Around the bottom of both labels it read, "DISTRIBUTED BY JUANA RECORDS, JACKSON, MISSISSIPPI 39206". Promotional copies used a white label with the same design, and 12" disco singles used the same design. Later, in 1982, Juana used the same label for reissues of singles. |
| | | For the JU-4000 series, distributed by H&L Distributors, the label again changed design. The logo was now changed to an abstract "J" in an oval, with "JUANA" beneath the "J." Albums, singles, and disco 12" singles used the same grey-with-black-print design (far left). Promotional copies (near left) were white with black print. |
| | | By 1982, the distribution deal with H&L was over, and Juana was back to self-distribution. They reissued some singles with the post-TK label, such as shown at far left, using a new JU-1300 series instead of the H&L catalog series. At near left, a Juana picture sleeve. |


We would appreciate any additions or corrections to this discography. Just send them to us via e-mail. Both Sides Now Publications is an information web page. We are not a catalog, nor can we provide the records listed below. We have no association with Juana or TK Records. Should you be interested in acquiring albums listed in this discography (which are all out of print), we suggest you see our Frequently Asked Questions page and follow the instructions found there. This story and discography are copyright 2010 by Mike Callahan.

JUANA ALBUM DISCOGRAPHY
| | |
| --- | --- |
| Cover | Number - Title - Artist - [Release Date] (Chart) Contents |
| | Juana 200,000 Series (Distributed by T.K. Productions): |
| | 200,000 - Knight Kap - Frederick Knight [1977] I Betcha Didn't Know That/River Flowing/Wrapped In Your Love/Staying Power//I Love The Way You Love/You Make My Life Complete/When It Ain't Right With My Baby/Uphill Peace Of Mind |
| | 200,001 - In Control - Controllers [1977] People Want Music/Heaven Is Only One Step Away/This Train//You Ain't Fooling Me/Somebody's Gotta Win/The Reaper/Sho Nuff A Blessin |
| | 200,002 - Fill Your Life With Love - Controllers [1978] Fill Your Life With Love/I'll Miss You Always/Hello!/If Somebody Cares/Listen To The Children//Love's In Need Of Love Today / Fill Your Life With Love/Just For Love/Getting Over You/Castles In The Sky/If Tomorrow Never Comes |
| | 200,003 - Let The Sunshine In - Frederick Knight [1978] If You Love Your Baby/Bundle Of Love/Let The Sunshine In/Another Knight For Love//My Music Makes Me Feel Good/You Can't Deny Me/Raise Your Hand/You And Me |
| | 200,004 - Songs of Love - Anita Ward [1979] (5-79, #8 pop/#2 R&B) Make Believe Lovers (Midnight Mix)/If I Could Feel That Old Feeling Again/Spoiled By Your Love/I Won't Stop Loving You//Ring My Bell (Midnight Mix)/Sweet Splendor/There's No Doubt About It/You Lied |
| | 200,005 - Next In Line - Controllers [2/80] (3-80, #47 R&B) Let Me Entertain You/We Don't/If Tears Were Pennies/I Can't Turn The Boogie Loose//Gunning For Love/Ankle Chain/I Just Don't Know/Hurt Again By Love |
| | 200,006 - Sweet Surrender - Anita Ward [1980] Cover Me/Don't Drop My Love/Caught Between A Good Thing And Goodbye/Can't Nobody Love Me Like You Do//Forever Green/I Go Crazy/Forever Love You More/Someday We'll Be Together |
| | Juana 10000/1000 Series (Distributed by Juana): |
| | 10001 - Next In Line - Controllers [9/80] Reissue of Juana 200,005. Let Me Entertain You/We Don't/If Tears Were Pennies/I Can't Turn The Boogie Loose//Gunning For Love/Ankle Chain/I Just Don't Know/Hurt Again By Love |
| | 10002 - |
| | JU 1003 - Tommy Tate - Tommy Tate [1981] For The Dollar Bill/On The Real Side/Listen To The Children/Castles In The Sky//This Train/I Just Don't Know/Let Me Entertain You/We Don't |
| | Juana 4000 Series (Distributed by H&L Records): |
| | JU-4000AE - Knight Time - Frederick Knight [1981] The Old Songs/I'll Come Back To You/You're The Best Thing In My Life/When Will Love Need Me/Shining Star/Even A Fool Would Let Go/Bundle Of Love/If Tomorrow Never Comes |
| | JU-4001AE - My Love Is Real - Controllers [1981] Issued in the U.K. as Timeless TRLP 112. Castles In The Sky/Fill Your Life With Love/Getting' Over You/Heaven Is Only One Step Away/If Tomorrow Never Comes/Just For Love/My Love Is Real/People Want Music/This Train |
| | JU-4002AA/DJ - My Love Is Real (Long)//My Love Is Real (Short) - Controllers [1981] 12" disco single. |
Back to the TK Records Story



Back to the Discography Listings Page



Back to the Both Sides Now Home Page