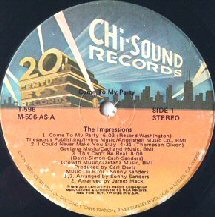 Chi-Sound Album Discography
By Patrice Eyries, Mike Callahan, and David Edwards
Last update: February 8, 2006






Chi-Sound was Carl Davis' label. Carl Davis was born in Chicago and grew up there, getting a typesetting job as a young man with star Chicago deejay Al Benson. From there, Davis went into record promotion and started a partnership with manager/producer Bill "Bunky" Sheppard. They signed a local group called the Dukays, who had a minor national hit on Nat, a small New York-based label, with "The Girl's a Devil" [Nat 4001] in 1961.

Bill Sheppard, in an interview with Both Sides Now in 1980, told us, Carl Davis and I had both the Sheppards and the Dukays at that time. [After "The Girl's a Devil" hit,] I recorded both "Night Owl" and "Duke of Earl" for the Nat label, and they preferred "Night Owl," so I leased the "Duke of Earl" master to Vee Jay.

Calvin Carter, A&R director for Vee-Jay at the time, continued, That was a funny story. Gene Chandler was with a group called the Dukays, and they had a record called "Nite Owl" and Bill Sheppard had sent this other tape to the company they were with, and they passed on it. We recorded in the same studio, and I was in the studio one day and I heard this song coming out of the mastering room, "Duke of Earl." So I went in there and said, "What is that? Who in the hell is that?" He said, "That's the Dukays," and I said, "Well, who's singing?" He told me it was Gene Chandler, and I asked if he was signed with anyone. He said "No," and I said, "Well, let me have the record." He said, "Hey, you got it." He offered to give me a third of that record for five hundred dollars, because Carl Davis was his partner at the time. Well, my people were in Paris, so I called them and told them, "Look, I want to pick up this record for Vee Jay." We picked up "Duke of Earl," and also the publishing on "Nite Owl," for fifteen hundred dollars. I picked the record up, but then nothing happened for awhile, because nobody believed in the record but me. I finally got a release on it at the time of year nobody released records in those days, right before Christmas. December 11, [1961] I think it was. It was really a fast seller. It broke out in Los Angeles at Wallach's Music City; they had lines around the block and bumper stickers that said "Duke of Earl." Shortly after New Years (1962), it had sold a million copies. In fact, it was our first million seller.

With the success of "Duke of Earl," Bill Sheppard joined the Vee Jay staff as a producer. Sheppard noted, I took Gene Chandler out of the Dukays, and put another person in it and let Gene go out on his own as The Duke Of Earl. Nat Records, meanwhile, took their choice of the songs, "Nite Owl" [Nat 4002], and again had a minor national hit, but nothing like the powerhouse they missed. They were shortly out of business.

When "Duke of Earl" hit, Carl Davis had a "day job" working for Columbia Records as a promoter. When they found out he had produced a national #1 record, they re-activated the old Okeh label and put him in charge as general manager. Lots of hits followed, especially by Chicagoan Major Lance, as well as the Vibrations, Billy Butler, Walter Jackson, and others. By 1966, Davis had left Okeh over a disagreement with top management, and when Davis left, the hits did, too. He landed at Brunswick Records, which at the time was limping along, but Davis revived it and while he was at it, the career of Jackie Wilson, who made a major comeback. Davis brought more Chicago talent in (including Gene Chandler) and soon Brunswick was hot. As a side project, he started Dakar Records (the name a play on CARl DAvis), which was also successful with Tyrone Davis having several hits.

Brunswick eventually had some legal entanglements that forced it to become inactive. In 1975, Davis started his own company, Chi-Sound, and brought in many of the artists left hanging out to dry when Brunswick stopped putting out records. These included Gene Chandler and the Chi-Lites, and Walter Jackson from the Okeh days. He also signed the Dells and the Impressions, two Chicago groups he had known since the 1950s.

Chi-Sound was originally distributed by United Artists, but in 1978, when UA was purchased by EMI and essentially shut down, Chi-Sound was out a distributor. His old friend and partner Bill Sheppard, who was working as a producer and promotion man at 20th Century Fox, called and suggested Davis came over to Fox, which at the time was very hot with Barry White. Davis agreed. So finally, it was like "old home week," with Davis, Sheppard, Gene Chandler, the Dells, and the Impressions all back together.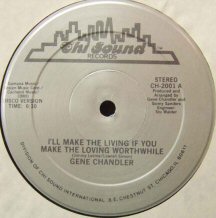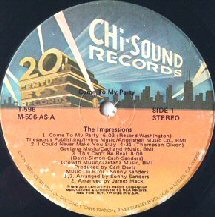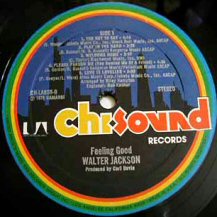 The original Chi-Sound/UA label had a silhouette of the Chicago skyline with a large multi-colored "CHI-SOUND" and a small UA logo to the left. When they switched to 20th Century Fox, Fox had a label designed that resembled the regular 20th Century Fox label, but with "CHI-SOUND" in large letters to the right of the Fox logo. When 20th Century Fox was sold in 1982 and shut down, Davis continued for about a year doing his own distribution, using a silver label with black print, but shut down the label in 1983.

We would appreciate any additions or corrections to this discography. Just send them to us via e-mail. Both Sides Now Publications is an information web page. We are not a catalog, nor can we provide the records listed below. We have no association with Chi-Sound or 20th Century Fox Records. Should you be interested in acquiring albums listed in this discography (all of which are out of print), we suggest you see our Frequently Asked Questions page and follow the instructions found there. This story and discography are copyright 2006 by Mike Callahan.
CHI-SOUND ALBUM DISCOGRAPHY

Cover



Number - Title - Artist - [Release Date] (Chart) Contents





Consolidated United Artists Catalog Numbers (Distributed by UA):



CH-LA-656-C - Feeling Good - Walter Jackson [1976] Too Shy To Say/Play In The Band/Welcome Home/Please Pardon Me/Love Is Lovelier//Love Woke Me Up This Morning/Feelings/Words/I've Got It Bad Feelin Good/Someone Saved My Life Today



CH-LA-657-G - Watchin' You Watchin' Me - Ebony Funk Rhythm Campaign [1976] 69 Cents/Giving Me Less Love/Understanding/Watchin' You, Watchin' Me//You Got Me Rushin'/Jive Du Du/Syncopated Madness/Where You Lead



CH-LA-665-G - Street Corner Stuff - Peddler [1976] Use Them All/I'm Sorry/Uncle Funk/Only You//Masquerade Yourself/Now That You're Mine/Blinded By Love/Yes I Do/Hollywood Herv



CH-LA-691-G - Let Me Ride - Windy City Orchestra [1977] Introduction: Windy City Theme/(So You Think) Somethin's Missin'/Win Or Lose/Gimme Some/Feeling Like I Don't Belong/Let Me Ride//Learnin'/Good Guys Don't Always Win/Fool Or Your Man/I've Got Mine/If By Chance



CH-LA-733-G - I Want to Come Back as a Song - Walter Jackson [1977] Baby, I Love Your Way/Everything Must Change/Gotta Find Me An Angel/If You Walked Away/I Want To Come Back As A Song//Stay A While With Me/It's All Over/Sorry Seems To Be The Hardest Word/What Would You Do/I've Never Been To Me



CH-LA-765-G - Power and Love - Manchild [1977] (10-77, #134) Red Hot Daddy/(I Want To Feel Your) Power And Love/Especially For You/Takin' It To The Streets//You Get What You Give/We Need We/These Are The Things That Are Special To Me/Funky Situation



CH-LA-844-G - Good to See You - Walter Jackson [1978] I Won't Ever Remember Loving You/If I Had My Way/We Could Fly/Manhattan Skyline/If I Could See Myself//Good To See You/Open Up Your Heart/Forgetting Someone/Time



CH-LA-862-H - Feel the Phuff - Manchild [1978] The Phuff/Koriko/Walk With Me/If You Don't Tell No One/Joy//Rowdy Dowdy Blues/Don't Get Me Rowdy/Our Message/Maybe My Baby/One Tender Moment



CH-LA-863-H - Who is She...and What Is She to You? - Madelaine [1978] He Wants To Hear The Words/It's In Your Eyes/You Are Day, You Are Night/Don't It Drive You Crazy//In Love We Grow/Who, What, When, Where, Why/Who Is She And What Is She To You/I Love Makin' Love To You





Consolidated 20th Century Fox Catalog Numbers (Distributed by 20th Century Fox):



T 578 - Get Down - Gene Chandler [1978] (11-78, #47) Get Down/Please Sunrise/Tomorrow I May Not Feel The Same//I'm Not The Travelling Kind/Greatest Love Ever Known/Give Me The Cue/What Now/Lovequake



T 586 - Send in the Clowns - Walter Jackson [1979] And If I Had/Magic Man/Girl, You're a Woman/Give It Up/Send In the Clowns/I Want To Be Your Every Need/Sonds Like a Love Song/The Meeting/Golden Rays



T 587 - So Sexy - Sydney Joe Qualls [1979] So Sexy/Let The Woman Know/I'll Run To Your Side/I Don't Do This//Good Ol' Funky Music/Bad Risk/Where Have You Been/I Could Be So Good For You



T 596 - Come to My Party - Impressions [1979] Come To My Party/I Could Never Make You Stay/This can't Be Real//Sorry/Maybe I'm Mistaken/All I Wanna Do Is Make Love To You/Whole Lot Of Good Good Lovin'



T 598 - When You're #1 - Gene Chandler [1979] (8-79, #153) That Funky Disco Rhythm/When You're # 1/I'll Remember You//Do What Comes So Natural/Stay Here In My Heart/Dance Fever



T 605 - Gene Chandler '80 - Gene Chandler [1980] (6-80, #87) Does She Have A Friend?/Lay Me Gently/All About The Paper/Rainbow '80//Do It Baby/You've Been So Sweet To Me/I'll Be There - With Joni Berlman/Let Me Make Love To You



T 618 - I Touched a Dream - Dells [1980] (8-80, #137) So You Are Love/All About The Paper/Passionate Breezes//I Touched A Dream/Just A Little Love/Look At Us Now/Your Song



CHS 619 - Heavenly Body - Chi-Lites featuring Gene Record [1980] (11-80, #179) Heavenly Body/Strung Out/Round & Round/Love Shock//Have You Seen Her/All I Wanna Do Is Make Love To You/Give Me A Dream/Super Mad (About You Baby)



T 624 - Fan the Fire - The Impressions [1981] Fan The Fire/I Don't Wanna Lose Your Love/Love Love Love/Your Mine//I Surrender/Take Everything/I Don't Mind/For Your Precious Love



T 629 - Here's to Love - Gene Chandler [1981] I'm Attracted To You/Love Is The Answer/I've Got To Meet You/Almost All The Way To Love//For The Sake Of The Memories/Almost Daylight/God Bless Our Love/God Sent



T 633 - Whatever Turns You On - The Dells [1981] Happy Song/It Took A Woman Like You To Make A Man Out Of Me/Whatever Turns You On/How Can We Find The Love We Lost When We Don't Know How It Got Away//Ain't It A Shame/(Every Time I Hold You) Heaven's Just A Step Away/Is It It/Stay In My Corner



CHS 635 - Me and You - Chi-Lites featuring Gene Record [1981] (4-82, #162) Me And You/Tell Me Where It Hurts/Whole Lot Of Good Good Lovin'/Oh Girl//Get Down With Me/Try My Side (Of Love)/Hot On A Thing (Called Love)/Never Speak To A Stranger





CH 2000 Series (Distributed by Chi-Sound):
Note: This series included both 12-inch singles and regular LPs.



CH 2001 - Make the Living Worthwhile/Time Is a Thief - Gene Chandler [1982] 12-inch disco single.



CH 2002 - A Touch of Funk/Share My Love - Magnum Force [1982] 12-inch disco single.



CH 2003



CH 2004



CH 2005



CH 2006



CH 2007



CH 2008



CH 2009 - A Portrait of Walter Jackson - Walter Jackson [1983]





Selected CD Issues:



Varese Sarabande VSD-5486 - A Celebration of Soul, Volume 1: The Chi-Sound Records Collection - Various Artists [1994] All tracks stereo. Stay In My Corner - Dells [1981 version]/Baby I Love Your Way - Walter Jackson/Heavenly Body - Chi-Lites/For Your Precious Love - Impressions [1981 version]/These Are The Things That Are Special To Me - Manchild/Rainbow '80 - Gene Chandler/I Choose You - Paris/Have You Seen Her - Chi-Lites [1981 version]/One Tender Moment - Manchild/What Would You Do - Walter Jackson/All I Want To Do Is Make Love To You - Impressions/Get Down - Gene Chandler



Varese Sarabande VSD-5494 - A Celebration of Soul, Volume 2: The Chi-Sound Records Collection - Various Artists [1994] All tracks stereo. Come To My Party - Impressions/Oh Girl - Chi-Lites [1981 version]/Does She Have A Friend - Gene Chandler/And If I Had - Walter Jackson/Passionate Breezes - Dells/I Still Love You - Windy City/It's All Over - Walter Jackson [1977 version]/Hot On A Thing (Called Love) - Chi-Lites/Tomorrow I May Not Feel The Same - Gene Chandler/Especially For You - Manchild/I Touched A Dream - Dells/Maybe I'm Mistaken - Impressions/Feelings - Walter Jackson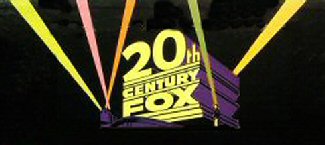 Back to the 20th Century Fox Records Story




Back to the Discography Listings Page




Back to the Both Sides Now Home Page