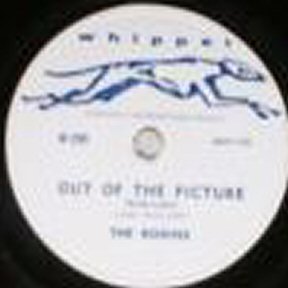 Whippet Album Discography
By Dave Edwards, Patrice Eyries, and Mike Callahan
Last update: June 7, 2007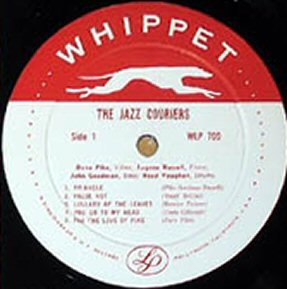 The Whippet Record Company was formed by Gene Norman in 1956 in Hollywood, California, as a subsidiary of the GNP (Gene Norman Presents) label. The company was located at 8584 Sunset Blvd. Whippet recorded popular, jazz and rhythm and blues music. A&R for the label was by H.B. Barnum. Today, H.B. Barnum is Aretha Franklin's musical director.

There are two albums of note to rock and roll collectors, one is the album by Bob Keene Band which is pure big band music, but was by the future founder of the pop/surf label Del-Fi. The other is the very rare album by the Robins titled Rock & Roll with the Robins.

Releases on the Whippet label stopped in 1958.

The Whippet label is white on the bottom and red on the top. Song titles are printed in red. "WHIPPET" in white on the red area. Below is the classic white silhouette of a whippet breed of dog.

We would appreciate any additions or corrections to this discography. Just send them to us via e-mail. Both Sides Now Publications is an information web page. We are not a catalog, nor can we provide the records listed below. We have no association with Whippet or GNP-Crescendo Records. Should you be interested in acquiring albums listed in this discography (which are all out of print), we suggest you see our Frequently Asked Questions page and follow the instructions found there. This story and discography are copyright 2007 by Mike Callahan.
WHIPPET ALBUM DISCOGRAPHY
| | |
| --- | --- |
| Cover | Number - Title - Artist - [Release Date] (Chart) Contents |
| | Whippet WLP-700 Series: |
| | WLP-700 - Gene Norman Presents The Jazz Couriers - Dave Pike, Eugene Russell, John Goodman and Reed Vaughn [3/57] Triangle/Valse Hot/Lullaby of the Leaves/You Go to My Head/For the Love of Pike/Goody Speaks/Polynesia/I'll Remember April/Willow Weep For Me/Pike's Peak |
| | WLP-701 - Dancing on the Ceiling - Bob Keene Band [1957] Dancing on the Ceiling/Mimi/They Didn't Believe Me/Begin the Beguine/It Ain't Necessary So/Flying Home//The Lady is a Tramp/Isn't It Romantic/Dancing Tambourine/It's Easy to Remember/Boogie for a Nickel/Jug Stop |
| | WLP-702 - Their Voices and Instruments - Signatures [1958] April in Paris/I Should Care/Julie is Her Name/Cross Your Heart/Little Girl Blue/Free Speech//I Get a Kick Out of You/Over the Rainbow/Someone in Love/Judaline/Where Are You/Bernie's Tune |
| | WLP-703 - Rock & Roll with the Robins - Robins [1958] Cherry Lips/A Fool in Love/Merry- Go-Round/Since I First Met You/Where's the Fire//Out of the Picture/Hurt Me/Every Night/How Long/All of a Sudden My Heart Sings |
| | WLP-704 - Afro-Cool - Wild Bill Davis, Conde Candoli and Frank Morgan [1/58] Reissue of GNP 12. Bernie's Tune/I'll Remember April/Chooch/Whippet/My Old Flame/Neil's Blues/Champ/Nearness Of You/Milt's Tune/Get Happy |

Back to the GNP-Crescendo Story




Back to the Discography Listings Page



Back to the Both Sides Now Home Page