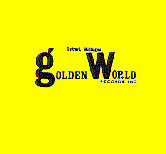 Golden World Album Discography
By David Edwards and Mike Callahan
Last update: August 3, 2012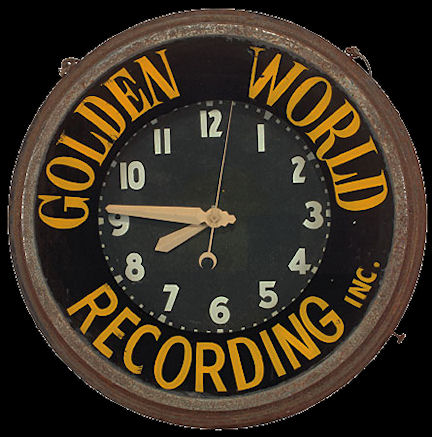 Golden World Label was active from 1963 to 1966. The label was owned by Eddie Wingate and Joanne Jackson Bratton. Golden World had a recording studio that was first located at 11801 12th Street in Detroit, and later moved to 3246 West Davison in Detroit. Outside the studio was a landmark large clock with the label's name.

The label was originally started in 1963 as an alternative to Motown in Detroit. The Golden World label issued over 40 singles and one album in its almost three years of operation. Although they issued singles by such future chart stars as the Parliaments [later, Parliament/Funkadelic], Carl Carlton, the Sunliners [later, Rare Earth], and Tamiko Jones, chart success eluded them except for a Detroit rock group called the Reflections, who placed three chart hits for the label, "(Just Like) Romeo & Juliet," "Like Columbus Did," and "Poor Man's Son."

Their recording studio achieved some measure of fame by recording several hits, including their own "(Just Like) Romeo and Juliet" by the Reflections [Golden World 9, 3/64, #6 #3R&B], "Agent Double-O Soul" by Edwin Starr [Ric-Tic 103, 8/65, #21, #8R&B], "Hungry for Love" by the San Remo Golden Strings [Ric-Tic 104, 9/65, #27], "Stop Her On Sight (S.O.S.) by Edwin Starr [Ric-Tic 109, 2/66, #48, #9R&B], "Cool Jerk" by the Capitols [Karen 1524, 4/66, #7, #2R&B], and "Oh How Happy" by the Shades of Blue [Impact 1007, 5/66, #12, #16R&B], and it was partly for the studio in addition to the back catalog that Motown purchased the label in 1966.

The label, along with its subsidiaries Ric-Tic and Wingate, were purchased by Motown in 1966. Motown did not reuse the label names, and stored most of the masters of this rival. A few masters, such as by Edwin Starr, J.J. Barnes, and the San Remo Golden Strings were reissued, but most were not. The Golden World Studio was converted to Motown's "Studio B."



| | | |
| --- | --- | --- |
| | | The Golden World album label (far left) was yellow with black printing. "gOLDEN WORLD" above the center hole. The label used for singles (near left) was similar, but included an oval web that surrounded the center hole. |



We would appreciate any additions or corrections to this discography. Just send them to us via e-mail. Both Sides Now Publications is an information web page. We are not a catalog, nor can we provide the records listed below. We have no association with Golden World or Motown Records. Should you be interested in acquiring albums listed in this discography (which are all out of print), we suggest you see our Frequently Asked Questions page and follow the instructions found there. This story and discography are copyright 2012 by Mike Callahan.

GOLDEN WORLD ALBUM DISCOGRAPHY
| | |
| --- | --- |
| Cover | Number - Title - Artist - [Release Date] Contents |
| | Golden World LPM-300 Series: |
| | GW LPM-300 - Just Like Romeo and Juliet - Reflections [1964] Issued in monaural only. (Just Like) Romeo And Juliet/Talkin' About My Girl/Can't You Tell By The Look In My Eyes/Deborah Ann/On Broadway/Don't Do That To Me//Like Columbus Did/June Bride/Gonna Turn The Place Out/Lonely Girl/Oowee Now Now/Couldn't Make It Like That |
Back to the Discography Listings Page



Back to the Both Sides Now Home Page