In April, 1958, Carl LeBow left as General Manager of Bethlehem Records to form a budget record label called Aamco, where he became President. The label was a subsidiary of Alison Enterprises and located at 204 West 49th street in New York City. The output of the label was popular, jazz and International music. The A&R Director for Aamco was Lee Kraft.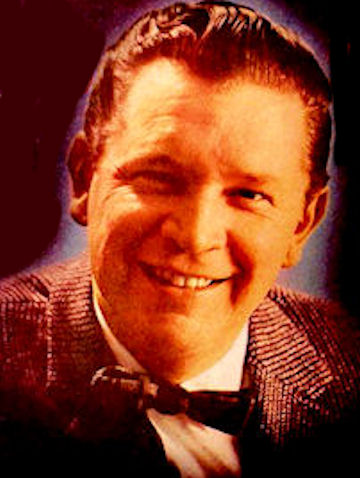 The Musical Director and Vice President was bandleader Ted Steele. Steele had accepted the Musical Director job at Bethlehem Records a mere two months earlier, but exited Bethlehem along with LeBow. Steele was well known in New York City, having been a radio and television personality there since the 1940s. In 1958, he was with WOR-TV, where he hosted a record hop. Alison Enterprises was probably named for Steele's then-recent bride Alison Steele (a 20-year-old disc jockey who later became New York's "Nightbird."). What the other "enterprises" may have included is unknown.

In some ways, Aamco, the home of "Micro Cosmic Sound," seems to be a case study for an underfunded, unsuccessful record label. They leased most of their music, so had little in the way of contractual assets. They sold albums for $1.49 each ($2.49 stereo), so they didn't make much on each sale, and they had no real hits, so they didn't sell a lot of records. Not even a year later, they had to hike the price of their albums and it still didn't stop them from going bankrupt two months after that. In their bankruptcy filing, their assets were listed as $7,200 and their liabilities were $183,661.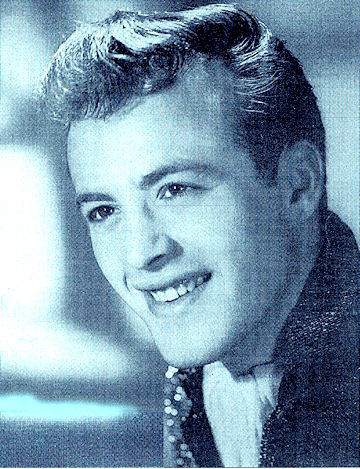 The formation of Aamco Records was announced in the May 19, 1958 issue of Billboard. According to the announcement, "Aamco Records will issue low-priced LP's and eventually singles. First releases, which will be issued about June 15, will include a number of LP's leased by LeBow from both Bethlehem records and Monogram Records". (Monogram was not the label that released the early Chris Montez hits, but rather an earlier label run by Manny Werner that specialized in Caribbean/Calypso music.) Aamco released more than forty albums, with most having stereo counterparts. In addition, Aamco released two stereo-only sampler albums.

Aamco released just four singles. The first one, "Just Young" by Andy Rose [Aamco 100] entered the charts in mid-September, 1958, reaching #69 in Billboard and #28 in Cash Box. The song was most popular in New York City, where it reached #17 on the WMGM charts.

Next was the Paulette Sisters' "Calla, Calla (The Bride, The Bride)" [Aamco 101]. It began being played on radio stations the week of September 29, 1958, and by late October, entered the Cash Box charts, mostly due, again, to sales in New York City, where it reached #28 on the WMGM charts. It eventually reached #87 in Cash Box, but missed the Billboard chart altogether.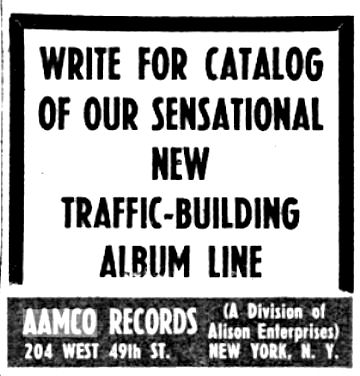 The final two singles, Teal Joy's "Lightning"/"Never Mind, Never Mind" [Aamco 102], and Andy Rose' followup "My Devotion"/"Classroom Cutie" [Aamco 103] both failed to chart anywhere.

Less than a year after issuing their first albums, Aamco was in serious financial trouble. They brought in 20th Century Fox Merchandising Chief Norm Wieland in April, 1959. It was reported that this was part of a widespread reorganization at the label, where LeBow and Steele bought out all their former partners and became sole owners of Aamco. At the time, Aamco reported they had had 44 mono albums and 35 stereo albums out, and expected to release 6 more per month of each. They raised the price of their mono albums from $1.49 to $1.98 and their stereo discs from $2.49 to $2.98. And they had big plans to expand.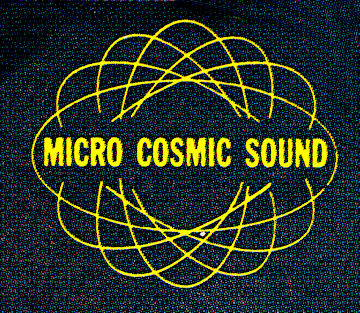 LeBow told Billboard that they were expanding into instructional records, establishing a label called Scientia Records to release five different foreign language instruction records, each with a 40 page booklet, to retail for $1.98. (Two of these albums were released before the company folded; see discography below). LeBow also said that they planned to launch a "Composer Series" featuring orchestral presentations of composers such as Cole Porter, George Gershwin, and Richard Rodgers. (Three of these albums are known to have been released just before the label went bankrupt, all by an anonymous orchestra dubbed the "Broadway Symphony Orchestra," and some or all released on albums with blank back covers.)

LeBow reported to Billboard that April that their artist roster consisted of Ted Steele, Jack Carter, Paul Winchell, the Paulette Sisters, and Teal Joy. Apparently their biggest seller, Andy Rose, had already moved on (to Coral Records).

Ultimately, the April reorganization and the big plans failed to stop the financial bleeding, as a mere two months later on June 18, Alison Enterprises, doing business as Aamco Records, filed for Chapter XI bankruptcy. It was almost a year to the day after releasing their first albums. Although Chapter XI only seeks reorganization, there was little a reorganization could do for a company $175,000 in debt with essentially no assets. Nothing else was released on Aamco and the bankruptcy filing seemed to bring down the curtain on the label.



| | |
| --- | --- |
| Cover | Number - Title - Artist - [Release Date] Contents |
| | ALP 300 Hi-Fi Popular Series: |
| | ALP 301 - Royal Concert With Duke Ellington Volume 1 - Duke Ellington Orchestra [6/58] Material from Bethlehem Records. Jack The Bear/Creole Love Call/Stop, Look & Listen/Day Dream/Unbooted Character//Stompy Jones/My Funny Valentine/Ko Ko/Laura/Cotton Tail |
| | ALP 302 - Four Lessons in Jazz - Various Artists [6/58] Material from Bethlehem and Discovery Records. Perhaps because of the content, and perhaps because of the cover, this appears to be Aamco's best selling album. Issued with both blue and purple labels. Memories Of You - Charlie Mingus/East Coast Ghost - Charlie Mingus/Long Ago - Johnny Richards/Aijolon - Johnny Richards// The Gentleman Is A Dope - Australian Jazz Quintet/Right Down Front - Art Blakey's Jazz Messengers/Krafty - Art Blakey's Jazz Messengers/Gentleman Is a Dope - Australian Jazz Quintet/Wonderful Guy - Australian Jazz Quintet |
| | ALP 303 - Two Boys from Dixieland - Jonah Jones & His Quintet/Jack Teagarden & the Kings of Dixieland [1958] Material from Bethlehem Records. Beale Street Blues - Jonah Jones/J.J. Special - Jonah Jones/Down By the Riverside - Jonah Jones/European Blues - Jonah Jones/Wrap Your Troubles in Dreams - Jonah Jones//Dixieland One Step - Jack Teagarden/Davenport Blues - Jack Teagarden/Bad Actin' Woman - Jack Teagarden/Eccentric - Jack Teagarden/Meet Me Where They Play the Blues - Jack Teagarden |
| | ALP 304 - Let's Go Dancin' Ted Steele - Ted Steele Orchestra [6/58] Reissue of Bethlehem BCP 5004 with additional material. Released in stereo as ALPS 78. Medley: Whispering-Down Among The Sheltering Palms- Stumbling/You Were Meant For Me/Medley: I'm Nobody's Baby-Thanks A Million-When You Wore A Tulip/I'm Thru With Love/Medley: At Sundown-I Cried For You-Hold Me/Deep Purple//Medley: Singing In The Rain-Somebody Stole My Gal-Maybe/I Don't Know Why/Medley: Do You Ever Think Of Me-Linger Awhile-Rose Room/I'm In The Mood For Love/Medley: Swinging Down The Lane-Five Foot Two-Should I/Don't Blame Me |
| | ALP 305 - Got a Date With You in Havana - Hermanos Aviles Orchestra/Enrique Avies Orchestra/Aamco Cubano Orchestra [6/58] Monogram material. Bombom Cha/Rumba En Cha Cha Cha/C-H-A Cha Cha Cha/Mi One, Two, Three, Cha Cha/Tengo Ahora Un Chiquita/Sax En Cha Cha Cha//Dime, Dime, Much Mucho/El Truquito/Caballito De Site Colores/Tan Sabrosona/Siempre Me Has Querido Cantidad/El Limpia Botas |
| | ALP 306 - Mambo! - Perez Prado Orchestra with Tito Rodriquez and Miguelito Valdez [6/58] Monogram material. Issued in stereo as ALPS 106. Asi Asi/Dansero/Azuquito Con Leche/Anabacoa/Palladium Mambo/Sing, Sing, Sing/V.I. Mambo/Tito Puente Chang/Tu Ve, Tu Ve/Century Mambo |
| | ALP 307 - Let's Merengue: Authentic Recordings from the Caribbean - Various Artists [6/58] Monogram material. Baila Merengue/Maria/La Mujer Puerto Riguena/Mayaguez/Merengue Medley Noil/Contigo/Merenguiando/La Empaliza/Si Tu No La Otra/Bailen Todas/Merengue A Borinquen/Sin Tambora |
| | ALP 308 - Meet the Girls - Various Artists [6/58] Reissue of Bethlehem material. Don't Worry 'Bout Me - Julie London/Similou - Sallie Blair/Skip To My Lou - Frances Faye/Easy To Love - Carmen McRae/ How Long Has This Been Going On - Sallie Blair/John Henry - Frances Faye//If I Had A Ribbon Bow - Maxine Sullivan/If I'm Lucky - Carmen McRae/Molly Malone - Maxine Sullivan/Sometimes I Feel Like A Motherless Child - Julie London/Tip-Toe Gently - Carmen McRae/You're Blase - Julie London |
| | ALP 309 - Sounds in the Night - Russ Garcia [6/58] Reissue of Bethlehem BCP 5006. Released in stereo as ALPS 76. Sophisticated Lady/Ill Wind/Painting The Town Blue/Sweet And Lovely/Blue, Blue, Blue//I Get A Kick Out Of You/I Lead A Charmed Life/Music City/When Your Lover Has Gone/Sounds In The Night/Prelude To A Kiss/Wow |
| | ALP 310 - The Most Intimate - Charlie Shavers [6/58] Reissue of Bethlehem BCP 5002. Issued with a yellow label and also with a white label. Stella by Starlight/Ill Wind/Stormy Weather/Out of Nowhere/Easy to Remember//Stardust/I Cover the Waterfront/Memories of You/You're Mine You/Let's Fall in Love |
| | ALP 311 - Ted Steele Presents Miss Teal Joy - Teal Joy [6/58] Reissue of Bethlehem BCP 5001. Released in stereo as ALPS 75. Let's Fall In Love/Easy To Remember/Since I Fell For You/Misirlou/Don't Worry Bout Me/'Deed I Do//For You My Love/That Ole Devil Called Love/Who's Sorry Now/Come Back to Sorrento/Autumn Leaves/El Cumbanchero |
| | ALP 312 - Clean Head's Back in Town: Eddie Vinson Sings - Eddie "Cleanhead" Vinson [6/58] Reissue of Bethlehem BCP 5005. Released in stereo as ALPS 74. Cleanhead's Back in Town/That's the Way to Treat Your Woman/Trouble in Mind/Kidney Stew/Sweet Lovin' Baby/Caldonia//It Ain't Necessarily So/Cherry Red/Is You Is or Is You Ain't My Baby/I Just Can't Keep the Tears from Tumblin' Down/Your Baby Ain't Sweet Like Mine/Hold It Right Here |
| | ALP 313 - Royal Concert With Duke Ellington, Volume 2 - Duke Ellington Orchestra [3/59] Material from Bethlehem Records. The Jeep Is Jumpin'/Lonesome Lullaby/East St. Louis Toddloo/Indian Summer/Midriff//Upper Manhattan Medical Group/In A Mellow Tone/Frustration/Summertime/Deep Purple |
| | ALP 314 - 100 Men and a Harp: Favorite Waltzes for My Beloved: Orchestra - Enrico Valsevetti and the Rome Festival [1958] Roses From The South (Southern Roses Waltz)/Emperor Waltz//Blue Danube/Tales From The Vienna Woods |
| | ALP 315 - Mama Mia: Italian Folk Songs for My Beloved - Raymond G. Muscarella [1958] Released in stereo as ALPS 60. Muscarella was Tony Bennett's manager in the early 1950s. Tarantella Napolitana/Tra Veglia E Suonno/Reginella Campagnola/Marcia Militare/O' Sole Mio/O' Marinariello/Pesce Fritto E' Baccala'/Marcia Repertorio/Voce E' Notte/Comme Mammatete Facetta/Flavia/La Sigaretta/Speranze Perdute |
| | ALP 316 - Mazeltov: Wedding Songs of Our People - Dukes of Freilachland [1958] Released in stereo as ALPS 61. Broigus Dance/Tantas Bielgar/Freilach No. 1/Mazeltov Sher/Calla's Freilach/Volach No. 1//Bubbas Freilach/Azoy, Azoy/Laybehdick (Hora)/Hora No. 3/Moisheh's Bulgar/Yankeleh (Cerba) |
| | ALP 317 - Organ Moods by Ted Steele: Music from Dusty Manuscripts - Ted Steele [1958] That Tired Routine/Beautiful Dreamer/Vilia/Liebestraum/Melody in F/Lullaby from Jocelyn/Londonderry Air/I Love Thee/Loves Old Sweet Song/Estrellita/To a Wild Rose |
| | ALP 318 - For Grieving Lovers - Ted Steele [1958] When Your Lover Has Gone/A Ghost Of A Chance/Goodbye/You Don't Know What Love Is/It's Easy To Remember/I'll Never Smile Again/This Love Of Mine/These Foolish Things/Gone/Grievin' |
| | ALP 319 - Broadway a la (Jack) Carter - Jack Carter [11/58] Released in stereo as ALPS 65. Breezing Along With The Breeze/Ida/Red Red Robin/I Guess I'll Have To Change My Plans/Quarter To Nine/Avalon/Straw Hat And Cane/If I Could Be With You/The Whisper Song/Me And My Shadow |
| | ALP 320 - Chips of Wisdom - Paul Winchell and Jerry Mahoney, Written by J. Franklin Jones, Ted Steele Orchestra [11/58] Released in stereo as ALS 66. Eyes/Home/Wisdom/Happiness/Problems/Mary Smith/Friends/Distinguished/Democracy/Two Men |
| | ALP 321 - Sweet and Swinging - George Rhodes [11/58] Released in stereo as ALPS 67. The Party's Over/They'll Be Some Changes Made/So in Love/Messy/Melancholy Baby/Diane/Lonesome Road/Rock-a-Bye Your Baby/Honeysuckle Rose/Kattin' |
| | ALP 322 - Flamenco - Mario Escudero [11/58] Canta De La Sierra De Granada/De Triana/Fandaguillos Variados/Soleares/Canta De La Sierra/Canta De Prefacio De La Iglesia/Sevillanas/Alegrias Y Mirabral/Mosaico Gaditano/Milonga/Melodia De Un Corazon Dolorido/Danza Mora |
| | ALP 323 - Music from the Gaslight Era - Clarence Hutchenrider [11/58] Released in stereo as ALPS 68. Basin Street Blues/Sweet Georgia Brown/Smoke Rings/When The Saints Go Marching In/Beale Street Blues/Exactly Like You/Tin Roof Blues/Dark Town Strutters Ball |
| | ALP 324 - A Tribute to Bessie Smith - Becky Hall [11/58] Released in stereo as ALPS 69. 'Lectric Chair/After You've Gone/Down & Out/Whisper Daddy/It's Your Turn/Spirit Blues/Lost Your Head/Empty Bed Blues/Back Water/Preachin' The Blues |
| | ALP 325 - In an Egyptian Garden - Tarik Bulut [11/58] Released in stereo as ALPS 70. Cifte Telli/Erneni Oyunu/Halay/Arabic Fantasy/Konyali/Wedding Song/Lolo/Finjan/Kara Biberim/Olive Oil |
| | ALP 326 - Torero! Music of the Bullring - Nicholas M. England Collection [11/58] Released in stereo as ALPS 71, Angelillo/Toreros Mexicanos/Pasacalle/Viva El Rumbo/Monolete/Marcial/Luis Miguel Dominquin/La Vuelta/Espana Cani/Toros En Mexico |
| | ALP 327 - Polka Party - Frankie Paul International Polka Band [11/58] Dark Forest Polka/Come and Dance the Polka/Unita Polka/Rain Rain Polka/Krakowiak/Barbara Polka//French Polka/Domino Polka/Emilia Polka/Helena Polka/Doodah Polka/Clarinet Polka |
| | ALP 328 - Bagpipes - The Royal Scotch Guard Bagpipes Directed by Neil Duddy [11/58] Released in stereo as ALPS 72. |
| | ALP 329 - Rock, Rock, Rock - George Rhodes Quartet [1959] |
| | ALP 330 - Hawaiian Holiday - Catamaran Boys with Mona Joy [1959] |
| | ALP 331 - Porgy and Bess - George Rhodes [2/59] Released in stereo as ALPS 56. Summertime/A Sometime Thing/My Man's Gone//I Got Plenty of Nothing/Bess You is My Woman Now/Boat Leaving/My Bess/It Ain't Necessarily So |
| | ALP 332 - A Touch of Paris - Odette with Mat Matthews and his Continental Group [1959] Released in stereo as ALPS 58. Vocals by Rebecca Hall and Carnegie Burruss. Chiens Perdus Sans Collier/Joue Pour Moi/Passe/Sans L'amour De Toi//Dans Mon Coeur/Le Temps d'Aimer/L'Etang/Que Reste T'il De Nos Amours |
| | ALP 333 |
| | ALP 334 |
| | ALP 335 |
| | ALP 336 - Richard Rodgers Favorites - Broadway Symphony Orchestra [5/59] Composer Series. Released in stereo as ALPS 103. Bewitched/There's A Small Hotel/I Didn't Know What Time It Was/My Funny Valentine/Where Or When/I Could Write A Book/Little Girl Blue/My Heart Stood Still/Here In My Arms |
| | ALP 337 - Cole Porter Favorites - Broadway Symphony Orchestra [5/59] Composer Series. Released in stereo as ALPS 102. Love For Sale/From This Moment On/Just One Of Those Things/It's All Right With Me//So In Love/What Is This Thing Called Love/I Get A Kick Out Of You/Night And Day |
| | ALP 338 - George Gershwin Favorites - Broadway Symphony Orchestra [5/59] Composer Series. Released in stereo as ALPS 101. But Not For Me/I've Got A Crush On You/Fascinating Rhythm/The Man I Love//Embraceable You/Someone To Watch Over Me/'S Wonderful/Of Thee I Sing/Soon |
| | ALPS 50 Stereo Popular Series: |
| | ALPS 54 - Instrumental Stereophonic Adventure in Sound, Volume 1 - Various Artists [1958] First cover; purple label with silver print. You Were Meant For Me - Ted Steele/Singing In The Rain - Ted Steele/Nobody's Baby - Charlie Shavers/Stella By Starlight - Charlie Shavers/Stardust - Charlie Shavers/El Toro - Art Blakey/Outer World - Art Blakey/Midriff - Art Blakey/March Of The Siamese Children - Australian Jazz Quintet/ Surrey With The Fringe On Top - Australian Jazz Quintet |
| | ALPS 54 - Instrumental Stereophonic Adventure in Sound, Volume 1 - Various Artists [1958] Second cover. When Aamco decided there would be a second volume, they went back and added "Volume 1" in the upper right corner of this album jacket. You Were Meant For Me - Ted Steele/Singing In The Rain - Ted Steele/Nobody's Baby - Charlie Shavers/Stella By Starlight - Charlie Shavers/Stardust - Charlie Shavers/El Toro - Art Blakey/Outer World - Art Blakey/Midriff - Art Blakey/March Of The Siamese Children - Australian Jazz Quintet/ Surrey With The Fringe On Top - Australian Jazz Quintet |
| | ALPS 55 - Vocal Stereophonic Adventure in Sound, Volume 2 - Various Artists [1958] Wow - Russ Garcia/I Get a Kick Out of You - Russ Garcia/(others). Other artists include Eddie Vinson, Teal Joy, and Sallie Blair. |
| | ALPS 56 - Porgy and Bess - George Rhodes [2/59] Released in monaural as ALP 331. Summertime/A Sometime Thing/My Man's Gone//I Got Plenty of Nothing/Bess You is My Woman Now/Boat Leaving/My Bess/It Ain't Necessarily So |
| | ALPS 57 |
| | ALPS 58 - A Touch of Paris - Odette with Mat Matthews and his Continental Group [1959] Released in monaural as ALP 332.Chiens Perdus Sans Collier/Joue Pour Moi/Passe/Sans L'amour De Toi/Dans Mon Coeur/Le Temps d'Aimer/L'Etang/Que Reste T'il De Nos Amours |
| | ALPS 59 |
| | ALPS 60 - Mama Mia: Italian Folk Songs for My Beloved - Raymond G. Muscrella [1959] Released in monaural as ALP 315. Tarantella Napolitana/Tra Veglia E Suonno/Reginella Campagnola/Marcia Militare/O' Sole Mio/O' Marinariello/Pesce Fritto E' Baccala'/Marcia Repertorio/Voce E' Notte/Comme Mammatete Facetta/Flavia/La Sigaretta/Speranze Perdute |
| | ALPS 61 - Mazeltov: Wedding Songs of Our People - Dukes of Freilachland [1958] Released in monaural as ALP 316. Broigus Dance/Tantas Bielgar/Freilach No. 1/Mazeltov Sher/Calla's Freilach/Volach No. 1//Bubbas Freilach/Azoy, Azoy/Laybehdick (Hora)/Hora No. 3/Moisheh's Bulgar/Yankeleh (Cerba) |
| | ALPS 62 |
| | ALPS 63 |
| | ALSP 64 |
| | ALPS 65 - Broadway a La (Jack) Carter - Jack Carter [11/58] Released in monaural as ALP 319. Breezing Along With The Breeze/Ida/Red Red Robin/I Guess I'll Have To Change My Plans/Quarter To Nine/Avalon/Straw Hat And Cane/If I Could Be With You/The Whisper Song/Me And My Shadow |
| | ALPS 66 - Chips of Wisdom - Paul Winchell and Jerry Mahoney, Written by J. Franklin Jones, Ted Steele Orchestra [11/58] Released in monaural as ALP 320. Eyes/Home/Wisdom/Happiness/Problems/Mary Smith/Friends/Distinguished/Democracy/Two Men |
| | ALPS 67 - Sweet and Swinging - George Rhodes [11/58] Purple label with silver print. Released in monaural as ALP 321. The Party's Over/They'll Be Some Changes Made/So in Love/Messy/Meloncholy Baby/Diane/Lonesome Road/Rock-a-Bye Your Baby/Honeysuckle Rose/Kattin' |
| | ALPS 68 - Music from the Gaslight Era - Clarence Hutchenrider [11/58] Released in monaural as ALP 323. Basin Street Blues/Sweet Georgia Brown/Smoke Rings/When The Saints Go Marching In/Beale Street Blues/Exactly Like You/Tin Roof Blues/Dark Town Strutters Ball |
| | ALPS 69 - Tribute to Bessie Smith - Becky Hall [11/58] Released in monaural as ALP 324. 'Lectric Chair/After You've Gone/Down & Out/Whisper Daddy/It's Your Turn/Spirit Blues/Lost Your Head/Empty Bed Blues/Back Water/Preachin' The Blues |
| | ALPS 70 - In an Egyptian Garden - Tarik Bulut [11/58] Released in monaural as ALP 325. Cifte Telli/Erneni Oyunu/Halay/Arabic Fantasy/Konyali/Wedding Song/Lolo/Finjan/Kara Biberim/Olive Oil |
| | ALPS 71 - Torero! Music of the Bullring - Nicholas M. England Collection [11/58] Released in monaural as ALP 326, Angelillo/Toreros Mexicanos/Pasacalle/Viva El Rumbo/Monolete/Marcial/Luis Miguel Dominquin/La Vuelta/Espana Cani/Toros En Mexico |
| | ALPS 72 - Bagpipes - The Royal Scotch Guard Bagpipes Directed by Neil Duddy [11/58] Released in monaural as. ALP 328 |
| | ALPS 73 |
| | ALPS 74 - Eddie Vinson Sings - Eddie Vinson [1958] Reissue of Bethlehem BCP 5005. Released in monaural as ALP 312. Light blue label. Cleanhead's Back in Town/That's the Way to Treat Your Woman/Trouble in Mind/Kidney Stew/Sweet Lovin' Baby/Caldonia//It Ain't Necessarily So/Cherry Red/Is You Is or Is You Ain't My Baby/I Just Can't Keep the Tears from Tumblin' Down/Your Baby Ain't Sweet Like Mine/Hold It Right Here |
| | ALPS 75 - Ted Steele Presents Miss Teal Joy - Teal Joy [1958] Reissue of Bethlehem BCP 5001. Released in monaural as ALP 311. This stereo release was unusual in that it was released with a blue label, and instead of the usual stereo logo it had the mono logo on the front with a small "STEREO" above the record number. Let's Fall In Love/Easy To Remember/Since I Fell For You/Misirlou/Don't Worry Bout Me/'Deed I Do//For You My Love/That Ole Devil Called Love/Who's Sorry Now/Come Back to Sorrento/Autumn Leaves/El Cumbanchero |
| | ALPS 76 - Sounds in the Night - Russ Garcia [1958] Reissue of Bethlehem BCP 5006. Released in monaural as ALP 309. Sophisticated Lady/Ill Wind/Painting The Town Blue/Sweet And Lovely/Blue, Blue, Blue//I Get A Kick Out Of You/I Lead A Charmed Life/Music City/When Your Lover Has Gone/Sounds In The Night/Prelude To A Kiss/Wow |
| | ALPS 77 |
| | ALPS 78 - Let's Go Dancin' - Ted Steele Orchestra [1958] Released in monaural as ALP 304. Medley: Whispering-Down Among The Sheltering Palms-Stumbling/You Were Meant For Me/Medley: I'm Nobody's Baby-Thanks A Million-When You Wore A Tulip/I'm Thru With Love/Medley: At Sundown-I Cried For You-Hold Me/Deep Purple//Medley: Singing In The Rain-Somebody Stole My Gal-Maybe/I Don't Know Why/Medley: Do You Ever Think Of Me-Linger Awhile-Rose Room/I'm In The Mood For Love/Medley: Swinging Down The Lane-Five Foot Two-Should I/Don't Blame Me |
| | ALPS 101 - George Gershwin Favorites - Broadway Symphony Orchestra [5/59] Composer Series. Released in mono as ALP 338. But Not For Me/I've Got A Crush On You/Fascinating Rhythm/The Man I Love//Embraceable You/Someone To Watch Over Me/'S Wonderful/Of Thee I Sing/Soon |
| | ALPS 102 - Cole Porter Favorites - Broadway Symphony Orchestra [5/59] Composer Series. Released in mono as ALP 337. Love For Sale/From This Moment On/Just One Of Those Things/It's All Right With Me//So In Love/What Is This Thing Called Love/I Get A Kick Out Of You/Night And Day |
| | ALPS 103 - Richard Rodgers Favorites - Broadway Symphony Orchestra [5/59] Composer Series. Blue label with black print. Released in mono as ALP 336. Bewitched/There's A Small Hotel/I Didn't Know What Time It Was/My Funny Valentine/Where Or When/I Could Write A Book/Little Girl Blue/My Heart Stood Still/Here In My Arms |
| | ALPS 106 - Mambos for Americanos - Perez Prado, His Orchestra and Friends [1959] Composer Series. Issued in mono as ALP 306. Asi Asi/Dansero/Azuquito Con Leche/Anabacoa/Palladium Mambo/Sing, Sing, Sing/V.I. Mambo/Tito Puente Chang/Tu Ve, Tu Ve/Century Mambo |
| | RELATED CD: |
| | Cat King Kole 1002 - Just Another Classroom Teen Idol - Andy Rose [10/25/2011] Classroom Cutie/Promise (aka My Devotion)/Just Young/Lov-A-Lov-A Love/Undecided/Lifetime Of Happiness/No Need To Go To Kansas City/Everybody But You/Wonderous Place/A Rose & A Thorn/Beware My Heart/This Is The Nite/Crazy For You/I'm Right Behind You/I Can't Forget You/You Weren't There/Let's Run Away & Get Married/Don't Ask Me (To Be Lonely)/Being Young/Say What's New/Same Old Orange Peels/With Feelings/Perfidia/No Need To Go To Kansas City/I'm Waiting For You/Dance On Pretty Clown/I Was The One/The Bootie Green/Searching For A New Love/Everybody But You/If You Want Me |
| | SCIENTIA LABEL DISCOGRAPHY: |