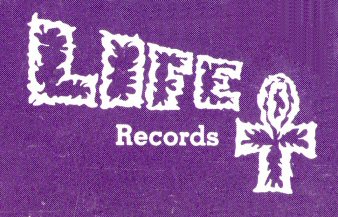 Life Album Discography
By Patrice Eyries, Mike Callahan, and Dave Edwards
Last update: June 17, 2007








The Life Records label was a division of Bo Gentry Conceptions, Inc. It was based in New York City, and had no relationship with the earlier Los Angeles-based label of the same name. Bo Gentry was a successful pop songwriter and producer, having written hits for Tommy James & the Shondells, among others. He put together a studio band to do one of his songs, and brought in Tony Orlando to do the lead vocals. The song, "Make Believe" [Life 200] written by Gentry and Joey Levine (Kasenetz-Katz bubblegum vocalist supreme), was a well done, but derivative, side which sounded vaguely like dozens of other records of the sixties, and included a "Four Seasons" soundalike grand finale. The studio group was called "Wind" on the record, which made the top-30 nationally.

As with most studio bands, a hit means a problem. Almost no studio musician wants to go on the road and tour, even with a hit. Gentry got together a group of musicians and recorded an album's worth of sides, many of them Bo Gentry tunes. When the album was issued, Wind was identified as a group of five musicians, named on the album cover only as John, John, Jay, Jimmy, and Dick. A back-lit photo made it very difficult to identify any of them, and they probably were the group hired to tour with the hit.

The followup single to "Make Believe," which offered "I'll Hold Out My Hand" backed with "Teenybopper" [Life 202], failed to chart. "Groovin' with Mr. Bloe," originally the instrumental flip side of Wind's "Make Believe," was then reissued with "Are You Nuts?" as a new flip (as Cool Heat) on Life 203. These three singles were apparently the entire singles output for the label. "Groovin' with Mr. Bloe," was soon reissued as Forward 152, and interestingly, it too charted, making #89. This instrumental flip, originally issued as by Wind, was not included on the Wind album.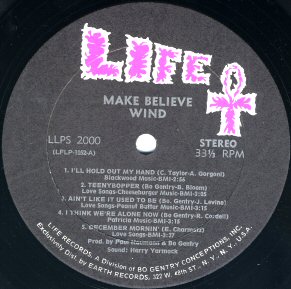 The sole album issued on the Life label, Make Believe by Wind, had a foil cover with a mirror-like finish, making it difficult to photograph. The only printing on the foil was the title of the album and the group name at the top, and the Life Records logo at the bottom left, both in purple.

The Life label was black with silver print, with a pink and white Life logo at the top of the label and to the right of the center hole. Around the bottom of the label, in white print on two lines arcing around the edge, was "LIFE RECORDS, A Division of BO GENTRY CONCEPTIONS, INC./ Exclusively Dist. By EARTH RECORDS, 322 W. 48th ST., N.Y., N.Y., USA."

We would appreciate any additions or corrections to this discography. Just send them to us via e-mail. Both Sides Now Publications is an information web page. We are not a catalog, nor can we provide the records listed below. We have no association with Life Records. Should you be interested in acquiring albums listed in this discography (which are all out of print), we suggest you see our Frequently Asked Questions page and Follow the instructions found there. This story and discography are copyright 2007 by Mike Callahan.
LIFE ALBUM DISCOGRAPHY
| | |
| --- | --- |
| Cover | Number - Title - Artist - [Release Date] (Chart) Contents |
| | Life LLPS 2000 Series: |
| | LLPS 2000 - Make Believe - Wind [1969] I'll Hold Out My Hand (S)/Teenybopper (S)/Ain't Like It Used To Be (S)/I Think We're Alone Now (S)/December Mornin' (S)//Make Believe (S)/Only When I'm Dreamin' (S)/Cheatin' (S)/Angel Of The Mornin' (S)/Tell Him No (S)/Love Flashin' Through Me (S) |
Back to the Discography Listings Page



Back to the Both Sides Now Home Page