Trans-World Album Discography
By Mike Callahan, David Edwards, and Patrice Eyries
Last update: March 28, 2002






Trans-World was part of Miller International Company of Media, Pennsylvania, which was run by David L. Miller. The label started in 1956 and lasted to about 1958. Miller International also had the Essex label, for which Bill Haley recorded his first hit, "Crazy Man Crazy," in 1952. By 1958, Miller had folded Essex and had gone on to issuing budget albums on his Somerset label, and had converted Trans-World to a Somerset clone. Alas, from Haley to junk records. What a fall.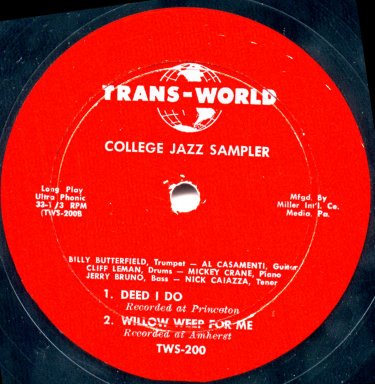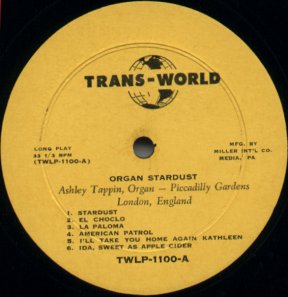 The first Trans-World label was dark red with silver print. This was used for the reissue of the Essex albums in the TWLP/TWS-200 series. The later series, which was numbered like the Somerset label with each number being an even hundred, used the same graphics on a yellow label with black print.










We would appreciate any additions or corrections to this discography. Just send them to us via e-mail. Both Sides Now Publications is an information web page. We are not a catalog, nor can we provide the records listed below. We have no association with Trans-World Records. Should you be interested in acquiring albums listed in this discography (all of which are out of print), we suggest you see our Frequently Asked Questions page and follow the instructions found there. This story and discography are copyright 2002 by Mike Callahan.



TRANS-WORLD ALBUM DISCOGRAPHY

Number - Title - Artist [Release Date] Contents

Trans-World 200 Series (Essex reissues, red label):

TWS-200 - College Jazz Sampler - Billy Butterfield & Essex Five [1956] Sampler from Essex LPs 401-404. West End Blues/Dancing On The Ceiling//Deed I Do/Willow Weep For Me

TWLP-201 - For Hi-Fi Bugs - Demonstration Record [1956] Reissue of Essex ESLP-201.

TWLP-202 - Rock with Bill Haley and His Comets - Bill Haley & His Comets [1956] Reissue of Essex ESLP-202. Rock The Joint/Rockin' Chair On The Moon/Farewell So Long Goodbye/Real Rock Drive/Fractured/Stop Beatin' Around The Mulberry Bush//Crazy Man Crazy/Pat-A- Cake/Live It Up/Watcha Gonna Do/I'll Be True To You/Dance With A Dolly (With A Hole In Her Stockin')

TWLP-203 - Tropicana - Monte Kelly & His Orchestra [1956] Reissue of Essex ESLP-203. Granada/Tropicana/Cubamba/Life In New York/Neapolitan Nites Mambo/Monte Carlo//Three O'Clock In the Morning/Glocca-Moora/Bali Hai/Under Paris Skies/Shangri La/Doreen

TWLP-204 - April in Paris - Ray Charles Chorus [1956] Reissue of Essex ESLP-204. How High The Moon/Walk With The Wind/Our Serenade/others

TWLP-205 - Street Scene - Jay White [1956] Reissue of Essex ESLP-205. Laura, Part 1/Laura, Part 2/On The Trail/Tosselli's Serenade/Claire De Lune/Deep Purple//Street Scene/Harlem Nocturne/Estrellita/Over The Rainbow/Paris In The Spring/Sleepy Lagoon

TWLP-206 - A Kiss in the Dark - Mulcays with Monte Kelly Chorus [1956] Reissue of Essex ESLP-206. Harbor Lights/others

TWLP-207 - Billy's Best - Billy Butterfield [1956] Reissue of Essex ESLP-207. Blue Coast/Gold Coast/others

TWLP-208 - Let's Dig Bert (Eddie, That Is) - Eddie Burt [1956] Reissue of Essex ESLP-208.

TWLP-209 - Happy Days Are Here Again - Ferko String Band [1956] Reissue of Essex ESLP-209. Happy Days Are Here Again/Hello Hello Hello/Golden Slippers/Deep In The Heart Of Texas/Hindustan/Sing A Little Melody//Alabama Jubilee/Swanee/Four Leaf Clover/You Are My Sunshine/There's Something Nice About Everyone/Ma She's Makin' Eyes At Me


Trans-World 300 Series (yellow label):
Note: Back album jacket slicks give the album numbers with the TW- prefix, while record labels use the TWLP- prefix. As far as we know, all the issues in this series were mono only. The content and cataloging are identical to the Somerset/Stereo Fidelity series except for the prefix.

TW-100 - Mood Music Sampler - Various Artists [1957]

TW-200 - College Jazz Sampler: Actual Jazz Concerts Recorded on the Campus - Billy Butterfield & Essex Five [1957] Reissue of Trans-World TWLP-200.

TW-300 - Memories of Europe - Various Orchestras [1957]

TW-400 - The Best of Victor Herbert - Stockholm String Orchestra [1957]

TW-500 - Songs for a Beautiful Dreamer - Hamburg Chamber Orchestra [1957]

TW-600 - Immortal Melodies - Kingsway Strings [1957]

TW-700 - Waltzing By Candlelight - Kingsway Strings [1957]

TW-800

TW-900 - Hail, Hail the Gang's All Here [1957]

TW-1000 - Tap Dance Practice and Instructions - America's Leading Tap Instructors [1957]

TW-1100 - Organ Stardust - Ashley Tappen at the Piccadilly Gardens, London [1957] Stardust/El Choclo/La Paloma/American Patrol/I'll Take You Home Again Kathleen/Ida, Sweet As Apple Cider//Celito Lindo/I Had A Dream, Dear/Song Of India/Frankie & Johnnie/In The Evening By The Moonlight/La Golondrina

TW-1200 - Hark! The Herald Angels Sing - Hamburg Students' Choir [1957]

TW-1300 - Tonight: Rock and Roll Dance Party - Various Artists [1957] Crazy Man Crazy - Bill Haley & Comets/Watcha Gonna Do - Bunny Paul/House Rockin' Baby - Aristocrats/Paradise Hill - Escorts/Prince Of Wails - Don Costa/Hide And Seek - Ken Carson/Blue Jean Baby - Swingers//Farewell, So Long Goodbye - Bill Haley & Comets/Lovey Dovey - Bunny Paul/Banjo Boogie - Swingers/Lonesome Road - Dinning Sisters/She Said I Don't Know - Aristocrats/Honey Love - Bunny Paul/Truly - Dinning Sisters

TW-1400 - Dixieland: Le Jazz Hot Recorded in Paris - Left Bank Bearcats [1957]

TW-1500 - Songs of the Golden West and Songs of the Deep South - Hollywood Soundstage Chorus [1957]

TW-1600 - Complete Minstrel Show - Joe Kuhn & Lee Gordon Singers [1957] Cast includes Bill (Blackface) Ornsby, Gilbert Smith, the Southland Choir, Uncle Roland Ellis, Warren Biggs, and the Sliphorn Four. Opening March/Medley/Sweet Sixteen/Shine On Harvest Moon/Preacher And The Bear/Grand Old Flag/Wait Till The Sun Shines Nellie/Lassus Trombone/Asleep In The Deep/I Wonder Who's Kissing Her Now/Grand Finale

TW-1700 - South Pacific/Oklahoma - New World Theatre Orchestra [1957]

TW-1800 - Rhapsody in Blue/Symphony for Blues - Hamburg Philharmonia Orchestra [1957]

TW-1900 - Honeymoon in South America - Rio Carnival Orchestra [1957]

TW-2000 - Johann Strauss Waltzes - Danube Strings [1957] Blue Danube Waltz/Emperor Waltz/Tales From The Vienna Woods/An Artist's Life/Accelerations/Die Fledermaus/(others)

TW-2100 - Warsaw Concerto/Nutcracker Suite - David Haines & Paris Theatre Orchestra [1957]

TW-2200 - I'm in the Mood for the Magic Trumpet of Billy Butterfield - Billy Butterfield [1957] I Cover The Waterfront/The Swan/Street Of Dreams/(7 others)

TW-2300 - Let's Go Calypso - Various Artists [1957]

TW-2400 - Pipe Organ Favorites - George Montalba [1957] The Secret/Washington Post March/Aura Lee/Anitra's Dance/(others)

TW-2500 - Honeymoon in Paris - Paris Theatre Orchestra [1957]

TW-2600 - Schehrazade - Wilhelm Röhr & Nord Deutsches Symphony Orchestra [1957]

TW-2700 - My Fair Lady/The King and I - Robert Russell Bennet Orchestra [1957]

TW-2800 - Around the World in 80 Days - Sound Stage Orchestra [1957]

TW-2900 - Pygmalion/Swan Lake - Wilhelm Röhr & Nord Deutsches Symphony Orchestra [1957]

TW-3000 - Honeymoon in Manhattan - New World Theatre Orchestra [1957] Slaughter On 10th Avenue/After Hours Joint/Street Scene/(others)

TW-3100 - Let's Dance to Hits of the '30s and '40s - New World Theatre Orchestra [1957]

TW-3200 - Whistle While You Work: Music with a Lilt to Lighten Her Housework - Various Artists [1957]

TW-3300 - Pajama Game/Silk Stockings - New World Theatre Orchestra [1957]

TW-3400 - Gay Nineties Waltzes - Gaslight Orchestra [1957]

TW-3500 - Guitar and You: An After Hours Mood - Joe Sgro [1957]

TW-3600 - Nutcracker Suite/Polovitisian Dances - Wilhelm Röhr & Nord Deutches Symphony Orchestra [1957]

TW-3700 - The Happiest Music in the World - Ferko String Band [1957] Reissue of Trans- World TWLP-209. Happy Days Are Here Again/Hello Hello Hello/Golden Slippers/Deep In The Heart Of Texas/Hindustan/Sing A Little Melody//Alabama Jubilee/Swanee/Four Leaf Clover/You Are My Sunshine/There's Something Nice About Everyone/Ma, She's Makin' Eyes At Me

TW-3800

TW-3900 - Pops Concert - American Bon Bons [1957]

TW-4000 - Songs for Children - Various Artists [1957]

TW-4100 - A Night of Flamenco! - Los Flamencos de España [1957]

TW-4200 - Hymns the Family Knows and Loves - Light of Faith Choir [1957]

TW-4300 - 101 Strings Play the Worlds Great Standards - 101 Strings [1957] Close To You/There's A Small Hotel/You Go To My Head/The Touch Of Your Lips/Day By Day/The Way You Look Tonight/You And I/The Nearness Of You/Alone Together/Two Sleepy People

TW-4400 - 101 Strings Play a Night in the Tropics - 101 Strings [1957]

TW-4500 - 101 Strings Play a Symphony for Lovers - 101 Strings [1957]

TW-4600 - Rock with Bill Haley - Bill Haley & His Comets [1957] Reissue of Essex ESLP-202/Trans-World TWLP-202. Rock The Joint/Rockin' Chair On The Moon/Farewell So Long Goodbye/Real Rock Drive/Fractured/Stop Beatin' Around The Mulberry Bush//Crazy Man Crazy/Pat-A- Cake/Live It Up/Watcha Gonna Do/I'll Be True To You/Dance With A Dolly (With A Hole In Her Stockin')

TW-4700 - Honeymoon in Italy - Roberto Rossani & His Orchestra [1957]

TW-4800 - Sousa Marches - Pride of the '48 Band [1957]

TW-4900 - A Symphony on Ice - Kingsway Strings [1957]

TW-5000 - Pal Joey - 101 Strings [1957]

TW-5100 - Tchaikovsky "1812" Overture and Capriccio Italien - Wilhelm Röhr & Nord Deutsches Symphony Orchestra [1957]

TW-5200 - Like Cool - Eddie Burt [1957] Probably a reissue of Essex/Trans-World 208.

TW-5300 - The Left Bank Bearcats Take George M. Cohan to Dixieland - Left Bank Bearcats [1957]

TW-5400 - A Tribute to Glenn Miller - Hamburg Philharmonia Orchestra [1957]

TW-5500 - Safari - Edmond DeLuca & Trans World Symphony Orchestra [1957] Ritual Fire Dance/(others)

TW-5600 - Exotic Lands - Paris Theatre Orchestra [1957]

TW-5700 - A Tribute to Tommy Dorsey - Hamburg Philharmonia Orchestra [1957]

TW-5800 - Astounding! High Fidelity - Various Artists [1957]

TW-5900 - Caribbean Cruise - Rio Carnival Orchestra [1957]

TW-6000 - Things to Do on a Rainy Night - Ray Charles Chorus [1957] Far Away Places/Moon Of Mana Koora/A Foggy Day In London Town/Moon Over Miami/April In Paris/It Happened In Monterey//How High The Moon/My Funny Valentine/Beyond The Sea/Slow Boat To China/Long Ago And Far Away/Bewitched




Back to the Discography Listings Page



Back to the Both Sides Now Home Page