Craftsmen was a short-lived 1950s subsidiary of Precision Radiation Instruments (PRI), Inc., who owned the Tops label. They also apparently owned Radio Craftsmen, a company that produced radio and hi-fi equipment, and the label gets its name from shortening "Radio Craftsmen." At the top left of the front and back of the album covers, there was a small logo which said "A Division of P.R.I."

In fact, almost the entire Craftsmen catalog was made up of reissues of earlier Tops material, usually either by abridging the original album to 8-10 tracks (imagine that, a budget reissue of a budget label), or by "mixing-and-matching" tracks from several Tops albums to make a new one. For the mixed albums, the artists names were problems, so Craftsmen just came up with a new artist for the purpose. Many of the artists names on the Tops label were fictitious, anyway, as most were a collection of faceless Hollywood studio musicians. All the early album covers used a design where a circle was drawn inside the square shape of the jacket, and the photo was only visible inside the circle, rather like looking through a spyglass at an album cover.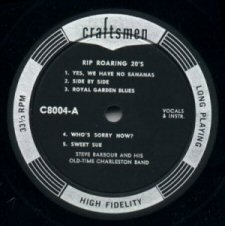 The Craftsmen label, like the other PRI labels, was black with silver print. There was a silver band around the edge, with the label name at the top of the band. The albums were all issued in mono only, although occasionally there was a colored vinyl issue (see right)

We would appreciate any additions or corrections to this discography. Just send them to us via e-mail. Both Sides Now Publications is an information web page. We are not a catalog, nor can we provide the records listed below. We have no association with Craftsmen Records. Should you be interested in acquiring albums listed in this discography (all of which are out of print), we suggest you see our Frequently Asked Questions page and follow the instructions found there. This story and discography are copyright 2002, 2003 by Mike Callahan.
| | |
| --- | --- |
| Cover | Number - Title - Artist - [Release Date] Contents |
| | C 8001 - Ten Top Hits [196?] |
| | C 8002 - Movie Themes [196?] |
| | C 8003 - Cowboy Favorites - Cliff Deegan [196?] When Payday Rolls Around/Pistol Packin' Mama/Ridin' Down The Canyon/Take Me Back To My Boots And Saddle/Beside The Rio Grande/Cool Water/others |
| | C 8004 - Rip Roaring 20's - Steve Barbour & His Old-Time Charleston Band [196?] Yes We Have No Bananas/Side By Side/Royal Garden Blues/Who's Sorry Now/Sweet Sue Just You//'Way Down Yonder In New Orleans/I Love A Banjo/The Varsity Drag/On The Sunny Side Of The Street/Back Home Again In Indiana |
| | C 8005 - Jerry Gray Plays Glenn Miller Greats - Jerry Gray & His Orchestra [196?] |
| | C 8006 - Polka Time! [196?] |
| | C 8007 - Nutcracker Suite [196?] |
| | C 8008 - Irving Berlin Favorites - Irving Fields Orchestra [196?] Putting On The Ritz/You're Just In Love/Heat Wave/Say It Isn't So//All Alone/The Girl That I Marry/How Deep is The Ocean/Always |
| | C 8009 - Honky Tonk Piano [196?] |
| | C 8010 - Organ Favorites - Steve Phillips at the Hammond Organ [196?] |
| | C 8011 - All Time Favorites - John Carlton & Craftsmen All-Star Orchestra So In Love/Melody Of Love/Bewitched/Lisbon Antigua/Got A Date With An Angel//My Heart Belongs To Daddy/How High The Moon/The Best Things In Life Are Free/April In Portugal/P.S. I Love You |
| | C 8012 - Hawaiian Favorites - Diamond Head Hula Boys [196?] |
| | C 8013 - Strauss Waltzes - John Carlton & Hollywood Studio Orchestra [196?] Tales From The Vienna Woods/Eat Drink and Be Merry/Wine Woman and Song/Southern Roses Waltz/Morning Papers Waltz//Die Fledermaus Waltz/Artist's Life/Acceleration Waltz/Emperor Waltz/Blue Danube Waltz |
| | C 8014 - Kiddie Favorites [196?] |
| | C 8015 - Latin Favorites - Miguel Lopez & His Orchestra [196?] Cover photo is of Mary Tyler Moore, in another photo from the same session that was used for Tops L 1659. Mambo #5/Stardust Mambo/Mambo Jambo/Jarochito/Palladium Mambo/Nana Secre/Mira Como Los Pollos/El Menieto/Goza Cha Cha/La Loca |
| | C 8016 - This Is Dixie [196?] |
| | C 8017 - Classic Favorites [196?] |
| | C 8018 - The Exciting Lena Horne - Lena Horne with Phil Moore's Orchestra [196?] |
| | C 8019 - Hymns - Craftsmen Chorusters & Johnny Desmond [196?] A Mighty Fortress Is Our God/Jesus, Keep Me Near The Cross/Onward Christian Soldiers/Leaning On The Everlasting Arms/Softly And Tenderly/Church In The Valley By The Wildwood//Jesus Loves Me/Rock Of Ages/Sweet Bye And Bye/What A Friend We Have In Jesus/Abide With Me |
| | C 8020 - My Fair Lady [196?] |
| | C 8021 - South Pacific [196?] |
| | C 8022 - Around the World in 80 Days - Gordon Fleming Orchestra [196?] David Niven pictured on the cover. |
| | C 8023 - A Tribute to Eddie Duchin - Al Lerner Orchestra [196?] |
| | C 8024 - The Incomparable Ink Spots - Ink Spots [196?] |
| | C 8025 - The Fabulous Billy Daniels - Billy Daniels [196?] |
| | C 8026 - Favorites from France [196?] |
| | C 8027 - Favorites from Italy - Nestor Amaral & His Orchestra [196?] |
| | C 8028 - Gigi - Gordon Fleming Orchestra [196?] |
| | C 8029 - Rhapsody in Blue & An American in Paris [196?] |
| | C 8030 - Johnny Desmond Sings for Dancing - Johnny Desmond with the John T. Williams Orchestra [196?] Reissue of Tops 1635 with one track deleted. All Of You/The Last Time I Saw Paris/You'd Be So Nice To Come Home To/This Can't Be Love/That Old Devil Moon/There's A Small Hotel//It Ain't Necessarily So/I Can't Get Started With You/My Happy Time/It's The Talk Of The Town/I Got Plenty O' Nuttin' |
| | C 8031 - James Melton Sings - James Melton [196?] |
| | C 8032 - Tommy Dorsey Favorites - Pied Pipers [196?] |
| | C 8033 - Rock and Roll Party - Joe Houston [196?] Rock That Boogie/No Name Rock/Movin & Groovin/Off Beat/Goofin/Teenage Boogie/others |
| | C 8034 - Favorites from Spain - Nestor Amaral & His Continentals [196?] |
| | C 8035 - More Miller Greats (Glenn, That Is!) [196?] |
| | C 8036 - Scatman Crothers - Scatman Crothers [196?] |
| | C 8037 - Music for the Cocktail Hour - Page Cavanaugh [196?] |
| | C 8038 - Christmas Favorites [196?] |
| | C 8039 - Charlie Ventura Plays for the People - Charlie Ventura [196?] |
| | C 8040 - Swing Along with Santa's Snowmen [196?] |
| | C 8041 - Swingin' and Singin' - Earl "Fatha" Hines [196?] |
| | C 8042 - On the Town with the Sportsmen - Sportsmen [196?] |
| | C 8043 - Sounds from Screen Spectaculars - Johnny Williams Orchestra [196?] Dearly Beloved/Pennies From Heaven (Doris Drew, vocal)/Brazil/Exactly Like You/Long Ago/On The Sunny Side Of The Street/Put The Blame On mame (Doris Drew, vocal)/I'm Old fashioned |
| | C 8044 - Michael Strange Sings Folk Songs - Michael Strange [196?] |
| | C 8045 - Dolly Houston Sings Lullabies - Dolly Houston with Joe Leahy & His Orchestra [196?] |
| | C 8046 - Muggsy Spanier Plays Dixieland Jazz - Muggsy Spanier [196?] |
| | C 8047 - A Thinking Man's Cha Cha Cha [196?] |
| | C 8048 - Let's All Sing Christmas Cheer [196?] |
| | C 8049 - Merry Christmas [196?] |
| | C 8050 - Polka Dot Polkas [196?] |
| | C 8051 - American Beauty Waltzes [196?] |
| | C 8052 - Barbershop Ballads [196?] |
| | C 8053 - Oklahoma/Carousel [196?] |
| | C 8054 - The Sound of Christmas - Christianaires 100 Voice Chorus [196?] |
| | C 8055 - |
| | C 8056 - |
| | C 8057 - |
| | C 8058 - |
| | C 8059 - The Swingin' 30's - Gordon Fleming & His Orchestra |
| | C 8060 - |
| | C 8061 - |
| | C 8062 - Miss Country USA - Judy Canova [196?] |