Kimberly was owned by Precision Radiation Instruments, Inc. (PRI) of Los Angeles. The "Frankie Capp Percussion Group" consisted of Bud Shank, Robert Drasnin, Richie Kamuca, Marty Berman, and Ronny Lang on saxes, Al Porcino, Frank Beach, Ray Linn, and Conti Candoli on trumpets, Dick Noel, George Roberts, and Harry Betts on trombones, Bob Florence on piano, Buddy Clark on bass, and Emil Richards, Larry Bunker, and Frank Capp on percussion instruments. The songs were arranged by Harry Betts. Actually, all of the Frankie Capp Percussion Group albums were reissues of the Dave Pell albums on the P.R.I. label, with a percussion overdub by Frankie Capp.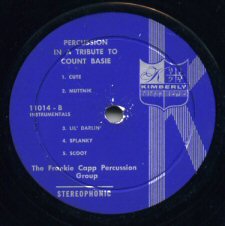 Mono records were issued in the 2000 series, while stereo versions were numbered correspondingly in the 11000 series. The Kimberly label was blue with silver print, a large "K" logo on the right side of the label.

We would appreciate any additions or corrections to this discography. Just send them to us via e-mail. Both Sides Now Publications is an information web page. We are not a catalog, nor can we provide the records listed below. We have no association with Kimberly Records. Should you be interested in acquiring albums listed in this discography (all of which are out of print), we suggest you see our Frequently Asked Questions page and follow the instructions found there. This story and discography are copyright 2002, 2003 by Mike Callahan.
| | |
| --- | --- |
| Cover | Number - Title - Artist - [Release Date] Contents |
| | 2001/11001 - |
| | 2002/11002 - Percussion in a Tribute to Harry James - Frankie Capp Percussion Group [196?] |
| | 2003/11003 - Percussion in a Tribute to Artie Shaw - Frankie Capp Percussion Group [196?] |
| | 2004/11004 - Percussion in a Tribute to Benny Goodman - Frankie Capp Percussion Group [196?] |
| | 2005/11005 - Percussion in a Tribute to Lawrence Welk - Frankie Capp Percussion Group [196?] |
| | 2006/11006 - Corned Beef Confucious - Max Asnas [196?] |
| | 2007/11007 - Percussion in a Tribute to Duke Ellington - Frankie Capp Percussion Group [196?] |
| | 2008/11008 - Percussion in a Tribute to Glenn Miller - Frankie Capp Percussion Group [196?] |
| | 2009/11009 - Percussion in a Tribute to Perez Prado - Frankie Capp Percussion Group [196?] |
| | 2010/11010 - Percussion in a Tribute to the Dorsey Brothers - Frankie Capp Percussion Group [196?] The Breeze And I/Lonesome Road/Priddy Blue Eyes/I'm Getting Sentimental Over You/Old Black Joe//Song Of India/Liebestraum/Green Eyes/Swanee River/Dark Eyes |
| | 2011/11011 - Percussion in a Tribute to the Big Bands - Frankie Capp Percussion Group [196?] |
| | K2012/11012 - Percussion in a Tribute to Henry Mancini - Frankie Capp Percussion Group [196?] |
| | 2013/11013 - Percussion in a Tribute to Les Brown - Frankie Capp Percussion Group [196?] |
| | 2014/11014 - Percussion in a Tribute to Count Basie - Frankie Capp Percussion Group [196?] Half Moon Street/The Deacon/Flight Of The Foo Birds/The Big Walk/Blues In Boss' Flat//Cute/Muttnik/L'il Darlin'/Splanky/Scoot |
| | 2015/11015 - |
| | 2016/11016 - Swinging Soundtrack - Chet Baker [196?] Jimmy's Theme/The Search/People/The Movie Star/Fairmont Indiana/Success And Then What/Let Me Be Loved/Hollywood |
| | 2017/11017 - Southern Meeting - Brownie McGee, Sonny Terry, & Lightnin' Hopkins [196?] |
| | 2018/11018 - Gerry Mulligan and Annie Ross - Gerry Mulligan & Annie Ross [196?] Annie Ross on vocals with the Gerry Mulligan Quartet: Chet Baker or Art Farmer (Trumpet); Dave Bailey (Drums); Henry Grimes or Bill Crow (Bass). Give Me The Simple Life/This Is Always/It Don't Mean A Thing/I've Grown Accustomed To Your Face/I Feel Pretty/Let There Be Love/Between The Devil And The Deep Blue Sea/(3 others) |
| | 2019/11019 - Meet Chico Hamilton - Chico Hamilton [196?] Musicians are Chico Hamilton, Freddie Gambrell, and Ben Tucker. Lullaby Of The Leaves/Reservation Blues/These Foolish Things/Ex-Ray's Friends/In The Still Of The Night/You're The Cream In My Coffee/Midnight Sun/Five Minutes More. |
| | 2020/11020 - This Is the Blues - Paul Bryant & Curtis Amy [196?] |
| | 2021/11021 - Brookmeyer and Guitars - Bob Brookmeyer [196?] Arrowhead/Street Swinger/Hot Buttered Noodling//Musicale du Jour/Raney Day/Jupiter |
| | 2022/11022 - Percussion Unabridged - Various Artists [196?] The Kick/Enchantment/Dance Of The Siamese Children/That Old Devil Moon//Not Since Ninevah/Misty/Moonrays/Getting To Know You |
| | 2023/11023 - The Legend of Hoagy Carmichael - Hoagy Carmichael [196?] Skylark/Winter Moon/Georgia On My Mind/Lazy River//Memphis In June/Rockin' Chair/Ballad In Blue/New Orleans |
| | 2024/11024 - Singing Broadway - Various Artists [196?] I've Grown Accustomed to Her Face - Bud Shank-Bob Cooper Quintet/The Party's Over - Russ Freeman Trio/Show Me - Chico Hamilton Quintet/Two Lost Souls - Bud Shank-Bob Cooper Quintet/Just in Time - Bud Shank-Bob Cooper Quintet/Independent - The Stu Williamson Quartet/Mutual Admiration Society - Bud Shank-Bob Cooper Quintet/Joey, Joey, Joey - Russ Freeman Trio |
| | 2025/11025 - The Talents of Bud Shank - Bud Shank [196?] Wailing Vessel/Cool Fool/Little Girl Blue/You Don't know What Love Is/Valve in Head//Casa de Luz/Lotus Bud/Jasmine/Just a Few |
| | 2026/11026 - Jazz Festival - Various Artists [196?] |