Rondo-lette was a companion label to Rondo, started in 1958, several years after Eli Oberstein's Record Corporation of America bought the original Rondo Records of Chicago. In an unusual move, since 10-inch LPs were all but dead by then, they released a series of stereo 10-inch LPs starting with catalog number 91. The series included more than 40 items, running to catalog numbers in the 940s, but the sales were sluggish and the series was soon abandoned in favor of the SA-41 stereo series of 12-inch LPs. In fact, many of the 10-inch albums were just six-track abridgements of the 12-inch albums.The numbering sequence for the 10-inch albums was slightly unusual, as it started with 91 and ran to 99, but rather than going to 100 after 99, went to 910.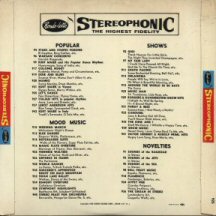 The labels on these 10-inch albums were black with silver print, and were printed on the vinyl rather than using a paper label. This same technology was used for the early Evon label subsidiary. The album jacket, like others used for Record Corporation of America's other labels (Halo, Allegro, Ultraphonic, etc.) was a one-piece fold-over cardboard, with flaps glued down in the back. The backs of all the Rondo-lette 10-inch albums were a generic discography, as was also the case with many other of Eli Oberstein's labels. The back was printed 90 degrees off from the front cover, so that the "top" of the back cover was the right side of the front cover.

We would appreciate any additions or corrections to this discography. Just send them to us via e-mail. Both Sides Now Publications is an information web page. We are not a catalog, nor can we provide the records listed below. We have no association with Rondo or Rondolette Records. Should you be interested in acquiring albums listed in this discography (all of which are out of print), we suggest you see our Frequently Asked Questions page and follow the instructions found there. This story and discography are copyright 2002 by Mike Callahan.
| | |
| --- | --- |
| Cover | Number - Title - Artist - [Release Date] Contents |
| | Rondo-lette Stereo 10-inch LP Series: |
| | 91 - Sounds of the Railroads - Sound Effects Record [1958] Steam Whistle Approach- Stop/Diesel Horn-Train At High Speed/Train Whistles-Train At High Speed/Passing Freight Train/Stopping-Pulling Brakes/Whistles And Approach And Whistle/Whistle And Passing/Whistles Good- Bye In Distance//Traveling On The Train |
| | 92 - Gigi - Ira Wright & His Orchestra [1958] Thank Heaven For Little Girls/The Night They Invented Champagne/(others) |
| | 93 - Sounds of the Jets - Sound Effects Record [1958] |
| | 94 - Stars and Stripes Forever - Blue Blazers Band (Quentin Jones, Director) [1958] Stars And Stripes Forever/El Capitan/King Cotton//Diplomat/Liberty Bell/Hail To The Spirit Of Liberty |
| | 95 - Sounds of the Sea - Sound Effects Record [1958] |
| | 96 - Warsaw Concerto/Cornish Rhapsody - ? [1958] |
| | 97 - My Fair Lady - Ira Wright & His Orchestra [1958] I Could Have Danced All Night/Get Me To The Church On Time/(others) |
| | 98 - Bull Fight Music - ? [1958] España/Flamenco/(others) |
| | 99 - Kurt Maier and His Popular Dance Rhythms - Kurt Maier [1958] Humoresque/Song Of India/Barcarolle//La Paloma/Toselli's Serenade/Opera Fantasy |
| | 910 - Wedding March - ? [1958] Wedding March/Midsummer Night's Dream/(others) |
| | 911 - South Pacific - Ira Wright & His Orchestra [1958] Some Enchanted Evening/Bali Ha'i/(others) |
| | 912 - The Blue Danube and Other Strauss Waltzes - Ira Wright & His Orchestra [1958] Artist's Life/Die Fledermaus/Morning Papers//Emperor Waltz/On The Blue Danube/Tales Of The Vienna Woods |
| | 913 - Oklahoma - Ira Wright & His Orchestra [1958] People Will Say We're In Love/Oh What A Beautiful Morning/(others) |
| | 914 - Nutcracker Suite - Ira Wright & His Orchestra [1958] Waltz Of The Flowers/Dance Of The Sugar Plum Fairies/(others) |
| | 915 - Around the World in 80 Days - Ira Wright & His Orchestra [1958] The score. |
| | 916 - Magic Flute Overture - ? [1958] Marriage Of Figaro/Don Giovanni/(others) |
| | 917 - Colonel Bogey - ? [1958] Radetsky March/Pomp And Circumstance/(others) |
| | 918 - Flamenco - ? [1958] Fandangos, Bulieras, etc. |
| | 919 - Dixie and Blues - ? [1958] Swanee River/Mama Don't Allow It/(others) |
| | 920 - Mambo - ? [1958] Swing Mambo/Drum Mambo/(others) |
| | 921 - Kurt Maier in Vienna - Kurt Maier [1958] Gypsy Baron/Merry Widow/(others) |
| | 922 - Viennese Waltzes - Ira Wright & His Orchestra [1958] Voices Of Spring/Gpld And Silver/Village Swallows//Vienna Blood/Tales Of The Vienna Woods/Court Ball Dances |
| | 923 - The Music Man - Ira Wright & His Orchestra [1958] 76 Trombones/Lida Rose/(others) |
| | 924 - Gypsy Fire - Gabor Kalt & His Orchestra [1958] Csardas Potpouri/Flying Swallows//Prelude And Csardas/Fantasy In A Major And Csardas |
| | 925 - Let's Dance in Stereo - Ira Wright & His Orchestra [1958] Non Dimenticar/Flying Home/Until Yesterday//Indiscretion/Get Happy/Sola Lucente |
| | 926 - Orpheus in Hades - Berlin Concert Orchestra (Lajos Kevehazy, Conductor) [1958] Orpheus In Hades: Can-Can Music//La Vie Parisienne/Barcarolle |
| | 927 - Hit Italian Movie Songs - Ira Wright & His Orchestra [1958] Anna/Love And Dreams/Sierra//Autumn Waltz/Non Dimenticar/Indiscretion |
| | 928 - World Dances - ? [1958] La Danza/Tritsch-Tratsch Polka/(others) |
| | 929 - The Flower Drum Song - Ira Wright & His Orchestra [1958] I'm Glad I'm A Girl/A Hundred Million Miracles/(others) |
| | 930 - The Sorcerer's Apprentice/A Night on Bald Mountain - Berlin Concert Orchestra (Lajos Kevehazy, Conductor) [1958] Sorcerer's Apprentice//A Night On Bald Mountain |
| | 931 - Porgy and Bess - ? [1958] Summertime/I Got Plenty O' Nuttin'/(others) |
| | 932 - Swan Lake Ballet - ? [1958] Waltzes/Dance Of The Swans/(others) |
| | 933 - Carousel - Ira Wright & His Orchestra [1958] June Is Busting Out All Over/You'll Never Walk Alone/(others) |
| | 934 - Egmont Overture - ? [1958] Egmont Overture//Coliolanus Overture |
| | 935 - The King and I - Ira Wright & His Orchestra [1958] Shall We Dance/I Whistle A Happy Tune/(others) |
| | 936 - The Organ in Stereo - ? [1958] Londonderry Air/Coppelia Waltz/(others) |
| | 937 - Leroy Anderson Hits - Ira Wright & His Orchestra [1958] Synchopated Clock/Sleigh Ride/Pennywhistle Song//Blue Tango/Fiddle Faddle/First Day Of Spring |
| | 938 - Symphony Highlights - ? [1959] Beethoven 5th Symphony/Schubert Unfinished Symphony/(others) |
| | 939 - Show Music - Ira Wright & His Orchestra [1958] French Marching Song (from "Desert Song")/Deep In My Heart, Dear (from "The Student Prince")//Your Land And My land (from "My Maryland")/Lover Come Back To Me (from "New Moon") |
| | 940 - Stereo Feast for Orchestra - ? [1958] Barcarolle/Hungarian Dance No. 5/(others) |
| | 941 - Victor Herbert & Rudolf Friml Hits - ? [1958] Gypsy Love Song/Rose Marie/(others) |
| | 942 - Kurt Maier in Italy - Kurt Maier [1958] Toselli's Serenade/O Solo Mio/(others) |