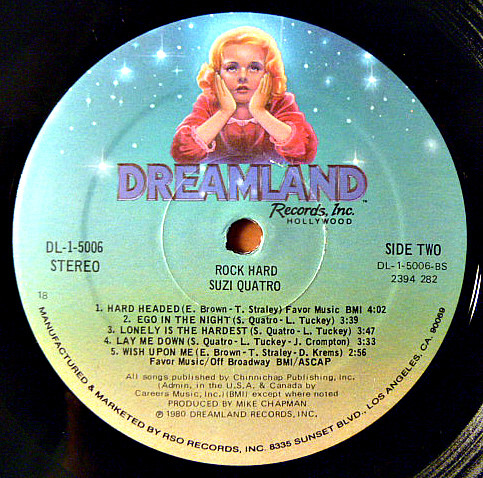 Dreamland Album Discography
By Patrice Eyries, Dave Edwards, and Mike Callahan
Last update: January 11, 2007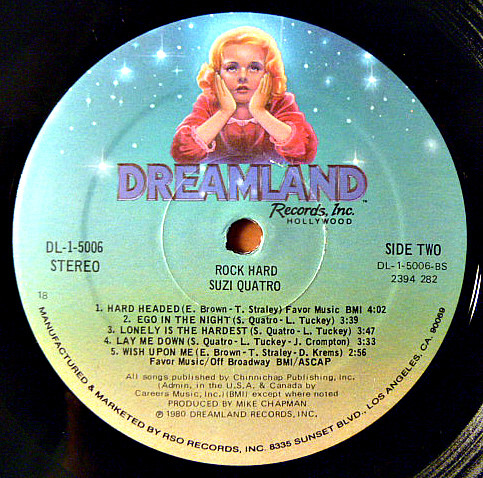 Dreamland was a short lived subsidiary (1980-1981) founded for releasing Mike Chapman productions (of the well-known Nicky Chinn-Mike Chapman songwriting team). The label is creamy and (mostly) blue with black lettering, depicting a (dreaming) little girl with "DREAMLAND" written in violet letters on the top half of the label. The following text is written in the form of an arc at the bottom of the label: "MANUFACTURED & MARKETED BY RSO RECORDS, INC. 8335 SUNSET BLVD., LOS ANGELES, CA 90069."

We would appreciate any additions or corrections to this discography. Just send them to us via e-mail. Both Sides Now Publications is an information web page. We are not a catalog, nor can we provide the records listed below. We have no association with the record label listed on this page. Should you be interested in acquiring albums listed in this discography (which are all out of print), we suggest you see our Frequently Asked Questions page and Follow the instructions found there. This story and discography are copyright 2006 by Mike Callahan.
DREAMLAND LABEL DISCOGRAPHY
| | |
| --- | --- |
| Cover | Number - Title - Artist - [Release Date] (Chart) Contents |
| | Dreamland DL1-5000 series: |
| | DL 1-5000 - Spider - Spider [1980] (5-80, #130) New Romance (It's A Mystery)/Burning Love/Shady Lady/Everything Is Alright/Crossfire//Little Darlin'/Brotherly Love/What's Going On/Don't Waste Your Time/Zero |
| | DL 1-5001 - Shandi - Shandi [1980] Walk The Streets/Show Down/Heart Beat/Tuff Baby/Bottom Line//Mine (Mine, Mine, Mine)/Don't Sweat It/I Yi Yi Yi/Nobody Loves U Better/Boy Crazy |
| | DL 1-5002 - Nervus Rex - Nervus Rex [1980] There She Goes/Go Go Girl/Spies/Real Life/Start From The Start//The God Sheila/Don't Look/The Incredible Crawling Eye/Nobody Told Me/Venus |
| | DL 1-5003 - Full Grown Child - Holly Penfield [1980] Tight Fit/Make No Mistake/Only His Name/Oh Jealous Me/Eyes Behind Your Eyes/How Much Is Enough?//Reckless And Wild/Hero/Souvenirs/Flamingo/Please Don't Bang On That Piano |
| | DL 1-5004 - I'm Only Human - Michael Des Barres [1980] Intro (The Weekend)/Baited Breath/I'm Only Human/Someone, Somewhere In The Night/Nothing's Too Hard/Right Or Wrong/Dancin' On The Brink Of Disaster//Boy Meets Car/Scandal Papers/Five Hour Flight/Catch Phrase/Bullfighter (I'm Not A)/I Don't Have A Thing To Wear/Outro (Jump In My Car) |
| | 5005 - |
| | DL 1-5006 - Rock Hard - Suzi Quatro [1980] (11-80, #165) Rock Hard/Glad All Over/Love Is Ready/State Of Mind/Woman Cry/Lipstick//Hard Headed/Ego In The Night/Lonely Is The Hardest/Lay Me Down/Wish Upon Me |
| | DL 1-5007 - Between The Lines - Spider [1981] (7-81, #185) Change/I Think I Like It/Between The Lines/It Didn't Take Long/Going By//Better Be Good To Me/Can't Live This Way Anymore/Faces Are Changing/Go And Run/I Love |
Back to the Discography Listings Page



Back to the Both Sides Now Home Page