Crash Records, Inc., or Crash Music Promotions, of Las Vegas, Nevada, issued a series of various artists albums encompassing soul, rock, hard rock, country, and easy listening in the early 1970s. They also reissued several albums by individual artists, like the Faces, Grand Funk, and Carole King. They used five generic covers, with generic back covers and individual album information either overprinted on the front or provided by a clear plastic sticker. Some were issued in a plain sleeve, probably when they ran out of their supply of generic covers.

We know nothing about the ownership of this label. Crash was associated with Cinq Sounds, of Reno, Nevada, and the two labels may in fact have been run by the same people, since a Cinq record jacket we came across contained a Crash label record inside. Cinq also put out 8-track tapes. The Cinq issues used plain red covers with information on the back. Mastering sources for both Crash and Cinq records were probably other records.

There were no dates on these albums, but all strongly feature songs popular in late 1971 or before. For that reason, we have guessed at a release date of early 1972, probably January.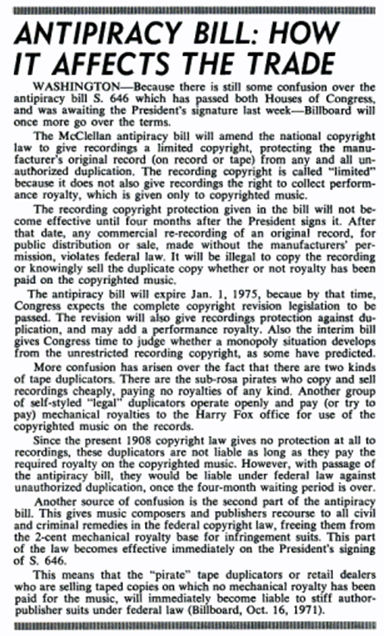 By all appearances, both Crash and Cinq were what the Billboard story at right terms "self-styled 'legal' duplicators," exploiting a loophole in copyright law. They went out of their way to state on the back of the record jackets that "All copyright royalties paid... Notices of intent have been filed and royalties paid where applicable." They note, "Crash Records is licensed to pay royalties through the Rebel Corp., Asbury Park, NJ 07712." (The Rebel Corp. we might note, is not exactly the Harry Fox agency.)

These were put out at a time when there was some debate as to whether "compulsory mechanical licenses" were legal. "Compulsory license" of a musical work is part of the copyright law that says once a song has been issued on record, anyone else can also put the song out (by some other artist) provided they pay royalties to the original song publisher. The dubious concept of "compulsory mechanical licenses" brought that one step further: if a duplicator paid the licensing fees (royalties), then they supposedly could legally put out any previously issued recordings on any records they wished — or so they said.

That debate didn't last long, because the antipiracy law in 1971 made this explicitly a copyright infringement (see story at right). This led to the little "P" in a circle — meaning "phonorecord" — that joined the little copyright symbol starting in 1971, meaning the copyright for the sound recording itself as opposed to printed matter such as the liner notes, design of the jacket, and words of the songs. In early 1972 when this law came into effect, the major record companies started aggressively prosecuting the purveyors of these products.

Bootlegging and pirating legitimate music started gaining steam in July, 1969, with the two-record set Great White Wonder, a collection of previously unreleased songs by Bob Dylan (counterfeiting singles had been going on for years). There was also a Beatles bootleg of outtakes and rehearsal takes of Abbey Road. By 1970, several more bootlegs were available, including more Dylan and a Rolling Stones concert (which London/Decca immediately countered by issuing Get Your Ya-Yas Out, a concert from the same time frame with much better sound. The Elton John Album Rock of the Westies was also a legit answer to the Elton John bootleg West of the Rockies. At least somebody at the record companies had a sense of humor). The sound quality on all these bootleg items was far from what was usually expected on legitimate releases. But bootleg labels quickly sprang up.

Bootlegging (issuing previously unreleased material), piracy (reissuing previously released material), and counterfeiting (making exact phony copies of albums and tapes) were becoming a huge problem by 1971. Some states didn't even have laws prohibiting these sort of operations yet. Distributors in many areas openly carried these items right alongside legitimate releases, and you could find racks with them in many grocery and variety stores, not to mention record stores. Pirated 8-track tapes were a hot item for awhile, especially at places like truck stops, because they were much cheaper than the legitimate albums. People were put off by the really bad quality of many of them, but the quality improved over time. Concert recordings, outtakes, and other music not legitimately released could easily be found on bootleg albums and tapes at the time, which was a boon for collectors and fans. There were magazines and books written devoted to the world of bootleg recordings.

Anyway, the fun didn't last long for Cinq/Crash. Warner Bros and A&M sued them (and several others) for a cool half million dollars in March, 1972 (as per a story in Billboard, dated March 25, 1972). And that, as they say, was that. Although some think the remaining stock was seized and destroyed, the letter below from Erik Ahonen in Finland indicates the remaining albums were sold in Europe:

"I recently came across some Crash albums I had forgotten. I bought them very cheap in 1976 at some department store in Tampere, Finland. I remember that there were hundreds of those LP's in the bargain bins. Even then I understood that they couldn't be fully legal, but at the time it was impossible to find any information about them. But now I found your article about Crash Records and the explanation about the copyright laws at the time. Thank you! - Erik Ahonen"

As far as we know, this label had no connection with the legitimate Crash Music label founded in 2001 in Phoenix, Arizona.




Cover



Number - Title - Artist - [Release Date] Contents



Crash 1000 Series:



1001 - Crash Tops, Vol. I: Top 40 - Various Artists [1972] Slip Away - Clarence Carter/Respect - Aretha Franklin/Love On A Two Way Street - Moments/War - Edwin Starr/Didn't I Blow Your Mind This Time? - Delphonics/Can I Change Your Mind - Tyrone Davis/It's A Shame - Spinners/Ball Of Confusion - Temptations/Seven Rooms Of Gloom - Four Tops/The Bells - Originals



1002 - Crash Tops, Vol. II: Top 40 - Various Artists [1972] On A Carousel - Hollies/Cry Like A Baby - Box Tops/God, Love and Rock & Roll - Teegarten & Van Winkle/Gimme Gimme Good Lovin' - Crazy Elephant/I Had Too Much To Dream - Electric Prunes/I'm Gonna Make You Mine - Lou Christie/Fun, Fun, Fun - Beach Boys/I Wonder What She's Doing Tonight - Tommy Boyce & Bobby Hart/Kentucky Woman - Neil Diamond/Windy - Association/Wishful Sinful - Doors/Judy In Disguise (With Glasses) - John Fred & His Playboy Band



1003 - Crash Tops, Vol. III - Various Artists [1972] Polk Sadad Annie - Tony Joe White/Revolution - Beatles/The Rapper - Jaggerz/In The Year 2525 - Zager & Evans/My Pledge Of Love - Joe Jeffrey Group/O-O-H Child - 5 Stairsteps//Groovy Situation - Gene Chandler/What Becomes Of The Broken Hearted - Jimmy Ruffin/Traces - Classics IV/Time Of The Season - Zombies/Little Girl - Syndicate Of Sound/



1004 - Crash Tops, Vol. IV: Top 40 - Various Artists [1972] Moon Shadow - Cat Stevens/Heart Of Gold - Neil Young/Never Been To Spain - 3 Dog Night/It's Too Late - Carole King/Everybody's Everything - Santana//Maggie Mae - Rod Stewart/Wild Night - Van Morrison/Can I Get A Witness - Lee Michaels/Getting In Tune - Who



1005 - Crash Tops, Vol. V - Various Artists [1972] Bitch - Rolling Stones/Dolly Dagger - Jimi Hendrix/Feelin' All Right - Joe Cocker/Hey Tonight - Creedence Clearwater Revival/Imagine - John Lennon//Walk Away - James Gang/Feel So Good - Jefferson Airplane/Stranger In A Strange Land - Leon Russell/Get It On - Chase/Love The One You're With - Stephen Stills



1006 - Crash Tops, Vol. VI: Top 40 - Various Artists [1972] Truckin' - Grateful Dead/Them Changes - Buddy Miles/Pinball Wizard - Who/Immigrant Song - Led Zeppelin/A New Day - Jethro Tull/Miss Ann - Delany and Bonnie/Stoned Woman - Ten Years After/Darkness Darkness - Youngbloods/I'm Losing You - Rod Stewart



1007 - Crash Tops, Vol. VII - Various Artists [1972] Every Night - Paul McCartney/Reflections Of My Life - Marmalade/How Can You Mend A Broken Heart - Bee Gees/You've Got A Friend - James Taylor/Everybody's Talkin' - Nilsson//That's The Way I've Always Heard It Should Be - Carly Simon/Wild World - Cat Stevens/If - Bread/Your Song - Elton John/Long Long Time - Linda Ronstadt



1008 - Crash Tops, Vol. VIII - Various Artists [1972] Day Tripper - Beatles/Don't You Care - Buckinghams/Worst That Could Happen - Brooklyn Bridge/Insense & Peppermint - Strawberry Alarm Clock/I've Got A Line On You - Spirit/Bluebird - Buffalo Springfield//Brown Eyed Girl - Van Morrison/Celebrate - Three Dog Night/Cinnamon Girl - Neil Young/Green River - Creedence Clearwater Revival/Love Me Two Times - Doors/Games - Redeye



1009 - Crash Tops, Vol. IX - Various Artists [1972] Bargain - Who/Stay With Me - Faces/Black Dog - Led Zeppelin/No One To Depend On - Santana//Bang A Gong - T. Rex/I'd Love To Change The World - Ten Years After/American Pie - Don McLean/Paranoia Blues - Paul Simon



1010 - Crash Tops, Vol. X: Top 40 - Various Artists [1972] The Story In Your Eyes - Moody Blues/Levon - Elton John/Shaft - Isaac Hayes/Peace Train - Cat Stevens/Baby I'm A Want You - Bread/Tomorrow - Wings/Without You - Harry Nilsson/Stones - Neil Diamond/Mother And Child Reunion - Paul Simon/Day After Day - Badfinger



1011 - Crash Tops, Vol. XI: Soul - Various Artists [1972] Memphis Underground - Herbie Mann/The In Crowd - Herbie Mann/California Dreaming - Wes Montgomery/Reverend Lee - Roberta Flack//Compared To What - Les McCann & Eddie Harris/Killer Joe - Quincy Jones/Three King Fishers - Gabor Szabo



1012 - Crash Tops, Vol. XII: Top 40 - Various Artists [1972] Beginnings - Chicago/No Time - Guess Who/Joy To The World - Three Dog Night/Spirit In The Sky - Norman Greenbaum//Vehicle - Ides Of March/Are You Ready? - Pacific Gas & Electric/He Ain't Heavy, He's My Brother - Hollies/Do You Know What I Mean - Lee Michaels/The Letter - Box Tops



1013 - Crash Tops, Vol. XIII: Middle of the Road - Various Artists [1972] You'll Never Get To Heaven - Dionne Warwick/Moon River - Andy Williams/For All We Know - Carpenters/If You Could Read My Mind - Gordon Lightfoot/Jean - Oliver/Fly Me To The Moon - Tom Jones/Fire And Rain - James Taylor/Drinking Water - Frank Sinatra/Windmills Of Your Mind - Dusty Springfield



1014 - Crash Tops, Vol. XIV: Middle of the Road - Various Artists [1972] Up Cherry Street - Baja Marimba Band/Classical Gas - Mason Williams/Cast Your Fate To The Wind - Quincy Jones/Wade In The Water - Tijuana Brass/April Fools - Burt Bacharach/Love Theme From "Romeo And Juliet" - Henry Mancini/And I Love Her - Jose Feliciano/Love Is Blue - Paul Mauriat/Overture From "Tommy" - Assembled Multitude/"Summer of '42" Theme - Michel Legrand



C-1015 - Best Of Creedence Clearwater Revival - Creedence Clearwater Revival [1972] Down On The Corner/Hey Tonight/Green River/Born On The Bayou/Travelin' Band/Fortunate Son//Up Around The Bend/Have You Ever Seen The Rain/Long As I Can See The Light/Lookin' Out My Back Door/Lodi/Proud Mary



C-1016 - Beatles Apart - Various Artists [1972] Too Many People - Paul McCartney/Yer Blues - Plastic Ono Band/Smile Away - Paul McCartney/Give Me Some Truth - John Lennon/Maybe I'm Amazed - Paul McCartney/Imagine - John Lennon//Isn't It A Pity - George Harrison/Some People Never Know - Wings/My Sweet Lord - George Harrison



1017 - Crash Tops, Vol. XVII: Top C&W - Various Artists [1972] Carolyn - Merle Haggard (S)/Never Ending Song Of Love - Dickey Lee (E)/Good Hearted Woman - Waylon Jennings (S)/It's Four In The Morning - Faron Young (E)/Untouched - Mel Tillis (E)/Oklahoma Sunday Morning - Glenn Campbell (S)//I Started Loving You Again - Charlie McCoy (E)/The Best Part Of Living - Marty Robbins (S)/For The Good Times - Ray Price (S)/Ann - Tommy Overstreet (S)/To Get To You - Jerry Wallace (S)/Only Love Can Break A Heart - Sonny James (S)



1018 - Crash Tops, Vol. XVII: Top C&W - Various Artists [1972] Give Myself A Party - Jeannie C. Riley/Bedtime Story - Tammy Wynette/You're My Shoulder To Lean On - Lana Rae/Touch Your Woman - Dolly Parton/Cry - Lynn Anderson/Nisty Memories - Brenda Lee//Safe In These Lovin' Arms Of Mine - Jean Sheppard/Be My Baby - Jodi Miller/Love Is Like A Spinning Wheel - Jan Howard/We've Got To Work It Out Between Us - Diana Trask/All His Children - Charley Pride/One's On The Way - Loretta Lynn





Crash Single-Artist Reissues:
Note: The legitimate releases of the albums below all hit the charts on or before December, 1971. In order to sell knockoffs, the albums below would have to have been issued by early 1972.



P-113 - Tapestry - Carole King [1972] I Feel The Earth Move/So Far Away/It's Too Late/Home Again/Beautiful/Way Over Yonder//You've Got A Friend/Where You Lead/Will You Love Me Tomorrow/Smackwater Jack/Tapestry/A Natural Woman



P-139 - To You With Love - Donny Osmond [1972] I Knew You When/Little Bit/Go Away Little Girl/Hey Little Johnny/Sit Down, I Think I Love You//A Little Bit Me, A Little Bit You/Do You Want Me/Bye Bye Love/I'm Into Something Good/Standin' In The Need Of Love



P-146 - Music - Carole King [1972] Brother, Brother/It's Going To Take Some Time/Sweet Seasons/Some Kind Of Wonderful/Surely/Carry Your Load//Music/Song Of Long Ago/Brighter/Growing Away From Me/Too Much Rain/Back To California



R-198 - Meaty, Beaty, Big And Bouncy - Who [1972] I Can't Explain/The Kids Are Alright/Happy Jack/I Can See For Miles/Pictures Of Lily/My Generation/The Seeker//Anyway, Anyhow, Anywhere/Pinball Wizard/A Legal Matter/Boris The Spider/Magic Bus/Substitute/I'm A Boy



R-199 - Santana III - Santana [1972] Batuka/No One To Depend On/Taboo/Toussaint L'Overture//Everybody's Everything/Guajira/Jungle Strut/Everything's Coming Our Way/Para Los Rumberos



R-200 - There's A Riot Goin' On - Sly & The Family Stone [1972] Luv N' Haight/Just Like A Baby/Poet/Family Affair/Africa Talks To You "The Asphalt Jungle"/There's A Riot Goin' On//Brave & Strong/(You Caught Me) Smilin'/Time/Spaced Cowboy/Runnin' Away/Thank You For Talking To Me Africa



R-205 - Led Zeppelin IV - Led Zeppelin [1972] Black Dog/Rock And Roll/The Battle Of Evermore/Stairway To Heaven//Misty Mountain Hop/Four Sticks/Going To California/When The Levee Breaks



R-208 - Madman Across The Water - Elton John [1972] Tiny Dancer/Levon/Razor Face/Madman Across The Water//Indian Sunset/Holiday Inn/Rotten Peaches/All The Nasties/Goodbye



CR-209 - E Pluribus Funk - Grand Funk Railroad [1972] Footstompin' Music/People, Let's Stop The War/Upsetter/I Come Tumblin'//Save The Land/No Lies/Loneliness



R-212 - A Nod Is as Good as a Wink to a Blind Horse - Faces [1972] Miss Judy's Farm/You're So Rude/Love Lives Here/Last Orders Please/Stay With Me//Debris/Memphis, Tennessee/Too Bad/That's All You Need



R-218 - Wild Life - Wings [1972] Mumbo/Big Bob/Love Is Strange/Wild Life//Some People Never Know/I Am Your Singer/Tomorrow/Dear Friend





Cinq Sounds Series:



CINQ-1 - Aerie - John Denver [1972] Starwood In Aspen/Everyday/Casey's Last Ride/City Of New Orleans/Friends With You/60 Second Song For A Bank//Blow Up Your TV/All Of My Memories/She Won't Let Me Fly Away/Readjustment Blues/The Edge & The Hawk/Tools



CINQ-3 - Wild Life - Wings [1972] Mumbo/Bib Bob/Love Is Strange/Wild Life//Some People Never Know/I Am Your Singer/Tomorrow/Dear Friend



CINQ-? - Fragile - Yes [1972] Roundabout/Cans And Brahms/We Have Heaven/South Side Of The Sky//Five Percent Of Nothing/Long Distance Runaround/The Fish/Mood For A Day/Heart Of The Sunrise



R 307 - Teaser and the Firecat - Cat Stevens [1972] This had the same "Crash Music Promotions" label as the other Crash single-artist reproductions, but in a Cinq cover. The Wind/Ruby Love/If I Laugh/Change/How Can I Tell You//Tuesday's Dead/Morning Has Broken/Bitterblue/Moon Shadow/Peace Train