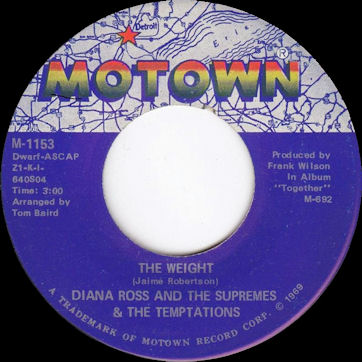 The Stereo Singles Project, Part 4
Motown & Related Stereo 45s (1968-70)
By Mike Callahan, Dave Edwards, Patrice Eyries, Randy Watts, and Tim Neely
Last update: January 14, 2016





The Motown Labels...

Motown and related labels released very few stereo singles during 1968-70. Interestingly, they used stereo masters for quite a few of their singles, but these were converted to mono (folded down?) by the time the pressing was done.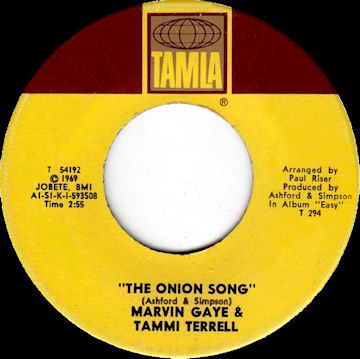 Motown, Tamla, Soul, etc. during this period usually printed the master number for the source tape on the 45 label. Source master numbers usually were in the format of x...xMyy for mono or x...xSyy for stereo, where M/S indicated the format of the source tape and "yy" was a "take number" for identifying where on the reel the take that was used was located. For example, Marvin Gaye & Tammi Terrell's "The Onion Song" [Tamla 54192] had a source master number of "A1-S1-K-I-593S08," indicating a stereo source master using take #8.

Unfortunately, the stereo format of these "source masters" was not the determining factor in what ultimately was pressed into vinyl. When sent to the pressing plant, a "pressing master" number was assigned. A vast majority of singles pressed during this period were pressed at RCA-related pressing plants, and used "pressing master" numbers in the RCA format. For "The Onion Song," the pressing master was "Z4KM-2147-1". In this case, "Z" is a year-of-mastering indicator (e.g., W=1968, X=1969, Z=1970), "4" indicates the record was pressed for a non-RCA client, "K" indicates it was a 45, and "M" is a mono/stereo indicator. The 2147 is the assigned master number by the pressing plant for that year, and the last "-1" is the version of the stamper for that pressing of the 45 (when mixes were changed, for example, the new version would be designated "-2". An A or B after this number may designate a replacement stamper after the original one wore out). All things considered, the "pressing master" number tells us "The Onion Song" was a 45 mastered in 1970, in mono. The label shows a stereo source master, but the final product is mono, implying a fold-down of some sort instead of a true mono master. It is not known whether a process such as CSG was used for these fold downs, but most songs using stereo masters were B-sides taken from the then-stereo only albums, and this may just have been a quick way to master some B-sides.

Pressing master numbers during this time were usually stamped into the dead wax area, and only occasionally were printed on the label. Although as we said earlier, RCA-related pressing plants were used a heavy majority of the time, Motown also used other plants like Monarch in Los Angeles, who used delta numbers as "pressing master" numbers, and these did not indicate mono or stereo.

Since this "pressing master" determines the mono or stereo content pressed into the vinyl 45, it doesn't matter that the source master was stereo. (But if the source master was mono, the pressed 45 should be mono, too.) The few actual stereo singles put out by Motown and subsidiary labels (Tamla, Gordy, Soul, V.I.P) are indicated in the label lists below, along with a list of songs on mono pressings that used stereo source masters, for what it's worth. During this period, Rare Earth had neither stereo singles nor stereo masters used.

Terminology Note: We have used the term "master number" to refer to the number of a master for a single song. The term "matrix number" is reserved for album masters where several songs are included.

We would appreciate any additions or corrections to this discography. Just send them to us via e-mail. Both Sides Now Publications is an information web page. We are not a catalog, nor can we provide the records listed below. We have no association with any of these record labels. Should you be interested in acquiring the 45s listed in this discography (which are all out of print), we suggest you see our Frequently Asked Questions page and follow the instructions found there. This story and discography are copyright 2015 by Mike Callahan.
MOTOWN & RELATED STEREO SINGLES DISCOGRAPHY (1968-70):

Label Scan



Number - Release Date - Artist - Songs



MOTOWN

Motown had no singles marked "STEREO" during the 1968-70 period, although they did issue one unmarked stereo single. Although they did indicate the use of stereo "source masters," almost all of Motown and related labels' 45s during 1968-70 were pressed in mono (see discussion near the top of this page).

The following songs during 1968-70 were mono on singles, but used stereo source masters: Diana Ross & The Supremes & The Temptations' "I'm Gonna Make You Love Me/A Place In The Sun" [1137], and "The Way You Do The Things You Do" [1142]; Tammi Terrell's "Just Too Much To Hope For" [1138]; David Ruffin's "We'll Have A Good Thing Going On" [1149] and "I Pray Everyday You Won't Regret Loving Me" [1158]; Four Tops' "Remember When" [1132]; "The Key" [1159], "Love (Is The Answer)" [1164], "Still Water (Love)/Still Water (Peace)" [1170] and "I Wish I Were Your Mirror" [1175]; Diana Ross & The Supremes' "He's My Sunny Boy" [1156]; Joe Harnell's "My Cherie Amour" [1161]; Diana Ross' "Can't It Wait Until Tomorrow" [1169] and "How About You" [1176]; Jackson 5's "One More Chance" [1171]; The Supremes' "Shine On Me" [1172]; and The Supremes & Four Tops' "Together We Can Make Such Sweet Music" [1173].




Stereo single:
M-1153 - 8/69 - Diana Ross & The Supremes & The Temptations - The Weight/For Better Or Worse [see note 1]

Motown Notes:
1. Some copies of M-1153 have "For Better Or Worse" in stereo with pressing master "X4KS-4317-1" and other copies have the song in mono with pressing master "X4KM-4317-1-B."



---




GORDY

Gordy did not release any stereo singles during the 1968-70 period, but used stereo source masters for a number of their mono singles during this time (see discussion of the Motown labels near the top of this page). In fact, the earliest known instance of using a stereo source master for any of the Motown labels was "It's Growing" by Bobby Taylor & The Vancouvers [Gordy G-7079], released October 10, 1968.



The following were additional songs where the stereo source master was used for a mono release during 1968-70: Edwin Starr's "Way Over There" [G-7078, rel. 10/26/68], "Pretty Little Angel" [G-7083], and "Love Is My Destination" [G-7087]; The Temptations' "Rudolph The Red-Nosed Reindeer/Silent Night" [G-7082], "That's The Way Love Is" [G-7096] and "It's Summer" [G-7099]; Bobby Taylor's "It Should Have Been Me Loving You" [G-7092]; and Martha Reeves & The Vandellas' "Heartless" [G-7094] and "You're The Loser Now" [G-7103].



---




RARE EARTH

Rare Earth released no stereo singles during the 1968-70 period, nor did they did indicate the use of stereo "source masters."







---




RIC-TIC

Ric-Tic started as an independent Detroit label in mid-1964. They were eventually purchased by Motown, discontinuing releasing singles after September, 1968. We found no stereo singles, either commercial or promotional, for the Ric-Tic label.




---




SOUL

Soul released no stereo singles during the 1968-70 period, although they did indicate the use of stereo "source masters." Almost all of Motown and related labels' 45s during 1968-70 were pressed in mono (see discussion near the top of this page).

The following songs during 1968-70 were mono on singles, but used stereo source masters: Jimmy Ruffin's "Farewell Is A Lonely Sound" [35060] and "Maria (You Were The Only One)" [35077]; Jr. Walker & The All Stars' "What Does It Take (To Win Your Love)" [35062], "Gotta Hold On To This Feeling/Clinging To The Thought That She's Coming Back" [35070], and "Carry Your Own Load" [35081]; The Originals' "Baby, I'm For Real/Moment Of Truth" [35066] and "I Like Your Style" [35074]; Gladys Knight & The Pips' "Cloud Nine" [35068] and "You're My Everything" [35071]; and David & Jimmy Ruffin's "Your Love Was Worth Waiting For" [35076].



---




TAMLA

Tamla had no singles marked "STEREO" during the 1968-70 period. Although they did indicate stereo "source masters," almost all of Motown and related labels' 45s during 1968-70 were pressed in mono (see discussion near the top of this page).

The following songs during 1968-70 were mono on singles, but used stereo source masters: The Marvelettes' "What's Easy For Two Is Hard For One" [54171], "Don't Make Hurting Me A Habit" [54177], "Rainy Mourning" [54186], "Marionette" [54198], and "After All" [54198]; Marvin Gaye & Tammi Terrell's "Keep On Lovin' Me Honey" [54173], "You Ain't Livin' Till You're Lovin'" [54173], "The Onion Song" [54192], and "California Soul" [54192]; Marvin Gaye's "I Heard It Through The Grapevine" [54176], "You're What's Happening (In The World Today)" [54176], and "How Can I Forget" [54190]; Smokey Robinson & The Miracles' "Your Mother's Only Daughter" [54178]; Stevie Wonder's "I Don't Know Why" [54180], "Yester-Me, Yester-You, Yesterday" [54188], "Somebody Knows, Somebody Cares" [54191], "I'm More Than Happy (I'm Satisfied)" [54196], "Heaven Help Us All" [54200] and "I Gotta Have A Song" [54200]; and Kiki Dee's "My Whole World Ended (The Moment You Left Me)" [54193].

There were no Tamla stereo 45s issued during the 1968-70 period. A possible exception to all this: there are reports that some copies of Marvin Gaye's "That's The Way Love Is", which has a mono master number on all labels we've seen, plays stereo. We have not been able to verify this.



---




V.I.P.

V.I.P. released no stereo singles during the 1968-70 period, although they did indicate the use of stereo "source masters." Almost all of Motown and related labels' 45s during 1968-70 were pressed in mono (see discussion near the top of this page).



The following songs during 1968-70 were mono on singles, but used stereo source masters: Hearts of Stone's "It's A Lonesome Road/Yesterday's Love Is Over" [25058].



---



Back to Part 4. Reintroduction of Stereo 45s (1968-1970)



Back to the Discography Listings Page



Back to the Both Sides Now Home Page