The Vee-Jay International Story
by Mike Callahan
Last update: December 18, 2006





The Vee-Jay Story, Part 2:
Vee-Jay Is Alive and Living in Burbank

Copyright 1981, 2006 by Mike Callahan. All rights reserved. This story originally appeared in Goldmine, Issue #60, published May, 1981. It has been updated.


Fortunately, the Vee Jay story doesn't stop with the 1966 bankruptcy; a lot has happened since then. Let's bring things up to date [as of early 1981].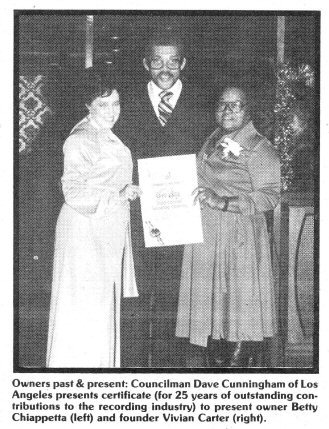 Many of the Vee Jay artists simply continued with successful recording careers. Jerry Butler, the last artist to have a chart hit on Vee Jay, switched to Mercury, another Chicago-based label, and continued having hits into the 1970s. Gene Chandler, who went to Constellation Records in 1963 along with manager Bill Sheppard, had quite a few more R&B hits and a big pop hit in 1970 with "Groovy Situation." Dee Clark's story is outlined elsewhere in this issue. Jimmy Reed went to the ABC label, where he recorded numerous albums for their Bluesway subsidiary, but never did regain the hit momentum he enjoyed with Vee Jay. Jimmy died a few years ago. The Dells, of course, hit it big in 1968 with "There Is" on Chicago's Cadet label and steamrollered into the '70s with a long list of hits. Wade Flemons reportedly was in Earth, Wind and Fire for a time, and who needs to talk about the Four Seasons or The Beatles?

As for the cast behind the scenes, Vivian Carter is now back in hometown Gary, Indiana, where she is still active in radio. She notes, "We were pioneers in the field for blacks with rhythm and blues music. This year it will be 33 years on the air for me, and I'm now doing an all gospel music show." Vivian's husband, Jimmy Bracken, died on February 22, 1972. Ewart Abner left Vee Jay in 1963 to form Dart Record Sales and Constellation Records, where he was president, and Bill "Bunky" Sheppard went with him as vice-president. Constellation had several hits with Gene Chandler and Dee Clark nationally, but also charted a few other records in hometown Chicago. Sheppard recalls:

Bill Sheppard: "Constellation stayed in business until late '66 or the first part of 1967. Then Abner went to work with Motown (where he became president of the company), and I started up the Bunky label. I put out 'Get On Up' by the Esquires on Bunky in 1967, and it sold over a million. I kept Bunky active until 1975, but since then I haven't used it, it's remained dormant."

Today Bill Sheppard is producing records for 20th Century Fox, and Ewart Abner is involved with managing Stevie Wonder, and with Black Bull Music in Beverly Hills, a music publishing company.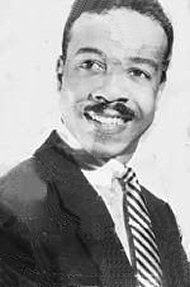 Sid McCoy still has a syndicated radio show, based in Hollywood, but has branched out very successfully into commercials and acting. This is his 33rd year in radio, also.

Jay Lasker became president of ABC Dunhill. Steve Clark also went to ABC, to their Apt label subsidiary.

Calvin Carter currently lives in Los Angeles, where he is recovering from a major operation on his foot. In addition to his current activities, Calvin added a bit of philosophy:

Mike Callahan: "What are you doing these days?"

Calvin Carter: (Laughs.) "Well, right now I'm sitting up here looking at my toes missing. This is funny, I've got this walker where I have to hop around like a one-legged chicken.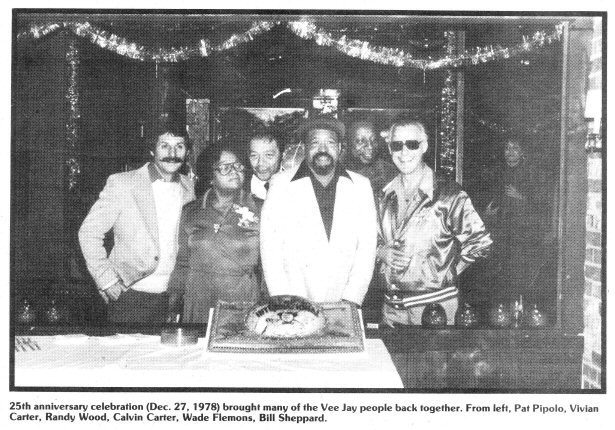 "I'm working with Betty Everett over at Twentieth Century Fox, and I'm doing some songwriting with some people who are with RCA Victor. Other than that, I'm collecting royalties off songs I've written, so basically, shall we say, I'm semi-retired. I expect to get active again as soon as this damned country and western bonanza gets over. It's rough in R&B right now, but lately, I've been hearing quite a bit of the music of the soul things of the late Sixties, the things that were on Stax, Wilson Pickett, Aretha, and so forth. If there's going to be a new music, that may be the direction the music goes: a revival of late '60s, uptempo soulful music. I hope there is a revival, because one thing I find that's happening now, is we're losing black music altogether. The young blacks aren't black anymore. I get young black artists and they come in and sound like a black guy singing like a white guy singing like a black guy. I don't understand it. And you can't lecture them, because then they call you old-fashioned. So you've got to try to act like, (speaking in dialect) Well, hey, man . . . and talk their language, use their vernacular, and go in and cut these tunes you really don't believe in. After all, the artist is the boss today. Before, a producer could tell and artist what to do, because the producer had the artist under contract. Now, the artist contracts the producer, so the producer's at a loss, because he's got to do what the artist wants to do, whether good, bad, or indifferent, or he's out of the game. The artist is there for the mixdown, he's there for everything. It's almost like the artist is producing himself today. Unless you've got an artist under contract to you, you've got to have a relationship with him that's . . . well, maybe I'm too impatient to deal with it right now. If you get a hit with somebody these days, along comes everybody to tell you how to record them. If you don't get a hit, Next! . . . It's almost a no win thing.

"I think records have seen better days, and are on the way out in the way we have known them. This new photodisc thing [i.e., music videos] is going to kill a lot of talented artists, because if they're not very photogenic, they're not going to get recorded. Most of the great voices were not very photogenic. In opera, for example, "the fat lady sings," and I don't think you're going to have her up on those photodiscs. You're just going to have the handsome and nice looking people doing it, and a lot of talented people are going to get cut out that way. The future does not look bright to me right now, but maybe that's just because I'm looking at my toes cut off, or maybe it's because I'm not really in the mainstream of what's happening right now."

After Randy Wood left Vee Jay in 1965, he founded Mira/Mirwood Records, which had such hits as "The Duck" by Jackie Lee, "Baby Do The Philly Dog" by the Olympics, and "Hey Joe" by the Leaves. He and Betty Chiapetta bought Vee Jay out of Bankruptcy in 1967, and later Betty bought out Randy's part ownership. Randy Wood died in October, 1980.

Betty Chiapetta continues as sole owner of Vee Jay today. After buying Vee Jay in late 1967 from a court trustee, there were still many details to settle before the compay could become operational once again. In the years between 1967 and 1972, Vee Jay was limited to selling some of the inventory on hand when the company went under, and leasing or licensing the Vee Jay masters to other record labels. Several of the albums were licensed to Buddah, who came out with "The First Generation" series, and a license was issued to Springboard International, who issued dozens of albums featuring Vee Jay material on their subsidiary label, Upfront.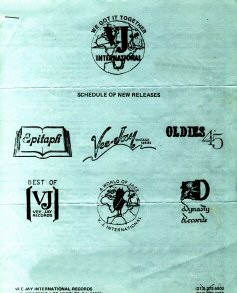 Betty Chiapetta: "The 20 Soulful Oldies records were done as a special radio package, and were not intended to be part of the catalog. Eventually, though, they became part of the catalog anyway. It took a long time for us to get anything out; we didn't really start trying to release anything new until about 1975."

In 1974 and 1975, Vee Jay put together a new catalog of albums consisting of reissues of some of the old Vee Jay albums and some material never before released. The accompanying discography illustrates the versatility of this new catalog. The Dynasty series (7300) features albums that are either new or those never before released, including some of the albums which would have been issued had the company not gone bankrupt. In keeping with the Vee Jay tradition, the catalog contains sizeable jazz and gospel series in addition to the pop/R&B material.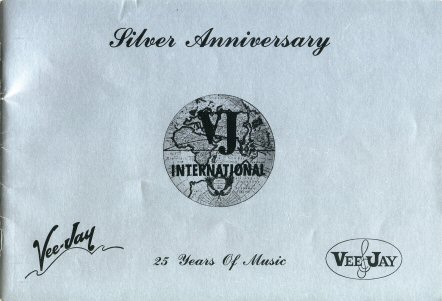 But even when the catalog came out, some of the records were not yet available. In 1978, Vee Jay issued a Silver Anniversary catalog to commemorate the 25th birthday of the label. The catalog is an impressive slick-paper booklet with a silver cover. Inside are pictures of many of the artists, some history of the label, and photos of close to 200 different album covers with complete song titles listed.

Betty Chiapetta: "The Silver Anniversary Catalog will probably become a collector's item. It has in it many albums which we are now trying to make available. The problem with releasing them has been financial, and with carrying distributors, which is now very difficult. They want all of the albums at once, and having inventories of 200-300 numbers on the floor at once is a big investment for us, if you multiply it all over the country, and we just can't afford it. If you're starting a new label, you can gradually build up your catalog and keep cash flow coming from the distributors while you're doing it. In our case, the distributors already knew the Jimmy Reed and Jerry Butler material, and they wanted to have it all. We're a large label in catalog, but not a large label in money."

Mike Callahan:: "Do you do direct mail order sales to record collectors?"

Betty Chiapetta: "Yes, if they write to us, we'll be happy to send a list of what's available. The address is: Vee Jay International Records, 131 E. Magnolia Blvd., Burbank, CA 91502. List price on all single albums except gospel is $6.98; single gospel LPs are $5.98. All the two-record sets are $7.98." [Note: This was true in 1981, but this is no longer a valid address or price schedule. It is included here for historical purposes.]

Mike Callahan: "I've noticed that several of the Vee Jay albums by the Beatles have been counterfeited and are flooding the bargain bins. How does that affect you? Is Capitol giving you any hassle about this?"

Betty Chiapetta: "No. Since our lease on the Beatles songs expired a long time ago, the music infringement would be against Capitol, not us. The extent of our involvement would be the use of our logo. Bootlegging has been a big problem for us over the years, though. For instance, the Oldies 45 label is still owned by Vee Jay, although a lot of other people have been using it. We're going to be issuing all those singles again, so I'm taking some steps to stop the pirating."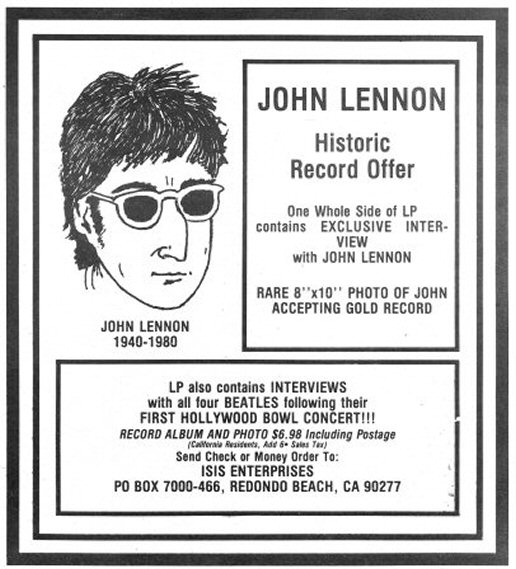 Mike Callahan: "What about Vee Jay PRO-202, Hear The Beatles Tell All?"

Betty Chiapetta: "That album still belongs to Vee Jay. The interview album was entirely separate from the music albums; it was recorded by us right here in Los Angeles and there's no Beatle music on it. In fact, we reissued it in March of 1980 in conjunction with a radio promotion. We used the original cover for the reissue. One complete side is an interview with John Lennon, but we haven't done anything since Lennon's death to try to cash in on it." [Note: The ad at left appeared in the May, 1981, issue of Goldmine along with the story. Betty told me that "Isis Enterprises" was run by her daughter, who would make the 1980 reissue copies of PRO-202 available to collectors who read Goldmine. The reissue LP was offered along with the 8X10" photo of John Lennon and Randall Wood (reproduced below). This was a special offer as part of the Vee-Jay Story issue.]

Mike Callahan: "Was there any album numbered PRO-201?"

Betty Chiapetta: "Not that I'm aware of."

Mike Callahan: "What about the overseas albums of Vee Jay material, for instance on the Charly label?"


Betty Chiapetta: "Charly is our current British licensee; before that we used Dick James Music, "This Recording Company," for overseas licensing. As a matter of fact, there's something your readers can do for us. Some of our early masters are missing, and we're trying to locate some mint copies of several singles so we can copy off some of the songs. We wouldn't need to keep the records, we would just record them and send them back. We're trying to get these songs for reissues on Charly. There is a lot of interest in the Vee Jay material over in Europe, where the collectors are familiar with all the artists who recorded for Vee Jay. The foreign collectors are extremely knowledgeable; some of them seemingly make a career out of finding out all that information."


---

The story above, which originally appeared in Goldmine in 1981, refers to an event that took place in Los Angeles a little over two years earlier: The Vee-Jay 25th Anniversary celebration. Vivian and Calvin Carter, Randall Wood and Betty Chiapetta, and a host of former Vee-Jay artists and employees were there. Los Angeles Councilman Dave Cunningham presented the former and present owners with a certificate honoring 25 years of contributions to the record industry. The shindig was an invitation-only affair, with silver colored invitations that also included a Jerry Butler Christmas 45 as part of the package. Betty Chiapetta was kind enough to send a copy of the invitation and a copy of the certificate, which are reproduced below.


| | | |
| --- | --- | --- |
| | | At far left, personal invitation envelope for the 25th Anniversary celebration, held at the Speakeasy in Los Angeles, December 27, 1978. At near left, the back cover of the souvenir 25th Anniversary catalog (front cover is pictured above). |
| | | These are the two sides of the silver "25th Anniversary" invitation. |
| | | The two sides of the souvenir 45 included in the invitation to the 25th Anniversary celebration. |
Below is the Certificate of Commendation presented to Vee-Jay by the City of Los Angeles: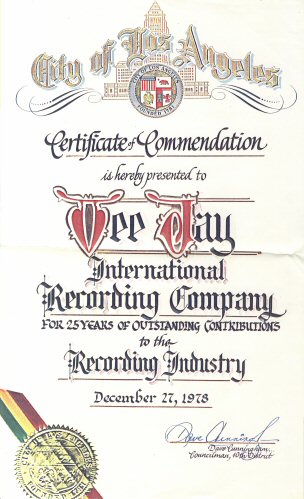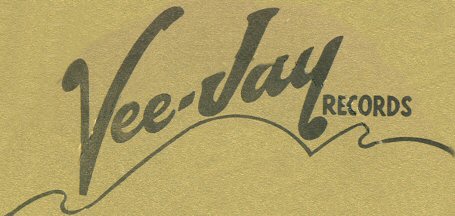 Back to the Vee-Jay Main Page



Back to the Discography Listings Page



Back to the Both Sides Now Home Page