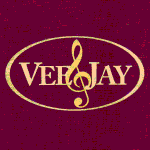 The Vee-Jay Story, Part Three:
The Vee-Jay Limited Partnership (1990 - )
by Mike Callahan
Last update: December 21, 2006





The Vee-Jay Story, Part Three:
The Vee-Jay Limited Partnership

Copyright 2006 by Mike Callahan. All rights reserved.

By 1990, Betty Chiapetta had been the head of Vee-Jay International for 23 years, more than half of the 37 years that Vee-Jay had been in existence. And before that, she had served as Comptroller of Vee-Jay Records for several years before the 1966 bankruptcy. She and Randall Wood had bought Vee-Jay from the bankruptcy trustee July 3, 1967, and she bought out Wood's interest in late October, 1968. She had changed the name to Vee-Jay International to try to make a clean break with the problems of the past, and over the years worked to resurrect the label's reputation. In the 1970s, she had reissued many of the old albums and pressed up dozens of new ones. She had a grand vision of putting the label back in the spotlight and reissuing all the 400-some albums of the past. But by the end of the 1970s, it became obvious that there just wasn't enough money to accomplish that. So in the 1980s, Betty Chiapetta was content to sell the vinyl stock at hand and lease the masters to other labels.

One of the other labels was Chameleon Records, run by Chief Operations Officer Daniel Pritzker. Chameleon was a part of Rockwood Music, of which Pritzker was President. Chameleon's output of Vee-Jay albums in the 1980s, billed as Vee-Jay/Chameleon, were pressed on good vinyl and had excellent jacket quality. When they started in on compact discs, however, the initial results were quite rocky, as it became obvious that many of the source tapes had gone through a vinyl phase at some point. In 1990, the record industry effectively discontinued vinyl records in favor of compact discs and cassettes. With the problems with Vee-Jay's compact discs, Betty Chiapetta was looking at starting a whole new deal with CDs, finding pristine master tapes for her leasing customers. After decades in the music business, she decided to retire.

Daniel Pritzker formed a Limited Liability Partnership (LLP) and bought the company from Betty Chiapetta in December, 1990. The first thing he did was find the original master tapes to all the John Lee Hooker albums, and reissue them on compact disc on Vee-Jay/Chameleon. With the masters in hand, the new 1991 CDs were a vast improvement. They were even — surprisingly — often in true stereo. It was a good sign for the future.


By 1992, Pritzker and his LLP had big plans. Take stock of the tapes at hand, try to find the missing tapes, initiate an aggressive release schedule of CD reissue product, and set up a fund to pay artists royalties on the old material. The master tapes would be stored in Chicago, while the offices of the new Vee-Jay would be at 71 Popple Swamp Road, Cornwall Bridge, Connecticut. Pritzker hired Gordon Bossin as Chief Operations Officer, and hired Billy Vera and Gordon Skene to put together a series of reissues, with quality in mind. Again, the schedule was ambitious: 10 new releases per quarter, with a 3-CD commemorative box set (with extensive liner notes and a red-wax reproduction of "Goodnite, Sweetheart, Goodnite" by the Spaniels) also on the schedule.

On July 11, 1992, Billboard ran a short column by Deborah Russell announcing that Vee-Jay was soon to be back reissuing their catalog. "Vee-Jay Catalog Reactivated Via Rockwood Music" was the title, and in part, it said,

"The historic Vee-Jay Records catalog will be reactivated this fall, following a 1990 acquisition by Rockwood Music Group president Daniel Pritzker. . . .

"Vee-Jay titles will be released through independent distribution on a quarterly basis, says Bossin, formerly VP of marketing and sales for Vestron Video and Lightning Video, before moving to Vee-Jay. The company's initial release schedule, set for September/October, will include some 12 titles by the Dells, Jerry Butler, the El Dorados, the Original Five Blind Boys, Wynton Kelly, Lee Morgan, among others.

"Vee-Jay will release about 10 titles per quarter, says Bossin. In addition, a three- or four-CD boxed historical retrospective is in the planning stages, Bossin says.

"Singer/songwriter Billy Vera will compile and produce the reissues with sound mixer/music director Gordon Skene. In addition, Bob Fisher, a musician and engineer for GNP-Crescendo and Rhino, will handle mastering."

To start the reactivated label off with a bang, Vee-Jay Limited Liability Partnership held a celebration in Chicago on Tuesday, October 27, 1992. Cook County Commissioner Jerry "The Iceman" Butler was there. "Pop" Staples was there. Gene Chandler was there. So were the Dells. Johnny Keyes of the Magnificents was there, too. A few newspaper clippings, included with the first Vee-Jay Press Kit, showed that a good time was had by all: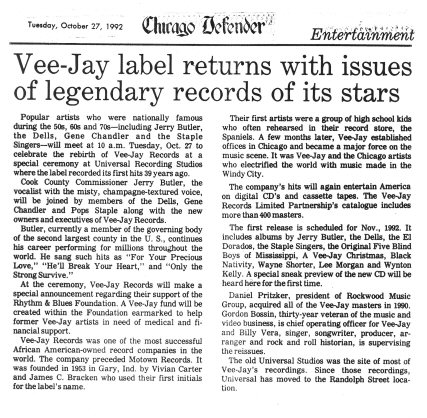 ---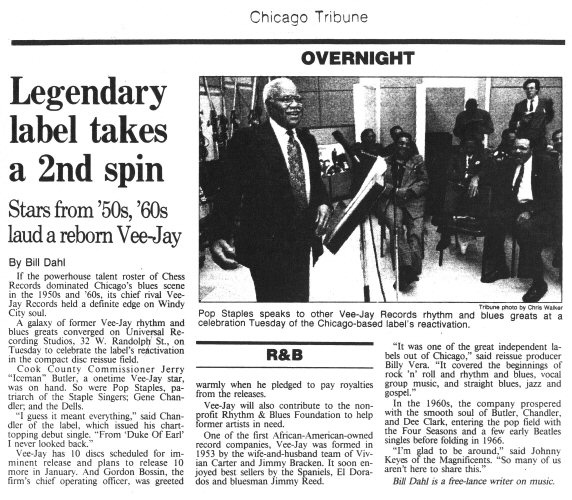 ---



From the Chicago Sun Times:



---

Compact discs started rolling out in October, 1992, and at least at first, most were also available on cassette (which lasted about the first two quarters before cassettes were dropped altogether). They continued on schedule for five successive quarters, and got the box set out, before things ground to a halt. The January, 1994, scheduled releases never came. Vee-Jay Limited Partnership, at that point, "was in a period of transition," and by March, 1994, went inactive.

All in all, it was quite an effort, and for the most part a successful one for record collectors. A full fifty CDs were issued (and 7 more scheduled), plus a box set and two sampler CDs. New stereo showed up, hard-to-find stereo songs like "Duke of Earl" were released again, and lots of obscure 45s that hadn't seen the light of day since the mid-1950s were available in excellent sound. Unfortunately, many of the master tapes from Vee-Jay were gone. Some had been misplaced and lost, others lent to record companies for licensing and never returned. Some were probably gone by 1966, when the original company went bankrupt. Many times, only a mono master was left for albums that had been issued in stereo. But it was a great try with what was left, and we got many great CDs out of it.

---
We would appreciate any additions or corrections to this story. Just send them to us via e-mail. Both Sides Now Publications is an information web page. We are not a catalog, nor can we provide the records mentioned above. We have no association with Vee-Jay Records, which is currently inactive. Should you be interested in acquiring Vee-Jay products, we suggest you go to the Vee-Jay Home Page or see our Frequently Asked Questions page and Follow the instructions found there. This story and discography are copyright 2006 by Mike Callahan. All rights reserved.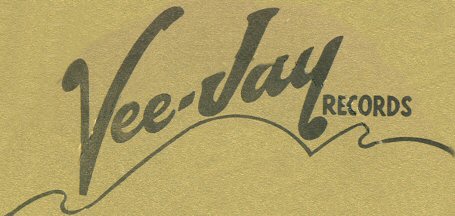 Back to the Vee-Jay Main Page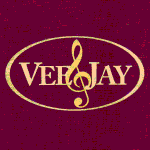 On to The Vee-Jay Album Discography, Part 10 Vee-Jay Limited Partnership CDs



Back to the Discography Listings Page



Back to the Both Sides Now Home Page