There were two "Great Music" Series which were issued back-to-back. The first was a series of four- LP box sets called The Story of Great Music, followed by a series of five-LP box sets called Concerts of Great Music. The individual volumes concentrated on a particular time period or genre of music. The individual volume names, e.g., "The Romantic Era," "The Opulent Era," etc., repeated in both series. Although the counterparts in the "Story" and "Concerts" series had the same color covers for the box sets, the illustration on the cover was different for the two series. Moreover, the volumes were issued in a different order for the "Concerts" series from that in the "Story" series. The final four issues in the Concerts of Great Music series reverted to the name The Story of Great Music with the word "Concert" after the volume name.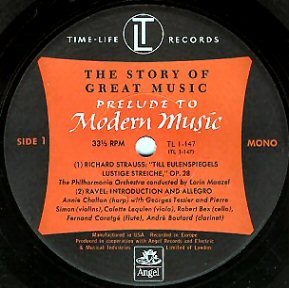 The Story of Great Music Series and the Concerts of Great Music Series were the first really successful music series that Time-Life issued. Each box set also came with a (some color, mostly black and white) paper-cover book describing the times and music of the composers, and an additional 24-page pamphlet "listening guide" which carried annotations on the particular recordings, as well as some background on the pieces. The label used was black with a red field in the middle.

Disc sides were ordered (Side A, B, etc., or 1, 2, 3) so that consecutive sides could be played on a stack of albums on a record changer, then turned over. Therefore, Side 1 was on disc one with Side 8 for 4- disc sets, Side 2 was on the other side of Side 7, etc.

We would appreciate any additions or corrections to this discography. Just send them to us via e-mail. Both Sides Now Publications is an information web page. We are not a catalog, nor can we provide the records listed below. We have no association with Time-Life or Warner Bros. Records. Should you be interested in acquiring albums listed in this discography (all of which are out of print), we suggest you see our Frequently Asked Questions page and follow the instructions found there. This story and discography are copyright 2004 by Mike Callahan.

Cover



Number - Title - Artist - [Release Date] Contents



THE STORY OF GREAT MUSIC SERIES (4-LP Sets):



TL/STL-140 - The Story of Great Music: The Romantic Era - Various Orchestras [1966] Side 1: Mendelssohn: "The Hebrides" Overture: Fingal's Cave - Berlin Philharmonic Orchestra (Herbert von Karajan)/Liszt: Les Preludes - Philharmonia Orchestra (Herbert von Karajan); Side 2: Chopin: Mazurka in B-Flat Minor, Op. 24, No. 4 - Malcuzynski (piano)/Chopin: Polonaise in A Major, Op. 40, No. 1 - Malcuzynski (piano)/Chopin: Ballade in G Minor, Op. 23 - Malcuzynski (piano)/Chopin: Waltz in D-Flat Major, Op. 64, No. 1-Waltz in C-Sharp Minor, Op. 64, No. 2-Waltz in A- Flat Major, Op. 64, No. 3 - Malcuzynski (piano); Side 3: Verdi: Il Trovatore: Miserere - Gabriella Tucci (soprano) & Franco Corelli (tenor)/Verdi: MacBeth: Una Macchia E Qui Tuttoro - Maria Callas (soprano)/Verdi: Un Ballo In Maschera: Eri Tu - Dietrich Fischer-Dieskau (baritone)/Verdi: La Traviata: Ah! Fors E Lui - Siempre Libera - Mirella Freni (soprano); Side 4: Mendelssohn: Concerto in E Minor, Op. 64 - Nathan Milstein (violin) with the Philharmonia Orchestra (Leon Barzin); Side 5: Liszt: Concerto in E-Flat Major - Samson Francois (piano) with the Philharmonia Orchestra (Constantin Silvestri); Side 6: Schumann: Papillons, Op. 2 - Sviatoslav Richter (piano)/Schumann: Leiderkreis, Op. 39: In der Fremde - Dietrich Fischer-Dieskau (baritone) & Gerald Moore (piano)/Schumann: Leiderkreis, Op. 39: Intermezzo - Dietrich Fischer-Dieskau (baritone) & Gerald Moore (piano)/Schumann: Leiderkreis, Op. 39: Waldesgespräch - Dietrich Fischer-Dieskau (baritone) & Gerald Moore (piano)/Schumann: Leiderkreis, Op. 39: Die Stille - Dietrich Fischer-Dieskau (baritone) & Gerald Moore (piano)/Schumann: Leiderkreis, Op. 39: Mondnacht - Dietrich Fischer- Dieskau (baritone) & Gerald Moore (piano); Side 7: Berlioz: Symphonie Fantastique (beginning) - Orchestre National de la Radiodiffusion Francaise (Sir Thomas Beecham); Side 8: Berlioz: Symphonie Fantastique (conclusion) - Orchestre National de la Radiodiffusion Francaise (Sir Thomas Beecham);



TL/STL-141 - The Story of Great Music: The Age of Elegance - Various Orchestras [1966] Side 1: Boccherini: Overture in D Major/Haydn: Symphony No 94 (Surprise) - Philharmonia Orchestra Conducted by Carlo Maria Giulini; Side 2: Gluck: "Iphigenie En Aulide": Overture - Philharmonia Orchestra Conducted by Otto Klemperer/Mozart: "Eine Kleine Nachtmusik," K. 525 - Philharmonia Orchestra Conducted by Otto Klemperer; Side 3: Haydn: Concerto In E-flat Major - Bernard Jeannoutot, Trumpet & Pro Arte Chamber Orchestra of Munich Conducted by Kurt Redel/Haydn: "The Creation": Part 1 (Beginning) - Elisabeth Grummer, Josef Troxel, Gottlob Frick & the St. Hedwig's Cathedral Choir, Berlin with Berlin Symphony Conducted by Karl Forster; Side 4: Haydn: "The Creation": Part 1 (Conclusion); Side 5: Mozart: Concerto In G Major, K. 453 - Hans Richter-Haaser, Piano with Philharmonia Orchestra Conducted by Istvan Kertesz; Side 6: Mozart: Quintet In A Major, K.581 - Gervase De Peyer, Clarinet, with Members of the Melos Ensemble; Side 7: Beethoven: Symphony No. 1 in C Major - Philharmonia Orchestra Conducted by Otto Klemperer; Side 8: Mozart: "Don Giovanni": Final Scene - Eberhard Wachter, Giuseppe Taddei, Elisabeth Schwarzkopf, Gottlob Frick, Graziella Sciutti, Luigi Alva, Piero Cappuccilli, Joan Sutherland/philharmonia Orchestra Conducted by Carlo Maria Giulini



TL/STL-142 - The Story of Great Music: The Opulent Era - Various Orchestras [1966]



TL/STL-143 - The Story of Great Music: Age of Revolution - Various Orchestras [1966] Side 1: Beethoven: Lenore Overture No. 3, Op. 72 - Philharmonia Orchestra (Otto Klemperer)/Weber: Der Freischütz: Overture - Philharmonia Orchestra (Otto Klemperer); Side 2: Schubert: Symphony No. 5 in B-Flat Major, D. 485 - Philharmonia Orchestra (Otto Klemperer); Side 3: Schubert: Songs From Die Schöne Müllerin - Dietrich Fischer-Dieskau (baritone) & Gerald Moore (piano)/Beethoven: Concerto No. 4 in G Major, Op. 58 (beginning) - Emil Gilels (Piano) with the Philharmonic Orchestra (Leopold Ludwig); Side 4: Beethoven: Concerto No. 4 in G Major, Op. 58 (conclusion) - Emil Gilels (Piano) with the Philharmonic Orchestra (Leopold Ludwig)/Beethoven: Sonata No. 27 in E Minor, Op. 90 - Hans Richter-Haaser (piano); Side 5: Rossini: The Barber of Seville (Excerpts) - Sesta Bruscantini, Victoria de los Angeles, Carla Cava, Luigi Alva, Ian Wallace, & Laura Sarti with the Glyndeborne Festival Chorus and Royal Philharmonic Orchestra (Vittorio Gui); Side 6: Beethoven: Quartet No. 16 in F Major, Op. 135 - Hungarian String Quartet; Side 7: Beethoven: Symphony No. 3 in E-Flat Major, Op. 55 ("Eroica"): (beginning) - Philharmonia Orchestra (Otto Klemperer); Side 8: Beethoven: Symphony No. 3 in E-Flat Major, Op. 55 ("Eroica"): (conclusion) - Philharmonia Orchestra (Otto Klemperer)



TL/STL-144 - The Story of Great Music: The Baroque Era - Various Orchestras [1966]



[1966] TL/STL-145 - The Story of Great Music: The Music of Today - Various Orchestras



TL/STL-146 - The Story of Great Music: The Early 20th Century - Various Orchestras [1966]



TL/STL-147 - The Story of Great Music: Prelude to Modern Music - Various Artists [1966] Side 1: Till Eulenspiegels Lustige Streiche (Richard Strauss) - Lorin Maazel & Philharmonia Orchestra/Introduction And Allegro (Ravel) - Annie Challan; Side 2: Selections From Der Rosenkavalier (Richard Strauss) - Herbert Von Karajan & Philharmonia Orchestra; Side 3: Symphony No. 4 [Beginning] (Mahler) - Paul Kletzki & Philharmonia Orchestra with Emmy Loose; Side 4: Symphony No. 4 [Conclusion] (Mahler) - Paul Kletzki & Philharmonia Orchestra with Emmy Loose; Side 5: La Mer (Debussy) - Carlo Maria Giulini & Philharmonia Orchestra; Side 6: La Boheme, Act 3 (Puccini) - Thomas Shippers & Orchestra & Chorus Of The Opera House, Rome; Side 7: Three Preludes (Rachmaninoff) - John Ogdon/Jeux D'Eau (Ravel) - Samson Francois/Four Preludes (Debussy) - Samson Francois; Side 8: Song From Des Knaben Wunderhorn (Mahler) - Wyn Morris & London Philharmonic Orchestra/Daphnis Et Chloe, Suite No. 2 (Ravel) - Carlo Maria Giulini & Philharmonia Orchestra



TL/STL-148 - The Story of Great Music: Slavic Traditions - Various Orchestras [1967] Disc 1: Glinka: Ruslan and Ludmila: Overture - Philharmonia Orchestra (Weldon)/Glinka: Ivan Susanin: Susanin's Aria - Leningrad Kirov Orchestra (Eltsin)/Borodin: In The Steppes Of Central Asia - Royal Philharmonic Orch (Pretre)/Balakirev: Islamey - Philharmonic Orch (Goossens)/Janacek: Sinfonietta - Moscow Radio Symphony Orchestra (Rashdestvensky); Disc 2: Smetana: The Moldau/Rimsky-Korsakov: Russian Easter: Overture - Concert Arts Symphony Orchestra (Leinsdorf )/Smetana - The Bartered Bride: Overture - Bamberg Symph Orchestra (Kempe)/Rimsky- Korsakov: The Tale Of Czar Saltan - Philharmonic Orchestra (Kurtz); Disc 3: Moussorgsy: Boris Godounov (Selections)/Dvorak: Concerto In B Minor: 2nd and 3rd Movements - Rostropovich (Cello) with Royal Philharmonic Orchestra (Boult); Disc 4: Boris Goudonov: (More Selections)/Dvorak: Slavonic Rhapsody No. 3 - Royal Philharmonic Orchestra (Kubelik)/Dvorak: Concerto in Bm - Royal Philharmonic Orchestra (Boult)



TL/STL-149 - The Story of Great Music: The Spanish Style - Various Orchestras [1967] Side 1: Falla: La Vida Breve, Act 2, Scene 1/Turina: Danzas Fantasticas; Side 2: Albeniz: Iberia/Granados: Goyescas; Side 3: Vocal and Guitar Music, Ancient and Modern; Side 4: Chabrier: Espana/Bizet: Carmen, Act 4; Side 5: Falla: Nights In The Gardens Of Spain; Side 6: Zarzuela Arias/Flamenco Songs and Dances; Side 7: Renaissance Choral Music from the Old and New Worlds/Falla: The Three-Cornered Hat (beginning); Side 8: Falla: The Three-Cornered Hat (conclusion)



TL/STL-150 - The Story of Great Music: From the Renaissance - Various Orchestras [1967]



CONCERTS OF GREAT MUSIC SERIES (5-LP Sets):
The covers of this set closely resembled the "Story of Great Music" set above, but had different illustrations and an additional disc.



TL/STL-151 - Concerts of Great Music: The Baroque Era - Various Orchestras [1967]



TL/STL-152 - Concerts of Great Music: The Romantic Era - Various Orchestras [1968?] Side 1: Schumann: Overture to "Mattfred"/Mendelssohn: Scotch Symphony (Beginning); Side 2: Mendelssohn: Scotch Symphony (Conclusion); Side 3: Chopin: Piano Sonata No. 3/Berlioz: Les Nuits D'ete (Beginning); Side 4: Berlioz: Les Nuits D'ete (Conclusion); Side 5: Schumann: Cello Concerto; Side 6: Berlioz: La Damnation de Faust, Part 1/Berlioz: Les Trovertis: Royal Hunt and Storms; Side 7: Liszt: Annees de Pelerinage (Selections); Side 8: Mendelssohn: Octet for Strings; Side 9: Verdi: Requiem Mass: Dies Irae (Beginning); Side 10: Verdi: Requiem Mass: Dies Irae (Conclusion)



TL/STL-153 - Concerts of Great Music: Age of Elegance - Various Orchestras [1968?]



TL/STL-154 - Concerts of Great Music: Age of Revolution - Various Orchestras [1968?]



TL/STL-155 - Concerts of Great Music: Prelude to Modern Music - Various Orchestras [1968?]



TL/STL-156 - Concerts of Great Music: The Early 20th Century - Various Orchestras [1968?]



TL/STL-157 - Concerts of Great Music: Slavic Traditions - Various Orchestras [1968?]



TL/STL-158 - The Story of Great Music: The Opulent Era - Concert - Various Orchestras [1969] Side 1: Wagner: Tristan Und Isolde: Prelude and Liebestod - Philharmonia Orchestra (Otto Klemperer)/Wagner: Gotterdammerung: Siegfried's Funeral March - Philharmonia Orchestra (Otto Klemperer); Side 2: Brahms: Sextet No. 1 In B Flat Major, Op. 18 (beginning) - Philharmonia Orchestra (Otto Klemperer); Side 3: Sextet No. 1 In B Flat Major, Op. 18 (conclusion) - Philharmonia Orchestra (Otto Klemperer)/ Brahms: Three Intermezzi, Op. 117, No. 1 in E Flat Major; No. 2 in B Flat Minor; No. 3 in C Sharp Minor - Moura Lympany (Piano); Side 4: Offenbach: The Tales of Hoffman: Act 2 - Janine Collard (contralto), Elisabeth Schwarzkopf (soprano), Nicolai Gedda (tenor), Jean-Christophe Benoit (baritone), Ernest Blanc (baritone) with Choeurs Rene Duclos and l'Orchestre de la Societe des Concerts du Conservatoire (Andre Cluytens); Side 5: Johann Strauss II: Tales From The Vienna Woods: Waltz, Op. 325 - Vienna Philharmonic Orchestra (Rudolf Kempe)/Johann Strauss II: Im Krapfenwald'L: Polka, Op. 336 - Vienna Philharmonic Orchestra (Rudolf Kempe)/Johann Strauss II: Emperor: Waltz, Op. 437 - Vienna Philharmonic Orchestra (Rudolf Kempe); Side 6: Wagner: Lohengrin: Bridal Chamber Scene (Act 3) - Jess Thomas (tenor), Elisabeth Grummer (soprano) with the Chorus of the Vienna State Opera and the Vienna Philharmonic Orchestra (Rudolf Kempe); Side 7: Saint-Saens: Concerto No. 3 In B Minor, Op. 61 - Nathan Milstein (violin) with the Philharmonia Orchestra (Anatole Fistoulari); Side 8: Bruckner: Mass No. 3 In F Minor ("Great") - Pilar Lorengar (soprano), Christa Ludwig (mezzo-soprano), Josef Traxel (tenor), Walter Berry (bass) with the Choir of St. Hedwig's Cathedral, Berlin and the Berlin Symphony Orchestra (Karl Forster); Side 9: Tchaikovsky: Symphony No. 5 In E Minor, Op. 64 (beginning) - Philharmonia Orchestra (Otto Klemperer); Side 10: Tchaikovsky: Symphony No. 5 In E Minor, Op. 64 (conclusion) - Philharmonia Orchestra (Otto Klemperer)



TL/STL-159 - The Story of Great Music: The Music of Today - Concert - Various Orchestras [1969]



TL/STL-160 - The Story of Great Music: From the Renaissance - Concert - Various Orchestras [1969]



TL/STL-161 - The Story of Great Music: The Spanish Style - Concert - Various Orchestras [1969]