Time-Life Album Discography, Part 3:
As You Remember Them:
Great Instrumentals Series
By Mike Callahan, David Edwards, and Patrice Eyries
Last update: February 3, 2008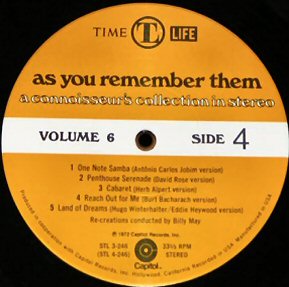 The Great Instrumentals Series was a short series issued in 1972. It provided compilations of instrumentals in 3-LP box sets or 2-cassette sets. LPs had five songs to the side, and cassettes had 15 songs on each.

Many subscribers found that the songs on these discs were not exactly "as they remembered them." The instrumentals were not the original versions, but re-creations by a Billy May's orchestra (although readers have described them as "quite remarkably like the originals"). The series was produced by David D. Cavanaugh. Although the cover listed the artists who had had hits with the songs (like the Swing Era series), they were just remakes in the same style.

Because they weren't the original versions (many of which were still available at the time), this series has proved to have very little collector interest, unlike the series of recreations of the Swing Era music. The label used was orange with a white band across the center. The records were pressed by Capitol Special Markets.

We would appreciate any additions or corrections to this discography. Just send them to us via e-mail. Both Sides Now Publications is an information web page. We are not a catalog, nor can we provide the records listed below. We have no association with Time-Life or Warner Bros. Records. Should you be interested in acquiring albums listed in this discography (all of which are out of print), we suggest you see our Frequently Asked Questions page and follow the instructions found there. This story and discography are copyright 2004, 2008 by Mike Callahan.
TIME-LIFE ALBUM DISCOGRAPHY, PART 3
| | |
| --- | --- |
| Cover | Number - Title - Artist - [Release Date] Contents |
| | AS YOU REMEMBER THEM: GREAT INSTRUMENTALS: |
| | STL-241 - As You Remember Them: Great Instrumentals, Volume 1 - Various Artists [1972] Disc 1:Around The World/Alone Together/Fly Me To The Moon/Charmaine/The Pink Panther//Canadian Sunset/Wonderland By Night/More/Music To Watch Birls By/April In Portugal; Disc 2: Theme From A Summer Place/Melody Of Love/Desafinado/Gigi/Cherry Pink And Apple Blossom White//Lisbon Antigua/Autumn Leaves/A Taste Of Honey/Love Is A Many Splendored Thing/Moonglow And The Theme From Picnic; Disc 3: Theme From Limelight/Alfie/When Sunny Gets Blue/A Man And A Woman/Cumana//Holiday For Strings/How Insensitive/Love Is Blue/Two For The Road/Theme From Exodus |
| | STL-242 - As You Remember Them: Great Instrumentals, Volume 2 - Various Artists [1972] Disc 1: Blue Tango/The Song From Moulin Rouge (Where Is Your Heart)/The Girl From Ipanema/I'll Be Seeing You/In The Arms Of Love//The Poor People Of Paris/To Love Again/Java/Thunderball/The Odd Couple; Disc 2: Theme From "Route 66"/Yellow Bird/Ruby/Reflections/Mission: Impossible Theme//Mr. Lucky/Greensleeves/Calcutta/Airport Love Theme/Tonight We Love; Disc 3: The Look Of Love/Love Letters/What Now My Love/Theme From "Irma La Douce" (Look Again)/Sail Along, Silv'ry Moon//Red Roses For A Blue Lady/Our Waltz/Little Bird/Laura/Theme From "The Apartment" (Jealous Lover) |
| | STL-243 - As You Remember Them: Great Instrumentals, Volume 3 - Various Artists [1972] Disc 1: Spanish Eyes/Days Of Wine And Roses/The Happening/Return To Paradise/Swinging Sweethearts//Under Paris Skies (Sous Le Ceil De Paris)/My Funny Valentine/Miserlou/Unchained Melody/The Knack (Main Theme); Disc 2: Swedish Rhapsody (Midsummer Vigil)/September Song/Love-Wise/Oh/The Shadow Of Your Smile (Love Theme From "The Sandpiper")//I Say A Little Prayer/Easy To Love/Spanish Flea/My Prayer/Meditation (Meditacio); Disc 3: An Affair To Remember (Our Love Affair)/Summer Samba (So Nice)/It Could Happen To You/Bumble Boogie/The High And The Mighty//Tonight/Catana (From "Captain From Castile")/Portuguese Washerwoman/In The Wee Small Hours Of The Morning/Belle Of The Ball |
| | STL-244 - As You Remember Them: Great Instrumentals, Volume 4 - Various Artists [1972] Disc 1: Delicado/Work Song/Charade/Chopin's Polonaise/Danke Schoen//Once In A While/Washington Square/Patricia/Maria/Ebb Tide; Disc 2: Vanessa/Blue Star (Theme From "Medic")Mack The Knife/Invitation/Theme From "Mannix"//Grieg Concerto In A Minor/Stranger On The Shore/Alley Cat/I'll Never Fall In Love Again/Wheels; Disc 3: Stella By Starlight/Baby Elephant Walk/Dream A Little Dream Of Me/Tequila/Quiet Nights Of Quiet Stars (Corcovado)//Strangers In The Night/Slick/Till/Girl Talk/This Is My Song |
| | STL-245 - As You Remember Them: Great Instrumentals, Volume 5 - Various Artists [1972] Disc 1: A Walk In The Black Forest/Moon River/Soft Summer Breeze/Midnight Cowboy/Guantanamera//The Synchopated Clock/Misty/Windy/The Moon Of Manakoora/Somewhere In The Night; Disc 2: The Velvet Glove/Love Is Here To Stay/Dance Of The Spanish Onion/Last Date/Tijuana Taxi//Three O'Clock In The Morning/Bewitched/I Will Wait For You/The Windows Of The World/Aqua De Beber; Disc 3: Watch What Happens/Somewhere My Love (Lara's Theme From "Doctor Zhivago")/Yellow Days/One Love/High Noon//Intermezzo/A Swingin' Safari/Off Shore/Once I Loved/Sabre Dance Boogie |
| | STL-246 - As You Remember Them: Great Instrumentals, Volume 6 - Various Artists [1972] Disc 1: Serenata/Theme From "Summer Of 42"/The Magnificent Seven/Moonlight In Vermont/'S Wonderful//Born Free/All The Things You Are/Acapulco 1922/Dreamsville/Eleanor Rigby; Disc 2: Cracklin' Rosie/Nevertheless/Midnight In Moscow/The Bad And The Beautiful/You Stepped Out Of A Dream//One Note Samba/Penthouse Serenade/Cabaret/Reach Out For Me/Land Of Dreams; Disc 3: Like Young/Theme For Young Lovers/Little Boat (O Barquinho)/Georgia On My Mind/Fascination//Port-Au-Prince/Love Theme From "Romeo And Juliet"/Cast Your Fate To The Wind/Tenderly/Warsaw Concerto |
| | STL-247 - As You Remember Them: Great Instrumentals, Volume 7 - Various Artists [1972] Disc 1: The Fool On The Hill/L-O-V-E/California Nights/Theme From "Love Story"/Dansero//Quentin's Theme/Quiet Village/Fanny/Love Me With All Your Heart (Cuando Caliente El Sol)/The Lonely Bull; Disc 2: Dreamer/Baubles, Bangles And Beads/Goldfinger/I Love Paris/Bonanza//Shangri-La/El Condor Pasa/The Mexican Shuffle/Walk On By/Viva Tirado; Disc 3: Deserted City/Manha De Carnival/Dear Heart/Goin' Out Of My Head/The Windmills Of Your Mind//Petite Fleur/Afrikaan Beat/Scarborough Fair/Song Of The Jet (Samba Do Aviao)/The Impossible Dream (The Quest) |
| | STL-248 - As You Remember Them: Great Instrumentals, Volume 8 - Various Artists [1972] Disc 1: Our Day Will Come/Moment To Moment/Pretty World/Wives And Lovers/Cotton Candy//Midnight Lace/The Good Life/Peter Gunn/Theme From "Lawrence Of Arabia"/Voce E Eu (You And I); Disc 2: Poinciana/True Love/Last Tango In Paris/Look For A Star/Angel//Love Theme From "The Godfather"/So What's New?/Brian's Song/The Look Of Love/Night And Day; Disc 3: Mrs. Robinson/Our Winter Love/Jazz Samba (So Danco Samba)/A Beautiful Friendship/Live For Life (Vivre Pour Vivre)//Sweet Caroline/Beyond The Sea (La Mer)/California Dreamin'/The Phoenix Love Theme (Senza Fine)/Bye Bye Birdie |
Thanks to Eric Koskoff, Doug Williams, Richard Nickerson, and Jeff Boettcher.

Back to the Time-Life Story




Back to the Discography Listings Page




Back to the Both Sides Now Home Page