Good News was owned by Frddie Piro. Piro was an executive in the record division of National General Pictures. It was a Los Angeles-based label, initially putting out records by Love Song and their members, as well as West Coast singers associated with Calvary Chapel in Orange County, California. By 1984, the label was located at 8319 Lankershim Blvd. in North Hollywood, California. By the late 1980s, the label had changed its name to Ocean Records, and was located in Redondo Beach.

In 1970, Piro had met with several local musicians, and encouraged them to record an album. Chuck Girard, formerly of the Castells and Hondells, and a pop music veteran of surf-and-car songs, had been in Southern California seemingly all his life. By the early 1970s, surf and car songs were long gone from the charts, and Girard had teamed with musicians Tommy Coomes, Jay Truax, and Fred Field to try to regain some of the fame and fortune. All four were converted to Christianity through attending some of the meetings and studies held in Southern California, where the "hippie" culture was prominent. The group began playing at some of the meetings associated with Calvary Chapel, and became known to many as a group that played Christian songs in a pop music style. This was unique at the time.

After some months, the four called themselves Love Song, and defined what was soon to be called Jesus Music, and later Contemporary Christian Music. After playing for several of the smaller group meetings at Calvary Chapel, they agreed to play for the whole congregation. Calvary Chapel was itself on the verge of founding Maranatha Music, a record label which still flourishes today. By this time, they had added John Mehler to the group, making it a fivesome.

On Maranatha's web page, John Fischer described the scene of the group's first leading of congregational praise and worship this way:

"A half a dozen staff members of a church are crammed into this little room no bigger than a walk-in closet, along with five members of a rock group who call themselves 'Love Song.' The group is to audition for a Sunday evening service. A few of the thousand-plus people who will come that night are already starting to trickle into the the auditorium downstairs. 'Could you guys just do a quick song for us right now?' asks the pastor in charge. 'You come with high recommendations, but we've never heard you before. Would you mind?' 'No, not at all,' says the one with the guitar. With difficulty, he manages, in the press of bodies, to get his guitar horizontal and begins strumming a soft, steady rhythm. Immediately five long-haired heads turn upward and with eyes closed, their voices blend in harmonic symmetry as the haunting strains of 'Welcome Back' wash over the unsuspecting staff members from head to toe.... When they finish, a hush falls on the room. Unknown to them, these staff members have just heard, in close quarters, what was about to become the signature song of a musical and spiritual revolution. I know this because I was in that room. I was training under one of the pastors at the time--the very one who broke the spell with the understatement of a decade: 'O.K.... you'll do.'"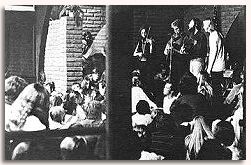 Love song played locally and toured for months. Some time in 1971, the group went back to Freddie Piro to see if he was still interested in them recording an album. Piro was still enthusiastic, and as a recently "born again" Christian himself, quit his job at National General and set up his own music label, Good News, "to present the gospel of Jesus Christ in its purest form, uncompromising in content and contemporary in style." Field and Mehler left the group in 1971 to move to Northern California and found a group called Noah. Piro introduced the remaining members to a lead guitarist named Bob Wall, who joined the group. Chuck played guitar and keyboards, Tommy played guitars, and Jay played bass.

Piro brought them to the famous Gold Star Records in Los Angeles, to record on the same equipment (and with Stan Ross, the same engineer) that had recorded so many popular hits over the years by the Beach Boys, Phil Spector's groups, etc. For the album, they used drummer John Raines; John Mehler returned a few months later and rejoined the group.

The first album was a huge success. It was distributed by United Artists Records. CCM Magazine named Love Song's 1972 debut as the No. 7 all-time best contemporary Christian recording. Love Song appeared in Explo '72, Campus Crusade for Christ's gathering in Dallas, Texas, that summer, and played for an audience of 100,000. They continued to tour and bring their gospel message across the country and even around the world. For the next four years before their eventual breakup, Love Song recorded songs with uncompromising Christian lyrics. Personnel changes happened several times, and Phil Keaggy, well known Christian guitar virtuoso, joined as lead guitarist for a short time.



| | |
| --- | --- |
| Cover | Number - Title - Artist - [Release Date] Contents |
| | Distributed by United Artists Records: |
| | GNR-08100 - Love Song - Love Song [1972] A Love Song/Changes/Two Hands/Little Country Church/Freedom/Welcome Back//Front Seat, Back Seat/Let Us Be One/And The Wind Was Low/A Brand New Song/Feel the Love/A Love Song (Reprise) |
| | Distributed by Myrrh Records: |
| | GNR-08101 - Final Touch - Love Song [1974] Since I Opened Up The Door/Joyous Lament/Jesus Puts The Song In Our Hearts/The Cossack Song/Think About What Jesus Said/Short Alleluiah//Living Water/Sunday Afternoon/Book Of Life/Don't You Know/Little Pilgrim |
| | GNR-8102 - Chuck Girard - Chuck Girard [1975] Rock 'N' Roll Preacher/You Ask Me Why/Evermore/Quiet Hour/Everybody Knows For Sure//Galilee/Tinagera/Lay Your Burden Down/Slow Down/Sometimes Alleluia |
| | GNR-8103 - Glow In the Dark - Chuck Girard [1976] Anthem/Callin' You/I Remember/Return/I Know A Lady/No No You're Not Afraid//Something Supernatural/When I Was Ready To Listen/So Thankful/Old Dan Cotton |
| | GNX-8104 - Feel the Love: Love Song On Tour - Love Song [1977] Two record set with gatefold cover. Reissued on CD as Ocean/Word 80688-4389-2. Front Seat, Back Seat/Little Country Church/The Cossack Song/A Love Song/Two Hands/Feel The Love/So Thankful/Since I Opened Up The Door/Freedom/Let Us Be The One/Jesus Puts The Song In Our Hearts/Little Pilgrim/Sometimes Alleluia/Psalm 5 |
| | GNR-8105 - Music of My Second Birth - Bili Thedford [1977] Hallelujah Song/Reaching Out To Me/Lies/I Just Wanna Thank You/We Really Missed You/Remember Me/Finally Found Each Other/Dayspring/Back Out On The Streets |
| | GNR-8106 - Written on the Wind - Chuck Girard [1977] Spirit Wind/Mary's Song/Thank You Lord/Plain Ol' Joe/Harvest Time//Fool For Jesus/Hear The Angels Sing/Peace In The Valley/The Warrior |
| | GNR-8107 - Welcome - Terry Clark [1978] Welcome/Let's Have A Good Time/Make A Noise/Merry-Go-Round/Time Enough/Red Cloud//Ugadano Thawanu Maija/Your Love For Me/For Each Other/Oh The Love/Living Loving Eyes |
| | GNR-8108 - Take It Easy - Chuck Girard [1979] Also issued as a picture disc. Take A Hand/Love Is Alive/Little People/Full Immersion Ocean Water Baptism By The Sea/Without Your Love//Our Lives Are In Your Hands/His Word Is Still His Promise/Song For A Christian Wedding/Wings Of Mercy/All I Want |
| | GNR-8109 - More Than Magic - Bili Thedford [1979] Miracles/Crystal Gazers/More Than Magic/Without You In My Life/Only You, Only Me/The Love Of You/Higher, Higher/Never, Ever, Never/Excitement/More Than Magic (Reprise) |
| | GNR-8110 - Not the Same - Roby Duke [1980] Love Is Here To Stay/Time To Stand/Seasons Of Change/Carpenter (Do What You Got To Do)/Feel It Comin'/O Magnify The Lord/Can't Stop Runnin'/Rested In Your Love/Not The Same/Promised Land |
| | GNR-8111 - Melodies - Terry Clark [1980] |
| | GNR-8112 - The Stand - Chuck Girard [1980] Soldier/Home For Good/Busy Day/Border Town//Witness/The Fold/The Stand/Racin' Like The Wind/Child Come Home |
| | GNR-8113 - Walk By Love - Steven Soles [1982] Walk By Love/Name Of The Valley/The Last Roundup/Joy In All/The Talents//Let Him In/Standing In His Power/Love Come To You/Light Of Lights/Walk By Love (Reprise) |
| | 701 8114 101 - Linda Evans - Linda Evans [1984] Also issued as A&M WR 8305. Love Made A Difference/I Am Committed/Because You Love Me (Lord, I Love You)/Grace//I Am Gold/Gathering/I Am A Poem/Give Your Life To Jesus |
| | 701 8115 108 - I Give You Jesus - Becky Fender [1984] Brand New Life/Ready For The battle/He Is What He Was/I Can't Stop Loving You/Lamb Of Glory//Say The Word/Building The Kingdom/Almighty King/I Give You Jesus |
| | 701 8116 10? |
| | 701 8117 100 - All Those Years - Chuck Girard [1983] Possibly first issued as Good News GNR-8117. Rock 'N' Roll Preacher/Callin' You/Soldier/Slow Down/Somwtimes Alleluia/Spirit Wind/Full Immersion Ocean Water Baptism By Sea/You Ask Me Why/Lay Your Burden Down/The Warrior |
| | 701 8118 10? - Come Let Us Reason - Roby Duke [1984] Come Let Us Reason/All Lost/I'm Persuaded/Watching For You/Fight The Fight/Win Or Lose/Here I Am/Closer To You/Lay It Down/There Is Just One Way |
| | 701 8119 10? |
| | 701 8120 10? - So Good - Howard McCrary [1985] So Good/Keep On Shinin'/Mansions Of Glory/Yahweh//Greater Is He/Hold Steady/Sold Out/This Jesus/My Incorruptible Crown |
| | 701 8121 108 - Blue Eyed Soul - Roby Duke [1986] I Know You, Mister/I've Come Too Far/This Is Not A Game/Runaway (Say So)/Another Night//I'll Survive/Talk To Me/Can't Let You Go/It's Up To You/Here For You |
| | Label name changes to Good News/Ocean Records; CD numbers given: |
| | 701 8126 509 - Somewhere in the World - Illustrator [1989] New Way To Love/Dying To Meet You/Hold My Heart/Cryin' Time/I Surrender/Help Is On Its Way/Listen/Should'a Been Love/Feels Like/Carry The Cross |
| | OCE 8127 - Down to Business - Roby Duke [1989] I Try (Walk in the Park)/Dreams Alive/I Shall See God/Moon Over Me (Waiting For You)/Rain//Down To Business/Nonetheless/Modern Man (Want Will Steal Your Heart Away)/Maybe/Thief On The Hill |
| | 701 8130 506 - 24 Hours to Live - Greg Strange [1991] In A Shell/Something More/I Call It Home/Someday, Someday/I Don't Like Yellow/Never Steps On My Toes/24 Hours To Live/Amen, Amen/I'm Here By You |
| | 701 8133 696 - The Pillars of Humanity - Crucified [1991] Intro/Hateworld/It's All About Fear/The Wrong One/Mindbender/Path To Sorrow/Fellowship Of Thieves/Focus/The Strength/Blackstone/So Cxalled Living, 1991/The Pillars Of Humanity |
| | 701 8135 508 - The Walter Eugenes - Walter Eugenes [1991] The Walter Eugenes are Paul Robinette, Rick May, Allen Willoughby and Mark Townsend. He Came/Say You Will/Thousand Tears/Never Changing Heart/Back To The Basics/Deep Blue Sea/Changes/Simply You/What's Going On |
| | 701 8146 50X - Not the Same - Roby Duke [1992] Reissue of 1980 album with bonus cut. You Love Me (with Kelly Willard)/Love Is Here To Stay/Time To Stand/Seasons Of Change/Carpenter (Do What You Got To Do)/Feel It Comin'/O Magnify The Lord/Can't Stop Runnin'/Rested In Your Love/Not The Same/Promised Land |
| | 701 8155 509 - Bridge Divine - Roby Duke [1994] Mississippi/I Will Not Forget You/Wait For Days/Bridge Divine/Baby Blues/Solo But Not Really/Sometimes I Think I Do/Take No Sorrow/Love Is All You Need/I Come To You, O Lord |
| | 701 8168 694 - Final Touch - Love Song [1995] Reissue of Good News GNR-08101. Since I Opened Up The Door/Joyous Lament/Jesus Puts The Song In Our Hearts/The Cossack Song/Think About What Jesus Said/Short Alleluiah/Living Water/Sunday Afternoon/Book Of Life/Don't You Know/Little Pilgrim |
| | RELATED CDs: |
| | Word 74644 7749-2 - Bring on the Joy - Becky Fender [1990] Reissued on Word/Epic EK-47749. I Have Been Touched/Who's Report/His Name Is Jesus/If God Be For Me/Exceeding Promises/Can I Build My Home/Bring On The Joy/Jesus Is The Answer/I Am Changed/Peace In The Midst Of The Storm |
| | Word 80688 3716-2 - Welcome Back - Love Song [1995] Recorded by the reunited group in 1994. A Love Song/Little Country Church/Let Us Be One/Little Pilgrim/Two Hands/Freedom/Take No Chances/Feel The Love/Changes/Front Seat, Back Seat/The Cossack Song/And The Wind Was Low/Welcome Back/Jesus Puts The Song In Our Hearts |