New Song Album Discography
By Mike Callahan, David Edwards, and Patrice Eyries
Last update: January 20, 2003






New Song Records was founded by Scott Ross in Ithaca, New York, in 1973. Ross was a radio announcer. The New Song story is a story of Scott Ross and Phil Keaggy.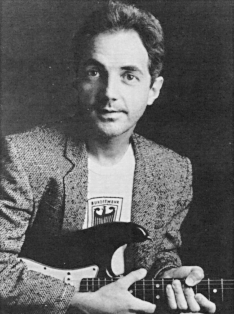 Phil Keaggy was a lead guitarist who had been in a rock group from Ohio called Glass Harp. He left the band in 1972. His prowess on the guitar was such that even without any pop hits, he became known as a virtuoso. When Love Song was looking for a replacement guitarist, Keaggy joined and remained until the group broke up. Keaggy returned to Ohio and did some acoustic appearances with Peter York (later head of Sparrow Records). He heard the show that Scott Ross was doing at Love Inn in Freeville, near Ithaca, and liked the songs Ross played. In July, 1974, Keaggy married and moved to the Ithaca area.

Keaggy had recorded three albums with Glass Harp, and another album, What a Day, in January 1973. He didn't have a label for it's release until Scott Ross started New Song Productions, from which he founded a record label with which to give Phil Keaggy a chance to do whatever he wanted to do. What a Day was the first album released on New Song, and the others all had Keaggy's heavy involvement.

After a half-dozen albums, Ross sold the masters and closed the label. Keaggy signed with Nissi Records, and promptly disappeared from the face of the musical earth. By the early 1990s, he had finally landed with a major label, and has been one of the best-known names of the Contemporary Christian Music scene ever since.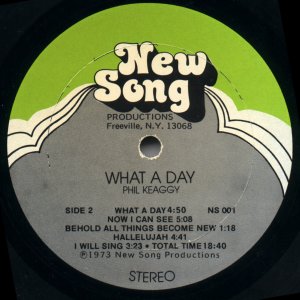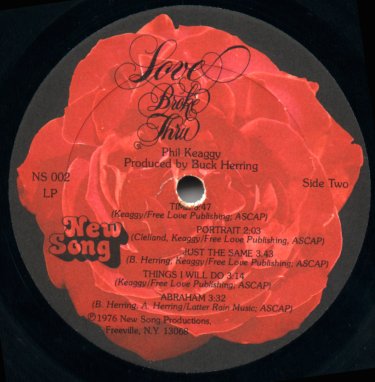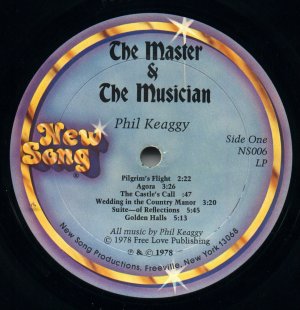 The first New Song label, used for early pressings of the What a Day album, was green on top and grey on the bottom, with black print. The second New Song label was light blue with black print. A gold ring with star-like light highlights at the top and bottom is around the outer edge of the label. The gold "New Song" logo is at the far left of the label, to the left of the center hole. Around the bottom of the label is written, "New Song Productions, Freeville, New York 13068." NS 002 had a custom label with a rose on a dark background instead of the light blue with the gold ring.




We would appreciate any additions or corrections to this discography. Just send them to us via e-mail. Both Sides Now Publications is an information web page. We are not a catalog, nor can we provide the records listed below. We have no association with New Song Records. Should you be interested in acquiring albums listed in this discography (all of which are out of print), we suggest you see our Frequently Asked Questions page and follow the instructions found there. This story and discography are copyright 2001 by Mike Callahan.



NEW SONG ALBUM DISCOGRAPHY

Number - Title - Artist [Release Date] Contents

NS 001 - What a Day - Phil Keaggy [1973] This Is What The Lord Will Do For You/King Of The Jews/Walking With Our Lord/A Time And A Place/Rejoice//What A Day/Now I Can See/Behold, All Things Are Become New/Hallelujah/I Will Sing

NS 002 - Love Broke Thru - Phil Keaggy [1976] Your Love Broke Through/Take Me Closer/As The Ruin Falls/Wild Horse/Disappointment//Time/Portrait/Just The Same/Things I Will Do/Abraham

NS 003 - Courts of the King: The Music of Ted Sandquist - Phil Keaggy & the Love Inn Company [1977] O Come Let Us Worship/At The Mention Of Your Name/Your Steadfast Love/Lion Of Judah/Love of My Lord-Redwood Tree/Come To The Courts Of The King//Come To Me/My Sun And My Shield/Selah/Waiting For The Lord/Prayer For The Kingdom/All That I Can Do

NS 004 - Emerging - Phil Keaggy [1977] Theme/Where Is My Maker?/Another Try/Ryan's Song/Struck By The Love//Turned On The Light/Sorry/Take A Look Around/Gentle Eyes

NS 005 - Full Circle - Nedra Ross [1978] Full Circle/You Write the Songs/Without Him/I Don't Want To Fall Away from You/Sunrise To Sunset//Gonna Keep My Mind/Unchanging Love For You/With Every Bit Of Strength/I Know I Love You/Lean On Me

NS 006 - The Master & the Musician - Phil Keaggy [1978] Pilgrim's Flight/Agora (The Marketplace)/The Castle's Call/Wedding In The Country Manor/Suite Of Reflections/Golden Halls//Mouthpiece/Follow Me Up/Jungle Pleasures/Deep Calls Unto Deep/Medley: Evensong-Twighlight-Forever Joy/The High And Exalted One




Back to the Discography Listings Page



Back to the Both Sides Now Home Page