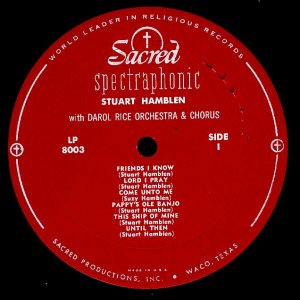 Sacred Records Album Discography
By Mike Callahan, David Edwards, and Patrice Eyries
Last update: April 17, 2003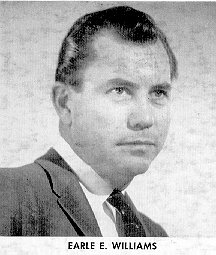 Sacred Records started as a California company in 1944. The President was Earle E. Williams, who hosted the TV show "Sunday Sing" (originally, "Highway to Heaven") which debuted on October 28, 1956 on KCOP in Los Angeles. By 1958, they were operating at 550 W. Lamberk Rd., Whittier, California. They specialized in religious music, and shared much of their artist roster with the Christian Faith label, also in California.

Some time after 1960, they moved to Waco, Texas. It is not clear whether at that time, they became part of Word Records, or they were still independent and were simply distributed by Word.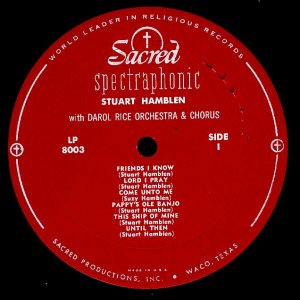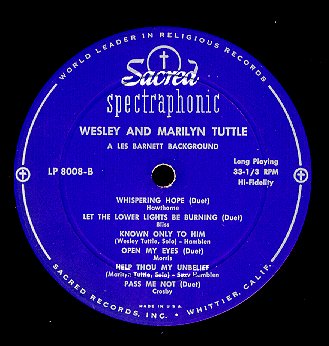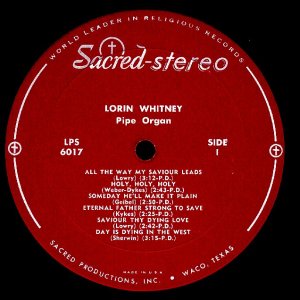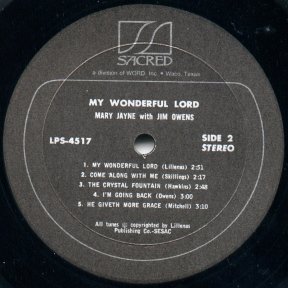 The Sacred label was primarily dark red, with graphics on the mono and stereo labels somewhat different. Originally the labels in the 8000 series were blue with silver print, but later switched to red. There were apparently many different series, but the main series in the 1950s appears to have been the 8000 series, while the 3000/4000 series was the main series in the 1960s. By the mid-1970s, with the 4500 series, Word was basically using Sacred as a reissue subsidiary, and had changed the label to a basic black and silver design with a stylized "S" logo.

We would appreciate any additions or corrections to this discography. Just send them to us via e-mail. Both Sides Now Publications is an information web page. We are not a catalog, nor can we provide the records listed below. We have no association with Sacred Records. Should you be interested in acquiring albums listed in this discography (all of which are out of print), we suggest you see our Frequently Asked Questions page and follow the instructions found there. This story and discography are copyright 2001 by Mike Callahan.



SACRED RECORDS ALBUM DISCOGRAPHY

Number - Title - Artist [Release Date] Contents

10 Inch 7000 Series:

LP 7001 - Hymns - Dona Lee Robinet [1954]

LP 7002

LP 7003 - Hymns - Lorin Whitney [1954] Holy Spirit Faithful Guide/Sun Of My Soul/How Can I Help But Love Him/Abide With Me//Jesus Keep Me Near The Cross/Lead Me Saviour/The Name Of Jesus/Wonderful Words Of Life

LP 7004 - Hymns, Volume 2 - Lorin Whitney [1954] Holy, Holy, Holy, Lord God Almighty/All The Way My Saviour Leads Me/Day Is Dying In The West/Greenland's Icy Mountains//Eternal Father Strong To Save/Pass Me Not, Oh Gentle Saviour/When They Ring Those Golden Bells/Someday He'll Make It Plain

LP 7005 - Hymns, Volume 3 - Lorin Whitney [1954]

LP 7006 - Hymns, Volume 4 - Lorin Whitney [1954]

LP 7007 - Hymns, Volume 2 - Dona Lee Robinet [1954]

LP 7008 - Christmas Selections - Various Artists [1954]

LP 7009 - Christmas Selections, Volume 2 - Various Artists [1954]

LP 7010

LP 7011 - Hymns, Volume 3 - Dona Lee Robinet [1955]

LP 7012 - Hymns - Robert Bowman [1955]

LP 7013 - Janz Quartet - Janz Quartet [1955]

LP 7014 - Jack Raines Christmas Carolers - Jack Raines Christmas Carolers [1955]

LP 7015 - Hymns - Alan McGill [1955]

LP 7016 - Hymns - Jack Holcomb [1955]

LP 7017 - Hymns, Volume 5 - Lorin Whitney [1955]

LP 7018 - Hymns - American Crusaders [1955]

LP 7019 - Hymns - Vangy Carmichael [1955]

LP 7020

LP 7021 - Lorin Whitney with the Ralph Carmichael Strings - Lorin Whitney & Ralph Carmichael Strings [1955]

LP 7022

LP 7023 - Songs from the Christian Motion Picture "Sunday on the Range" - Spencer Family [1955] Praise God Hallelujah/Sunday School Song/It's Your Life/Lie Low Little Doggies//Christ Is A Wonderful Saviour [Sacred words to "Room Full of Roses"]/What Would I Do Without Jesus?/Sunday On The Range/Circuit Ridin' Preacher

LP 7024

LP 7025 - Alan McGill - Alan McGill [195?]


LP 7047 - Mr. Texas - Redd Harper [195?] Christ Is A Wonderful Saviour/Praise God Hallelujah (It Happened To Me)/I'm A Happy Happy Christian/Each Step Of The Way//I Found What I Wanted/Lie Low Little Doggies/See What God Can Do/Praisallujah


3000/4000 Series:

Mono issues were in the LP-3000 series; stereo issues were in the corresponding LPS-4000 series. At some point in 1965, issues and reissues began to have a "7-" inserted in front of the four-digit record number and an "-LP" inserted following the record number; for example, a reissue of LPS-4027 became LSP-7-4027-LP.

LP-3001/4001 - Young Man's Fancy - Mark Davidson [??] Wonderful Grace of Jesus/Revive Us Again/Soldiers of Immanuel/Gone, Gone, Gone/At Calvary/O Happy Day/Sweet Are The Promises/In My Heart/There Rings a Melody/More Than Conquerors/I'm Glad I'm a Christian/My Home Sweet Home/Love Divine All Love Excelling/Battle Hymn of the Republic

LP-3002/4002 - Calvarymen - Calvarymen Quartet [??] There's A New Home/Stand Up For Jesus/Follow Me/He Wore a crown of Thorns/Blessed/On the Cross/Teach Me To Pray/Little Talk With Jesus/Somebody's Knockin'/Lord's Prayer/With My Saviour Through the Shadows/Jesus Is Always There

LP-3003/4003 - Have Gospel Must Travel - Good Twins [??] I Surrender Al/He Know Just What I Need/Not My Will/Do You Know My Jesus/Jesus My Saviour/Only One God/Where No One Stands Alone/Inside the Gates/Have Gospel, Must Travel/Glory, Glory, Clear the Road/I'm Feeling Fine/Somebody Bigger Than You & I

LP-3004/4004 - Pastor & Mr. R. Norheim - Pastor & Mr. R. Norheim [??] Thanks To God/He Giveth More Grace/When the Harvest Is O'er/Name I Highly Treasure/Evening Prayer/Upper Window/Message of Peace/Touch of God/I'm Going Higher Someday/Day By Day/Jesus Alone/Beyond the Sunset

LP-3005/4005 - Treasured Hymns - Marilyn Tuttle with the Good Twins [??] Why Should He Love Me So/Who At My Door Is Standing/I Am Thine O Lord/Farther Along/Sweet Hour Of Prayer/Now The Day Is Over//Near To The Heart Of God/Softly And Tenderly/Nearer My God To Thee/I Need Thee Every Hour/Jesus I Come/It Is Well With My Soul

LP-3006 - Hymns For All Churches - Helen Whittington [??] He Giveth More Grace/Ten Thousand Angels/New Name In Glory/Be still My Soul/Have Thine Own Way/When Jesus Beckons Me Home/Seeking For Me/It's Not the First Mile/It's Real/Balm In Gilead/King & I/Little Ones

LP-3007 - Touch of God's Hand - Bill Wright [??] Touch of God's Hand/Follow Me/Wonderful, Marvelous Yet True/I Heard God Today/He Died For Me/Holy City/Surely Goodness & Mercy/My Song/I've a Friend The Lord Jesus/It Took a Miracle/Amazing Grace

LP-3008/4008 - Old Fashioned Hymn Sing - Wesley Tuttle [??] The Haven Of Rest/Open Thy Merciful Arms/Will The Circle Be Unbroken/Lord, I'm Coming Home/Just A Closer Walk With Thee/When We All Get To Heaven//Precious Memories/In the Sweet By And By/Peace In The Valley/Leaning On The Everlasting Arms/How Beautiful Heaven Must Be/Since Jesus Came Into My Heart

LP-3009/LPS-4009 - Paradise Isles - Bud Tutmarc [??] Thine Alone/'Tis So Sweet To Trust In Jesus/Jesus Name I Love/I Know a Name/Why Should He Love Me So/Healer of Broken Hearts/Memories/Only Jesus/My Jesus I Love Thee/Wounded For Me/Paradise Isle/Beyond the Sunset

LP 3010/4010 - Anywhere - Norman Nelson [??] Submission/We've a Story To Tell/Work For the Night Is Coming/Anywhere With Jesus/All For Jesus/We Shall Shine As the Stars/I Am Satisfied With Jesus/Master's call/Have I Done My Best For Jesus/Follow I Will Follow Thee/What Shall I Give Thee Master/Only One Life

LP 3011/4011 - Songs of the Sawdust Trail - Alan McGill [??] Old Fashioned Meeting/In My Heart There Rings a Melody/Brighten the Corner Where You Are/We'll Understand It Better By & By/Mansion Over the Hilltop/I'm Going Higher/Old Account Was Settled/Shall We Gather At the River/Church In the Wildwood/Old Time Religion/I Won't Have To Cross Jordan Alone/Have You Counted the Cost

LP 3012/4012 - Alan McGill In Person - Alan McGill [??] Burdens Are Lifted/I'm His To Command/Constanly/Ten Thousand Angels/Jesus Paid It All/Longing For Jesus/Lead Me Gently/Saviour Is Waiting/Jesus Is the Sweetest Name I Know/Unveiled Christ/May the Good Lord Bless & Keep You/God Will take Care of You

LP 3013/4013 - Piano I Remember - Ralph Carmichael [??] Joy Unspeakable/In the Sweet Bye & Bye/Who-So-Ever Meaneth Me/Dwelling In Beulah Land/Leaning on Jesus/Farther Along/Power In the Blood/Honey In the Rock/Come & Dine/He Was Nailed To the Cross/Brighten the Corner/Our Lord's Return to Earth/'Tis Burning In My Soul/Since Jesus Came Into My Heart/When I See the Blood

LP 3014/4014 - Gospel Guitar - Joe Maphis [??] Onward Christian Soldiers/A Beautiful Life/Stand Up For Jesus/I'll Fly Away/Softly And Tenderly/The Church In the Wildwood/Amazing Grace//Old Time Religion/Hear Dem Bells/Jesus Holds My Hand/Pass Me Not/I Shall Not Be Moved/Bringing In the Sheaves/Precious Memories

LP 3015

LP 3016/4016 - One of These Days - Sunday Sing Trio [??] Standing In the Need of Prayer/My God Is Real/He'll Never Let You Fall/One of These Days/All the Way/Lead Me Gently Home/Now I Know in Part/I Won't Have To Cross Jordan alone/Precious Hiding Place/Down From His Glory/Grace That Is Greater/This I Know

LP 3017/4017 - Robert McGrath In Concert - Robert McGrath [??] Twenty-Third Psalm/O I Never Shall Forget The Day/In the Garden/Holy City/Galilee/What a Friend/If With All Your Heart/Hallelujah What a Saviour/Wayfaring Stranger/Sweet Little Jesus Boy

LP 3018/4018 - Christmas Carols - Lorin Whitney [??]

LP 3019 - Heart to Heart - Bobby Green [??] Until Then/He Hideth My Soul/Tell Mother I'll be There/Great Physician/Will the Circle Be Unbroken/All That Thrills My Soul Is Jesus/Healer of Broken Hearts/It's In My Heart/Jesus Is the Sweetest Name I Know/Is Your All on the Altar/Why Should He Love Me So/Farther Along

LP 3020/4020 - Old Time Religion - Bob Daniels & Ralph Carmichael Orchestra and Chorus [??] I'll Fly Away/There's A Great Day Coming/Kneel at the Cross/Precious Memories/I'll Meet You In the Morning/Where Could I Go/God of All Comfort/Why Not Try Prayer/Old Time Religion/Farther Along/Have Faith In God/Hide Thou Me/Footprints of Jesus

LP 3021/4021 - I Hear Music - Various Artists [??] Close to Thee/Saviour Like a Shepheard Lead Us/Pass Me Not/Standing In the Need of Prayer/Near To the Heart of God/I Will Sing of My Redeemer/Revive Us Again/Anywhere With Jesus/God Will take Care of You/Cleanse Me/My Jesus I Love Thee/Battle Hymn of the Republic/Hallelujah What a Saviour/Zion's Hill

LP-3022/4022 - Singing Double - Norman Nelson [1961] Deep Down In My Heart/God Did a Wonderful Thing For Me/Above All Else/Wonderful Grace Of jesus/I Walked Into The Sunrise/Be Thou My Guide//In Times Like These/How Big Is God/If You Could Know/The Riches Of Love/Wonderful Peace/Until Then

LP-3023/4023 - Echoes of God - Good Twins [??] In Times Like These/Echoes of God's Greatness/You'll Never Walk Alone/Then I Met the Master/When the Roll Is Called Up Yonder/In the Cross/Good News/Someone To Care/Forth Man/One of These Days/Saviour is Waiting

LP-3024 - When God Is Near - Cal Robertson [??] When God Is Near/How Do I Know/There is No Greater Love/So Send I You/Lord's Prayer/I Will Praise Him/My Jesus As Thou Wilt/I Cannot Hide From God/How Lovely Are Thy Dwellings/Oh I Never Shall Forget the Day/When I Kneel Down to Pray

LP-3025 - Music From Calvary - Calvary Temple Choir [??] Lord Is My Light/Ten Thousand Angels/Come With Your Heartache/Only Jesus/Greatest Story Yet Untold/King All Glorious/My Father Knows

LP-3026

LP-3027/LPS 4027 - 102 Strings - Ralph Carmichael [1962] Later issued in stereo as 74027. When We See Christ/Melody Divine/I Know I'll See Jesus Someday/My Friend & I//There'll Be One Song//How Can I Be Lonely/It Is Morning In My Heart/Constantly Abiding/Some Golden Daybreak/Heaven In My Heart

LP-3028 - Someone Who Cares - Tommy Barnett [1963]

LP-3029/LPS-4029 - The Voices of Teen World - Voices of Teen World [1963]

LP-3030/LPS-4030 - Heavenly Harmony - Calvarymen [1963]

LP-3031/LPS-4031 - Music to Live By - Lorin Whitney [1963]

LP-3032/LPS-4032 - Gospel Gems - Wesley Tuttle [1963] Just A Little Talk With Jesus/Life's Railway To Heaven/No Tears In Heaven/Hallelujah We Shall Rise/Mansion Over The Hilltop/Where We'll Never Grow Old//When I Take My Vacation In Heaven/Turn Your Radio On/Lead Me Gently Home Father/Where The Soul Never Dies/Where No One Stands Alone/I Can Tell You The Time

LP-3033 - Musical Memoirs of Esther Kerr Rusthoi - Robert Bowman [1963]

LP-3034 - The Caravan Sisters and Dean & Mary Jean Brown - Caravan Sisters [1963] Some Golden Daybreak/Travel On/Jesus Is Coming Again/Old Rugged Cross/What Will You Do With Jesus/I Will Trust Him/Singing For Jesus/Above All Else/I Have Christ In My Heart/Gotta Live Your Religion/Softly & Tenderly/What the World Needs Is Jesus

LP-3035/LPS-4035 - Goodbye World - Good Twins [1964]

LP-3036/LPS-4036 - Piano in Concert - Ralph Carmichael [1964]

LP-3037/LPS-4037

LP-3038/LPS-4038 - Lighted Window - Good Twins [1964]

LP-3039/LPS-4039 - Richard Ellsasser at the Conn Organ - Richard Ellsasser [1964]

LP-3040/LPS-4040 - Faith Unlocks the Door - Jim Roberts & Mellomen [1965] Faith Unlocks The Door/Beyond The Sunset/My Friend And I/Peace In The Valley/Blessed Assurance/Whispering Hope//It Is No Secret/Just A Closer Walk With Thee/Somebody Bigger Than You And I/In The Garden/I Asked The Lord/The Old Rugged Cross

Number system adds a "7" before four digit catalog numbers:

LP-73041/LPS-74041 - Birds Sing His Praise - Ralph Platt & Lorin Whitney [1965]

LP-73042/LPS-74042 - Hawaiian Paradise - Bud Tutmarc [1965] Far Beyond the Sun/Waikiki/Drifting & Dreaming/My Isle/Moon of Manakoora/Hawaiian Wedding Song/Preach the Word/My Song/Indian Love Call/Hilo March/Return

LP-73043/LPS-74043 - Best of the Good Twins - Good Twins [1965] Showers of Blessing/My Friend/Medley: What a Precious Friend, What a Friend/Power In the Blood/Sweet Hour/I'm Glad I'm a Christian/Love Is Why/At Calvary/Without Him/His Name Is Wonderful/Almost Persuaded/When I Survey

LP-73044/LPS-74044 - Memorable Moments - Lorin Whitney [1965] Savior Is Waiting/Our Great Savior/Is My Name Written/Ere You Left/O Thou/True Hearted/I Hear Thy Welcome Voice/Calvary Covers It/No One Understands Like Jesus/I Would Not Be Denied/He Wore a Crown/Let the Beauty of Jesus Be Seen/Tell Me the Old, Old Story/There Is a Name

LP-73045/LPS-74045 - Sacred Music in the Hawaiian Style - Bud Tutmarc with Lorin Whitney [1966]

LP-73046/LPS-74046 - The Restless Ones - Ralph Carmichael [1966] Oh, I Never Shall Forget/I Cannot Hide/Like a Lamb/My Friend/I Heard About/Heart Is a Rebel/I Found What I Wanted/Closer Than a Brother/Land Without Tears/Now I Only Know In Part/Return

LP-73047/LPS-74047 - Songs That Touch the Heart - Lorin Whitney [1967]

LP-73048/LPS-74048 - Dinner Devotionals No. 2 - Lorin Whitney [1967]

LP-73049/LPS-74049 - For Pete's Sake: From Billy Graham Films - Ralph Carmichael & the Young People [1967] He's Everything To Me/There Is More To Life/Beyond All Time/The Numbers Song/All My Life//The Restless Ones/A Life Worth Living/Hear My Prayer/Seek Me With All Your Heart/Miracle Of Grace/The Man

The following were issued in stereo only:

LPS 74050

LPS 74051

LPS-74052 - Paradise of Promise - Bud Tutmarc With Carmichael Singers [1969]

LPS-74053 - Wesley Tuttle Sings - Wesley Tuttle [1969] Without Him/Take A Little Time To Pray/Jesus Use Me/Detour/The Savior Is Waiting/I Won't have To Cross Jordan Alone//My Friend And I/Who At My Door Is Standing?/Someday When Jesus Comes/When God Dips His Love In My Heart/Room At The Cross For You/Tumbling Tumbleweeds

LPS 74054

LPS-74055 - Gospel Guitars, Volume 2 - Joe Maphis [1970] Where The Soul Never Dies/Battle Hymn Of The Republic/Whispering Hope/Where We'll Never Grow Old/Since Jesus Came Into My Heart/Dwelling In Beulah Land//What A Friend We Have In Jesus/Wait For The Light To Shine/I Love To Tell The Story/Leaning On The Everlasting Arms/Just A Little Talk With Jesus

LPS-74056 - Memphis Choir - Memphis Choir [1972]

LPS-74057 - Songs That Touch The Heart Volume 2 - Lorin Whitney [1972]


LP 3500/LPS 4500 Classical Series

LP 3500/LPS 4500 - Festival of Music - Mozarteum Orchestra of Salzburg, Alfred Sholz Conductor [??] Blue Danube/Viennese Blood/Emperor's Waltz/Viennese Bon Bon


4500 Series:

LPS-4516-LP - Bright and Beautiful - Revivaltime Choir

LPS-4517-LP - My Wonderful World - Mary Jayne [Gaither] [1976] Reissue of Word WST- 8471-LP. All That Thrills My Soul/The Lily Of The Valley/I Want To Be Like Jesus/Searching/Everytime I Feel The Spirit//My Wonderful World/Come Along With Me/The Crystal Fountain/I'm Going Back/He Giveth More Grace

LPS-4520-LP - Great Christian Artists - Various Artists [1976]


5000 Series:

LP 5010 - Bob Daniels Sings Your Favorites - Bob Daniels


Thanks to Jerry Kendall.



6000 Stereo Series (mono in 8000 series):

LPS 6001 - Rhapsody In Sacred Music - Ralph Carmichael Orchestra [1958] Issued in mono as LP 8004. I've Discovered The Way of Gladness/Lord Is My Light/Close To Thee/For All the Saints/I Walked Today Where Jesus Walked/Saviour Is Waiting/Now I Belong To Jesus/Jericho/Jesus Loves Me/Come Thou Fount/Sunrise/Come Unto Me

LPS 6002 - Refreshing Melodies - Alvino Rey & Ralph Carmichael [1958] Issued in mono as LP 8007. What a Friend/Cleanse Me/Way of the Cross/In the Garden/I Love Him/Rock of Ages/Old Rugged Cross/Near the Cross/He's Coming Soon/Home Sweet Home/Now the Day Is Over/Haven of Rest

LPS 6003 - Son of God's Country - Gregory Loren [1958] Issued in mono as LP 8005. Great Day/Tomorrow's a Lovely Day/It Took a Miracle/Amazing Grace/Hallelujah What a Saviour/How Great Thou Art/Workshop of the Lord/Son of God's Country/Someone/This Is My Father's World/Known Only To Him/Cabin By the Pearly Gates/Wonder Of It All/My Heavenly Father Watches Over Me/Got of the Mountain

LPS 6004 - My Friend & I - Evangeline Carmichael [1958] Issued in mono as LP 8011. Friendship With Jesus/Day By Day/I Found the Answer/Jesus Paid It All/Make Me a Blessing/My Friend & I/I Know In Part/Moment by Moment/Let Jesus Come Into Your Heart/Heart Is a Rebel/have Thine Own Way/Saviour Is Waiting

LPS 6005 - Some Golden Daybreak - Alan McGill [1958] Issued in mono as LP 8006. Still Sweeter Ever Day/I Walk the Glory Road/Each Step of the Way/He's Been There All the Time/Sweet Hour of Prayer/Face To Face/Show a Little Love/I Found the Answer/His Eye Is On the Sparrow/I'd Rather Have Jesus/He Will Walk Through the Valley With You/Some Golden Daybreak

LPS 6006 - Les Barnett - Les Barnett [1958] Issued in mono as LP 9058. He Leadeth Me/Faith of Our Fathers/God Be With You/Living For Jesus/Blessed Assurance/Open Your Heart/Lily of the valley/Dwelling In Beulah Land/Nothing Between/Lord Keep Your Hand On Me/Work For the Night Is Coming/Whispering Hope

LPS 6007 - Beth Farnam - Beth Farnam [1958]Issued in mono as LP 9036. What a Friend We Have In Jesus/Amazing Grace/Nothing Between/Beneath the Cross/No One Ever Cared For Me/Not Dreaming/It's Real/Evening Prayer/Love of God/His Eye is On the Sparrow/Beyond the Sunset/When God Is Near

LPS 6008 - Charles Magnuson With Ralph Carmichael Orchestra - Charles Magnuson With Ralph Carmichael Orchestra [1958] Issued in mono as LP 9039. Under His Wings/Whiter Than Snow/When I Survey the Wondrous Cross/Lead Me Gently Home/Father/Follow, I Will Follow Thee/Day By Day/Fairest Lord Jesus/Sweeter As the Years Go By/God Leads Us Along/I Found a Friend/Precious Hiding Place/He Is Mine

LPS 6009 - A Visit with Stuart Hamblen - Stuart Hamblen & Darol Rice Orchestra [1958] Issued in mono as LP 8003. Friends I Know/Lord I Pray/Come Unto Me/Pappy's Old Banjo/This Ship Of Mine/Until Then//Help Thou My Unbelief/Teach Me Lord To Wait/Unborn To Time/There's A Place In God's Heart/Don't Send Those Kids To Sunday School/Army Of The Lord

LPS 6010 - Riverboat Jubilee - Sons of Song [1958] Issued in mono as LP 8014. Old Camp Meeting Time/Lonesome Road/Heaven's Jubilee/When They Ring the Golden Bells/Rock of Ages/Somewhere a Voice Is Calling/Lord, I Want To Go To Heaven/He's Everywhere/Amazing Grace/Sorry, I Never Knew You/Not By Bread Alone/Do You Know Jesus

LPS 6011 - Bob Daniels - Bob Daniels [1958] Issued in mono as LP 9057. My Father/King of All Kings/When I've Gone the Last Mile/I Am Persuaded/Help Thou My Unbelief/Saviour Is Waiting/If You Know the Lord/Wonder of It All/Glory of His Presence/Amazing Grace/Father Forgive Them/Precious Lord

LPS 6012 - Songs To Brighten the Day - Bud Miller [1958] Issued in mono as LP 8009. Now I Belong To Jesus/Near To the Heart of God/He Leadeth Me/Tell Me the Old Old Story/For You I Am Praying/Let the Lower Lights Be Burning/Calvary Covers It All/Let Us Break Bread/Old time Religion/Found a Friend/Count Your Blessings/Sweeter As the Years Go By

LPS 6013 - Secret of Happiness - Wesley & Marilyn Tuttle [1958] Issued in mono as LP 8008. Known Only To Him/When They Ring Those Golden Bells/He Was There/Help Thou My Unbelief/It Is No Secret/Until Then/Let the Lower Lights Be Burning/In the Garden/Whispering Hope/He Lives/Pass Me Not O Gentle Saviour/Open My Eyes

LPS 6014 - Sunday Sing Trio - Sunday Sing Trio with Ralph Carmichael Orchestra [1958] Issued in mono as LP 9051. God Understands/Just a Closer Walk With Thee/Turn Your Eyes Upon Jesus/Saviour Is Waiting/Everytime I Feel the Spirit/I Found What I Wanted/Heaven In My Heart/Rock a My Soul/Fellowship Sweet/Ivory Palaces/More Than Conquerors/I Heard About

LPS 6015 - Les Barnett - Les Barnett [1958] Issued in mono as LP 9021. How Great Thou Art/On Jordan's Stormy Banks/Bring Your Vessels Not a Few/I Will Pilot Thee/Leaning on the Ever Lasting Arms/When We All Get To Heaven/I Am Resolved/Bringing In the Sheaves/Wonderful Peace/Still Sweeter Everyday/What A Friend/Shelter In the Time of Storm

LPS 6016 - Les Barnett - Les Barnett [1958] Issued in mono as LP 9022. It Took a Miracle/Let Me Dream On/At the Cross/Beautiful Garden of Prayer/Beaulah Land/Pentecostal Power/Amazing Grace/Wonderful Grace of Jesus/Sound the Battle Cry/Now I Belong To Jesus/Onward Christian Soldiers/He Bought My Soul

LPS 6017 - Reminiscing...At the Pipe Organ - Lorin Whitney [1958] Issued in mono as LP 9049. All The Way My Saviour Leads/Holy Holy Holy/Someday He'll Make It Plain/Eternal Father Strong To Save/Saviour Thy Dying Love/Day Is Dying In The West//Blessed Quietness/In The Sweet By And By/'Tis So Sweet To Trust In Jesus/We've A Story To Tell/From Greenland's Icy Mountains/When They Ring Those Golden Bells

LPS 6018 - My God and I - Lorin Whitney [1959] Stereo only? Rock That Is Higher Than I/Only Trust Him/I Choose Jesus/Oh Speak To Me/Art Thou Weary/He Bought My Soul At Calvary/Guide Me O Thou Great Jehovah/Now I Belong To Jesus/No Longer Lonely/Some Golden Daybreak/My God & I/Calvary Covers It All

LPS 6019 - O Come All Ye Faithful - Baptist Laymen Singers [12/58] Issued in mono as LP 8013.

LPS 6020 - Just a Closer Walk - Bob Daniels [1959] Issued in mono as LP 8015. I Will Pilot Thee/Closer Than a Brother/Just When I Need Him Most/For All My Sins/Just a closer Walk/I Found the Answer/He'll Understand/Lord Is My Shepherd/No One Understands Like Jesus/Linger a Moment/It is Springtime/He Bought My Soul

LPS 6021 - Alan McGill Sings - Alan McGill [1959] Issued on mono as LP 8016. Balm In Gilead/Over the Sunset Mountain/Down Deep In My Heart/He's Got the Whole World/Things I Have Left Undone/Beneath the Cross/I'll Never be Lonely/'Twas the Dawn of a Beautiful Day/Tenderly He Watches/Jesus Took My Burden/If I Gained the World/If Your Heart Keeps Right

LPS 6022 - King's Business - Robert Bowman [1959] Issued on mono as LP 8017. Heartaches/Sunrise/I Am Satisfied/God's Tomorrow/All the Way To Calvary/Lord Is My Shepherd/On Zion's Hill/He Was Not Willing/Life's Nocturne/Thou Art God

LPS 6023 - Garden of My Heart - Ralph Carmichael Singers [1959] Issued on mono as LP 8018. Church In the Wildwood/O For a Thousand Tongues/Sun of My Soul/Saviour Is Waiting/Jesus, the Very Thought of Thee/Near to the Heart of God/Shadrach/Overshadowed/Peace That Jesus Gives/Wonderful Jesus/Whispering Hope/In the Garden of My Heart

LPS 6024

LPS 6025 - Laymen Singers - Baptist Laymen Singers [1959] Issued on mono as LP 8020. Still Still With Thee/Almighty God of Our Fathers/Make Me a Blessing/Everytime I Feel the Spirit/Now Thank We All Our God/Day By Day/More Than Conquerors/I Never Walk Alone/God So Loved the World/O Master Let Me Walk With Thee/Thanks Be To Thee/Keep In the Middle of the Road/Beside the Still Waters

LPS 6026 - Wesley & Marilyn Tuttle - Wesley & Marilyn Tuttle [1959] Issued on mono as LP 8021. Where Could I Go/My Heavenly Father Watches Over Me/Beautiful Isle Of Somewhere/So Great Was His Love/Over the Sunset Mountain/Safe In the Arms of Jesus/Cleanse Me/Overshadowed/Mus Jesus Bear the cross Alone/Ninety & Nine/God Will Take Care of You/Now I Belong To Jesus

LPS 6027 - Sacred Hawaiian Melodies - Bud Tutmarc [1959] Issued on mono as LP 8022. My Beautiful/King of Kings/In Love With the Lover of My Soul/End of the Trail/He Hideth My Soul/After/When they Ring Dem Golden Bells/Be Ready/Hold My Hand/Nail Scarred Hand/One Master/No One Ever Cared For Me Like Jesus/Melody Divine

LPS 6028 - Ed Searcy - Ed Searcy [1959] Issued on mono as LP 8023. Is Your All on the Altar/Haven of Rest/For All My Sin/Ivory Palaces/Holy, Holy, Is What the Angels Sing/You'll Never Walk Alone/Bless This House/Make Me a Blessing/I Will Pilot Thee/Follow, I Will Follow Thee/He Hideth My Soul/I See a Crimson Stream

LPS 6029 - The Lord Is My Shepherd - Evangeline Carmichael [1959] Issued on mono as LP 8024. Each Step of the Way/Return/Closer Than a Brother/Beside the Still Waters/Where He Leads Me I Will Follow/Take Up Thy Cross/Ninety & Nine/Lord Is My Shepherd/Saviour Like a Shepherd Lead Us/No One Understands Like Jesus/This I Know/Jesus Will Walk With Me

LPS 6030

LPS 6031

LPS 6032

LPS 6033

LPS 6034

LPS 6035

LPS 6036 - Beth Farnam - Beth Farnam [1960] Issued in mono as LP 8031. Holy City/I Know That My Redeemer Liveth/O Holy Night/Were You There/Battle Hymn of the Republic

LPS 6037 - Beth Farnam - Beth Farnam [1960] Issued in mono as LP 8032. Why Should He Love Me So/When I Kneel Down To Pray/Stranger of Galilee/Oh I Never Shall Forget the Day/Fairest Lord Jesus/Precious Hiding Place/Saved By Grace/All That Thrills My Soul

LPS 6038 - I Found What I Wanted - Bob Daniels [1960] Issued on mono as LP 8033. Room At the Cross/My Wonderful Lord/Fellowship Sweet/There'll Be One Song/Submission/I Found What I Wanted/Leave It There/Calvary covers It All/God Will Take Care of You/No Longer Lonely/Where Jesus Is 'Tis Heaven/Must Jesus Bear the Cross Alone

LPS 6039 - Singing Ambassador - Norman Nelson [1960] Issued on mono as LP 8034. It's Real/Oh What Love/Satisfied/I Am Not Worthy/No One Understands Like Jesus/At the End of the Road/He's The One/Under His Wings/It Pays To Serve Jesus/Zion's Hill/I Am Amazed/Harbored In Jesus

LPS 6040 - Dinner Devotionals - Lorin Whitney [1960] Issued on mono as LP 8035. Not Dreaming/I Will Sing Of My Redeemer/What a Wonderful Saviour/Victory Thru Christ/When I Survey the Wondrous Cross/O I Want To See Him/O That Will Be Glory For Me/Just For Today/Blessed Redeemer/Onward Christian Soldiers/Security/Oh How I Love Jesus

LPS 6041 - Bob Daniels With the Big Band - Bob Daniels With Brass & Percussion [1960] Issued on mono as LP 8036. More Than Conquerors/Christ In My Heart/Down From His Glory/I Am Praying For You/Pass Me Not/Ivory Palaces/Return/Not Dreaming/My Friend & I/Home Sweet Home

LPS 6042

LPS 6043

LPS 6044 - He Keeps Me Singing - Alan McGill [1960] Issued on mono as LP 8039. I Know Whom I Have Believed/Solid Rock/Glory To His Name/Open My Eyes That I May See/Softly & Tenderly/Have Thine Own Way/God Be With You/O For a Thousand Tongues/All Hail the Power/We're Marching To Zion/He Keeps Me Singing/At the Cross/O Jesus, I Have Promised/Thank You Lord


8000 Mono Series (stereo in 6000 series):

LP 8001 - 200 Artists In Sacred Concert - Various Artists [1958] Faith of Our Fathers/In the Garden/My Faith Looks Up To Thee/Saviour Is Waiting/Cleanse Me/Amazing Grace/Home Sweet Home/'Tis So Sweet To Trust In Jesus/This I Know/God of Our Fathers/Make Me a Blessing/Whiter Than Snow/Precious

LP 8002 - Call to Worship - Lorin Whitney [1958] Haven of Rest/I Am Coming Home/When They Ring the Golden Bells/Take the Name of Jesus With You/There Is a Fountain/When I Survey the Wondrous Cross/O Happy Day/'Tis So Sweet To Trust In Jesus

LP 8003/LPS 6009 - A Visit with Stuart Hamblen - Stuart Hamblen & Darol Rice Orchestra [1958] Friends I Know/Lord I Pray/Come Unto Me/Pappy's Old Banjo/This Ship Of Mine/Until Then//Help Thou My Unbelief/Teach Me Lord To Wait/Unborn To Time/There's A Place In God's Heart/Don't Send Those Kids To Sunday School/Army Of The Lord

LP 8004/LPS 6001 - Rhapsody In Sacred Music - Ralph Carmichael Orchestra [1958] I've Discovered The Way of Gladness/Lord Is My Light/Close To Thee/For All the Saints/I Walked Today Where Jesus Walked/Saviour Is Waiting/Now I Belong To Jesus/Jericho/Jesus Loves Me/Come Thou Fount/Sunrise/Come Unto Me

LP 8005/LPS 6003 - Son of God's Country - Gregory Loren [1958] Great Day/Tomorrow's a Lovely Day/It Took a Miracle/Amazing Grace/Hallelujah What a Saviour/How Great Thou Art/Workshop of the Lord/Son of God's Country/Someone/This Is My Father's World/Known Only To Him/Cabin By the Pearly Gates/Wonder Of It All/My Heavenly Father Watches Over Me/Got of the Mountain

LP 8006/LPS 6005 - Some Golden Daybreak - Alan McGill [1958] Still Sweeter Ever Day/I Walk the Glory Road/Each Step of the Way/He's Been There All the Time/Sweet Hour of Prayer/Face To Face/Show a Little Love/I Found the Answer/His Eye Is On the Sparrow/I'd Rather Have Jesus/He Will Walk Through the Valley With You/Some Golden Daybreak

LP 8007/LPS 6002 - Refreshing Melodies - Alvino Rey & Ralph Carmichael [1958] What a Friend/Cleanse Me/Way of the Cross/In the Garden/I Love Him/Rock of Ages/Old Rugged Cross/Near the Cross/He's Coming Soon/Home Sweet Home/Now the Day Is Over/Haven of Rest

LP 8008/LPS 6013 - Secret of Happiness - Wesley & Marilyn Tuttle [1959] It Is No Secret/He Lives/He Was There/In the Garden/Until Then/When They Ring Those Golden Bells//Whispering Hope/Let the Lower Lights Be Burning/Known Only To Him/Open My Eyes/Help Thou My Unbelief/Pass Me Not

LP 8009/LPS 6012 - Songs To Brighten the Day - Bud Miller [1959] Now I Belong To Jesus/Near To the Heart of God/He Leadeth Me/Tell Me the Old Old Story/For You I Am Praying/Let the Lower Lights Be Burning/Calvary Covers It All/Let Us Break Bread/Old time Religion/Found a Friend/Count Your Blessings/Sweeter As the Years Go By

LP 8010 - Hallowed Moments - Sanctuary Choir [1959] Old Rugged Cross/All Creatures of Our Got & King/Ballad of the Trees/For All the Saints/Ivory Palaces/Now Thank We All Our God/When I Survey the Wondrous Cross/This Is My Father's World/Wonderful Peace/Ten Thousand Times Ten Thousand/In the Cross of Christ I Glory/I Heard the Voice of Jesus Say

LP 8011/LPS 6004 - My Friend & I - Evangeline Carmichael [1959] Friendship With Jesus/Day By Day/I Found the Answer/Jesus Paid It All/Make Me a Blessing/My Friend & I/I Know In Part/Moment by Moment/Let Jesus Come Into Your Heart/Heart Is a Rebel/have Thine Own Way/Saviour Is Waiting

LP 8012

LP 8013/LPS 6019 - O Come All Ye Faithful - Laymen Singers [12/58] Star Carol/What Child Is This/O Come, All Ye Faithful/Behold That Star/Silent Night/Christmas Hymn//Joy To The World/God Rest Ye Merry, Gentlemen/O Come, O Come Emmanuel/I Wonder As I Wander/Away In A Manger/O Holy Night

LP 8014/LPS 6010 - Riverboat Jubilee - Sons of Song [1959] Old Camp Meeting Time/Lonesome Road/Heaven's Jubilee/When They Ring the Golden Bells/Rock of Ages/Somewhere a Voice Is Calling/Lord, I Want To Go To Heaven/He's Everywhere/Amazing Grace/Sorry, I Never Knew You/Not By Bread Alone/Do You Know Jesus

LP 8015/LPS 6020 - Just a Closer Walk - Bob Daniels [1959] I Will Pilot Thee/Closer Than a Brother/Just When I Need Him Most/For All My Sins/Just a closer Walk/I Found the Answer/He'll Understand/Lord Is My Shepherd/No One Understands Like Jesus/Linger a Moment/It is Springtime/He Bought My Soul

LP 8016/LPS 6021 - Alan McGill Sings - Alan McGill [1959] Balm In Gilead/Over the Sunset Mountain/Down Deep In My Heart/He's Got the Whole World/Things I Have Left Undone/Beneath the Cross/I'll Never be Lonely/'Twas the Dawn of a Beautiful Day/Tenderly He Watches/Jesus Took My Burden/If I Gained the World/If Your Heart Keeps Right

LP 8017/LPS 6022 - King's Business - Robert Bowman [1959] Heartaches/Sunrise/I Am Satisfied/God's Tomorrow/All the Way To Calvary/Lord Is My Shepherd/On Zion's Hill/He Was Not Willing/Life's Nocturne/Thou Art God

LP 8018/LPS 6023 - Garden of My Heart - Ralph Carmichael Singers [1959] Church In the Wildwood/O For a Thousand Tongues/Sun of My Soul/Saviour Is Waiting/Jesus, the Very Thought of Thee/Near to the Heart of God/Shadrach/Overshadowed/Peace That Jesus Gives/Wonderful Jesus/Whispering Hope/In the Garden of My Heart

LP 8019

LP 8020/LPS 6025 - Let Me Walk with Thee - Laymen Singers [1959] Still Still With Thee/Almighty God Of Our Fathers/Make Me A Blessing/Everytime I Feel The Spirit/Now Thank We All Our God/Day By Day/More Than Conquerors//I Never Walk Alone/God So Loved The World/O Master Let Me Walk With Thee/Thanks Be To Thee/Keep In The Middle Of The Road/Beside The Still Waters

LP 8021/LPS 6026 - Wesley & Marilyn Tuttle - Wesley & Marilyn Tuttle [1959] Where Could I Go/My Heavenly Father Watches Over Me/Beautiful Isle Of Somewhere/So Great Was His Love/Over the Sunset Mountain/Safe In the Arms of Jesus/Cleanse Me/Overshadowed/Mus Jesus Bear the cross Alone/Ninety & Nine/God Will Take Care of You/Now I Belong To Jesus

LP 8022/LPS 6027 - Sacred Hawaiian Melodies - Bud Tutmarc [1959] My Beautiful/King of Kings/In Love With the Lover of My Soul/End of the Trail/He Hideth My Soul/After/When they Ring Dem Golden Bells/Be Ready/Hold My Hand/Nail Scarred Hand/One Master/No One Ever Cared For Me Like Jesus/Melody Divine

LP 8023/LPS 6028 - Ed Searcy - Ed Searcy [1959] Is Your All on the Altar/Haven of rest/For All My Sin/Ivory Palaces/Holy, Holy, Is What the Angels Sing/You'll Never Walk Alone/Bless This House/Make Me a Blessing/I Will Pilot Thee/Follow, I Will Follow Thee/He Hideth My Soul/I See a Crimson Stream

LP 8024/LPS 6029 - The Lord Is My Shepherd - Evangeline Carmichael [1959] Each Step of the Way/Return/Closer Than a Brother/Beside the Still Waters/Where He Leads Me I Will Follow/Take Up Thy Cross/Ninety & Nine/Lord Is My Shepherd/Saviour Like a Shepherd Lead Us/No One Understands Like Jesus/This I Know/Jesus Will Walk With Me

LP 8025

LP 8026

LP 8027

LP 8028

LP 8029

LP 8030

LP 8031/LPS 6036 - Beth Farnam - Beth Farnam [1960] Holy City/I Know That My Redeemer Liveth/O Holy Night/Were You There/Battle Hymn of the Republic

LP 8032/LPS 6037 - Beth Farnam - Beth Farnam [1960] Why Should He Love Me So/When I Kneel Down To Pray/Stranger of Galilee/Oh I Never Shall Forget the Day/Fairest Lord Jesus/Precious Hiding Place/Saved By Grace/All That Thrills My Soul

LP 8033/LPS 6038 - I Found What I Wanted - Bob Daniels [1960] Room At the Cross/My Wonderful Lord/Fellowship Sweet/There'll Be One Song/Submission/I Found What I Wanted/Leave It There/Calvary covers It All/God Will Take Care of You/No Longer Lonely/Where Jesus Is 'Tis Heaven/Must Jesus Bear the Cross Alone

LP 8034/LPS 6039 - Singing Ambassador - Norman Nelson [1960] It's Real/Oh What Love/Satisfied/I Am Not Worthy/No One Understands Like Jesus/At the End of the Road//He's The One/Under His Wings/It Pays To Serve Jesus/Zion's Hill/I Am Amazed/Harbored In Jesus

LP 8035/LPS 6040 - Dinner Devotionals - Lorin Whitney [1960] Not Dreaming/I Will Sing Of My Redeemer/What a Wonderful Saviour/Victory Thru Christ/When I Survey the Wondrous Cross/O I Want To See Him/O That Will Be Glory For Me/Just For Today/Blessed Redeemer/Onward Christian Soldiers/Security/Oh How I Love Jesus

LP 8036/LPS 6041 - Bob Daniels With the Big Band - Bob Daniels With Brass & Percussion [1960] More Than Conquerors/Christ In My Heart/Down From His Glory/I Am Praying For You/Pass Me Not/Ivory Palaces/Return/Not Dreaming/My Friend & I/Home Sweet Home

LP8037

LP 8038

LP 8039/LPS 6044 - He Keeps Me Singing - Alan McGill [1960] I Know Whom I Have Believed/Solid Rock/Glory To His Name/Open My Eyes That I May See/Softly & Tenderly/Have Thine Own Way/God Be With You/O For a Thousand Tongues/All Hail the Power/We're Marching To Zion/He Keeps Me Singing/At the Cross/O Jesus, I Have Promised/Thank You Lord


9000 Series:

LP 9013 - Everyone's Favorites - Les Barnett [1958] Shall We Gather At the River/Trusting Jesus/Bring Your Vessels Not a Few/Lead Me Gently Home Father/Through Your Sins Be As Scarlet/Church In the Wildwood/Jewels/Church's One Foundation/Make Me a Blessing/Only Trust In Him/Blessed Quietness/Old Rugged Cross/Rock of Ages/Amazing Grace/Moment By Moment/Great Is Thy Faithfulness/When the Roll Is Called Up Yonder/O' For a Thousand Tongues/Tell It To Jesus Alone/Come Thou Fount/My Burdens Rolled Away/Is Your All on the Altar

LP 9014 - Meet the Family - Various Artists [1958] Beyond the Sunset/Are You Willing/Stand Up For Jesus/Lead Me Saviour/I'll Live For Jesus/Old Rugged Cross/Saved By Grace/I've Got a Melody/I'm Glad I'm a Christian/Whispering Hope/We Shall See His Lovely Face/Come With Your Heartaches/Sweet Hour of Prayer/If I Gained the World/I'd Rather Have Jesus

LP 9015 - Gospel Songs & Hymns - Paul Mickelson [1958] Lost Chord/Hallelujah Chorus/Triumphant March/Marche Pontificale/Abide With Me/Beyond the Sunset/Just a Closer Walk With Thee/It Is No Secret/Sweeter As the Years go By/Whispering Hope/I'd Rather Have Jesus/Precious Lord Take My Hand

LP 9016 - Something Old & Something New - Evangeline Carmichael [1958] Room of the Cross/It Was Jesus/Pray, Pray, Pray/He Careth For You/Open My Eyes That I May See/I Found a friend/Come With Your Heartaches/I cannot Hide From God/Lord I'm Coming Home/Do You Wonder/My Guardian Angel/He Leadeth Me

LP 9017 - Baptist Laymen's Hour - Laymen Singers [1958] When I Survey the Wondrous Cross/All Hail the Power of Jesus' Name/Beneath the Cross of Jesus/I Walked Today Where Jesus Walked/Stand Up For Jesus/Were you There When They Crucified My Lord/Christ the Lord Is Risen Today/Christ Arose/Holy City/Faith Triumphant

LP 9018 - How Great Thou Art - Bill Carle, Vocal & Narration With Les Barnett [1958] Lord's Prayer/When They Ring the Golden Bells/I Walked Today Where Jesus Walked (The above titles are included in this scriptural portrayal of creation to crucifixion in song & narration.)

LP 9019 - Always Remember - Phil Kerr and Harmony Chorus [1958] I'm His To Command/Thine Alone/How About Your Heart/For All My Sins/In the Cool of the Evening/Lead Me To That Rock/Known Only To Him/I'll Walk Them Golden Stairs/Well Done/Singing In My Soul

LP 9020 - Symphonic Reflections - Ralph Carmichael [1958] Lead Me To Calvary/Lost Chord/My Faith Looks Up To Thee/After/O Love That Wilt Not Let Me Go/Holy City/I cannot Hide From God/Beautiful Garden of Prayer

LP 9021/LPS 6015 - Les Barnett - Les Barnett [1958] How Great Thou Art/On Jordan's Stormy Banks/Bring Your Vessels Not a Few/I Will Pilot Thee/Leaning on the Ever Lasting Arms/When We All Get To Heaven/I Am Resolved/Bringing In the Sheaves/Wonderful Peace/Still Sweeter Everyday/What A Friend/Shelter In the Time of Storm

LP 9022/LPS 6016 - Les Barnett - Les Barnett [1958] It Took a Miracle/Let Me Dream On/At the Cross/Beautiful Garden of Prayer/Beaulah Land/Pentecostal Power/Amazing Grace/Wonderful Grace of Jesus/Sound the Battle Cry/Now I Belong To Jesus/Onward Christian Soldiers/He Bought My Soul

LP 9023

LP 9024 - Organ & Guitar - Bud Tutmarc & Lorin Whitney [1958] Song of the Islands/My Isle of Golden Dreams/In the Garden/To You Sweetheart Aloha/What a Friend We Have In Jesus/Cleanse Me/Song of Old Hawaii/Near the Cross/Aloha Oe/All That Thrills My Soul/Blue Hawaii/Wonderful Peace

LP 9025 - Lorin Whitney - Lorin Whitney [1958] No, Not One/God Will Take Care of You/He Will Hold Me Fast/Pearly White City/This Is My Father's World/Jesus Is Calling/Harbored In Jesus/Jesus Is All the World to Me/Glory to His Name/Trust & Obey/When I Survey/Summer All the Time

LP 9026 - Immortal Treasures - Bob Daniels (red vinyl) His Hands/Come Unto Me/Workshop Of The Lord/Lonesome Valley/Army of the Lord/This Book//Dear Lord Be My Shepherd/Known Only To Him/God Is A Good God/Teach Me Lord To Wait/There's A Place In God's Heart/Beyond the Sun

LP 9027 - A Visit with Ralph Platt: Birds Sing His Praise - Ralph Platt with Lorin Whitney [1958] I Love To Tell the Story/Jesus Alone/I Am Amazed/I Walked Today Where Jesus Walked/Child of the King/Sweeter Than All/I Have Been Alone With Jesus/Cleanse Me/I Will Pilot Thee/Glory of His Presence/Why Should He Love Me So/It Is Well With My Soul

LP 9028 - Alan McGill With Les Barnett - Alan McGill With Les Barnett [??] Higher Ground/Wonderful Peace/Lily of the Valley/Near the Cross/Great Is Thy Faithfulness/Blessed Assurance/Be Still My Heart/Do You Care/Sunlight/Trust & Obey/Open Up Your Heart/Spread the Word

LP 9029 - Contemporary Gospel Songs - Robert Bowman [1958] Just To Think/More Than Enough/I Choose Thy Will/Leaning & Learning/He Knows How/Kept By the Power of God/Hiding Place/Ecstasy/When We See Christ/Finished Work of Calvary/How Could He Love Me So/In the Secret Place of Prayer

LP 9030 - He Was There - Bob Daniels [1958] I Won't Have To Cross Jordan Alone/Jesus Is Passing This Way/Come With Your Heartaches/Old Rugged Cross/In the Garden/Peace In the Valley/Lord's Prayer/Under His Wings/In the Sweet Bye & Bye/I Took My Burdens To Calvary/Thank You Lord For Saving My Soul

LP 9031 - Turn Your Eyes Upon Jesus - Selma Shelley [1958] Precious Hiding Place/Jesus Saviour Pilot Me/O For a Thousand Tongues/Leave It With Him/Free as a Bird/Balm In Gilead/Softly & Tenderly/Fight the Good Fight/Rock of Ages/Jesus, I My Cross Have Taken/Trusting Jesus

LP 9032 - Have Faith, Don't Cry - Palermo Brothers [1958] Nearing the Shore/And Can It Be/I've Got So Many Million Years/Old Gospel Ship/When You Get the Love of Jesus/He Makes a Way/If You Know the Lord/Jesus In My Heart/My Home Is In Heaven/Take a Little Time/Down Deep In My Heart

LP 9033 - Say Thanks - Norman Nelson [1958] Solid Rock/My Saviour First of All/Shelter In the Time of Storm/Whiter Than Snow/I'm Not Alone/Somedays/This I Know/How Great Thou Art/Hallelujah What a Saviour/Beneath the Cross of Jesus/Follow Me

LP 9034 - Gospel Songs That Touch the Heart - Jack Holcomb [1958] Issued on red vinyl. I'd Rather Have Jesus/There's A Balm In Gilead/When I Get To The End Of The Way/It's Real/Oh What A Way/The Ninety and Nine/The Holy City/Ship Ahoy/Stranger of Galilee/The Prodigal Son/Amazing Grace

LP 9035

LP 9036/LPS 6007 - Beth Farnam - Beth Farnam [??] What a Friend We Have In Jesus/Amazing Grace/Nothing Between/Beneath the Cross/No One Ever Cared For Me/Not Dreaming/It's Real/Evening Prayer/Love of God/His Eye is On the Sparrow/Beyond the Sunset/When God Is Near

LP 9037 - Famous Cleveland Quintet - Cleveland Quintet [1958] Hold Out Your Light/Over in the Glory Land/Peace, It's Wonderful/There Is Joy, Sweet Joy/Reign, Master Jesus, Reign/Oh, Happy Day/We Shall Shine As the Stars/He Answers Prayer/I'm Gonna Walk Right In/Lead Me, Guide Me/Swing Low, Sweet Chariot/He Is My Friend & Guide

LP 9038

LP 9039/LPS 6008 - Charles Magnuson With Ralph Carmichael Orchestra - Charles Magnuson With Ralph Carmichael Orchestra [1958] Under His Wings/Whiter Than Snow/When I Survey the Wondrous Cross/Lead Me Gently Home/Father/Follow, I Will Follow Thee/Day By Day/Fairest Lord Jesus/Sweeter As the Years Go By/God Leads Us Along/I Found a Friend/Precious Hiding Place/He Is Mine

LP 9040 - Alan McGill With Les Barnett - Alan McGill With Les Barnett [??] Heaven Everyday/Did You Think To Pray/As Only God Can Do/Open wide the Windows/Lord, Have Mercy on My Soul/Read the Bible & Pray/Follow, I Will Follow Thee/Roses In December/Leave It There/Child of a King/Pass Me Not/Good Night & Good Morning

LP 9041 - Who Hath Measured the Waters In the Hollow of His Hand - Bill Carle [1958] Saved By Grace/How Great Thou Art/Thy Will Be Done/Our Thanks to Thee/Songs of the Prodigal/Down Deep in the Sea/There Is No Greater Love/It Took a Miracle/My Song/No One Understands Like Jesus/Glimpse of Jesus

LP 9042 - When We See Christ - Robert Bowman [1958] His Name is Jesus/It Pays To Pray/Since I Prayed/Crucified Christ/Glory That Shall Be/Joy In the Morning/Enlarge My Soul/Take My Best/Atonement/Because of Calvary

LP 9043

LP 9044 - Hymns of Praise - Various Artists [1958] Beneath the Cross/Rock of Ages/He Giveth More Grace/When I Met the Saviour/Have I Done My Best/Teach Me To Pray/Count Your Blessings/It Is Morning In My Heart/There's a Balm in Gilead/Whispering Hope/My Anchor Holds/Jesus Is Calling

LP 9045 - Alan McGill With Les Barnett - Alan McGill With Les Barnett [??] Take the Name of Jesus With You/Abide With Me/Old Rugged Cross/Love Lifted Me/In the Garden/Rock of Ages/What a Friend/Precious Lord, Take My Hand/Love of God/'Tis So Sweet to Trust In Jesus/Beyond the Sunset

LP 9046 - Religious Songs In Norwegian - Pastor & Mrs. R. Norheim [1958] Den Store Hvide Flok/Jesus Alene Mit Hierte Skal Eie/Om Jeg Eide Alt/Send Bud Paa Ham/Min Moder's Bibel/Alle Skal Se Jeg Er Fremmed/Snart Rinder En Dag/Jesus Du Som Har Mig Kier/I Storm Og Morke/Kun et Skridt/Set Mig Saa Jeg Ser Dig Jesus

LP 9047 - Circuit Ridin' Preacher - Tim Spencer Family [1958] Christ Is a Wonderful Saviour/What Would I Do Without Jesus/Sunday On the Range/How Great Thou Art/Church Goin' People/Praise God Hallelujah/Lord Is Counting On You/It's Your Life/Lie Low Little Doggie/These Old Bones/Down Deep In My Heart

LP 9048

LP 9049/LPS 6017 - Reminiscing...At the Pipe Organ - Lorin Whitney [1958] All The Way My Saviour Leads/Holy Holy Holy/Someday He'll Make It Plain/Eternal Father Strong To Save/Saviour Thy Dying Love/Day Is Dying In The West//Blessed Quietness/In The Sweet By And By/'Tis So Sweet To Trust In Jesus/We've A Story To Tell/From Greenland's Icy Mountains/When They Ring Those Golden Bells

LP 9050

LP 9051/LPS 6014 - The Sunday Sing Trio - Sunday Sing Trio with Ralph Carmichael Orchestra [1958] The Sunday Sing Trio was Beth Farnham, Bud Miller, and Evangeline Carmichael. God Understands/Just a Closer Walk With Thee/Turn Your Eyes Upon Jesus/Everytime I Feel the Spirit/Saviour Is Waiting/Heaven In My Heart//I Found What I Wanted/Rock-A My Soul/Fellowship Sweet/More Than Conquerors/I Heard About/Ivory Palaces

LP 9052 - Come Thou Fount - Ty Brothers [1958] Voice In the Valley/Haven of Rest/I'm On the Battlefield/I Never Walk Alone/Jericho Road/Holy Ghost With Light Divine/Cleanse Me/This World Is Not My Home/No Never Alone/Farther Along/My Home Sweet Home

LP 9053 - Southern Gospel Singers - Sons of Song [1958] If You Know the Lord/He'll Make a Way/I Asked the Lord/Open Up Those Pearly Gates/Heavenly Love/My Jesus Knows/Something Within/What a Friend/Sometimes I Cry/Since Jesus Came Into My Heart/Roamin' River

LP 9054 - Holy, Holy, Holy - Laymen Singers [1958] Rise Up O Men of God/God of Our Fathers/Create In Me a Clean Heart/In the Cross of Christ I Glory/Bless the Lord O My Soul/Ye Christian Heralds/Nobody Knows the Trouble I've See/Oh Love That Wilt Not Let Me Go/Onward Christian Soldiers/Beautiful Saviour/Forward To Christ/Lord Bless Thee

LP 9055 - Brothers in the Lord - Palermo Brothers [1958] 'Twas a Glad Day/Someday/Heavenly bells/Wonder of It All/Por La Manana/Just a Closer Walk With Thee/Master the Tempest Is Raging/How Great Thou Art/I'm Living In Canaan Now/Time Clock/I'm Longing to Go

LP 9056

LP 9057/LPS 6011 - Bob Daniels - Bob Daniels [1958] My Father/King of All Kings/When I've Gone the Last Mile/I Am Persuaded/Help Thou My Unbelief/Saviour Is Waiting/If You Know the Lord/Wonder of It All/Glory of His Presence/Amazing Grace/Father Forgive Them/Precious Lord

LP 9058/LPS 6006 - Les Barnett - Les Barnett [1958] He Leadeth Me/Faith of Our Fathers/God Be With You/Living For Jesus/Blessed Assurance/Open Your Heart/Lily of the valley/Dwelling In Beulah Land/Nothing Between/Lord Keep Your Hand On Me/Work For the Night Is Coming/Whispering Hope

LP 9059 - Gospel Songs in Italian - Palermo Brothers [1958] Ti Voglio Dir la Stori/Questo Mondo Ho Lasciato Per sempre/Amcio Nol Sai/Santa Citta Mia Dimora/Para Ancor Del Signor/Grande Sei Tu/Sua Voce Divina/O Gesu Redenore/Non E'segreto/Venite a Me Voe Tutti

LP 9060 - Beside the Still Waters - Alan McGill [1959] Beside the Still Waters/My King of All Kings/Under His Wings/I'm Singing For My Lord/Count Your Blessings/I Asked the Lord/Gentle Hands/It Is No Secret/I'll Live For Jesus/Hiding In Thee/We'll Talk It Over/Is Your All on the Altar

LP 9061

LP 9062

LP 9063

LP 9064

LP 9065

LP 9066 - Walking Up the King's Highway - Mr. & Mrs. F.H. Lacy [1960] Walking Up the King's Highway/My God Is Real/I Am With You/Mansion Over the Hilltop/Still, Still With Thee/Something Within/You Can Have a Song In Your Heart/Just a Closer Walk With Thee/Devil's No Relation At All/Meeting In the Air/My Sins Are Gone/Walking With the King/Holding My Saviour's Hand



Back to the Discography Listings Page



Back to the Both Sides Now Home Page