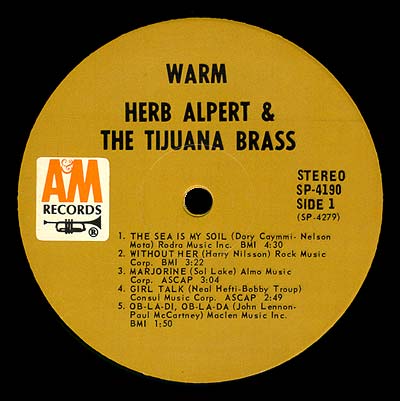 A&M Album Discography, Part 21
SP 6000-6800 Series (1969-1991)
By Patrice Eyries, Dave Edwards, & Mike Callahan
Last update: February 6, 2007






Tracks on each album are listed in the order they appear on the album. An asterisk (*) before the record number indicates we do not have information on the correct playing sequence of the tracks, and consequently they are listed in alphabetical order for that album.

We would appreciate any additions or corrections to this discography. Just send them to us via e-mail. Both Sides Now Publications is an information web page. We are not a catalog, nor can we provide the records listed below. We have no association with A&M Records. Should you be interested in acquiring albums listed in this discography (which are all out of print), we suggest you see our Frequently Asked Questions page and follow the instructions found there. This story and discography are copyright 2001, 2007 by Mike Callahan.



A&M ALBUM DISCOGRAPHY, PART 21

Number - Title - Artist [Release Date] Contents

SP 6000 (2-LP set) series:

SP 6001 - The Boys In the Band - Original Broadway Cast [1969] (6-69, #195) (2-LP set)

SP 6002 - Mad Dogs And Englishmen - Joe Cocker [1970] (9-70, #2) (2-LP set) Introduction/Honky Tonk Women/Introduction/Sticks And Stones/Cry me A River/Bird On The Wire//Feelin' Alright/Superstar/Introduction/Let's Go Get Stoned//Blue Medley: I'll Drown In My Own Tears- When Something Is Wrong With My Baby-I've Been Loving You Too Long/Introduction/Girl From The North Country/Give Peace A Chance//Introduction (Conversation)/She Came In Thru The Bathroom Window/Space Captain/The Letter/Delta Lady

SP 6003 - What You Want From Live - Tubes [1978] (3-78, #82) (2-LP set) Overture/Got Yourself A Deal/Show Me A Reason/What Do You Want From Life?//God-Bird-Change/Special Ballet/Don't Touch Me There/Mondo Bondage/Smoke (La Vie En Fum'r)//Crime Medley: Sound Effect- Siren-Theme From Dagnet-Theme From Peter Gunn-Theme From Perry Mason-Theme From The Untouchables/I Was A Punk Before You Were A Punk/I Saw Her Standing There/Drum Solo//Boy Crazy/You're No Fun/Stand Up And Shout/White Punks On Dope

*SP 6004 - White Mansions - Various Artists [1978] (7-78, #181) Bad Man/Bring Up The Twelve Pounders/Dixie, Hold On/Dixie Now You're Done/Join Around The Flag/King Has Called Me Home/Last Dance And The Kentucky Racehorse/No One Would Believe A Summer Could Be So Cold/Praise The Lord/Southern Boys/Southland's Bleeding/Story To Tell (Preface)/They Laid Waste To Our Land/Union Mare And The Confederate Grey/White Trash

SP 6005 - The Best Of Strawbs - Strawbs [1978] (2-LP set) Hero And Heroine/Tears And Pavan (Tears-Pavan)/A Glimpse Of Heaven/Round And Round/New World//Benedictus/Shine On Silver Sun/To Be Free/Where Do You Go (When You Need A Hole To Crawl In)/Autumn (Heroine's Theme- Deep Summer's Sleep-The Winter Long)//Don't Try To Change Me/Little Sleepy/Part Of The Union/Song Of A Sad Little Girl/Down By The Sea//Kay Down/Heavy Disguise/Lemon Pie/Blue Angel (Divided-Half Worlds Apart-At Rest)

*SP 6006 - It's Alive - Ozark Mountain Daredevils [1978] (9-78, #176) (2-LP set) Black Sky/Chicken Train/Commercial Success/Fly Away Home/Following The Way That I Feel/Homemade Wine/Horse Trader/If You Wanna Get To Heaven/It's All Over Now/Jackie Blue/Noah/Ooh Boys (It's Hot)/River To The Sun/Satisfied Mind/Walkin' Down The Road/You Know Like I Know

SP 6007 - Head East Live! - Head East [1979] (2-79, #65) (2-LP set) Take A Hand/Man I Wanna Be/Gettin' Lucky/City Of Gold/Fly By Night Lady//Monkey Shine/When I Get Ready/Every Little Bit Of My Heart/Get Up And Enjoy Yourself//Since You Been Gone/It's For You/Never Been Any Reason (Save My Life)/Elijah//Prelude To 'Creek/Jefftown Creek/Love Me Tonight/I'm Feelin' Fine

SP 6008 - Performance: Rockin' The Fillmore - Humble Pie [1981] (2-LP set) Reissue of A&M SP 3508.

SP 6009 - Lost And Found - Humble Pie [1981] (2-LP set) Reissue of A&M SP 3513.

SP 6010 -

SP 6011 - Foursider - Herb Alpert & Tijuana Brass [1979] (2-LP set) Reissue of A&M SP 3521.

SP 6012 - The Sergio Mendes Foursider - Sergio Mendes [1979] (2-LP set) Rreissue of A&M SP 3522.

SP 6013 - The Liza Minnelli Foursider - Liza Minnelli [1979] (2-LP set) Reissue of A&M SP 3524.

SP 6014 - Foursider - Sandpipers [1979] (2-LP set) Reissue of A&M SP 3525.

SP 6015 - Reggae Spectacular - Jimmy Cliff & Various Artists [1979] (2-LP set) Reissue of A&M SP 3529.

SP 6016 - The Fairport Chronicles - Fairport Convention [1979?] (2-LP set) Reissue of A&M SP 3530.

SP 6017 -

SP 6018 - - Reggatta De Blanc - Police [1980] This is a 2-LP set of 10" discs with the entire Reggatta De Blanc album and a full-color poster of the Police. Issued on black vinyl with the same number as above; also issued as A&M SP 3713.

SP 6019 - Urgh! A Music War - Various Artists [1981] (9-81, #173) (2-LP set) Driven To Tears - Police/Back In Flesh - Wall Of Voodoo/Dance - Toyah Wilcox/Enola Gay - Orchestral Manoeuvres In The Dark/Ain't This The Life - Oingo Boingo/Respectable Street - XTC//Offshore Banking Business - Members/We Got The Beat - Go-Go's/Total Eclipse - Klaus Nomi/Where's Captain Kirk - Athletico Spizz 80/Nothing Means Nothing Anymore - Alley Cats/Foolish I Know - Jools Holland/Ku Klux Klan - Steel Pulse//Uncontrollable Urge - Devo/The Puppet - Echo & Bunnymen/Come Again - Au Pairs/Tear It Up - Cramps/Bad Reputation - Joan Jett & Blackhearts/Birdies - Pere Ubu/Down In The Park - Gary Numan//Shadow Line - Fleshtones/He'd Send In The Army - Gang Of Four/Cheryl's Going Home - John Otway/Homicide - 999/Beyond And Back - X/Model Worker - Magazine/Sign Of The Cross - Skafish

*SP 6020 - Happily Ever After - Cure [1981] (2-LP set) A Forest/A Reflection/All Cats Are Grey/At Night/Doubt/Faith/In Your House/M/Other Voices/Play For Today/Primary/Secrets/Seventeen Seconds/The Drowning Man/The Final Sound/The Funeral Party/The Holy Hour/Three

SP 6021 - Big World - Joe Jackson [1986] (4-86, #34) (2-LP set) Wild West/Right And Wrong/(It's A) Big World/Precious Time/Tonight And Forever//Shanghai Sky/Fifty Dollar Love Affair/We Can't Live Together/Forty Years (On The Anniversary Of The End The World War II)//Survival/Soul Kiss/The Jet Set/Tango Atlantico/Home Town/Man In The Street


SP 6400 series:

*SP 6401 - Captured in Time and Space - Petra [1986] (2-LP set) Beat The System/Bob's Solo/Clean/Computer Brains/God Gave Rock And Roll To You/Grave Robber/Hollow Eyes/Jesus Loves You/John's Solo/Louie's Solo/Mellow Medley: Coloring Song-Road To Zion-More Power To Ya/Rock Medley: Stand Up-Not By Sight-Judas' Kiss/Speak To The Sky/The Race

SP 6402 - ...Nothing Like The Sun - Sting [1987] (10-87, #9) (2-LP set) The Lazarus Heart/Be Still My Beating Heart/Englishman In New York//History Will Teach Us Nothing/They Dance Alone (Gueca Solo)/Fragile//We'll Be Together/Straight To My Heart/Rock Steady//Sister Moon/Little Wing/The Secret Marriage

SP 6403 -

SP 6404 -

CD 6405 - The Soul Cages - Sting [1991] (2-91, #2) Island Of Souls/All This Time/Mad About You/Jeremiah Blues (Part 1)/Why Should I Cry For You?//Saint Agnes And The Burning Train/The Wild Wild Sea/The Soul Cages/When The Angels Fall


6500 series:

SP 6500 - American Hot Wax - Various Artists [1978] (2-LP set) Goodnight Sweetheart, Goodnite - Spaniels/Great Balls Of Fire - Jerry Lee Lewis/Hey Little Girl - Clark Otis/Hot Wax Theme - Big Beat Band/Hushabye - Mystics/I Put A Spell On You - Screamin' Jay Hawkins/Little Star - Elegants/Maybe - Delights/Mr. Blue - Timmy & Tulips/Mr. Lee - Delights/Rave On - Buddy Holly/Reelin' And Rockin' - Chuck Berry/Rock And Roll Is Here To Stay - Prof. LaPlano & Planotones/Roll Over Beethoven - Chuck Berry/Sea Cruise - Frankie Ford/Sincerely - Moonglows/Splish Splash - Bobby Darin/Stay - Maurice Williams & Zodiacs/Sweet Little Sixteen - Chuck Berry/That Is Rock And Roll - Chesterfields/That's Why (I Love You So - Jackie Wilson/There Goes My Baby - Drifters/Tutti Frutti - Little Richard/When You Dance - Turbans/Whole Lotta Shakin' Goin' On - Jerry Lee Lewis/Why Do Fools Fall In Love - Chesterfields/Zoom - Cadillacs

SP 6501 - Rhapsodies - Rick Wakeman [1979] (7-79, #170) (2-LP set) Pedra Da Gavea/Front Line/Bombay Duck/Animal Showdown (Yes We Have No Bananas)/Big Ben//Rhapsody In Blue/Wooly Wooly Tango/The Pulse/Swan Lager//March Of The Gladiators/Flacons De Neige/The Flasher/The Palais//Stand By/Sea Horses/Half Holiday/Summertime

SP 6502 -

SP 6503 - Eat It - Humble Pie [1981] (2-LP set) Reissue of A&M SP 3701.

SP 6504 -

SP 6505 - Frampton Comes Alive! - Peter Frampton [1981] (2-LP set) Reissue of A&M SP 3703.

SP 6506 - From Every Stage - Joan Baez [1981] (2-LP set) Reissue of A&M SP 3704.

SP 6507 - I Heard That!! - Quincy Jones [1981] (2-LP set) Reissue of A&M SP 3705.

SP 6508 -

SP 6509 - Night After Night - Nils Lofgren [1981] (2-LP set) Reissue of A&M SP 3707.

SP 6510 - Close Up the Honky Tonks - Flying Burrito Bros. [??] (2-LP set) Reissue of A&M SP 3631. Featuring Gram Parsons, Chris Hillman, Sneeky Pete Kleinow, Michael Clarke, Chris Ethridge, Bernie Leadon, Rick Roberts, Gene Clark, Al Perkins & Jon Corneal

*SP 6511 - Chords of Fame - Phil Ochs [1981] (2-LP set) Bound For Glory/Changes/Chords Of Fame/Crucifixion/Draft Dodger Rag/Flower Lady/Here's To The State Of Richard Nixon/I Ain't Marchin' Anymore/I'm Gonna Say It Now/Is There Anybody Here?/Jim Dean Of Indiana/Love Me, I'm A Liberal/No More Songs/One More Parade/Outside Of A Small Circle Of Friends/Pleasures Of The Harbor/Power And The Glory/Santa Domingo/Tape From California/The Bells/The War Is Over/There But For Fortune/Too Many Martyrs/When I'm Gone

SP 6512 -

*SP 6513 - Tarantella - Chuck Mangione [1981] (5-81, #55) (2-LP set) All Blues/Bellavia/XIth Commandment Suite/Hill Where The Lord Hides/Lake Placid Fanfare/Legend Of The One-Eyed Sailor/Manteca/My One And Only Love/'Round Midnight/Tarantellas Medley/Things To Come

SP 6514 - Caught In The Act: Live - Styx [1984] (4-84, #31) (2-LP set) Music Time/Mr. Roboto/Too Much Time On My Hands/Babe//Snowblinbd/The Best Of Times/Suite Madame Blue//Rockin' The Paradise/Blue Collar Man (Long Nights)/Miss America/Boat On The River//Fooling Yourself (The Angry Young Man)/Crystal Ball/Come Sail Away


CD 6550 - Classics, Volume 3 - Quincy Jones [1987] CD issue only.


SP 6600 series:

*SP 6600 - That's The Way I Feel Now - Various Artists [1984] (2-LP set) Ask Me Now - Steve Lacy & Charlie Rouse/Ba-Lue-Bolivar-Ba-Lues-Are - Was (Not Was)/Bemsha Swing - Steve Lacy & Gil Evans/Blue Monk - Dr. John/Brilliant Corners - Mark Bingham/Bye-Ya - Steve Slagle, Dr. John, Steve Swallow & Ed Blackwell/Criss Cross - Shockabilly/Evidence - Steve Lacy & Elvin Jones/Four In One - Todd Rundgren & Gary Windo/Friday The Thirteenth - Bobby McFerrin & Bob Dorough/Functional - Randy Weston/Gallop's Gallop - Steve Lacy/In Walked Bud - Terry Adams & Friends/Jackie-ing - Mark Bingham/Little Rootie Tootie - NRBQ & The Whole Wheat Horns/Misterioso - Carla Bley Band With Johnny Griffin/Monk's Mood - Sharon Freeman/Pannonica - Barry Harris/Reflections - Donald Fagen & Steve Khan/'Round Midnight - Joe Jackson/Shuffle Boil - John Zorn/Thelonious - Bruce Fowler/Work - Chris Spedding & Peter Frampton

*SP 6601 - Yesterday Once More - Carpenters [1985] (2-LP set) Reissued on cassette only as A&M SP 6670. All You Get From Love Is A Love Song/Because We Are In Love (The Wedding Song)/Bless The Beasts And Children/Calling Occupants Of Interplanetary Craft (The Recognized Anthem Of World Contact Day)/For All We Know/Goodbye To Love/Hurting Each Other/I Need To Be In Love/I Won't Last A Day Without You/It's Going To Take Some Time/Make Believe It's Your First Time/Only Yesterday/Please Mister Postman/Rainy Days And Mondays/Sing/Superstar/Sweet, Sweet Smile/There's A Kind Of Hush (All Over The World)/(They Long To Be) Close To You/This Masquerade/Those Good Old Dreams/Ticket To Ride/Top Of The World/Touch Me When We're Dancing/(Want You) Back In My Life Again/We've Only Just Begun/Yesterday Once More


SP 6700 series:

*SP 6700 - Children Of Sanchez - Chuck Mangione [1978] (9-78, #14) (2-LP set) B'bye/Bellavia/Children Of Sanchez Finale/Children Of Sanchez Medley/Children Of Sanchez Overture/Consuelo's Love Theme/Death Scene/Echano/Fanfare/Hot Consuelo/Lullabye/Market Place/Pilgrimage (Part I & II)

*SP 6701 - An Evening of Magic: Chuck Mangione Live at the Hollywood Bowl - Chuck Mangione [1979] (6-79, #27) (2-LP set) B'bye/Children Of Sanchez (Main Theme)/(Day After) Our First Night Together/Doin' Everything With You/XIth Commandment/Feels So Good/Feels So Good (Encore)/Hide And Seek/Hill Where The Lord Hides/I Get Crazy (When Your Eyes Touch Mine)/Land Of Make Believe/Love The Feelin'/Main Squeeze

SP 6702 - Paris - Supertramp [1980] (10-80, #8) (2-LP set) School/Ain't Nobody But Me/The Logical Song/Bloody Well Right//Breakfast In America/You Started Laughing/Hide In Your Shell/From Now On//Dreamer/Rudy/A Soapbox Opera/Asylum//Take The Long Way Home/Fool's Overture/Two Of Us/Crime Of The Century

SP 6703 - 'Snaz - Nazareth [1981] (10-81, #83) (2-LP set) Telegram (Parts 1-2-3) (On Your Way-So You Want To Be A Rock 'N Roll Star-Sound Check)/Razamanaz/I Want To Do Everything For You/This Flight Tonight/Beggar's Day//Every Young Man's Dream/Heart's Grown Cold/Java Blues/Cocaine/Big Boy//Holiday/Dressed To Kill/Hair Of The Dog/Expect No Mercy/Shapes Of Things//Let Me Be Your Leader/Love Hurts/Tush/Juicy Lucy/Morning Dew

SP 6704 -

SP 6705 -

SP 6706 - Live 1980/86 - Joe Jackson [1988] (5-88, #91) (2-LP set) One To One/I'm The Man/Beat Crazy/Is She Really Going Out With Him?/Don't Wanna Be Like That/Got The Time//On Your Radio/Fools In love/Cancer/Is She Really Going Out With Him? (A Cappella Version)/Look Sharp!//Sunday Papers/Real Men/Is She Really Going Out With Him? (Acoustic Version)/Memphis/A Slow Song//Be My Number Two/Breaking Us In Two/It's Different For Girls/You Can't Get What You Want ('Till You Know What You Want)/Jumpin' Jive/Steppin' Out


CD2 6750 - Classics, Volume 2 - Carpenters [1987] (2-CD set) Disc 1: Yesterday Once More/Superstar/Rainy Days And Mondays/(Want You) Back In My Life Again/Ticket To Ride/Goodbye To Love/Bless The Beasts And Children/It's Going To Take Some Time/Calling Occupants Of Interplanetary Craft/Sweet Sweet Smile/I Won't Last A Day Without You/For All We Know/Touch Me When We're Dancing; Disc 2: There's A Kind Of Hush/This Masquerade/Hurting Each Other/Please Mr. Postman/I Need To Be In Love/Make Believe It's Your First Time/All You Get From Love Is A Love Song/Top Of The World (alternate take)/Because We Are In Love (The Wedding Song)/We've Only Just Begun/Those Good Old Dreams/Sing/Only Yesterday/(They Long To Be) Close To You


SP-6800 Series:

SP 6850 - Simple Minds Live: In The City Of Light - Simple Minds [1987] (7-87, #96) (2- LP set) Ghostdancing/Big Sleep/Waterfront/Promised You A Miracle//Someone Somewhere In Summertime/Oh Jungleland/Alive And Kicking//Don't You Forget About Me/Once Upon A Time/Book Of Brilliant Things/East At Easter//Sanctify Yourself/Love Song-Sun City-Dance To The Music/New Gold Dream


Thanks to Rusty Culbertson.




Back to the A&M Records Story



Back to the A&M Discography, Part 20 SP 3900 Series (1986-90)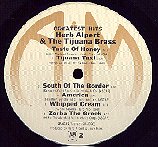 On to the A&M Discography, Part 22 SP 37000 Latin Series



Back to the Discography Listings Page



Back to the Both Sides Now Home Page