ABC-Paramount Album Discography, Part 4
ABCS-400 to 499 (1961-1964)
By David Edwards, Patrice Eyries, and Mike Callahan
Last update: November 5, 2005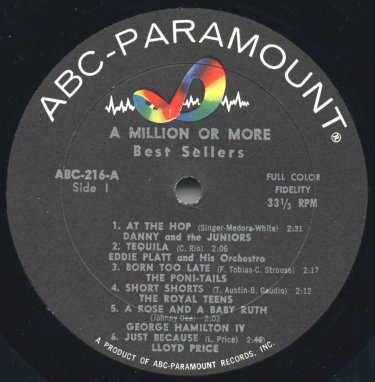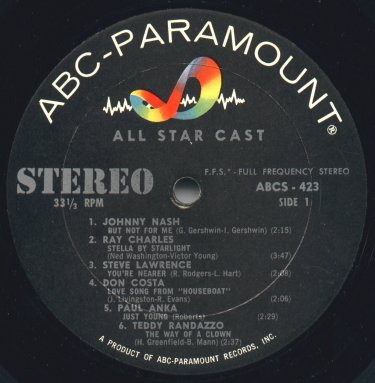 The second label was the same as the first except at the bottom of the label was "A PRODUCT OF ABC-PARAMOUNT RECORDS, INC." This label was used from early 1962 until the second quarter of 1966, approximately ABC 400 to ABC 567.

We would appreciate any additions or corrections to this discography. Just send them to us via e-mail. Both Sides Now Publications is an information web page. We are not a catalog, nor can we provide the records listed below. We have no association with ABC-Paramount, ABC, or MCA Records. Should you be interested in acquiring albums listed in this discography (all of which are out of print), we suggest you see our Frequently Asked Questions page and follow the instructions found there. This story and discography are copyright 2002, 2005 by Mike Callahan.



ABC-PARAMOUNT LABEL ALBUM DISCOGRAPHY, Part

Number - Title - Artist - [Release Date] (Chart) Contents

ABC/ABCS 400 - Let Me Belong To You - Brian Hyland [1961] Are You Lonesome Tonight/I'm Sorry/Night I Cried/Bye Bye Love/It Ain't That Wat At All/Let Me Belong To You/I'll Never Stop Wanting You/Lonely Weekends/All Shook Up/Love Me Tender/Walk a Lonely Mile

ABC 401 - More Best of the Mummers - Aqua String Band [1961] Whispering/Blue and Brokenhearted/Best Things In Life Are Free/Just Around the Corner/Danube Waves/Avalon/California Here I Come/Washington and Lee Swing/Back In Your Own Backyard/Banjo Pickers Ball/Oh, Susanna/Campton Races/My Mammy/Swanee River

ABC/ABCS 402 - Golden Touch Plays 26 Golden Favorites, Volume 2 - Frank Cammarata [1962] Medley: Diane, Charmaine, Amor, Tico-Tico, Hot Lips, Taking a Chance on Love, You Belong to My Heart, Amor, Made For Each Other, Time on My Hands, You Were Meant For Me, Moonlight, Serenade, Blue Echoes, Quizas Quizas Quizas, Noche de Ronda, 3 Caballeros, Somebody Stole My Gal, My Blue Heaven, Adios, Mariquita Linda, Stars in Your Eyes, Cachita, Hi-Lili Hi Lo, Mam'selle, J'attendrai, Lisa Mrie, Danse Chinoise and Danse Russe

403 -

ABC/ABCS 404 - 60 French Girls-Les Petites - Les Djinns Singers [1961] Je Te Promets/Marguerite, Une/Voix Du Ciel/Fevilles Mortes/Petit Tramway/C'est Si Bon/Viens Dans Mes Reves/Les Criquets/Miserere/Clopin Clopant/Reve Mon Reve/Fille Du Meunier

ABC/ABCS 405 - Polka, Maestro Please - Lou Prohut & Polka Rounders [1962] Polka, Maestro, Please/Clarinet Polka/Ach Du Liber Augustin/No, No, Don't Get Married/Clairene Waltz/She Loves To Dance Polka/Yakshemash Polka/Butchie Boy Polka/Boombas Polka/Old Time Schottishce/Old Gray Mare Polka/Unita Polka

ABC/ABCS 406 - Ed Kenney's Hawaii - Ed Kenney [1962] Naupaka/Moon Of Manakoora/Beyond the Reef/I Lost My Heart To a Pa'u Rider/Wind, Sea and Stars/Sleepy Lagoon/Ka-Lu- A/Sand and the Sea/Beautiful Kahana/To Make You Love Me/Kuuipo/U a Like No a Like/Island Twist

ABC/ABCS 407 - Josh White Live! - Josh White [1962] Betty & Dupree/Wandering/Got a Head Like a Rock/Apples, Peaches and Cherries/You Know Baby/Freedom Road/Scarlet Ribbons/Man Who Couldn't Walk Around/Where Were You When My Heart Went Out/Sam Hall/Strange Fruit

ABC/ABCS 408 - Folk Festival - Various Artists [1962] Devil and the Farmer's Wife - Oscar Brand /Ball of Yarn - Oscar Brand/Loving Hannah - Jean Ritchie /What Are You Gonna Do With the Baby O - Jean Ritchie/Reckless Boy - Oscar Brand and Jean Ritchie/Alle Yahr En Kindlein - George Britton/Virgin Mary Had a Little Baby - Tom Pasle/Good Morning, Captain - Casey Anderson /Unfortunate Miss Bailey - Casey Anderson/Barbara Allen - Charlie Byrd /Romance D'Amor - Charlie Byrd/Lo Que Digo - Cynthia Gooding /Lord Thomas - Cynthia Gooding/Cooper Kettle - Mike Hall /Marching To Praetoria - Mike Hall

ABC/ABCS 409 - Paul Anka Sings His Big Big Big 15, Volume 3 - Paul Anka [1962] Kissin' On the Phone/I'd Never Find Another You/Happy Tears/Bells At My Wedding/Cry/Far From the Lights of Town/All of Me/I'm Coming Home //Loveland/It Only Last For a Little While/Uh-Huh/I Remember/Send For Me/The Fools' Hall of Fame/Cinderella

ABC/ABCS 410 - Modern Sounds In Country And Western Music - Ray Charles [1962] (4- 62, #1) Bye Bye, Love/You Don't Know Me/Half As Much/I Love You So Much It Hurts/Just A Little Lovin'/Born To Lose//Worried Mind/It Makes No Difference Now/You Win Again/Careless Love/I Can't Stop Lovin' You/Hey, Good Lookin'

ABC/ABCS 411 - Oom-Pah-Pah - Deutschmeister Band [1962] Schoenfeld March/Andreas Hofer March/Vindobona March/94th Regiment March/84th Regiment March/Philippovita March/Radetzky March/Die Bosniaken Kommen/Aller Ehren Ist Oesterreich Voll/Grinzinger March/Dorner March/Gypsy Baron March

ABC/ABCS 412 - Stringing Along - Roy Smeck & His All Star Serenaders [1962] 3rd Man Theme/Alexander's Ragtime Band/Bye Bye Blackbird/St. Louis Blues/Don't Blame Me/Hay Seed Rag/Swingin' Down the Lane/Banjo Shuffle Boogie/Tea For Two/Carioca/Mam'selle/For Me and My Gal

413 -

ABC/ABCS 414 - Adventures In Paradise, Volume 3 - Various Artists [1962] Sunset In Hawaii - Alfred Apaka /Palm Trees Sing Aloha - Alfred Apaka /Song of Old Hawaii - Alfred Apaka/Isle of Adventure - Islanders /Hawaiian Wedding Song - Islanders /Love Island - Islanders /Francesca - Islanders/Moonlight Bay - Roy Smeck /Drifting & Dreaming - Roy Smeck /Honolulu Shuffle - Roy Smeck/To To To E - Terorotua & Tahitians /Tehaupoo - Terorotua & Tahitians

ABC/ABCS 415 - Ray Charles' Greatest Hits - Ray Charles [1962] (8-62, #5) Them That Go/Georgia On My Mind/Unchain My Heart/I'm Gonna Move To The Outskirts Of Town/The Danger Zone/I've Got News For You//Hit The Road Jack/Ruby/I Wonder/Sticks And Stones/But On The Other Hand Baby/One Mint Julep

ABC/ABCS 416 - More Music to Break a Lease - Sid Feller [1962] Rock-a-Bye Your Baby With a Dixie Melody/Hi-Lili, Hi-Lo/I'm Sitting On Top of the World/Peg O' My Heart/Dear Hearts and Gentle People/Toot Toot Tootsie/Wedding Bells are Breaking Up That Old Gang of Mine/Cruising Down the River/Deep in the Heart of Texas/Lazy River/After You've Gone/Goodnight Sweetheart

417 -

ABC/ABCS 418 - 60 French Girls Sing Songs Of Paris - Les Djinns Singers [1962] M. LaFayette/Thyl de Flandre/Ohe Les Gars/Carillon/Printemps d'Aujourd'hui/Plus Loin Que La Serre/Printemps/Guitares du Diable/Tintin et La Toison d'Or/Je Vais Tout Vous Dire/Et Maintenant/Cloches de Paris

ABC/ABCS 419 - Exciting Gospel Sounds of the Stevens Singers - Stevens Singers [1962] Ease My Troubling Mind/Children Go Where I Send Thee/Just a Closer Walk With Thee/Roll Jordan Roll/We've Come This Far By Faith/Swing Down Chariot/It's Me Oh Lord/Hallelujah 'Tis Done/When the Saints Go Marching In/To Me It's So Wonderful/Down By the Riverside/Somebody Bigger Than You and I

ABC/ABCS 420 - Diana - Paul Anka [1962] Train of Love/Melodie D'amour/I've Heard That Song Before/Winter Wonderland/Diana/Swanee/C'est Si Bon/Jingle Bells/I Can't Give You Anything But Love/Pigalle/Your Cheatin' Heart/Sing, Sing, Sing

ABC/ABCS 421 - Teddy Randazzo Twists - Teddy Randazzo [1962] Bo Diddley/U.S Mail/Sout/Late Date Baby/The Peppermint Twist/Too Young To Fall In Love //Twistin' To the Locomotion/Foot Stompin'/What'd I Say/Cotton Fields/Ooh[Poo-Pah-Doo/Let the Sunshine In

ABC/ABCS 422 - Eddie's Golden Song Book - Eddie Calvert [1962] Song of Songs/Vilia/Moonlight and Roses/If You Are But a Dream/Because/Pale Hands I Loved/Catari, Catari/And This Is My Beloved/Yours Is My Heart Alone/I'll Follow My Secret Heart/You'll Never Walk Alone/Softly As in a Morning Sunrise

ABC/ABCS 423 - All Star Cast - Various Artists [1962] But Not For Me - Johnny Nash (S)/Stella By Starlight - Ray Charles (S)/You're Nearer - Steve Lawrence (S)/Love Song From "Houseboat" - Don Costa (S)/Just Young - Paul Anka (S)/The Way Of A Clown - Teddy Randazzo (S)//Shalom - Eddie Fisher (S)/Never Let Me Go - Lloyd Price (S)/The Sound Of Music - Ferrante & Teicher (S)/Ginny Come Lately - Bryan Hyland (S)/Dolce Far Niente - Four Aces (S)/You Need Hands - Eydie Gorme (E)

424 -

425 -

426 -

ABC/ABCS 427 - Polish Polkas - Lou Prohut [1962] Miala Baba Koguta/Krakowiak/Jak Szybko Miala Baba Koguta/Krakowiak/Jak Szybko Mijaja Chwile/Na Zielony Lace/Aniele Oberek/Na Ololo Ciemny Las/Hupaj Slupaj/Tanjec Zbojnicki/Od Krzacka do Krzaczka/Hosa Dyna/Polska Wiazanka Spiewow I Tancoa Ludowych

ABC/ABCS 428 - Fiesta Flamenca - Mario Escudero [1962] Caminos Malaguenos/Homenaje a Montoy/Tientos del Amanecer/Puerto Santa Maria/Recuerdos de Alhambra/Tronio Flamenco/Viva Moguer/Tobalo/Castillo de Xauen/Canastilla de Madronos

ABC/ABCS 429 - Greta Keller In the Waldorf - Greta Keller [1962] Thanks For The Memories/Lieber Freund, Man Gerift Nicht Nach Den Sternen/My Ship/I'm The Other Woman/Mon Coeur Est Un Violin (My Heart Is A Violin)/Apollo Umberto Silvano Roberto Romano//I Talk To The Trees/Gib Nur Acht Veber Nacht Kommt Die Liebe/Lamplight/There's A Time To Be Sunkist/These Foolish Things/One Touch Of Venus

ABC/ABCS 430 - Postcards From Paris - Ferrante & Teicher [1962] Ca C'est Paris/Autumn Leaves/Pigalle/All My Love/Under Paris Shies/Valentine/If You Love Me ( Really Love Me)/La Ronde/Symphony/Two Loves Have I/Speak To Me of Love/La Mer

ABC/ABCS 431 - Sealed With A Kiss - Brian Hyland [1962] Bye Bye Love/Let Me Belong To You/The Night I Cried/Are You Lonesome Tonight/I Should Be Gettin' Better/Ginny Come Lately //Love Me Tender/Sealed With a Kiss/It Ain't That Way At All/Summer Job/I'll Never Stop Wanting You/Walk a Lonely Mile

ABC/ABCS 432 - Sheila - Tommy Roe with the Jordanaires [1962] (11-62, #110) Sheila/Piddle De Pat/Little Hollywood Girl/Heart Beat/There Will Be Better Years/There's A Great Day A Coming//Susie Darlin'/Think About The Good Things/Look At Me/I Found A Love/Blue Ghost/Maybellene

ABC/ABCS 433 - Sing Hallelujah - Lonnie Donegan [1963] Sing Hallelujah/We Shall Walk Through the Valley/No Hiding Place/Good News! Chariots A'Comin'/Steal Away/Noah Found Grace In the Eyes of the Lord //Joshua Fit de Battle of Jericho/His Eye Is On the Sparrow/Born In Bethlehem/This Train/New Burying Ground/Nobody Knows the Trouble I've Seen

ABC/ABCS 434 - Mandolini Di Venezia - Don Martone Orchestra [1962] Polka Veniziana/Quando Tramonta Sole/My Last Night In Venice/Migliavacca/Per Un Bacio D'amore/Clociara/Trumpet Polka/Morte di Casserio/All Roads Lead Me to Rome/Mazurka Alla Palermitana/Serenade From Pagliacci/Come Facette Mamitta

ABC/ABCS 435 - Modern Sounds In Country And Western Music, Volume Two - Ray Charles [1962] (11-62, #2) You Are My Sunshine (With The Raelets Featuring Margie Hendrix)/No Letter Today/Someday (You'll Want Me To Want You)/Don't Tell Me Your Troubles (With The Raelets)/Midnight/Oh, Lonesome Me//Take These Chains From My Heart/Your Cheating Heart/I'll Never Stand In Your Way/Making Believe/Teardrops In My Heart/Hang Your Head In Shame

ABC/ABCS 436 - Around the World of Polkas - Lou Prohut [1963] Just Another Polka/Chocolate Soda Polka/Sophia/Muziky, Muziky/Monopol Polka/Just Because Polka/Helen Polka/Polish Oberek/Oh Lou Ella/I Love You Polka/Dreamy Fish Waltz/Arrivederci Roma

ABC/ABCS 437 - Popular Classics - Ferrante & Teicher [1963]

ABC/ABCS 438 - Brian Hyland - Brian Hyland [3/63]

ABC/ABCS 439 - Dancing Style - Russ Carlyle [1963] Sobbin' Blues/Fascination/Heart and Soul/Mood Indigo/Red Arrow/In a Little Spanish Town/That's a Plenty/Garden of Love/Sweet sue/Just You/South/Rumania/Twisting Withthe Dutchess

ABC/ABCS 440 - World Renowned Ferko String Band - Ferko String Band [1963] Alabamy Bound/Down In Jungle Town/Medley: Sidewalks of New York, Little Annie Roonie, The Band Played On, Alabama Jubilee, Bill Bailey, Mandolin Polka, Angry/Civil War Medley: Battle Cry of Freedom, Dixie, Battle Hymn of the Republic/George M. Cohan Medley: Give My Regards to Broadway, Mary, Yankee Doodle Boy/Oh Marie/Yearning Just For You/You Do Something to Me/Tic-Tock Polka/Roll On You Mississippi

ABC/ABCS 441 - Arthur "Guitar Boogie" Smith And Voices - Arthur "Guitar Boogie" Smith [1962] Boogie/I Love You So Much/Golden River/Sioux City Sue/Darling Meet Me Somewhere/Little Baby/In a Shanty In Old Shanty Town/Dream/My Blue Heaven/Tumblin' Tumbleweeds/Stompin' At the Savoy/My Happiness

* ABC/ABCS 442 - Songs I Sing On The Jackie Gleason Show - Frank Fontaine [1962] (2-63, #1) Always/Beautiful/Daddy's Little Girl/Easter Parade/(Gang That Sang) Heart Of My Heart/I Wonder Who's Kissing Her Now/I'm Forever Blowing Bubbles/If I Had My Way/If You Were The Only Girl In The World/Mary's A Grand Old Name/That Old Gang Of Mine/When Your Hair Has Turned To Silver

ABC/ABCS 443 - Million Sellers Go Bossa Nova - Ray Milan & the Quarter Notes [1963] Sherry/Stranger on the Shore/Ya Ya/Lion Sleeps tonight/Loco-Motion/Break It To Me Gently/Dancin' to the Bossa Nova/Big Girls Don't Cry/Return to sender/Fool No. 1/Roses Are Red/Good Luck Charm

ABC/ABCS 444 - Tahitian Paradise - Eddie Lund with Lafine & Loma [1963]

ABC/ABCS 445 - One More Time Hello Dere! - Marty Allen & Steve Rossi [1962] Famous People/I've Got the World on a String/Punch Drunk Fighter/Peace Corps/Lion Tamer/Because You're Mine/Golfer

ABC/ABCS 446 - Bluegrass Hillbillies-Pickin' and Grinin' - Curtis McPeake [1963] Ballad of Jed Clampett/Big Red's Special/Nine-Pound Hammer/Shortnin' Bread/Silver Threads and Golden Needles/Tom Dooley//Hand Me Down My Walkin' Cane/Drunkard's Hiccups/This Land Is Your Land/Lonesome Mohawk/Darlin' Cora/I Ain't Got Nobody

ABC/ABCS 447 - Season For My Beloved - Hugo Winterhalter [1963] Summer Green and Winter White/Snowfall/I'll Remember April/June In January/Misty/Marshmallow World/Our Winter Love/When the Wind Was Green/Spring Is Here/September song/Autumn Leaves/The Things we Did Last Summer

ABC/ABCS 448 - Musical Moods of the Mona Lisa - Various Artists [1963] All the Things You Are - Herron /The Way You Look Tonight - Herron /Last Time I Saw Paris - Herron /In the Still of the Night - Herron/I Only Have Eyes For You - Shaffer /Too Marvelous For Words - Shaffer /Isn't It Romantic - Shaffer/April In Paris - Walters /You Are Too Beautiful - Walters/Mona Lisa - Feller /Portrait of My Love - Feller /Lady Smiles - Feller

ABC/ABCS 449 - Bossa Nova Brazil - Juarez Orchestra [1963] Samba Toff/So Danco Samba/Tema Para Dede/Rosa Morena/Esta Nascendo Um Samba/A Mesma Rosa Amarela/Lobo Bobo/Bim Bom/Direl-Depois/Sincopado Triste/Amor Que Acabou/Maria Ninguem

ABC/ABCS 450 - The Impressions - Impressions [1963] (8-63, #43) Gypsy Woman/Grow Closer Together/Little Young Lover/You've Come Home/Never Let Me Go/Can't You See //Minstrel and Queen/I Need Your Love/I'm The One Who Loves You/Sad, Sad Girl and Boy/As Long As You Love Me/Twist and Limbo

ABC/ABCS 451 - Flamenco Reflections - Sabicas [1963]

ABC/ABCS 452 - The Many Guitar Moods Of Roy Smeck - Roy Smeck [1963] Begin the Beguine/Waltz Italiano/Blue 'N the Blues/Summer Shadow/Escape tango/Happy Polka/Tico Tico/When Will You Know/Roy[s Guitar boogie/Two Guitars/Honky-Tonk Guitar/Hobsie March

ABC/ABCS 453 - Comparsa - Candido [1963] Heartaches/Pancakes/Conga Jam/St. Thomas/I Love Paris/Now Is the Time/Ol' Man River/Night In Tunisia

ABC/ABCS 454 - The Artistry Of Ferrante & Teicher - Ferrante & Teicher [1963] Stereo version is "Technically Augmented," that is, rechanneled or fake stereo. La Valse (Ravel)-Debussy Nocturnes/Nuages/Fetes//Bolero (Ravel)-Mother Goose Suite/Pavane De La Belle Au Bois Dormant/Petit Poucet/Laideronnette Impératrice Des Pagodes/Les Entretiens De La Belle Et De La Bete/Le Jardin Féerique

ABC/ABCS 455 - Here Comes... Fats Domino - Fats Domino [1963] (10-63, #130) When I'm Walking/I Got a Right to Cry/There Goes My Heart Again/Just a Lonely Man/Red Sails In the Sunset/Bye Baby, Bye, Bye //Forever, Forever/I'm Livin' Right/Can't Go On Without You/Land of 1,000 Dances/Song For Rosemary/Tell Me the Truth, Baby

ABC/ABCS 456 - Mr. Blues - B.B. King [1963] Young Dreamers/By Myself/Chains Of Love/A Mother's Love/Blues At Midnight/Sneakin' Around//On My Word Of Honor/Tomorrow Night/My Baby's Comin' Home/Guess Who?/You Ask Me/I'm Gonna Sit In 'Til You Give In

ABC/ABCS 457 - N.Y. Staff Band - Salvation Army Band [1963] On the Mall/Praise/Minneapolis IV/Spirit Of Praise/Manhattan/Edwin Franko Goldman/Golden Jubilee/Faithful Service/Anthem of the Free/Conflict/'Neath the Flag/Kentucky/His Royal Banner

ABC/ABCS 458 - Country Sound... With Soul - Roberta Sherwood [1963]

ABC/ABCS 459 - Sing For A Living - Saturday's Children [1963]

* ABC/ABCS 460 - Frank Fontaine Sings Like Crazy - Frank Fontaine [1963] (8-63, #44) Carolina Moon/Girl Of My Dreams/Have You Ever Been Lonely/I Don't Know Why/I'll Get By/I Want A Girl/Let Me Call You Sweetheart/Love Letters In The Sand/Oh How I Miss You Tonight/Shine On Harvest Moon/Sweet And Lovely/Till We Meet Again

ABC/ABCS 461 - George Hamilton IV's Big 15 - George Hamilton IV [1963] A Walk on the Wild Side/That's How It Goes/Before This Day Ends/Little Tom/Why I'm Walkin'/Even Tho'/gee/I Know Where I'm Goin' //The Wrong Side of the Tracks/It's Just the Idea/Tremble/Why Don't They Understand/The Steady Game/One Heart/Loneliness All Around Me

ABC/ABCS 462 - Adventures In Paradise, Volume 4 - Apaka, Kenney, Smeck, Lund and Tahitians/Mutiny On the Bounty Drums/Terorotua and the Tahitians [1963]

ABC/ABCS 463 - Country Meets Folk - Brian Hyland [1964] Act Naturally/Don't Think Twice, It's All Right/Folsom Prison/The Blizzard/If I Had a Hammer/Jamaica Farewell //Candy Man/Baby, What You Want Me to Do/Give My Love to Rose/Green Green/Open Pit Mine/Greenback Dollar

ABC 464 - Joy, Excitement, Inspiration Gospel - Roberta Sherwood [1963] Go Where I Send Thee/I'm On My Way/When the Saints Go Marching In/Go Tell It On the Mountain/Roll, Jordan, Roll/Just a Closer Walk With Thee/Down By the Riverside/Somebody Bigger Than You and I/Heaven, Heaven/Swing Low, Sweet Chariot/This Old House/He's Got the Whole World In His Hands

ABC/ABCS 465 - Ingredients In A Recipe For Soul - Ray Charles [1963] (8-63, #2) Busted/Where Can I Go?/Born To Be Blue/That Lucky Old Sun/Ol' Man River //In the Evening (When the Sun Goes Down)/A Stranger In Town/Ol' Man Time/Over the Rainbow/You'll Never Walk Alone

ABC/ABCS 466 - 60 French Girls-Chansons Americaines - Les Djinns Singers [1963] Alleluia!/The Pour Deux/Divine Beguine/Quand L'amour Est Entre/Partout .. Toi/Ramona/Marche De Grenadiers/Comme Une Etoile/Joue A Joue/Avril A Paris/Tout Lejour Toute La Nuit/Fumee Aux Yeux

ABC/ABCS 467 - Something For Everybody - Tommy Roe [1964] Come On and Dance/Be My Baby/Taste Of Honey/That'll Be The Day/Standing Watch/Why Do You Make Me Cry?/Nitty Gritty/You're My Happiness/Dominique/Sensations/Switchie, Witchie, Titchie/I Wanna Be Your Man

ABC/ABCS 468 - The Never Ending Impressions - Impressions [1964] (3-64, #52) Sister Love/Little Boy Blue/Satin Doll/Girl Don't You Know Me/I Gotta Keep on Movin'/You Always Hurt the One You Love //That's What Love Will Do/I'm So Proud/September Song/Lemon Tree/Ten To One/A Woman Who Loves Me

ABC/ABCS 469 - Our Best To You...Featuring 15 of the Finest - Steve Lawrence & Eydie Gorme [1964] Who Wouldn't Love You - Steve & Eydie/I'm Yours - Eydie Gorme/Footsteps - Steve Lawrence/I Will Follow You - Eydie Gorme/You're Nearer - Steve Lawrence/Sentimental Me - Steve & Eydie/Fool Around - Eydie Gorme/Green Eyes - Steve & Eydie//Pretty Blue Eyes - Steve Lawrence/Be Sure My Love - Eydie Gorme/You Can't Be True Dear - Steve & Eydie/Going Steady - Steve Lawrence/To You From Me - Eydie Gorme/You Don't Know - Steve Lawrence/Sentimental Journey - Steve & Eydie

* ABC/ABCS 470 - Frank Fontaine Sings How Sweet It Is - Frank Fontaine [1964] (3-64, #92) All I Do Is Dream Of You/For All We Know/Galway Bay/How Sweet It Is/I'm Afraid To Love You/It's The Talk Of The Town/Let The Rest Of The World Go By/Miss You/Pretty Baby/R.S.V.P./When I Grow Too Old To Dream/When Your Old Wedding Ring Was New

ABC 471 - Walls of Limericks - Jack Barrett, Hearst and Liberty Boys [1964]

ABC 472 - Come to the Ceili - Jack Barrett, Hearst and Liberty Boys [1964]

ABC 473 - Happy Memories of Ireland - Various Artists [1964]

ABC 474 - Down By the Glenside - Dempsey, Kennedy and Laheen [1964]

ABC 475 - Songs From the Green Fields - McGee, O'Kelly and Lynch [1964]

ABC 476 - Old Bog Road - Various Artists [1964]

ABC 477 - Songs and Marches of the Gael - Dempsey, Lynch and O'Shea [1964]

ABC 478 - Songs of the Old Land - O'Shea, McGee and Kennedy [1964]

ABC/ABCS 479 - Fats On Fire - Fats Domino [1964] I Don't Want To Set the World On Fire/You Know I Miss You/Fats On Fire/The Land of Make-Believe/Old Man Trouble/Love Me //Mary, Oh Mary/Gotta Get a Job/The Fat Man/Valley of Tears/Fats Shuffle/I'm a Fool to Care

ABC/ABCS 480 - Sweet And Sour Tears - Ray Charles [1964] (3-64, #9) Cry/Guess I'll Hang My Tears Out to Dry/A Tear Fell/No One To Cry To/You've Got Me Crying Again/After My Laughter Came Tears //teardrops From My Eyes/Don't Cry, Baby/Cry Me a River/Baby, Don't You Cry/Willow, Weep For Me/I Cried For You

ABC 481 - Presenting The Tams - Tams [1964] You Lied To Your Daddy/Do I Worry/Close To Me/Standing In/Riding For a Fall/Laugh It Off //It's All Right (You're Just In Love)/Got To Get Used To A Broken Heart/You Mihgt As Well Forget Him/Dancing Mood/It's All Right/What Kind of Fool (Do You Think I Am)

ABC/ABCS 482 - Whistler and His Guitar - Toots Thielemans [1964] Wives and Lovers/It's the Talk of the Town/Indian Nuts/Manhattan/Falling In Love With Love/It's Only a Paper Moon/Valley Whistler/Deep Purple/Marionette/Star Dust/Bluesette/Duke's Place

ABC/ABCS 483 - From Scotland With Love - Martin Walker [1964] I'll Take Romance/Forever and a Day/Smile/That Old Feeling/Why Should I Want You/Nice and Easy/Answer Me/As Time Goes By/Good For Me/It Only Takes a Moment/Me and My Shadow/You'd Better Love Me

ABC/ABCS 484 - I Love To Hear A Banjo - Roy Smeck [1964] Goofus/Alabamy Bound/Japanese Sandman/12th Street Rag/Chicago/World Is Waiting For the Sunrise/Darktown Strutter's Ball/Swingin' Down the Lane/Raggin' the African Harp/Ja-Da/Tiger Rag

ABC/ABCS 485 - 76 Paesanos of Italy - Italian Festival Orchestra & Chorus [1964] Funicoli Funicola/Torna a Surriento/Maria, Mari/Mattinata/Parlami D'amore/Santa Lucia/Ciribiribin/Non Ti Scordar Di Me/Danza Serenata/O Sole Mio/Tiritomba

ABC/ABCS 486 - Big 15 Polkas Volume 2 - Prohut, Wolowic, Maksymowicz [1964] Choo Choo Train/Girl By the Window/Just Another Polish Wedding/Flying High/Dancing Girl/Army Life/Bunny Barbara/Pretty Violetta/Blue Skirt/Blue/At Lauterbach/Dance, Dance/Hulaj Darcie/Swir Swir Mazur/Jealous Kate

ABC/ABCS 487 - German Drinking Songs - Hamburg Musikhalle [1964] Mein Vater War Ein Wandersmann/Medley: Trink Trink, Du Kanst Nicht Treu Sein/Jetzt Trink Ma Noch a Flascherl Wein/In Muenchen Steht Ein Hofbrauhaus/Hinaus In Dia Ferne/Es War Einmal/Schwartzbran Ist Die Haselnuss/Wem Gott Will Rechte Gunst Erweisen/Auf Der Reeperbahn/Waldeslust/Waldeslust/Es Zogen Drei Burschen/Heute Blau

ABC/ABCS 488 - Best of Knuckles O'Toole - Knuckles O'Toole [1964] I'm Looking Over a 4 Leaf Clover/Old Piano Roll Blues/Medley: Gee But It's Great to Meet a Friend, I Want a Girl, Give My Regards to Broadway/Ragtime Razzmatazz/Medley: Band Played On, In the Good Old Summertime/Beer Barrel Polka/Smile/Darn Ya/Bye Bye Blackbird/Walkin' My Baby Back Home/Put On Your Old Grey Bonnet/Kitten On the Keys/There is a Tavern In the Town

ABC/ABCS 489 - Roman Spectacular - Charles Magnante [1964] Nel Blu/Jolly Barber/Danza Rossini/Non Dimenticar/Oh Marie/Opera Medley: Boheme, Cavalleria Rusticana, Traviata/Sterno Ritornello/Traveglia/Mattinata/O Sole Mil/Blue Skies of Naples/Carnival of Venice

ABC/ABCS 490 - More Songs I Sing On The Jackie Gleason Show - Frank Fontaine [1964] Little Man/Somebody Else/After You've Gone/Sonny Boy/My Wild Irish Rose/Whispering/It's a Sin/Alma/In a Shanty/I'll See You In My Dreams/Any Man Who Loves His Mother/For Me and My Gal

ABC/ABCS 491 - 60 French Girls Can't Be Wrong, Volume 2 - Les Djinns Singers [1964] Mile. De Paris/Premier Rendez-vous/Paris/Je T'Aime d'Amour/Villa Voila/Valse de L'empereus/Bon vent/Enfants Terribles/Labas C[est Beau La Vie/24 Heures de Toi/Legende de la Foret Viennoise

ABC 492 - Mario Escudero at El Poche - Mario Escudero [1964] Patios Andaluces/Temas de Huelva/Elogio al Cordobes/Tablao Flamenco/Costa de Malaga/Del Tato de Triana/Dos Ritmos/Yungque y Martillo/Palillos Flamencos

ABC/ABCS 493 - Keep On Pushing - Impressions [1964] (8-64, #8) Also released as Capitol Record Club ST 90106. Amen/Dedicate My Song To You/Don't Let It Hide/I Ain't Supposed To/I Love You (Yeah)/I Made A Mistake/I Thank Heaven/I've Been Trying/Keep On Pushing/Long Long Winter/Somebody Help Me/Talking About My Baby

494 -

ABC/ABCS 495 - Have A Smile With Me - Ray Charles [1964] (8-64, #36) Smack Dab in the Middle with the Raelets /Feudin' and Fightin' with the Raelets /Two Ton Tessie with the Raelets /I Never see Maggie Alone/Move It on Over //Ma (She's Making Eyes At Me/The Thing/The Man With the Weird Beard with the Raelets /The Naughty Lady of Shady Lane with the Raelets /Who Cares (For Me) with the Raelets

ABC/ABCS 496 - This Is Ragtime Now - Hank Jones [1964] Maple Leaf Rag/Cascades/Sunflower Slow Drag/St. Louis Rag/Bohemia/Eugenia/Sensation Rag/Ragtime Nightingale/Cannonball/Contentment Rag/Jazz Mag Rag/Bag O' Rags

ABC/ABCS 497 - Beatlejazz Album - Bob Hammer [1964] I Want to Hold Your Hand/And I Love Her/Ain't She Sweet/I'm Happy Just to Dance With You/Twist and Shout/Anytime At All/A Hard Day's Night/Things We Said Today/Beatlejazz/Roll Over Beethoven/When I Get Home/Can't Buy Me Love

ABC/ABCS 498 - Life Is a Song - Cinco Latinos [1965]

ABC 499 - Hey Girl, Don't Bother Me - Tams [1964] Weep Little Girl/Go Away Little girl/What Kind of Girl Are You?/Hey Little Girl/Why Did My Little Girl Cry?/Hey Girl Don't Bother Me //Silly Little Girl/Candy/My Lady Elaina/Melancholy Baby/She's Funny That Way/Anna (Go To Him)


Thanks to Frank Frantik.




Back to the ABC Records Story




Back to the ABC-Paramount Discography, Part 3 ABCS-300 to ABCS- 399 (1959-1961)




On to the ABC-Paramount Discography, Part 5 ABCS-500 to ABCS- 599 (1964-1967)




Back to the Discography Listings Page



Back to the Both Sides Now Home Page