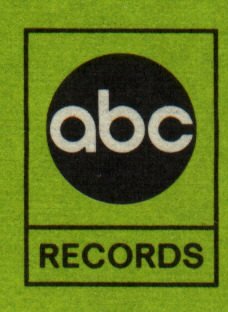 ABC-Paramount Album Discography, Part 5
ABCS-500 to 599 (1964-1967)
By David Edwards, Patrice Eyries, and Mike Callahan
Last update: November 5, 2005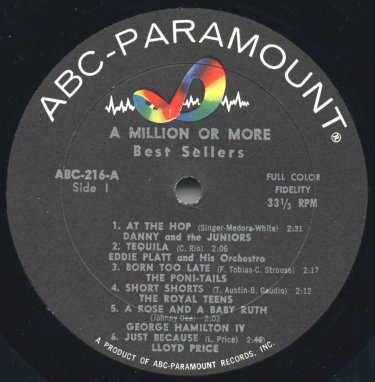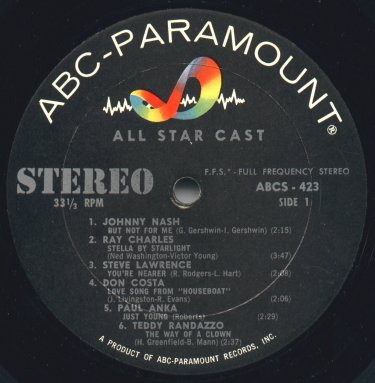 The label used until ABC- Paramount 567 was the same as the first ABC-Paramount label except at the bottom of the label was "A PRODUCT OF ABC-PARAMOUNT RECORDS, INC." This label was used from early 1962 until the second quarter of 1966, approximately to ABC-Paramount 567. Promotional labels used the same graphics on a white label with black print.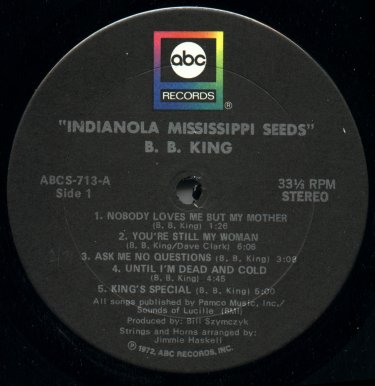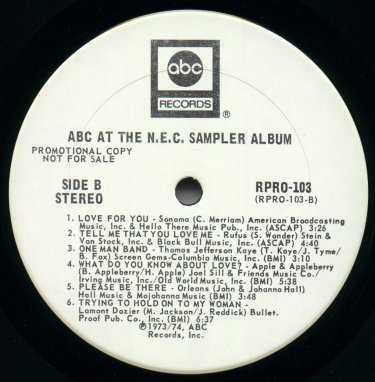 The third label was used after the label changed names from ABC-Paramount to ABC. It was black with silver printing. Directly above the center hole was a black ABC logo in a white circle. A color spectrum box surrounded the logo. This label was used from mid-1966 to the third quarter of 1974, approximately ABC 565 to ABC 830. At the bottom of the label is "ABC RECORDS INC., NEW YORK, N.Y. 10019 - MADE IN USA" The promotional label was white with black printing. The graphics were the same.

We would appreciate any additions or corrections to this discography. Just send them to us via e-mail. Both Sides Now Publications is an information web page. We are not a catalog, nor can we provide the records listed below. We have no association with ABC-Paramount, ABC, or MCA Records. Should you be interested in acquiring albums listed in this discography (all of which are out of print), we suggest you see our Frequently Asked Questions page and follow the instructions found there. This story and discography are copyright 2002, 2005 by Mike Callahan.



ABC-PARAMOUNT LABEL ALBUM DISCOGRAPHY, Part 5

Number - Title - Artist - [Release Date] (Chart) Contents

ABC/ABCS 500 - Live In Concert - Ray Charles [1965] (2-65, #80) Opening/Swing A Little Taste/I Gotta Woman/Margie/You Don't Know Me/Hide Nor Hair//Baby Don't You Cry/Makin' Whoopee/Hallelujah I Love Her So/Don't Set Me Free/What'd I Say/Finale

ABC/ABCS 501 - Starring Steve Alaimo - Steve Alaimo [1965] I Don't Know/Ya- Ya/Nobody Loves Me/I Don't Wanna Cry/Sammy Dead/People Act Funny/Everybody Likes to Do the Ska/Stand by Me/Behold/Soon You'll Be Gone/You're Driving Me Crazy/I Won't Let You

ABC/ABCS 502 - Cookin' With The Spats - Spats [1965] Gaitor Tails/You're the One/Bony Moronie/Long Tall Texan/Mirage/Let the Good Times Roll/She Kissed Me/There'a s Party/Tell Me All/Have You Ever Seen Me Crying?/Nadine/Roach

* ABC/ABCS 503 - Spy With A Pie - Soupy Sales [1965] (4-65, #102) Dressing Room Menagerie/Forever Friends/Leona/Pie-Face/Pie In The Sky/Soupy Of The Secret Service/There's Nothing To Do Today/Thirty Five Pounds, Nine Feet Tall/Vy You Spyink On Me/We're Going To The Circus/What Did The Animals Say

ABC/ABCS 504 - Shindig! - Various Artists [1964] This record consists of studio recordings that have the sounds of screaming teenagers mixed in to simulate a live performance. The audience sounds are heard throughout all of the songs. Introductions/Shindig - Shin- Diggers/Share Your Love - Tommy Roe/Love Is a Mystery - Impressions/Scootin' Along - Shin- Diggers/Nobody Cries For Me - Steve Alaimo/The Hurtin' Kind - Tams //Station Break - Shin- Diggers/Ballin' the Jack - Fats Domino/Let the Good Times Roll - Spats/I'm a Man - Gauchos, Featuring Jim Doval/Why Don't You Let Yourself Go - Sapphires/The Mummy Walk - Shin-Diggers

ABC/ABCS 505 - People Get Ready - Impressions [1965] (3-65, #23) Woman's Got Soul/Emotions/Sometimes I Wonder/We're In Love/Just Another Dance/Can't Work No Longer //People Get ready/I've Found That I've Lost/Hard To Believe/See the Real Me/Get Up and Move/You Must Believe Me

ABC/ABCS 506 - The Gauchos Featuring Jim Doval - Gauchos Featuring Jim Doval [1965] La Bamba/C'mon and Swim/Annie Ya Ya/Out of Sight/I'm a Man/Please Let Me Know //Oh, Pretty Woman/Little Latin Lupe Lu/Money/Peanuts/Something's Got a Hold On Me/Angelito

ABC/ABCS 507 - Wow! - Bill Doggett [1965] Oo-Da/Ol' Mose Blues/Happy Soul Time/Kicker/Mudcat/Ram-Bunk-Shush/Slow Walk/Fatso

ABC/ABCS 508 - Adventures In Flamenco - Carlos Montoya [1965] Ritmos Gitanos/Caribe Aflamencao/Toque Muricano/Recuerdos de La Sierra/Albaicin Flamenco/Compas Trianero/Variaciones/Aires de Santa Maria

ABC/ABCS 509 - Live At The Regal - B.B. King [1965] Introduction by Pervis Spann. Everyday I Have the Blues/Sweet Little Angel/It's My Own Fault/How Blue Can You Get/Please Love Me //Introduction by E. Rodney Jones. You Upset Me Baby/Worry, Worry/Woke Up This Mornin'/You Done Lost Your Good Thing Now/Help the Poor

ABC/ABCS 510 - Get Away With Fats Domino - Fats Domino [1965] Also issued as Capitol Record Club ST 90167. When My Dreamboat Comes Home/Wigs/Trouble In Mind/Man That's All/Kansas City/Reelin' and Rockin' //Slow Boat To China/Monkey Business/Hartbreak Hill/The Girl I'm Gonna Marry/Why Don't You Do Right/Ballin' the Jack

ABC/ABCS 511 - 60 French Girls, Volume 2 - Les Djinns Singers [1965] Monsieur Liszt/Loulli-Loulla/Il S'appelait/Premier bal/Je T'aime/Grandemoi/Va, Mon Coeur/Paris, tu M'as Pris/Chant de Mallory/Enfants de Tous Pays/Quand Ma Souris Danse/Elle Etait Si Jolie

ABC/ABCS 512 - The Best Of Romance, Ballads, Blues, Dixieland, Roaring 20's, Showstoppers - Eydie Gorme [1965] But Not For Me/Who's Sorry now?/Guess Who I Saw/My Funny Valentine/I'll Take Romance/Ja-Da/Bill Bailey/Fly Me to the Moon/When Your Lover Has Gone/I Don't Care/Chicago/When the Saints Come Marching In

ABC/ABCS 513 - Theme From Peyton Place And 11 Other Great Themes - Frank DeVol [1965] Peyton Place Theme/Addams Family/Rogues Theme/Sunday Night Show Street/Combat/Bewitched/General Hospital/My 3 Sons/Give Me a Souvenir/Hush, Hush Sweet Charlotte/Hollywood Palace

ABC/ABCS 514 - I'm Counting On You - Frank Fontaine [1965] Are You Lonesome/Mexicali Rose/Someday/Dear Little Boy/Peggy O'Neil/I Ain't Got Nobody/Little Street/You're In Love With Everyone/Why Should I Want You/Together

ABC/ABCS 515 - The Impressions' Greatest Hits - Impressions [1965] (3-65, #83) Gypsy Woman/Talking About My Baby/I'm So Proud/Keep On Pushing/Never Let Me Go/It's All Right //You Must Believe Me/Sad, Sad Girl and Boy/I'm the One Who Loves You/Minstrel and Queen/Grow Closer Together/Amen

ABC/ABCS 516 - Fiddler on the Roof - Barry Sisters [1965] Matchmaker/Sunrise to Life/Do You Love Me/Sabbath Prayer/Tradition/Far From the Home I Love/Now I Have Everything/Miracle of Miracles/Anatevka/If I Were a Rich Man

* ABC/ABCS 517 - Soupy Sales Sez Do The Mouse And Other Teen Hits - Soupy Sales [1965] (5-65, #80) Hey, Pearl/King Kong/Mighty Clem/Mouse Trap/Mr. Cab Driver/Name Game/Nitty Gritty/Pachalafaka/Sad Sack/Speedy Gonzales/The Mouse/Your Brains'll Fall Out

ABC/ABCS 518 - Big Yank Is Here - Yank Lawson [1965] Chim Chim Cheree/When My Baby Smiles At Me/Hot Lips/Bury Me on Basin Street/Kissin' Cousins/Come Back Sweet Papa/Brezzin' Along/Boy From New Orleans/Beverly Hills LA/Sidewalk Blues/5 Point Blues/Crazy Blues

ABC/ABCS 519 - Happy Melodies - Yank Lawson & the Yankee Clippers [1965]

ABC/ABCS 520 - Country And Western Meets Rhythm And Blues - Ray Charles [1965] (9- 65, #116) Reissued with a new title "Together Again". Together Again/I Like to Hear It Sometime/I've Got a Tiger By the Tail/Please Forgive and Forget/I Don't Care/Next Door to the Blues //Blue Moon of Kentucky/Light Out of Darkness/Maybe It's Nothing At All/All Night Long/Don't Let Her Know/Watch It Baby

ABC/ABCS 521 - The Singing Hills - Elton Britt [1965] Home Sweet/Till the End/Kentucky Waltz/Heart of a Clown/Bluebird Yodel/You're Always Brand New/New Freight Train/Mexicali Rose/Maybe I'll Cry/Fountain of Youth/Now Is the Hour

ABC/ABCS 522 - On A New Road - Highwaymen [1965] On A New Road/You Won't Last Long In This Town/I'll Show You The Way/Follow Me (If You Would)/Girls/Permit To Be A Hermit//Another World/Dreams Like Sand/Never A Thought For Tomorrow/Smile At Me/I'll Be Gone/Should I Go Should I Stay

ABC/ABCS 523 - One By One - Impressions [1965] (9-65, #104) Twilight Time/I Wanna Be Around/Nature Boy/Just One Kiss From You/I Want to Be With You/Answer Me, My Love //It's Not Unusual/Without a Song/Falling In Love With You/My Prayer/Mona Lisa/Lonely Man

ABC/ABCS 524 - C'mon And Hear Della Reese! - Della Reese [1965] After Loving You/Home/My Devotion/It's Magic/Wilted Flower/100 Years From today/Her Little Heart/I Only Want a Buddy/I Need You/Lover's Prayer/Blues For the Weepers/How Do You Keep From Cryin'

ABC/ABCS 525 - Riding High - Dixie Cups [1965] What Goes Up, Must Come Down/Two- Way-Poc-A-Way/That's Where It's At/Sugar That I Need/I'm Not the Kind of Girl (To Marry)/I've Got To Get That Boy //Danny Boy/Chances Are/Here It Comes Again/I'll Never Let The Well Run Dry/Promises, Promises

ABC/ABCS 526 - El Rey Del Flamenco - Sabicas [1965] Guadalquivir/Ole Mi Cadiz/Cielo de Granada/Duende Flamenco/Trinidad/Zapateado En Re/Aires de Puerto Real/Sentimiento Gitano/Embrujo de Huelva

ABC/ABCS 527 - The Big Valley (TV Soundtrack) - George Duning [1965] Overture/Sunday In Big Valley/Heath/Barkleys/Harvest Festival Dance/Audra/Chase/Grab For Land/Roundup And Fiesta/Finale

* ABC/ABCS 528 - Confessin' The Blues - B.B. King [1965] Cherry Red/Confessin' The Blues/Do You Call That A Buddy/Goin' To Chicago Blues/How Long Blues/I'd Rather Drink Muddy Water/I'm Gonna Move To The Outskirts Of Town/Please Send Me Someone To Love/See See Rider/We Baby Blues/World Of Trouble

ABC/ABCS 529 - Gentle Bossa Nova - Chris Connor [1965]

ABC/ABCS 530 - The McGuire Sisters Today - McGuire Sisters [1965] Grazia/How Come You Do Me/Moon Love/Truer Than You/Nevertheless/Gonna Get a Boy/Troubled Mind/My Heart Cries/Foolish Heart/It Isn't Fair/My Melancholy Baby/Game Is Over

ABC/ABCS 531 - Where The Action Is - Steve Alaimo [1965] Hitch Hike/Don't Let Go/Long Tall Sally/Sweet Little 16/500 Miles/Papa's Got a Brand New Bag/Personality/Blowin' In the Wind/All Around the World/Mr. Pitiful/Talkin' 'Bout You

ABC/ABCS 532 - Honey West (Soundtrack) - Alfred Perry [1965] Honey/Jazzito/Ocelot/Lots Of Pluck/Preludium To Mayhem/Preludium For A Sideman/Sweet Honey/Sam Goes West/Scrape/Silk 'n Honey/Wait And See/Bolero

ABC/ABCS 533 - Marilyn Michaels - Marilyn Michaels [1965] Bill Bailey/I Got Rhythm/Fascinatin' Rhythm/Carnival/All of Nothing/Music That Makes Me Dance/That's the Way/Be My Love/Like an Eagle/My Man's Gone/Watching the Big Parade/Lover Man

ABC/ABCS 534 - Italian Romance American Style - Frank DeVol [1966] Al Di La/Strada/Non Dimenticar/Ciao Ciao Bambina/Anema e Core/Forget Domani/Summertime in Venice/Arrivederci Roma/More/Volare/Senza Fine/Casa de Sol

ABC/ABCS 535 - By George! - George Hamilton [1966] So Small/Girl Don't Come/World Without Love/Ask Me/She Wasn't Like That/Memphis Tennessee/Loneliness/You've Lost That Lovin' Feelin'/And I Love Her/Look Out!/Hold Me, Thrill Me

ABC/ABCS 536 - The Dangerous Christmas Of Red Riding Hood (Soundtrack) - Various Artists [1965] Overture/We Wish the World a Happy Yule/My Red Riding Hood/Snubbed/Woodsman's Serenade/Granny's Gulch/Along the Way/I'm Naive/Red Riding Hood Improvisation (Ballet)/We're Gonna Howl/Ding-a-Ling/Poor House (Ballet)/Granny/Finale

ABC/ABCS 537 - Andiamo (Incomparable) - Don Cornell [1966] Let's Go/Andiamo/Mala Femmena/Forget Doman/Lover's Lament/My Love/Forgive/Have You Looked Into Your Heart?/Ciao Ciao Bambina/Al-Di-La/It Had Better Be Tonight/Solo Te/More/Bell Amore

ABC/ABCS 538 - Travelin' Light - Shirley Horn [1966] Sunday In New York/I Could Have Told You/Big City/I Want to Be With You/Some Of My Best Friends/Had You Tried/Don't Be On the Outside/You're Blase/Yes, I Know/Confession/And I Love Him

ABC/ABCS 539 - A Ray Of Country Sun - Wade Ray [1966] They Gotta Quit/Old Shep/I Only Want a Buddy/Within Your Crowd/Heart of a Clown/Bill Hailey/Any Old Arms/I Was Just Walking Out/You Tied Tin Cans/Too Many Rivers/Penny For Your Thoughts/Heart Inside

ABC/ABCS 540 - I Like It Like Dat! - Della Reese [1966] Travelin' Light/If It's the Last Thing/'Tain't Nobody's Bizness/Ev'ry Evenin'/Stranger on Earth/I Ain't Ready/Fool That I Am/If I Never Get to Heaven/Drinkin' Again/Man With a Horn/In the Dark/Nobody Knows the Way I Feel

ABC/ABCS 541 - All Time Great Hits - Frank Fontaine [1966] California/New Sidewalks of New York/Carolina/Moon Over Miami/Missouri Waltz/Chicago/Yellow Rose/Beautiful Ohio/When Irish Eyes Are smiling/Blue Hawaii/On the Boardwalk/More I See You

ABC/ABCS 542 - Hollywood Brass - Jerry Fielding [1966] King of the Road/Hang On/Yesterday/It's Not Unusual/Ka Boom-Boom/Goin' Out of My Head/Downtown/Yeh/Satisfaction/You'd Better Come Home/Cover Me/Spanish Flea

ABC 543 - Stop, Look and Listen - Highwaymen [1966] Bright Golden Buttons/A Taste of Honey/Cripple Creek/What's That I Hear?/ Gotta Travel On/Sing Some More//Sing On Brothers/Whoa Mule Whoa/ Trouble In Mind/Green, Green Rocky Road/Old Blue/Bonny Hielan' Laddie

ABC/ABCS 544 - Crying Time - Ray Charles [1966] (3-66, #15) Crying Time/No Use Crying/Let's Go Get Stoned/Going Down Slow/Peace Of Mind/Tears //Drifting Blues/We Don't See Eye To Eye/You're In For A Big Surprise/You're Just About To Lose Your Clown/Don't You Think I Ought To Know/You've Got A Problem

ABC/ABCS 545 - Ridin' High - Impressions [1966] (3-66, #79) Ridin' High/No One Else/Gotta Get Away/I Need To Belong To Someone/Right On Time/I Need a Love //Too Slow/Man's Temptation/That's What Mama Say/Let It Be Me/I'm A Tellin' You

ABC 546 - Cuando Calienta El Sol - Copacabana Trio [1966]

ABC 547 - Unforgettable Songs - Johnny Hartman [1966] Very Thought of You/Fools Rush In/Our Love Is Here to Stay/Once In Awhile/Bidin' My Time/Down In the Depths/ain't Misbehavin'/Isn't It Romantic/Unforgetable/The More I See You/What Do I Owe Her?/Almost Like Being In Love

ABC/ABCS 548 - Songs for Children, By Children - ABC Children's Chorus [6/66]

ABC/ABCS 549 - Hollywood Sings (Impersonations) - Guy Marks [1966] As Time Goes By (Bogart)/Don't Take Your Love (Karloff)/Red Roses (Grant)/You Always Hurt the One You Love (Cagney)/It Was a Very Good Year (Boyer)/And She'll Always Love You (Cooper)/September Song (Brennan)/I'll Be Seeing You (Gable)/To Each His Own (Robinson)/Begin the Beguine (Lugosi)

ABC/ABCS 550 - Ray's Moods - Ray Charles & His Orchestra & Chorus Featuring The Raelets [1966] (9-66, #52) What-Cha Doing In There (I Wanna Know)/Please Say You're Fooling/By The Light Of The Silvery Moon/You Don't Understand/Maybe It's Because Of Love/Chitlins With Candied Yams//Granny Wasn't Grinning That Day/She's Lonesome Again/Sentimental Journey/A Born Loser/It's A Man's World/A Girl I Used To Know

ABC/ABCS 551 - Steve Alaimo Sings And Swings - Steve Alaimo [1966] Cast Your Fate to the Wind/Lady of the House/Love is a Many Splendored Thing/Let Her Go/Need You/Real Live Girl/Mais Oui/Fade Out-Fade In/Truer Than True/Bright Lights/Once a Day/Love's Gonna Live Here

ABC/ABCS 552 - Phyllis McGuire Sings - Phyllis McGuire [1966] Careless Love/My Happiness/Drink To Me Only With Thine Eyes/Who Can I Turn To/Like Someone In Love/St. Louis Blues/I'll Always Be In Love With You/One Kiss/Vaya Con dios/All the Things/I Can't Give You Anything But Love/I Loves You Porgy

ABC/ABCS 553 - World's Greatest Semi-Classical Classics - Ferrante & Teicher [1966]

ABC/ABCS 554 - Memories - Ferrante & Teicher [1966] Autumn Leaves/If You Love Me/Stella By Starlight/How High the Moon/Nearness of You/Beyond the Blue Horizon/Stardust/Over the Rainbow/Temptation/Mer/I've Told Every Little Star/Under Paris Skies

ABC/ABCS 555 - Heavenly Sounds - Ferrante & Teicher [1966] Moon Was Yellow/Stella By Starlight/Stardust/Stars In My Eyes/Moon Is Low/Over the Rainbow/Out of This World/Out Of Nowhere/Beyond the Moon/I've Told Every Little Star/East of the Sun

ABC/ABCS 556 - We've Got Rhythm - Ferrante & Teicher [1966] I Got Rhythm/Merry Widow Waltz/Chopstick Cha Cha/Last Time I Saw Paris/Ain't Misbehavin'/Bye Bye Blues/Love/Hurdy Gurdy/Continental/'SWonderful/Busman's Holiday

ABC/ABCS 557 - Twin Piano Magic Volume 1 - Ferrante & Teicher [1966]

ABC/ABCS 558 - Autumn Leaves - Ferrante & Teicher [1966] Paree/Pigalle/Under Paris Skies/Mer/If You Love Me/Symphony/Two Loves/Speak to Me Of Love/All My Love/Autumn Leaves

ABC/ABCS 559 - Twin Piano Magic Volume 2 - Ferrante & Teicher [1966]

ABC/ABCS 560 - Bolero - Ferrante & Teicher [1966]

ABC/ABCS 561 - Temptation - Ferrante & Teicher [1966] How High the Moon/Nearness of You/Che Si Dice/3 O'clock in the Morning/Va Va Voom/Beyond the Blue Horizon/Get Out of Town/Parade of the Bobbies/Yesterdays/Cielito Lindo

ABC/ABCS 562 - Jamie and the J. Silvia Singers - Jamie and the J. Silvia Singers [1966] This Is All/Taste of Honey/Days of Wine and Roses/Yesterday/It's Not Unusual/Lost in the Stars/Nature boy/It Was a Lover/Shadow of Your Smile/8 Days a Weel/We can Work It Out/Softly, As I Leave You

ABC/ABCS 563 - The New Old Sweet Songs - Frank DeVol [1966]

ABC/ABCS 564 - Spontaneous Flamenco - Carlos Montoya [1966] Tiempo Gitario/Cante Jondo/Guadaira/Compas Calo/Fandango/Gaditana/Trianera/Jerez

ABC/ABCS 565 - Mundo Latino De Yomo Toro - Yomo Toro [1966] El Relicario/Estralleta/La Joya/Contigo En La Distancia/No Puedo Olivdarte/Merengue Cerrao/Algo Especial/Mienteme/Chiquita/Quedate Con Tu Dinero/Estrellita Del Sur/Alma Llanera

ABC/ABCS 566 - Somethin' For Everybody - Elton Britt [1966] It Just Happened/Reaching For the Moon/No Letter/I Still believe/Crazy 'Bout Women/I Never Knew What It Meant/Homesick For You/Daddy's Little Girl/Who God's Children Really Are/My Rosary/For All We Know

ABC/ABCS 567 - Ole Dixie - Lawson-Haggart Jazz Band with Lionel Hampton [1966] Fidgety Feet/Bang Bang/Ka Boom Boom/Daydream/Bossa Nova Noche/What's New?/Wolverine Blues/Tijuana/Muscrat Ramble/Where Did I Find You?/I Cried In the Night

ABC/ABCS 568 - Love Is A Guitar - Peter Deangelis Orchestra and Chorus [1966] Love Is a Guitar/Continental/Holiday/Shadow of Your Smile/Twilight Time/Mostreme/Spanish Guitars/Plage/Happy Mandolin/Serenade/Marcheta/East River Drive/Asi Te Quiero

* ABC/ABCS 569 - Live - Della Reese [1966] But Beautiful/Detour Zhead/Driftin' Blues/Girl Talk/Good Morning Blues/Gotta Travel On/I Got It Bad And That Ain't Good/Ill Wind/There Will Never Be Another You/Who Can I Turn To? (When Nobody Needs Me)

ABC/ABCS 570 - Basie Swingin' Voices Singin' - Count Basie with the Copeland Singers [1966] Happiness Is/I Surrender/Oh Lady Be Good/You Are My Sunshine/Until I Met You/Candy/Down By the Old Mill Stream/Fantastic/One For My Baby/Girl Talk/Call Me

ABC/ABCS-571 -

ABC/ABCS-572 -

ABC/ABCS 573 - Soul In The Night - Ruth Olay [1966]

ABC/ABCS 574 - Soul In the Night - Johnny Hartman [1967]

ABC/ABCS 575 - Sweet Pea - Tommy Roe [1966] (11-66, #94) Hooray For Hazel/Under My Thumb/Pretty Flamingo/Where Were You When I Needed You/Wild Thing/Sweet Pea//Party Girl/Everybody/The Folk Singer/Pleasing You Pleases Me/Kick Me Charlie/Sheila

The label name changed to ABC from ABC-Paramount at approximately this point. Later pressings of albums with catalog numbers before 576 have the abc label.

ABC/ABCS 576 - I Love Everybody - Johnny Hartman [1966]

ABC/ABCS 577 - The ABC Children's Chorus In Concert - ABC Children's Chorus [1966]

ABC/ABCS 578 - Something Spanish - Barry Sisters [1966] Que Sabes Tu/Perdoname/Manha de carnaval/Campanitas de Cristal/Convencido Estoy/Inka Dinka Doo/Noches Quietas/Juramos Amor/Sombra de Tu Sonrisa/Dia/Vaya Con Dios/Cuando Calienta el Sol

ABC/ABCS 579 - Country Guitars - Chuck Thompson [1966] Country Girl /Almost Persuaded/Everybody Loves Somebody/Early Morning Rain/Walking On New Grass/High Stepping/Tips Of My Fingers/Bull Frog/Lady Bird/Chuck's Blues/Turkey In The Straw

ABC/ABCS-580 -

ABCS 581 - Billy Baxter & His Carnaby Street Vaudeville Band - Billy Baxter & His Carnaby Street Vaudeville Band [1966] Volunteer Firemen's Association of South Tuckohoe falls/How Could Red Riding Hood?/3 Meals/This Door/I've Never Wronged an Onion/When I'm Cleaning Windows/what'cha Gonna Do/Maybe We Can Start a Thing/I've Never Seen a Straight Banana/Down on Love/Why Build a Wall/Poor Kids

ABC/ABCS 582 - The Live Excitement Of Frankie Ray - Frankie Ray [1966] Cotton Fields/More Amor/What Now?/More/Gonna Build a Mountain/Cuando Calienta el sol/Macarena/Spanish Eyes/Forget Domani/Sabor a Mi/Bamba/Bam-Ticki-Tic

ABC/ABCS 583 - Cool Country - Alan Copeland Singers [1966]

ABC 584 - Lu Elliott Sings Way Out From Down Under - Lu Elliott [1967] I've Got You Under My Skin/Have You Tried?/Speaking of Happiness/When I Fall/Somewhere Along the Line/I Love the Ground/And We Were Lovers/Kind of Kove/Some Other Town/I Was a Fool/Around the World

ABC/ABCS 585 - Chris Connor Now! - Chris Connor [1966] Goin' Out of My Mind/Carnival/Boys From Madrid/Love Life/Never On Sunday/Autumn/You're Gonna Hear From Me/Shining sea/I'm Telling You/Nowhere Man/Strangers In the Night/Who's Afraid?

ABCS 586 - While We're Young - Young Americans [1967] One By One/When I Fall In Love/Gonna Get Along/Little Girl/Born Free/Beautiful Beautiful World/Born to Be With You/Morning Town Ride/Goodbye Sadness/It Only Happens Once

ABCS 587 - Flamenco Fever - Sabicas [1967] Claveles del Puerto/Llanto a Linares/Embrujo Gaditano/Cielo Granadino/Jardin Sevilano/Seguidilla en Re/Conquero/Paseo de Los Tristes/Guajra Melodica

ABC/ABCS 588 -

ABC/ABCS 589 - One More Time! - Della Reese [1967] Sunny/That's Life/Funny What Love Can Do/So Nice/It Was a Very Good Year/Good Times/Big City/What Now?/Don't You Know

ABC/ABCS 590X - A Man And His Soul - Ray Charles [1967] (3-67, #77) Two record set. Record one I Can't Stop Loving You/What'd I Say/Ol' Man River/One Mint Julep/Crying Time/Makin' Whoopee //Busted/Takes Two to Tango/Ruby/Let's Go Get Stoned/Cry/Unchain My Heart Record two Georgia On My Mind/Baby It's Cold Outside/Worried Mind/I Chose to Sing the Blues/I Don't Need No Doctor/Born to Lose //Hit the Road, Jack/You Are My Sunshine/From the Heart/Teardrops From My Eyes/No Use Crying/Chitlin's With Candied Yams

ABCS 591 - Live At Earthquake McGoons - Clancy Hayes [1967] Ace In the Hole/Tishomingo Blues/I'll Be In My Dixie Home/Pretty Baby/If I Could Be With You/Ja Da/Oh You Beautiful Doll/Mother to Me/Whitewash Man/I Ain't Gonna Give Nobody None/Coney Island Washboard/Paddlin' Madeline Home/Baby Face/5 Foot 2/Auntie Shinners Chicken Dinner/My Little Bimbo/Blues My Naughty Sweetie Gives/Down Home Rag

ABCS 592 - Encore - Jamie & the J. Silvia Singers [1967] Hold On Tight/Goin' Out of My Head/Secret Love/I've Grown Accustomed To Her Face/What the World Needs Now/Inch Worm/You've Got Your Troubles/Sweetness/What Now?/Dear Heart/Who Am I?/Sleep Away

ABCS 593 - Out Of Sight And Sound - Free Spirits [1967] Don't Look Now (But Your Head Is Turned Around)/I'm Gonna Be Free/Lbod/Sunday Telephone/Blue Water Mother/Girl Of The Mountain//Cosmic Daddy Dancer/Bad News Cat/Storm/Early Mornin' Fear/Angels Can't Be True/Tattoo Man

ABCS 594 - It's Now Winter's Day - Tommy Roe [1967] (4-67, #159) Leave Her/Moon Talk/Aggravation/Golden Girl/Misty Eyes/Have Pity On Me//Sing Along With Me/Long Live Love/Night Time/Cry On Crying Eyes/Sweet Sounds/It's Now Winter's Day

ABC-Tangerine ABC/ABCS 595 - Ray Charles Invites You To Listen - Ray Charles [1967] (7-67, #76) She's Funny That Way (I Got A Woman Crazy For Me)/How Deep Is The Ocean (How High Is The Sky)/You Made Me Love You (I Didn't Wanna Do It)/Yesterday/I'll Be Seeing You//Here We Go Again/All For You/Love Walked In/Gee, Baby Ain't I Good To You/People

ABC/ABCS 596 - Time For The Tams - Tams [1967] Ram Shackle Shack (Sparkling Brown Eyes)/It's Better To Have Loved A Little/Fall Down, Go Boom/Untie Me/Get Away//I've Been Hurt/How 'Bout It/Have Pity On Me/Breaking Up/Laugh Clown Laugh/Shelter

ABCS 597 - A Time To Remember - Barry Sisters [1967] Hevaynu Sholem Alaychem/In Mein ShtaitelMein Zeindele/Giss-Giss/Hopkele/Yushke/My Yiddeshe Mama/Alevai/Vie Nemt Men a Bissele Mazel/Sholem tantz/Ch'ob Dich Leib Azoi

ABCS 598 - Del Staton Live at My Place, Miami Beach Florida - Del Staton [1967] Sentimental Journey/Misirlow/It's the Talk/Stardust/Ebb Tide/Foggy Day/Carnival/Sweet Lorraine

ABCS 599 - Together Again - Dion & The Belmonts [1967] Movin' Man/Berimbau/Come To My Side/All I Wanna Do/But Not For Me/New York Town //Loserville/For Bobbie/Jump Back Baby/Baby You've Been On My Mind/My Girl the Month of May


Thanks to Peter Preuss, Frank Frantik and Randy A. Riddle.




Back to the ABC Records Story




Back to the ABC-Paramount Discography, Part 4 400-499 (1959-1961)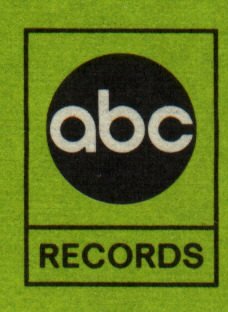 On to the ABC-Paramount Discography, Part 6 600-699 (1964-1967)




Back to the Discography Listings Page



Back to the Both Sides Now Home Page