Specialty started a jazz series (SP-5000 series) in 1957, but it lasted only three issues by 1960. Specialty added a fourth album, SPS-5003, in 1972. Specialty later used the 5000 catalog numbers for releases in the UK and other countries outside the U.S.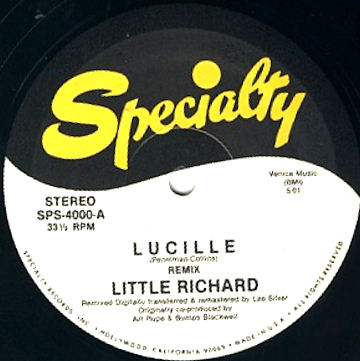 In the disco era, Specialty remixed a couple of Little Richard songs for the 12-inch disco single market. Their first effort paired two Lee Silver remixes, a 5:01 reworking of "Lucille" with "Heeby-Jeebies-Love" (5:24). The single did not make it to the national disco charts, and apparently further efforts along these lines were abandoned. (The 12" test pressings done by the Specialty Record Corporation of Olyphant, Pennsylvania, are not related to Art Rupe's Specialty Records label.)

In 1989, after releasing a handful of reissues on CD in the 2100 series, Specialty started releasing CDs in earnest. This started with a 3-CD box set on Little Richard, and a new series called "The Legends of Specialty." The latter was a series of CDs (and cassettes, but no vinyl) that mined the vast Specialty archives and presented up to three volumes on each of the famous Specialty artists, along with some various-artist releases to cover more obscure artists. The first six numbers in this series, SPCD-7001 to SPCD-7006, were prepared in late 1989 by Specialty, but they didn't actually hit the stores until 1990, just before Specialty was sold to Fantasy Records. Fantasy continued the series, running the number of volumes to more than 60 by 1994. The series stopped abruptly with SPCD-7061, after which there was a three-year hiatus before a few last issues trickled out in 1997.

Fantasy also started a series of 2-LP on 1-CD offerings in the SPCD-7200 series in 1991, but these did not last long, with only a few items known.

We would appreciate any additions or corrections to this discography. Just send them to us via e-mail. Both Sides Now Publications is an information web page. We are not a catalog, nor can we provide the records listed below. We have no association with Specialty Records. Should you be interested in acquiring albums listed in this discography (which are all out of print), we suggest you see our Frequently Asked Questions page and follow the instructions found there. This story and discography are copyright 1998, 2009 by Mike Callahan.
| | |
| --- | --- |
| Cover | Number - Title - Artist - [Release Date] Contents |
| | SP-5000 Series (Vinyl): |
| | SP-5000 - Spicy Songs for Cool Knights - Katie Lee [1957] The Knight/Johnny Ringo/My Mother Chose My Husband/Venezuela/Poor Miss Bailey/The House Of The Rising Sun//Blow The Candles Out/Lavender Cowboy/Lotsa Money/The Eddystone Light/The Frozen Logger/Woman Go Home |
| | SP-5001 - Dizzy Atmosphere - Al Grey & Billy Mitchell All-Stars [12/57] Dishwasher/Someone I Know/D.D.T./About Time/Whisper Not/Day By Day/Rite Of Swing/Over The Rainbow |
| | SP-5002 - Jazz Loves Paris - Buddy Colette, Billy Mitchell, Frank Rosolino [1960] I Love Paris/Pigalle/Vie En Rose/C'est Si Bon/Darling Je Vous Aime Beaucoup/Mam'selle/Domino/Song From Moulin Rouge/Last Time I Saw Paris/Under Paris Skies |
| | SPS-5003 - Evil Wind Is Blowing - Denny King & B.O. Boogie Band [1972] Evil Wind Is Blowing/Bottle Blues/Desert Sand/Sunday Driver/Boogie Man//Bessie Mae/Lucille/Home Cooking/Go Down Moses/Putting Away The Blues |
| | SPS-4000 Series (Vinyl 12-inch Disco Single): |
| | SPS-4000 - Lucille//Heeby-Jeebies-Love - Little Richard [197?] The single was issued to disc jockeys in the sleeve shown at left and commercially in a plain white sleeve. |
| | SPCD-7000 "The Legends" CD Series: |
| | SPCD-7001-2 - Poet of the Blues - Percy Mayfield [1990] Legends of Specialty Series. All tracks mono. Please Send Me Someone To Love/Prayin' For Your Return/Strange Things Happening/Life Is Suicide/What A Fool I Was/Lost Love/Nightless Lover/Advice (For Men Only)/Cry Baby/Lost Mind/I Dare You Baby/Hopeless/The Hunt Is On/The River's Invitation/The Big Question/Wasted Dream/Louisiana/Bachelor Blues/Get Way Back/Memory Pain/Loose Lips/You Don't Exist No More/Nightmare/Baby You're Rich/My Heart Is Cryin' |
| | SPCD-7002-2 - Bad Boy - Larry Williams [1990] Legends of Specialty Series. All tracks mono. Bony Moronie/She Said Yeah/Hocus Pocus/Lawdy Miss Clawdy/Just Because/Dizzy Miss Lizzy/Rockin' Pneumonia And The Boogie-Woogie Flu [with Art Neville] (with pickup bass notes)/High School Dance/Heeby-Jeebies (alternate take, with countoff)/Iko Iko (alternate take)/Short Fat Fannie/Zing Zing (alternate take, with countoff)/Ting-A-Ling/Make A Little Love (with countoff)/Hootchy-Koo (with countoff)/Slow Down/You Bug Me Baby/Oh Baby (alternate take)/Little School Girl/Bad Boy (alternate take)/Peaches And Cream/Marie Marie (alternate take)/The Dummy |
| | SPCD-7003-2 - The Blues Balladeer - Jesse Belvin [1990] Legends of Specialty Series. All tracks mono. Jesse Belvin: Daddy Loves Baby/My Love Comes Tumbling Down/Confusin' Blues aka Jesse's Blues (2 versions, alt. version has studio talk)/Baby Don't Go/Blues Has Got Me (with studio talk)/Hang Your Tears Out To Dry/Dream Girl (with studio talk)/Puddin' 'N' Tane (demo, with studio talk, including reaction to phone ringing during session)/One Little Blessing/Gone/Love Love Of My Life/Where's My Girl/Let's Try Romance (with studio talk)/Come Back (with studio talk)/Love Of My Life (demo, with studio talk and false start); Jesse (Belvin) & Marvin (Phillips): Dream Girl (2 versions, alt. take has studio talk)/Daddy Loves Baby/Don't Stop (Pretty Baby) (demo, with studio talk)/Love Me (demo)/Open Up Your Heart (demo, with studio talk)/What's The Matter (demo, with studio talk)/Ding Dong Baby (demo) |
| | SPCD-7004-2 - Roy Milton & His Solid Senders - Roy Milton and His Solid Senders [1990] Legends of Specialty Series. All tracks mono. Milton's Boogie/R.M. Blues/True Blues/Camille's Boogie/Thrill Me/Big Fat Mama/Keep A Dollar In Your Pocket/Everything I Do Is Wrong/Hop Skip & Jump/Porter's Love Song To A Chamber Maid/The Hucklebuck/Information Blues/Where There Is No Love/Junior Jives/Bartender's Boogie/Oh Babe/Christmas Time Blues/It's Later Than You Think/The Numbers Blues/I Have News For You/T-Town Twist/Best Wishes/So Tired/Night And Day I Miss You So/Blue Turning Grey Over You |
| | SPCD-7005-2 - Jimmy Liggins & His Drops of Joy - Jimmy Liggins & His Drops of Joy [1990] Legends of Specialty Series. Material recorded 1947-1953, all mono. I Can't Stop It/Troubles Goodbye/Teardrop Blues/Cadillac Boogie/Move Out Baby/Careful Love/Homecoming Blues/Baby I Can't Forget You/Don't Put Me Down/Nite Life Boogie/Mississippi Boogie/Come Back Baby/Answer To Teardrop Blues/That Song Is Gone/Saturday Night Boogie Woogie Man/Shuffle Shock/The Washboard Special/That's What's Knockin' Me Out/Hep Cat Boogie/I Want My Baby For Christmas/Train Blues/Baby's Boogie/Drunk/Going Away/Come Back Home |
| | SPCD-7006-2 - Joe Liggins & the Honeydrippers - Joe Liggins & the Honeydrippers [1990] Legends of Specialty Series. All mono material recorded 1950-54. Pink Champagne/Ramblin' Blues/Rag Mop/Rhythm In The Barnyard/Going Back To New Orleans/I've Got A Right To Cry/The Honeydripper/I Just Can't Help Myself/Don't Miss That Train/Frankie Lee/Brand New Deal In Mobile/Little Joe's Boogie/One Sweet Letter/Whiskey Gin And Wine/Louisiana Woman/Trying To Lose The Blues/Shuffle Boogie Blues/Rain Rain Rain/The Flying Dutchman/Tanya/Blues For Tanya/Freight Train Blues/Whiskey Women And Loaded Dice/The Big Dipper/Do You Love Me Pretty Baby |
| | SPCD-7007-2 - Sufferin' Mind - Guitar Slim & His Band [1991] Legends of Specialty Series. All tracks mono. The Things That I Used To Do/Well I Done Got Over It/Story Of My Life/Letter To My Girlfriend aka Prison Blues/Trouble Don't Last/Later For You Baby/Bad Luck Blues/Twenty-Five Lies/Sufferin' Mind/Stand By Me (with studio talk, false start)/Guitar Slim/Our Only Child/Reap What You Sow aka Bad Woman Blues (with studio talk)/I Want To Love-A You (Take 1, with false start, studio talk)/Sufferin' Mind (alternate take, with studio talk)/I Want To Love-A You (take 11, with studio talk, false start)/Think It Over/Quicksand/You're Gonna Miss Me/I Got Sumpin' For You (with studio talk, several false starts)/Something To Remember You By (with studio talk)/You Gave Me Nothing But The Blues/Going Down Slow (with studio talk)/Certainly All (with studio talk)/Something To Remember You By (alternate take, with studio talk)/Certainly All (alternate take, with studio talk) |
| | SPCD-7008-2 - Jungle Hop - Don & Dewey [1991] Legends of Specialty Series. Jungle Hop (M)/A Little Love (M)/Hey Thelma (M, with countoff)/Baby Gotta Party (M)/Miss Sue (M)/Good Morning (M, with studio talk and countoff)/Leavin' It All Up To You (M, with studio talk, countoff, and false start)/Jelly Bean (M)/Sweet Talk (M)/Farmer John (M, slow version)/Just A Little Lovin' (M)/The Letter (M)/When The Sun Has Begun To Shine (M)/Bim Bam (M)/Day By Day (M, with studio talk and countoff)/Koko Joe (M)/Justine (M, with studio talk and countoff)/Little Sally Walker (M, with studio talk [Sonny Bono] and countoff)/Kill Me (M)/Big Boy Pete (M)/Farmer John (M)/Pink Champagne (S, starts mono then switches to stereo)/Jump Awhile (M, mono sound begins in left track and moves abruptly to middle)/Mammer-Jammer (S)/Get Your Hat (S, with studio talk) |
| | SPCD-7009-2 - Sam Cooke with the Soul Stirrers - Soul Stirrers [1991] Legends of Specialty Series. All tracks mono. Peace In The Valley/It Won't Be Very Long/How Far Am I From Canaan/Just Another Day/Come And Go To That Land/Any Day Now/He'll Make A Way/Nearer To Thee/Be With Me Jesus/One More River/I'm So Glad (Trouble Don't Last Always)/Wonderful/Farther Along/Touch The Hem Of His Garment/Jesus Wash Away My Troubles/Must Jesus Bear This Cross Alone/That's Heaven To Me/Were You There/Mean Old World/Lord Remember Me/Lovable/Forever/I'll Come Running Back To You/That's All I Need To Know/I Don't Want To Cry |
| | SPCD-7010-2 - Lawdy! - Lloyd Price [1991] Legends of Specialty Series. All tracks mono. Lawdy Miss Clawdy/Mailman Blues/Chee Koo Baby/Oo-Ee Baby (alternate take)/So Long (with studio talk)/Operator (alternate take)/Laurelle (alternate take, with countoff)/What's The Matter Now/If Crying Was Murder (alternate take, with countoff)/Walkin' The Track/Where You At/Lord Lord Amen/Carry Me Home (with countoff)/Froglegs (alternate take)/Froglegs (with studio talk and countoff)/I Wish Your Picture Was You/Let Me Come Home Baby/Trying To Find Someone To Love/Night And Day Blues (alternate take, with countoff)/All Alone (alternate take, with studio talk)/What A Fire (alternate take)/Rock'N'Roll Dance/I'm Glad Glad/Baby Please Come Home/Forgive Me Clawdy |
| | SPCD-7011-2 - Marshall Texas Is My Home - Floyd Dixon [1991] Legends of Specialty Series. All tracks mono. Hard Living Alone/Please Don't Go/Old Memories/Hole In The Wall/Time Brings About A Change/Me Quieras (with studio talk)/Call Operator 210/Ooh-Eee Ooh-Eee/Chicken Crowing/Carlos/Nose Trouble/Reap What You Sow/Judgement Day/Instrumental Shuffle/Ooh-Eee Ooh Eee (alternate take)/Hey Bartender/Never Can Tell When A Woman Changes Her Mind/Oh Baby/What Is Life Without A Home (with studio talk)/Rita/I'll Always Love You/Oooh Little Girl |
| | SPCD-7012-2 - The Georgia Peach - Little Richard [1991] Legends of Specialty Series. All tracks mono. Tutti Frutti/Baby/I'm Just A Lonely Guy/True Fine Mama/Kansas City-Hey Hey Hey Hey/Slippin' And Slidin' (Peepin' And Hidin')/Long Tall Sally/Miss Ann/Oh Why/Ready Teddy/Hey Hey Hey Hey/Rip It Up/Lucille/Heeby-Jeebies/Can't Believe You Wanna Leave/Shake A Hand (alternate version)/All Around The World/She's Got It/Jenny Jenny/Good Golly Miss Molly/The Girl Can't Help It/Send Me Some Lovin'/Ooh! My Soul/Keep A Knockin'/Whole Lotta Shakin' Goin' On |
| | SPCD-7013-2 - Shine on Me - Soul Stirrers [1992] Legends of Gospel Series. By And By (take 1)/I'm Still Living On Mother's Prayer/Feel Like My Time Ain't Long/Today/I Have A Right To Be The Tree Of Life/In That Awful Hour/Jesus Hits Like The Atom Bomb/Shine On Me/Faith And Grace/Everybody Ought To Love Their Soul (take 1)/Blessed Be The Name Of The Lord/I'm Gonna Move In The Room With The Lord/My Loved Ones Are Waiting For Me (Waiting And Watching) (take 1)/How Long/Who'll Be The One (There's A Vacant Room In Glory)/The Lord Is My Shepherd/Christ Is All (The World To Me)/By And By/I'm Still Living On Mother's Prayer/Feel Like My Time Ain't Long/I Have A Right To The Tree Of Life/In That Awful Hour/Faith And Grace/My Loved Ones Are Waiting For Me |
| | SPCD-7014-2 - The Lifeboat - Chosen Gospel Singers [1992] Legends of Gospel Series. Before This Time Another Year/Ananais/Don't You Know The Man?/Come By Here/Family Prayer/Leaning On The Lord/One-Two-Three/The Lord Will Make A Way Somehow/It's Getting Late In The Evening/No Room In The Hotel/Watch Ye Therefore/I'm Going Back With Him/I've Tried/Ananais/Don't You Know The Man?/The Lifeboat Is Coming/What A Wonderful Sight/Don't Worry About Me/When I Get Home/On The Main Line/Stay With Me Jesus/Prayer For The Doomed |
| | SPCD-7015-2 - Rainbow in the Sky - Alex Bradford [1992] Legends of Gospel Series. Packing Up/Rainbow In The Sky/Too Close To Heaven/I've Found Someone/Take The Lord Along With You (incomplete)/Take The Lord Along With You/The Bells Keep On Ringing/I Won't Sell Out/Oh, My Loving Mother/Oh Lord, Save Me/Holy Ghost/Let Jesus Lead You/Captain Jesus/Life's Candlelight/Feel Like I'm Running For The Lord/Dinner, Mr. Rupe?/It All Belongs To Him/Steal Away/Over In Beulah Land/I've Got A Job/The Man Is Wonderful/Great Consulation/What Makes A Man Turn His Back/Don't You Want Jesus?/See If I Care |
| | SPCD-7016-2 - Dragnet for Jesus - Sister Wynona Carr [1992] Legends of Gospel Series. Each Day/Lord Jesus/I Want To Go To Heaven And Rest/I'm A Pilgrim Traveler/I Heard The News (Jesus Is Coming Again)/Our Father/He Said He Would/I See Jesus [with Brother Joe May]/Our Father/Don't Miss That Train/I Heard Mother Pray One Day/The Good Old Way/See His Blessed Face/Did He Die In Vain?/I Know Someday God's Gonna Call Me/Conversation With Jesus/The Ball Game/A Letter To Heaven/In A Little While/Untitled Instrumental/Operator, Operator/Dragnet For Jesus/15 Rounds For Jesus/Nobody But Jesus/Just A Few More Days/Our Father |
| | SPCD-7017-2 - Get on Board - Dorothy Love Coates & Original Gospel Harmonettes [1992] Legends of Gospel Series. Peace Be Still/Glory To His Name/I'm Sealed/Get Away Jordan/Rest For The Weary/Deliver Me/Oh My Lord/Lead Me, Heavenly Father/Old Gospel Train (The Next Stop Is Mine)/Get On Board/The Railroad/Plenty Good Room/Sometime/No Hiding Place/Waiting For Me/Wade In The Water/I Wouldn't Mind Dying/I'll Be With Thee/He's Calling Me/Untitled Instrumental/Thank You Lord For Using Me (Sermonette)/These Are They/Ninety-Nine And A Half/That's Enough |
| | SPCD-7018-2 - Graveyard Blues - John Lee Hooker [1992] War Is Over (Goodbye California)/Henry's Swing Club/Alberta/Hastings Street Boogie/Build Myself A Cave/Mamma Poppa Boogie/Graveyard Blues/Burning Hell/Sailing Blues/Black Cat Blues/Miss Sadie Mae/Canal Street Blues/Huckle Up Baby/Goin' Down Highway 51/Sail On, Little Girl, Sail On/Alberta, Part 2/My Baby's Got Something/Boogie Chillen, No. 2/21 Boogie/Rollin' Blues |
| | SPCD-7019-2 - Specialty Legends of Boogie Woogie - Various Artists [1992] X-Temporaneous Boogie - Camille Howard/Rock That Voot - Nelson Alexander Trio/Rockin' Boogie - Joe Lutcher & His Society Cats/Doin' The Boogie-Woogie - Nelson Alexander Trio/Society Boogie - Joe Lutcher & His Society Cats/Barcarolle Boogie - Camille Howard/Instantaneous Boogie - Camille Howard/State Street Boogie - Smilin' Smokey Lynn/Miraculous Boogie - Camille Howard/Milton's Boogie - Roy Milton & His Solid Senders/Ferocious Boogie - Camille Howard/Unidentified Instrumental #1 - William McDaniel/Boogie-Woogie Lou - Joe Liggins & His Honey Drippers/Fire-Ball Boogie - Camille Howard/Boogie Woogie Barber Shop - Roy Milton/3 A.M. Boogie - Willard McDaniel/Bangin' The Boogie - Camille Howard/Ciri-Biri-Bin Boogie - Willard McDaniel/Unidentified Boogie #1 - Willard McDaniel/Million Dollar Boogie - Camille Howard/Boogie In The Groove - Jo Jo Jackson |
| | SPCD-7020-2 - Angels in Harlem - Smokey Hogg [1992] I Want A Roller/Nobody Treats Me Right/Evil Mind Blues/I'm Through With You/What's On Your Mind/You Better Watch That Jive/Goin' Back To Texas/I Want My Baby For Christmas/Low Down Woman Blues/Gonna Leave Town/Ain't Gonna Put You Down/Every Mornin' At Sunrise/It Hadn't Been For You/Boogie All Night Long/Worryin' My Life Away/Angels In Harlem/Born On The 13th/Crawdad/Size 4 Shoe/Little Fine Girl/Good Mornin' Baby/Sure 'Nuff |
| | SPCD-7021-2 - The Hollywood Flames - Hollywood Flames [1992] All tracks mono. Wheel Of Fortune/Later/Tabarin/W-I-N-E/My Confession/The Sound Of Your Voice/Crazy/Buzz Buzz Buzz/Oh Baby Oh/This Heart Of Mine/A Little Bird/Give Me Back My Heart/Two Little Bees/It's Love/Your Love/Frankenstein's Den/Strollin' On The Beach/Chains Of Love/Let's Talk It Over/A Star Fell/I'll Get By/Just For You/Hollywood Flames Radio Plug/I'll Be Seeing You/There Is Something On Your Mind/So Good/Romance In The Dark/Much Too Much |
| | SPCD-7022-2 - Lucy Mae Blues - Frankie Lee Sims [1992] All tracks mono. Lucy Mae Blues/Don't Take It Out On Me/Married Woman/Wine And Gin Bounce/Boogie 'Cross The Country/Jelly Roll Baker/I'm So Glad/Long Gone/Raggedy And Dirty/Yeh Baby/No Good Woman/Walking Boogie (take 4)/Frankie's Blues/Cryin' Won't Help You/I Done Talked And I Done Talked/Lucy Mae Blues, Part 2/Rhumba My Boogie/I'll Get Along Somehow/Hawk Shuffle/Frankie Lee's 2 O'Clock Jump |
| | SPCD-7023-2 - His Specialty Recordings: 1956-58 - Art Neville [1992] Legends of Specialty Series. All tracks mono. Please Believe Me/Standing On The Highway/Please Don't Go/When My Baby Went Away/Please Listen To My Song/A Lover's Story/Oooh-Whee Baby/The Whiffenpoof Song/Oooh-Whee Baby/Let's Rock/Back Home To Me/Zing Zing/Cha Dooky-Doo/That Old Time Rock 'N' Roll/Arabian Love Call/Rockin' Pneumonia And The Boogie-Woogie Flu [with Larry Williams]/What's Going On/Belle Amie/The Dummy/I'm A Fool To Care |
| | SPCD-7024-2 - Roy Milton and His Solid Senders, Vol. 2: Groovy Blues - Roy Milton and His Solid Senders [1992] Legends of Specialty Series. Recordings were made during the period 1945-53; all tracks mono. Groovy Blues/Rhythm Cocktail/On The Sunny Side Of The Street/Little Boy Blue/Pack Your Sack Jack/Roy Rides aka Nip Time/Cryin' And Singin' The Blues/Unidentified Shuffle Blues (#1)/I Want A Little Girl/My Blue Heaven/'Tain't Me/Junior Jumps/Sympathetic Blues/Oh Marie/Waking Up Baby/Playboy Blues/Bye Bye Baby Blues/Don't You Remember Baby/One O'Clock Jump/Marie/Unidentified Novelty Song (#1)/That's The One For Me/Cold Blooded Woman/Short Sweet And Snappy/I Stood By |
| | SPCD-7025-2 - Joe Liggins & the Honeydrippers, Vol. 2: Dripper's Boogie - Joe Liggins & the Honeydrippers [1992] Legends of Specialty Series. All tracks mono. Sentimental Lover/Little Joe's Boogie aka Guitar Boogie (rec. 4/13/50)/Daddy On My Mind/Little Joe's Boogie aka Guitar Boogie (rec. 3/31/50)/Bob Is My Guy/That's The One For Me/Little Black Book/So Alone/Oh How I Miss You/Boogie-Woogie Lou/Cryin' Over You/Dripper's Boogie/My Heart Cried (with countoff)/Farewell Blues/Deep Feeling Kind Of Love/Hey Betty Martin (with countoff)/Everyone's Down On Me/Make Love To Me/Tenderly/Tears On My Pillow |
| | SPCD-7026-2 - Jimmy Liggins & His Drops of Joy, Vol. 2: Rough Weather Blues - Jimmy Liggins & His Drops of Joy [1992] Legends of Specialty Series. All tracks mono. Bye Bye Baby Good-Bye/Lookin' For My Baby/Rough Weather Blues/Misery Blues/Give Up Little Girl/Lonely Nights Blues/Saturday Night Boogie-Woogie Man/Lover's Prayer/Now's The Time/Sincere Lover's Blues/Down And Out Blues/Unidentified Instrumental/Blues For Love/Brown Skin Baby/Stolen Love/Jumpin' And Stompin' [Jo Jo Jackson]/Low Down Blues/Cloudy Day Blues/Goin' Down With The Sun/Dark Hour Blues/Pleading My Cause/I'll Never Let You Go (undubbed master)/Railroad Blues/Drunk (undubbed, unedited audition master)/I'll Always Love You |
| | SPCD-7027-2 - Percy Mayfield, Vol. 2: Memory Pain - Percy Mayfield [1992] Legends of Specialty Series. All tracks mono. Please Send Me Someone To Love (alternate take)/Strange Things Happening (alternate take)/Two Hearts Are Greater Than One/The Big Question (early version)/My Blues/Nightless Lover (later version)/How Deep Is The Well/Ruthie Mae/My Heart/Lonesome Highway/The Lonely One/I Ain't Gonna Cry No More/Memory Pain/You Are My Future/Kiss Tomorrow Goodbye/Advice (For Men Only)/I Need Love So Bad/Does Anyone Care For Me/It's Good To See You Baby/Sugar Mama Peachy Papa/You Were Lyin' To Me/The Voice Within/Please Believe Me/Diggin' The Moonglow/Hit The Road Jack (demo, circa 1960) |
| | SPCD-7028-2 - Shouting the Blues - Various Artists [1992] Adam Bit The Apple - Joe Turner/Still In The Dark - Joe Turner/Feelin' Happy - Joe Turner/Midnight Is Here Again (Dawn Is Breakin' Through) - Joe Turner/I Want My Baby (When The Rooster Crows) - Joe Turner/Life Is A Card Game - Joe Turner/After A While You'll Be Sorry - Joe Turner/Just A Travelin' Man - Joe Turner/Big City Blues - Big Maceo/Do You Remember? - Big Maceo/Just Tell Me Baby - Big Maceo/One Sunday Morning - Big Maceo/State Street Boogie - Don Johnson with Smilin' Smokey Lynn/Jackson's Blues - Don Johnson with Smilin' Smokey Lynn/Chesterfield Baby - Don Johnson with Smilin' Smokey Lynn/Lonesome Lover Blues - Smilin' Smokey Lynn/Run, Mister Rabbit, Run - Smilin' Smokey Lynn/ Feel Like Ballin' Tonight - Smilin' Smokey Lynn/Rock-A-Bye Baby - Smilin' Smokey Lynn/Hometown Baby (Hip Cat) - Smilin' Smokey Lynn/She's Been Gone - H-Bomb Ferguson/You Made Me Baby - H- Bomb Ferguson |
| | SPCD-7029-2 - All Night Long They Play the Blues: The Galaxy Masters - Various Artists [1992] Part Time Love (Extended Version) - Little Johnny Taylor/S.K. Blues - Saunders King/Life Goes On - Big Mama Thornton/One Of These Days - Sonny Rhodes/There's Gonna Be Some Changes - Clay Hammond/The Things I Do For You - K.C. "Country Boy" Douglas/What's Your Story, Morning Glory? - Saunders King/I'm Gonna Push On - Charles Brown/Hey, Hey Baby's Gone - Phillip Walker/All Night Long They Play The Blues - Clarence Smith/Little Green House - K.C. Douglas/The Things That I Used To Do - Little Johnny Taylor/Because It's Love - Big Mama Thornton/Danger Zone - J.J. Malone/Country Boy - Sonny Rhodes/Laughin' And Clownin' - Phillip Walker/You're Gonna Want Me - Bill Coday/Driving Wheel - Little Johnny Taylor/Cry No More - Charles Brown/I'm Serving Time - Rodger Collins/You Oughta Slow Dance, Baby - The Right Kind/Please Come Home For Christmas - Little Johnny Taylor/Tighten Up - Merl Saunders |
| | SPCD-7030-2 - Walking Rhythm - Pilgrim Travelers [1993] Legends of Gospel Series. What Are They Doing (My Lord)/Stretch Out/My Prayer/Good News/Dig A Little Deeper/Everybody's Gonna Have A Wonderful Time Up There (Gospel Boogie)/Nothing Can Change Me (Since I Found The Lord)/Jesus/Thank You Jesus/What A Friend We Have In Jesus/It's A Blessing/Not A One/He's Pleading In Glory/Jesus Gave Me Water/Jesus, He's The One/King Jesus Will Roll All Burdens Away/My Eternal Home/Pass Me Not Oh Gentle Savior/Footprints of Jesus/When I Join The Jubilee/Call Him By His Name/Welcome Home/My Road's So Rough And Rocky/I Love The Lord/Deliver Me From Evil/Jesus Is The First Line Of Defense/Peace Of Mind/Angels Tell Mother |
| | SPCD-7031-2 - Jesus Gave Me Water - Sam Cooke & Soul Stirrers [1993] Legends of Gospel Series. Jesus Gave Me Water/Christ Is All/Come, Let Us Go Back To God/I'm On The Firing Line/How Far Am I From Canaan?/Jesus Done Just What He Said/He's My Rock (Wait On Jesus)/Joy, Joy To My Soul/I'm Gonna Build On That Shore/Until Jesus Calls Me Home/Jesus Will Lead Me To That Promised Land (take 1, alternate)/It Won't Be Very Long (take 2, alternate)/Let Me Go Home (take 1, alternate)/Someday Somewhere/Jesus Paid The Debt/End Of My Journey/He's My Friend Until The End (take 2, alternate)/I Have A Friend Above All Others/I Gave Up Everything To Follow Him/Come And Go To That Land(take 3, alternate)/I'm So Happy In The Service Of The Lord/Any Day Now (take 6, alternate)/Jesus, I'll Never Forget (take 5, alternate)/All Right Now (alternate, take 2) [with Julius Cheeks]/Pray (Incomplete) |
| | SPCD-7032-2 - Good News - Meditation Singers [1993] Legends of Gospel Series. My Soul Looks Back And Wonders/Ain't That Good News/You Don't Know How Blessed You Are/He's All Right With Me/Remember Me/One River To Cross/Now The Day Is Over/Make A Step In The Right Direction/The Day Is Past And Gone/I'm Still Saying Yes/I'm Determined To Run This Race/Do I Know Jesus?/Promise To Meet Me There/Until I Reach My Heavenly Home/He Made It All Right/Jesus Is Always There/Too Close To Heaven/God Is Good To Me/WDIA Plug/Make A Step In The Right Direction/You Don't Know How Blessed You Are/Ain't That Good News/My Soul Looks Back And Wonders |
| | SPCD-7033-2 - Thunderbolt of the Middle West - Brother Joe May [1993] Legends of Gospel Series. Old Ship Of Zion (Live)/WDIA Radio Station Plug/Search Me Lord/How Much More Of Life's Burden Can We Bear?/In That Day/I'm Gonna Live The Life I Sing About In My Song/The Day Is Past And Gone/Do You Know Him?/I Just Can't Keep From Cryin' Sometime/I Want Jesus On The Road I Travel/Precious Lord/What Do You Know About Jesus?/Our Father/It's All Right [with Sister Wynona Carr]/I'll Make It Somehow [with The Sallie Martin Singers]/Your Sins Will Find You Out/Remember Me/I Claim Jesus First/It's A Long, Long Way [with The Sallie Martin Singers]/Don't Forget The Name Of The Lord/He'll Understand And Say Well Done/I'm Happy Working For The Lord/Grow Closer [with The Pilgrim Travelers]/Consider Me [with Annette May]/Jesus Knows [with The Pilgrim Travelers]/Vacation In Heaven [with Annette May]/Going Home [with The Pilgrim Travelers] |
| | SPCD-7034-2 - Old Time Religion - Detroiters/Golden Echoes [1993] Legends of Gospel Series. Detroiters: He Walks With Me/Mother On The Train (2 takes)/Angels Watching Over Me/I Trust In Jesus/Ride On King Jesus (2 takes)/Mother, Don't Cry About Your Child/Let Jesus Lead You/Mother, I Need Your Prayer/Old Time Religion (2 takes)/Sometimes/Body And Soul/Shady Green Pastures; Golden Echoes: Where Shall I Be? (When The First Trumpet Sounds)/Down On My Knees/My Life Is In His Hands/When The Saints Go Marching In (2 takes)When I Lay My Burden Down/I'm So Happy In The Service Of The Lord/Waiting And Watching/Yield Not To Temptation (3 takes) |
| | SPCD-7035-2 - Everybody's Blues - John Lee Hooker [1993] Do My Baby Think Of Me/Three Long Years Today/Strike Blues/Grinder Man/Walkin' This Highway/Four Women In My Life/I Need Lovin'/Find Me A Woman/I'm Mad/I Been Done So Wrong/Boogie Rambler/I Keep The Blues/No More Doggin' [aka No More Foolin']/Everybody's Blues/Anybody's Blues (I Love You Baby)/Locked Up In Jail [aka Prison Blues]/Nothin' But Trouble (Don't Take Your Wife's Family In)/I Need Love So Bad/Don't Trust Nobody/Odds Against Me [aka Backbiters And Syndicators] |
| | SPCD-7036-2 - One Room Country Shack - Mercy Dee Walton [1993] One Room Country Shack/My Woman Knows The Score/Misery Blues/The Great Mistake/Save Me Some/Strugglin' With The Blues/Lonesome Cabin Blues/Rent Man Blues/Fall Guy/The Drifter/Hear Me Shout/Love Is A Mystery/Winter Blues/Pauline/Get To Gettin'/Dark Muddy Bottom/What'cha Gonna Do?/My Woman And The Devil/Big Minded Daddy/Perfect Health/Problem Child/Pull 'Em And Pop 'Em/Eighth Wonder Of The World/Rock & Roll Fever |
| | SPCD-7037-2 - I Can't Lose with the Stuff I Use - Lester Williams [1993] I Can't Lose With The Stuff I Use/My Home Ain't Here/Crawlin' Blues/Lonely Heart Blues/When I Miss Her Most/Trying To Forget/Let Me Tell You A Thing Two/Lost Gal/Sweet Lovin' Daddy/Disgusted Blues/Don't Leave Me Baby/When I Miss Her Most/Brand New Baby/If You Knew How Much I Loved You/Balling Blues/Lonely Heart Blues (alternate take)/When You're Tired Of Running/Crazy 'Bout A Woman/You're The Sweetest Thing/'Bout To Put You Down/Going Away Baby/Fooling My Heart/My Time Is Running Out/Life's No Bed Of Roses/Waking Up Baby |
| | SPCD-7038-2 - Creole Kings of New Orleans, Volume 2 - Various Artists [1993] Bouncin' The Boogie - Royal Kings/Got A Brand New Baby - Paul Gayten/4 O'Clock Blues - Paul Gayten/Restless Heart - Lloyd Price/Ain't It A Shame - Lloyd Price/Say Baby - Blind Willie Johnson/That Night - Blind Willie Johnson/Eating And Sleeping - Earl King/Heavy Sugar - Lloyd Lambert/Think It Over - Guitar Slim/So Glad You're Mine - Ernest Kador/That Girl I Married - Big Boy Myles & The Shaw-Wees/Squeeze Box Boogie - Clifton Chenier/Good Golly Miss Molly - Bumps Blackwell/Oooh-Wow - Roy Montrell/Stepping High - Edgar Blanchard/All Around The World - Lil' Millet/Oooh-Whee Baby - Art Neville/Just Because - Larry Williams/Cry Pretty Baby - Professor Longhair/Look What You're Doing To Me - Professor Longhair/Misery - Professor Longhair/Looka, No Hair - Professor Longhair/Rock 'N' Roll Fever - Monitors/Carry On - Jerry Byrne |
| | SPCD-7039-2 - Zodico Blues & Boogie - Clifton Chenier [1993] Boppin' The Rock/Ay-Te Te Fee/The Cats Dreamin'/Squeeze Box Boogie/The Things I Did For You/Think It Over/Zodico Stomp/Yesterday (I Lost My Best Friend)/Chenier's Boogie/I'm On My Way (Back Home To You)/All Night Long/Opelousas Hop/I'm On My Way (Back Home To You)/Wherever You Go I'll Go/Opelousas Hop/Clifton's Dreamin'/Chenier's Boogie/Wherever You Go I'll Go/All Night Long |
| | SPCD-7040-2 - Heaven Is My Home - Soul Stirrers [1993] Legends of Gospel Series. Christ Is All/He's My Rock (Wait On Jesus) (2 takes)/In A Few More Days/Golden Bells (2 takes)/Sinner Run To Jesus/Heaven Is My Home (3 takes)/Until Then/Out On A Hill (2 takes)/Swing Low, Sweet Chariot (2 Takes)/Loved Ones Are Waiting/The Love Of God (3 takes)/When The Gates Swing Open/Lord Laid His Hands On Me/That's All I Need To Know/My Life Belongs To Him/There's Not A Friend Like Jesus |
| | SPCD-7041-2 - The Sermon - Original Five Blind Boys of Alabama [1993] Legends of Gospel Series. The Sermon (Take 2)/All The Way (Take 1)/I'll Fly Away (Take 4)/Without The Help Of Jesus/I'm On The Battlefield (Take 1)/Heavenly Light/Sit Down Servant/Standing By The Bedside/When I Need Him Most/Precious Lord, Take My Hand/This May Be The Last Time/Our Father's Praying Ground/Marching Up To Zion/God's Promise/You Got To Move/Old Time Religion/Does Jesus Care/Swingin' On The Golden Gate/I Cried/Hallelujah/Golden Bells/Heaven On My Mind/I'm Going Through/Fix It Jesus/I've Been Born Again/When Death Comes/In The Garden |
| | SPCD-7042-2 - Too Close - Alex Bradford [1993] Legends of Gospel Series. Too Close To Heaven/Lord, Lord, Lord/He Lifted Me/I Don't Care What The World May Do/He Leads Me Safely Through/God Is All/Just The Name Of Jesus/Right Now/Don't Let Satan Turn You 'Round/Life's Candlelight/He'll Wash You Whiter Than Snow/Oh Lord, Save Me/Holy Ghost/Crossing Over Jordan/If Mother Knew/I Dare You/I Can't Tarry/Without A God/Safe In Jesus' Arms/The Meeting Ground/What Did John Do?/There's Only One Way (To Get To Heaven)/What Folks Say About Me/The Truth Will Set You Free/God Searched The World/The Lifeboat/The Man Is Wonderful/Move Upstairs/This May Be The Last Time |
| | SPCD-7043-2 - Throw Out the Lifeline - Sallie Martin Singers/Cora Martin [1993] Legends of Gospel Series. God Is A Battle Axe (take 2)/Didn't It Rain/I'll Make It Somehow/Oh Yes, He Set Me Free/He's Able To Carry Me Through/Oh What A Time/Throw Out The Lifeline/Eyes Hath Not Seen/The Good Old Way/Jesus Is Waiting/One Of These Mornings [Cora Martin]/Thy Servant's Prayer, Amen [Cora Martin]/On The Other Side [Cora Martin]/He Put His Trust In Me [Cora Martin]/I Know That He Cares For Me [Cora Martin]/Lord, I Need You Every Day Of My Life [Cora Martin]/Great Day/I Know It's Well With My Soul/Jesus Said (take 2)/I Called the Lord and Got an Answer (Take 2)/There Is a Fountain Filled With Blood (take 3)/It's a Long, Long Way/I'm Bound For the Promised Land/Hold to God's Unchanging Hand/Ain't That Good News/That Heaven Cannot Heal (There Is No Sorrow)/God Is a Battle Axe/I'm Getting Nearer to My Lord/Every Once in a While |
| | SPCD-7044-2 - Heavenly Light - Swan Silvertones [1993] Legends of Gospel Series. Recorded 1954. Jesus Is All The World To Me/Love Lifted Me/I'm Sealed/How I Got Over/Have Thine Own Way/Shine On Me/Heavenly Light Shine On Me/Jesus Keep Me Near The Cross/He Won't Deny Me/Every Day And Every Hour/Four And Twenty Elders/Shine On Me Medley: Shine On Me-I Came To Jesus/My Rock/The Lord's Prayer/Medley: Sit Down Servant-Amen/I'm Coming Home/After Awhile |
| | SPCD-7045-2 - The Great 1955 Shrine Concert - Various Artists [1993] Spoken Introduction - Pilgrim Travelers/All The Way - Pilgrim Travelers/Straight Street - Pilgrim Travelers/Since I Met Jesus - Caravans/What Kind Of A Man Is This - Caravans/It's A Long Long Way - Brother Joe May/I'm Happy Working For The Lord - Brother Joe May/Remarks - Brother Joe May & Annette May/Consider Me - Annette May/I Have A Friend Above All Others - Soul Stirrers/Be With Me Jesus - Soul Stirrers/Nearer To Thee - Soul Stirrers/My Troubles Are So Hard To Bear - Ethel Davenport/Medley: You Must Be Born Again-Get Away Jordan-Fire Keeps Burning... - Dorothy Love Coates & Original Gospel Harmonaires |
| | SPCD-7046-2 - Camille Howard, Vol. 1: Rock Me Daddy - Camille Howard & Her Trio [1993] Legends of Specialty Series. The songs were recorded from 1947-1952. All tracks mono. The Boogie And The Blues/You Don't Love Me/You Used To Be Mine/Unidentified Boogie #1/Has Your Love Grown Cold/The Mood I'm In/Gotta Have A Little Lovin'/How Long Can I Go On Like This/Cry Over You/O Sole Mio Boogie/Within This Heart Of Mine/Boogie In G/I'm Blue/Rock Me Daddy/Broken Memories (Sad And Blue)/I Ain't Got The Spirit/Shrinking Up Fast/Easy/Money Blues/Schubert's Serenade Boogie/You Lied To Me Baby/Real Gone Daddy/Unidentified Boogie #2/Old Baldy Boogie/Song Of India Boogie |
| | SPCD-7047-2 - Lloyd Price, Vol. 2: Heavy Dreams - Lloyd Price [1993] All tracks mono. Chee Koo Baby (alternate take)/Oo-Ee Baby/Oooh-Oooh-Oooh/Restless Heart/Tell Me Pretty Baby/They Say/I'm Too Young/Ain't It A Shame/Jimmie Lee/Baby Don't Turn Your Back On Me/Old Echo Song/Too Late For Tears/Carry Me Home/Little Bea/Night And Day/Oh Love/Woe Ho Ho/Breaking My Heart (All Over Again)/I Yi Yi Gomen-A-Sai (I'm Sorry)/Country Boy Rock/Heavy Dreams/Why/I'm Goin' Back |
| | SPCD-7048-2 - Jump Jack Jump! - Wynona Carr [1993] All tracks mono. Jump Jack Jump/'Til The Well Runs Dry/Boppity Bop (Boogity Boog)/Should I Ever Love Again/I'm Mad At You/Old Fashioned Love/Hurt Me/It's Raining Outside/Nursery Rhyme Rock/Ding Dong Daddy/Someday Somewhere Somehow/Act Right/What Do You Know (About Love)/Now That I'm Free/Heartbreak Melody/Please Mr. Jailer/Weather Man/If These Walls Could Speak/Touch And Go/If I Pray/Finders Keepers/The Things You Do To Me/How Many Times/Give Me Your Hand To Hold |
| | SPCD-7049-2 - Hard Core Doo-Wop: In the Hallway Under the Street Lamp - Various Artists [1993] All tracks mono. Wheel Of Fortune - Four Flames/Dream Girl - Jesse & Marvin/Nite Owl - Tony Allen & Champs/Oooh-Rooba-Lee - Arthur Lee Maye & Crowns/Where's My Girl - Jesse Belvin [with Laurels]/I - Tony Allen & Champs/Sweet Breeze - Vernon Green & Phantoms/Check Yourself Baby - Tony Allen & Chimes/Foot Loose & Fancy Free - Byron "Slick" Gipson & Sliders/Gloria - Arthur Lee Maye & Crowns/Especially - Tony Allen & Chimes/Baby I Need (Ting-A-Ling) - Benn Zeppa & Zephers/The Old Willow Tree - Vernon Green & Phantoms/Cool Loving - Arthur Lee Maye & Crowns/Pretty Little Girl - Chimes/How Long - Eugene Church/Buzz Buzz Buzz - Hollywood Flames/Malinda - Bobby Mandolph/Hold Me Tight - Jaguars/Don't You Know - Arthur Lee Maye & Crowns/Never Let You Go - Ambers [with Ralph Mathis]/Open Up Your Heart - Eugene Church/Mine All Mine - Jaguars/Guardian Angel - Selections/Soft And Sweet - Selections |
| | SPCD-7050-2 - Golden Groups - Various Artists [1993] Tears On My Pillow - Chimes (M)/I'll Find Her - Dukes (M)/Don't You Know (I Love You So) - Arthur Lee Maye & Crowns (M)/Nite Owl - Tony Allen & Champs (M)/Love You So - Crystals [male group] (M)/The Chimes Ring Out - Chimes (M)/A Foolish Fool - Benn Zeppa & Zephers (M)/So Long Love - Dukes (M, with studio talk)/Cool Loving - Arthur Lee Maye & Crowns (M)/She's Gone - Metronomes (M)/Sweet Sixteen - Tropicals (M)/My Little Girl - Pharoahs (M, with studio talk)/It's True - Twilighters (M)/Chop Chop - Chimes (M)/Gloria - Arthur Lee Maye & Crowns (M)/I Want 'Cha Baby - Byron "Slick" Gipson & Sliders (M, with studio talk)/Our Romance - Clydie King (M)/Over The Rainbow - Echoes (M)/It's Spring Again - Pentagons (M)/Silly Dilly - Pentagons (M)/Arlene - Titans (M)/What Have I Done - Titans (M, with studio talk)/Our School Days - Monitors (M)/Closer To Heaven - Monitors (M)/Miracle - Five Knights [with Issacher Gordon] (S) |
| | SPCD-7051-2 - Gospel Christmas Card - Various Artists [1993] Silent Night - Staple Singers/The Last Month Of The Year - Staple Singers/The Virgin Mary Had One Son - Staple Singers/Go Tell It On The Mountain - Staple Singers/Joy To The World - Staple Singers/Holy Unto The Lord - Staple Singers/The Savior Is Born - Staple Singers/Sweet Little Jesus Boy - Staple Singers/No Room At The Inn - Staple Singers/There Was A Star - Staple Singers/O Little Town Of Bethlehem - Staple Singers/Wasn't It A Mighty Day - Staple Singers/Silent Night - Rev. Cleophus Robinson/Sweet Little Jesus Boy - Rev. Cleophus Robinson/White Christmas - Rev. Cleophus Robinson/I'll Be Home For Christmas - Pilgrim Travelers/Silent Night - Pilgrim Travelers |
| | SPCD-7052-2 - The Last Mile of the Way - Soul Stirrers [1994] Legends of Gospel Series. The Last Mile Of The Way/Mean Old World (alternate)/That's Heaven To Me (alternate)Were You There? (false starts & alternate)/Lord Remember Me (alternate)/Pilgrim Of Sorrow/He's My Guide (alternate)/He's My Guide (incomplete)/He's My Guide (issued version without overdubs)/The Last Mile Of The Way (incomplete)/The Last Mile Of The Way (alternate)/Pilgrim Of Sorrow (alternate)/All Right Now (alternate)/He'll Make A Way (alternate)/Jesus I'll Never Forget/Come And Go To That Land/Come And Go To That Land (alternate)/Just As I Am (incomplete)/He'll Welcome Me/He's My Friend Until The End/Jesus Paid The Debt (alternate)/Jesus Will Lead Me To That Promised Land (incomplete)/Jesus Will Lead Me To That Promised Land (issued version without overdubs)/It Won't Be Very Long (alternate)/How Far Am I From Canaan? (incomplete)/How Far Am I From Canaan? (alternate)/Let Me Go Home |
| | SPCD-7053-2 - Better Than That - Pilgrim Travelers [1994] Legends of Gospel Series. I Could Do Better Than That (take 5)/Please Watch Over Me/Long Ago (Wooden Church)/I Never Knew Joy Before/Leaning On The Everlasting Arm/I'm Going Through (take 3)/How About You?/I'll Be There (In That Number) (take 4)/All The Way (I'm Willing To Run) (take 1)/Your Mother Is Your Friend/Gonna Walk Right Out/Move Up To Heaven/What A Friend We Have In Jesus (take 1)/A Hard Road To Travel (take 1)/Look Down That Lonesome Road (take 2)/Go Ahead/In My Heart/I Love Jesus (take 2)/He's My Friend (take 2)/The Life You Save May Be Your Own (The Safety Song) (take 3)/Troubled In My Home Will Have To End (take 2)/Every Prayer Will Find Its Answer/Close To Thee/Trouble In Mind/Bless Us Today/Hold On/After While (take 1)/I Could Do Better Than That (take 6) |
| | SPCD-7054-2 - Live 1952-1955 - Brother Joe May [1994] Legends of Gospel Series. God Leads Us Along/I'm A Child Of The King/Move On Up A Little Higher/He's Waiting For Me/Old Ship Of Zion/Vacation In Heaven/Jesus Is Real To Me/All Of My Burdens (Ain't That Good News)/He's The One/I Want Jesus On The Road I Travel/How I Got Over/Hold To God's Unchanging Hand/By And By When I Get Home/Move On Up A Little Higher/Speak Lord Jesus/He'll Understand And Say Well Done |
| | SPCD-7055-2 - Someone to Care (The Battle Sessions) - Rev. Cleophus Robinson [1994] Legends of Gospel Series. Get Away Jordan/Before This Time Another Year/Morning And Evening/Someone To Care/Let The Church Roll On/(Keep Me) Near The Cross/It Won't Hurt You To Speak/Peace In The Valley/When The Sun Goes Down/Grace Made A Change/I Know Prayer Changes Things/Waiting For Jesus/Jesus Met The Woman At The Well/Until I Found The Lord/I'm Going To Leave You In The Hands Of The Lord/Going Over Yonder/Strange Things Happening/Consecrated/You've Got To Love Everybody/No More Than You Can Bear/I Can't Help It/We'll Understand It Better By And By/Farther Along/Lord, I'm In Your Care/When The Saints Go Marching In/Sometimes I Feel Like A Motherless Child |
| | SPCD-7056-2 - Women of Gospel's Golden Age, Volume 1 - Various Artists [1994] Legends of Gospel Series. More Like Jesus - Bessie Griffin/Blessed Mother - Bessie Griffin/Whosoever Will - Bessie Griffin/Heaven - Bessie Griffin/Nobody But You - Bessie Griffin/All Of My Burdens - Bessie Griffin/Sit Down Children - Helen Robinson Youth Choir/I'm Not Gonna Let Nobody Stop Me - Princess Stewart/Tired, Lord - Princess Stewart/Bring Back Those Days - Argo Singers/Lookin' This Way - Argo Singers/Get Away Jordan - Dorothy Love Coates & Original Gospel Harmonaires/Every Day Will Be Sunday (By And By) - Dorothy Love Coates & Original Gospel Harmonaires/I'm Going To Die With The Staff In My Hand - Dorothy Love Coates & Original Gospel Harmonaires/Take Your Burden To The Lord And Leave It There - Dorothy Love Coates & Original Gospel Harmonaires/I Must See Jesus For Myself - Lil Greenwood/Tell Jesus All - Simmons-Akers Trio/Going To Canaan Shore - Simmons-Akers Trio/Glory To His Name - Simmons-Akers Trio/God Is A Battle Axe - Sister Wynona Carr/I'm A Pilgrim Traveler - Sister Wynona Carr/See His Blessed Face - Sister Wynona Carr (1949 version)/How Good God Is - Sister Wynona Carr/Until We Meet Again - Sallie Martin Singers/Jesus - Sallie Martin Singers/Thank You Jesus - Sallie Martin Singers/How Far Am I From Canaan, Part 1 - Famous Ward Singers Of Philadelphia/How Far Am I From Canaan, Part 2 - Famous Ward Singers Of Philadelphia |
| | SPCD-7057-2 - Bad Bad Whiskey: The Galaxy Masters - Various Artists [1994] She's Looking Good - Rodger Collins/Rufus Jr. - Merced Blue Notes/I Got To Tell Somebody - Betty Everett/Chicken Heads - Bobby Rush/Get Your Lie Straight - Bill Coday/(Tell Me) Why Do You Have To Lie? - Right Kind/You Better Stop - Sonny Rhodes/Nightingale Melody - Little Johnny Taylor/I Pity The Fool - Merl Saunders/It's A Shame - J.J. Malone/Rainbow 71 - Loleatta Holloway/Foxy Girls In Oakland - Rodger Collins/When You Find A Fool Bump His Head - Bill Coday/Mama Rufus - Merced Blue Notes/For Your Precious Love - Little Johnny Taylor/Abraham, Martin And John - Charles Brown/Bad, Bad Whiskey - Merced Blue Notes/How Can I Forget You - Lenny Williams/Ain't Nothing Gonna Change Me - Betty Everett/A Woman Rules The World - Bill Coday/Why Did Our Love Go - Claude Huey/Let Me Be Your Handy Man - Bill Coday/Fever, Fever, Fever - Bobby Eaton/Lisa's Gone - Lenny Williams/I Don't Want To Be A Lone Ranger - Johnny Guitar Watson/Get Away From Me - Rodger Collins |
| | SPCD-7058-2 - Legends of Jump Blues, Volume One - Various Artists [1994] All tracks mono. The Honeydripper - Joe Liggins/Oh Babe - Roy Milton/Blues For Sale - Joe Lutcher/Duck's Yas Yas Yas - King Perry & Pied Pipers/I Can't Stop It - Jimmy Liggins/Rainy Day Confession Blues - Roy Milton/Well Well Baby - Nelson Alexander Trio/Rag Mop - Joe Liggins/Happy Home Blues - Buddy Banks/Muffle Joe Shuffle - Big Jim Wynn/I Ain't Got A Dime To My Name - King Perry & Pied Pipers/Saturday Night Boogie Woogie Man - Jimmy Liggins/Jack Of Diamonds - Jesse Thomas/I Dare You Baby - Percy Mayfield/I'm Your Rockin' Man - Herman Manzy/One Sweet Letter - Joe Liggins/Natural Born Lover - King Perry & Pied Pipers/I Can't Lose With The Stuff I Use - Lester Williams/Country Girl - Duke Henderson/The Hucklebuck - Roy Milton/Heavy Weight Baby - Frank Motley & Jimmy Crawford/Traffic Song - Joe Lutcher/I Wonder Who's Boogin' My Woogie - King Perry & Pied Pipers/The Hunt Is On - Percy Mayfield/Pink Champagne - Joe Liggins/That Song Is Gone - Jimmy Liggins |
| | SPCD-7059-2 - Rock 'N' Roll Fever! - Various Artists [1994] All tracks mono. Justine - Don & Dewey/Moose On The Loose - Roddy Jackson/Thunderbird - Rene Hall/My Baby's Rocking - Monitors/Cherokee Dance - Bob Landers & Willie Joe & Unitar/She Said Yeah - Larry Williams/Don't Stop Loving Me - Eugene Church/Don't You Just Know It - Titans/Twitchy - Rene Hall's Orchestra & Willie Joe/Haunted House - Johnny Fuller/Chicken Baby Chicken - Tony Harris/Sack - Ben Hughes/Arlene - Titans/A Little Bird - Hollywood Flames/I've Got My Sights On Someone New - Roddy Jackson/Lights Out - Jerry Byrne/It's Spring Again - Pentagons/Goodbye Baby Goodbye - Sonny Lowery/Oooh Little Girl - Floyd Dixon/Rock 'N' Roll Fever - Monitors/Swingin' At The Creek - Johnny Fuller/Frankenstein's Den - Hollywood Flames/Carry On - Jerry Byrne/Hiccups - Roddy Jackson/Satisfied - Casualairs |
| | SPCD-7060-2 - Roy Milton and His Solid Senders, Vol. 3: Blowin' with Roy - Roy Milton and His Solid Senders [1994] Legends of Specialty Series. Songs recorded 1947-53. All tracks mono. Coquette/The Song Is Ended/Them There Eyes/When I Grow Too Old To Dream/What's The Use/Train Blues/L.A. Hop/Blue Skies/If You Don't Know/Along The Navajo Trail/You Mean So Much To Me/New Year's Resolution/I've Had My Moments/Old Man River/Everything I Do Is Wrong/There Is Something Missing/My Sweetheart/Believe Me Baby/Blowin' With Roy/Thelma Lou/Sad Feeling/Practice What You Preach/If You Love Me Baby/Blues Ain't News/Cool Down |
| | SPCD-7061-2 - Bloodstains on the Wall: Country Blues from Specialty - Various Artists [1994] All tracks mono. Bloodstains On The Wall - Honeyboy/You Better Move On Away From Here - Honeyboy/Have You A Match - Honeyboy/Uncle Sam Blues - Pine Bluff Pete/A Woman Acts Funny - Pine Bluff Pete/Goin' Back To Mama - Clarence London/Got A Letter This Morning - Clarence London/Want To Boogie-Woogie - Clarence London/Ride My New Car With Me - Big Joe Williams/Rather Be Sloppy Drunk - Big Joe Williams/Dial 110 Blues - Country Jim Bledsoe/Hollywood Boogie - Country Jim Bledsoe/One Thing My Baby Likes - Country Jim Bledsoe/Stormin' And Rainin' - Country Jim Bledsoe/I Ate The Wrong Part - Little Temple/What A Mistake - Little Temple/Mean And Evil - Little Temple/Cold Love - Little Temple/Black Snake Blues - Pete McKinley/Cryin' For My Baby - Pete McKinley/Looka Here Boy - Pete McKinley/Whistling Blues - Pete McKinley/Don't Want Me Blues - Pete McKinley/David's Boogie - Pete McKinley/Sail On Little Girl - Pete McKinley |
| | SPCD-7062-2 - Camille Howard, Volume 2: X-Temporaneous Boogie - Camille Howard [1997] Legends of Specialty Series. It's A Hit/Thrill Me/X-Temporaneous Boogie/Sweetheart Of All My Dreams/Scat Boogie/Sundays With You/Viper Boogie/Why Did You Do It?/Fluff Boogie/Tired Of Me/I'll Cry Over You/Peggy's Boogie/Maybe It's Best After All/Ivory And Pick Boogie/I Wonder Who's To Blame/Modulation Boogie/Fool About You Daddy/Terri's Boogie/Please Don't Stay Away So Long/My Heart Goes Out To You/Belmont Boogie/Everything He Lacks (Everything You Like)/Sutherland Blues/Goldberg Boogie/Nobody Else |
| | SPCD-7063-2 - Little Richard, Volume 2: Shag on Down By the Union Hall - Little Richard [1997] Legends of Specialty Series. Kansas City/Maybe I'm Right/Tutti Frutti/Directly From My Heart To You/Long Tall Sally/Heeby Jeebies/I Got It/Ready Teddy/Rip It Up/Good Golly Miss Molly/Hound Dog/Baby Face/The Girl Can't Help It/By The Light Of The Silvery Moon/Royal Crown Hair Dressing Ad/Keep A Knockin'/Boo Hoo Hoo Hoo (I'll Never Let You Go)/Early One Morning/She Knows How To Rock/Miss Ann/Well Alright!/Bama Lama Bama Loo/Poor Boy Paul/Annie Is Back |
| | SPCD-7064-2 - Coast to Coast: Vocal Groups - Various Artists [1996] Call On Me - Mello Moods/I Tried And Tried And Tried - Mello Moods/I'm Lost - Mello Moods/When I Woke Up This Morning - Mello Moods/The Christmas Song - Mello Moods/Each Time - Cabineers/My My My - Cabineers/Lost - Cabineers/Baby, Where'd You Go To? - Cabineers/What's The Matter With You - Cabineers/Baby Mine - Cabineers/Thrill Me Baby - Henry Pierce & His Five Notes/Hey Fine Mama - Henry Pierce & His Five Notes/That's Bad - Metronomes/Come On And Rock - Dukes/I Was A Fool - Dukes/Oh Kay - Dukes/Ooh Bop She Bop - Dukes/Zindy Lou - Chimes/Gone - Jesse Belvin/One Little Blessing - Jesse Belvin/Honey Dew - Byron "Slick" Gibson & Sliders/How Do You Kiss An Angel - Vernon Green & Phantoms/Why Oh Why - Eugene Church/Can It Be - Titans/Red Sails In The Sunset - Monitors |
| | SPCD-7065-2 - Jumpin' and Jivin' - Various Artists [1997] Something's Goin' On In My Room - Daddy Cleanhead/Tell It Like It Is - Roy Milton/Lucy Brown - Duke Henderson/Mad Lad Returns - Leo Parker/Drink Up-Light Up - Nelson Alexander Trio/Baby, Don't Do That To Me - Roy Milton/Sometimes - Amos Easton/When The Rooster Crows - Joe Turner/Hep Cat Boogie - Jimmy Liggins/Baby, You Don't Know - Roy Milton/Red Top - King Pleasure/Ida Red - Amos Easton/Cool Goofin' - Rudy Ferguson/Wine Woogie - Marvin Phillips/Twisted - Annie Ross/Tiny's Boogie - Amos Easton/If You Don't Know - Roy Milton/I Must Have Been An Ugly Baby - King Perry/Stop Talkin', Start Walkin' - Eddie Jefferson/Gonna Leave You Baby - Roy Milton/Squattin' - Eddie "Lockjaw" Davis/Hole In The Wall - Floyd Dison/Got A Penny, Benny? - Joe Carroll/Make Me Know It - Roy Milton/Moody's Mood For Love (I'm In The Mood For Love) - King Pleasure |
| | SPCD-7066-2 -Hello Sunshine: The Volt Recordings - Rev. Maceo Woods & Christian Tabernacle Concert Choir [1997] Hello Sunshine/Surrender To His Will/I'm Going To Live The Life I Sing/I Know God Cares For Me/I'm Mighty Grateful/The Name Of Jesus/We See God With The Eyes Of Our Soul/Try God And See/Step To Jesus/Soft Winds/It's Been A Mighty Good Day/Reach Out And Touch (Somebody's Hand)/Think Of His Goodness/Let My People Go/Beams Of Heaven/Bringing In The Sheaves/Hear Our Prayer/Amazing Grace |
| | SPCD-7067-2 - |
| | SPCD-7068-2 - |
| | SPCD-7069-2 -Golden Age Gospel Quartets - Various Artists [1997] These Old Bones - Southern Harmonizers/What Are They Doing In Heaven Today - Southern Harmonizers/The Old Rugged Cross - Pilgrim Travelers/He Will Remember Me - Pilgrim Travelers/Jesus Hits Like The Atom Bomb - Pilgrim Travelers/Jesus, I'm Thankful - Pilgrim Travelers/Weary Traveler - Pilgrim Travelers/My Old Home - Pilgrim Travelers/Since I Laid My Burden Down - Golden Echoes/Where Shall I Be - Golden Echoes/He Means So Much To Me - Paramount Singers/Heaven In My View - Paramount Singers/Faith And Grace - Soul Stirrers/By And By - Soul Stirrers/Peace In The Valley - Soul Stirrers/Christ Is All - Soul Stirrers/Let Jesus Lead You - Detroiters/Mother,I Need Your Prayer - Detroiters/Before This Time Another Year - Chosen Gospel Singers/Leaning On The Lord - Chosen Gospel Singers/I'm Coming Home - Swan Silvertones/He Won't Deny Me - Swan Silvertones/There Is A Fountain - Original Five Blind Boys of Alabama/Marching Up To Zion - Original Five Blind Boys of Alabama/Since Jesus Came Into My Heart - West Coast Jubilees/He'll Be There - West Coast Jubilees |
| | SPCD-7200 "Specialty Gospel Twofer" Series (2-LPs on 1 CD): |
| | SPCD-7201-2 - |
| | SPCD-7202-2 - Love Lifted Me/My Rock - Swan Silvertones [1991] Trouble In My Way/How I Got Over/After Awhile/Prayer In My Mouth/Glory To His Name/I'm A-Rollin'/Let's Go/Jesus Changed This Heart Of Mine/I'm Coming Home/Love Lifted Me/Heavenly Light Shine On Me/The Day Will Surely Come/My Rock/Since Jesus Came Into My Heart/I Cried/What Do You Know About Jesus/Milky White Way/He Won't Deny Me/Jesus Is A Friend/Motherless Child/Man In Jerusalem/Keep My Heart/Oh, How I Love Jesus/This Little Light Of Mine |
| | SPCD-7203-2 - Oh Lord, Stand by Me/Marching Up to Zion - Original Five Blind Boys of Alabama [1991] Oh Lord, Stand By Me/You Got To Move/Lord Have Mercy/Living For My Jesus/Precious Lord/I'll Fly Away/This May Be The Last Time/Alone And Motherless/Since I Met Jesus/Our Father's Praying Ground/Broken Heart Of Mine/Here Am I/Marching Up To Zion/Servant's Prayer Amen/Count Me In/When I Lost My Mother/There Is A Fountain/I've Been Born Again/He'll Be There/Think About Me/Does Jesus Care/Fix It Jesus/Goodbye Mother/I've Got A Home |
| | SPCD-7204-2 - The Best of the Pilgrim Travelers, Volumes 1 & 2 - Pilgrim Travelers [1991] I Was There When The Spirit Came/Blessed Be The Name/Standing On The Highway/Jesus Hits Like The Atom Bomb/I've Got A Mother Gone Home/Jesus, I'm Thankful/Straight Street/Mother Bowed/The Old Rugged Cross/Something Within Me/A Soldier's Plea/Satisfied With Jesus/My Old Home/Jesus Met The Woman At The Well/What A Blessing In Jesus I've Found/I Want My Crown/God Shall Wipe All Tears Away/Weary Traveler/I'll Tell It/He Will Remember Me/Lord, Help Me Carry On/Now Lord (Yes, My Lord)/Lord, Hold My Hand |
| | SPCD-7205-2 - The Best of Dorothy Love Coates & the Original Gospel Harmonettes, Volumes 1 & 2 - Dorothy Love Coates & Original Gospel Harmonettes [1991] He's Calling Me/One Morning Soon/You Better Run/No Hiding Place/When I Reach My Heavenly Home/Get Away Jordan/I'm Sealed/That's Enough/Ninety-Nine And A Half/Where Shall I Be?/Jesus Laid His Hand On Me/He's Right On Time (You Can't Hurry God)/Jesus Knows It All/You Must Be Born Again/These Are They/Why Not/I Shall Know Him/Every Day Will Be Sunday (By And By)/I Wouldn't Mind Dying/Lord, Don't Forget About Me/There's A God Somewhere/Just To Behold His Face/Am I A Soldier/Heaven |
| | SPCD-7206-2 - Greatest Gospel Gems, Volumes 1 & 2 - Various Artists [1991] The Last Mile Of The Way - Soul Stirrers with Sam Cooke/Search Me Lord - Brother Joe May/Mother Bowed - Pilgrim Travelers/Oh Lord, Stand By Me - Original Five Blind Boys Of Alabama/Too Close To Heaven - Alex Bradford/Get Away Jordan - Dorothy Love Coates & Original Gospel Harmonettes/My Rock - Swan Silvertones/Let God Abide - Robert Anderson/Prayer For The Doomed - Chosen Gospel Singers/The Ball Game - Sister Wynona Carr/By And By - Soul Stirrers/He's Calling Me - Dorothy Love Coates & Original Gospel Harmonettes/Lord, Lord, Lord - Alex Bradford/The Love Of God - Soul Stirrers with Johnnie Taylor/I'm Determined - Meditation Singers/Touch The Hem Of His Garment - Soul Stirrers with Sam Cooke/Straight Street - Pilgrim Travelers/I'll Fly Away - Original Five Blind Boys Of Alabama/Do You Know Him - Brother Joe May/Jesus Met The Woman At The Wall - Pilgrim Travelers/I'm Sealed - Dorothy Love Coates & Original Gospel Harmonettes/Lead Me, Guide Me - Pilgrim Travelers with Brother Joe May/Jesus Is A Friend - Swan Silvertones/Now The Day Is Over - Reverend James Cleveland |
| | CD Box Sets and Related: |
| | SPCD-8508-2 - The Specialty Sessions - Little Richard [1989] (3-CD Box Set) Disc 1: Baby (M, demo, with Little Richard introducing the song)/All Night Long (M, demo)/She's My Star (M, rehearsal, studio talk)/Lonesome And Blue (M, with studio talk)/Wonderin' (M)/All Night Long (M)/Kansas City (M, alternate take)/Kansas City (M, with take announcement)/Maybe I'm Right (M)/Directly From My Heart (M)/Baby (M)/I'm Just A Lonely Guy (All Alone) (M)/Tutti Frutti (M, alternate take, with take announcement)/Tutti Frutti (M)/Slippin' And Slidin' (Peepin' And Hidin') (M, demo with piano)/Slippin' And Slidin' (Peepin' And Hidin') (M, demo with piano and drums)/Slippin' And Slidin' (Peepin' And Hidin') (M, demo with piano and brushes)/She's My Star (M, acappella demo)/Chicken Little Baby (M)/Miss Ann (M, alternate take, with studio talk)/Baby (M)/True Find Mama (M)/Kansas City-Hey-Hey-Hey-Hey (M, studio talk and three false starts)/Kansas City-Hey-Hey-Hey-Hey (M)/Long Tall Sally [working title: "The Thing"] (M, alternate take, slow)/Long Tall Sally [The Thing] (M, alternate take, faster, with studio talk); Disc 2: Slippin' And Slidin' (Peepin' And Hidin') (M)/Long Tall Sally (M)/Miss Ann (M)/The Most I Can Offer (Just My Heart) (M)/Oh Why (M)/Heeby-Jeebies-Love (M, alternate take)/I Got It (M, with studio talk)/Ready Teddy (M, alternate take)/Ready Teddy (M)/Hey-Hey-Hey-Hey [Goin' Back To Birmingham] (M)/Rip It Up (M, rehearsal, with false starts)/Rip It Up (M)/Heeby-Jeebies (M, false starts for alternate takes)/Lucille (M)/Heeby-Jeebies (M)/Good Golly Miss Molly (M, alternate [fast] version, with studio talk)/Can't Believe You Wanna Leave (M)/Shake A Hand (M, undubbed, with studio talk and false start)/All Around The World (M)/She's Got It (M)/Hound Dog (M, rehearsal, with studio talk); Disc 3: Jenny Jenny (M)/Good Golly Miss Molly (M, alternate take, with studio talk)/Baby Face (M)/The Girl Can't Help It (M, movie version, with take announcement)/The Girl Can't Help It (M, 45 version, with false start)/By The Light Of The Silvery Moon (M)/Send Me Some Lovin' (M, with studio talk)/Gene Nobles' "Royal Crown Hairdressing" Commercials (M, two different, with studio talk and false start)/Ooh My Soul (M)/Keep A Knockin' (M, alternate take, with "I'm drinkin' gin" lyric)/Keep A Knockin' (M)/I'll Never Let You Go (Boo Hoo Hoo Hoo) (M, fast alternate take, with studio talk)/Boo Hoo Hoo Hoo (M)/Good Morning Little Schoolgirl (M, two takes)/Ooh My Soul (M, alternate take 8, with studio talk)/Ooh My Soul (M, alternate take 9, with studio talk)/Early One Morning (M)/She Knows How To Rock (M, alternate takes, false starts)/She Knows How To Rock (M)/Whole Lotta Shakin' Goin' On (M, rehearsal & master)/Bama Lama Bama Loo (S, with studio talk)/Poor Boy Paul (S, with false start and studio talk)/Annie Is Back (S, alternate take, with false start)/Annie Is Back (M, 45 version)/Miss Ann (S, 1964 version with studio talk and false start)/Well Alright (S, with false starts and studio talk) |
| | 5SPCD-4412-2 - The Specialty Story - Various Artists [1994] (5 CD box set) All tracks mono. Disc 1: Boogie #1 - Sepia Tones/Voo-It Voo-It - Blues Woman (Marion Abernathy)/Milton's Boogie - Roy Milton & Solid Senders/R.M. Blues - Roy Milton & Solid Senders/Rainy Day Blues - Jump Jackson Band/Ice Cream Freezer - Blues Man (Roosevelt Sykes)/True Blues - Roy Milton & Solid Senders/Rockin' Boogie - Joe Lutcher & Society Cats/Thrill Me - Roy Milton & Solid Senders & Camille Howard/Teardrop Blues - Jimmy Liggins & Drops Of Joy/Cadillac Boogie - Jimmy Liggins & Drops Of Joy/Keep A Dollar In Your Pocket - Roy Milton & Solid Senders/X-Temporaneous Boogie - Camille Howard/You Don't Love Me - Camille Howard/Fat Meat - Jim Wynn/Everything I Do Is Wrong - Roy Milton & Solid Senders/Hop Skip Jump - Roy Milton & Solid Senders/Careful Love - Jimmy Liggins & Drops Of Joy/Big City Blues - Big Maceo/I Want A Roller - Smokey Hogg/The Hucklebuck - Roy Milton & Solid Senders/Fiesta In Old Mexico - Camille Howard/The Honeydripper - Joe Liggins & Honeydrippers/Don't Put Me Down - Jimmy Liggins & Drops Of Joy/Information Blues - Roy Milton & Solid Senders/Rag Mop - Joe Liggins & Honeydrippers; Disc 2: Pink Champagne - Joe Liggins & Honeydrippers/Junior Jives - Roy Milton & Solid Senders/Where There Is No Love - Roy Milton & Solid Senders/Everything's Gonna Be All Right Tonight - King Perry & Pied Pipers/Please Send Me Someone To Love - Percy Mayfield/Strange Things Happening - Percy Mayfield/Little Joe's Boogie - Joe Liggins & Honeydrippers/Oh Babe - Roy Milton & Solid Senders/Lost Love - Percy Mayfield/Frankie Lee - Joe Liggins & Honeydrippers/What A Fool I Was - Percy Mayfield/Money Blues - Camille Howard/It's Later Than You Think - Roy Milton & Solid Senders/T-Town Twist - Roy Milton & Solid Senders/I Have News For You - Roy Milton & Solid Senders/Prayin' For Your Return - Percy Mayfield/Strange Angel - Amos Easton (Bumble Bee Slim)/Best Wishes - Roy Milton & Solid Senders/Cry Baby - Percy Mayfield/Love Will Make You A Slave - Lil Greenwood/I Can't Lose With The Stuff I Use - Lester Williams/Wheel Of Fortune - Four Flames/The Big Question - Percy Mayfield/Lawdy Miss Clawdy - Lloyd Price/So Tired - Roy Milton & Solid Senders/Night And Day (I Miss You So) - Roy Milton & Solid Senders; Disc 3: Oooh Oooh Oooh - Lloyd Price/Restless Heart - Lloyd Price/Dream Girl - Jesse & Marvin/Tell Me Pretty Baby - Lloyd Price/Ain't It A Shame - Lloyd Price/Frantic - Frank Motley & His Crew/Too Close To Heaven - Alex Bradford/I'm Coming Home - Swan Silvertones/I've Got A New Home - Pilgrim Travelers/One Room Country Shack - Mercy Dee Walton/Lucy Mae Blues - Frankie Lee Sims/Early In The Morning - Roy Milton & Solid Senders/She's Been Gone - H-Bomb Ferguson/Hard Living Alone - Floyd Dixon/Drunk - Jimmy Liggins & 3-D Music/I Ate The Wrong Part - Little Temple & 88/Bloodstains On The Wall - Honeyboy/Baby Doll - Marvin & Johnny/The Things That I Used To Do - Guitar Slim/I'm Your Best Bet Baby - Earl King/No Room In The Hotel - Chosen Gospel Singers [featuring Lou Rawls]/I'm Mad - John Lee Hooker/Something's Going On In My Room - Daddy Cleanhead/Zindy Lou - Chimes/One More River - Soul Stirrers [featuring Sam Cooke]/Where's My Girl - Jesse Belvin; Disc 4: Nite Owl - Tony Allen & Champs/Tutti Frutti - Little Richard/Eternity - Ernest Kador/Rich Woman - Li'l Millet & Creoles/Squeeze Box Boogie - Clifton Chenier/Touch The Hem Of His Garment - Soul Stirrers [featuring Sam Cooke]/Long Tall Sally - Little Richard/Slippin' And Slidin' (Peepin' And Hidin') - Little Richard/Oh-Rooba-Lee - Arthur Lee Maye & Crowns/Gloria - Arthur Lee Maye & Crowns/Cherokee Dance - Bob Landers & Willie Joe & Unitar/Rip It Up - Little Richard/Ready Teddy - Little Richard/Sweet Breeze - Vernon Green & Phantoms/(Every Time I Hear That) Mellow Saxophone - Roy Montrell/She's Got It - Little Richard/Heeby- Jeebies - Little Richard/Should I Ever Love Again - Wynona Carr/Just To Hold My Hand - Big Boy Myles & Shaw-Wees/The Girl Can't Help It - Little Richard/All Around The World - Little Richard/Oooh-Whee Baby - Art Neville/Just Because - Larry Williams/Lucille - Little Richard/Send Me Some Lovin' - Little Richard/Open Up Your Heart - Eugene Church; Disc 5: Our Romance - Clydie King/Jenny Jenny - Little Richard/Miss Ann - Little Richard/Short Fat Fannie - Larry Williams/Leavin' It All Up To You - Don & Dewey/Keep A-Knockin' - Little Richard/Bony Moronie - Larry Williams/Twitchy - Rene Hall's Orchestra [featuring Willie Joe]/I'll Come Running Back To You - Sam Cooke (slight hiss)/Good Golly Miss Molly - Little Richard/Slow Down - Larry Williams/Dizzy Miss Lizzy - Larry Williams/Justine - Don & Dewey/True Fine Mama - Little Richard/Ooh My Soul - Little Richard/Lights Out - Jerry Byrne/The Love Of God - Soul Stirrers [featuring Johnnie Taylor]/Koko Joe - Don & Dewey/Baby Face - Little Richard/There's A Moose On The Loose - Roddy Jackson/Haunted House - Johnny Fuller/She Said Yeah - Larry Williams/Bad Boy - Larry Williams/Farmer John - Don & Dewey/Big Boy Pete - Don & Dewey/Bama Lama Bama Loo - Little Richard |
| | SPCD-2100-2 - The Specialty Story Sampler - Various Artists [1994] Promotional 17- track sampler taken from the above box set. All tracks mono. Good Golly Miss Molly - Little Richard/Cadillac Boogie - Jimmy Liggins & His Drops Of Joy/Too Close To Heaven - Alex Bradford/Strange Things Happening - Percy Mayfield/Squeeze Box Boogie - Clifton Chenier/Oh Babe! - Roy Milton & His Solid Senders/Nite Owl - Tony Allen & Champs/Touch The Hem Of His Garment - Soul Stirrers [featuring Sam Cooke]/One Room Country Shack - Mercy Dee Walton/The Honeydripper - Joe Liggins & His Honeydrippers/Haunted House - Johnny Fuller/Where's My Girl - Jesse Belvin/No Room In The Hotel - Chosen Gospel Singers [featuring Lou Rawls]/Lawdy Miss Clawdy - Lloyd Price/Oooh-Whee Baby - Art Neville/Slow Down - Larry Williams/Leavin' It All Up To You - Don & Dewey |