When Seeburg introduced the jukebox that played the Little LPs in late 1962, it took some time to get the Little LPs from the various record labels, set up the inventory system, etc. Even from the start, though, they had in mind that they would extend their own recorded music to Little LPs. Seeburg had been putting their own recordings on 45s for some years, as well as making available "background music" on 9" discs that played at 16-2/3 rpm. It took them till 1964 before the Little LPs started pouring out from Seeburg, but pour out they did. There were 140 Little LPs released under the umbrella of "Rec-O-Dance," in three separate series.



The Discotheque Series, introduced in 1964, was an instrumental combination of recent hits and oldies dating back to the 1940s or earlier. They originally were packaged in bright colorful covers, and Seeburg required that they be purchased in sets of 10 discs each. There were six different sets offered, with some, but not much, overlap among sets. The records themselves had light blue labels.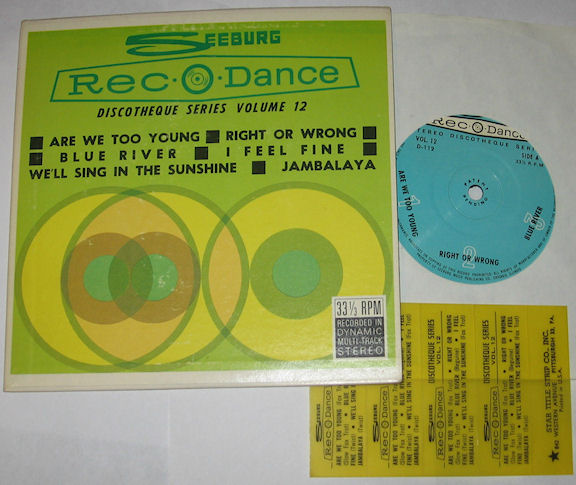 Each disc came with a set of jukebox title strips, in addition to the record and cover.

The music itself included no hit versions, but the musicians were quite competent and the sound quality was excellent. The artists were not identified, so we have called the various artists the same name Seeburg used for their generic music in the past, The Seeburg Spotlite Band. Actually, according to those around Seeburg at the time, bands such as David Carroll and Boots Randolph and their orchestras were hired to record these tunes, and recordings were done in first-rate studios such as Universal Studios in Chicago (Seeburg's home city) and Nashville's top studios. All the recordings were well-separated true stereo.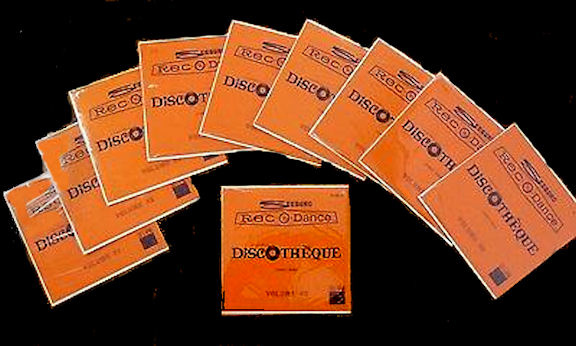 Later re-pressings of the series skipped the color covers and went with monochrome covers, that is, a single color ink on a colored background, as shown with the orange color covers at right.

The Discotheque series was a compromise between adult and teen music. Staying with the idea that Little LPs were mostly aimed at the adult market, the songs on the Discotheque series were at least 2-to-1 adult-oriented oldies music. Oh, there were instrumental versions of Beatles tunes that occasionally popped up, but generally it was uptempo music for adults. The second series released by Seeburg, called DiscoTeen, made no pretense of being for adults.

DiscoTeen, which released 5 sets of 10 discs with a red label, culled all the recent hits from the Discotheque Series and added a lot more, with only occasional slow songs. Mixed in with the instrumental versions of hits were 1-3 originals on each album (as was the case for the other series, also), usually quite competent and danceable instrumentals.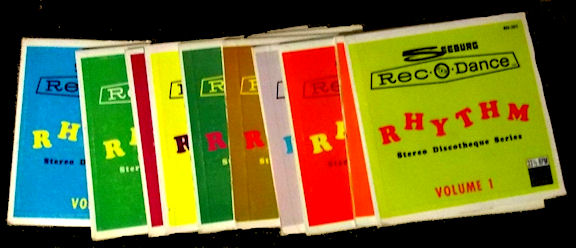 The third set Seeburg released was called Rhythm, and featured a mixture of mostly new and some old songs, along with originals, all aimed at uptempo, rhythmic songs. Original pressings featured the colorful covers, but later Seeburg went with pale green monochrome covers.

All together, Seeburg released 140 Little LPs in these three series, adding to the thousand or so Little LPs from the record labels, making an extensive catalog for jukebox operators to choose from by mid-1966. That was probably the zenith of the Little LP era, as from then on, Little LPs got gradually less popular with jukebox operators. By 1967, Seeburg itself bailed out, and by 1969, the supply of Little LPs, except for old ones still in cutout inventories, dried up completely.

We would appreciate any additions or corrections to this discography. Just send them to us via e-mail. Both Sides Now Publications is an information web page. We are not a catalog, nor can we provide the records listed below. We have no association with any of these record labels. Should you be interested in acquiring the Little LPs listed in this discography (which are all out of print), we suggest you see our Frequently Asked Questions page and follow the instructions found there. This story and discography are copyright 2014 by Mike Callahan.

Label Scan



Number - Artist - Title [Date of Release] Songs



Seeburg

THE STEREO DISCOTHEQUE SERIES:

The first series, called "Discotheque," had a blue label with black print. There were six separate 10-disc sets.




Set No. 1:

D-101 - Seeburg Spotlite Band - Discotheque, Volume 1 [1964] Danke Schoen/I Left My Heart In San Francisco/If I Had A Hammer//Watermelon Man/Girl From Ipanema/Tea For Two

D-102 - Seeburg Spotlite Band - Discotheque, Volume 2 [1964] Hello Dolly/Stardust/Goody Goody//I Wish You Love/Come Closer To Me/Never On Sunday

D-103 - Seeburg Spotlite Band - Discotheque, Volume 3 [1964] Moonlight Serenade/There's A Small Hotel/Memphis//Night Train/Baubles, Bangles And Beads/Mack The Knife

D-104 - Seeburg Spotlite Band - Discotheque, Volume 4 [1964] Lawdy Miss Clawdy/I Wanna Hold Your Hand/Gadabout//My Blue Heaven/You Belong To My Heart/Anna Bacoa

D-105 - Seeburg Spotlite Band - Discotheque, Volume 5 [1964] Java/Over The Rainbow/Moon River//I've Got A Crush On You/I Can't Stop Loving You/I've Got My Love To Keep Me Warm

D-106 - Seeburg Spotlite Band - Discotheque, Volume 6 [1964] Moonlight Becomes You/Peg 0' My Heart/20 - 75//Maybelline/On The Street Where You Live/String Of Pearls

D-107 - Seeburg Spotlite Band - Discotheque, Volume 7 [1964] Make Somebody Happy/Ain't Misbehavin'/In The Mood//Satin Doll/I Could Have Danced All Night/Rico Vacilon

D-108 - Seeburg Spotlite Band - Discotheque, Volume 8 [1964] Little Brown Jug/Chicken' Back/Do-Wah Diddy//Marie/Dancing In The Dark/Up A Lazy River

D-109 - Seeburg Spotlite Band - Discotheque, Volume 9 [1964] What Kind Of Fool Am I/Call Me Irresponsible/Days Of Wine And Roses//La Bamba/Tuxedo Junction/You Made Me Love You

D-110 - Seeburg Spotlite Band - Discotheque, Volume 10 [1964] Everybody Loves Somebody/In A Little Spanish Town/A Taste Of Honey//Roll Over Beethoven/Teen Beat '65/Nadine

Set No. 2:

D-111 - Seeburg Spotlite Band - Discotheque, Volume 11 [1964] Little Clown/Someday/Chances Are//My Brother Billy/Chug-A-Lug/Aw Shucks

D-112 - Seeburg Spotlite Band - Discotheque, Volume 12 [1964] Are We Too Young/Right Or Wrong/Blue River//I Feel Fine/We'll Sing In The Sunshine/Jambalaya

D-113 - Seeburg Spotlite Band - Discotheque, Volume 13 [1964] Let's Twist Again/Zip A Dee Doo Da/Woodchoppers Ball//Makes No Difference Now/I Had The Craziest Dream/Applejack

D-114 - Seeburg Spotlite Band - Discotheque, Volume 14 [1964] I'll Be With You In Apple Blossom Time/Half As Much/Trust Your Heart//I'd Rather Mambo/Say It Isn't So/Frisco Bounce

D-115 - Seeburg Spotlite Band - Discotheque, Volume 15 [1964] Petra/Too Close For Comfort/Walking The Dog//Ram-Bunk-Shush/Jealous Heart/Crazy Rhythm

D-116 - Seeburg Spotlite Band - Discotheque, Volume 16 [1964] Pretty Baby/Out Of Nowhere/Dona Rachela//Love Potion # 9/Monkey Time/Hully Gully Time

D-117 - Seeburg Spotlite Band - Discotheque, Volume 17 [1964] I Don't Want To Walk Without You/September Song/The Breeze And I//Twist And Shout/Soul Twist/Night Beat

D-118 - Seeburg Spotlite Band - Discotheque, Volume 18 [1964] Play A Simple Melody/To Each His Own/Rinky Dink//Jolly Roger/Mr. Sandman/I May Be Wrong

D-119 - Seeburg Spotlite Band - Discotheque, Volume 19 [1964] Do The Dog/Part III/San Antonio Rose//Heartaches/I Hadn't Anyone Till You/Le Monacle

D-120 - Seeburg Spotlite Band - Discotheque, Volume 20 [1964] Moonglow/Irene/Wild Weekend//Slow Down/Cold Cold Heart/Corn Fed

Set No. 3:

D-121 - Seeburg Spotlite Band - Discotheque, Volume 21 [1964] More/Somewhere In Your Heart/You Go To My Head//Tommy's Dream/Around The World/A Hard Day's Night

D-122 - Seeburg Spotlite Band - Discotheque, Volume 22 [1964] Say It Isn't So/Solitude/Watusi '64//Back And Forth/My Guy/I'm Looking Over A Four Leaf Clover

D-123 - Seeburg Spotlite Band - Discotheque, Volume 23 [1964] Theme From "A Summer Place"/Call Me Irresponsible/With A Song In My Heart//My Happiness/Josephine/Long Shot

D-124 - Seeburg Spotlite Band - Discotheque, Volume 24 [1964] Moon River/Too Young/Alley Cat//Once In A While/I Feel Fine/Chicken Back

D-125 - Seeburg Spotlite Band - Discotheque, Volume 25 [1964] Dear Heart/If Dreams Come True/Saxy Boogie//Mangos/Your Cheating Heart/Music, Music, Music

D-126 - Seeburg Spotlite Band - Discotheque, Volume 26 [1964] I Left My Heart In San Francisco/Make Someone Happy/My Love (Roses Are Red)//16th And Hawkins/Amore Scusami/Angry

D-127 - Seeburg Spotlite Band - Discotheque, Volume 27 [1964] Hound Dog/The Jolly Green Giant/Desire//Lady's In Love With You/Makin' Whoopee/Sleepy Time Gal

D-128 - Seeburg Spotlite Band - Discotheque, Volume 28 [1964] Tangerine/Sweet Tenor/Sioux City Sue//Anytime/You Made Me Love You (I Didn't Wanna Do It)/Miami Beach Rhumba

D-129 - Seeburg Spotlite Band - Discotheque, Volume 29 [1964] Stella By Starlight/I Hadn't Anyone Till You/Everybody Loves Somebody//Cotton Fields/Who Do You Love/Too Marvelous For Words

D-130 - Seeburg Spotlite Band - Discotheque, Volume 30 [1964] Ramblin' Rose/Someday (You'll Want Me To Want You)/Shuffle Beat Party//Summertime/My Darling, My Darling/Hello Dolly

Set No. 4:

D-131 - Seeburg Spotlite Band - Discotheque, Volume 31 [1964] Stardust/Blue Moon/Rain//I May Be Wrong/The Wah-Watusi/Say What

D-132 - Seeburg Spotlite Band - Discotheque, Volume 32 [1964] You're My Everything/That's All/Mountain Of Love//Bye Bye Blues/Would You Like To Take A Walk/Lazy Gigolo

D-133 - Seeburg Spotlite Band - Discotheque, Volume 33 [1964] Lazy River/Guess I'm In Love/He's Got The Whole World In His Hands//Cold, Cold Heart/Guess I'm In Love/June Night

D-134 - Seeburg Spotlite Band - Discotheque, Volume 34 [1964] Canadian Sunset/Maria Elena/Ping Pong//The Girl From Ipanema/Sierra Sue/Rico Vacilon

D-135 - Seeburg Spotlite Band - Discotheque, Volume 35 [1964] She Wore A Yellow Ribbon (Round Her Neck)/Mood Indigo/I Guess I'll Have To Change My Plans//Desire/Una Lacrima Sul Viso/I'll Get By

D-136 - Seeburg Spotlite Band - Discotheque, Volume 36 [1964] Oh, Pretty Woman/Saddle Soap/My Guy//A Taste Of Honey/(It's Only A) Paper Moon/Sleepy Time Gal

D-137 - Seeburg Spotlite Band - Discotheque, Volume 37 [1964] All Of Me/Michael, Row The Boat Ashore/Oh, Lonesome Me//Lies/Celia/Hard Times

D-138 - Seeburg Spotlite Band - Discotheque, Volume 38 [1964] Witchcraft/Walkin' Mr. Sax/The Object Of My Affection//Walk On By/Stop! In The Name Of Love/Johnny Be Good

D-139 - Seeburg Spotlite Band - Discotheque, Volume 39 [1964] Moonlight Serenade/Shangri-La/Right Or Wrong/I Should Care/Go Go Cha Cha/Via Aurelia

D-140 - Seeburg Spotlite Band - Discotheque, Volume 40 [1964] On A Slow Boat To China/Alice Blue Gown/Little Clown//Teenager Dream/The "In" Crowd/Hi-Heel Sneakers

Set No. 5:

D-141 - Seeburg Spotlite Band - Discotheque, Volume 41 [1964] Day By Day/Irene/Will You Love Me Tomorrow//Dream Bossa Nova/Tea For Two/Miami Beach Rhumba

D-142 - Seeburg Spotlite Band - Discotheque, Volume 42 [1964] I Guess Things Happen That Way/Ole Buttermilk Sky/What A Guy//What Kind Of Fool Am I/Tonight/I Want To Hold Your Hand

D-143 - Seeburg Spotlite Band - Discotheque, Volume 43 [1964] I Can't Stop Loving You/Fools Rush In (Where Angels Fear To Tread)/People//The Girl From Ipanema/I've Got You Under My Skin/Wildwood Flower

D-144 - Seeburg Spotlite Band - Discotheque, Volume 44 [1964] On The Street Where You Live/Danke Schoen/Midnight In Munich//Our Day Will Come/Walk Don't Run/If I Had A Hammer

D-145 - Seeburg Spotlite Band - Discotheque, Volume 45 [1964] Flowers For A French Girl/Poor Butterfly/Satin Doll//Java/In The Mood/What'd I Say

D-146 - Seeburg Spotlite Band - Discotheque, Volume 46 [1964] Misty/Days Of Wine And Roses/We'll Sing In The Sunshine//About My Girl/Nadine/Jerk A Cha Cha

D-147 - Seeburg Spotlite Band - Discotheque, Volume 47 [1964] Cuddle Up A Little Closer/Hush Hush Sweet Charlotte/Via Aurelia//Little Brown Jug/Walkin' My Baby Back Home/In A Little Spanish Town ('Twas On A Night Like This)

D-148 - Seeburg Spotlite Band - Discotheque, Volume 48 [1964] You Gott'a Wanna/Red Roses For A Blue Lady/Angry//I Wish You Love/To Each His Own/Do You Love Me?

D-149 - Seeburg Spotlite Band - Discotheque, Volume 49 [1964] Tammy/Honey/When You Are In My Arms//I Don't Want To Set The World On Fire/It Makes No Difference Now/Wolverton Mountain

D-150 - Seeburg Spotlite Band - Discotheque, Volume 50 [1964] Maybelline/The Loco-Motion/Slow Down//When I Fall In Love/Ya Got Me/Desifinado

Set No. 6:

D-151 - Seeburg Spotlite Band - Discotheque, Volume 51 [1964] Night And Day/Tangerine/Ma Vie (My Life)//You Go To My Head/Heartaches/Aw Shucks

D-152 - Seeburg Spotlite Band - Discotheque, Volume 52 [1964] Love Letters In The Sand/Stompin' At The Savoy/Rhapsody In Blue//Bluesette/Georgia (On My Mind)/Northern Lights

D-153 - Seeburg Spotlite Band - Discotheque, Volume 53 [1964] I've Got My Love To Keep Me Warm/Amapola/Bye, Bye Love//It Wouldn't Be The First Time/Red Sails In The Sunset/Comin' Home

D-154 - Seeburg Spotlite Band - Discotheque, Volume 54 [1964] Too Marvelous For Words/Lies/Ya Ya//Jolly Roger/You Call It Madness (But I Call It Love)/Moonglow

D-155 - Seeburg Spotlite Band - Discotheque, Volume 55 [1964] Begin The Beguine/Out Of Nowhere/Get Out And Get Under The Moon//Seems Like Old Times/Walkin' Mr. Sax/A Quiet Girl

D-156 - Seeburg Spotlite Band - Discotheque, Volume 56 [1964] Heat Wave/The Twist/Ja-Da//Sweet And Lovely/The Golden Touch/Peg O' My Heart

D-157 - Seeburg Spotlite Band - Discotheque, Volume 57 [1964] I Get A Kick Out Of You/Too Young/Cha-Cha-Cha De Paris//You Turned The Tables On Me/Ramblin' Rose/Cielia

D-158 - Seeburg Spotlite Band - Discotheque, Volume 58 [1964] King Of The Road/Cheatin' On Your Mind/Good Old Mountain Dew//Teen Beat '65/A Hard Day's Night/Louie, Louie

D-159 - Seeburg Spotlite Band - Discotheque, Volume 59 [1964] (There's A) Small Hotel/In The Still Of The Night/Ti-Man-Bo//Tequila/Piccanini Cha Cha/Somebody Else Is Taking My Place

D-160 - Seeburg Spotlite Band - Discotheque, Volume 60 [1964] That Old Black Magic/I Don't Want To Walk Without You/Watermelon Man//Crying In The Chapel/Sleepy Time Gal/The Repeater



THE STEREO DISCO-TEEN SERIES

The second series, called "DiscoTeen," had a red label with black print. There were five different 10-disc sets.




Set No. 1:

DN-301 - Seeburg Spotlite Band - DiscoTeen, Volume 1 [1964] Mashed Potatoes/A Hard Day's Night/Around The World//Oh No, Not My Baby/16th And Hawkins/Walk Don't Run

DN-302 - Seeburg Spotlite Band - DiscoTeen, Volume 2 [1964] Slow Down/Ja-da/Wild Weekend//Donna/Aw Shucks/I Feel Fine

DN-303 - Seeburg Spotlite Band - DiscoTeen, Volume 3 [1964] Everybody Loves Somebody/Georgia/Soul Twist//Jolly Roger/I Want To Hold Your Hand/Tossin' And Turnin'

DN-304 - Seeburg Spotlite Band - DiscoTeen, Volume 4 [1964] Cotton Fields/Satin Doll/The Jerk//I'm Over You/Part III/Hound Dog

DN-305 - Seeburg Spotlite Band - DiscoTeen, Volume 5 [1964] What'd I Say/Green Onions/Non Ho L'eta//Supersonic/Oh, Pretty Woman/Call Me Irresponsible

DN-306 - Seeburg Spotlite Band - DiscoTeen, Volume 6 [1964] Bye Bye Blues/Twist And Shout/French Fries//Dear Heart/Ma Vie/Honky Tonk

DN-307 - Seeburg Spotlite Band - DiscoTeen, Volume 7 [1964] Memphis/Northern Lights/Monkey Time//I May Be Wrong/Shake/Blueberry Hill

DN-308 - Seeburg Spotlite Band - DiscoTeen, Volume 8 [1964] You Can't Sit Down/Twine Time/Una Lacrima Sul Viso//Good Old Mountain Dew/Money/At The Hop

DN-309 - Seeburg Spotlite Band - DiscoTeen, Volume 9 [1964] Moon River/Back And Forth/Roses Are Red, My Love//Peter Gunn/Teenager Dream/Cold At Night

DN-310 - Seeburg Spotlite Band - DiscoTeen, Volume 10 [1964] Letkis Jenka (Parts I & II)/Who Do You Love//My Love Forgive Me (Amore Scusami)/Columbus Stockade Blues/Hi-Heel Sneakers

Set No. 2:

DN-311 - Seeburg Spotlite Band - DiscoTeen, Volume 11 [1964] Heat Wave/Nadine/My Guy//Tommy's Dream/Love Potion #9/Bony Moronie

DN-312 - Seeburg Spotlite Band - DiscoTeen, Volume 13 [1964] Desifinado/Will You Love Me Tomorrow/Peanut Butter//Watermelon Man/Johnny Be Good/Say What

DN-313 - Seeburg Spotlite Band - DiscoTeen, Volume 12 [1964] Somewhere In Your Heart/Take Me Back/The "In" Crowd//Watusi '64/Tragedy/Hot Pastrami

DN-314 - Seeburg Spotlite Band - DiscoTeen, Volume 14 [1964] Shout (Part I)/If I Had A Hammer/Londonderry Air//More/20-75/Runaway

DN-315 - Seeburg Spotlite Band - DiscoTeen, Volume 15 [1964] Roll Over Beethoven/Tequila/Up On The Roof//Walkin' Mr. Sax/Forty Miles Of Bad Road/C'mon And Swim

DN-316 - Seeburg Spotlite Band - DiscoTeen, Volume 16 [1964] Sticks And Stones/Walkin' The Dog/Make Someone Happy//Saddle Soap/Peppermint Twist/Travelling Shoes

DN-317 - Seeburg Spotlite Band - DiscoTeen, Volume 17 [1964] The Jolly Green Giant/Guess I'm In Love/She's Not There//Moonglow/Time Is On My Side/Wiggle Wobble

DN-318 - Seeburg Spotlite Band - DiscoTeen, Volume. 18 [1964] The Twist/Surf City/Desire//The Sidewinder/Locomotion/California Sun

DN-319 - Seeburg Spotlite Band - DiscoTeen, Volume 19 [1964] Solitude/Mashed Potato Time/Coast To Coast//Theme From "A Summer Place"/I'm Walking/Shout (Part II)

DN-320 - Seeburg Spotlite Band - DiscoTeen, Volume 20 [1964] New Orleans/Chicken Back/Stop! In The Name Of Love//Walk On By/The Wah-Watusi/Let's Twist Again

Set No. 3:

DN-321 - Seeburg Spotlite Band - DiscoTeen, Volume 21 [1964] Slow Down/C'mon And Swim/Monkey Time//Broken Hearted Boy/What's Easy For Two Is So Hard For One/Watusi '64

DN-322 - Seeburg Spotlite Band - DiscoTeen, Volume 22 [1964] Heat Wave/Johnny Be Good/Long Shot//Donna/Wild Weekend/I'm Walking

DN-323 - Seeburg Spotlite Band - DiscoTeen, Volume 23 [1964] Mashed Potatoes/Shake/The Jolly Green Giant//Desire/Love Potion #9/Shout

DN-324 - Seeburg Spotlite Band - DiscoTeen, Volume 24 [1964] Memphis/Wipe Out/Gold Miner//I'm Over You/Walk On By/Do You Love Me

DN-325 - Seeburg Spotlite Band - DiscoTeen, Volume 25 [1964] New Orleans/A Hard Day's Night/The Jerk//Georgia/Shake Him Loose Baby/Hi-Heel Sneakers

DN-326 - Seeburg Spotlite Band - DiscoTeen, Volume 26 [1964] Who Do You Love/Say What/Locomotion//In My Room/Tossin' And Turnin'/I Feel Fine

DN-327 - Seeburg Spotlite Band - DiscoTeen, Volume 27 [1964] What'd I Say/Tequila/Forty Miles Of Bad Road//Time Is On My Side/Part III/Ya Ya

DN-328 - Seeburg Spotlite Band - DiscoTeen, Volume 28 [1964] Sticks And Stones/Nadine/Come And Get These Memories//Tommy's Dream/Mountain Of Love/California Sun

DN-329 - Seeburg Spotlite Band - DiscoTeen, Volume 29 [1964] Supersonic/Roll Over Beethoven/Rinky Dink//Tomorrow's Love/Mother-In-Law/Bony Moronie

DN-330 - Seeburg Spotlite Band - DiscoTeen, Volume 30 [1964] If I Had A Hammer/Peppermint Twist/Louie, Louie//Talk To Me/Honky Tonk/Chicken Back

Set No. 4:

DN-301-B - Seeburg Spotlite Band - DiscoTeen, Volume 1-B [1965] Johnny B. Goode/Heat Wave/Mojo Workout//Hound Dog/I Feel Fine/Chicken Back

DN-302-B - Seeburg Spotlite Band - DiscoTeen, Volume 2-B [1965] What'd I Say/Teen Beat '65/Still In Love With You Baby//Slow Down/Do You Love Me/The Memphis Style

DN-303-B - Seeburg Spotlite Band - DiscoTeen, Volume 3-B [1965] Little Latin Lupe Lu/Hi-Heel Sneakers/Big "J"//Walk Don't Run/Catch Us If You Can/Nadine

DN-304-B - Seeburg Spotlite Band - DiscoTeen, Volume 4-B [1965] Roll Over Beethoven/Ram Charger/What's Easy For Two//Maybelline/A Hard Day's Night/Watusi '64

DN-305-B - Seeburg Spotlite Band - DiscoTeen, Volume 5-B [1965] Memphis/Oh Carol/Mountain Of Love//Love Potion # 9/Scotty/You Can't Sit Down

DN-306-B - Seeburg Spotlite Band - DiscoTeen, Volume 6-B [1965] Baby, What You Want Me To Do/Honky Tonk/Runaway//Sha La La/Part III/Oh Baby, We Got A Good Thing Goin'

DN-307-B - Seeburg Spotlite Band - DiscoTeen, Volume 7-B [1965] Lawdy Miss Clawdy/The Girl Can't Help It/He's A Rebel//Who Do You Love/Glad You're Mine/Shout (Part 1 & 2)

DN-308-B - Seeburg Spotlite Band - DiscoTeen, Volume 8-B [1965] If I Had A Hammer/Twist And Shout/Count Me In//Walkin' The Dog/Keep Your Hands Off My Baby/Guess I'm In Love

DN-309-B - Seeburg Spotlite Band - DiscoTeen, Volume 9-B [1965] Mashed Potatoes/Money (That's What I Want)/Lariat//Do The Dog/Round And Round/Take Me Back

DN-310-B - Seeburg Spotlite Band - DiscoTeen, Volume 10-B [1965] The Twist/Susie Q/Shake Him Loose Baby//I'm Walking/Wait Till My Bobby Get's Home/Kansas City

Set No. 5:

DN-301-C - Seeburg Spotlite Band - DiscoTeen, Volume 1-C [1965] Bony Maronie/Hully Gully/Rock-in' Charlie, Part 3//Mambo Island/One Last Chance/Baja

DN-302-C - Seeburg Spotlite Band - DiscoTeen, Volume 2-C [1965] Mojo Workout/Dance With Me, Henry/So Low//Sting Ray/Sweet Little Sixteen/Pack My Things And Go

DN-303-C - Seeburg Spotlite Band - DiscoTeen, Volume 3-C [1965] Ram Charger/The Girl Can't Help It/Red Hot Red//Slip And Slide/Scotty/Hip Shakin' Mama

DN-304-C - Seeburg Spotlite Band - DiscoTeen, Volume 4-C [1965] Back In Circulation/20- 75/Hitch Hike//Do You Wanna Dance/The "In" Crowd/Trouble In Mind

DN-305-C - Seeburg Spotlite Band - DiscoTeen, Volume 5-C [1965] Lariat/Let's Dance/Sad Emotions//Down Yonder/Baby, What You Want Me To Do/Hot Pickles

DN-306-C - Seeburg Spotlite Band - DiscoTeen, Volume 6-C [1965] See See Rider/Can't Buy My Love/Still In Love With You Baby//Love Is The Answer/Last Night/It's Not Unusual

DN-307-C - Seeburg Spotlite Band - DiscoTeen, Volume 7-C [1965] I Want Candy/Monkey Time/Tequila//Jim Dandy/The Last Time/Jerk A Cha Cha

DN-308-C - Seeburg Spotlite Band - DiscoTeen, Volume 8-C [1965] Hot Pastrami/Ya Ya/Raunchy//Bulldog/Shout/The Driver's Seat

DN-309-C - Seeburg Spotlite Band - DiscoTeen, Volume 9-C [1965] Peter Gunn/Surf City/Supersonic//Gone, Gone, Gone/Wiggle Wobble/Dark River

DN-310-C - Seeburg Spotlite Band - DiscoTeen, Volume 10-C [1965] Baby, What Can I Do/Alright, Okay, You Win/Jane And Jack//Sunset Strip/Boom, Boom, Boom/Round, Round And Round



THE STEREO RHYTHM SERIES

The third series, called "Rhythm," had an orange label with black print. There were three separate 10-disc sets.




Set No. 1:

DR-501 - Seeburg Spotlite Band - Rhythm, Volume 1 [1965] The Sidewinder/Around The World/Satin Doll//I'm Over You/Back And Forth/Honky Tonk

DR-502 - Seeburg Spotlite Band - Rhythm, Volume 2 [1965] I Feel Fine/Money/Twine Time//Solitude/Madison In F/Peanut Butter

DR-503 - Seeburg Spotlite Band - Rhythm, Volume 3 [1965] Shake/Bye Bye Blues/The Girl From Ipanema//Mood Indigo/Watermelon Man/Aw Shucks

DR-504 - Seeburg Spotlite Band - Rhythm, Volume 4 [1965] Moon River/French Fries/Oh No, Not My Baby//Body And Soul/Percolatin'/Ram-Bunk-Shush

DR-505 - Seeburg Spotlite Band - Rhythm, Volume 5 [1965] Soul Twist/Do The Dog/Desifinado//Wiggle Wobble/Voice Your Choice/Cotton Fields

DR-506 - Seeburg Spotlite Band - Rhythm, Volume 6 [1965] St. Louis Blues/The Jerk/Jolly Roger//Walkin' Mr. Sax/Um, Um, Um, Um, Um, Um/Undecided

DR-507 - Seeburg Spotlite Band - Rhythm, Volume 7 [1965] Saxy Boogie/Night Train/Ti Mon Bo//Londonderry Air/Monkey Time/Red Top

DR-508 - Seeburg Spotlite Band - Rhythm, Volume 8 [1965] Walkin' With Mr. Lee/How Sweet It Is (To Be Loved. By You)/Hard//Georgia/The "In" Crowd/April In Paris

DR-509 - Seeburg Spotlite Band - Rhythm, Volume 9 [1965] Hound Dog/Soft/Let's Twist Again//That's All/Blueberry Hill/La-Dee-Dah

DR-510 - Seeburg Spotlite Band - Rhythm, Volume 10 [1965] Rinky Dink/Blues In The Night/Mojo Workout//Tommy's Dream/Walk Don't Run/Tossin' And Turnin'

Set No. 2:

DR-511 - Seeburg Spotlite Band - Rhythm, Volume 11 [1965] Stella By Starlight/Desifinado/You Beat Me To The Punch//My Funny Valentine/Back At The Chicken Shack/Back And Forth

DR-512 - Seeburg Spotlite Band - Rhythm, Volume 12 [1965] Shangri-La/Desire/Hitch Hike//The Sidewinder/Oh No, Not My Baby/Ram-Bunk-Shush

DR-513 - Seeburg Spotlite Band - Rhythm, Volume 13 [1965] Honey Dripper/Twine Time/Hound Dog//Li'l Darlin'/Watermelon Man/Coast To Coast

DR-514 - Seeburg Spotlite Band - Rhythm, Volume 14 [1965] Papa Oom Mow Mow/Moon River/Hard//Makin' Whoopee/Voice Your Choice/Bluesette

DR-515 - Seeburg Spotlite Band - Rhythm, Volume 15 [1965] Stop! In The Name Of Love/Please Mr. Postman/Jerk A Cha Cha//Funky Mama/Talk To Me/Blues Moderne

DR-516 - Seeburg Spotlite Band - Rhythm, Volume 16 [1965] Sonnymoon For Two/Blue Moon/Goodbye California//Um, Um, Um, Um, Um, Um/Aw Shucks/The Girl From Ipanema

DR-517 - Seeburg Spotlite Band - Rhythm, Volume 17 [1965] Do The Bird/Ti Mon Bo/Solitude//Soul Train (Part I)/Soul Train (Part II)

DR-518 - Seeburg Spotlite Band - Rhythm, Volume 18 [1965] Once. In A While/That's All/No Where To Run//Blues For A Fantasy Train/Soul Twist/Red Top

DR-519 - Seeburg Spotlite Band - Rhythm, Volume 19 [1965] On Green Dolphin Street/Dream Bossa Nova/Summertime//Goin' Out Of My Head/Soft/(It's Only A) Paper Moon

DR-520 - Seeburg Spotlite Band - Rhythm, Volume 20 [1965] Our Day Will Come/A Lonesome Feeling/Wiggle Wobble//On A Slow Boat To China/Beyond The Reef/April In Paris

Set No. 3:

DR-501-B - Seeburg Spotlite Band - Rhythm, Volume 1-B [1965] Coming Home/Squeeze Me/People//Honey Dripper/What's Easy For Two/Bouncing Bessie Bee

DR-502-B - Seeburg Spotlite Band - Rhythm, Volume 2-B [1965] Heat Wave/I'll Be Doggoned/You've Lost That Lovin' Feelin'//The Preacher/Siamese Cat/Secret Love

DR-503-B - Seeburg Spotlite Band - Rhythm, Volume 3-B [1965] All About My Girl/Chain Gang/Stepping Lightly//Walkin' Mr. Sax/Our Day Will Come/The Joker

DR-504-B - Seeburg Spotlite Band - Rhythm, Volume 4-B [1965] Bye Bye Blackbird/Aw Shucks/Wait Till My Bobby Gets Home//Sonnymoon For Two/Misty/Teach Me Tonight

DR-505-B - Seeburg Spotlite Band - Rhythm, Volume 5-B [1965] Watermelon Man/Ya Ya/Cha-Cha Rock//Walkin' With Mr. Lee/Desifinado/Bluesette

DR-506-B - Seeburg Spotlite Band - Rhythm, Volume 6-B [1965] I'm Gonna Move To The Outskirts Of Town/Red Sails In The Sunset/Honky Tonk//One Way/Stella By Starlight/The Break

DR-507-B - Seeburg Spotlite Band - Rhythm, Volume 7-B [1965] Cool Cantaloupe/In The Good Old Summertime/Rose Room//Wabash Blues/He's A Rebel/When I Grow Too Old To Dream

DR-508-B - Seeburg Spotlite Band - Rhythm, Volume 8-B [1965] Stretching Out/Don't Get Around Much Anymore/Mojo Workout//Organ Grinder's Swing/Meeting Over Yonder/What's New

DR-509-B - Seeburg Spotlite Band - Rhythm, Volume 9-B [1965] After Hours/I Can't Wait/Saddle Soap//Fever/The Man I Love/Texas Twister

DR-510-B - Seeburg Spotlite Band - Rhythm, Volume 10-B [1965] Flat Foot Floogie/Something You Got/Satin Doll//Soul Train/Mother-In-Law/Walkin' And Sax Talkin'



---