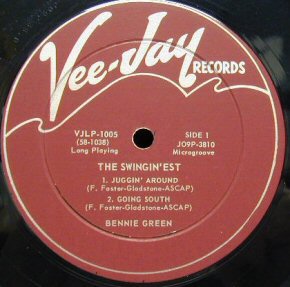 Vee-Jay Album Discography, Part 12:
Correspondence, Corrections, Updates
by Mike Callahan
Last update: December 21, 2006




We would appreciate any letters or information about Vee-Jay from folks who were part of or dealt with the company "back when." We will post the ones with historical information below. Photos and paperwork are also fine. Just send them to us via e-mail. Both Sides Now Publications is an information web page. We have no association with Vee-Jay Records, in any of its various ownerships. The letters below are posted for your information. This page copyright 2006 by Mike Callahan.


Accumulating the Vee-Jay History...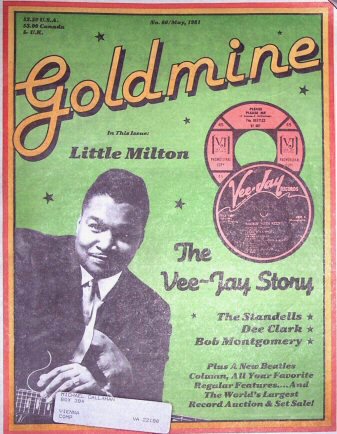 It has been more than 25 years since The Vee-Jay Story appeared in the May, 1981 issue of Goldmine Magazine (#60). Today, Goldmine is an institution, closing in on their 700th issue. Back then, it was a relatively small operation. Rick Whitesell was the editor, and Rick and I spent lots of hours on the phone going over ideas for columns (I was a regular columnist with "Both Sides Now: The Story of Stereo Rock and Roll"). Goldmine had a number of good writers who basically were a bunch of record collector fanatics writing about our favorite topics.

Some time in late 1980, I tossed the idea of doing a column on Vee-Jay on the table. Rick Whitesell liked the idea, but suggested that it was a huge label and would be kind of difficult to shoe-horn into a column, but maybe I could write a feature story about it? I agreed for a May, 1981, date, and got busy contacting some people to interview. I started with Universal Studios in Chicago where I talked to Foote Kirkpatrick and Murray Allen. Foote gave me a lead to Sid McCoy, who at the time was working for 20th Century Records in Los Angeles. By this time, it was mid-January, 1981. I called Rick to report my progress, but he had taken quite ill and was in the hospital. I reached him there and told him I was on the trail. As usual, he encouraged me to go for it.

Sid McCoy provided some great insights into the old days, and gave me more names and phone numbers, including Calvin Carter's hospital room, where he was recovering from surgery on his foot as a result of diabetes. It turned out to be a fortuitous time for me to contact him. Calvin was in good spirits, and because he had little else to do but talk on the phone, we talked for hours and hours. He had a memory like a steel trap. Just about everything he told me ended up being verified elsewhere. I called Rick back, excited that I had so much information, but he couldn't talk. The nurse relayed my message and told me he smiled when he heard I had talked to Calvin Carter. A few days later I called again, but was told that Rick had died.

Goldmine was in a bit of a turmoil, naturally. I talked to John Koenig, who was running things at Goldmine, and he said that they had heard from Rick earlier about the Vee-Jay feature, and as far as he [John] was concerned, I could write however much I could for the May issue, and that they were counting on me to fill up a bunch of pages. One of the things Rick had suggested when we first talked about Vee-Jay was to contact Robert Pruter, who was a writer for Goldmine and other publications (he has been the R&B Editor for Goldmine for decades). Bob suggested that he had a companion piece on Dee Clark that would go well with the Vee-Jay story, and provided some photos for me. Bob and I both grew up in the Chicago area, and hit it off immediately. He was very helpful to me then, and from the more recent letters below, still is. A class guy who really knows his stuff.

In the 1990s, Bruce Spizer, a record collector and Beatles fan living in the New Orleans area, did extensive research on the Beatles and Vee-Jay, and wrote a superb book called Songs, Pictures and Stories of the Fabulous Beatles Records on Vee-Jay. It is still available on his web site. Spizer went over my interviews with Calvin Carter and the others, spoke extensively to Betty Chiapetta, and went over much of the remaining paperwork records in Betty's files. Except for a few minor details, the story Calvin Carter told me about the Beatles and Vee-Jay proved substantially accurate. Bruce purchased the Vee-Jay master book and many other documents from Betty Chiapetta.

Since I wrote the original Vee-Jay Story in 1981, I have received quite a few letters from people who had something to do with Vee-Jay. I have posted some of them below to add to the historical record. I have also included some additional correspondence that I think students of Vee-Jay history will find interesting. As Jerry Butler said at the 1992 Vee-Jay celebration in Chicago, the history of Vee-Jay is vast, and will probably never be all known. Stories such as those told below, however, add to the texture of the historical fabric. We will add to that as new information comes in.



---
LETTERS IN RESPONSE TO THE ORIGINAL MAY, 1981, STORY:
---
6/16/1981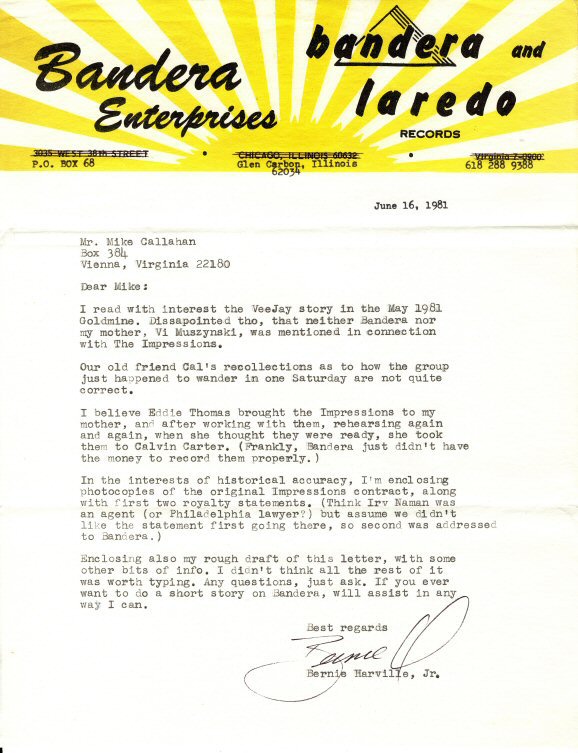 [Other notes from Bernie's original letter, included in his hand-written "first draft:"]

Ultimately, Jimmy Bracken told Calvin Carter to pull Jerry Butler out of the group and sign him to Vee- Jay as a solo. Cal explained to my mother that he had no choice, though he didn't want to do it.

Bandera had no publishing arm at that time, so all of that went to Vee-Jay. Some of our own material was assigned to Tollie (BMI) until we set up Sundown Music (BMI).

After Jerry was away from the group, we released only one disc, "Listen" b/w "Shorty's Got to Go." Bandera released the Impressions from their contract on September 1, 1959, as we could do nothing more for them, ending our 17 month relationship.

Bandera is dormant in the U.S. at present. London's JSP (John Stedman Productions) label has released several Bandera cuts, included on JSP 1005, Bandera Rockabilly. I also just received the LP Bandera R&B and Doo Wop, JSP 1018. They also released a single, JSP 4501, by Jerry Butler & the Impressions: "Pretty Betty/Listen" b/w "Shorty's Got to Go" (a three-sided single - wierd).

Vi Muszynski is now retired and living in Southern Illinois. [Note: Violet C. Muszynski (b. June 21, 1913) died in Mason, Illinois in November, 1995.]

Best Regards,
Bernie Harville, Jr.
Bandera Enterprises
P.O. Box 68
Glen Carbon, IL 62034

[Note: Bernie included photocopies of (1) the original one-year contract between Bandera and Impressions, dated April 9, 1958, and signed by Vi Muszynski (for Bandera) and Eddie Thomas, the five singers, and several of the mothers of the singers (who were underage at the time), and (2) the first two Vee Jay royalties statements. These are reproduced below.]





[Some interesting observations on what was probably a standard recording artist contract of the time. First, Bandera Records didn't have their own boilerplate contract, so they used one of Vee-Jay's contract forms and crossed out Vee-Jay and typed in Bandera. Vi Muszynski signed for Bandera. Accepting signatures were: first, Edward Thomas, their manager, then Samuel J. Gooden, Curtis Mayfield, Arthur Brooks, Jerry Butler, and Richard Brooks. Mayfield, Butler and Richard Brooks were minors, so on the right side next to their names, their mothers signed the contract. Curtis Mayfield's mother signed "Marion Jackson (Mother)". Butler's mother signed "Mrs. Amelia Butler," and "Mattie M. Brooks" signed for Richard. It is not clear who the signatory below Vi Muszynski was. The contract was for one year, and was renewable by Bandera for another year at their option, which must be exercised within five days of expiration, but it can be exercised orally, not necessarily in writing. The royalty rate was "2 points," that is, 2% of 90% of the records sold, or 1.8%.]

Four pages of royalty statements follow.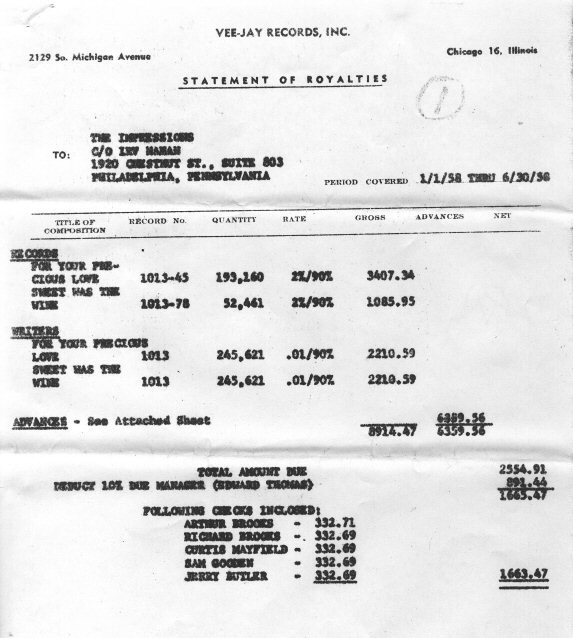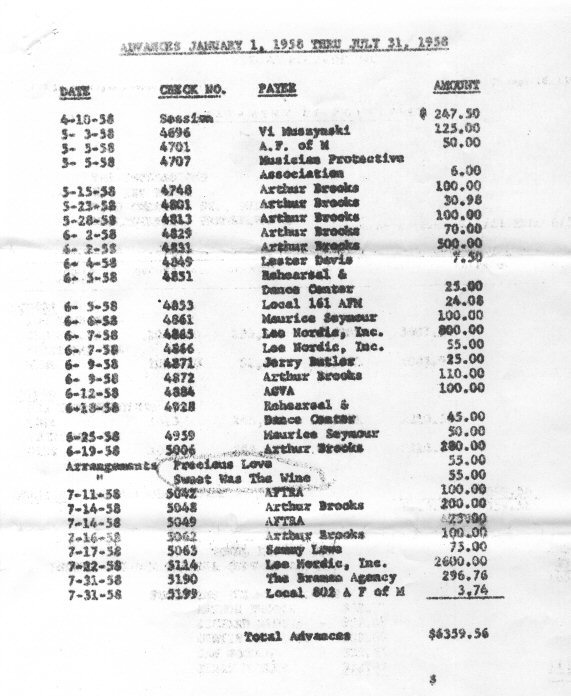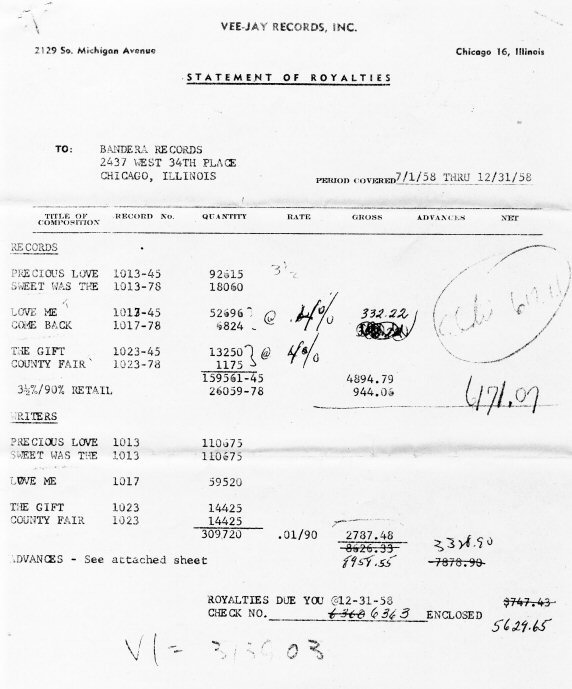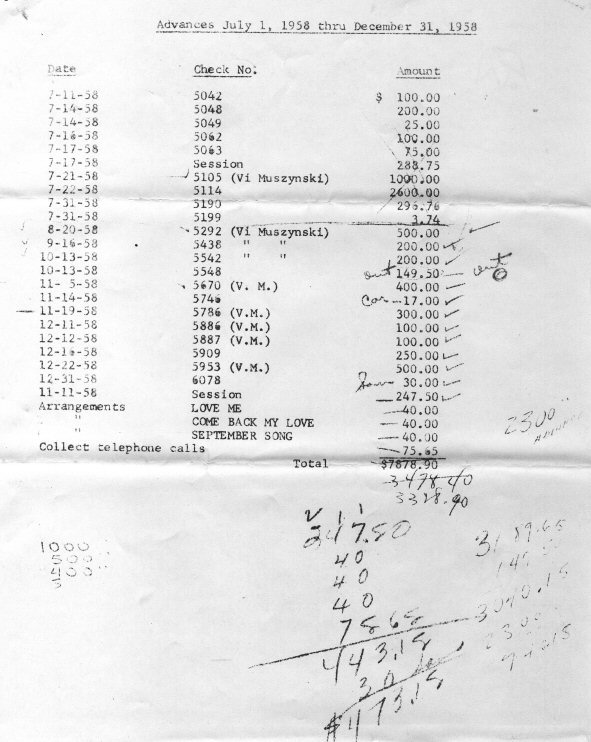 [Note: The statements above provide a fascinating glimpse into how a contract rolled out in practical terms, including all the deductions against royalties. Some of the deductions were advances to the group members. The first page gives an interesting look at what artists receive. For the first month or so, where sales were about 200,000 records, each group member got $332.71 plus the other advances (page 2, down to 6/30/58; advances were paid to Arthur Brooks, who was of legal age, to split or pay living expenses), while manager Eddie Thomas received $891.44. Page 3 shows another $5000 to be divided up at the end of the year, based on "For Your Precious Love" and two followup singles.]

[Also interesting was that Bandera signed the group on April 9, 1958 (probably while at the Vee-Jay offices, since their contract form was used, and the recording session took place on April 10, according to page 2. [See the letter below from Bill Stoddard (9/30/2004) for more about that session.] Since April 9, 1958, was a Wednesday, it is possible that the group had shown up the previous Saturday (as both Calvin Carter and Curtis Mayfield seem to remember) and after auditioning told Calvin Carter they were verbally signed with Vi Muszynski, and they all came back on Wednesday and made it official. That would at least fit most of everybody's recall, and allowing for Vi's rehearsing them before they went to Vee-Jay.]

---
9/6/1981


Dear Mike,

This will acknowledge your letter of July 31. Sorry its taken me so long to respond.

I did not mean to fault Calvin Carter. He was a good man and a good friend to my mother. IT IS difficult to remember details of how and why things came together 25 years ago! The only reason we can remember a few details about the Impressions is because if Bandera had any claim to fame (?), certainly Jerry Butler, Curtis Mayfield, Sam Gooden and the Brooks Brothers would be a major part of it.

I would appreciate some small addition to the Vee-Jay Story or one of your future columns, just for the sake of setting the historical record straight.

With regard to the present status of Bandera, JSP Records leased our masters. Stedman doesn't seem to be actively marketing them in the U.S., probably because he bought the world rights excluding the U.S. I may see about importing and selling the JSP records myself, though it would be a lot of hassle. I have toyed with the idea of recording Dusty Brown again, but it is a blessing to be through with the record business; I don't know if I want to mess with it again or not.

Last but not least, I think it's interesting that I named the label after one of Slim Whitman's songs, "Bandera Waltz." It had a line about "the cowboys were singing and playing guitars." Now lo, these many years later, country is hot and Slim is making a comeback - or being rediscovered.

Best regards,
Bernie Harville, Jr.

---
LETTERS FROM THE WEB PAGE:
---
1/19/1998


Mike:

The Vee Jay webpage looks great. You did a fantastic job. Are you open for minor additions and corrections? Chance went out of business in December 1954. While saying "by 1955" is techically correct, it is misleading to readers who will read the statement as Chance going out of business in 1955. Ewart Abner Jr. died December 27, 1997, if you want to add that piece of information. You might want to check out the website for Red Saunders Research foundation, which has a page on Al Smith. It is easier for you to find it through a search engine than for me to look up the web address.

Bob Pruter

---
1/20/1998


Hello,

Bob Pruter told me about your Vee-Jay pages. They are an excellent resource!

I'll probably more comments after I read the entire text of the Vee-Jay story. For now:

In your coverage of the house band, you have the wrong instrument for Vernell Fournier. He was a drummer, not a baritone saxophonist. (Vernell is best known for his long tenure in Ahmad Jamal's trio.) Mac Easton was the baritonist of choice for Vee-Jay from 1954 to 1959.

When Vee-Jay started using flutes a lot in 1959 (as part of a more "pop" sound), they used James Spaulding and Ronald Wilson. Not too shabby.

I can tell you who Willie Jones was. He was one of the farthest-out jazz pianists in Chicago (Sun Ra admired his playing). He was a member of Tom Archia's All Stars in 1947 and 1948, and made four sessions for Aristocrat with them. He also appeared on a very obscure Bennie Green Parkway date in 1950. I've heard "My Thing" and "My Other Thing" from a reissue on the Top Rank label (French, circa 1962). Jones' style when he made those sides was roughly halfway between Bud Powell and Cecil Taylor--in 1954!!! I hope the other two sides will see the light of day. There is only one other Willie Jones recording that I know of--he was on a Paul Gonsalves LP for Argo in 1956.

Sincerely,
Robert L. Campbell
Clemson, SC

PS. Armin Buettner, Bob Pruter, and I have put together an Al Smith discography. (Al did play the string bass, by the way--he just wasn't very good on it.) The discog covers all sessions for Chance and Vee-Jay that we know used his band. There are undoubtedly others that still need to be included. See http:// hubcap.clemson.edu/

---
1/25/1998


I'm not writing about discographies or corrections. I want you to know that I contacted Vee-Jay Limited Partnership in February 1994 and talked to Gordon Bossin, Chief Operating Officer. He then said that Vee-Jay was "in a period of transition" and was waiting for a major distributor to pick them up. A woman at the label named Janice, however, informed me that Vee-Jay Partnership would end in March and that they were trying to sell the master tapes. I did know they were going under. A snafu with an order at Vee-Jay indicated to me that they knew how to lose money. I had received one compact disc but they never cashed the check. I received my box set on Oct 6, 1993. Thanks for the home page.

Mark

---
2/20/1998


Hi Mike,

I was just reading your VEE-JAY story, and I think it would be a good idea to include some hard biographical data., especially for the Bracken-Carter family :

JAMES CONRAD BRACKEN
b. May 23, 1909, Oklahoma
d. February 20, 1972, Chicago, Illinois (Jackson Park Hospital)

According to his death certification, his parents were Julius L. Bracken and Eva J. Burton, and he was born in Oklahoma (it gives no city). He died of hypertensive heart disease. According to Pruter, he was raised in Kansas City, Kansas.

[Note: According to the 1910 US Census, the family lived at 1019 Perkins Avenue in Guthrie, Logan Co., Oklahoma. James had two older brothers, Herbert (b. abt 1903) and Earnest (b. about 1907). Julius was born in Tennessee and Eva in Florida, and they were married about 1901. By 1910, Eva had had a total of seven children, but four had died. This was not that uncommon in those days, especially for families who were not well enough off financially to get expert medical care.]

VIVIAN CARTER
b. March 25, 1920, Tunica, Mississippi
d. June 12, 1989, Gary, Indiana

CALVIN TOLLIE CARTER
b. May 27, 1925, Tunica, Mississippi
d. July 9, 1986, Gary, Indiana

[Note: The 1920 and 1930 US census data show that the family moved from Tunica County, Mississippi, to Gary, Indiana around 1924, before Calvin was born. He is listed as having been born in Indiana. Vivian and Calvin were apparently the only children. Their parents were Luddie (Loudie?) and Minnie Carter. Luddie's parents were Toney and Dora Carter. Interestingly, Luddie had a brother, Tollie Carter, who was Calvin's namesake uncle.]

I enjoy your site. Man, that's a lot of work.

HAND (Have A Nice Day!) - eRIC

Eric S. LeBlanc,
National Research Council Of Canada,
Herzberg Institute of Astrophysics,
Dominion Astrophysical Observatory,
Victoria, British Columbia, V8X 4M6 CANADA.

[Note: Might as well add the following:

EWART GLADSTONE ABNER
b. May 11, 1923, Illinois (mother's maiden name=Heinz)
d. December 27, 1997, Los Angeles, California

RANDALL ALBERT WOOD
b. October 10, 1929, New York
d. October 7, 1980, Valley Village, Los Angeles County, California

VIOLET C. MUSZYNSKI
b. June 21, 1913
d. November, 1995, Mason, Illinois]

---
4/9/1998


Mike,

I found three Vee-Jay related CDs that I wanted to be sure you're aware of. There are two John Lee Hooker CDs £ long out of print £ that are all true stereo on all of the tracks! These are The Big Soul of John Lee Hooker [Vee-Jay/Chameleon VJD-81058, 1991] and John Lee Hooker On Campus [Vee-Jay/Chameleon VJD-81066, 1991]. I don't recall if these were stereo on the original vinyl LPs. Both sound quite good.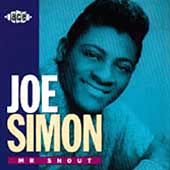 There is also a Joe Simon CD on Ace UK [Mr. Shout, Ace CDCHD-663, 1997], and this is a real revelation since besides sounding really bright and loud (although somewhat hissy), 13 of the tracks are true stereo! Those tracks are: Say (That Your Love Is True)/My Adorable One/When You're Near (2nd version)/Everybody Needs Somebody/(Just) Call My Name/It's All Over/Pledges Of Love/Troubles/I See Your Face/When You're Near (1st version)/No One Will Do/Bring It On Home To Me/When I'm Gone. I was amazed, since the 1993 Vee-Jay Box Set had a tinny, echoey version of "My Adorable One." Seems like the people who own and control the Duane/Hush material took excellent care of their tapes!

Barry Margolis
Minneapolis, MN

[Note: Also see the letter a few down from here from Garrie E. Thompson (8/12/1998)].

---
4/16/1998


Mike,

A few more thoughts about "The Vee-Jay Story" (all of these pertain to Part 1).

There's a scanning error for the number of sides cut in 1953. I'm sure Betty C. said *136* and not 736!

Also, I'm wondering whether *Pearl* McClam was Clarence "Pro" McClam, a blues singer in Chicago who appeared on some 1947 recordings for Columbia, and a session by Sax Mallard for Aristocrat (December 1947).

79 sides for 1954, ending with the Dave Shipp session in November (great jazz, by the way), is an undercount. Vee-Jay recorded two sessions in December 1954, then stuck 55- prefixes in front of them! R&B pianist/organist Tommy Dean cut 55-216 through 55-220 on December 20, 1954 (some with vocals by Jewel Belle). And trumpeter King Kolax had a session on December 22, 1954 that produced 54-222 through 54-226 (see King Kolax discography at http://hubcap.clemson.edu/~campber/kolax.html ). So we're talking 90 sides in 1954--still a downturn from the first year.

When Red Holloway mentions getting $41.25 per session, that was Union scale (and it hung at the same level, despite inflation, from at least 1946 to at least 1958). The leader got $82.50 (I guess the $82.50 usually went to Al Smith).

rlc

PS. I will be posting a Willie Jones discography soon. Too short, but it will have some interesting things in it. Will let you know when it's on the Web.

Prof. Robert L. Campbell
Red Saunders Research Foundation

---
7/15/1998


Dear Mike:

I was thrilled to find your updated article on Vee-Jay Records. I have been a fan of Vee-Jay since way back in my former record collecting days, and the romanticism of what the label was--and what it could have been -- is still a vivid picture in my mind.

As an individual who has worked in the graphic arts field, I have loved letter forms since early childhood. The Vee-Jay "brackets" logo was always one of my personal favorites among record label typography.

It's a stunning accomplishment (whether good or bad for the label) to know Vee-Jay originally issued over 300 different albums, as well as nearly 1000 singles (not counting EP's), and covered every type of popular format for the time.

Soul may have taken stronger root in the Windy City rather than the Motor Town had Vee-Jay survived. Ironic, isn't it, how Randall Wood and Betty Chiapetta [both former Vee-Jay employees] rescued the label from the bankruptcy court, but never tried to issue fresh single or album product. Had they been afforded the working capital to continue the label, it might have been a Phoenix; resurrected from the ashes of bankruptcy to regain its rightful place as the first major independent label owned by black principle shareholders (as the original incarnation was a totally black-owned family business.)

It is my understanding Phil Walden of Capricorn Records purchased the Vee-Jay masters. I am hoping he has some good, solid plans for the future of the catalog.

Believe me, had I been blessed with a large amount of liquid capital, I would have tried to buy the label, and even resurrect it for (quality) new product.

Anyway, my thanks again for the opportunity to read a compelling and informative article. [I only wish a detailed singles discography had been uploaded as well.]

Best wishes and continued success in your ventures...

Sincerely----
Jeff Levine

---
8/12/1998


Dear Sirs,

I'm not sure if I'm sending this message to the right person? I will try in hopes that someone will respond to this message.

I own Hush Records and have for approximately forty years. I had Joe Simon under contract to me from 1960 to 1966. During this period I leased several tunes by Joe to Vee-Jay. The leases all had normal restrictions on them as all contracts at that time generally contained. One of those clauses stated that Vee-Jay could never assign or sub-lease the rights to anyone. I'm sure you can understand that because of Vee-Jay going out of business and their failure to comply with royalty clauses of the contracts and other requirements they lost all their lease rights.

I made the original masters and still own them. Recently I have been made aware of different companies using some of these Joe Simon tunes on compilation CD's etc. without valid contracts and never paying any royalties to the artist or myself. I need to discuss this subject with the correct person representing the Vee-Jay of today to stop this illegal process. I am willing to sub-lease these tunes on a non-exclusive basis at standard lease rates.

PS: I have copies of all of the original contracts available for review.

Garrie E. Thompson
Duane Music Inc.
382 Clarence Ave
Sunnyvale, Ca 94086
Phone 408-739-6133
e-mail garrie-e-thompson@prodigy.net

---
8/19/1998


Mike--

If you ever saw the "promotional piece" Vee-Jay Limited Partnership included with some of the single CD's, it touted the "upcoming" box set as a >four< disc set with a larger amount of tracks than the final outcome. The only bad part about the box set, was that the individual discs had no booklet or tray card with track information.

Another little "factoid"---years back, when I was into vinyl, I called Betty Chiapetta and offered her some original Vee-Jay (brown label, common issue) 45's I had. She was thrilled to get them, and in return she surprised me with some albums. Some were >originals<, and she evidently had saved a back stock of old product for resale...

Come what may, as I have previously stated, Vee-Jay was (and is) my favorite independent label.

Best wishes----
Jeff Levine

---
12/1/1998


I worked at Universal Recording for a few years in the early 60's. I was the kid who worked in the dubbing room. It was where we cut acetate dubs that could be used immediately for radio station air play. On one of your pages on the Beatles, the writer noted that the initials R A were cut into the disc before the lockout groove. Those initials were for Robert Avrill who ran the stereo mastering room at Universal from approximately 1960 until the mid 60's. There were several of us who cut master discs. I was the trainee and did some advertising and monaural masters. But Bob did the first Beatles that Vee Jay distributed. Also cut into the inner grooves was what we called a U number. The U number was a number assigned to each session that was tracked on blue cards.

These blue cards were the record of the session - or at least the master tracks from the session. The session log was kept with the tapes which were all kept together in larger cardboard boxes. The last I heard of Bob was that he was working for NASA at Cape Canaveral.

Incidentally, one of the best songs Vee Jay ever recorded - at least at Universal - at least during my tenure - and of course it's my humble opinion but...... was Dee Clark singing Ole Man River. It was never released to the best of my knowledge but it was fantastic. Either Calvin Carter or Bill Sheppard produced it.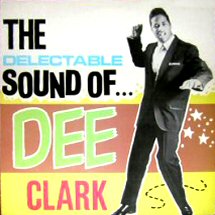 I have some wonderful memories of that place and time and can give you names of technicians and engineers if you're interested...

Nice work and thanks for the web site...

Brad Swanson

[Note: Dee Clark's version of "Old Man River" was released in 1986 on the Charly R&B (UK) LP CRB-1113, The Delectable Sound of Dee Clark.]

---
12/7/1998


Mike,

I know that I "corrected" a typo in The Vee-Jay Story, from 736 tracks recorded in 1953 down to 136. But now I've learned the number was a lot lower, just 36 for the entire year. That's because Vee-Jay started with matrix number 53-100, not 53-000. Incidentally, on the very first session, 53-100 through 53-103, the Spaniels were backed by a small Red Saunders contingent, so the session is now in the Red Saunders discography (http://hubcap.clemson.edu/~campber/saunders.html). We also have a page on Chance Records now (chance.html).

There is a small transcription error in the Betty Chiapetta interview--Count "Forrest" should be Count Morris. Count Morris was probably Floyd Morris, the piano player. He made one instrumental side, "Blues at Three," that was given the matrix number 53-127. The rest of the session must have bombed, because nothing more is known from it--53-126 and 53-128 are from different sessions. See the Saunders discography for the Morris track (Morris was accompanied by Red and some of his guys).

The figure of 90 sides for 1954 is correct. So, really, there was a modest increase in activity in the second year, though sales weren't spectacular.

There is now a Willie Jones page as well--see http://hubcap.clemson.edu/~campber/wiljo.html. Vee-Jay 121 is listed there, of course. Willie Jones was also on two albums for Argo that you had questions about in your Argo LP listing. The Jones page may be helpful on these.
Robert L. Campbell

---
12/21/1998


This does not have anything to do with Chess, but I remember talking with you [Nadine] some time ago, where we said we both came away from an interview with Art Sheridan with the impression that he was a secret investor in Vee Jay. I was looking at my Sheridan transcript that for the most part dealt with Chance, when I chanced upon these interview segments...

1. On talking about the Beatles on Vee Jay.

Pruter: They wanted a Frank Ifield record...

Sheridan: We were in Europe for a convention with J. Arthur Rank. Frank Ifield was the one we really wanted to have. And we could have Frank, if we took the Beatles, which we did. Very young exciting group I remember.

Lots of "we"s there.

2. Later:

Pruter: Basically in the late 1950s your only connection with the entertainment business was in running nightclubs?

Sheridan: You have to remember the same group who ran the nightclubs were basically the Vee Jay people. We were really very much intertwined all those years. It was just not very politic for a period of time to have too many white owners.

Pruter: Actually Vee-Jay almost stood alone at the time as a black owned company.

Sheridan: You have to remember that Abner was a very avant-garde kind of guy, a very principled person. Philosophically, he was very avant-garde and J:immy and Vivian were very pro-black. We had to go that way.

"We had to go that way"?

3. Finally...

Sheridan: [Ewart] Abner promoted anybody who wanted to do something that was black. For example, Gardner, the advertising lady. I don't remember her first name.

Pruter: Barbara Gardner

Sheridan: Barbara Gardner. Barbara used to be our secretary.

Pruter: [Clearly puzzled] Where? At Vee Jay?

Sheridan: Right. Abner helped her get started on a world trip so she got exposure. She had a chance to see what the world was all about.

Pruter: You used the word "our." Were you one of the owners of Vee Jay?

Sheridan: No

Pruter: You said "our" in reference to "our secretary."

Sheridan: What I'm trying to say there was a great interrelationship there.

Pruter: I see. I was just wondering from your language...

Sheridan: I understand, and you understand.

For your interest.
Bob Pruter

---
6/20/1999


Hi, Mike...

A while back I wrote you with the word-at-the-time about Vee-Jay's masters being sought by Capricorn Records. I can now update this reference for you. Vee-Jay Limited Partnership has been reactivated under the ownership of Michelle Taylor Management, in the label's original home town of Chicago.

Similar to Betty Chiapetta and Randy Wood's original intent with the label, the current (fourth) configuration of Vee-Jay is basically a "holding company". They will license their masters, and are currently involved with leasing product to Rhino Records in some new packages which are in production.

I have been in contact with them, and at this time, as well as the foreseeable future, there will be no new CD product bearing the Vee-Jay imprint itself.

Hope this is of some help to you. For the record [no pun intended], I just sent them a copy of Kat's Karavan 100 (in actuality, Vee-Jay 100)...the Jim Lowe compilation album, which I acquired from a buddy of mine.

If I can be of any assistance, drop me a line.

Best wishes,
Jeff Levine

---
6/20/1999


Hi you guys,


I just came across your web page and was looking it over for correctness, etc. My father is, or I should say was, the late Randy Wood. It's very weird for me to see pictures of my dad and John Lennon. That picture was taken at the Cinnamon Cinder, which was a night club in Studio City, in 1964. I remember it very well because I was there (I was also 8 years old and thought these guys were OLD!).

FYI - were you aware that there were two Randy Wood(s) in the industry? The other Randy Wood owned Dot Records, Ranwood Records and a studio. The other Randy Wood also owned Randy's Record Shop in Gallatin, Tennessee, and he had Pat Boone on his label. I am good friends with John Wood, the other Randy Wood's son. Small World, isn't it?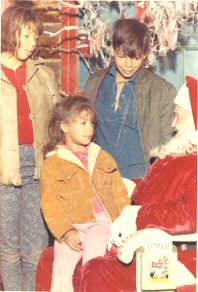 I'm surprised you remember Mirwood, Mira and Surrey. There was also Miraka. There was another company, Crestview Records. These were all under the Surrey umbrella. I remember a lot about the business, I still have some of the albums. I've got a file I can go through and check out what you need to know. After Dad died, I did a lot of research into who had what (you know what death and wills do to people?? It's awful, and the will contest was a mess). Anyway, from what I remember, Birmingham Music in England owns a lot of the masters now.

I am Michele Wood (oldest daughter).

[Note: Michele enclosed a snapshot of Randy Wood's children taken in 1966 at Santa's Village in Lake Arrowhead, California. (In the photo, standing, Michele Wood and Tony Wood; on Santa's lap, Karen Wood.)]






---
9/30/1999


Dear Sir:

In the early 1950's, a beautiful Indianapolis native, Sarah McLawler, who studied music at Fisk University, met a brilliant violinist, Richard Otto, in a nightclub in New York. Sarah studied the organ and Richard attended Juliard, Berklee School of music and had private lessons with the greatest Russian violinist of the day.


Here in my hand, I have the three albums that they recorded on Vee-Jay: Vee-Jay 1006 (We Bring You Swing), Vee-Jay 1003 (We Bring You Love), and Vee-Jay 1030, (At The Break of Day). They are all great Organ/Violin Jazz Masterpieces. They're priceless!

Some of the old timers here in Indianapolis have indicated to me that the 1940ish, African-American Comedian Stepin Fetchit (Lincoln Perry) who used to live in my neighborhood in the 1950's, recorded at least one comedy album on Vee-Jay. I'm desperately searching for it. When I went to your website, I got the entire discography. I did see the Stepin Fetchit album there! Thank you for this wealth of information.

By the way, James Bracken who was the Jay in Vee-Jay is a distant relative on mine from Gallatin, Tenn and that's one reason why I'm so interested in this record company. I never met him and don't know if he's living or dead.

Peace,
David Williams of Indianapolis

---
1/13/2000


Hello Mike,

I discovered your Vee-Jay site some time ago and revisited today to find it updated.

I wanted to let you know that Vee-Jay Ltd. Partnership is indeed operating out of Chicago. Last year, we entered into a license agreement for the catalog in North America with Rhino who are starting to re- release Vee-Jay titles, as well as having the Vee-Jay 40th Anniversary Box Set available via their web site. We also have a Japanese licensee in Blues Interactions. Over the last few years, we've been successful in licensing various Vee-Jay masters to major motion pictures/soundtracks & TV - City of Angels, Kiss the Girls, GI Jane, The Sopranos, NYPD Blue, Dharma & Greg etc.

The Ltd Partnership is the same entity Betty Chiapetta sold the company to in 1990.

Congratulations on the site. Please feel free to contact me at any time.

Kind Regards,
Michele Tayler
Vice President
Vee-Jay Ltd. Partnership
1242 N. Damen
Chicago IL 60622


---
1/20/2000


Hi:

I'm writing from Los Angeles for the National Academy of Recording Arts and Sciences.

This year John Lee Hooker is receiving a Lifetime Achievement Award and Bill Putnam Sr, of Universal Studios in Chicago and United Studios in Los Angeles, is receiving a special Technical GRAMMY Award. I am in charge of gathering material for the approximately 3 minute retrospectives of their carreers that will be shown prior to their receiving their respective honors.

Thus I read with interest your Vee-Jay and Chess sections.

Any suggestions for film / photos of John Lee Hooker and recording sessions at United during the 50s and early 60s? This is a non-broadcast ceremony the day before the actual GRAMMY ceremony so we have a limited budget: we either have to get permissions from original sources or get material from books, lasers and record companies (the latter rarely have much).

I'm in touch with Michelle Taylor and the Rosebud Agency for Hooker and Universal Audio for Bill Putnam, but all lack much historical material or data. Any referrals you provide would really be an asset to the presentations. John will be present to accept his award as will be Bill's son, Bill Putnam Jr.

If you can help me out please contact me.

One comment: While you mention United once in the Vee-Jay story, I see no mention of them in the Chess article.

Here's something provided to me by Universal Audio:

. . .
"After more than a decade of playing on street corners and in clubs around Chicago, Bo Diddley finally got the chance to cut a demo of 2 songs that he had written; "Uncle John" and "I'm A Man". After various rejections from local record labels, (most notably Vee-Jay), in the spring of 1955 he took the recordings to brothers Leonard and Phil Chess, owners of Chess Records. They suggested that he change the title and the lyrics of "Uncle John" to more reflect his own unique personality. The 2 songs were re-recorded at Bill Putnam's Universal Recording Studio at 111 East Ontario in Chicago on Wednesday March 2 1955, and released as a double A-side disc "Bo Diddley"/"I'm A Man" on the Chess Records subsidiary label Checker Records. It went straight to the top of the rhythm'n'blues charts, establishing Bo Diddley as one of the most exciting and original new talents in American music."
. . .

Thank you in advance for any help you can provide.

Eric Jerstad
NARAS

---
2/1/2000


Good Morning,

Vee Jay LPs Ann Richards "Live..At the Losers" and Mavis Rivers' "We Remember Mildred Bailey" have been reissued a on a single CD by Blue Moon Records, a Spanish company. Blue Moon apparently has acquired the rights to the Vee Jay catalogue, or some of it, since it has reissued several Vee Jay albums.

You have a great site. In additon to reviews jazz albums, I also write a column "Jazz on the Internet" for Marge Hofacre's Jazz News. I will mention your site in my column for the Spring edition of Jazz News.

Take care,
Dave Nathan
New Bern, NC

---
2/13/2000


A little personal info about.... My Group......the Falcons & Lyrics

In the 50's we toured the "Chitlin Circuit", and appeared with Dick Clark's Caravan of Stars. We signed with Vee Jay Records as the "Vallejos" in 1957. We had signed with "Chess & Checker" for three years, a year before signing with Vee Jay. We waited for somebody/anybody to call us. No call after seven months, so we all headed back to "Chi-Town." We were all kids .....me, almost 16.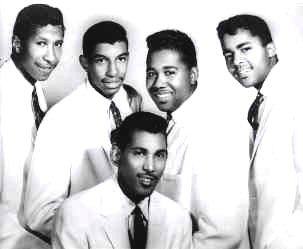 Vee Jay changed our group's name to the "Falcons." We were at first placed on the Falcon Label, later renamed the Abner Label. We recorded four songs during our session. "My Only Love" & "Now That It's Over" (Falcon 1006), and "Stop (Why Don't You Stop)" (I sang lead!) & "Come On Home" (this came out later on Vee-Jay 285 as the Lyrics). I wrote "My Only Love" so the writer is not "unknown" as is shown on recent Vee-Jay CD packages. Also, if you listen closely, you will hear Dee Clark singing high tenor on "Now That It's Over" (you can't miss him). We recorded those songs with Al Smith's band in North Chicago. "My Only Love" was also in the movie "Rocky 2".

In the photo, left to right: Bart Chatman, Kynne Winston (Me), Pete Caldwell, Barry Austin, and front, Paul Jackson. All from Columbus, Ohio.

"Long live the Legends Of Doo-Wop"
Kynne Winston

---
3/10/2000 & 7/28/2003


Thanks for your very informative website. You asked for additions and corrections, so I'm sending you one.

I am a friend of Judy Mayhan's, and am working with her to reissue her three commercial albums in digitally remastered versions on CD.

Judy's 1962 album "Rockin' The Cradle" was Horizon number SWP-1605. Judy traveled cross-country with Hoyt Axton, gigging in coffeehouses and folk clubs. Judy and Hoyt got lucky and both of them were signed to Horizon after they played the Troubador in 1961. Hoyt's was the first Horizon LP, and Judy's was the fifth.

The Horizon album was her first, and it was followed in 1970 by her Atco SD-33-319 release "Moments," recorded at Muscle Shoals with people like Duane Allman backing her. In 1971 her Decca DL7-5287 release "Judy Mayhan" was recorded in Hollywood. Judy settled near Mendocino, California about 1971, where she continued to make music and perform locally, and occasionally elsewhere. She did at least two studio recording sessions for later albums which were not released due to business problems. She has been very ill for the past 13 years and unable to perform. The prospect of reissuing her old albums and unreleased tapes on CD has given her a new lease on life. You may be hearing more about her in the near future.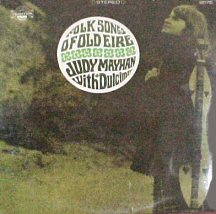 Judy's Horizon album was reissued by Tradition soon after the initial Horizon release [Tradition T-2075, as Folk Songs of Old Eire]. The Tradition release was remastered, with significant compression of dynamic range compared to the original Horizon master.

Judy has a new website where her three long out of print LP albums are now available on CD, direct from the family label Shayomi Productions. That includes "Rockin' The Cradle."

Thanks again for your fine service,
Nicholas Wilson
Mendocino CA

---
5/2/2000


Hi, Mike...

Just a note to mention that although the Vee-Jay masters will reside in Ilinois, their offices will relocate to Connecticut in the not-too-distant future.

Addtionally, Vee-Jay Limited Partnership entered into a joint relationship with Rhino Records for not only issuing some product on its imprint, but for administration of other leasing deals for master use.

Regards,
Jeff Levine

---
5/2/2000


Hello,

I've spent the last hour or so reading your excellent site. The amount of detail and research is fantastic.

My first job in the music business was working with Betty Chiapetta during one of the versions of Vee- Jay, about 1972, I think. I'm wondering if you are in touch with Betty? If so, would you be kind enough to forward my email address to her. I have not spoken with her in years and years, but would love to do so.

Thanks,
Ruth Adkins Robinson

---
11/1/2001


I'm Heather Axton, Hoyt's niece, Mae Boren Axton's granddaughter.

I have been trying to locate Hoyt's masters for his early Horizon/VJ years. I'm not sure who owns them now. I would love CD versions of "The Balladeer/Horizon/1962", "Greenback Dollar/Horizon 1963", "Thunder'N Lightnin'/Horizon 1963", "Saturday's Child/Horizon 1963", Explodes/VJ 1964", "Mr. Greenback Dollar Man/Surrey 1965--I'm not sure if this was part of the Horizon/VJ/Exodus company moves and merges", "Hoyt Axton Sings Bessie Smith/Exodus 1965", "The Best of Hoyt Axton/VJ 1964", and "Hoyt at the Troubador".

Hoyt always called me his favorite niece. I'd have to remind him that I'm his only niece. I knew Hoyt well; we had a close family. My Dad and Hoyt were the only two kids. He was quite a guy and I miss him.

Thanks.
Heather Axton

---
10/28/2002


My husband, Jay, was with Vee-Jay for years. At the time, he was pretty big around Gary. He sang under the name "Little Johnny Satan." It was later shortened to "Little Satan" and then to "Johnny Satan."

He sang with Big Daddy Kinsey, Fred Robinson, Earnest Warren, Opal Courtney, Doc, Willis C., and Pookie. He and Pookie didn't get along, so he gets no recognition, but one of the pictures on the web is of my husband when he was sixteen years old, starting out with them. He sang all around Indiana, Illinois, Michigan, Wisconsin, New York, Connecticut, Massachusetts, Ohio, etc. He still sings. He sang at The Roadhouse, Blue Moon, White Eagle Hall, The Regal, Flamingo Lounge, etc. Blo' Joe Evans blew sax on most of his shows.

He presumed when Calvin and Vivian passed, Vee-Jay was gone. We just recently found out that it is still in existence. His real name is Jay Fairman. He sings occasionally now in Dayton, Ohio. Would you please look through your records for anything that you have on him? For as long as he was with Vee-Jay, we know that something should be there. We really would like to have anything that you have, for sentimental reasons.

Thank you so much.
Chris Fairman

---
3/2/2003


My name is Sam Basile and I appreciate your company asking for additions or corrections to the Vee- Jay Story. If I may say so, Vee-Jay Records played an important part in my life as you will see below, therefore, I have an addition to make to the Vee-Jay Story. If you could use my story that's great, but if you don't, I understand.

I am one of the founding members of the "Deltones" a vocal group from the West side of Chicago (1957- 1963). There are three of us that are still in touch with one another. We recorded on Vee-Jay records 1958-1959, I believe we we're the first white group to sign with Vee-Jay.

Our agent (manager) was Mr. Jim Lounsberry, a DJ in Chicago who had a TV dance show Saturday afternoon(s) on ABC called The Jim Lounsberry Record Hop. We appeared on the TV show as regulars, sometimes two or three times a month, along with other Vee-Jay artists. In those days, vocal groups lip-synched their records on TV shows due to low cost production budgets.

The Deltones History:

I (Sammy Basile) was one of the founding members of the Deltones in 1957. At 12, I would hang around the corner candy store with my very close and dear friend Tommy Burton. Tommy and I would harmonize to the sounds and vocals of Frankie Lymon and the Teenagers and other groups whose records were on the candy store juke box. Tommy would sing bass and I would sing leads.

We grew up on the west of Chicago, now called K-Town, since all the streets in our neighborhood start with a "K," i.e. Kilborne, Karlov, Keeler, Kidville, Kolmar, Kilpatrick, etc. We attended Marshall high school, located on the corners of 5th Ave, and Adams & Kedzie streets. It was the same same high school Dee Clark attended. Dee was a few years ahead of us but would always appear at Marshall's "Jamboree's." It was there that Tom and I knew that we wanted on that stage to emulate the Doo-Wop music of the early and mid 50's.

During our freshmen year (1956) we met Ronnie Howard. Early in 1958, Ronnie Howard introduced us to Ron Buonaro, and the Deltones was formed. Like all other vocal groups, we used to practice harmonizing in the school halls and bathrooms. The echos were tremendously powerful and clear in tone. Groups would Jam in these halls and try to outdo each other with the best harmonies and song. I remember one time when we beat out six other groups when we jammed out "Come Go With Me" by the Dell-Vikings.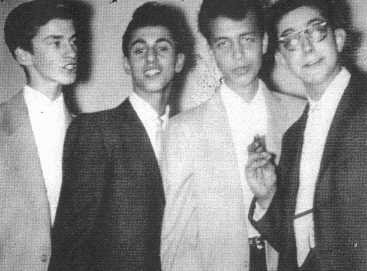 At 16 years old we got hooked up with the TV/Radio DJ by the name of Jim Lounsberry who managed local rock & roll bands in the Chicago area (the Millionaires and Sal & the Sidemen were in Jim's stable). I think Jim liked the idea of us just being a vocal group, and he quickly became our manager. It wasn't too long before Jim offered us a recording session and we accepted. The photo at left is the Deltones at 16 years old. From left to right are Ronnie, Sammy, Tom, and Ron.

We recorded our first song "Early Morning Rock" at the Chess Studios on south Michigan Ave. I will never forget I was singing lead on this tune, when it dawned on me that the famous Willie Dixon was doing the musical back-up for us. We were so excited when we realized who he was, it took us 26 takes to record the song, lol. The flip side was a slow song that the unforgettable voice of Ronnie Howard sang, titled "I'm Coming Home,".

Jim Lounsberry took the songs to Ewart Abner and Calvin Carter. They liked the songs and signed us to Vee-Jay Records. I believe that Conrad Publishing published the songs. [The songs were issued as Vee-Jay 288.] Within a few weeks the song had seen some success. There was a Doo-Wop/Blues DJ in Chicago called Sam Evans that had a radio show called Jam with Sam". Sam Evans used "Early Morning Rock" every night at 10 o'clock for two years as his theme song (1958-1960).


The photo at right is the Deltones on the ABC TV show "The Jim Lounsberry Record Hop" in 1959. Left to right are Ronnie, Tom, Ron, Sammy, and Bob.

Our next recording with VeeJay was in early 1959, "A Lover's Prayer" The session was at Universal Recording Studio in Chicago. Ron Bounoro sang the lead on this one. The guys in the group felt that Ron's voice had a monotone sound but rather then argue, Ron did the lead. The song was a poem that my girlfriend had in her purse and we put it to melody. Calvin Carter said that he liked the song a lot, and attended the recording session using his musical expertise and doing his usual A&R. Carter was so excited with the session that they put a rush on the record, I believe it was pressed and released within three days. The flip-side, "First Man to the Moon" was selected by Calvin Carter. I think Calvin either wrote the song or purchased the rights to it. Abner and Carter both said that timing was perfect for the songs, the Russians just put their spaceship (the Sputnik) up into space. I didn't like the song that much, but Tommy did one hell-of-a bass vocal. [The record was released as Vee-Jay 303.]

In 1960 we moved to USA Records. Recordings there included: Please Talk To Me, Good Luck Charms, and remakes of The Angels Sang (by the Solitaire's) and My Only Love by the (by the Falcons), and To Be Alone (by Billy Vaughn).

After 44 years we are very ecstatic to learn that "A Lovers Prayer" is out on a CD with the other Doo- Wop Dudes recording artists from Vee-Jay. The CD is on the Charly Record label and is called Smoochin in Chicago [Charly 199].

Let's hear it for all the Vee-Jay Doo-Wop Dudes!

All The Best: Sammy Basile
1500 Daytona Dr.
Peoria, IL 61614

---
9/30/2003


Hi,

I am Bill Stoddard. I was an engineer at Universal Studios in Chicago. I mixed all of the Vee-Jay sessions, after Bill Putnam left for the Coast. I made the Masters. Putnam told me that He had named the Record Company V J after Vivian and Jimmy.

In 1958, Calvin brought in Jerry Butler and his backup singers, the Impressions. I engineered the first Jerry Butler record, "For Your Precious Love." I can remember the session like it was yesterday. The Session was done in Studio "A" at Universal... a huge room with the control room way up in the air..like an airport. Their manager was a white woman, a big girl with long violet fingernails.. and she was all over Calvin Carter, followed Calvin up and down those stairs all evening. I only remember cutting two sides that evening. The "B" side being "Sweet Was the Wine." I have the Original Take Sheets from the session. "Precious Love" took off... and Vee Jay was going wild all over town. Jimmy Bracken and Ewart Abner ran all over Chicago to raise money to buy pressings.

Vee Jay's office was across from Chess Records on South Michigan Ave. The floor in the back room was dirt! Abner had this huge dog. He would bring the dog to sessions sometimes, and the dog was scared to death of the tile floor. He would lie down in the Control Room...Unroll about a foot of tongue..and there would be this large pool of water around it at the end.

I eventually moved to New York, and did some recording with Bill Henderson at Fine Recording for Sid McCoy. Abner was there as well.

They were a great group of people, and I am pleased to remember them. What a thrill for me as a 24 year old engineer. A very happy time in my life.

Bill Stoddard
New York

[Note from MC - The "manager" was probably Vi Muszynski, known as "the record lady," a South-Side promoter and schmoozer who had signed the Impressions to a contract then leased the group to Vee-Jay. She had a great interest in getting Calvin Carter to record them and get the record out, since she would get percentage points for each sale. See the letter from Vi's son, Bernie Harville, at the top of this page.]

---
7/22/2004


I read with much interest your excellent research on VeeJay.

In 1964, working with Abner, then the president, I leased my Cuca release J 1125 to VeeJay. It was "Spring" b/w "In So Many Ways" by Birdlegs and Pauline [Sidney "Birdlegs" Banks and Pauline Shivers Banks]. The record was doing very well for us (on the top 10 of WLAC Nashville R&B chart), and when Abner called, I felt we had a golden chance to keep it moving up the Billboard R&B chart, and even make it to the Hot 100. I had publishing on both songs (Kirchstein Pub Co-BMI) and gave up 50% of the publishing rights to VeeJay's Conrad Publishing contact, given the idea that big promotion would follow.

O.C. White of WAWA (Wawatosa...Milwaukee sub) broke our release in the Milwaukee area and it moved quickly into the Chicago market. "Bird" heard about my studio/label through Earl Hooker who was recording with us at the time.

Birdlegs and Pauline (his wife) were from Rockford, Illinois, and with the hit, they were on the road big time. They ran into the race riots of the South, and when they came back from the album recording, their organ was all sticky from whiskey spills since the last club they were at give them 5 minutes to pack up and go, being in the middle of a riot in Alabama. At the time of the album session [Birdlegs, Cuca Records K-4000], I received some healthy checks from Vee-Jay for record sales and publishing royalties which we shared with Bird and the group. Airplay royalties were coming in strong also, but it was soon over when Vee-Jay went under.

I visited Bird last month (June, 2004), seeing him for the first time since the big days, although we spoke on the phone several times. Pauline had passed two years ago, in Los Angeles where she went for professional gospel singing when she and Bird split many years ago. Bird told me that he received a call from Vee-Jay to come down and pick up some big checks, probably his writer's share of publishing. On a Friday (the day he received the call) the Chicago traffic prevented him from reaching Vee-Jay before they closed for the day, and when he went back the following Monday he found the place wrapped in yellow ribbon.

I have just recently re-established contact with Conrad Music, getting some back royalties for me and double that amount for Bird. I am now trying to establish a contract with Vee-Jay since they have put the material on some compilation CDs. I did not know they re-surfaced, and your history is helping a lot to put down dates of importance. The University of Wisconsin-Madison Mills Music library has a webpage on Cuca and is interested in adding the Vee-Jay history to our history.

Jim Kirchstein
Cuca Records

---
2/19/2005


I have read the Vee Jay Story and I believe you have the facts. I worked as a sidekick for Dick Kemp, "The Wild Child" at WYNR Radio, during the 60's. Part of my job was to make up the "Instant Top 40 List" each day. I was known as Colonel Bob. I remember Ewart Abner and Bill Sheppard well and thought very highly of both of them, and still do. I remember well when the switch to Constellation Records came about. Dick and I spent a lot time at the Vee Jay offices on South Michigan Ave. I remember how the artists such as Jerry "The Ice Man" Butler used to come around to visit.

When Dick Kemp left town I went into the transportation industry (Charter Buses) in Gary Indiana. I spent 34 years in that. I was one of the only white boys around. Working in Gary I found out over the years about Vivian and Jimmy and the record shop that they had. She was respected in Gary. As I was told she died broke while living in a health care facility. I only have faint memories of Vivian and Jimmy. That's because they spent so much time traveling around the world. I do remember how many big fancy cars were always parked around the building.

They were located on South Michigan Avenue which was called music row because if you were, or wanted to be, somebody in the music business that's where you would have an office and distributor. Music Row ran from Roosevelt Road (12th St.) to Cermack Rd. (22nd St.).

Thanks For the Great Job,
Bob O'Halloran

---
7/27/2005


This morning at breakfast our "gang" was remembering the late 50's and early 60's and the subject of "Echoes of Eden" came up. Using Google, the only real link I found led to your treatment of the Vee-Jay label of record where you said: "Two all-female gospel groups made their Vee-Jay debut in March 1956, the Echoes of Eden, of whom we know nothing, and the Argo Singers."

Well, our all white Christian group used to travel to downtown Los Angeles to visit, on Sunday evenings, an all black church to attend their service and hear and enjoy their all-female choir which was called Echoes of Eden. It was a great outing for the group, all about 23 to 24 years of age, and we went several times. We did not recall the name of the church but it was located in Los Angeles. I suspect that this is the same group and with some additional research it could be determined which all black church called its choir: Echoes of Eden. The time of 1956-1960 sounds about right for our visits.

Thank you. I enjoyed the website.
Benny Bates

---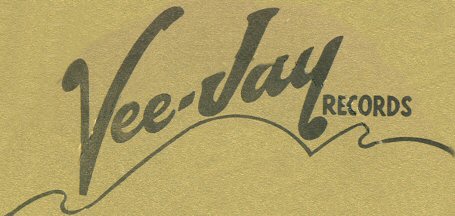 Back to the Vee-Jay Main Page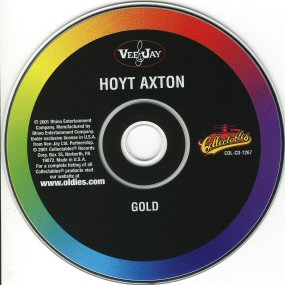 Back to the Vee-Jay Discography, Part 11 Compact Disc Reissues



Back to the Discography Listings Page



Back to the Both Sides Now Home Page